Chris Hawkins specializes in sales. Before joining Fit Small Business, Chris worked as a digital marketer for Gorilla Group and manager at Avnet. Chris earned second place in the "Top of the Rockies" contest under the Sports Reporting category. Chris has an interest in bikes, books, brews, birds, and travel. He and his wife live in an old mining town north of Denver where coyote howls and the hoots of owls still permeate the night air.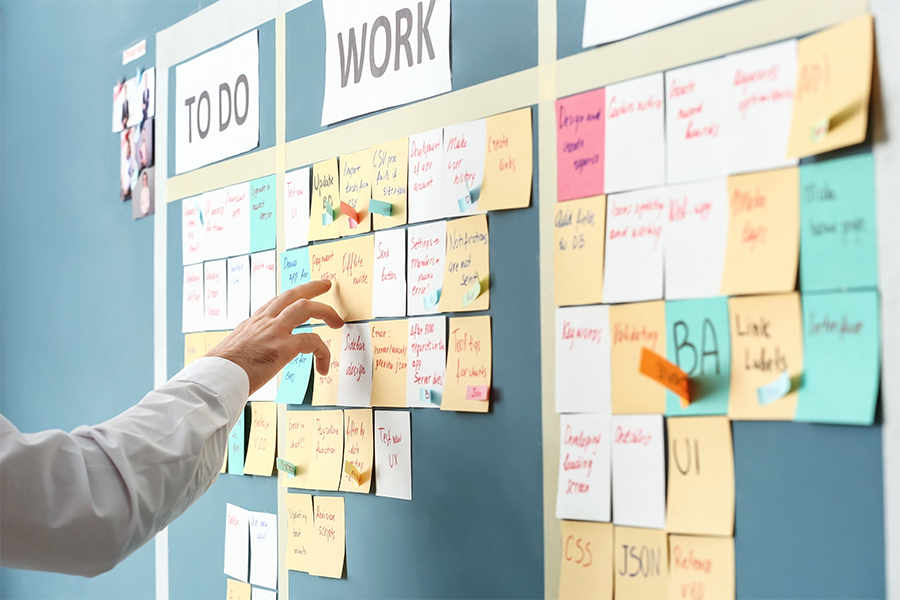 May 30, 2019
What Is a Scrum Board?
A Scrum board is a visual display that tracks projects in either a physical or virtual format. The board is divided into vertical categories showing the progress of a time-based project called a sprint, and events such as sprint planning, sprint retrospective, and the daily Scrum occur as part of managing the board. If you're looking for a project management tool with Scrum board capabilities, is a solid choice. Their highly visual, easy to use software for a variety of project applications is both customizable and inexpensive. Find out more by visiting their website and signing up for a . What Is Scrum? To better understand how a Scrum board works, you'll first need some background on the project management framework. Scrum falls under the Agile methodology umbrella, which is based on a process of breaking down a project into small, time-based (one to four weeks) sections called "sprints." The Scrum practice focuses on learning from experiences, self-organization, and continuous improvement by examining wins and losses. The Scrum framework originated in the software development community, but is now used widely across diverse industries in multiple departments for varied projects. It's comprised of short iterations called "sprints"—time periods of one to four weeks—where members of a team deliver defined product increments to the customer or end user for feedback. There are three roles in Scrum: Scrum master, product owner, and development team, and the team is self-organizing and cross-functional. The former means the team alone chooses how to accomplish their work; the latter means that they have all the internal competencies required to complete the work. Within Scrum framework are the events, which are all time-boxed—an event's duration is fixed and cannot be lengthened or shortened. Events then occur at regular intervals to minimize the need for additional meetings. Scrum events consist of the following: Sprint Sprint Planning Daily Scrum Sprint Review Sprint Retrospective The final part of the Scrum framework are the artifacts, which consist of the product backlog, sprint backlog, and product increment. These represent work conducted by the team and are designed to provide transparency and opportunities for inspection and adaptation. Briefly, the product backlog is an ordered list of everything to be done for the project; the sprint backlog is a list of tasks to be completed in the sprint; a product increment is the sum of product backlog items completed in a sprint. How a Scrum Board Works A Scrum board is a tool that helps teams manage product and service projects using the Scrum project management framework. A board can be something as simple as a whiteboard with colored sticky notes or as sophisticated as Scrum-specific software used by product development teams. All team members have access to the board, as transparency is one of the pillars of Scrum. In its simplest form, a Scrum board shows a list (sprint backlog) of work (user story cards) that needs to be accomplished (in sprints) to complete a project. The work of a Scrum team and its project are displayed in vertical columns: stories, to do, work in progress, done. Each row is a story. Each unit of work—using "cards" in software or sticky notes—is displayed and moved across the columns during a sprint, which is the heart of Scrum. These are the columns typically included on a Scrum board: Stories: The list of all the user stories in the current sprint backlog To do: The tasks for a story that haven't started yet Work in progress: All tasks for work that started Done: All completed tasks Sprints are timeboxed periods of time from one to four weeks during which a Scrum team delivers a defined increment of the project to the customer. Team members move "cards" from left to right as needed. A project can be developing a mobile app, designing an ecommerce website, creating marketing deliverables, or any other job delivered to end customers or internal users. Scrum Theory & the Team To know the elements of a Scrum board is to understand the Scrum framework, as each part is integrated with both the board and the team. This includes the three Scrum pillars, which form the operating philosophy of Scrum, and roles that make up a team. These roles include: product owner, development team, and Scrum master. The following are the core of the Scrum framework: The Three Scrum Pillars Scrum uses empiricism—making decisions based on what is experienced—to adapt to a customer's changing requirements, control risk, and increase predictability. The three pillars of this process are transparency, inspection, and adaptation. Transparency uses common language and gives the entire team visibility to the significant aspects of the process. It will be seen in the Scrum process in the product backlog, daily stand-ups, and retrospectives. Inspection is a timely check on the progress toward a sprint goal to detect any undesirable variances. Adaptation is adjusting a process quickly to minimize further issues. Both are used during daily stand-ups, sprint reviews, and retrospectives—all times when work is inspected and adapted depending on what comes out of the inspection. The Scrum Team & Employee Roles The Scrum team consists of the product owner, development team, and Scrum master. Each team is cross-functional and self-organizing—it has all the internal competencies to complete the work and decide how to accomplish it without needing external resources or direction. They deliver products or services iteratively and incrementally, repeating processes during a timebox or fixed time period. The roles are defined as: Product owner: The person responsible for maximizing the value of the product and the work of the development team; the manager of the product backlog Development team: The team members who do the work and deliver increments of "done" products or services at the end of each sprint Scrum master: This person ensures that the team follows Scrum practices and rules Who a Scrum Board Is Right For Scrum boards are used by teams that practice the project management methodology called Scrum. Understanding the basic parts of Scrum and setting up a board are relatively easy—you don't need to immerse yourself or your team in the framework to derive benefit from it. Scrum can be used by any team that needs to manage projects, whether it's product development or providing ongoing marketing services. A Scrum board offers benefits for the following roles: Project managers: Scrum boards help project managers stay organized, providing a visual, easy-to-follow map of how their team is progressing each week. Marketing teams: Marketing teams have diverse team members (content, technical, SEO, design, and account managers), and Scrum boards keep all of these moving pieces organized and able to change direction with client deliverables quickly. Sales teams: Scrum boards can help sales teams become more accountable and transparent, especially by employing daily stand-ups to share activities, successes, and losses. "A Scrum board helps us see what people are assigned to do, keeping our resources aligned to what's coming up. Quick check-ins with the daily stand-ups allow us to get ahead of issues instead of putting out fires. You don't often hear about fires until it's too late. It also improved our business efficiency level dramatically and allowed us to get more work done with less oversight from management." - Dechay Watts, Director of Marketing Strategy, Gorilla Group Scrum Board Examples & Costs Scrum boards can be as simple or sophisticated as you want. Your choice will depend on your budget, adoption, use, and purpose. For instance, if you want to experiment with Scrum to "see how it works" for your organization, it might make sense to start off with a whiteboard and sticky notes (approximately $30). If you've already decided you're going to adopt Scrum, there are many software offering free versions and paid plans starting at about $10 per user, per month. A reasonably priced project management software for most small businesses is . Its highly visual user interface, combined with premade templates and customization, gives users nearly unlimited options. There are plans for any budget, and you can upgrade, downgrade, or cancel your renewal any time. Start your free . Scrum Board Core Features A Scrum board is divided into vertical columns that show the stages of work in a sprint. These typically include a column for User Stories, To Do, Work in Progress, and Done. Each row is filled with a different user story assigned story points. There are also events such as the sprint, planning, and daily Scrum that are part of the process. Scrum artifacts represent work for inspection and adaptation, and reports such as the burndown chart show sprint performance. While some of these items and events will not be visible on the Scrum board itself, they are the core features that make up the Scrum framework. They must be understood—even if in the background—to create and use the board. The Sprint The sprint is the backbone of Scrum. It's a timebox of between one and four weeks during which an increment of product or service work is completed and ready to send to the customer. Once a sprint begins, its duration cannot be changed—and once completed, another is immediately started. Sprints consist of sprint planning, daily stand-ups, work, the sprint review, and the retrospective. A sprint is represented on a Scrum Board using vertical columns usually labeled: User Stories, To Do, Work in Progress, and Done. With a physical Scrum Board, sticky notes are often used to represent the tasks associated with a user story. These are moved from left to right by team members as needed. The goal is to have all of these tasks in the Done column by the end of the sprint. User Stories These are short descriptions of a feature or service told from the perspective of the user or customer, and are the smallest unit of work in Scrum. A user story's level of effort is measured by story points (more on that below). A user story's purpose is to show how a unit of work will deliver specific value back to the customer. Customers do not have to be end users; they can also be internal users who depend on your Scrum team. Once the requirements are agreed on by the team, more detail is added to each user story. These are then added to sprints and "burned down" over the duration of that sprint. A larger body of work is called an epic; this is broken down into stories to be worked on in multiple sprints. For example, a marketing agency may consider a 20-page e-book an epic because it requires multiple sprints for research, interviews, writing, feedback, and design. This is a typical template for a user story: As a < type of user >, I want < some goal > so that < some reason > A web development agency might have an example user story like this: Our client needs their "Sales" page link added to their navigation bar on the homepage to increase visibility of this article section. Story Points A story point is a relative unit of measure providing an estimate of the overall effort to complete a product backlog item. The estimate is based on the effort required to deliver an item relative to other product backlog items. Story points are agreed on by the team, which rates the relative efforts of each item. This knowledge comes from having completed these items in the past. The number of story points a team can complete in a sprint is known as velocity. Knowing this number is crucial for making predictions about the work that can be completed. Sprint Planning The work to be completed in a sprint is planned by the entire Scrum team during planning. It's timeboxed for an eight-hour maximum for one-month sprints and smaller time periods for shorter sprints. For example, a one-week sprint should require about an hour of planning. Sprint planning is facilitated by the Scrum master and product owner, who confirms the details of the product backlog items. Daily Scrum Also called the daily stand-up, this is a 15-minute daily meeting where the Scrum team discusses that day's work. It provides the team an understanding of what work has been completed and what needs to be done in that sprint. It's also used to identify any impediments a team member might have to complete their task. Each team member answers the following three questions: What did you do yesterday? What will you do today? Are there any impediments in your way? Impediments raised in the daily Scrum are anything that slows down a team member, for example: "The interviewee had to reschedule until next week. The VP asked me to attend a one-day seminar. The software I ordered was delayed." It's up to the Scrum master to resolve these impediments as quickly as possible. Sprint Review Held at the end of a sprint, the sprint review is used to inspect the increment (work delivered) and adapt the product backlog, if required. The entire Scrum team and key stakeholders join the meeting to discuss what was done and what was not. The product backlog is compared against this to determine if any adaptation is needed, with the team collectively determining what needs to be done next. This is valuable for the next sprint planning. Sprint Retrospective A meeting of the entire Scrum team, the sprint retrospective is used to create improvement opportunities. The meeting is usually under one hour and provides each team member the chance to reflect on the sprint. Facilitated by the Scrum master, the team discusses what went well, what could be improved, and what will they commit to improve in the next sprint. In the next retrospective, the items selected for improvement from the previous will be reviewed. The following three items are Scrum artifacts, representing work, and are designed to provide transparency through inspection and adaptation: Product Backlog The product backlog is an ordered list of the items that need to be done for completion of the project. However, the backlog will never be complete because the initial list is only the best-understood requirements at that time and will change as the needs of the project change. The product owner is responsible for the product backlog. In virtual Scrum boards, the product backlog is kept in a separate tab that can easily be added to or rearranged as needed. For a physical Scrum board, it will likely be kept in a spreadsheet that anyone can access. Sprint Backlog The sprint backlog is a list of product backlog user stories the team believes it can complete during the upcoming sprint. The team selects the items from the top of the product backlog during sprint planning, identifying the tasks and time needed to complete each user story. Increment This is the sum of all the product backlog items completed during a sprint. The increment must be "done" at the end of the sprint and must be in usable condition. It is a step toward an overall goal. Burndown Chart The burndown chart shows the amount of work completed during a sprint and the total work (if any) remaining. They are used to predict the likelihood that a Scrum team will complete their work during the sprint. The horizontal axis represents time and the vertical axis indicates cards. How Scrum Boards Help Sales & Marketing Scrum boards used with the Scrum framework can provide better organization for any team within a company that needs to manage projects and people. Sales and marketing departments can adopt the principles of Scrum and use a board and its related events to maximize efficiency, increase transparency, and anticipate issues before they become larger problems. Maximize Efficiency & Transparency With the product owner, team, and Scrum master all working together, a Scrum board, by design, will increase the transparency of a team. All work required of a project, to-do work, in-progress work, and work completed are displayed on the board and discussed in daily stand-ups, giving the entire team clarity on progress being made. With common standards, definitions, and tools, all team members are working from the same playbook. For instance, during daily stand-ups, teammates are asked what, if any, impediments they have to complete their work. This provides a time to make adjustments and remove the impediments so that person can complete their task by the end of the sprint. Anticipate Problems & Pivot as Needed Whether you're developing software or delivering services, there is no crystal ball for determining when an issue will arise. However, with a Scrum board and daily communication, your sales or marketing team can fix what might become an irreversible issue. For example, if an impediment to completing a timely email blast is identified in a daily stand-up, the Scrum master can resolve this (e.g., using another teammate) quickly before a deadline is missed. Scrum Board Providers There are a number of project management software providers that include Scrum boards. Some are more sophisticated than others because they are designed specifically for Agile teams. We reviewed a range of providers that offer very basic solutions and those that are specialized. Below are four providers with scrum board examples and who each is right for: monday.com is a highly visual project management software solution. They offer dozens of premade templates as well as the ability to create customized versions. Plans range from $25 per month to $59 per month and include five users. monday.com is ideal for teams that want Scrum features and other project management tools under one roof. Zoho Sprints , part of the Zoho suite of business software, offers an inexpensive, Agile-specific software. It starts at $10 per month for five users and includes Scrum board templates, backlog planning center, time sheets, dashboards, and reports. Zoho Sprints is ideal for teams that want an affordable Scrum board with Scrum-specific features. Sign up for a today. Jira is a leader in the software development space for project management. It is one of the most feature-rich software for Scrum users, providing many out-the-box boards, workflows, and reporting, but it's also highly customizable. Pricing starts at $10 per user, per month. It's ideal for Scrum teams that want a high degree of customization and don't mind paying a little more. Trello is simple-to-use project management software allowing easy creation and management of multiple Scrum boards. Paid plans start at $9.99 per user, per month, and there is a free forever plan that allows for up to 10 Scrum boards. This makes it ideal for teams that want a free Scrum board with the ability to upgrade in the future. Pros & Cons of a Scrum Board A Scrum board is an essential tool if you want to use the Scrum framework for managing projects. Deciding to use this framework is the first consideration. Then it's asking yourself how deep do you want to go into Scrum. We'll take a closer look into the pros and cons of a Scrum board and let you weigh them. The Pros of a Scrum Board Improve operational efficiency: For small businesses, using the Scrum framework and board brings the entire team together to see who is working on what, what's getting done, and where help may be needed. This is done daily in stand-ups. Increase accountability: If you implement Scrum between your sales and marketing teams, for example, you will immediately improve accountability. Responsibilities can be shared (in some cases), and there is more transparency. Affordable for small businesses: Whiteboards and sticky notes are a sub-$30 Scrum board solution, putting it in reach of any business. For teams that want software, there are paid plans starting at about $10 per month and even free forever options. Easy setup and deployment: The whiteboard-sticky note combination is the easiest to set up and use, arguably. Scrum software follows the physical board in framework, and there are many additional features such as reporting and automation. The Cons of a Scrum Board Resistance from staff: Using a Scrum board means learning a new way to manage projects—the Scrum framework. The basic Scrum concepts are fairly simple to understand, but it can become more difficult as you learn to use all of the concepts. Cost prohibitive: If you've committed to using the Scrum framework, you'll likely want to invest in software and possibly a Scrum consultant to get you started. All of this can be expensive for a small business. Another technology to learn: While a Scrum board can be a whiteboard and sticky notes, it can also be accomplished more efficiently and elegantly with Scrum software. This is another technology for your team to learn. Scrum Board Frequently Asked Questions (FAQs) Can any team use a Scrum board? Any team that needs to manage something or someone can use a Scrum board. You don't have to follow all of the rules we've outlined here. Use the basic concept and tailor it to your situation. Other than product and software development, Scrum is also used in departments such as marketing, sales, HR, and customer service. What is the difference between Waterfall & Scrum? Waterfall is a project management methodology used for projects that are completed linearly with a project manager overseeing all work. That is, one task must be completed before the next task can begin. For example, you can't hang the drywall in a house until the walls have been framed. In Waterfall, it's impossible to return to a previous stage. With Scrum, there is no project manager; the team decides what to work on and when. There is more transparency because the team is meeting daily, sees how the project is progressing, and is able to identify issues before they become major setbacks. Bottom Line Scrum boards provide a visual, interactive display of a project's ongoing tasks in a sprint. This gives every member of a Scrum team the ability to see how the sprint is progressing. The steps in managing the Board, such as daily Scrums, provide transparency and accountability and allow for continuous improvement. For affordable, highly visual project management software with Scrum boards, consider . It provides dozens of premade templates for multiple industries and allows customizing your own. Find out more about monday.com by visiting their website and .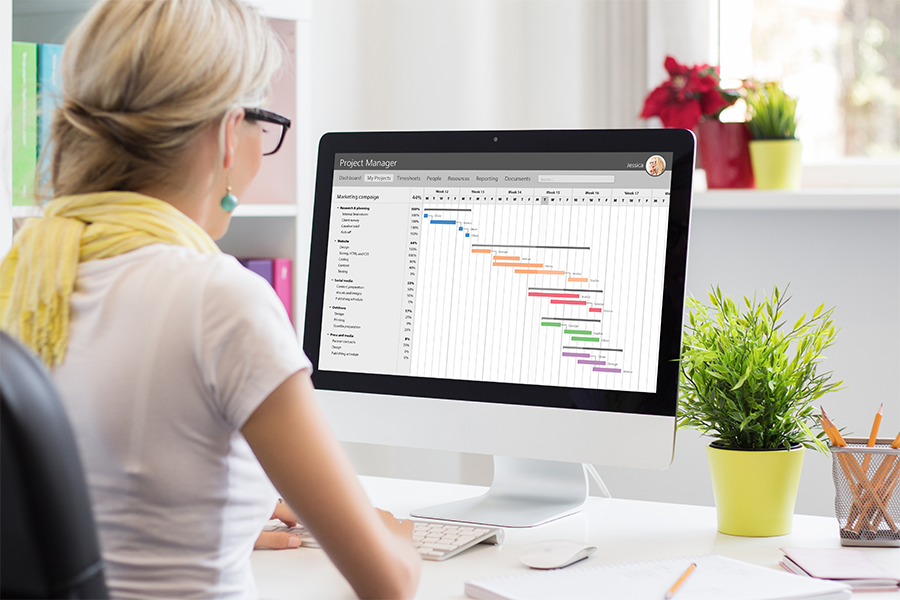 May 23, 2019
How to Create a Project Timeline in 5 Steps (+ Free Scope Template)
A project timeline is a visual representation that helps companies communicate milestones, required resources, and dependencies as part of a project management strategy. This timeline should be created as part of a larger project scope planning process, which also consists of developing a statement of work, team breakdown structure, and formal list of deliverables. Once your timeline has been defined, you want to be able to manage your project with a tool that is easy to set up and highly visual, giving both the team and stakeholders the ability to see status at a glance. offers intuitive project templates as well as customization options for all kinds of business projects. Sign up for a . Free Project Scope Document Template Project timelines can vary widely depending on the complexity, resources, and time frame. However, most project scope documents can be created following the major steps outlined here, starting with the first: creating a project scope statement. This document will form the backbone of the project timeline. We've created a free, downloadable project scope template to help you build a foundation for your timeline that you can then customize based on your business needs. Here are the five steps for creating a project timeline: 1. Create a Project Scope Statement Creating an effective project timeline starts with defining the boundaries with a strong project scope statement. This document will help sell a project to stakeholders, keep scope creep away, and ensure the team is working together. The elements of the statement may vary by project or business, but generally include objectives, description, justification, deliverables, acceptance criteria, constraints, and assumptions. To create this project statement, you will need to do the following: Engage the Project Team The team should meet to discuss the project overall, identifying and agreeing on its major deliverables. Then the team should brainstorm the subdeliverables, activities, and tasks using a whiteboard or sticky notes in the hierarchy. Finally, each team member should consider their own work in the project and what, if anything, might be missing. Define Business & Project Objectives The business and project objectives are brief, high-level statements related to goals. The business objective should tie into larger company goals defined as part of the overall business strategy. An example business objective might be: Reduce customer churn by 5% and increase new business by 15% in 2019. The project objective is the goal the project is intended to achieve. It should tie back to the business objectives by helping move the company toward these goals. For example, you've determined you need a CRM to effectively sell and service customers, help reduce churn, and increase new business. Your project objective might be: "Implement a CRM with all staff trained by third quarter 2019." When thinking about objectives, it's a good idea to use the SMART method. This stands for Specific, Measurable, Attainable, Relevant, and Time-based. For guidance and inspiration, check out our article on the 20 best smart goals examples. Write a Brief Description The description provides an outline of the delivered project and defines the boundaries. In other words, what is "in scope" and what is "out of scope." This ensures that all internal project team members understand the boundaries and all external (e.g., stakeholders) know if their requests fall outside the scope (and will, therefore, need to be approved). Using the CRM implementation example: In scope: Implement a CRM to manage contacts for service and sales Create basic product and service pipelines Train team members Out of scope: This will not include email campaign content and setup It will not include internal communication automation (e.g., lead routing) Define Acceptance Criteria These are the requirements and conditions that must be met before the project can be accepted. It is a list of specific criteria that proves to the client (business owner, stakeholder, and so on) that the work has been completed. For an internal CRM implementation, these conditions might look like this: Quality assurance testing in both sandbox and "live" CRM environment has been completed and signed off by the project manager. All employees have passed their vendor CRM certification. Identify the Constraints A constraint is a limitation or risk that can affect a project. The primary constraints are time, scope, and cost. These are interrelated so that straining one area will impact the others—and result in a poorer outcome. If you are using only internal resources for your CRM project, your constraints could be your team resources: "The sales team is very busy selling and will have to fit the testing of the CRM into their schedules." 2. Create a Work Breakdown Structure A work breakdown structure (WBS) is a hierarchical map of all the things that need to be done, breaking a big project down into smaller, manageable sections. It's typically represented in an organizational chart structure. It shows an objective view of the work, skills, and resources required for the completion of the project. Creating a WBS minimizes the chance that you forget a step in the project or add something that is outside the scope. The goal of creating a WBS is to ensure that all work needed to reach the project's goals are accurately planned for. To do this, you can take the list of deliverables and subdeliverables from the brainstorming session used to create your project scope statement and break down the work in into major deliverables, followed by main components and subdeliverables as the next level of work, and assign work percentages. An example of a WBS looks like this: To ensure you have properly accounted for subdeliverables, you will want to do the following: Define Work Packages According to projectmanagement.com, a work package "is the effort required to produce a deliverable within a project." It is the smallest unit of work in a WBS. Work packages are usually owned by one person, include the definition of work, start and end dates, required resources, and estimated costs. Each work package will then be assigned a percentage based on its impact on project scope in terms of budget and time, and the total adds up to 100%. For example, a main component of project might be to finish a plumbing job. However, this task relies on several subdeliverables. Therefore, the work packages would be things like roughing in the plumbing, setting fixtures and trim, and testing the system. The work package owner will then be responsible for reporting on progress to the project manager once the project is underway, and it should have a specific outcome or deliverable. Work packages are further decomposed into tasks or activities. These are the actual "to-do's" (e.g., Add users to CRM) that combine to complete the work packages. Work packages are defined by following these steps: Step 1: Create a List of Required Tasks Tasks are single actions or units of work to accomplish in a project. They are the "to-do's" in the work packages that help the project inch toward the finish line of completion. Each work package will have at least one task and likely multiple tasks. Each task should have defined start and end dates, budget, and resources. Step 2: Identify Resources Resources are people, money, equipment, facilities, or anything needed to complete a project. Each of your activities will have resources assigned to it. For people, determine the skills you need for each task. Once you've identified your team, check on their availability. It's likely their project duties will have to be done on top of their normal job functions. If you're hiring outside people, these resources will have to be scheduled in advance. Step 3: Estimate Time for Tasks As you list your tasks, you'll need to know how long each one will take. Take into consideration the resources you have assigned to it and then work with your team to come up with an estimate. If you and your team are unsure about time estimates, enlist the help of someone from the outside who has done this kind of work. For project management software company , managing resources, like team workloads is as important as keeping track of tasks. Their software makes it easy to manage due to its highly visual, intuitive interface, features such as drag-and-drop project management, and plenty of customization options. Sign up for a free, . Assign a Project Percentage by Deliverable Each WBS task should be given a percentage based on its impact on the total project in terms of time or resources, adding up to 100%. This is known as the 100% rule and lets the project manager know that all work is estimated and accounted for. Start with the major deliverables. For example, if the project is to build a house, the WBS project percentage breakdown might look like this: Internal = 45.60% + Foundation = 24% + External = 30.40% = 100% Then repeat this process for each major deliverable's main components and subdeliverables using the same methodology. For example, under Foundation, you assign the main component, Excavate, 18.2%, with subdeliverables specified as 7.9% and 10.3%. These subdeliverables added together will equal Excavate's 18.2%. This continues downward until all main components and subdeliverables are accounted for. 3. Determine Dependencies Dependencies are tasks that cannot be started until another task has been completed. You likely relied on simple but crucial task dependencies this morning when you brewed coffee—you needed a grinder to get the beans in brewable form and a filter to dump your ground beans in. The beans were dependent on the grinder. The filter was dependent on the ground beans. And the final product was dependent on you adding water. The most common dependency relationship is finish-to-start, where the first task must be completed before starting the second. However, there are four total task dependencies. They are as follows: Finish-to-start: The first task must be completed before starting the second Start-to-finish: The first task must start before the second task can finish Finish-to-finish: The second task can't finish before the first task is finished Start-to-start: The second task doesn't start until the first task starts 4. Identify Milestones & Critical Path Milestones are points in time that symbolize key events showing a project's progress towards its goal, and are a key component of your project timeline. They are the most important events of your project, but they do not have a duration. Think of them as a flashing light that says "you've reached a major point in your project journey." Some examples of milestones that may be included in your timeline: Key deliveries internally or to your client Approvals from stakeholders or client Reaching a key performance indicator (KPI) Important meetings Starting and ending dates for phases The critical path is the sequence of tasks that, if delayed, will impact your ability to achieve milestones or provide deliverables per the defined project schedule. It is important to identify the critical path on your project timeline so that all stakeholders know which tasks allow for the least amount of slack and who is responsible for completing them so that work is prioritized. Here are the basic steps for identifying critical path and how milestones can be used. List all tasks required to complete the project Estimate the time it will take to complete each task List all dependencies: which tasks need to happen before others can start List the milestones for the project Look for the longest path your tasks will take to complete the project. This, combined with milestones, will also help you better understand how much slack, or allowance for missed due dates, you've included in your project timeline. Too much slack, and you risk your project being deprioritized by teammates. Too little, and you risk upsetting your customer or other stakeholders by missing key deliverables. 5. Display Your Project Timeline Graphically After you have identified your project scope, deliverables, and work breakdown structure, it is time to put it all together in a graphical format. This ensures that information such as milestones and critical path are easily communicated to project stakeholders. This visual representation of the project timeline is usually separate from your project scope document, so it is easy to update and share once the project is underway. The most popular way to displaying a project timeline is with a Gantt chart, which uses colored bars to show a project's schedule. Tasks are displayed on the vertical axis and time is represented on the horizontal axis. The two applications used most often to create a project timeline template are and . There are also other third-party software companies that offer templates. Create an Excel Project Timeline has long been the standard for business applications, and while it is a powerful tool, it can be complicated to use. Also, because it's not online, it's not as collaboration-friendly. Those disclaimers out of the way, the Gantt-style project timelines you can create are nearly unlimited. Whether you want to create one from scratch or download any number of free, customizable templates, there are dozens of options online. Use Google Sheets for a Project Timeline Fit Small Business uses the (formerly G suite) of online productivity apps because they are highly collaborative and a little less technically daunting than offerings. A Gantt-style project timeline can also be created in the free Google Sheets. Here are some additional advantages to using Google Sheets for your project timeline: Team members can update the timeline in real-time Everyone has access to the most recent version Changes are automatically saved and show a revision history Changes instantly update across the web and all devices Utilize Project Timeline Templates While every project is different in terms of the tasks needed to complete it, available resources, and overall schedule, it is possible to download templates for use in a tool like Excel, which will help you get started. However, the project management tool, , also offers a project timeline template when you sign up and because it is cloud-based, it is easy for everyone involved in the project to see status in real-time without the need for constant email updates. Bottom Line: How to Create a Project Timeline Creating a project timeline is crucial for teams that are managing a project, especially for those projects that are spread out over weeks or months. A timeline consists of a thorough project scope statement and a detailed work breakdown structure to ensure that all of the required work is defined and accounted for. After identifying dependencies and milestones, you'll be ready to select a project timeline template. Selecting the right tool for creating a project timeline is as important as deciding which team member does which tasks. project management software is highly visual and intuitive. They have dozens of premade project templates for a variety of business applications, and you can customize your own. Sign up for a free, 30-day trial today.
Discover more resources
for your business