BA Communication Arts, Major in Writing, University of the Philippines Los Baños
VoIP
Business phone systems
Video conferencing platforms
Unified communications as a service (UCaaS)
+9 years in writing and research
+3 years in creative writing
+3 years in content marketing
+3 years in technical writing
Marianne is a staff writer focusing on business phone systems, contact center solutions, VoIP, and video conferencing tools. She started her career as a freelance content writer, producing hundreds of content for global clients in Singapore, the UK, and the US. From there, she built her expertise in writing about communications technology.
A writer by day and a reader by night, Marianne is a passionate collector of action-packed novels, whether horror, thriller, fantasy, or science fiction. She devotes her free time to her two rescued cats.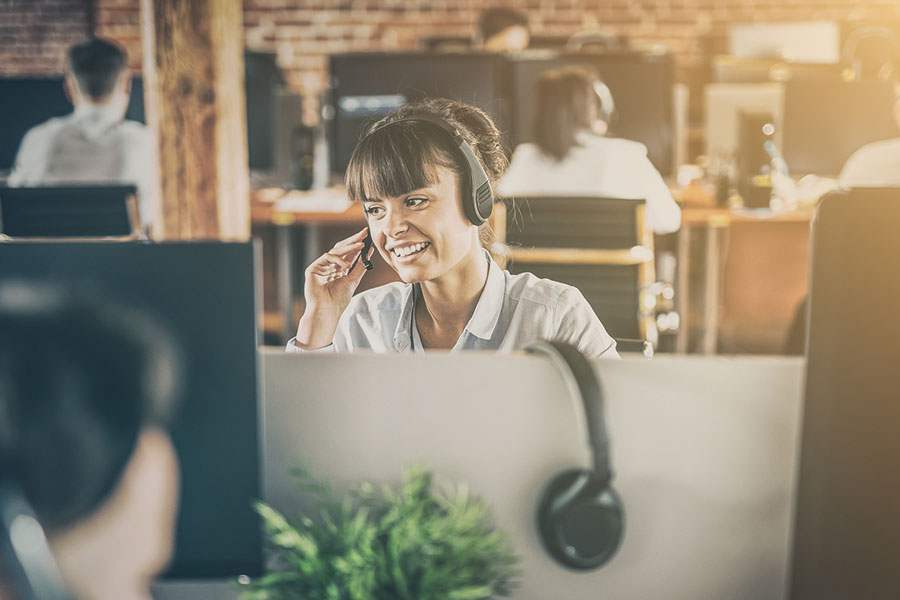 January 27, 2023
7 Best Answering Services for Small Business in 2023
The best answering services provide well-trained live receptionists with the tools for handling calls, recording contact information, scheduling appointments, and processing orders. The right solution should be affordable for small businesses and fit seamlessly into their workflow. Answering services come with extra features, such as custom scripting, bilingual receptionists, and call routing options—improving the entire call flow and delivering a positive customer experience. Based on our research, the best answering services include the following: : Best overall live answering service for small businesses needing immediate account coverage : Best for companies needing live receptionists services for managing high call volumes : Top answering service for businesses with fluctuating call volumes : Excellent for teams needing an answering service for different messaging channels : Ideal for companies looking for a dedicated team for answering calls : Suitable for solopreneurs and budget-conscious businesses looking for an affordable per-minute plan : Great for remote businesses needing a virtual admin assistant Best Answering Services at a Glance VoiceNation: Best Overall Answering Service is the best small business answering service for companies needing a basic virtual receptionist solution in place immediately. Live answering companies typically take over a week to set up an account, including the customization process. With VoiceNation, the instant provisioning offer allows customers to activate its services within seconds after placing an order online. Plus, it doesn't charge a setup fee and offers lower prices than competitors. All VoiceNation plans include custom scripting, bilingual receptionists, and a mobile app. It also offers reports and analytics tools for forecasting and performance management. However, access to a dedicated account manager is limited to Enterprise users. In this case, consider , which offers a dedicated team and success manager for all types of plans. VoiceNation Features Online dashboard: VoiceNation offers a live dashboard that lets you monitor your account, customize your script, preview messages, and track minutes. It also comes with a report and analytics tool that displays call volume, type, time, location, and length. Order processing: VoiceNation receptionists are trained to work with different types of businesses that need help in making sales calls and processing orders. Call forwarding service: Decide which calls are routed to you directly or to one of your employees. All forwarded calls are free of charge. AnswerConnect: Best for High Call Volumes is the best call answering service for businesses receiving a high volume of customer inquiries every month. While most providers offer less than 100 receptionist minutes for their base plans, AnswerConnect includes 200 minutes for their entry-level package. Businesses experiencing higher than normal call volumes may consider upgrading to its larger plans, ranging from 500 to 15,000 minutes. AnswerConnect's answering service comes with free access to its web chat service. This is a good deal because competitors like charge a separate fee for their live chat service. On the downside, AnswerConnect's pricing plans are relatively expensive for those with a limited budget. It also bills in 60-second increments, which means the first second is instantly charged a usage of 60 seconds. A cheaper alternative would be , which offers a pay-as-you-go pricing structure for businesses with fairly low call volumes. AnswerConnect Features Teleport video: Start 1:1 or group video calls with your teams or customers, including access to team chat and screen sharing. Appointment scheduling: A team of virtual receptionists will manage your calendar and schedule your appointments over the phone, website, or on social media. It also includes premium access to a partner booking platform. Lead capturing: AnswerConnect's customer experience specialist will manage your lead management process by making outbound calls to your customers based on website clicks, registrations, and purchases. Ruby: Best for Fluctuating Call Volumes *Get a bundled plan with a virtual receptionist and live chat to save 20% , also known as Ruby Receptionists, is the best phone answering service for companies experiencing seasonal fluctuations in call volumes. Whether you need full-time, part-time, or backup support, Ruby gives you flexibility for your call answering needs. Having all these options makes it easy to use a virtual receptionist service only when you need to or would like to. Bundled plans are available for those who wish to combine virtual receptionist and live chat services. However, if you need a multichannel plan that also supports other messaging channels, you're better off with . It provides a team of virtual receptionists who will expertly handle your calls, emails, texts, and live chat messages. Ruby Features Ruby mobile app: Stay connected with your callers and access your call records, messages from receptionists, and client voicemails. Automated lead capture: Collects specific data from customers and website visitors. This creates a conversational flow that provides lead information and directs customers to call your business for further assistance. Appointment scheduling: Live receptionists will work with your preferred calendaring system to arrange appointments and coordinate schedules with your customers. Go Answer: Best for Multichannel Support goes beyond its virtual receptionist and live chat services by offering answering solutions for email, SMS, and ticketing. Its outsourced contact center services will help you handle all your digital interactions across multiple channels. It also offers customized answering programs based on specific business needs, including help desk, after-sales, order taking, hotline, and appointment scheduling. While Go Answer offers a variety of answering services, it primarily focuses on customer interactions. If you're looking for an all-in-one answering service to help you with daily admin tasks, check out . Subscribing to Davinci's Premium plans provides access to virtual assistants who are trained to perform all the extra office work. Go Answer Features Email response service: A team of email support specialists will handle your inbox and answer questions on behalf of your business. They will also respond to customer requests and filter out junk messages. Real-time dashboard: Subscribing to any Go Answer plan includes free access to your own client portal, allowing you to monitor real-time call data, ongoing calls, and call volume. Custom scripting: Get individualized assistance to create a personalized script for your business. Sample scripts are available if you wish to write your own. Abby Connect: Best for Dedicated Receptionist Services is the best virtual answering service for businesses wanting to have a dedicated team to answer their calls and chat messages. Subscribing to any of its plans includes five to seven receptionists, and you may have two separate teams for expanded hours and three for 24/7 operations. This creates the impression that you have a team of receptionists who are knowledgeable about your business and clients. Still, Abby Connect isn't the lowest-priced solution, especially if you need 24-hour answering services. Although lacks a mobile app and doesn't provide dedicated teams, it's cheaper than Abby Connect by $100 per month. However, you will need to pay for every minute used since the standard plan does not come with included minutes. Abby Connect Features Abby Go mobile app: Manage your business calls and stay updated with your receptionist team on the go. Use your business phone number to send and receive text messages and make free outbound calls. Call block: Conserve your receptionist minutes by preventing unwanted callers and persistent spammers from calling your assigned phone number. Warm transfer: Before transferring a call to your phone number, a receptionist will initially provide you with the information acquired from the caller. MAP Communications: Best for Affordability Priced at just $47 per month, is the best answering service for solopreneurs and small businesses on a budget. With the Standard plan, you only pay for the minutes you use (in addition to a low monthly subscription fee). Receptionist services are available 24/7/365, and there's no difference in cost after hours. MAP Communications doesn't have a mobile app. Instead, you must log in to its client web portal to keep tabs on your calls. If you need mobile updates on your company's call activity, check out . Ruby offers a full-featured mobile app with one-touch call holding and Ruby-hosted business numbers. MAP Communications Features Custom scripts: Create a custom phone script that reflects the brand identity of your business. Account managers will study your industry, services, and offerings. Client web portal: A message management tool that lets you keep track of client interactions and quickly spot patterns and trends across calls. Call routing services: MAP Communications offer custom call routing, forwarding, and transfer services to ensure your callers reach the right person or department. It uses various criteria to handle incoming calls, including preferred time, caller ID, and the purpose of calling. Davinci: Best for Admin Assistance Services offers two package types, Business and Premium, so you only pay for the features your business needs. With Premium plans, your receptionist also serves as your virtual assistant, performing admin tasks such as planning travel and setting appointments. Davinci charges $50 per hour and bills in per-minute increments for admin work. With Business plans, you get all the basics you expect from a professional answering service, such as voicemail management, call forwarding, and a free phone number. Plus, Davinci lets you hold conference calls with up to 99 participants. Unfortunately, Davinci only answers calls Monday through Friday from 8 a.m. to 8 p.m. Eastern Time. Account activation also takes longer. If you need a 24-hour solution that includes weekends and holidays and quicker setup, consider , which provides the fastest new account turnaround time. Davinci Features Advanced call routing: Set up your call routing rules using a simple drag-and-drop interface that allows you to establish the rules for sending different calls to different lines by the time of day or order received. Outbound calling: Davinci's live receptionists will expertly handle your outbound calls related to lead generation, appointment scheduling, and surveys. Davinci mobile app: Take business calls anywhere with the Davinci Virtual mobile app. It allows users to update their availability status, view messages from live receptionists, and stay updated on call activity. How We Evaluated the Best Answering Services A live answering service offers a smart way to deliver the best customer experiences while making your business seem more established. It provides an excellent opportunity to connect customers with a real person rather than a machine. For this guide, we evaluated seven answering services based on cost, customer support, and added voice-over-internet-protocol (VoIP) features. Click on the tabs below to learn how we evaluated the best answering services for small businesses: Bottom Line Live receptionists provide businesses with a unique opportunity to connect with new or existing customers. Whether you're managing a startup or a small company, an answering service reinforces strong customer relationships and maintains a consistent and professional image. Our ratings show that is the best answering service for small businesses looking for low-cost plans and quick account activation. Plans include 24/7 service, bilingual operators, custom scripts, and detailed reports. Sign up for its seven-day free trial to explore the right pricing solution for your business.
Discover more resources
for your business
BA Communication Arts, Major in Writing, University of the Philippines Los Baños