Bachelor of Arts in Journalism with a minor in Electronic Media and Broadcasting from Northern Kentucky University
Nationwide Multistate Licensing System (NMLS)-Certified (NMLS # 1780899)
N5-Certified on the Japanese Language Proficiency Test
Small business lending
Residential mortgage lending
Commercial mortgage lending
Commercial equipment lending
Financial journalism
Broadcasting
10 years of finance experience in lending and lockbox
20 years of journalism experience in print, online, and broadcasting
Matt Sexton is a finance expert at Fit Small Business, specializing in Small Business Finance. He holds a bachelor's degree from Northern Kentucky University and has more than 10 years of finance experience and more than 20 years of journalism experience. He has worked for both small community banks and national banks and mortgage lenders, including Fifth Third Bank, U.S. Bank, and Knock Lending.

In addition to his financial and journalistic background, Matt has been a high school tennis coach for 16 years—with his teams winning 12 league championships during that time. He is also the lead women's basketball and men's and women's soccer broadcaster for Northern Kentucky on the ESPN+ streaming platform. He has also broadcast games at Thomas More University and the University of Cincinnati.
"I feel like we have a very important role here at Fit Small Business to help users cut through the clutter of the internet and find the products and services that will best serve their needs. We spend the time to bring them the best answers so that they can spend time running their business and not endlessly searching for information."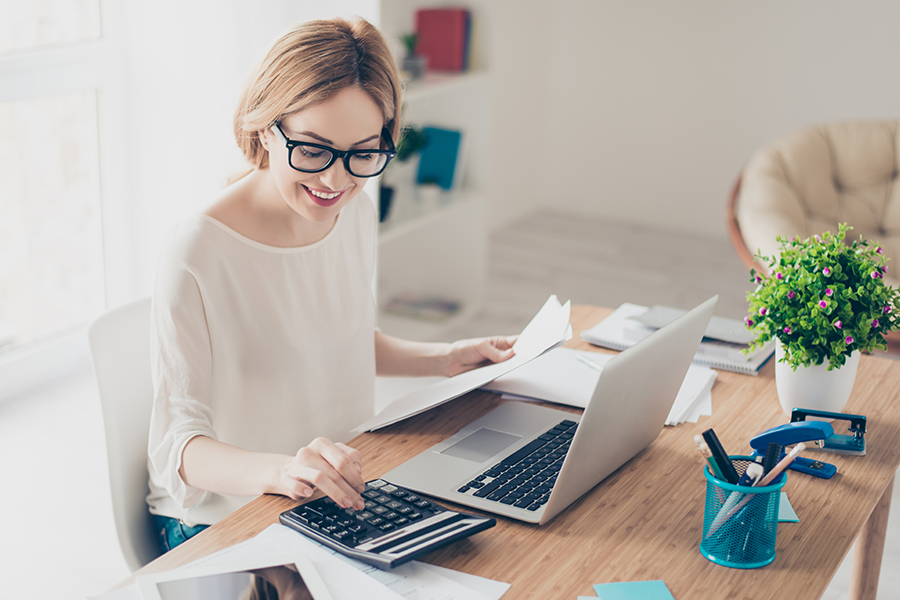 October 17, 2022
Free Rental Property Calculator: Analyze Your Investment Property
The purpose of a rental property calculator is for investors and landlords to determine the current value of a property or evaluate a property they're considering purchasing by calculating the return on investment (ROI), capitalization (cap) rate, and cash flow. While this can be a complicated process if you're figuring out the numbers on your own, by using a calculator designed with specific investment formulas, the process becomes much more efficient. Use our free rental property calculator below to determine your investment property numbers, and then read our detailed breakdown of how these inputs and outputs affect your current or potential property purchase: Note: This calculator is for estimation purposes only. How the Rental Property Calculator Works The rental property calculator, also called a rental income calculator or property analysis calculator, works by calculating data inputs like property purchase details, monthly operating expenses, and property income. These numbers include items like your property's current value, mortgage rate, loan term, down payment, renovation costs, closing costs, and any expected property-related expenses. After entering these numbers, the rental income calculator will calculate the property's cash flow, cap rate, and return on investment. Knowing these numbers gives you an overview of whether the property you already own or the property you might purchase is a good investment. Inputs for the Rental Property Calculator To use the rental income calculator, gather information about the property to get accurate results. Ask your real estate agent to procure these figures from the current property owner if you are considering a purchase or review your finances if you are evaluating your own property. Here are the input numbers you'll need to have: Purchase Details The purchase details provide the foundation for the calculations by setting a baseline of how much the property is currently worth and determining whether it will be a sound investment based on the other investment factors of expenses and income. If you are evaluating a potential purchase, consider whether the property's value is commensurate with the income potential. If you are calculating the rental property value of an already owned property, you should be determining whether the current value of your property is helping you meet your financial goals. Your calculator inputs will differ based on whether you've taken out a loan to purchase the property or paid the purchase price in full with cash. If you've decided to finance the property with a loan, calculate the monthly loan payments, interest rate, and length of the loan as part of your expenses. These numbers will affect the property's ROI and cash flow. However, it will not affect the cap rate because the cap rate does not take the loan into account. As we continue through the inputs, we will further explain these differences. Additional Inputs for Investors Using a Loan If you did not pay or are not planning to pay for the property with all cash, you'll need to reach out to a mortgage professional to speak about loan options. While there are many types of investment loans available, they will all have the same general requirements to include in the rental property calculator. Our calculator will operate similarly to a rental mortgage calculator by using the following variables to calculate your monthly mortgage payment: Monthly Operating Expenses Monthly operating expenses are the monthly items that will deduct from your income but are necessary expenses for your property. Unlike the purchase details, these numbers will be the same whether or not you took a loan to purchase the property. It's important to be accurate with these numbers to correctly calculate the return on investment, cap rate, and cash flow of your current or potential investment. If you own the property already, review your financial statements to input these numbers. If you are evaluating a potential property, ask your real estate agent if they can provide estimates of these numbers or do your own research based on public records and average calculations. We'll also provide methods below that will assist in gathering this information. Income Details The final section of the calculator requires inputs pertaining to your property income. This section is very important as it will affect the cash flow and ROI calculator outputs. For the most accurate results, use the rental income calculator to get all the numbers together beforehand. Have your vacancy rate, operating expenses, and monthly rental income in front of you so you can easily input the correct numbers. For owners evaluating their current properties, look thoroughly at your property financial statements to accurately portray these numbers. If you don't own the property yet, but are evaluating its potential, find these numbers through your real estate agent or the current property owner's records. You can also use the calculation tricks we've provided below for each input variable: Outputs for the Rental Property Calculator The ultimate goal of the rental property calculator is to evaluate whether a property is a good investment based on the property's ROI, cash flow, and capitalization rate (cap rate). These results, also called outputs, will be calculated with specific formulas using your monthly operating expense and purchase detail inputs. If you're evaluating a potential property purchase and these outputs are not where you want them to be, it might be a sign to move on to another property. However, it could also mean that the property, as it is now, is not capitalizing on certain financial aspects. For instance, if comparable properties in the same location are charging $2,500 per month in rent and the current owner only charges $1,500, these output variables might be lower than they should be. Under your new management, you can raise the rent to increase your cash flow and return on investment. Use our gross rent multiplier (GRM) calculator to compare multiple properties and understand the potential profitability of an investment. This multiplier will also estimate the payoff period of your property. Check out Gross Rent Multiplier (GRM) Calculator & How to Use It for more information. Continue reading to understand more about each of these output variables, the formulas associated with them, and how they will help determine if you're making a sound investment decision. Return on Investment A return on investment, commonly known as ROI, measures how much profit you make—or have made—on an investment property displayed as a percentage. Calculating return on investment for rental properties is valuable for all investors, as this metric will help compare properties to one another or evaluate their current properties. It measures how well the rental property is doing and can be a great way to decide which property to purchase or how much you should offer on a potential property. To learn how to calculate ROI for your rental property, take your annual return and divide that by your total cash investment. The calculator will do this for you, but if you want to do it on your own, you can calculate the return on your rental property by subtracting your expenses from your total rental income. Then you divide this by your total investment. The ROI formula written with your inputs and outputs will look like this: ROI (without loan) = [(Monthly Rental Income + Other Monthly Income) - Vacancy Rate] x 12 months - (Monthly Operating Expenses x 12 months) _______________________________________ Purchase Details If you have a loan or are planning on taking out a loan to finance the purchase, you will have to include that as part of your calculations: ROI (with loan) = [(Monthly Rental Income + Other Monthly Income) - Vacancy Rate] x 12 months - (Monthly Operating Expenses x 12 months) - (Monthly Loan Amount x 12 months) ______________________________________ (Repairs/Renovation + Closing Costs + Down Payment) A good ROI on an investment property is generally 10% or higher. ROI is affected by several factors like property management fees, rental income, mortgage payments, homeowner association (HOA) dues, insurance premiums, and other items directly related to income and expenses. Investors can increase their ROI by taking a deep dive into their expenses to reduce costs. Also, if you're potentially purchasing a property, consider making improvements that will increase your property value and, therefore, your ROI when renting it to tenants. Cash Flow Cash flow is another critical output found by using our free rental income calculator. Simply put, cash flow is the money flowing in (rental income) and flowing out (expenses) of your investment property. The cash flow output will differ based on whether you've taken or are planning to take out a loan to pay for your property. This is because the loan payment will be considered as money flowing out and will decrease your cash flow monthly and yearly. To figure out the cash flow, the calculator starts with your rental income and subtracts your operating expenses and mortgage payments. Here is the formula for calculating cash flow: Cash Flow (without a loan) = [(Monthly Rental Income + Other Monthly Income) - Vacancy Rate] x 12 months - (Monthly Operating Expenses x 12 months) Like the ROI, the cash flow rental calculator impacts your loan payments because they are considered cash deductions. Cash Flow (with a loan) = [(Monthly Rental Income + Other Monthly Income) - Vacancy Rate] x 12 months - [(Monthly Operating Expenses x 12 months) - (Month Loan Payment x 12 months) Cash flow is either categorized as cash flow positive or cash flow negative. If you're buying an investment property, you typically want a cash flow positive property, which means that at the end of each month, you're making a profit after all rents are collected and all expenses paid. If you're purchasing a property with a loan, consider putting more money toward the down payment to increase the cash flow. If you're purchasing a property with cash or have already done so, look at your monthly expenses and see if there are areas where you can reduce them, like shopping around for property management companies or using less expensive software. Capitalization or Cap Rate The capitalization rate, commonly known as the cap rate, is a rate that helps investors evaluate a real estate investment. The cap rate formula is the net operating income divided by the property value. Cap rates vary by location and property type, but a good cap rate ranges from 4% to 10% or higher. Typically the higher the cap rate, the more profitable the investment, but also the riskier the investment. Unlike the ROI and cash flow outputs, the cap rate does include mortgage debt, so only one formula is needed whether or not an investor decides to take a loan on the property or not: Cap rate = Rental income + Additional income - Vacancy Losses ________________________________ Property Value The cap rate of a property shows the rate of return on investment (ROI), meaning how much the owner can gain or lose if they purchase the property. It's an extremely important figure that allows you to compare investment scenarios or investment properties. Who Should & Should Not Use a Rental Property Calculator A rental property ROI calculator should be used by a real estate investor who wants an easy solution to finding out if a rental property is a sound investment. It's generally right for long-term investors who want to push a few buttons and have things like the property's cash flow and ROI calculated for them. Most investors use a rental property cash flow calculator before deciding whether to purchase an investment property. Other investors use it to determine if they should keep or sell their current investment property. Specifically, a rental property ROI calculator is right for: Duplex, triplex, fourplex, and other multifamily real estate investors Apartment building investors First-time and single-family home investors Landlords who will be managing the property themselves Investors who want to sell a property and be able to give the potential buyer all of the figures on the property, such as cash flow Landlords with a large portfolio of properties Investors looking to purchase a vacation property On the other hand, a rental income calculator is generally not right for fix-and-flip investors who purchase a property to rehab it and sell it for a profit. These short-term investors usually don't care about rental income or monthly cash flow. Instead, they focus on after repair value (ARV) and how much ROI they can make by selling the property as quickly as possible. Bottom Line A rental property calculator is an extremely useful tool for investors to calculate the ROI, cap rate, and cash flow of a current property or potential property purchase. Knowing these calculations will put investors and landlords in a better position to evaluate investment options and continue improving the profitability of their investments.
Discover more resources
for your business
Bachelor of Arts in Journalism with a minor in Electronic Media and Broadcasting from Northern Kentucky University
Nationwide Multistate Licensing System (NMLS)-Certified (NMLS # 1780899)
N5-Certified on the Japanese Language Proficiency Test
"I feel like we have a very important role here at Fit Small Business to help users cut through the clutter of the internet and find the products and services that will best serve their needs. We spend the time to bring them the best answers so that they can spend time running their business and not endlessly searching for information."