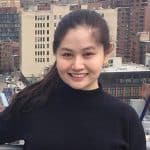 Maria Roberta Benitez
Marketing Expert
BA, History, Ateneo de Manila University
Advertising
Marketing
Website Builders
5+ years writing and editing
3+ years freelance copywriting
Roberta Benitez has brought more than five years of writing experience prior to her work at Fit Small Business. Before joining the team, she primarily worked in startups, where she still does freelance work in her spare time. She has extensive experience in writing about a variety of topics from marketing and business to gaming and culture. Now she writes for the Sales and Marketing group, informing readers about the best way to create their own small business websites.
When not writing about business or marketing, you can find her traveling, hanging out with her pets, and baking.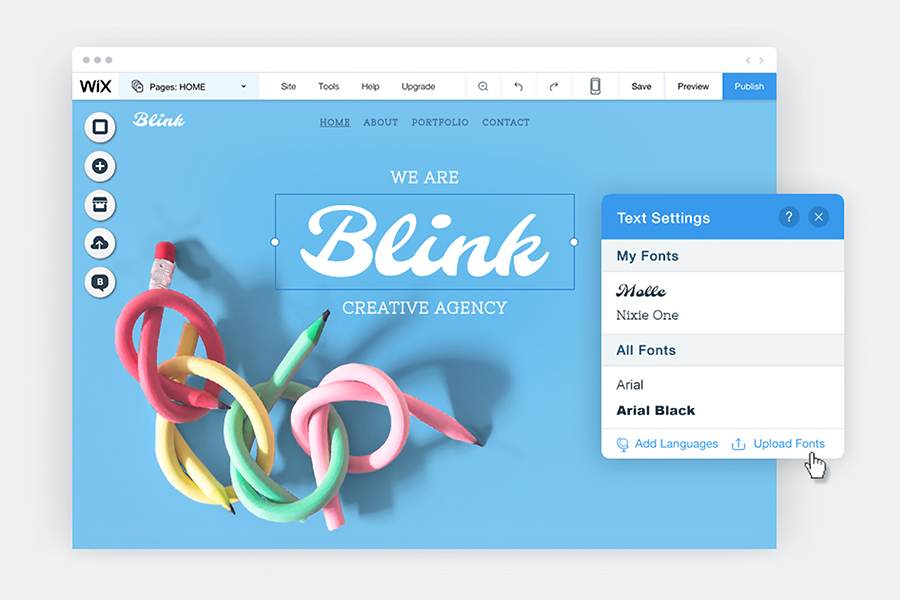 November 9, 2022
7 Best Drag & Drop Website Builders for Small Businesses
Drag-and-drop website builders provide visual site design and editing tools, eliminating the need to learn code or master complex software to build a website. The best drag-and-drop website builders are easy to use, affordable, and provide premade templates to speed up and improve the design. They also offer functionality like ecommerce, appointments, and marketing. We tested and reviewed more than a dozen platforms to help you decide which is best for your business. Here are our top picks for the best drag-and-drop website builders for small businesses: : Best overall drag-and-drop website builder : Ideal choice for those wanting to start with the high-quality templates : Excellent no-code, drag-and-drop builder for WordPress websites : Best ecommerce drag-and-drop website builder for casual online sellers : Great option for large ecommerce operations or selling on multiple channels : Top choice for sales teams wanting integrated lead generation and nurturing tools : Cheapest drag-and-drop website builder for small businesses on a tight budget Best Drag & Drop Website Builders at a Glance See fullscreen table × *Starting cost per month with annual billing; monthly billing is also available at a higher cost **Renews at a higher rate after the first year Wix: Overall Best Drag & Drop Website Builder for Small Businesses is the best overall drag-and-drop site builder for small businesses. It tops our list because it's a true drag-and-drop editor, and the one that allows for the most customizations. Best of all, it does so without sacrificing beginner-friendliness and intuitive ease of use. Wix offers a free-forever plan (and is also our top pick for the best free website builder) you can use to build your site and even get it online. However, we recommend you only use the free version to test the site builder, as you can't publish your free site on a custom domain branded to your business. is the only option for those who are looking for a free website builder they can use with a domain they own. From the free and base plan up, Wix packs useful functionality into the platform with native features and available integrations. It's not the cheapest for ecommerce, but the base ecommerce plan ($27 per month with annual billing) is probably the most robust. It's the best choice for those wanting membership sites or looking for niche features like appointment booking and reservations. Its array of search engine optimization (SEO)-friendly features has also propelled it to the top of our list of best SEO website builders. Automatic image compression speeds up page loading, and structured markup gives search engines the information they need to fully index your site. In addition, tools for keyword research are now embedded into your Wix dashboard, so you can find the best keywords for your website's content all in one place. To start, Wix guides you in choosing an industry and what type of functionality you want for your site (e.g., membership, online store, blog, portfolio, bookings, and more). You then have a choice to design your own site or use the Wix ADI to design a site for you based on a few questions. Keep in mind that the Wix ADI isn't drag-and-drop, so if you want to take advantage of this aspect of Wix, choose the former. If you choose to design your site yourself, you can select from a list of suggested templates based on your industry. Alternatively, you can start with a blank template (with preformatted sections), or choose from the most popular templates with Wix users. IONOS' MyWebsite Creator is the only other site builder on our list offering the option to start with a blank template. With Wix, you can drag elements anywhere within your web pages, giving you maximum design flexibility, especially compared to section-based editors like . There are premade page blocks to choose from, as well as elements like buttons, menus, and galleries, and even more functionality, such as adding a store, blog, or content sections. Having so many options can be overwhelming to a true beginner or someone wanting a basic website, in which case or would be more user-friendly. On the other hand, it's nice to know all the additional features will be available to you as your business grows when you use Wix to build your site. Wix Pricing & Features *12-month subscription, paid annually Aside from the free plan, Wix has four general professional website plans, three business and ecommerce plans, and a fully customized enterprise-level option. This gives a sense of the range of business types and sizes Wix can serve. All paid plans include 24/7 support, which will come in helpful if you need help designing your site or setting up any of the more than 250 integrations from the Wix app marketplace. The Business plan is the plan you'll need to sell products online and has an impressive array of ecommerce features, including appointment booking tools. For the value included, $27 a month is a bargain and lines up with the ecommerce plans of other providers, including Squarespace, which is one of the best ecommerce platforms. Unique Wix Features offers the best of both worlds, combining functionality you'd normally need to use WordPress to obtain with the ease of use of a no-code site builder. Unless you need features requiring developer-level coding, Wix is the best drag-and-drop website builder for those needing a fully custom business website. Learn more in our Wix vs WordPress head-to-head comparison. With all these built in, Wix has all the major features and capabilities you could want in a small business website, especially with a Business plan. Upgrading to the first Business plan allows you to: Sell physical and digital products online (unlimited) Accept recurring payments for appointments, subscriptions, and memberships Create gated content (e.g., membership sites) Accept online bookings and reservations Set appointments and sync them to your calendars Sell tickets and manage events Sell artwork or stream video and music Take orders online (e.g., restaurants) Using the Wix Drag & Drop Site Editor The Wix site editor is intuitive and one of the easiest drag-and-drop website builders, even for beginners. While it requires zero coding, there may still be a slight learning curve involved with using it simply because it's packed with features. To get started, follow the steps outlined in our article detailing how to build a website using Wix in five steps. Something we love about Wix's site editing tools is that you can use command keys you're used to with other software (such as Ctrl-X) to undo items step-by-step. This is the kind of thoughtfulness that leads to intuitive user experiences. In previous reviews, we mentioned that Wix didn't allow duplication of pages, which could result in design inconsistencies. However, that feature is now included, as you can easily duplicate any page of your website. Within the pages and menu tab, you will also find basic and advanced search engine optimization (SEO) settings so that you can fully optimize every page of your website, even on the free version. As if the native functionality in Wix wasn't enough, there are over 300 ready-made app integrations to add even more capabilities to your website. Among these is a integration that allows you to accept payments, including subscriptions and donations, enabling ecommerce with the free plan. Integrate with for email marketing, add pop-ups with deals or coupons to your site, and monetize it by integrating . Our Expert Opinion If you're looking for the overall best drag-and-drop website builder for small businesses, choose . It's not only the best website editor in terms of design freedom, but it's so easy that it doesn't matter whether you have web design experience. You can build a custom-looking business website with all the functionality you desire. Squarespace: Drag & Drop Site Builder With the Best Templates consistently ranks as one of the best website builders for small business, partly for its modern, impeccably designed templates. This enables you to easily build a visually impactful professional website to engage site visitors with very little time and effort, even for design and website beginners. Assuming you want your site to stand out from the pack, the new Fluid Engine site editor makes this easy. Previously, you could add sections and move them around on Squarespace, but changing the spacing and moving elements around in a section was nearly impossible. The improvements with the new Fluid Engine editor mean you can now literally drag any element to a new spot and easily change spacing with sections. Like and , Squarespace is a top site builder for SEO. In your dashboard, you'll find an SEO checklist to help ensure you do all you can to get your website seen and rank on top search engines like Google. Sites load quickly, and all templates are fully responsive, so you won't have to worry that your site visitor will have a poor user experience (UX) on a smartphone or tablet. Squarespace's drag-and-drop website design starts with choosing a template, and there are over 100. The platform guides you to the templates that would be best for your business based on industry (restaurant, fashion, photography, and so on). You can filter designs by functionality: online store, portfolio, memberships, blog, scheduling, or one-page site templates. Unlike Wix, Squarespace removed the option to start with a blank template (but you can still access it here). With Squarespace's templates and content blocks, you can quickly build and customize a one-page or multipage website with a portfolio, blog, and even an online store. However, don't expect the visual variety of selections with the prebuilt sections and elements you get when customizing with . Squarespace Pricing & Features *12-month subscription, paid annually; monthly contracts are also available for a higher price. Unlike , tools for appointment booking, reservations, events and ticketing, membership sites, and features most restaurants need aren't included in the ecommerce plans. Instead, they are offered as add-ons you can purchase in addition to your Squarespace subscription, which offer specific functionality: Member Areas: From $9 to $35 per month to create a membership site with gated content. Scheduling: From $14 to $45 per month for appointment booking with calendar syncing, custom payment settings, reminder emails and texts, and bundled client deal packages with gift certificates, multi-appointment or recurring appointments, and gift certificates. Tock: From $199 to $699-plus per month for restaurants, wineries, and others as a complete reservation, table, takeout, event, and guest management system. Unique Squarespace Features & Add-ons offers some unique features involving website functionality and marketing. Many are geared toward ecommerce, such as inventory, order management, payment processing, and shipping. For example, Squarespace allows you to do the following: Add an online store to any template Add a Google map to your website Use pop-up banners and promotions to engage site visitors and drive subscriptions Check your site and sales analytics from anywhere and any type of device Display content from your social media channels on your website and auto-publish content from your website to social channels Create shoppable posts on Instagram from your website (requires Commerce plan) Let visitors save your webpages and media to their Pinterest with the click of a button Hire a Squarespace expert to build or perfect your site directly from the platform Expand the capabilities of your site with extensions for third-party customer relationship and order management, dropshipping, accounting, and marketing apps Using the Squarespace Drag & Drop Site Editor It's easy to add prebuilt content blocks to add sections to build out your Squarespace web pages. With the new capabilities of Fluid Engine, it's also now easy to resize objects, elements, spacing, and drag any element exactly where you want it on a grid-based system. For more insight, check out the step-by-step instructions on how to build a website with Squarespace. Thanks to its sleek templates, Squarespace is ideal for those with limited skills who want a beautiful site. Find out more in our expert Squarespace review, or take advantage of the 14-day free trial to test the capabilities of its drag-and-drop website builder. Our Expert Opinion is a good choice for users of all skill levels who need a high-quality site that both looks and functions as if a web design expert built it. It also provides tools to drive traffic to your website, build your online presence through social media, create branded videos, and set up a fully functional ecommerce website. Bluehost: Best Drag & Drop WordPress Website Builder All plans come with the Bluehost Builder, one of the best drag-and-drop website builders. Having the versatility of WordPress with the intuitiveness of a site builder platform could be an especially great option for anyone struggling to get the custom look they want through WordPress' Gutenberg blocks or even premium themes and templates. In addition, you can move between the Bluehost Builder and WordPress administrative dashboards easily. This enables you to expand your site's functionality through plugins, which may mean you don't need to access more expensive plan tiers with Bluehost to get the capabilities you want from your site, like the ability to accept payments. However, this also assumes that you have a basic working knowledge of WordPress. In that case, have no fear, as you don't have to know how to use WordPress to get a fully functional website, including an online store, using Bluehost's site builder. Some plans come with WordPress, all the essential plugins you need to create, and an online store pre-installed, with updates managed for you. As with other site builders, adding a new section and customizing the background, image, buttons, and other functionalities is easy. Likewise, you can quickly add a page and assign it to the menu. Similar to WordPress (and unlike some other site builders), you can add pages to your menu as submenu items vs simply designating whether to show or hide it in your site's navigation. Bluehost Site Builder Pricing *Billed annually Unique Bluehost Site Builder Features bridges the gap between WordPress page builders and all-in-one site builders like and . Create a fully functional WordPress website in less time, without having to learn the ins and outs of the WordPress dashboard, the plugin ecosphere, and the inevitable moment in the life of a WordPress developer when they need to touch code. You'll get: Landing page templates to optimize lead generation and sales campaigns Templates for a variety of ecommerce pages and content after the base tier Fully responsive, as artificial intelligence (AI) ensures your site looks good no matter what device it's viewed on Email marketing plugin pre-installed WordPress and its core updates are managed for you Smart templates to jump-start your website building process An online store with unlimited products (new Online Store plans) Using the Bluehost Drag & Drop Website Builder As with other site builders, before you can start using Bluehost's WordPress site builder, you will answer some basic questions. Smart AI will evaluate your input for industry, colors, and business information and choose a template for you. While you can't change your theme afterward, you can still change the look of your website when you want a refresh. Through the appearance tab, you can change settings for headlines, choose a light or dark interface, and customize the colors and fonts of your site. Our Expert Opinion If you've been waiting for someone to make building a WordPress website easy, your day has come. Thanks to , you can use an intuitive, no-code website builder to create a WordPress website in a fraction of the time, and WordPress and its updates will be managed for you. Start building your WordPress site today with the intuitive drag-and-drop site builder. Weebly: Best for Small or Casual Ecommerce Capabilities offers two editors: the original Weebly editor (which, as the drag-and-drop editor, is what we'll be referring to from here on out), and the section-based Square editor. Both are beginner-friendly, but the caveat is that you can't switch from the Square editor to the Weebly editor. It's a little confusing, as during setup, you'll be asked if you want a business website or a personal website. Choose the second option to head to the free drag-and-drop website builder. Don't worry if you plan to sell on your website, as you can still do so using the classic editor. Also, restaurants wanting to integrate apps like will want to go in through the Weebly portal, as you can't add this app with the Square Online builder. Learn more about this process with Weebly in our write-up of the best restaurant website builders. From there, you'll be asked to select a template. Though Weebly Websites has a library of templates, they're a bit dated, and you only have around 50 to choose from. If you're looking for better design, check out 800-plus templates or ultra-modern selection instead. Once you've selected your template, you'll be directed to the editor to begin personalizing your website. Like many beginner-friendly site builders, Weebly provides tips to help you build your website. Simply click on the light bulb at the bottom right of your screen to toggle the tips on and off. Weebly Site Builder Pricing & Features *With annual billing Unique Weebly Site Builder Features includes unlimited products on all their websites (even the free one). This makes the platform a fantastic choice for small or casual sellers. It even includes some nifty ecommerce features, like shipping calculators, coupon codes and gift cards, inventory management, and product search engine optimization (SEO) on even the most basic plan. Get the following when you build a website on Weebly: Unlimited products and advanced ecommerce tools for affordable prices Sell physical or digital goods Membership sites and subscriptions (Performance plan) Page-level code embedding Page and product SEO Optional drag-and-drop newsletter builder (Weebly Promote) Photo Studio for professional product photos Using Weebly's Drag & Drop Site Editor Among the platforms included here, Weebly has one of the easiest drag-and-drop website builders. Simply drag content blocks from the left menu to your page, and edit the blocks or drag them around to restructure your website. See more information on how to build a Weebly website with our guide. Note that it doesn't come with the complete design flexibility you get with , so while you can drag content blocks onto web pages, you can't necessarily move elements anywhere you want. Still, this makes it easier for beginners to build their websites, as there are fewer ways to mess them up. Our Expert Opinion is one of the best drag-and-drop website builders for small businesses looking to sell online casually. You can even integrate some dropshipping apps into your site. Weebly is a great start, especially with its affordable plans. In addition, its built-in SEO tools are useful for businesses looking to build an online presence and grow their store. Read our full Weebly review for more. Shopify: Best Platform for Multichannel Selling is so much more than just a top ecommerce website builder. In fact, website building is just a sideline. Shopify is first and foremost known as an ecommerce platform, and it's one of the best around. However, you can easily build an ecommerce website using its editor. Simply answer the onboarding questions, and head to the dashboard to select your theme. Shopify's free theme selection is the smallest one on this list. Though they are modern and professional-looking, you only have nine templates to choose from. However, you can purchase over a thousand themes in the store or hire a designer to create a custom design for your ecommerce website. After selecting your theme, you can easily edit it using native editor. Note that its editor isn't a true drag-and-drop website builder. Instead, it functions more like a section-based editor, meaning you can add premade sections and blocks, edit the content, and move them around your page using arrows. You can, however, add drag-and-drop functionality by downloading an app through the marketplace. Here are some Shopify page builders to consider to leverage drag-and-drop site editing: These apps, like many Shopify apps, aren't free. Take into account their costs when determining the best drag-and-drop website builder for your money. For smaller ecommerce sites, or sellers on a tight budget, we highly recommend sticking to instead. Adding products to your Shopify store is simple. Just head to your dashboard, click on "Products," and then add or find products to sell. Clicking on the latter will direct you to the store to download one of the dropshipping apps offered by Shopify. One of the great things about setting up your ecommerce site on a dedicated ecommerce platform is that there are just so many more commerce integrations offered. Learn how to open a Shopify dropshipping store today. Shopify Pricing & Features *Billed annually; monthly contracts available for higher prices Unique Shopify Features There's a lot you can do with unique ecommerce features. From building a small ecommerce store to expanding your business (and even selling internationally), here are the features that make Shopify one of the best platforms for ecommerce: Wide selection of third-party ecommerce integrations, like dropshipping apps Multiple points-of-sale for free—see why it's our top multichannel POS system for 2022 Advanced ecommerce, like abandoned cart recovery and reports on all plans Tools for selling internationally, like multilanguage translation, local payment methods, currency conversion, and international market management Partnered with social media channels (e.g., Facebook, Instagram, TikTok) for shoppable posts Using Shopify's Drag & Drop Editor As mentioned, Shopify's editor is section-based vs drag-and-drop. However, you can download and integrate a drag-and-drop page builder through the Shopify marketplace. For example, the image above shows the interface. You can easily add content blocks by dragging and dropping them anywhere you want on your editor, and you can edit their spacing through the menu on the right. With that said, keep in mind that it's not as intuitive as using the native Shopify editor or site builders like or . Our Expert Opinion has all you need to start and grow your store. Compared to the other drag-and-drop website builders showcased here, plans are pricey but are worth it as they can scale with your business. If you want an easy interface (that can turn into a drag-and-drop builder), multiple POS capabilities, and features for expanding internationally, this builder could be ideal for you. Check out our in-depth Shopify review to learn more. HubSpot: Best for Sales-oriented Businesses The (content management system) website builder is relatively new, but it's exceeded our expectations with its unique features that set it apart from the rest. On its free plan, you can connect a custom domain to build your brand presence online, unlike most other free site builders. Plus, you can also integrate all of HubSpot's other free, enterprise-grade tools (of which HubSpot has plenty). To give you an example, we named HubSpot the best free CRM for small businesses thanks to its professional tools for customer relationship management (CRM), sales, and service. You can integrate site bots, live chat, ticketing, and automation features—all for free. For this reason, it's the best drag-and-drop builder for sales-oriented businesses looking to grow using lead generation and relationship-nurturing tools. To enter the website builder, first select your theme from HubSpot's store. There are about a hundred free themes available, though you can always purchase more or hire a low-cost freelancer to build one for you through . Like , there's also an option to hire a graphic designer and web developer to create a custom theme for your small business website. To make setting up your website easier, HubSpot's handy User Guide walks you through the steps. There's even a specific guide to help you get started with the drag-and-drop builder. Though HubSpot uses its own CMS, it's similar to other site builders, and you shouldn't have any problems using it. HubSpot Site Builder Pricing & Features *With annual billing; month-to-month contracts available for higher prices Unique HubSpot Site Builder Features is one of the unique options for building your website. It allows you to connect a domain on the free plan (though you'll have to upgrade to completely remove HubSpot branding). It also lets you integrate free tools from HubSpot's suite. With the choice of HubSpot CMS, you get: Customer relationship and customer service tools, like live chat and automation Marketing automation software, such as landing pages, email marketing, and SEO Sales tools to manage your pipeline and foster customer relationships Operational features that unify data across your business Thousands of third-party integrations to increase your website's functionality Using HubSpot's Drag & Drop Site Editor HubSpot's CMS functions a lot like most other drag-and-drop website builders. You can use draggable and droppable content blocks and widgets to quickly build a website. However, if you want maximum design flexibility through your editor, you're still better off using , as HubSpot doesn't offer as many ways to customize the look of your site. To build your website, select a template and then choose the pages of the template you want to add to your website. On the editor, add premade sections, then drag and drop content blocks (called "modules") to your page and order them around by dragging them. Unlike other site builders, you can't edit your content directly on the editor—you'll have to select the module you want to edit and change the text in the menu to the left. Our Expert Opinion features and enterprise-level functionality make it stand out. You can connect a custom domain on the free plan (unique among website builders), but you can also access HubSpot's wealth of CRM, sales, marketing, operations, and service tools. It's one to try if you're looking for robust tools that can grow alongside your business. While prices aren't cheap with upgrades, like Shopify, the return on investment could be more than worth it. IONOS: Drag & Drop Website Builder With the Most Affordable Paid Plans (formerly known as 1&1 or IONOS by 1&1) started out in the realm of domain registration and hosting. It has long offered low-cost bundled solutions great for small business and startup websites. While there is no free version of the IONOS website builder, there is a money-back guarantee, and you can essentially "test" the site builder for 12 months for $1 per month. IONOS has two different editors for building websites, and both are beginner-friendly. The main differences between the two are the amount of customization you can accomplish, the ability to integrate business apps, and advanced features like animations and dynamic content. However, as with any of the platforms here, is your go-to if fully customizing your site is a top priority. The most basic drag-and-drop website builder offered by IONOS is MyWebsite Now. It comes in the Starter plan and is recommended as the best option to get a site up quickly. The MyWebsite Creator and Creator Pro tools in the Pro and Plus plans are the more customizable site builder. These are also the plans that you need to add functionality for email marketing, appointment booking, calendar tools, and a slew of other business apps. No matter which plan you choose, you'll have access to a success consultant who can help you build and customize your website. You can also add an online store to any plan and still come in at a very low cost, especially in the first year. All plans include unlimited storage, bandwidth, a free domain and SSL, free email on your domain, and solid SEO tools and features. We'll look at both site editors, beginning with the more basic MyWebsite now site builder, which comes with the Starter plan. To start, choose the Starter plan for a site with or without a store. This has no impact on introductory plan costs but does affect renewal price. Then you can either jump right into the site editor or add some details such as project name and goals, or connect your domain and create your (included) professional email address. Once you open the site builder, you can browse and choose from 18 industry-based templates. The MyWebsite Now editor in the Starter plan is section-based, similar to . It's easy to add a new section, and there are prebuilt designs for various types of sections, such as About, Articles, Galleries, Testimonials, Headers, Text, Video, and so on. It's also easy to add a new page to your site or duplicate an existing page. IONOS further simplifies SEO, as whenever you add a page or select one from the menu, it shows you essential SEO fields to update, including the headline, SEO title, and description. IONOS' more customizable editor is called MyWebsite Creator. With this version, you get features like animations, parallax scrolling, and more creative design freedom in general. After your site is set up, you can begin customizing right away or choose a template to start with. The first screen makes it easy to add social buttons, your business phone number, email and physical address, hours of operation, and a contact form. Alternatively, you can start by choosing from more than 400 templates or limit selections by industry, color scheme, or popularity. Like , you can also opt to start with a blank template that gives you basic layout options vs a predesigned template with colors and images. There are far more customization options with IONOS' MyWebsite Creator editor than with MyWebsite Now, but with that comes a more complex interface. For example, while SEO settings are readily available when adding a page in the basic editor, you must go to a page's settings to add SEO content with the Creator version. With Creator, you can change global settings for text, buttons, images, and backgrounds as well as set custom spacing for rows and columns. A host of widgets are also available with this version, which feels similar to those you may have seen with WordPress site builders. Among the more sophisticated options with Creator are the rules under "Personalization." Here, you can set up various rules to engage site visitors. For example, you can create a custom pop-up offer or notification bar to display to specific types of site visitors, set a welcome video to be displayed to first-time site visitors, set special effects for holidays, or display a special message to returning visitors. Within site settings, you can also customize various aspects of your site. You can add a favicon, set up redirects, add code to your headers (such as Google Analytics site tracking), set up backups, and add a custom 404 error page. Plus, you can designate the default language for your site among about two dozen options. IONOS Site Builder Pricing & Features *With annual billing Unique IONOS Site Builder Features editors are some of the easiest drag-and-drop website builders. Every plan includes unique features for site optimization, speed, and site visitor experience, like automatic image optimization to ensure large images you upload won't slow down your site. IONOS all-in-one easy website builder plans come with: Professional email (one address plus email alias addresses for forwarding) Optimization with Google PageSpeed and image optimization for speed, and built-in site and page level SEO A dedicated success manager to guide you through building your site and getting the most from its features Personalization rules to display pop-ups, banners, videos, and other content to specific site visitors (first time, returning, behavior-based, etc.) About two dozen default language options with Plus or Pro plan Multiblogger access with Plus and Pro plans for content marketers Add an online store to any plan including 500 to 10,000 products (which can be uploaded by a comma-separated values (CSV) spreadsheet), set up flexible shipping and collection options, flexible payment options, and store management tools Sell on Facebook, Instagram, or Google shopping Using the IONOS Drag & Drop Website Builders more basic drag-and-drop website builder doesn't offer nearly as much customization as or even . However, as with other editors that offer less design freedom, this makes for quick website creation and keeps your design from getting muddled. If you prioritize fast site creation and publication over full customizability, it's a good option, especially given the low intro price. The MyWebsite Now editor is very beginner-friendly. It's easy to change site-wide settings for colors (individually or with preselected palettes) and fonts, add shapes to increase the visual interest of your site, or set the spacing to small, medium, or large, depending on how much white space you like between elements. The MyWebsite Creator/Creator Pro site editors are also beginner-friendly, allowing you much more design freedom. But using it depends more on your budget and what functionality you want from your website. The budget-friendly Starter plan comes with the basic editor, while the Plus and Pro plans include the Creator versions. Unfortunately, if you decide you want to switch templates, you have to start all over with building your site. So when using IONOS' site builder, be sure to check out the best templates before building a lot of pages or content. For an option where you can change themes and templates at any time, choose . Our Expert Opinion offers great value for the money in two different beginner-friendly, drag-and-drop website builders. Retail and ecommerce sellers that want to greet site visitors with special offers and information will love the personalization rules in the MyWebsite Creator version. Choose the Plus or Pro plan for the most customization, or begin with the Starter plan to get your website up more quickly. Honorable Mention: Strikingly We originally considered adding Strikingly as the best drag-and-drop builder for one-page websites. However, mobile-optimized templates edge it out slightly—at least in the mobile website niche. Still, Strikingly is a solid platform to consider, especially if you're building a one-page website exclusively for mobile. Its single-page builder comes with the following features: Multiple websites Free domain and SSL on premium plans Ecommerce on all plans (with up to one product on the free plan) Custom forms Pop-ups Multilanguage websites is a mix of a section-based and drag-and-drop editor. It's unique in that you can select individual sections and use them with a simple drag-and-drop website builder. It's beginner-friendly, and is worth checking out as it has a free-forever plan and premium plans starting at $8 per month. How We Evaluated the Best Drag & Drop Website Builders All-in-one plans and intuitive design tools enable users of any experience level to build a professional site with little to no learning curve. They're affordable, provide good value for the money, and include everything needed to build, launch, and manage a small business website. We analyzed about a dozen site builders and narrowed our list to the top options overall as well as based on the use case. Click the tabs to learn more about how we ranked our top picks: When it comes to the best drag-and-drop website builder for small businesses, is our top pick. It's affordable, intuitive, easy to use, fully customizable, and provides integrations and advanced native features that make it a universally adaptable site-building platform. You can try it without risk using the free version, so get started today and create the website you envision for your business. Frequently Asked Questions (FAQs) What is the easiest drag & drop website builder? To a degree, all drag-and-drop website builders simplify the process of building a website. Even true beginners can build a fully functional website to establish their brand presence and grow online. However, we found that site builders that reduce customization options offer the easiest drag-and-drop website builders, including and . With that said, is also very easy to use, and you don't have to sacrifice design freedom to use it. Which is the best free drag & drop website builder? is the best free drag-and-drop website builder, with HubSpot coming in a close second. Wix offers the most extensive freedom in both site design and functionality in a free website builder. It also has strong search engine optimization tools and features to ensure your site gets found online. However, we don't recommend using a free site builder if it means you can't use a custom domain— allows you to do this 100% free. Which is better: Wix or Squarespace? and Squarespace are both leading all-in-one business website builders, but they are not without their differences. For example, is more predesigned to ensure that no matter what your experience with web design is, your site will look professional. On the other hand, if you have an eye for design and are looking for the most design flexibility, Wix will be your better choice. For the full picture, read our Squarespace review and our Wix review. Bottom Line Getting your brand established online is easier than ever with the best drag-and-drop website builders. There are options for every budget (even free), intuitive and beginner-friendly editing tools, any type of functionality your website needs, and scalable plans to grow with your business. For the best, we highly recommend trying Wix. You can test it out for as long as you'd like using the free version and then get a free domain with an upgrade to a paid plan. Take Your Small Business Website to the Next Level… Download our free website basics checklist to make sure your new site has everything needed to succeed. Need inspiration? Check out our list of the best small business website examples. Drive traffic to your website using these easy website marketing strategies.
Discover more resources
for your business
BA, History, Ateneo de Manila University