BS Social Work
Master in International Studies
Registered Social Worker
VoIP
Unified Communications
B2B Marketing
Customer Service
13+ years in technical writing
11+ years in international relations and partnerships
10+ years small business operations and management
9+ years digital content and research
Silvana is a professional development worker and experienced writer. She's worked with the Philippine government and non-government organizations for technical documents and reports. Silvana's been engaged by various businesses to produce content ranging from current events, technology, lifestyle, business, social development, and wellness.
She enjoys spending time with family, traveling, cooking/baking, playing basketball, and reading, while consuming copious amounts of coffee.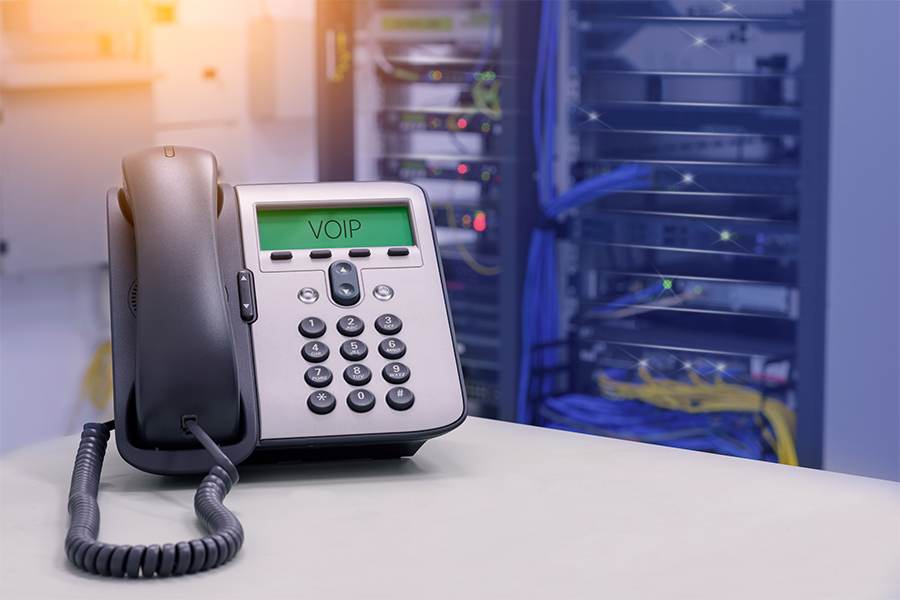 January 25, 2023
7 Best VoIP Apps for Small Businesses in 2023
There are several voice-over-internet-protocol (VoIP) apps capable of making and receiving phone calls and messages, but the best options offer advanced features, such as video conferencing, team messaging, and extensive software integrations. The best VoIP apps work seamlessly with softphones and iOS and Android devices—which are essential tools small businesses use to stay connected with clients and team members. Based on our research of dozens of software providers, here are the top seven best VoIP apps for small businesses: : Best overall VoIP app provider for teams needing multidevice support : Ideal VoIP option for teams using Android devices : Excellent choice small companies with several iPhone users : Best for small teams looking for softphone solutions : Best for businesses with simple call management needs : Great for teams with global clients needing unmetered international calls : Best for heavy Google Workspace users wanting seamless integration Best VoIP Apps Compared Take the quiz to find out which VoIP app suits your business needs. See fullscreen table × RingCentral: Best Overall VoIP App for Multidevice Support *Prices are based on one to 20 users. Discounts of up to 33% are available for users who opt for annual billing. is one of our recommended providers offering the best business phone system and the best overall VoIP app for users and accounts using different devices to access the platform. RingCentral's desktop and mobile applications are seamless and full-featured. Coupled with the call flip feature, users transfer ongoing calls between linked devices with one click, offering mobility. RingCentral's app is straightforward, intuitive, and carries full platform functionality on its applications. However, for those who want simple calling features, it might take some getting used to. If this is the case, is a simple application with straightforward controls enhanced by its Google Workspace integrations. Google Voice is available only to active Google Workspace users, and plan options include a free personal plan or paid subscription packages. RingCentral Features Built-in customizability: Organize your display tabs and personalize your RingCentral app interface in the most helpful way. For example, your team members can select up to five tabs with calendars, tasks, videos, or other functions. This makes the app experience very convenient for each user. Call flip: Seamlessly transfer between softphone, mobile phone, and desk phone devices during ongoing calls. The call is placed on hold during the flip until the transfer is complete. This is particularly useful when you wish to continue a call on a different phone number or will be mobile mid-conversation. Extended voicemail options: There are multiple ways to check your voicemail using the RingCentral app. Users can listen to audio recordings, use voicemail-to-text (which allows you to read through your inbox), or read using voicemail-to-email (which compiles everything into your inbox). Learn more about RingCentral in our comprehensive RingCentral review to determine if its services are right for your business. Nextiva: Best VoIP App for Android Users *Monthly pricing is based on one to four users. Save up to 27% with annual billing. came out on top of the list of VoIP apps for Android devices with its intuitive interface and features like MP3, WAV, and M4A file support when texting colleagues and customers on Android devices. Users easily place calls by tapping the dialer, locating a contact and placing the call, or clicking on the call or video icon and selecting contacts. Nextiva's app allows you to transfer calls, add contacts, and screen share during meetings—all from your mobile device. However, Nextiva users will find it has limited third-party integrations compared to other providers like , which integrates with over 300 applications. Unfortunately, some important integrations are locked behind more expensive tiers. RingCentral is the mobile VoIP app with the most integrations and a robust API (application programming interface). Nextiva Features Call pop: Call pop provides your agents detailed information about each caller. Your agents will see basic information, including the number used, the name of the caller, the priority level, and the details of their last interaction. Mobile screen share: Share any of your mobile tabs when you're on a call. Android users will be able to screen share even if they're using Android's mobile split-screen feature. High attendee video conferencing: Nextiva's video conferencing features enable you to host video conferences from the app with up to 250 participants. Check out our full-fledged Nextiva review to determine if this business phone system fits your business' specific needs. Vonage: Best VoIP App for iPhone Users *Pricing is based on one user. Vonage has a one-year minimum contract with cancellation subject to early termination fees. offers the best VoIP app for iPhone users because it recently upgraded its features allowing users to make and receive home phone calls on up to two iPhones over the internet. Make calls wherever you are using your Vonage internet calling plan that comes with unlimited international calling to 60-plus countries. It lets you keep your mobile number private with its Caller ID feature that will show your Vonage number. While Vonage offers great call features for those who want customizable call management plans, Vonage lacks key video conferencing features, such as virtual backgrounds, and only accommodates a maximum of 100 participants. If your business needs robust virtual meeting capabilities, offers high-definition video and audio conferencing for up to 500 participants. Vonage Features Call block: This feature allows users to pre-determine calls and phone numbers that are blocked from making both inbound and outbound calls for extensions, including fax. Incoming calls from a blocked number will hear a fast busy, while outgoing calls to a blocked number will hear, "I'm sorry, Calls to this number have been blocked by your Administrator." Vonage boomerang: Move all your calls from specific numbers to your Vonage number. Vonage automatically connects calls from your boomerang contact with all phone charges applied to your Vonage account. Receptionist console: The console views all call activity and uses call control tools, such as call park, call transfer, and call queue. Handle up to 50 concurrent calls and play a custom greeting or music to incoming callers. Our Vonage review walks you through the elements and service offerings of this VoIP business communications provider. Phone.com: Best for Softphone Users *Save 20% with annual billing feature-rich VoIP phone app, Communicator, is excellent for businesses that predominantly use desktops for software-based dialing. Its softphone application supports both voice and video calling with customizable call management settings. It's important to note that Communicator's Mac desktop version has a few more on-screen features, while on Windows, you can access all available features under the "More Call options" drop-down menu. Beyond these features, Phone.com doesn't offer team messaging. If you need team chat for internal coordination, try , which offers unlimited team messaging. Stay constantly connected with colleagues through team messaging available via the Vonage Business Communications desktop and VoIP phone apps. Phone.com Features Video conferencing: During video meetings, users of Phone.com applications share screens and documents, chat, use whiteboards, and are able to change their backgrounds. Choose the Plus package for HIPAA-compliant services. Types of phone numbers: Phone.com offers different types of business phone numbers, such as local, toll-free, and vanity numbers, in every plan. This helps small businesses improve customer service and establish legitimacy. Mix-and-match features: Budget-conscious small businesses benefit from Phone.com's customizable plans. Phone.com allows customers to choose packages for each user and add specific features as needed. Read all about Phone.com's features and pricing details in our comprehensive Phone.com review. Grasshopper: Best for Teams With Basic Call Management Needs *Grasshopper offers flat-rate pricing, not per user pricing; save 10% with annual billing is the best voice-over-IP app for small businesses needing simple and easy-to-use virtual phone and call management systems. Its services, like calls, text messaging, custom greetings, extensions, and inbound fax, are all available with every plan. Make and receive calls and text messages anywhere and anytime with Grasshopper's apps for desktop and mobile. Grasshopper offers 24/7 support access via phone, email, social media, and chat. Unfortunately, Grasshopper allows international calling but lacks international numbers, which offers. If you're expanding and entering new global markets, this alternative would be a better fit for you. International numbers are available for all Phone.com plans starting at $4.99 per month for select countries. If you want more options, check out our list of the best services for VoIP international calls. Grasshopper Features Unlimited extensions: Grasshopper's monthly flat rate allows for shared minutes and pooled messages, which is ideal for budget-conscious startups. Unlimited extensions mean your entire sales team shares a single phone number, with each agent assigned a specific extension allowing you to save on account fees. Instant response: Instant response reduces the risk of losing potential customers. When you cannot answer an incoming call, Grasshopper automatically sends an SMS message advising that you are unavailable, effectively informing your customer they've reached the correct number and you'll get back to them. Voicemail: Voicemail is a feature included in all Grasshopper plans that allow your callers to leave you a message. Set up your voicemail so callers can leave you messages. Receive your recorded messages via MP3 recordings. Our Grasshopper review walks you through the essential services and features this VoIP business communications provider offers. You can also check out our full video review of the provider here: 8x8: Best VoIP App for International Calls *Users subscribed to the X2 and X4 plans will save up to 23% with annual billing. is our overall best VoIP calling app for international calls, with its comprehensive offering of unmetered calling in up to 48 countries. 8x8 offers a clear and reliable internet connection for businesses that make regular international calls and establishes a reputable virtual presence in regions where you have customers but no physical office. While 8x8 offers comprehensive features, solopreneurs and freelancers often don't need as many advanced features. is an excellent option for professionals that use Google Workspace and need a virtual phone number and call management system. For those with low call volumes, avail of its free plan and upgrade as you scale. Unlike 8x8, Google Voice doesn't provide international numbers and charges per-minute rates for calling outside the U.S. 8x8 Features Call flip: 8x8's different compatible applications let you seamlessly move ongoing calls between your desk, mobile phone, or desktop phone app. Your calls will instantly transfer to another device in just one click. HD audio and video: 8x8's HD-quality audio and video capabilities ensure that teams communicate without interruptions, making tasks more efficient. Meet up to 500 people in a video or audio conference with no time limits or restrictions. Mix-and-match plans: Enjoy plan flexibility with 8x8's mix-and-match options that allow you to create an ideal plan for your business needs. This means you only pay for services you need and use. If you want to learn more about 8x8, read our 8x8 review to find out if it's the best VoIP number app and phone solution for your business. Google Voice: Best for Google Workspace Users *Requires active Google Workspace accounts to avail of Google Voice Google Workspace users needing a virtual phone number for calls, texts, and voicemail can use to make domestic and international calls from browsers and mobile devices. For users in the U.S., you can choose your number. This easy-to-use, free VoIP app is a simple add-on to active Google Workspace accounts. At present, Google Voice does not support toll-free and vanity numbers. , on the other hand, offers local, toll-free, vanity, and international phone numbers. Using different business numbers is a great way to make yourself more accessible to your customers and, in turn, boost sales and lead conversions. Google Voice Features Workspace integration: Google Voice seamlessly integrates with other Google applications. Expand Google Voice's capabilities by connecting it with Google Meet, Drive, Calendar, and Gmail. Multilevel auto-attendant: Set up an automated menu to transfer callers to the right people or departments. It also lets you create multiple submenus depending on how you want to handle specific calls. BigQuery advanced reporting: Subscribers in the Premier plan have access to Google's BigQuery, which helps generate valuable business insights. Google Voice users receive usage and activity reports in all paid plans. For more information on this platform, head to our Google Voice review for details on pricing and features. How We Evaluated the Best VoIP Apps To come up with this list, we reviewed several VoIP phone service providers with desktop and mobile softphone apps. From there, we narrowed the list of providers to the top seven based on pricing, simplicity of use, general and advanced features, and value for money. The specific criteria we used to determine which of the best VoIP apps are strongest for small businesses include: Pricing: Budget is a significant consideration for small businesses when looking at service providers. Each provider offers different packages and pricing discounts. We analyzed the various plans, inclusion at each level, and whether free trials and VoIP mobile apps are available. Platform: VoIP apps vary significantly based on where you're using them. For example, a softphone used on a laptop might have a completely different interface when used on an Android smartphone. For this reason, we evaluated each VoIP app based on the platform where it has its best performance. General features: Comparing service providers based on features enables us to measure whether the features offered at each level offer the best value for money. The best VoIP app for businesses provides mobile functionality and clear call quality. We also reviewed providers based on communication channels like business messaging and phone calls. Advanced features: The best mobile VoIP app for businesses are aligned with the features offered by web and desktop browsers. We only included VoIP calling apps that provide mobile and desktop apps with niche features, such as call reports and auto-attendants. We scored platforms' unified communication (UC) features and international calling solutions. Expert score: We took time to explore and test the applications to determine how they compare. We based our expert score on personal use of the systems while considering user ratings. Each software provider is rated according to its standout features, popularity, and overall ease of use. Bottom Line VoIP apps are great for small businesses because of their lower cost, increased accessibility, and clearer voice quality. VoIP apps are easy to use, simple to set up, and have advanced communication features that modernize a small business' phone system. Based on our criteria, the best overall VoIP app is . Besides its higher cost, it comes with comprehensive business calling features and a robust application.
Discover more resources
for your business
BS Social Work
Master in International Studies
Registered Social Worker