CPA License in Iowa
PH.D. from Pennsylvania State University
BS from University of Colorado
Certified QuickBooks Time Pro
Quickbooks ProAdvisor, Online & Desktop
Accounting
Bookkeeping
Accounting software
Individual taxation
Business taxation
Tax research
Tax planning
CPA with 25 years of experience
QuickBooks ProAdvisor
Tim worked as a tax professional for BKD, LLP before returning to school and receiving his Ph.D. from Penn State. He then taught tax and accounting to undergraduate and graduate students as an assistant professor at both the University of Nebraska-Omaha and Mississippi State University. Tim is a Certified QuickBooks Time (formerly TSheets) Pro, QuickBooks ProAdvisor for both the Online and Desktop products, as well as a CPA with 25 years of experience. He most recently spent two years as the accountant at a commercial roofing company utilizing QuickBooks Desktop to compile financials, job cost, and run payroll.






Tim loves camping with his wife and family, fishing, and hopes to someday return to golfing! Weekends that aren't spent camping are usually filled with remodeling his old farm house, garage, and barn. He hopes to have it all done before retirement in 10 to 15 years!
"Accounting is not just a necessary evil. It can provide valuable information about where you make and lose money, lead to informed decision making, and help you feel confident that you understand where your business is now and where it is headed."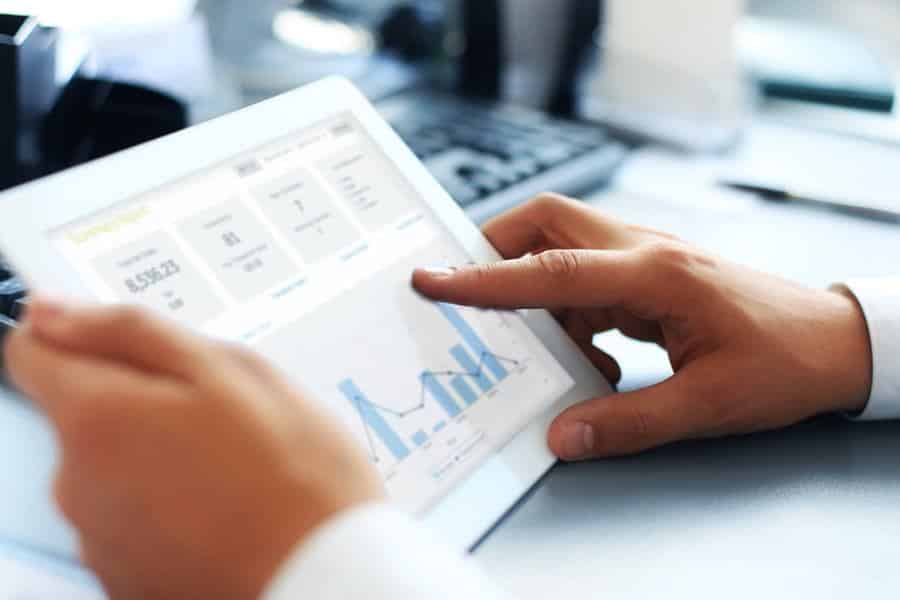 October 25, 2022
Best Small Business Accounting Software for 2022
The best accounting software for your small business vary greatly by industry and your personal preferences, which we'll cover in this guide. We selected our top accounting software for small businesses based on pricing, ease of use, and how they perform against various accounting tasks, such as invoicing, project management, and inventory accounting. Here are the eight best accounting software for small businesses: : Best overall industry-customizable small business accounting software with project, class, and location tracking (8.8 out of 10) : Best for use on a mobile app (8.7 out of 10) : Best for managing the books of multiple companies (8.5 out of 10) : Best for unlimited users (8 out of 10) : Best for small service-based businesses (6.3 out of 10) : Best free solution for tracking income and expenses (5.7 out of 10) : Best online bookkeeping service as an alternative to do-it-yourself (DIY) accounting software (no score) : Best accounts payable (A/P) software for advanced bill pay features and approval workflows (no score) Comparison of Best Small Business Accounting Software See fullscreen table × QuickBooks Online: Best Overall Small Business Accounting Software is our best small business accounting software because of its strong feature set, including the ability to create classes and locations for tracking income and expenses. It's a versatile program that you can customize to specific industries, such as churches, restaurants, and nonprofits. QuickBooks Online is also easy to use and allows you to share data and files effortlessly with employees, certified public accountants (CPAs), and tax professionals. With tiered subscription levels, it can scale as your business grows or your needs change—making it the top accounting choice for 5.5 million small business subscribers. Who QuickBooks Online Is Best For Construction: QuickBooks Online, when integrated with , provides excellent project accounting and construction management tools like employee time and location tracking, customer relationship management (CRM), and a customer portal. Ecommerce retailers: can be added to QuickBooks Online to provide direct integrations with most ecommerce platforms, reducing the need for expensive third-party connectors. Real estate businesses: The ability to separate activity by class and location makes QuickBooks Online a viable option for property management companies that need to track income and expenses for various segments and locations. Invoicing: QuickBooks Online is our best invoicing software as it calculates sales tax rates automatically based on the customer address or transaction location. Trucking companies: provides a great integration that adds fleet management, IFTA tracking, and dispatching to your QuickBooks Online software. Mac users: QuickBooks Online's intuitive design and navigation are optimized for Mac users. Bank reconciliation: QuickBooks Online has the most comprehensive bank reconciliation of all the leading accounting software programs on the market. You can reconcile transactions by connecting your bank accounts or uploading your files of statements manually. Standout Features Location and class tracking: Set up tags to track your income and expenses across different departments, properties, or locations of your business. You can use this feature to determine which department brings the most money to your business. Inventory: Track the cost of inventory on hand and allocate that cost between ending inventory and the COGS. Project accounting: Set up projects to include income, expenses, and wages, and create project estimates. A huge drawback we found in QuickBooks Online's project accounting, however, is that you cannot compare estimated to actual project costs. Invoicing: The best thing about QuickBooks Online's invoicing feature is that it calculates the sales tax rate automatically to apply to your invoice based on the customer address. Bill Pay: Pay your bill electronically directly from your QuickBooks account. We compare the features of each plan in our QuickBooks Online comparison guide. Expert Opinion It's hard to go wrong with if you can afford the price. It's very flexible and powerful software that can be customized for nearly any business. The ability to track profit and loss (P&L) by class and location allows you to see how profitable your business is across different offices, locations, and properties. Another benefit of QuickBooks Online is that you can find a local QuickBooks ProAdvisor in your area easily if you need one. To get the most out of the platform, check out our free QuickBooks Online tutorials. Zoho Books: Best Accounting Software for Use on a Mobile App stands out from the other accounting software with its powerful mobile app. We recognized it as the leading mobile accounting app because it can perform almost any accounting task, including sending invoices, accepting online payments, entering bills, and viewing reports. The app also allows the creation of recurring invoices and tracking of time worked, making it our pick for the overall best accounting software for freelancers. The software is one of the many Zoho apps—which includes Zoho CRM, Zoho Inventory, and Zoho Projects—that can be integrated to give you a comprehensive solution to all your business needs. Zoho Books can be purchased separately as part of the Zoho Finance bundle or as part of Zoho One, which includes all of Zoho's apps. *Elite and Ultimate were launched in 2022. Elite is designed for those needing improved inventory management features like serial number tracking, while Ultimate is great for those wanting advanced analytics such as collaborative reporting. Standout Features Mobile app: Mobile accounting is one of Zoho Books' biggest strengths. The mobile app can perform plenty of accounting tasks—including invoicing, accepting online payments, recording bills and bill payments, categorizing expenses from the bank feed, and viewing financial reports. Inventory: Zoho Books has complete features for tracking inventory. You can track inventory on hand and the COGS, adjust the cost of inventory, and categorize expenses based on vendor details, product details, and stock-keeping units (SKU). Project accounting: Track time worked and assign it to a project or customer, create expenses from a project, and generate an invoice straight from the project. Expert Opinion We believe that conducting business with clients on the go is easier when you have a powerful mobile app like . However, that's not the only thing it can offer, as it's also remarkable in other aspects, like inventory and project accounting. Whether you're a large enterprise needing inventory software or a very small business wanting a free package, it can be a great option. QuickBooks Desktop: Best Multicompany Accounting Software If you manage multiple businesses, then is for you. All its editions, which we cover later, can be used to keep the books of an unlimited number of companies for a single price—a big advantage over QuickBooks Online. Because of this, QuickBooks Desktop is our top-recommended multicompany accounting software. Another reason to use the program is it works even when you have no internet connection because it's locally installed. QuickBooks Pro and Premier are the most popular desktop versions of QuickBooks for Windows. Meanwhile, QuickBooks for Mac, one of our best accounting software for Mac, has features similar to Pro. Standout Features Multicompany accounting: Manage the books for an unlimited number of companies with a single subscription. Advanced inventory management: QuickBooks Desktop offers more advanced inventory tracking than QuickBooks Online. For instance, you can create assembly items to build and track finished goods, which can be useful for manufacturing teams. Class tracking: Classes can be customized to represent cost centers or enterprises, making QuickBooks Desktop our leading farm accounting software. Expert Opinion If you prefer locally installed software over a cloud-based program and mobile accounting app, then go with . Its Pro and Premier editions are very powerful accounting software, perhaps even more powerful than QuickBooks Online. However, they're more difficult to master and don't provide the advantages of mobile accounting. Read our in-depth comparison of QuickBooks Online and Desktop to choose the best software for your business. Also, read our QuickBooks Desktop Pro review, QuickBooks Desktop Premier review, and QuickBooks Desktop Enterprise review to learn more about each version of QuickBooks Desktop. Xero: Best Accounting Software for Unlimited Users is a cloud-based accounting software with features similar to QuickBooks and Zoho Books. However, unlike those two, all Xero plans include unlimited users. If you need multiple seats to access and work on your accounting software, then this provider is an ideal choice. Its features are comparable to QuickBooks, and it's considerably less expensive, making it one of our best alternatives to QuickBooks. Standout Features Unlimited user access: Xero offers a good value for your money, as all its plans support an unlimited number of users without any extra cost. Fixed asset management: What makes Xero unique from other accounting software is its fixed asset manager. You can record and track fixed assets (like machinery, vehicles, and equipment), set up depreciation entries, and account for gain or loss from a disposal of a fixed asset. Inventory management: Create and track inventory, monitor inventory levels, add inventory items to invoices, and track COGS. Expert Opinion unlimited user access makes it a great option for collaborative teams. Its fixed asset manager, which is unique among accounting programs, is useful for manufacturing teams that use different kinds of machinery and equipment in their production. A major drawback to Xero compared to QuickBooks Online is the lack of bookkeeping professionals who support it. While Xero has 2.3 million users, most of them are located outside of the United States. Check out our free Xero courses to learn how to make the program more useful for your business. FreshBooks: Best for Small Service-based Businesses has many project management features beneficial for service-based businesses, such as the ability to create estimates and convert those estimates to invoices once approved, track time spent by team members on a project, and communicate with members through its built-in collaboration tool. Another useful feature is the ability to compare estimated and actual project costs, which isn't possible with QuickBooks Online. Standout Features Project accounting: FreshBooks allows you to create estimates with items like inventory and sales taxes, convert estimates to projects, track time and instantly convert time entries to invoices, and more. Excellent customer service: FreshBooks offers plenty of customer support options, including phone and email support and self-help guides and resources. However, its biggest advantage over other software providers is that it allows FreshBooks users to directly call its customer support over the phone. With other providers like QuickBooks Online, you have to send a request and wait for them to call you. Mobile app: The FreshBooks mobile app lets you create and send invoices, enter and pay bills, accept payments online, and record billable time from your smartphone. Expert Opinion doesn't have inventory accounting features, so we highly recommend it for small service-based businesses needing a strong project management solution. If you have team members working on multiple projects and you want to make sure that no billable time is missed, then its time tracking tool is a great help. Billable hours and expenses entered by employees and contractors will be saved until added to a customer invoice. You might enjoy our free FreshBooks tutorials for an in-depth view of how to use the platform. Lendio Accounting: Best Free Solution for Tracking Income & Expenses (formerly Sunrise) offers free accounting software for small businesses needing basic tracking of income and expenses and a solid invoicing function. Its main drawback is the inability to reconcile your bank accounts to your bank statements, which isn't a major problem unless you issue a lot of paper checks. If you're a small business or a freelancer wanting to know where money is going, you should do well with Lendio Accounting, our best free accounting software. Standout Features Receipt capture: Lendio Accounting lets you capture and store receipts from your browser or with the Sunrise mobile app, helping you organize your expense claims easily. Automatic expense categorization: Upgrade to Plus to get automatic expense categorization in your bank feed. Invoicing: You can create customized invoices, send them on a recurring basis, track sales taxes by jurisdiction, and accept short payments from customers. Expert Opinion is a great choice if you're a solo business owner or freelancer looking for a free invoicing solution without the need for professional bookkeeping assistance. It has a decent mobile accounting app and good customer service. If you're looking for a zero-cost platform that allows more than one user, we recommend ; and if you need the option to track inventory and project profitability, you'll need a paid program like QuickBooks Online. Explore our free Lendio tutorials to learn how to use the platform. Bench: Best Online Bookkeeping Alternative to DIY Accounting Software Your time is valuable, and you should definitely consider outsourcing some of your bookkeeping tasks. , our best online bookkeeping service, will complete your bookkeeping for you in its proprietary software, starting at only $299 per month. This is far less than you would pay a local independent bookkeeper, and you can even add on tax filing and advisory services for an additional charge. Bench is a flexible bookkeeping service that can be customized to different industries, including real estate. *Bench isn't a complete bookkeeping system and was, therefore, not evaluated in our case study. However, it's an excellent alternative to traditional accounting software for small businesses with specific needs. Standout Features FreshBooks partnership: Bench is FreshBooks' largest accounting partner. It can import your invoicing activity from FreshBooks to include in your accounting records. Human bookkeepers: You'll be assigned a dedicated team of bookkeepers that will produce monthly financial reports based on managing and reconciling your bank accounts. Tax pros: In the Premium plan, you'll be assigned a tax pro who is available for unlimited tax consultations and who will oversee the preparation of your annual income tax returns. Expert Opinion will take care of the most crucial tasks in your bookkeeping process, which are overseeing the import and classification of your bank transactions and reconciling your bank accounts. We firmly believe that services like Bench should replace the DIY accounting software that many small business owners wrestle with every month. However, the service doesn't completely eliminate your bookkeeping tasks. You'll still need to issue invoices to your customers, collect payments, and pay your bills. These tasks are closely tied to businesses, and we believe most business owners like maintaining control over these activities. We recommend as a great free invoicing program to use if Bench is doing the rest of your bookkeeping. Bill: Best A/P Software for Advanced Bill Pay Features & Approval Workflows (formerly known as Bill.com) makes it easy for businesses to track and pay large numbers of bills quickly and easily by importing bills from email automatically and allowing for a customized approval process—which is why it's our top-recommended A/P software. What's more, it integrates easily with both QuickBooks Online and Xero. *As with Bench, Bill isn't a complete bookkeeping system; thus, it wasn't evaluated in our case study. However, we consider it a great alternative for processing A/P. Standout Features Invoice capture: Bills received via email are transferred to your bill list automatically, where you can modify them and then send them on for payment approval. Automatic bill approvers: Bill approvers can be assigned by bill, or you can allow Bill to choose approvers based on the settings in your Bill Approval Policies. Dedicated approvers page: Approvers have their own login, where they'll see only bills that have been submitted for their approval. Bill payments: Once bills have been approved, you can schedule payment through e-payments, internal wire transfers, or check payments. Issue invoices: With the Get Paid plan, you can issue invoices and track the payment of your invoices for customers who use Bill. Expert Opinion We recommend as it's a great bill payment solution for managing your A/P. Most accounting software come with some features to manage your bills, but Bill goes far beyond these built-in features. Its import process and accuracy are better, and the customized approval process is a necessity for larger organizations. If you choose to use it for payments, you might opt to add the Get Paid plan for accounts receivable (A/R), but we don't view that A/R function to be any better than the invoicing features built into most accounting software. The only exception is if your customers also use Bill, in which case, the payment can be collected within the platform and the tracking is done automatically. How We Evaluated Small Business Accounting Software We evaluated accounting software based on pricing, ease of use, and how well it performed against the ideal features we're looking for, including project accounting, inventory management, and mobile accounting. Our evaluation was based on a rubric scoring methodology in six categories, each with designated appropriate percentages. Our criteria for choosing the best small business accounting software are as follows: Accounting Software for Niche Industries Some industries have accounting needs that require specialized software. Here are our top picks for niche industries: Why You Need Small Business Accounting Software Approximately 64% of business owners do their own bookkeeping and 64.4% of small businesses use accounting software to streamline their operations. To achieve financial stability, small businesses can use bookkeeping software that help them make informed decisions. In addition to helping you understand and manage your business's finances, good accounting software can save you time. You can read our top bookkeeping and accounting tips to help simplify your bookkeeping and use it effectively. How Small Business Accounting Works All businesses should have accounting software that can bill customers, help manage their bills, track their payments, and provide reports to see how a business is performing. Beyond that, the features needed in accounting software will vary by industry and personal preference. Invoicing & Tracking Customer Payments Your accounting software should be able to issue invoices and track them until they're paid by your customer. It's also helpful if your software will print an A/R aging report, which shows all of your outstanding invoices grouped by how long they're past their due date. Finally, the best accounting software will track inventory, time, and expenses and allow you to add them to your invoices easily without much manual data entry. Managing Bills & Tracking Expenses Ideally, your accounting software should allow you to input bills when you receive them, including their due date. You can receive reminders of upcoming due dates and print an A/P aging report, grouping bills by how long they're overdue. Reporting At the very least, your accounting software should print a profit and loss (P&L) statement and a balance sheet that can be used to prepare your tax returns. It's helpful if software prints comparative financial statements that show both current and prior year numbers side by side. The best accounting software will print many more reports than just basic financial statements. For instance, if your business deals with inventory, a report summarizing the quantity and cost of the current inventory on hand is essential. If your company works on large projects (e.g., a construction company), you'll want reports that track the profitability of individual projects and compare the actual results to the estimated costs. Fulfilling Industry-specific Needs Many industries have specific requirements for their accounting software that might not apply to other industries. For example, restaurants and brick-and-mortar retail stores need a strong point-of-sale (POS) system. For these businesses, it's important to choose an accounting system that will integrate with a POS system to transfer the data automatically without manual entries, which can cost time and create mistakes. Other industry-specific needs include time and location tracking of employees, ecommerce platforms, CRM, and subcontractor management. Frequently Asked Questions (FAQs) What is the best small business accounting software? QuickBooks is by far the most popular small business accounting software in the US. However, there are some less expensive alternatives to QuickBooks you should consider. What is the difference between cloud-based and on-premise accounting software? A cloud-based software like QuickBooks Online allows you to access your books from the internet. On-premise programs like QuickBooks Desktop can be accessed only from the computer where it's installed. Read our comparison of QuickBooks Online vs QuickBooks Desktop to learn more. Is free accounting software good for my business? If you only need basic accounting features like income and expense tracking, then you may benefit from free accounting software. Some free accounting programs, such as Lendio Accounting, also offer great invoicing functions. Do I need to be an accountant or bookkeeper to use accounting software? No, you don't. There are some easy-to-use accounting software that doesn't require prior bookkeeping experience. Examples are QuickBooks Online, Lendio Accounting, and FreshBooks. However, to get the most out of accounting software, we recommend that you work closely with your accountant. Bottom Line There are many terrific small business accounting software applications available, but none of them are as versatile and comprehensive as . However, it isn't always the best solution, especially if you only have very basic needs and wish to save money. If your priority is mobile accounting, is more suitable. If your business operates in a very specialized industry, you may find a great choice.
Discover more resources
for your business
CPA License in Iowa
PH.D. from Pennsylvania State University
BS from University of Colorado
Certified QuickBooks Time Pro
Quickbooks ProAdvisor, Online & Desktop
"Accounting is not just a necessary evil. It can provide valuable information about where you make and lose money, lead to informed decision making, and help you feel confident that you understand where your business is now and where it is headed."