CPA License in Iowa
PH.D. from Pennsylvania State University
BS from University of Colorado
Certified QuickBooks Time Pro
Quickbooks ProAdvisor, Online & Desktop
Accounting
Bookkeeping
Accounting software
Individual taxation
Business taxation
Tax research
Tax planning
CPA with 25 years of experience
QuickBooks ProAdvisor
Tim worked as a tax professional for BKD, LLP before returning to school and receiving his Ph.D. from Penn State. He then taught tax and accounting to undergraduate and graduate students as an assistant professor at both the University of Nebraska-Omaha and Mississippi State University. Tim is a Certified QuickBooks Time (formerly TSheets) Pro, QuickBooks ProAdvisor for both the Online and Desktop products, as well as a CPA with 25 years of experience. He most recently spent two years as the accountant at a commercial roofing company utilizing QuickBooks Desktop to compile financials, job cost, and run payroll.






Tim loves camping with his wife and family, fishing, and hopes to someday return to golfing! Weekends that aren't spent camping are usually filled with remodeling his old farm house, garage, and barn. He hopes to have it all done before retirement in 10 to 15 years!
"Accounting is not just a necessary evil. It can provide valuable information about where you make and lose money, lead to informed decision making, and help you feel confident that you understand where your business is now and where it is headed."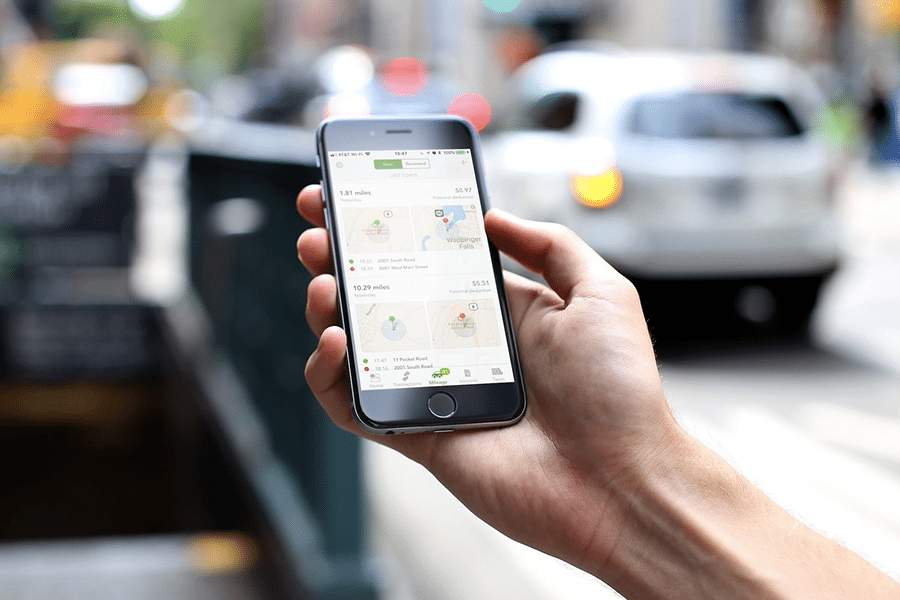 September 27, 2022
5 Best Mileage Tracker Apps for Small Businesses in 2022
The best mileage tracker app should efficiently log and track business mileage and expenses automatically and categorize trips easily as business-related or personal. It should also strike a balance between affordability and features. With that in mind, we have compiled the five best mileage tracker apps for small businesses: : Best overall mileage tracker : Best for self-employed individuals : Best for QuickBooks users : Best for growing companies : Most affordable option for simple mileage tracking Quick Comparison of Best Mileage Tracker Apps See fullscreen table × TripLog: Best Overall Mileage Tracker Expert Opinion is our best mileage log app because of the extended features you get in the paid plans. If you get the Premium + Time & Scheduling option, you'll have a scheduler, timesheet, and expense tracker, all from one provider. We recommend TripLog because it saves you the cost of subscribing to other third-party expense trackers or timesheet apps. Instead, with a fee of less than $10 per user, per month, you can get three trackers (mileage, expense, and time trackers). If you find it costly, we recommend checking for its affordable pricing. Hurdlr: Best for Self-employed Individuals Expert Opinion We recommend Hurdlr for freelancers and self-employed individuals who need a mileage tracker, an expense tracker, and simple accounting features. Its Premium and Pro plans can also be great QuickBooks alternatives because of its bookkeeping and invoicing features. If you're looking for a dedicated mileage tracker, we recommend choosing or for simple mileage tracking. QuickBooks Online: Best for QuickBooks Users Expert Opinion Because is also our best small business accounting software, it's a great choice for a new company looking for both accounting software and a mileage tracker—it's a cost saver to have a combined bookkeeping software and mileage tracker. It features tax computation for mileage deductions, wherein users can choose between standard mileage rates and actual expenses. However, we advise that you look at the other mileage trackers on this list if you need just a dedicated mileage tracker. and are good alternatives for QuickBooks Online because they have tax features that can help in reporting mileage expenses. Everlance: Best for Growing Companies Expert Opinion is a mileage tracker that features expense tracking and tax management. We like its tax-saving tool—this allocates money for your taxes automatically whenever new income enters your bank account, and we find it to be a great budgeting tool for tax expenses. If you decide to expand from self-employed into a small business, you can upgrade to an Everlance Business account easily. Though it includes advanced mileage features, it lacks an integrated bookkeeping system. If you need the latter, we recommend either or . Hurdlr has accounting and bookkeeping capabilities under its Pro Plan while QuickBooks Online is a small business accounting software by default but with mileage tracking features. MileIQ: Best for Simple Mileage Tracking Expert Opinion is an excellent alternative to complex mileage trackers because of its simplicity and easy-to-use interface. It's an ideal mileage tracker for individuals who drive occasionally but need mileage tracking for expense tracking. Although having more features in a mileage tracker is good, some won't make use of all of them. In that case, a simple app like MileIQ will do the job. While it lacks automatic tax deduction, we still recommend it for those wanting a simple mileage tracker. If you think MileIQ is too simple for your needs, we recommend checking out . How We Chose the Best Mileage Tracker Apps We ranked the best mileage log apps based on their affordability, ease of use, and the availability of the essential mileage tracking features we like to see, including automatic mileage tracking, bank and credit card integration, expense receipt capture, and route planning. Based on our methodology, we evaluated each mileage tracker app across the following criteria: When To Use a Mileage Tracker A mileage tracker can be used to project tax deductions, control mileage costs, and plan for future expenses. Not all individuals or businesses need to use a mileage tracker. However, the need arises when: The user intends to deduct mileage expenses for tax purposes: The IRS has strict requirements for documenting business mileage. Taxpayers must keep a detailed log of trips showing the date, number of miles, and purpose of the trip. The company has a high volume of mileage expenses and reimbursements: If your line of business involves delivery, or if you provide gas allowance to employees, a mileage tracker makes reimbursements easier, faster, and more accurate. The user's job is driving (like rideshare driver or company driver): Individuals registered to drive for Uber or Lyft can use a mileage tracker to track their daily route, maximize earnings, and reduce tax liability. Frequently Asked Questions Are there free mileage tracking apps? All of the mileage tracker apps in our list have free plans, except for QuickBooks Online. The free versions are suitable for occasional drivers needing mileage deductions. But if you want a comprehensive mileage tracker for your business, TripLog offers many features suitable for a small business setup. Do I need a mileage tracker for my business? That depends on the nature of your business. If you deliver products to customers or meet with clients, you need a mileage tracker to monitor your mileage and fuel expenses, as well as determine tax deductible amounts. What's the best way to track my mileage? GPS tracking is the most accessible way to track mileage since smartphones have GPS capabilities and cellular service. Through this feature, you can track mileage accurately, regardless of the route you've taken and maximize your mileage tax deductions. However, GPS tracking consumes smartphone battery, especially if you leave it running in the background. As such, it's best to always charge your smartphone while using this feature. Bottom Line Each mileage tracker app in our guide has its own strengths and weaknesses, so the best option greatly depends on your particular requirements. For instance, if you're managing a team of delivery drivers, you can benefit from route planning feature. If you need a simple and affordable way to track mileage, you should consider . If you're currently using , then you can try its built-in mileage tracker and see if it's enough for you. and are also worthy choices if mileage deduction is your top concern for getting a mileage tracker.
Discover more resources
for your business
CPA License in Iowa
PH.D. from Pennsylvania State University
BS from University of Colorado
Certified QuickBooks Time Pro
Quickbooks ProAdvisor, Online & Desktop
"Accounting is not just a necessary evil. It can provide valuable information about where you make and lose money, lead to informed decision making, and help you feel confident that you understand where your business is now and where it is headed."