Valerie D'Orazio is a staff writer at Fit Small Business specializing in business trends. Before joining the team, she worked as an editor and blogger at MTV.com. She has also written articles for various websites on topics such as human resources, artificial intelligence, biometrics, employment law, and personal branding. She has been interviewed by such outlets as MSNBC, Bloomberg, Reuters, and CTV News.
August 12, 2020
3 Reasons CBD Will Overtake THC in the Legal Cannabis Market
The $13.6 billion legalized cannabis industry is booming; it's projected to grow to a whopping $85 billion in sales in 2030. But not all cannabis products are the same. There are two major types cannabis-derived products: THC-based: Made with tetrahydrocannabinol, the primary psychoactive component of cannabis. THC gives the user a "high," and is far more regulated. Marijuana is a high-THC variety of the cannabis plant. CBD-based: Made with cannabidiol, which is not psychoactive, and mostly medicinal. CBD generally does not give the user a "high," so it's more mainstream. While it can be extracted from marijuana, most common CBD products are instead derived from hemp (cannabis plants containing less than 0.3% THC). Will sales of CBD products surpass marijuana and other high-THC items in the marketplace within the next five years? We think so, and here are three reasons why. 1. CBD Is Easier to Regulate Than THC CBD products are easier to legalize and regulate than those containing THC because CBD isn't psychotropic. Once a product is approved by a regulatory agency like the U.S. Department of Agriculture or the Food & Drug Administration, it's easier to sell. As of this writing, Epidiolex is the only officially FDA-approved CBD product available—even though around 11 states currently allow CBD in food, and another 16 allow it with restrictions. There's such a "Wild West" situation in the market, as illustrated in the cannabis legalization map of the US below, that companies are hesitant to expand and promote their products, for fear they will run afoul of a particular state's regulations. But an amendment to the Federal Food, Drug, and Cosmetic Act proposed at the beginning of 2020 would define CBD as a dietary supplement, paving the way to allowing it in food products. Movement on the amendment is currently stalled because of the pandemic, but if it eventually passes it could reshape the marketplace. 2. Growing CBD Niches: Edibles, Skin Care, Pet Products Many are familiar with inhaling cannabis, but there is increasing consumer interest in CBD-infused edibles, skin care products, and pet supplies. Though most of these products can be made with THC or CBD, the relaxed regulations on the latter make them ideal to stock in supermarkets and other mainstream outlets. Cannabis edibles in general have much higher profit margins than smokable products. Hemp-derived products are an easier sell to the mainstream market than those derived from marijuana—they promote wellness, but not getting high. As the chart below shows, it is projected that sales of non-psychoactive hemp-derived CBD products will nearly double those derived from marijuana (which contain significant amounts of THC) by 2022. 3. Cultural & Marketing Differences Give CBD the Edge Cannabis comes with cultural baggage—until recently, it's been countercultural, associated with illegality even as decriminalization has spread. Hemp-derived CBD products are a different story. They lack the amount of THC needed to produce a high, but their advantage is in their mass-market legitimacy. In the chart below, more people consistently cite health benefits such as controlling inflammation, seizures, anxiety, and pain as reasons they turned to CBD rather than THC. And a look at the demographics of CBD vs THC users reveals perhaps one of the most vital reasons for the projected ascendance of the former: the female consumer. According to research, If CBD companies continue to court the female market, the products may indeed have an excellent shot at surpassing THC sales. A Note on Blended THC/CBD Products: 'The Entourage Effect' In addition to tetrahydrocannabinol (THC) and cannabidiol (CBD), there are other substances derived from cannabis known as terpenoids or terpenes. Some researchers believe that terpenoids can temper THC's psychoactive effects. Moreover, they theorize an "entourage effect" regarding various blends of THC, CBD, and terpenes, in which the efficacy of these hybrid compounds is greater, with less intense side effects, than "pure" varieties. Could these cannabis blends be the "wild card" that changes everything, combining the best of both the worlds of CBD and THC, as well as a variety of terpenes? At the moment, the validity of the entourage effect is still being debated. However, the curious can purchase "sampler packs" from companies like Care By Design Hemp with products containing different ratios. The Bottom Line Legal cannabis-derived products are here to stay. But what will come to dominate the market: THC, or the considerably more domesticated CBD? Sometimes a mainstream hit comes from an edgy origin. Coca-Cola, for instance, was originally sold in the late 1800s as a type of "medicinal" beverage, and had quite a bit of cocaine in it. The mainstreaming of home video, as well as a number of advancements in the technology, partially owes its success to the adult movie market. Will cannabis products, and CBD in particular, have a similar journey to the mainstream? We think so.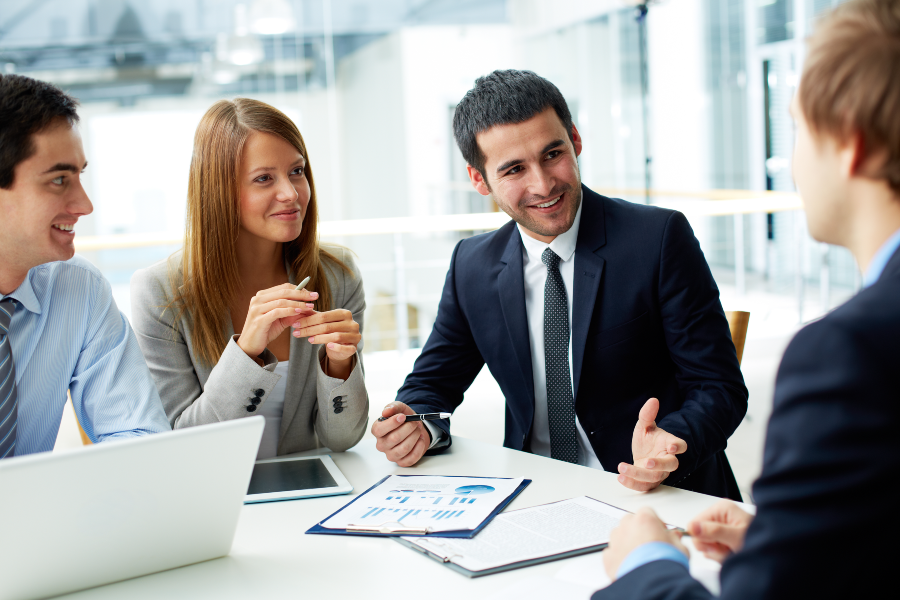 July 13, 2020
10 Creative New Business Ideas Started During the Pandemic
From virtual team-building campfires to quantum leaps in AR technology, the coronavirus has motivated some enterprising business owners to think outside the box. And many entrepreneurs are not letting the pandemic or recession stop them, with 500,000 new employer identification number applications submitted since mid-March. A depression or recession can paradoxically be a great time to start a business because there are new needs to be filled in both the public and private sectors. For example in 2009, while the nation was still recovering from the Great Recession, Venmo and Square were created to allow people to easily exchange funds digitally without hefty fees. These mobile payment systems provided workers with new freedom and mobility, laying the groundwork for the gig economy. The graphs above compare Google Trends searches in early 2019 and 2020 for certain industry keywords, illustrating how sudden needs in the public create demands for certain products and services. There was a massive surge for the term "At-Home Fitness" during the dawning of the coronavirus crisis in the US this past March, with interest in the sector remaining healthy to the present. The keyword "Bidet" saw an even more striking rise, just as perceived toilet paper shortages rocked the nation. And the emerging technology of 3D modeling, which as we will see has important applications in the COVID-19 era, also saw steady, if modest, increases in searches this year. While times of uncertainty can be difficult for long-established businesses, they can also be sources of opportunity and innovation for risk-friendly and flexible entrepreneurs. Some of the most well-known US brands of today have started during financial downturns, including Hewlett-Packard, IBM, General Electric, Uber, and Slack. As author and entrepreneur Seth Godin once wrote, "If you are deliberately trying to create a future that feels safe, you will willfully ignore the future that is likely." As illustrated in the chart above, the innovations these new businesses spearhead can long outlast the financial crises that originally sparked them, jump-starting technological and societal advances. The Dot-Com Bust of 2001 saw the birth of the Apple Store and Mailchimp, two businesses that rendered technology user-friendly and empowered the small businessperson. The year after, as the nation was still recovering from both the impacts of that economic downturn and 9/11, SpaceX was launched. And almost a decade later, the Great Recession birthed not only the aforementioned Venmo and Square, but the groundbreaking Uber as well. Will the 10 businesses on our list have the potential to do the same in the COVID-19 era? 1. UrsaLeo UrsaLeo allows users to visualize operational data within 3D photorealistic "digital twins" of physical workspaces. Via sensors placed along the brick and mortar facility, UrsaLeo's software can also be used to remotely access various functions and even interact with workers on-site. The result looks very much like a video game, except it is actually a searchable "duplicate" of an office or factory. (Credit: UrsaLeo) Digital twins connect physical space and cyberspace by combining several cutting edge technologies including machine learning, spatial network graphs, AI, and the Internet of Things. The uses for such software like UrsaLeo's span from the obvious needs of remote workers during the current pandemic to broader applications in manufacturing, utilities management, and healthcare. And in an era of Space Force and SpaceX, such technology could be put to use on unmanned exploratory vehicles and even moon bases. 2. Rinseroo One of the most emblematic aspects of the coronavirus pandemic was the initial shortage of toilet paper and subsequent consumer panic. An alternative to toilet paper used widely in Europe and other countries is the bidet, a handy basin-type device that never quite took off in the US. Enter the Rinseroo slip-on shower and sink hose attachment, which can be used, among other things, as an instant bidet in a pinch. The Rinseroo, the brainchild of New Jersey inventor Lisa Lane, is currently being advertised as the "Perfect Pandemic Problem Solver" but can be utilized for a whole host of different purposes. Its super-stretch connector slips over a faucet or shower head and immediately becomes a super-flexible rinsing tool, as well as an instant bidet. Considering that toilet paper has become an environmental as well as interrupted supply chain concern, perhaps this product has the potential to introduce Americans to the concept of bidets after all. 3. ThirdEye X2 MR Glasses ThirdEye uses specialized mixed reality (MR) and augmented reality (AR) technology to allow users to assess surroundings and receive digital data directly in one's field of view. Its X2 glasses can also generate heat maps using its thermal scanner, making it ideal to immediately detect elevated temperatures associated with various illnesses such as the coronavirus. MR blends physical and virtual worlds through immersive technology, simulating a real or imagined environment and complete with accompanying sensory information. Mixed reality hardware such as ThirdEye's glasses can do many things such as stream real-time footage and digital information like medical records to physicians, allow remote workers to collaborate in a shared digital space, and train military personnel. The tech simply is, as Forbes put it, "the Future of Humanity." 4. Tiny Campfire About 16 million US workers started working remotely due to the pandemic by the end of March, and it is likely many will continue to do so even after the crisis has passed. In the quest to maintain remote team-building across national and international boundaries, Tiny Campfire has come up with a quirky virtual solution to rouse that corporate team spirit. The company provides businesses such as Apple, Pepsi, and Netflix with structured "virtual campfire" events. Tiny Campfire creates and hosts an itinerary of activities like trivia games, ghost stories, and competitions for the whole team via video conferencing. There is even a "real world" component to the service, with gift bags and even s'mores kits sent to the employees beforehand. Perhaps it is this blending of the physical and virtual worlds, as seen with some of the others on this list, that is the key to the popular businesses of the future. 5. Promobot The Jetsons-type fun future we have all been promised includes cute helper-robots. While the coronavirus is currently making that future seem more like a dystopia, the makers of Promobot have at least provided the robot. Promobot is currently making the publicity rounds as a COVID-19 information dissemination tool but is advertised to have applications as diverse as building manager, tour guide, and of course entertainment center. Promobot is an easy-to-operate machine that communicates through AI. It moves independently while avoiding collisions through a combination of sound waves and refracted light, and can even automatically bring itself to its charging station when its battery charge is low. The robot, referred to as an "employee" on the website, is shipped with à la carte options including bar code scanner, payment terminal, photo printer, and plastic card dispenser. Perhaps the future of purchasing androids will be as simple as ordering an iPhone. 6. Virtual Personal Trainers The $94 billion fitness industry has taken a massive hit as the result of pandemic lockdowns. However, like a number of other sectors, gyms and personal trainers are reinventing themselves for the "new normal" of a COVID-19 world. The key to their recovery is the use of streaming video to present both live and recorded workouts to a homebound public. The ClassPass app offers access to a plethora of livestream workout classes from studios all over the nation, in disciplines as diverse as boxing, yoga, dance, and cycling. There is also over 4,000 pre-recorded workouts. Workout Depot delivers fitness regimens from a marketplace of different personal trainers, tailored for individual athletes. These remote gym alternatives deliver convenient on-demand workouts for people when they want, where they want, as well as keeping local studios and personal trainers in business. 7. Swoovy The Swoovy dating app offers users "dates with impact," connecting people through identifying shared social causes. Participants choose volunteering activities they have interest in, and are matched up with potential partners accordingly. Swoovy also connects both singles and couples to a number of opportunities to give back to the community that they can accomplish from the comfort of their own homes, such as creating care kits and becoming "virtual buddies" for seniors. Much like Tiny Campfire, the key with Swoovy is using online technology to connect people and provide them with the structure they need to build and reinforce friendships. Considering that loneliness was an issue for nearly half of all Americans even before the coronavirus, and political compatibility an increasing factor in dating choices, this app seems to be accessing the zeitgeist. Bars and nightclubs may have been the destinations of choice to meet significant others in the past, but perhaps the future is socially conscious and as close as one's phone. 8. Pre-Screening Safety Apps COVID-19 has inspired a number of applications that allows customers to "pre-screen" establishments for proper safety precautions. For example, Zero (not to be confused with the fasting app) claims to be a "Yelp" for coronavirus prevention, allowing users to leave and read reviews of how well establishments are following social distancing rules. There are also virus pre-screening apps for employers like the one KCI offers that provide not only health quizzes for workers but contact tracing and geospatial tagging. It is not hard to imagine both types of apps to have alternative uses far beyond health, as they blend aspects of social media (such as ratings and GPS tagging) with business concerns. For example, the logic behind Zero could be used as a "Yelp" for reviewing how well businesses big and small deal with social issues. Employer apps that use thorough pre-screening software could in theory expand its criteria to track other aspects of workers they might be concerned with, such as social media use itself. Such developments in technology will no doubt open a Pandora's Box of privacy issues. 9. EarthSafe The coronavirus has created a boom in professional cleaning services, but at what environmental cost? According to the Environmental Protection Agency, cleaning products that are released into the air or rinsed into the water supply can cause damage to the planet a well as a number of health problems. The EPA also points out that 6% out of the cleaning industry's 2.8 million janitors will suffer a job-related injury from exposure to these toxic chemicals. Enter EarthSafe Chemical Alternatives, a company offering Earth-friendly deep-cleaning alternatives for businesses and facilities. According to its website, EarthSafe is the first "to deliver viable chemical alternatives that are safe, nontoxic and biodegradable," and offers their services to construction sites, cruise ships, industrial facilities, and public housing. It provides cleaning substitutes for toxic chemicals such as hydrochloride, and claims that such environmentally friendly solutions do not cut back on performance. With companies increasingly being held accountable for the ill effects of the chemicals they use, EarthSafe will probably improve not just the health of employees but the financial bottom line. 10. Drive-Ins While economic crisis can inspire the creation of innovative new products, some older ones can also make a comeback. There were over 4,000 drive-in movie theatres in the US at the height of their popularity in 1958. As of 2019, those numbers have dropped to a little over 300. With the rise of COVID-19 and social distancing, however, viewing a movie from the relative safety of one's car has taken on significantly more appeal. Consequently, drive-ins are currently experiencing a revival, which can only be a boon for a movie industry cratered by the pandemic. The concept has even been uniquely extended to other public events such as live concerts. Will drive-ins, like other businesses on this list, continue to remain popular after the current pandemic is over? Considering that the journal Science has hypothesized that some degree of social distancing might have to be extended into 2022 in order to keep the virus at bay, perhaps they have some time. The Bottom Line These are unprecedented times for our nation, and the loss and grief are all too real. At the same time, this global misfortune is also propelling us—perhaps a bit ahead of schedule—into the future in terms of technological and societal change. Those entrepreneurs who think outside of the box today could be business moguls in the years to come. Methodology We ranked the items on this list using data and expert opinions from the fields of retail, business, statistics, and technology. These sources include the Bureau Of Labor Statistics, MarketWatch, The New York Times, and Scientific American.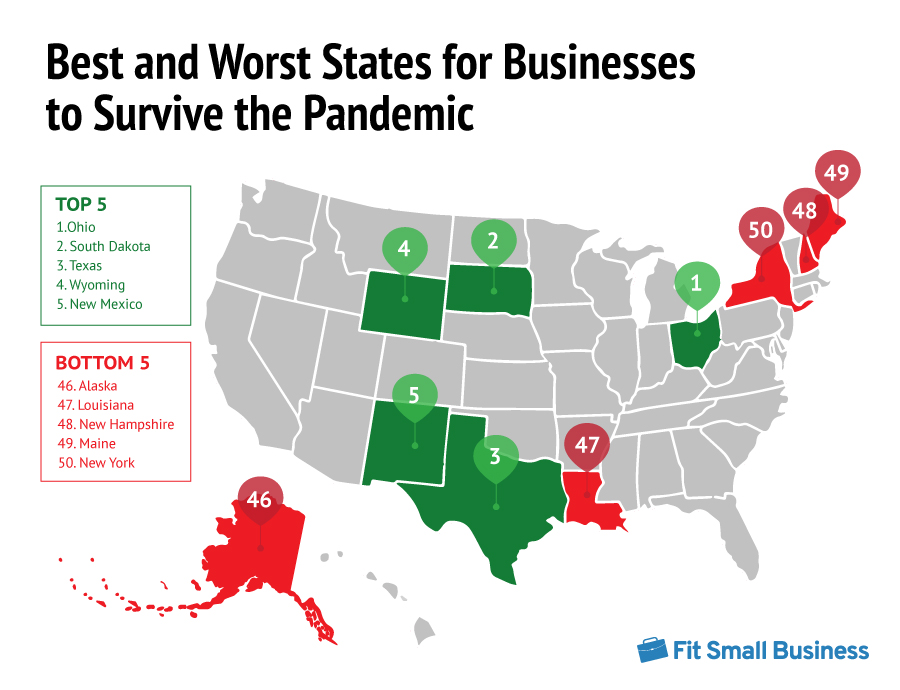 June 22, 2020
Best and Worst States for Businesses to Survive the Pandemic
Our 50-state analysis shows that business owners in Ohio (which ranked #1) were best situated to weather the economic turmoil of the COVID-19 pandemic. Those in New York (#50) fared the worst. Fit Small Business surveyed every state using metrics including overall financial health, infection rates, emergency reserve totals, and consumer confidence to determine in which states businesses were most likely to survive the coronavirus-driven recession. We then weighed these (see methodology below) to come up with the final rankings: Economic And Financial Health (20%) Least Economic Stressors (25%) Emergency Reserves & Relief (25%) COVID-19 Rates & Healthcare Infrastructure (20%) Consumer Confidence (10%) Like New York, other states that are dependent on international commerce and tourism such as California (#35), Nevada (#43) and Florida (#44) made poor showings on our list. In contrast, the Midwest performed well in the rankings, with South Dakota (#2), Iowa (#7) and Nebraska (#10) following Ohio in the top spot. These Midwestern states not only are significantly less traveled to than their more high-profile counterparts, they also generally have less population density. Eight out of the top ten most population-dense states—including New York, New Jersey, Rhode Island, Massachusetts, and Maryland—also have the highest coronavirus rates. This tracks with a recent study by Moody's Analytics identifying low population density as a key factor in the economic recovery of American cities. The chart above shows a clear correlation between population density and infection rate—with one notable exception. New York itself is the outlier in this infographic. Though the state is moderately large, two-thirds of its population lives in New York City. Though the state overall is not particularly dense, the high density in New York City has been one factor (out of many) which has contributed to the high infection rate in the city, inflating the state's totals. Over half of the current COVID-19 cases in New York are in the New York City metropolitan area. New York City is also the most visited city in the U.S., making it even more vulnerable to COVID-19 infections from overseas and other parts of the nation. Eight out of the ten most travelled-to cities in the U.S. are located within states reporting some of the highest number of cases of the virus. But as this chart illustrates, states may also suffer economically at the hands of the pandemic even if they have both low COVID-19 rates and are far away from their more afflicted neighbors. Hawaii, whose economy largely relies on tourism, has some of the lowest coronavirus rates—but the highest unemployment numbers. Alaska, dependent on air travel, is in a similar predicament. Travel restrictions during the pandemic have hurt both these states. Kentucky's outsized reliance on manufacturing jobs may explain its place on this chart; those jobs have suffered. And in Georgia's case, several explanations have been offered for the high unemployment numbers, including a higher than usual claim processing rate, more jobs in impacted industries, smaller firms, and even an anti-union climate. One of the most startling finds in our rankings are the showings of both Ohio and New York. The 9th most population-dense state and home of several bustling cities and modest business hubs, Ohio would at first glance seem to share at least some of the hardships as New York. And while it is true that Ohio is experiencing its share of economic and job losses due to the pandemic-driven recession, it nonetheless made the top of our list. Ohio combines the best factors of New York or California with all the advantages of being a smaller state in the Midwest. Declared by Forbes in 2017 to be the best state to launch a start-up, it has a lower cost-of-living and cheaper real-estate than more high-profile locations. Tucked into the middle of the country and #31 of most traveled-to states, Ohio enjoys both relative isolation and access to Fortune 500 companies and over 200 institutions of higher learning. Moreover, with a Budget Stabilization Fund of $2.7 billion, Ohio was set up better than New York for a crisis before any of this started. New York City does not have a similarly robust reserve fund, and the state as a whole ranked 44 on our list for overall "rainy day" savings. Budget experts, including City Comptroller Scott Stringer, have warned for years that a sustained crisis would quickly wipe out NYC's financial reserves. Indeed, per a Boston Consulting Group report requested by New York governor Andrew Cuomo, New York may need three years to recover from the economic impact of the coronavirus. BCG also projected that the state could lose as much as 14% of its GDP, with a revenue shortfall of $13.3 billion, and that federal funding would be necessary for the state to work its way back to solvency. Having one of the tightest and comprehensive COVID-19 lockdowns in the nation, though unquestionably effective in fighting the spread of the virus, may have also impacted New York's ability to bounce back financially. Fortune estimates that the state's economic fallout from the lockdowns will total $63 billion, or $173 million per day they are in effect. In contrast, while Ohio also has lockdown and business restrictions in place, they have not been as comprehensive or as long-lasting as New York's. The Top Ten States 1. Ohio With a diversified economy boasting everything including manufacturing, financial services, information technology, healthcare, and agribusiness, Ohio is very well positioned to weather the current recession. Its robust financial crisis funds, as noted by its rank at #9 in our Emergency Reserves & Relief category, provide it with a "cushion" states like New York do not have. Our data also indicates that the state had a strong baseline economic health prior to the COVID-19 outbreak. And its geographic location and relative independence from the hardest-hit industries give Ohio an extra survival edge. Another factor in the state's favor is the plethora of Fortune 500 companies at its financial core, including Proctor & Gamble, Goodyear, Kroger, Progressive Insurance, and many more. Though the state's economy has undoubtedly been impacted by the COVID-19 pandemic, the "next Silicon Valley" in the Midwest combines the best qualities of a major economic hub with a lower cost-of-living, so it's no surprise that Ohio tops our list for surviving the new recession. 2. South Dakota South Dakota has entered the age of COVID-19 with relatively little financial baggage, ranking at #1 in our Least Economic Stressors category. It also had the second-lowest unemployment rate, possibly explained by the fact that it had very few official quarantine restrictions in place as well as possessing a small population. Moreover, the state touts their limited taxes and low cost-of-living as boons to the business owner, and those factors have led to fewer jobs being lost. In a time where international supply chains can be brought to a screeching halt by a global pandemic, South Dakota is at the heart of American agriculture. Boasting large swathes of land for crops and livestock, it's no wonder that agriculture is its #1 industry. If it can prevent future COVID-19 outbreaks in food manufacturing facilities like the one in the Smithfield Foods plant in April, South Dakota has a great shot at recovering from the pandemic. 3. Texas Texas is another state on our list approaching the new recession with a solid economic foundation. It ranked #1 in our Emergency Reserves & Relief category, having the second-highest CARES Act endowment at over $10 billion. The state also possesses adequate economic reserves and offers decent compensation for the unemployed. When these factors are combined with a relatively low cost of living and what is considered to be a pro-business environment, Texas just might be "the case study for economic recovery from the COVID-19 recession." Like Ohio, Texas may also be a case of those states with the biggest balance between city and rural environments faring the best post-coronavirus. Despite having the second largest economy by GDP in the U.S. and being the second most populous state in the nation, it only ranks 24th in population density. Texas also has an economy based on a wide variety of industries, including agriculture, aeronautics, and computer technology. So while the state has indeed taken its share of bumps from the current recession, it seems that it has enough resources to weather the storm. 4. Wyoming #1 in our 50-state sub-rankings based on Economic and Financial Health, Wyoming has a very low cost of living and no corporate income tax. It also has no sales tax on energy or equipment used in manufacturing, and some of the lowest property taxes in the USA. Our research also revealed that the state also ranked #1 for "rainy day" reserves in the bank. So in a nation turned upside-down by the economic ravages of the coronavirus, Wyoming might seem attractive to the business owner looking for a brand new start way out West. Wyoming also has the second lowest population density in the United States as well as some of the lowest COVID-19 infection rates as of this writing. Perhaps the state does not seem like much of a bustling metropolitan paradise, but in a post-pandemic world such a location could be more attractive to both business owners and citizens. It also has vast natural resources, which are a boon in a world suffering from supply chain breakdown. 5. New Mexico New Mexico earned high marks in a number of metrics that indicate the ability to survive the pandemic and recession. The state ranked #4 for Least Economic Stressors, with low unemployment rates and manageable Medicaid spending increases. The state's government is also very active in the development of its economy and infrastructure, offering numerous tax credits and exemptions. Furthermore, New Mexico does not collect inheritance, estate, or sales taxes, and is considered one of the largest tax havens in the U.S. As in the cases of Wyoming and South Dakota, New Mexico offers the forward-thinking entrepreneur a "blank slate" to anticipate the needs of the nation in the future. The state's diverse economy has also contributed to its ability to survive the recession. While the nation's oil industries as a whole indeed suffered great losses so far this year, New Mexico's substantial slice of it provided the state last year with a record $3.1 billion in revenue to help ride the pandemic out. And in possibly one of the strangest potential post-coronavirus success stories, New Mexico might become a new mecca of filmmaking. Gaining a reputation for a well-managed response to COVID-19, its State Film Office says it is receiving numerous inquiries from studios to relocate their projects because "it is safer." 6. Arkansas Arkansas excels in a range of categories for our rankings, including Economic & Financial Health, Least Economic Stressors, Emergency Reserves & Relief, and even Consumer Confidence. The state's governor Asa Hutchinson credits its lack of an official stay-at-home order with keeping the state's unemployment rate 4% lower than the national average. Combined with a low cost-of-living and population density, this is another state that might have a good shot at emerging from the current crisis. Moreover, a state like Arkansas which is able to produce a substantial amount of its own exports in a time of international supply chain shock seems to have an advantage. In 2018, it exported $6.4 billion in goods to the world, including aircraft, produce, organic chemicals, and steel. The state is home to six Fortune 500 companies including the #1 corporation in the world, Walmart. When one considers that Walmart is one of the few retailers still booming during this economic downturn, it's a nice position for Arkansas to be in. 7. Iowa Iowa ranked #3 in our Least Economic Stressors category, with little projected fiscal shock as the result of COVID-19. Our data also reveals a low overall unemployment rate, and indeed the state had a surprising drop in unemployment claims at the beginning of June. Another factor towards Iowa's stability in the face of the coronavirus is that it possessed $800 million in reserves with a projected budget surplus of $200 million before the pandemic even began. The state also does not primarily rely on industries hurt by COVID-19. The biggest sector of Iowa's economy is food manufacturing, and companies with processing plants in the state include General Mills, Quaker Oats, ConAgra Foods, Tyson Foods, and Heinz. And with thousands of financial firms, Iowa has also been called "the insurance capital of the world" by the U.S. Chamber of Commerce. All this, plus a low population density, makes the state another ideal location for businesses post-coronavirus. 8. Utah Utah ranked at #2 in our Least Economic Stressors category, and had the #1 lowest unemployment rate. At the end of May the state drew headlines for how much their unemployment had dropped, with a cautious reopening of the economy a possible factor for their success. Also helping Utah is the fact that for the past two years the state has had the highest export growth rate in the nation, and some experts believe that it could become a significant force in the global economy post-coronavirus. Like its neighbor Wyoming, Utah is another doubly-landlocked state with low population density and a high reserve of natural resources. The state has emerged from more than a century of a focus on mining and agriculture to diversify its industries for the future. This includes an explosion of tech startups, making Salt Lake City a version of Silicon Valley with a much lower cost of living. 9. West Virginia West Virginia ranked #1 in our COVID-19 & Healthcare category, and their focus on hospitals and medical services is a major reason. The state has well over 60 hospitals and health systems, contributing over $9.8 billion to the state's economy and employing over 44,000 people. It also, at the time of this writing, has the 2nd least cases of COVID-19 within the nation. To be fair, the Mountain State is facing its share of economic challenges as the result of the pandemic, and an "economic stress test" conducted by Moody's Analytics projected that it could face a $1.98 billion budget shortfall & 41.7% decline in the economy. That said, given West Virginia's paucity of coronavirus cases, there will probably be some leftovers from the $1.6 billion in federal funds it received for COVID-19 treatment and testing. 10. Nebraska Nebraska's ability to keep its unemployment numbers down is a big reason it has made our top ten of the states best able to survive the pandemic. The state had the 9th lowest unemployment rate, and ranked at #8 in our overall Least Economic Stressors category. A possible reason for Nebraska's relative lack of job losses during the pandemic is its very diversified economy focused on "necessity" industries such as food production, finance, and insurance. The state also maintained a low unemployment rate during the years leading up to the pandemic, and enjoyed a relatively healthy and growing economy before the economic downturn. Twenty-six Nebraska businesses made Inc's 2019 list of the fastest-growing 5000 companies in the nation, with a heavy concentration on medical staffing, software, and IT management. The state appears to definitely have a fighting chance in the "new normal" of the nation's economy. Definitive Ranking of All 50 States Click here to see all data considered in our study. Full Methodology Our ranking of the best states to survive the current pandemic was based on five categories, each one containing a number of relevant metrics derived from authoritative sources such as the U.S. Department of Labor, Moody's Analytics, the U.S. Census, the Tax Foundation, the New York Times, and the Center on Budget and Policy Priorities. We analyzed the data for these metrics and assigned weights to each based on their relative importance to recession survival: 1. Economic And Financial Health (20%): For this metric we analyzed core indicators of a state's health, Cost-Of-Living and State Corporate Income Tax Rate. It was important to establish the fiscal health of these states before the pandemic hit, and determine which ones were more ideal for business owners. We weighed this category slightly lower than some of the others because we are focusing mostly on the current economic impact of COVID-19. 2. Least Economic Stressors (25%): Metrics considered for this category include the most current unemployment claim numbers available at the time of this writing, which were converted into rates using population data. We also factored in the "Baseline Fiscal Shock" projections from Moody's Analytics, which were determined by a state's Tax Revenue Shortfall and Medicaid Spending Increase due to COVID-19. 3. Emergency Reserves & Relief (25%) This section analyzes the overall reserve of funds each state has to help provide financial relief to those impacted by the pandemic, as well as fill budget gaps cratered by the economic downturn. These metrics include Unemployment Compensation, Funds Received From The CARES Act, and State "Rainy Day" Funds. This data provides an excellent baseline from which to predict a state's ability to absorb the economic fallout of the coronavirus. 4. COVID-19 Rates & Healthcare Infrastructure (20%): Of course, it was essential for a study like this to include the most current COVID-19 case data, and we included Infection and Mortality Rates. Also factored into this category are # Of Citizens With Health Insurance and # of Hospitals. 5. Consumer Confidence (10%): Finally, we considered a recent state-by-state snapshot of Consumer Confidence, provided by Morning Consult. This is more of a subjective metric reflecting the general mood within each state regarding economic recovery from the pandemic, and consequently we weighed this category much less than the others in this study. Bottom Line The rankings of states on our list reveal several characteristics of an ideal state to survive the current pandemic. These include pre-coronavirus economic factors such as having a low cost of living, levying low tax burdens on businesses, and having a robust "rainy day" reserve fund for emergencies. Another key aspect of a state's ability to recover is the diversification of its core industries, especially those sectors less directly impacted by COVID-19. And finally, elements such as population density and volume of travelers can play an important role in both increasing infections and consequently damaging the economy of the state. Our study also underlines the inescapable fact that all 50 states are in this situation together, highly interdependent not only upon each other but the larger global community as well. As we consider the myriad factors that have led the United States to this current recession, it is important to also map out the future.
Discover more resources
for your business