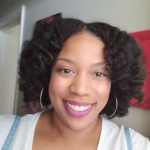 Business Credit Cards
Business Banking
Yvette Glover is a financial specialist and writer at Fit Small Business focusing on credit cards and bank accounts. Before joining the Fit Small Business team, Yvette was a Senior Fraud Analyst specializing in electronic and high dollar investigations. With over 16 years of experience in consumer and business banking, Yvette now delivers research-intensive articles to Fit Small Business. When Yvette isn't writing, she enjoys walking on the beach, chasing gourmet food trucks, and reading mystery novels.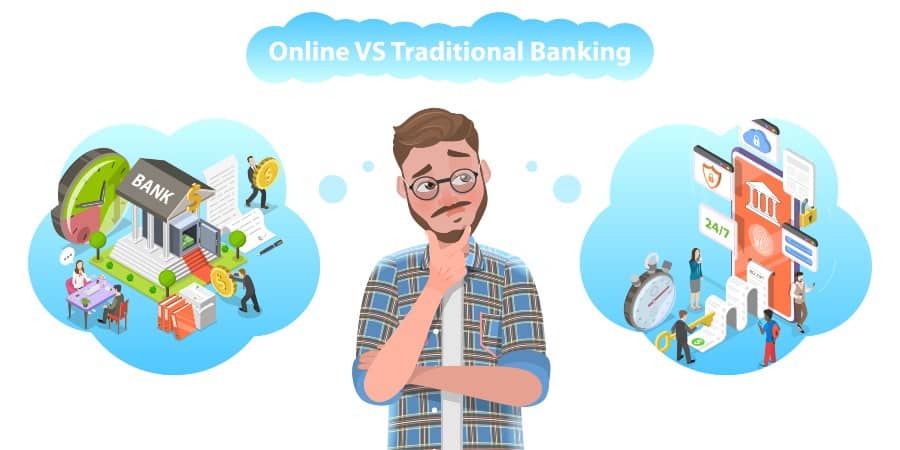 April 15, 2021
Online Banking vs Traditional Banking for Your Small Business
One major difference between online banking and traditional banking is the way you can access their services. Online banks are designed for businesses that prefer to do their banking transactions electronically while traditional banks are best for businesses that need to transact in a physical branch. Online banks and traditional banks also differ in terms of fees, rates, account options, customer service, and network size. Online Banking vs Traditional Banking at a Glance 1. Monthly Account Fees Typically, traditional banks charge monthly maintenance fees for business checking accounts, ranging from $5 to $20 or even higher. Fortunately, it's possible to avoid these fees. A few ways to avoid paying the monthly account fee include maintaining a minimum balance, opening multiple business bank accounts, and setting up a monthly direct deposit. In comparison, online banks rarely charge monthly fees and, if they do, the fee is likely $5 to $10 lower than traditional banks. Many online-only banks offer business checking accounts for free because, unlike traditional banks, they can operate without the additional overhead costs associated with having multiple physical branch locations. 2. Network Availability When it comes to network availability, traditional banks offer more options because they have physical branches that allow you to make deposits and withdrawals, open accounts, and receive in-person assistance. Online banks don't have physical locations, so you need to make all bank transactions electronically or get customer service assistance over the phone. ATM networks for online banks usually are as large as traditional banks, offering access to thousands of surcharge-free ATMs through partner companies like MoneyPass. However, some helpful ATM features that usually come with traditional bank networks, such as same-day cash deposits and ATM account transfers, may not be available for online banks. 3. Cash Transactions The ability to deposit cash is one of the most distinguishable differences between traditional banks and online banks. Traditional banks accept cash deposits at their branches and through ATMs. However, since online banks don't have physical branch locations, in-person cash deposits aren't available. Although some online banks accept limited cash deposits through partner companies, it usually takes longer to process, and this service often has fees associated with it. Cash withdrawals are also limited if you bank with an online-only bank. For example, you wouldn't be able to withdraw cash in excess of your ATM withdrawal limit. Typically, however, you can withdraw any amount of cash over-the-counter from a traditional bank's physical branch. If you maintain bank accounts with both online and traditional banks, you can transfer funds from your online bank account to your traditional bank account so that you can make a large cash withdrawal. 4. Interest Rates When it comes to interest rates, online banks offer higher rates on interest-bearing accounts like savings accounts and certificates of deposit (CDs) compared to traditional banks. Although traditional banks typically offer more options for savings accounts, they typically offer lower interest rates than online banks. You're more likely to find a business checking account that earns interest from an online bank than from a traditional bank. 5. Customer Service Although both online and traditional banks provide customer support via email and over the phone, only traditional banks offer in-person service options. Digital banks offer web-based customer service as well as over-the-phone support. You may also find longer customer service hours at online-only banks compared to traditional banks. However, traditional banks provide several customer service alternatives—phone, web-based, and in-branch—so you have more options on which medium to use to get the assistance you need. When to Use an Online-only Bank It's best to use an online-only bank if you favor digital banking and prefer to process all your transactions electronically. Online-only banks are best for businesses that typically don't handle cash transactions and those that prefer to do their banking transactions anytime and anywhere. If your business is used to processing electronic payments, managing accounts through a bank's mobile app, and making bank transactions online, then transitioning from a traditional bank to an online-only bank won't be too difficult. How to Find the Best Online Bank for Your Business Generally, the best online banks offer fee-free checking accounts, high-yield savings, and reliable customer support. However, if you don't need a savings account, you should focus on unique checking account features that you can't get from traditional banks like rewards on debit card purchases or a checking account that earns interest. As a business owner, you should also consider other banking products, such as business loans and payroll services, that can help you run your business smoothly. It's a good idea to review all bank fees that could add to your business expenses. Most digital bank accounts are fee-free, so an online bank account that has monthly fees should be considered carefully. However, it's not uncommon to find an online savings account that requires a minimum balance to avoid a monthly fee. In that case, you should evaluate how much money you could commit to keeping in your account before opening one. Pros & Cons of Online Banks When to Use a Traditional Bank Traditional banks are best for businesses that value physical branches and personal service over digital platforms. If your business requires you to deposit cash regularly, either through an ATM or with a bank teller, a traditional bank would be your best option. Traditional banks may also be a good fit for businesses that want a one-stop-shop option for all their banking needs. Generally, traditional banking offers different products and services that are not available with online banking, including mortgages, business loans, leasing, different types of insurance, and investment services. How to Find the Best Traditional Bank for Your Business The best traditional banks provide business banking at a lower cost while giving you opportunities to earn interest. It's best to choose a traditional bank that has multiple branch locations across the country as this allows you easy access to in-person services. It's also a good idea to consider traditional banks that offer multiple products and services, including checking and savings account options, business loans, credit cards, insurance products, and investment services. Business owners who are looking for funding should find a traditional bank that offers financing options suitable for the business. There are several types of business loans available, such as commercial loans, business lines of credit, equipment financing, accounts receivable financing, merchant cash advance, and Small Business Administration (SBA) loans. Some traditional banks may not offer all types of business loans, so it's important to ensure that the bank you'll work with offers the financing products that meet your business's financing needs. Pros & Cons of Traditional Banks Bottom Line When deciding between online banking and traditional banking, it's important to know how they differ from one another and what advantages each type of bank could offer for your business. Digital banks provide lower account fees and higher savings rates. Traditional banks offer in-person customer support and a wide variety of products and services. The type of bank that works best for your business depends on your business's unique needs and preferences.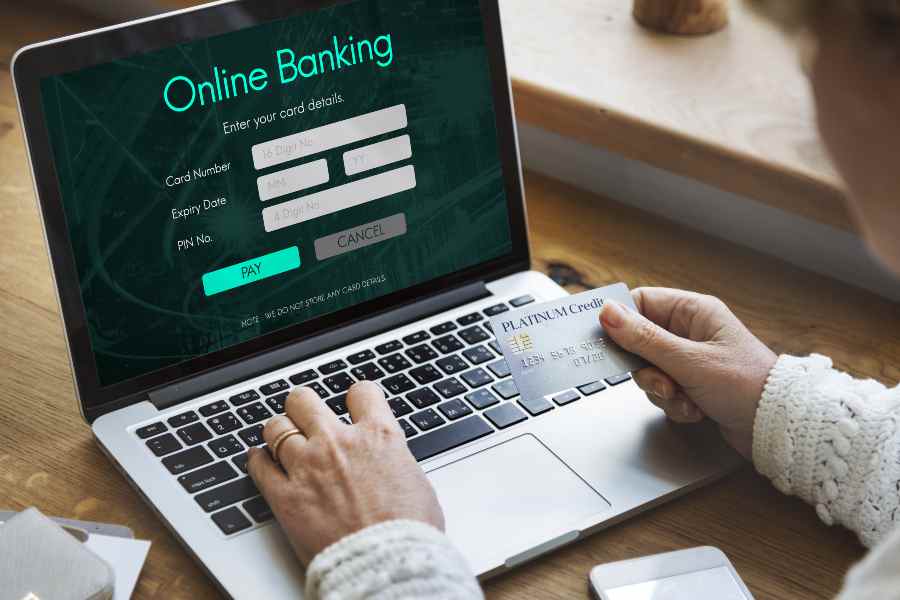 March 1, 2021
When an Online Bank Is Right for Your Business & How to Use One Safely
Online banking is as common as banks themselves, but what is an online bank? Online banks offer banking products and services that help you maintain and manage your finances, such as checking and savings accounts, but without the physical locations of a traditional bank. Online banks sometimes have fewer account options, and cash deposits often aren't available. However, these banks usually provide better interest rates, fewer fees, and easier online transactions. What Is an Online Bank? An online bank is a financial institution that offers a variety of banking products and services, including the most widely used checking and savings accounts. These banks usually don't have physical branches, so they operate through digital and online platforms. However, the lack of physical locations means cash processing is inconvenient, but with electronic deposits and transfers, most people won't find this a big obstacle. Even opening a business account online is a terrific option for noncash business owners. Are Online Banks Safe? Online banks use secure websites and services to conduct all banking transactions, similar to how traditional banks rely heavily on digital and online banking for their customers. There's no guarantee that your information won't ever be compromised, whether you're banking with a traditional or digital bank. However, protecting your online password and monitoring your account constantly will provide safety wherever you choose to bank. Online bank's checking and savings accounts are also insured by the Federal Deposit Insurance Corporation (FDIC) up to $250,000, just like brick-and-mortar banks. Even though most online banks are FDIC-insured, it's a good thing to verify before opening an account. When You Should Consider an Online Bank Online banks are ideal for those who don't make cash deposits or need in-person services regularly. Since most people already bank online with their major banks, the transition from traditional to online banking shouldn't feel much different than utilizing the online banking features with a major bank. With digital banking, you can still make online payments, fund transfers, and deposits through mobile banking. Business owners also find digital banks more enticing because most online banks offer low-cost accounts and higher interest rates on savings accounts. Furthermore, even if the online bank you choose has no branch locations available, it'll likely have a large, surcharge-free ATM network available for all account holders. How to Bank Online Safely There are a few things to consider when banking online, whether with a brick-and-mortar branch or a purely digital bank. The banks are doing the best they can to keep your account secure, but it's up to you to take more precautionary measures to ensure you're banking safely. Here are a few ways you can safely bank online: Choose a strong password: A strong password should be at least eight characters long and have a mix of lowercase and capital letters, numbers, and special characters. You should also avoid using personal information like your name or birthday as a username or password. Set up two-factor authentication: Two-factor authentication provides an extra layer of security that requires you to verify a second piece of information after signing in successfully. Usually, this includes a phone call to your secured number, a secured text with a code, or a secured link in an email. Use a secured connection: Be sure to use a secured internet connection whenever you access a banking platform. Use a virtual private network (VPN) to encrypt your private information whenever you're connected to public Wi-Fi so that others can't access your personal information. Monitor your account: View your online bank accounts daily and set up account alerts to be notified of any unusual activity. Report suspicious activity immediately: Report any unusual banking activity as soon as possible so that the bank can secure your account and prevent further fraud. Waiting to report fraudulent activity can cause more losses and leave you liable financially in the event that the bank refuses to reimburse you for failing to report in a timely manner. Don't share personal information: Keep your online login information secure by not sharing it with anyone, including close friends and family members. You should also restrict access to the email address associated with your bank account to ensure people can't access your banking information by requesting password resets via email. Change online credentials often: While some banks will prompt you to update your passwords, some don't. It's necessary to change your credentials frequently to reduce the likelihood of compromised passwords and code-cracking. Have a backup account: Keep a second bank account at a traditional bank in case your online bank account is compromised. You can then secure your money by moving your funds to your second bank account, ensuring you're not inconvenienced for long. Pros and Cons of Online Banking Online banking is the new norm, but it can be a blessing and curse for some. Usually, online banks provide some or all of the banking products and services that most traditional banks offer, and often at a lower cost. While digital banks offer several benefits for consumers and business owners alike, online banking comes with certain inconveniences as well. The following are the major pros and cons of online banking: Bottom Line Online banking isn't new to clients who bank with traditional banks, as most traditional banks offer online banking options. Online banks operate similarly to traditional banks' online banking platforms. However, purely digital banks don't have physical locations. Most banking products that small business owners need are available through online banks, and your account is just as secure.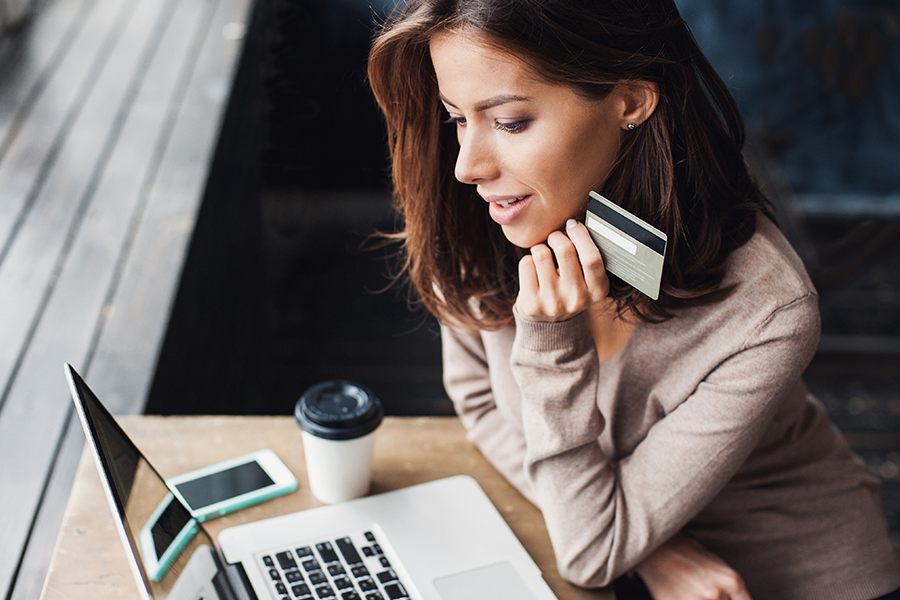 January 6, 2021
5 Best Amazon Business Credit Cards
Editor's note: This is a recurring post with regularly updated card details. The best Amazon business credit cards offer top rewards on Amazon expenses, making them ideal for owners who spend big on Amazon purchases. While most business credit cards offer 1% cash back on Amazon purchases, these cards earn up to 5% cash back and bonus gift cards worth up to $125. Although some cards require an Amazon Prime membership, none of the cards on our list charge annual fees. The best amazon business credit cards for Amazon purchases are: : (Best overall) Best for 5% back on Amazon purchases : Best for Amazon purchases without a Business Prime membership : Best for 5% cash back on a personal credit card : Best for earning Amazon rewards on a personal card without a Prime membership : Best for fixed-rate cash back and 0% introductory annual percentage rate (APR) For more details on how we evaluate business credit cards for this list, see our methodology. : Overall Best Amazon Credit Card for Business Use Why we like it: The Amazon Business Prime American Express Card is the all-around best business credit card for business owners who make frequent Amazon purchases. This card earns up to 5% back at Amazon.com, Whole Foods, Amazon Business, and Amazon Web Services. If you're a heavy Prime Amazon business user, this card's high rewards. Plus, you'll get your choice of earning rewards or payment terms. Those who opt for payment terms can make Amazon purchases without interest for 90 days. What's more, you can change your benefits selection to rewards on future purchases at any time. You'll also earn this card's second-highest rewards on purchases for restaurant, gas station, and cellphone purchases. Although you'll get all these benefits without an annual card fee, you'll need an Amazon Business Prime membership to qualify. Business Prime accounts cost $179 per year while standard Prime memberships cost $119 per year. : Best for Amazon Purchases Without a Business Prime Membership Why we like it: If a Business Prime membership isn't a priority, the Amazon Business American Express Card is a solid pick. This card earns 3% back on purchases made at Amazon.com, Whole Foods Market, Amazon Business, and Amazon Web Services. If you don't want rewards, you can also choose interest-free payment terms for 60 days. You can update your card benefits between payment terms and rewards at any time. Although the cash back option earns rewards on all purchases, you'll also earn 2% back when you use your card for restaurant, gas, and cellphone service-related purchases. : Best for 5% Cash Back on a Personal Credit Card Why we like it: The Amazon Prime Rewards Visa Signature Card offers 5% cash back on all Amazon.com and Whole Foods purchases, so it's a great personal card for frequent Amazon shoppers. This card also comes with a $70 gift card that can be applied instantly to your Amazon account upon card approval. This card also gives you the option to earn cash back rewards or opt into payment terms, where you'll have no interest for 90 days. If you choose ongoing rewards, you'll earn cash back rewards on more than Amazon and Whole Foods purchases. You'll also earn 2% cash back on restaurant, gas station, and drugstore purchases. You will need a standard Amazon Prime membership to qualify for this card. Amazon memberships start at $119 for personal accounts. However, because this is a personal credit card, you won't be able to use it for building business credit. : Best for Non-Prime Members Who Want a Personal Card Why we like it: The Amazon Rewards Visa Signature Card is a consumer credit card designed to give top rewards on Amazon purchases for non-Prime members. This is also a great option for business owners who can't qualify for a business credit card. Plus, it's cheaper to own than the Amazon Prime Rewards Visa Signature Card, which is available only with a Prime membership. However, it offers slightly lower rewards—3% vs 5%—on Amazon purchases. Just like the Prime version of this card, the Amazon Rewards Visa Signature Card earns 2% cash back at restaurants, gas stations, and drugstores. Additionally, you'll get a $50 gift card upon approval as a welcome bonus that you can use on future purchases. However, because this is a personal credit card, you can't use this card to build business credit. : Best for Fixed-rate Cash Back & 0% Introductory APR Why we like it: The American Express Blue Business Cash™ Card is one of the best business cards for owners looking for steady cash back rewards on Amazon purchases. Although it's not an Amazon-branded card, this card still earns 2% cash back on all eligible purchases on up to $50,000 per calendar year, including Amazon-related purchases. Plus, you'll get a 0% introductory APR period that's longer than any other card on our list. This is a good card for owners who want premium American Express perks like expanded buying power without the costly annual fee. With this card, you can make purchases above your credit limit with no over-limit fees. The expanded buying power feature isn't unlimited and is dependent on your card usage and payment history, among other factors. How We Evaluated the Best Amazon Credit Cards for Business When considering cards for this list, we primarily included cards that offer robust ongoing rewards for Amazon-related purchases. Along with ongoing rewards, we also took into account welcome offers, Amazon-specific introductory financing, and annual card or Prime membership fees. The best Amazon credit cards for business pay up to 5% cash back on purchases while offering welcome bonuses that can be applied directly to your Amazon account. Bottom Line The best Amazon business credit card earns top rewards that you can redeem easily for Amazon purchases. These cards also typically come with introductory offers like free gift cards and statement credits that you can use for future purchases. If you're only an occasional Amazon customer, you'd be better off with a non-Amazon branded card. For rates and fees on the Amazon Business Prime American Express Card, please click . For rates and fees on the Amazon Business American Express Card, please click . For rates and fees on the American Express Blue Business Cash™ Card, please click .
Discover more resources
for your business