To safeguard your website, WordPress recommends you keep a backup in three locations. While this may sound like a lot, it involves a lot less time than rebuilding your WordPress website, and it's actually very easy. You can set up your backups through your web hosting provider, as well as through free plugins where you can automatically save your backups to third-party services, such as Google Drive and Dropbox, by following these four steps:
1. Log In to WordPress & Install the UpdraftPlus Plugin
Shortcut: WordPress dashboard > Plugins > Add New > Search UpdraftPlus > Install > Activate
To start the process of easily setting up automatic site backups to Google Drive, you'll want to use a plugin. While there are a number of backup plugins available, UpdraftPlus is the one of the world's most popular, with over 3 million active installations and a near perfect 5-star rating from over 3,000 reviews—and for good reason. So we'll use it for the following steps.
Log in to your WordPress dashboard. Then, navigate to plugins from the left-hand navigation, and click "Add New." From there, search for UpdraftPlus, then install and activate it.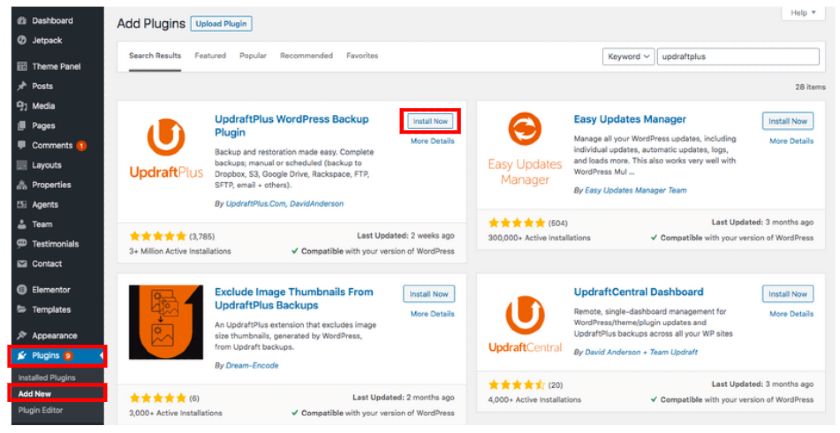 2. Configure UpdraftPlus Settings
Shortcut: WordPress Settings > UpdraftPlus Backups > Plugin Settings > Select Google Drive > Save Changes
After successfully installing the UpdraftPlus plugin, navigate to "Settings" from the left-hand vertical menu and select "UpdraftPlus Backups." From there, go to the "Settings" tab from the horizontal menu, then select "Google Drive" and click "Save Changes" at the bottom of the screen.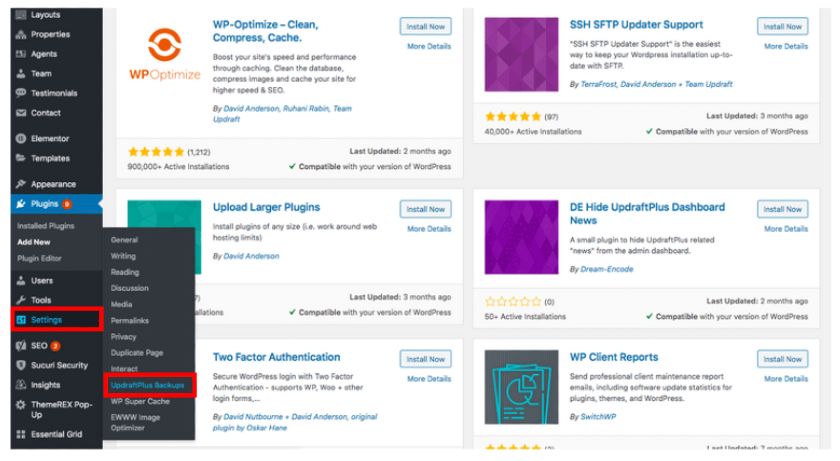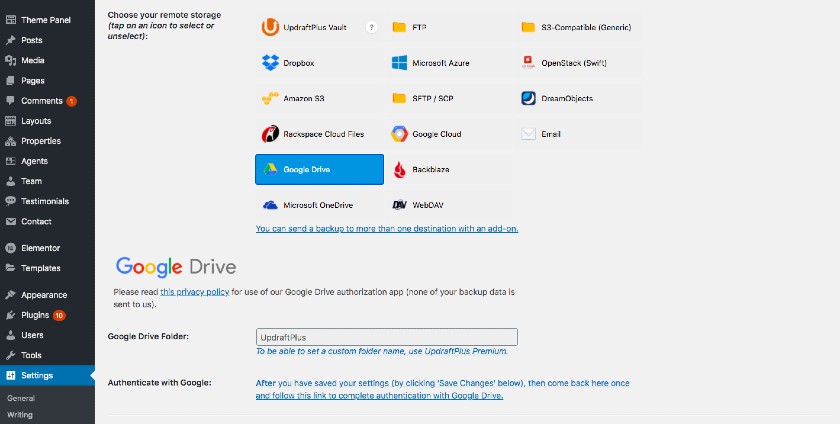 3. Authenticate Google
Shortcut: Click the "Remote Storage Authentication" link > Login to Google > Click "Complete Setup"
Once you have selected to save backups externally to Google Drive, click the "Remote Storage Authentication" link provided. Next, you will be prompted to log in to Google. Select the Google account you want to connect your website to, and then click the "Complete Setup" button. You will now automatically be connected to Google Drive.
Alternatively, you can skip the automatic authentication process, and navigate instead to Google API Developers Console. Find OAuth credentials and use the toggle to turn on Drive API. Then, find "Generate credentials." There, you will need to copy both the Client IP and the client secret key credentials to the settings of UpdraftPlus.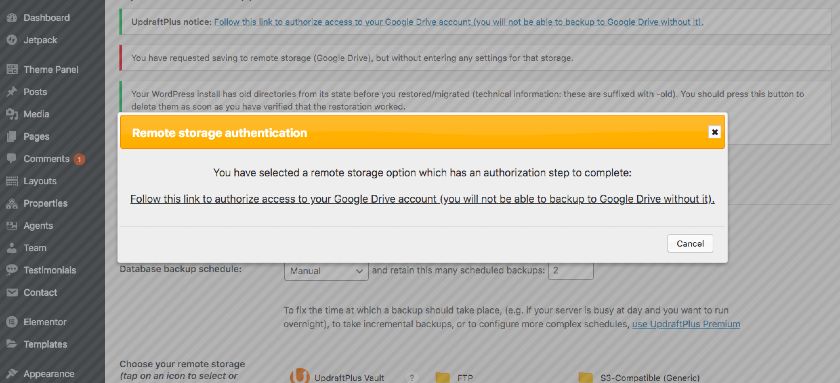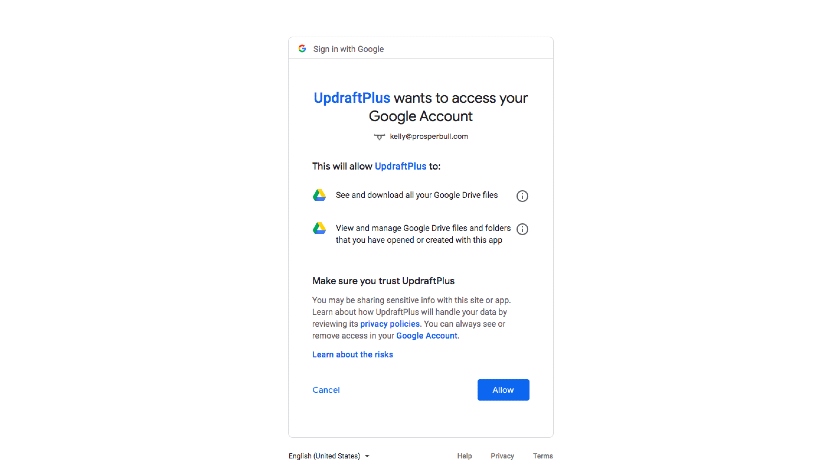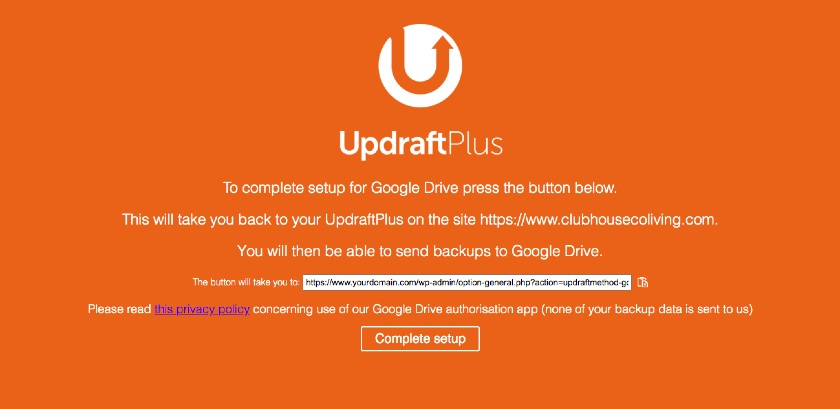 4. Set Up Automatic Site Backups to Google Drive (Optional)
Shortcut: Settings > UpdraftPlus Backups > UpdraftPlus Settings > File Backup Schedule > Select Automatic Backup Frequency > Save Changes
If you want to set up automatic site backups to Google Drive so that you don't have to manually run backups, you can easily do this through the UpdraftPlus plugin. Simply go to "Settings" and select "UpdraftPlus Backups." Then, click the "Settings" tab and use the drop-down menu under "File Backup Schedule" to select the frequency of automated site backups.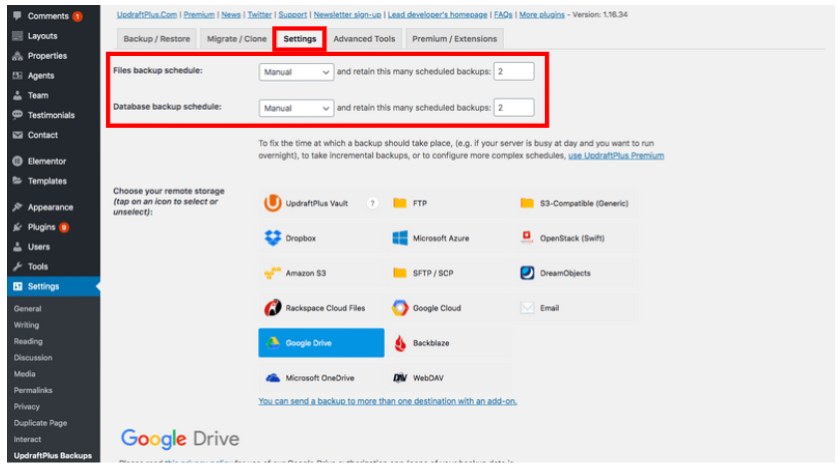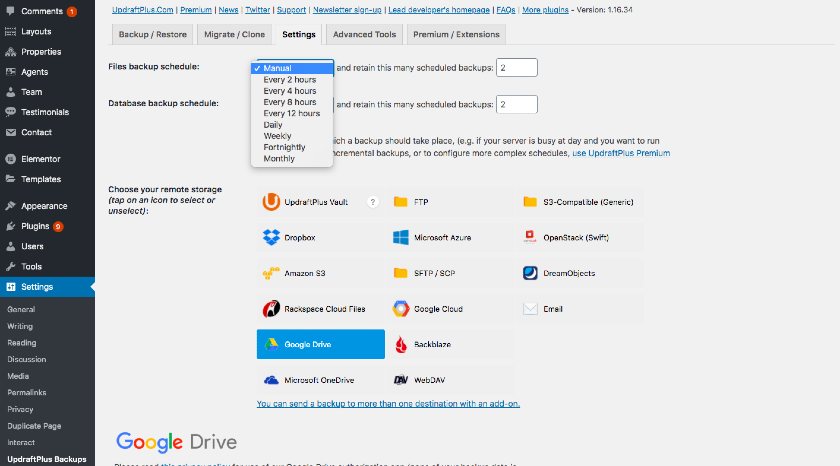 Why It's Critically Important to Back Up Your Site
For many businesses, websites are their lifeline for marketing and sales, which means having a backup is key. This is because business websites face a multitude of risks from system crashes and hard drive failures to being a target for phishing and hacking by cybercriminals. In fact, 20% of all small businesses will be hacked within one year, according to a statement from the SEC—and those that didn't take the time to set up backups will lose their site completely.
However, just because you set up WordPress backups doesn't mean you're in the clear. The reality is that 50% of restores fail. And if you're only backing up to one location, you may still lose your site. This is why it's important to have more than one backup source.
Extra Security: Set Up Automatic Site Backups With Your Web Host
In addition to setting up site backups to Google Drive, set up at least one or two other backups to meet the recommended three backup locations. One of the best sources for automatic website backups is through your web hosting provider. The majority of the best web hosting companies offer site backups. For example, Bluehost is one of the world's most popular web hosting providers, and it gives users the ability to easily set up site backups through the cPanel.
Here's a brief overview of how to set up backups with Bluehost:
Login to your Bluehost cPanel
Go to "My Sites" and select "Manage Site" for the site you want to back up
Click "Backups" from the horizontal tabs
Select the "Add CodeGuard" button
For more information about how to set up automated site backups using Bluehost, learn how to restore backups using CodeGuard.
Frequently Asked Questions
How do I make a WordPress website?
Many are surprised to learn that while WordPress isn't the easiest way to build a professional website, you don't have to be a web developer to build one. Start by getting web hosting. This will typically include a free domain name, a free SSL certificate, and one-click WordPress installation to easily connect your domain and web hosting to WordPress. Then, select and install a theme, and customize your theme. Follow the steps to make a WordPress website.
What are the best WordPress security plugins?
With hundreds of WordPress security plugins available, it can be difficult to know which to use. The best overall WordPress security and performance plugins are Jetpack, Sucuri, and Wordfence. These will help safeguard your site from a brute force attack. However, these should always be used in conjunction with site backups so that in the event an attack occurs, you do not lose your website. Check out all of the website basics.
What do I do if I can't find my WordPress login URL?
If you're having trouble getting into your WordPress dashboard because you can't find the login URL, you have two options. First, try using the standard WordPress login URL, yourdomain.com/wo-admin/. If this fails, then log in through your web hosting provider. Get the step-by-step instructions on how to find your WordPress URL login and get into your WordPress account in no time.
Bottom Line: How to Set Up Automatic Site Backups
With so many cyberthreats and very sophisticated hackers, you may not always be able to prevent your site form getting hacked. However, by backing up your small business website, you are able to have the peace of mind that if your site is compromised, all of your hard work is not completely lost. You can easily set up automatic site backups through your web hosting provider, such as Bluehost, and by using backup plugins, such as UpdraftPlus.
You Might Also Like…