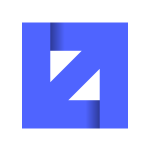 Azlo is a fee-free mobile business banking provider for small businesses, freelancers and other entrepreneurs. It offers its customers access to their funds through more than 55,000 surcharge-free Allpoint ATMs nationwide. Azlo can be used to make purchases, send digital invoices, mail checks, pay billers, send Automated Clearing House (ACH) payments and transfer funds. It is rated 4.1 stars on iTunes. Ready to get started with Azlo business checking? Apply now.
Azlo Business Checking Rates & Fees
| | |
| --- | --- |
| Monthly Fee | No monthly fee |
| Minimum Balance Requirement | No minimum balance requirement |
| Transaction Fee | No transaction fee |
| Wire Transfer Fee | No wire transfer fee |
| Cash Deposit Fee | Not available |
| Overdraft Fee | No overdraft fee |
| ATM Fee | No ATM fee from Azlo; however, third-party ATM owners may impose usage fees |
Azlo Network
Azlo is a mobile business banking provider and currently has no physical branches. It is part of the Allpoint ATM network, which gives its customers access to more than 55,000 surcharge-free ATMs nationwide. You can use Allpoint's ATM locator to see which ATM locations are closest to you.
Azlo Additional Business Banking Services
Azlo offers the following business services: mobile and online banking, purchasing via the Azlo Visa debit card, digital invoices, mail checks and pay billers, send ACH payments and fund transfers. Currently, it does not offer savings or money market accounts, credit cards, loans, lines of credit or wealth management services. Find out more about its small business offerings on its website.

| | |
| --- | --- |
| Online & Mobile Banking | ✓ |
| Business Savings | x |
| Money Market Accounts | x |
| Business Line of Credit | x |
| Business Loans | x |
| Business Credit Cards | x |
| SBA Loans | x |
| Commercial Real Estate Loans | x |
| Wealth Management | x |
Hi Desislava, My name is Chris and I work at Azlo. We recently launched a…
Ask the Experts
Best Business Checking Account for Small Businesses
Want to know what bank we named the best business checking account for small businesses? Read our business checking account buyer's guide comparing the top options.
Disclaimer: The following information was provided by Azlo and does not necessarily reflect the views of FitSmallBusiness.com.
What is Azlo?
We offer fee-free, easy-to-use, online business banking.
What we believe:
As an entrepreneur, you should have the opportunity to pursue your dreams and realize your own vision.
You should have access to the financial tools, information, and community that you need to succeed.
Digital platforms like Azlo can help to make this possible, since they can be accessible to anyone, anywhere.
Azlo News and Activity
We recently released integrations with PayPal and Square that make it even easier for Azlo customers to get paid.
We're planning to offer multi-user accounts and international payments in the near future.
Azlo Customer Service
You can reach our customer service team over the phone, by email, and via live chat. We also have educational resources, an online community, and regular online and offline events.
What makes Azlo stand out from the competition?
You can open your Azlo account from your phone or computer; there's never any need to visit a bank branch or wait in line.
You won't ever get hit with an unexpected fee (or an expected one either, for that matter) because we don't charge fees. We also don't have minimum balance or deposit requirements.
Our accounts are designed to meet the specific needs of entrepreneurs, rather than individuals or large corporations. In addition to all the banking basics, we offer unique features like in-app invoicing and the ability to send payments via direct deposit.
Hi Vik, Thank you for your questions, we have a couple of articles that may…
Hi Desislava, My name is Chris and I work at Azlo. We recently launched a…
Ask the Experts