Both Azlo and Novo are digital banks that offer low-cost small business checking account options. These accounts are designed for businesses that don't handle daily cash transactions because neither bank provides physical branch locations or accepts cash deposits. However, both accounts provide a suite of business tool integrations, including accounting software and payment services, that can streamline your cash flow.
With Azlo's small business checking account, you'll enjoy fee-free banking—no minimum deposit, minimum balance, monthly fees, or transaction fees. Novo, on the other hand, misses the fee-free mark as it requires a $50 opening deposit and charges $27 for insufficient funds. Your preferred business tools and fee structure will likely determine which account is right for you.
When to Choose Azlo

| Azlo Strengths | Azlo Weaknesses |
| --- | --- |
| Access to more than 55,000 ATMs | No physical branch locations |
| Provides a suite of business integrations | Does not process cash deposits |
| Completely fee-free | Lacks additional perks like cash savings |
Azlo is designed for startups, entrepreneurs, or freelancers who value a fee-free, online-only banking option. Although you won't have access to physical branch locations, you can use 55,000 in-network ATMs. Azlo is known for its robust business tool integrations, including Kabbage, Stripe, Square, and QuickBooks Online. Choose Azlo over Novo if you want a completely fee-free business checking account option.
When to Choose Novo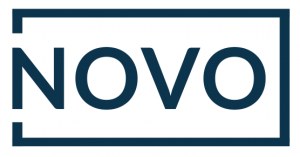 | Novo Strengths | Novo Weaknesses |
| --- | --- |
| Reimburses all ATM fees | No physical branch locations |
| Offers unrivaled perks like cash savings | Requires a $50 opening deposit |
| Integrates with Slack | Offers fewer business tool integrations |
Much like Azlo, Novo is a low-cost business checking account that caters to startup owners or entrepreneurs who don't need to visit a physical branch location. Instead of providing in-network ATMs, Novo opts to reimburse all ATM fees, giving you the freedom to use any nearby ATM. Additionally, it provides discounts on common business tools, including Stripe, Zendesk, Salesforce, and HubSpot. Choose Novo if you want widespread free ATMs and cost savings at specific merchants.
When to Choose an Alternative
If you handle daily cash transactions or want the luxury of visiting a physical branch location, it's best to choose an alternative like a traditional small business checking account. These accounts offer in-network ATMs, thousands of branch locations, and the ability to accept cash deposits. Some banks, like Bank of America, even offer cash-based introductory bonuses worth up to $450. The best account for you is typically the one that offers perks you value most, such as low fees, high transaction limits, or sign-up bonuses.
Azlo vs Novo Comparison
Azlo and Novo both:
Charge no monthly fee
Have no physical branches
Provide business-related software integrations
Do not accept cash deposits like brick-and-mortar banks
Give business owners access to free ATM use
Azlo vs Novo Pricing
Takeaway: While Novo Bank and Azlo have nearly identical fee structures, Azlo tops the pricing category because it is the only one that's truly a fee-free bank. Although Novo has no monthly or transaction fees, it requires a $50 opening deposit and charges $27 for insufficient funds. These additional fees could be a deciding factor for some business owners.
However, if you value widespread ATM use over a completely fee-free bank, Novo could be the right pick for you. Although Azlo offers 55,000 in-network ATMs, Novo reimburses all ATM fees. This means with Novo you can use any nearby ATM without worrying about additional fees. Meanwhile, Azlo requires you to locate an in-network ATM to avoid ATM fees.
Azlo vs Novo Integrations
Takeaway: Both Azlo and Novo provide accounting software and payment processing service integrations that can help streamline your cash flow, but Azlo offers the most integrations. However, if your business relies on TransferWise, Novo may still be a better option as Azlo does not offer that integration. When comparing the two accounts, it's best to choose the one that offers integrations with the tools your business uses.
Azlo vs Novo Additional Perks
Takeaway: It wouldn't be fair to say one bank offers better perks than the other because they both provide different services that can be beneficial in different situations. Azlo users can access a simplified loan application process with Kabbage while Novo users can save big on common business tools like Stripe or Salesforce.
Azlo collaborated with Kabbage to create Mission Street Capital, which provides a streamlined way for Azlo users to apply for and manage loans through Kabbage. Mission Street Capital is available in all states except Vermont, Rhode Island, North Dakota, Nevada, New Mexico, and Iowa. To qualify, your business needs to have a year of operation under its belt and annual revenue of at least $50,000 or monthly revenue of at least $4,200 for the past three months.
When you open an account with Novo, you'll be able to access cost savings on several additional business tools. If you use these tools frequently, these perks could be a deciding factor for your business. You'll be able to tap into the cost savings shown in the table below when you use your Novo business debit card.
Novo Cost Savings on Business Tools
| Business Tools | Perks | Cost Savings |
| --- | --- | --- |
| Stripe | $20,000 in fee-free card processing and access to betas and events | $500 |
| Booking.com | 6% cashback on all trips when you pay with your Novo debit card | 6% |
| Google Cloud | $3,000 in credits | $3,000 |
| Zendesk | Free six months on any Zendesk Suite licenses | $540 |
| Hubspot | 30% off the first-year subscriptions and 15% off for succeeding years | $1,400 per seat |
| Segment | $50,000 in Segment credit for the first two years | $100,000 |
| SalesForce Essentials | 50% off annual SalesForce Essentials plan | $150 |
| Homebase | One month free on Homebase Plus | $50 |
Bottom Line
Novo Bank and Azlo are similar online-only banks that both offer a way to access free ATMs and charge no monthly fees. While their fee structures are nearly identical, Novo requires an opening deposit, and Azlo does not. One of the biggest differences is the integrations and additional perks each bank offers. The account that offers the integrations and perks you value most is likely the best fit for your business.