According to Forbes, the barbershop industry is expected to earn a revenue of $26 billion by 2020, making it one of the fastest growing business sectors in the U.S. today. So for any entrepreneur looking to break into the business, an impressive business card will help in getting you those valuable appointments with potential customers.
We give you 27 tips for well-designed barber business cards with examples from around the web.
---
1. Work with Traditional Colors and Symbols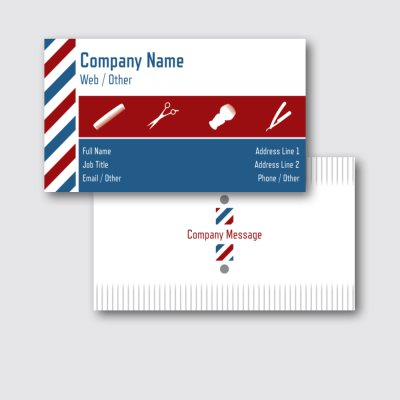 A personal barber is like family, so it's important that your business card is designed to build a personal relationship through familiar symbols and vintage colors. Once you've got the look all set up, make sure that your business cards are professionally printed with Vistaprint.
Vistaprint is the business card provider of choice for small businesses, with its affordable price and great turnaround time. And if you still haven't finalized your business card design, you can easily choose from their over 10,000 templates or get help from one of their professional.
---
2. Have a Cohesive Look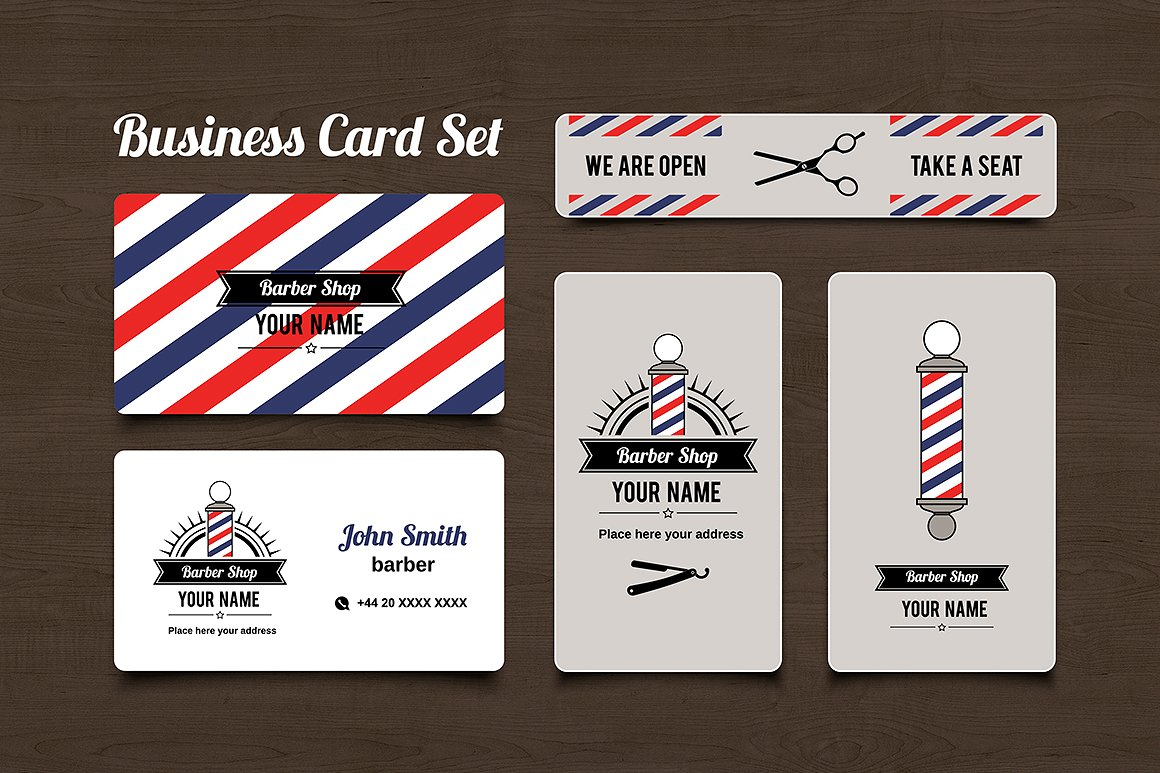 Whatever design you choose or no matter how many versions you come up with, make sure that each is consistent and cohesive. This means that every business card design may have different styles, but will still be recognizable to your audience. It helps to make sure that there is continuity in your branding across all your marketing materials.
---
3. Go for an Edgy Look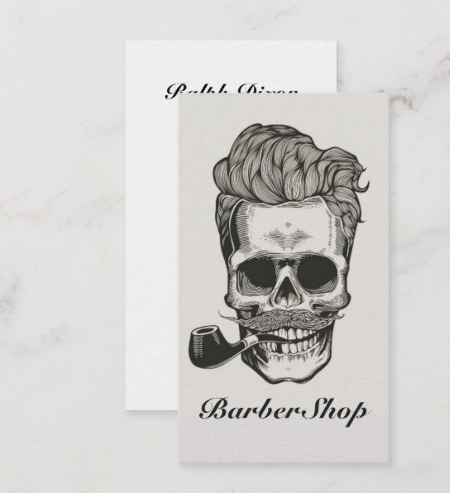 Show your personality with an edgy business card design. The example above easily displays your artistic and creative style, giving potential clients an idea of what to expect and the kind of service you provide.
---
4. Make Use of Familiar Images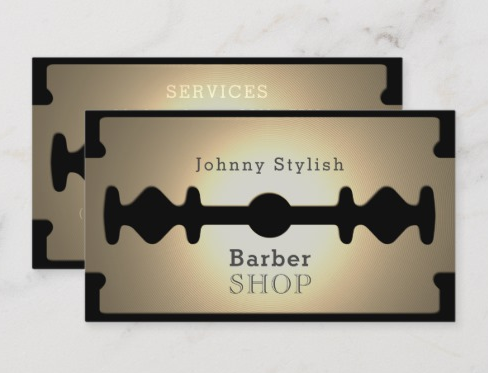 The design used in the above example easily stands out and makes for a great conversation starter. Think of an image that is associated with barber shops and create a business card design that incorporates this recognizable image.
---
5. Add a Purpose to Create Value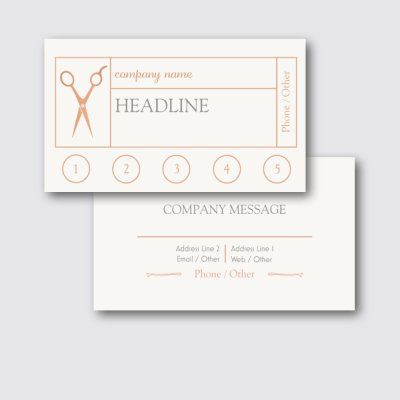 If you want to get more out of your business card, try adding a purpose, such as turning it into a punch card for rewards. This ensures that your clients will hold onto your card and regularly interact with it every time they want to go for a haircut.
---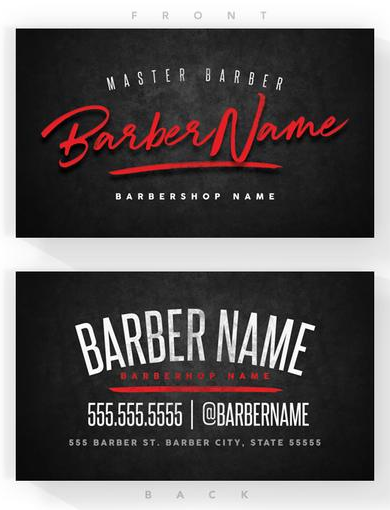 For personal business cards, it's important that your name stands out. Make sure it's prominently displayed in large fonts and sharp colors. Your contact information can be listed just below.
---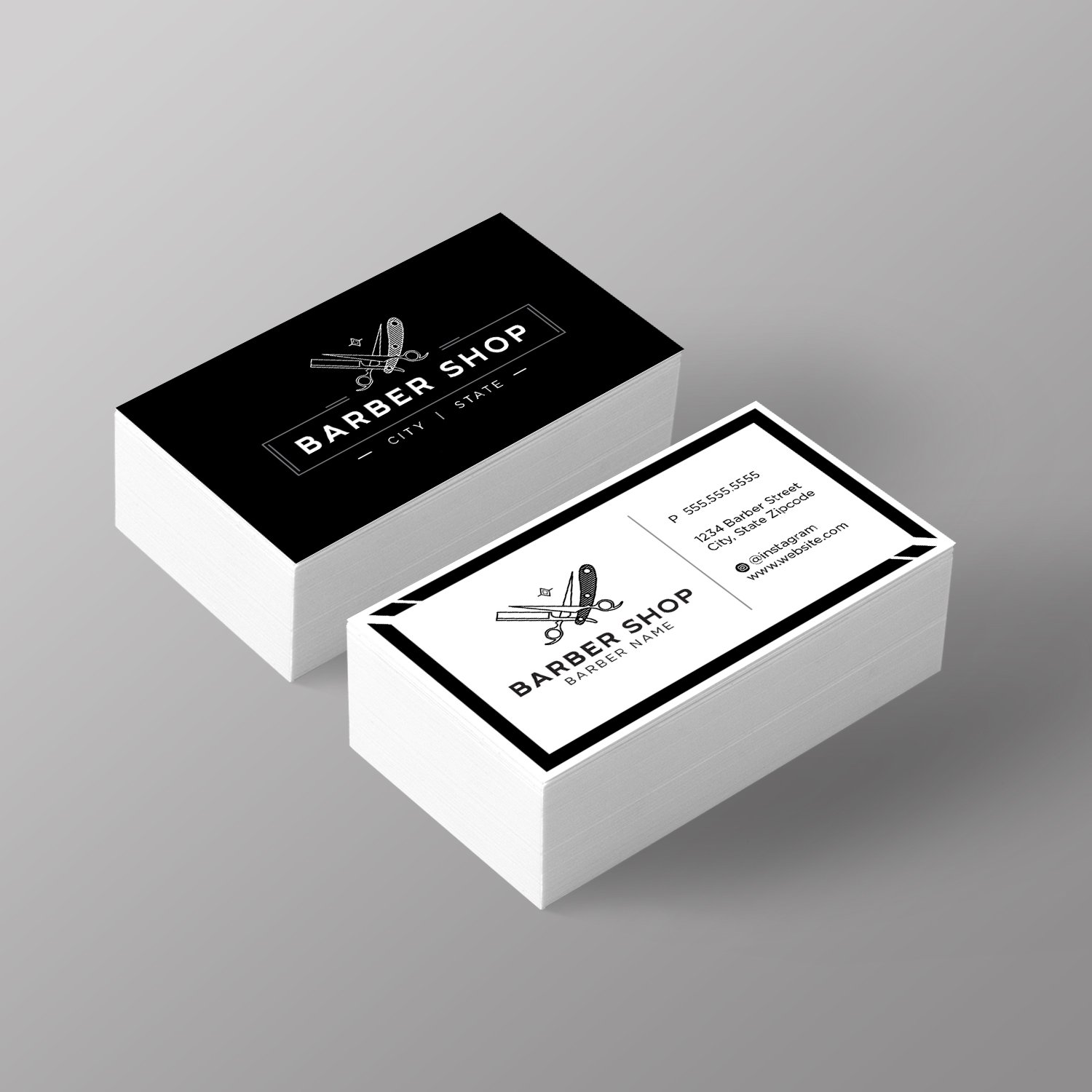 The right use of black and white makes for a simple but professional-looking design, no matter what business you're in. Barbershop business cards can take advantage of the clean design for both logo and text.
---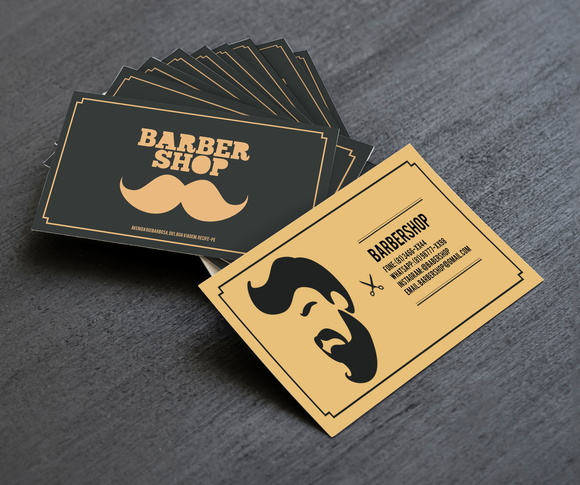 Another way to create a unique design is to play with silhouettes. Create images that are classic to barber shops and choose an old school font to project a vintage vibe. This look is perfect for traditional barbers looking to emphasize their brand.
---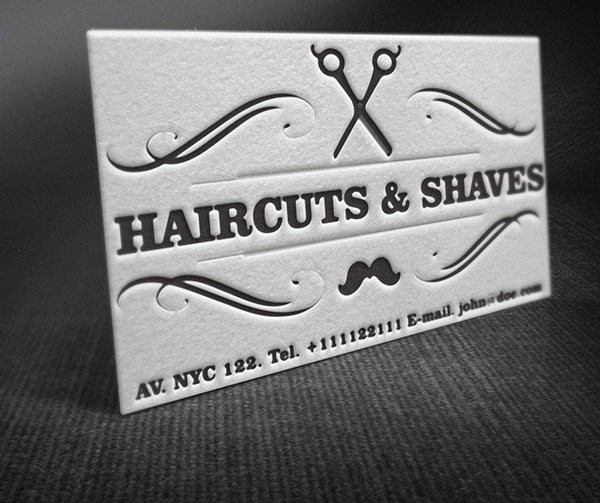 A unique texture on your business card makes it memorable and unique. Using letterpress to print your business card will allow you to accent intricate design details. You can also choose to emboss or deboss certain elements you want to highlight on your business card.
---
10. Use Eye-Catching Patterns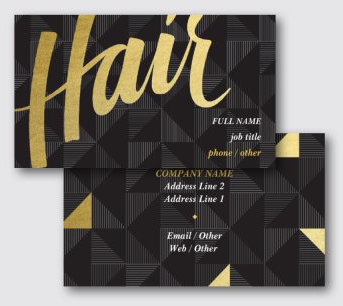 Patterned backgrounds are an alternative to adding specific images to your business card. This works great if you're aiming for a little subtlety with the same branding potential. Your patterns can range from simple lines to miniatures of your business logo, depending on your style.
---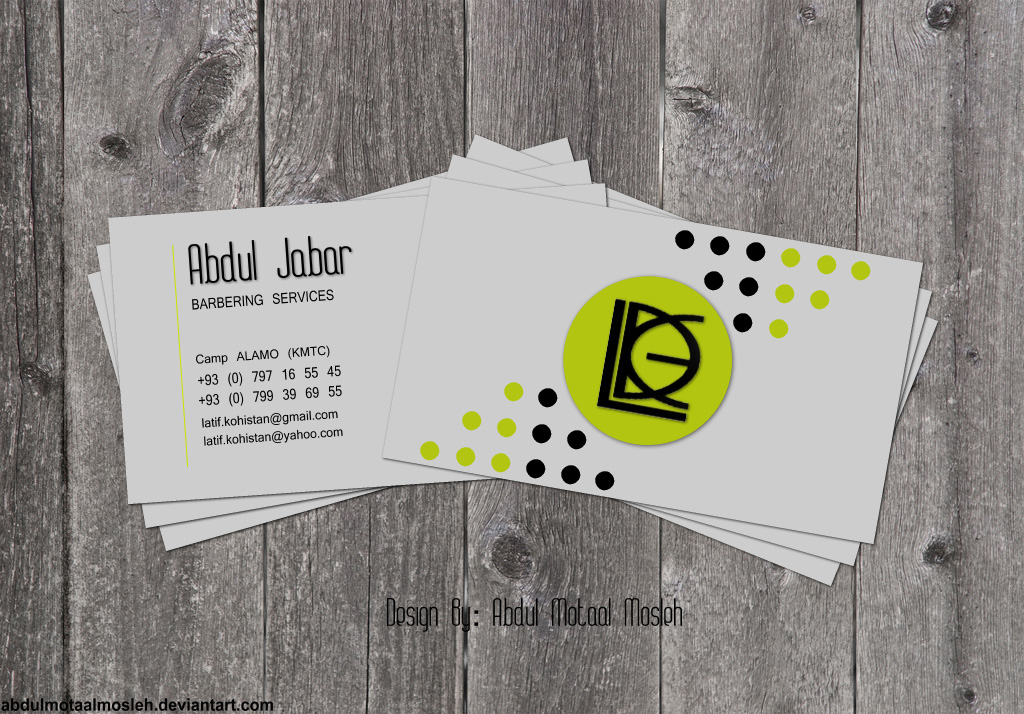 If you want to completely stray away from the traditional professional barber business card designs, go for a bold look—but remember to still keep it clean. It's important that your text is clear to make sure potential clients will understand your message. Choose colors that pop and fonts that are both easily readable and stand out.
---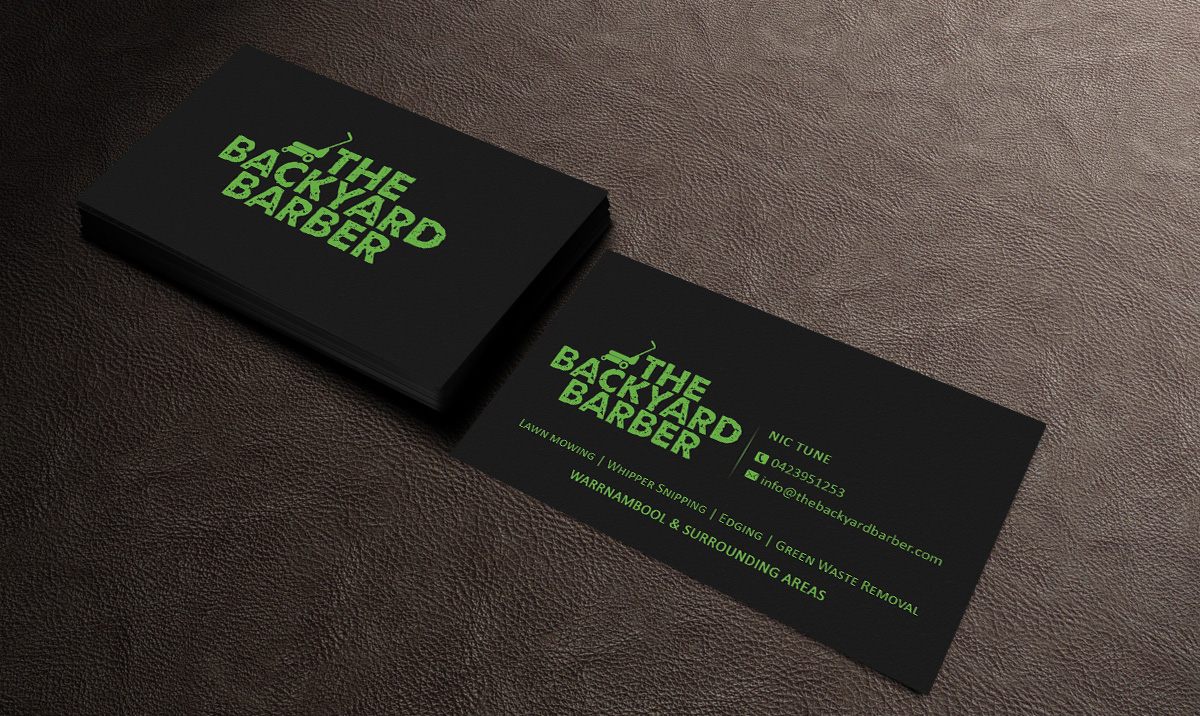 Black business cards are popular for their easy, elegant look. Instead of going for the minimalist style, create a bold design that helps deliver a powerful impression to potential customers. Use bold fonts in a highly contrasting color for your text to make your message unforgettable.
---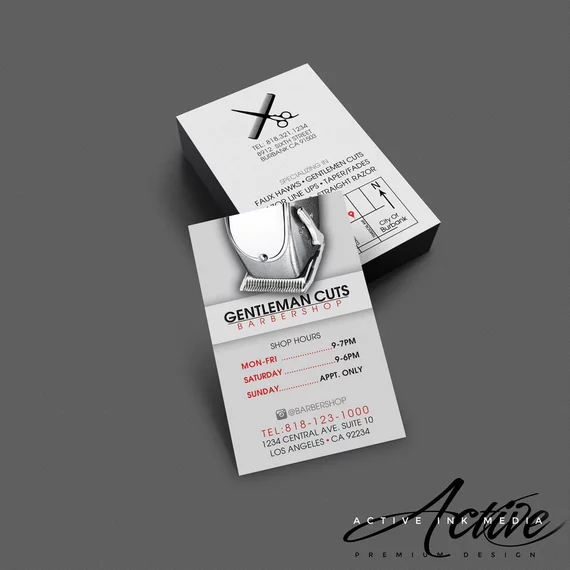 This example shows how the perfect layout can get you enough space to include detailed information on a small card without looking cluttered. It's got the image, logo, shop hours and even a small map to lead customers to your door. For information-rich business cards, keep the layout and the choice of colors simple and clean.
---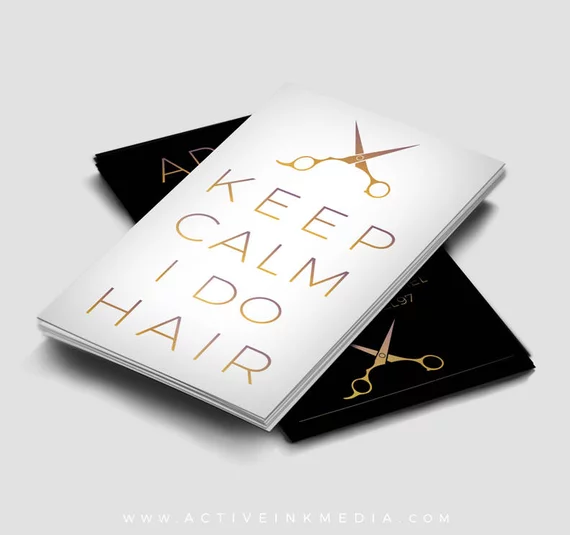 Pop culture references can easily attract attention, so make sure you match the appropriate caption or symbol to your target market. Think of your ideal client and an association they will enjoy. Choose one that's recognizable and shows your personality.
---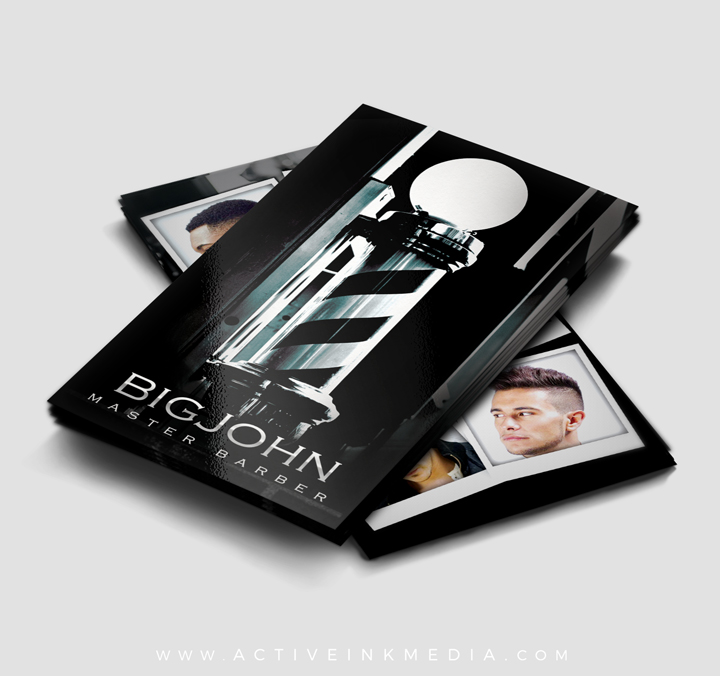 When done right, images can leave a great impression on your potential clients. When using a full-length image, it's better to choose one that blends well with your background. You can also add sample hairstyles that clients can use to help decide on their new look.
---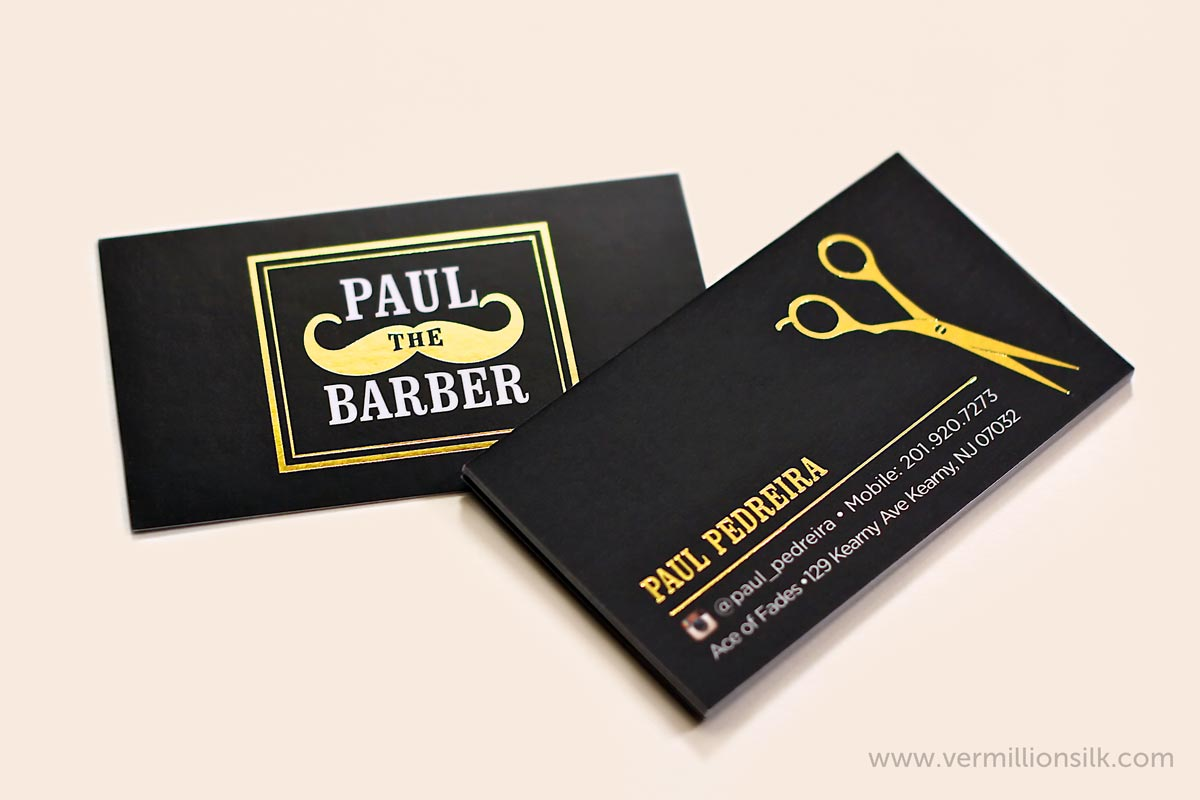 When working with colors, it's important to remember to not go overboard. Choose one that's closest to your brand, or if there's no logo, learn the psychology behind colors and pick one that evokes the right emotion from your clients.
---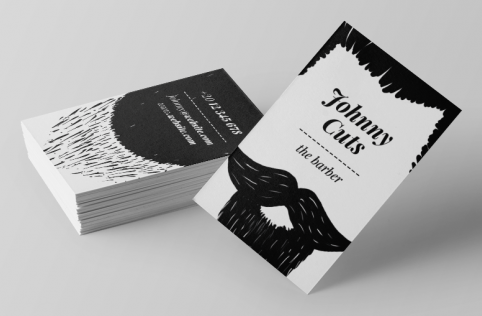 Let your design breathe. Just because business cards are small doesn't mean they have to look cramped and cluttered. When creating your business card look, don't forget to incorporate negative space. Not only does this make for better aesthetics, but it also helps to ensure that your message doesn't get lost in the overall design.
---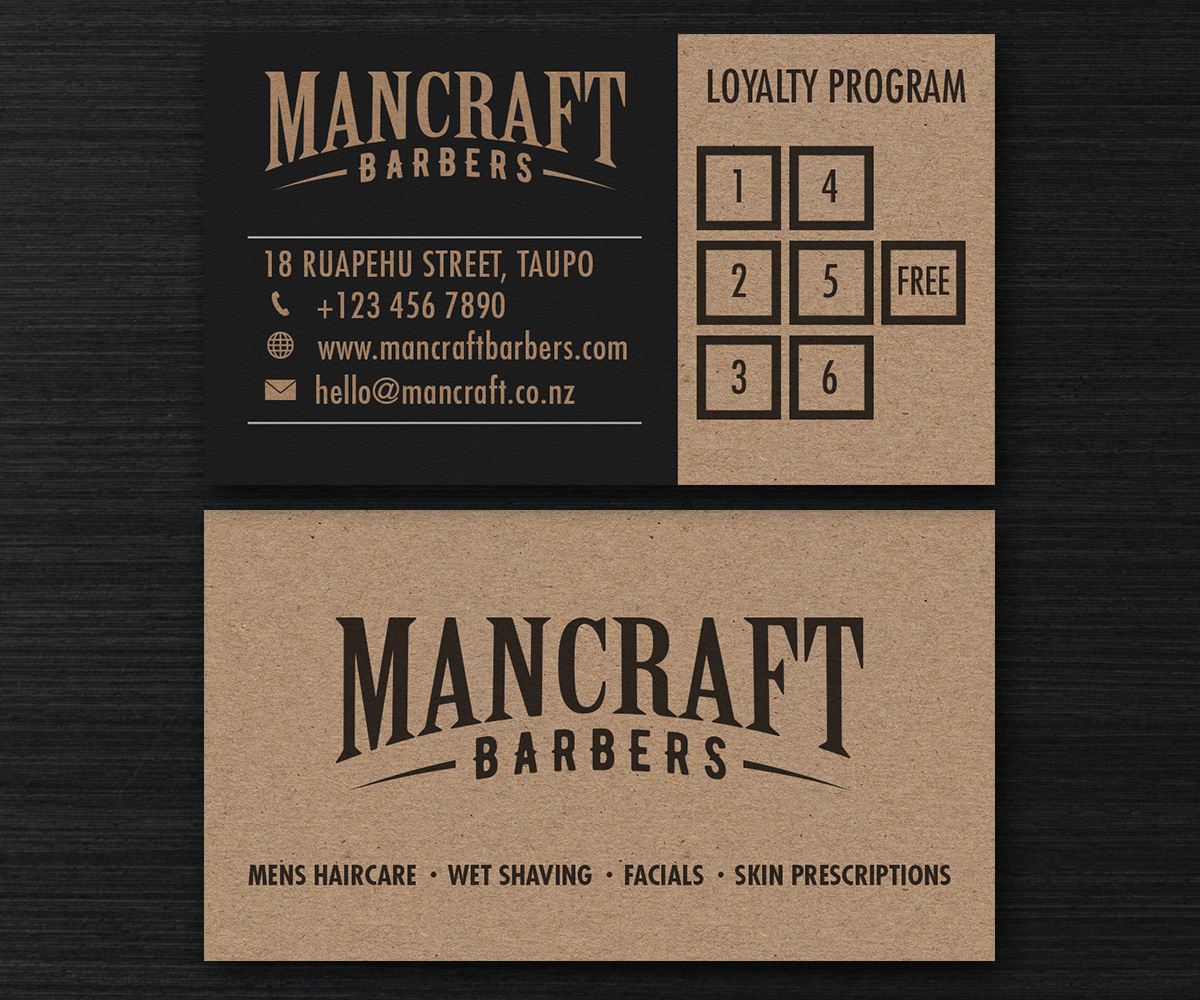 Step away from the glossy colors and black and white and try an earthy color theme for your business card. Paired with strong, bold lines and font, the barber business card example above gives a more functional than decorative look that appeals to a masculine market. Don't forget to include your name on the card.
---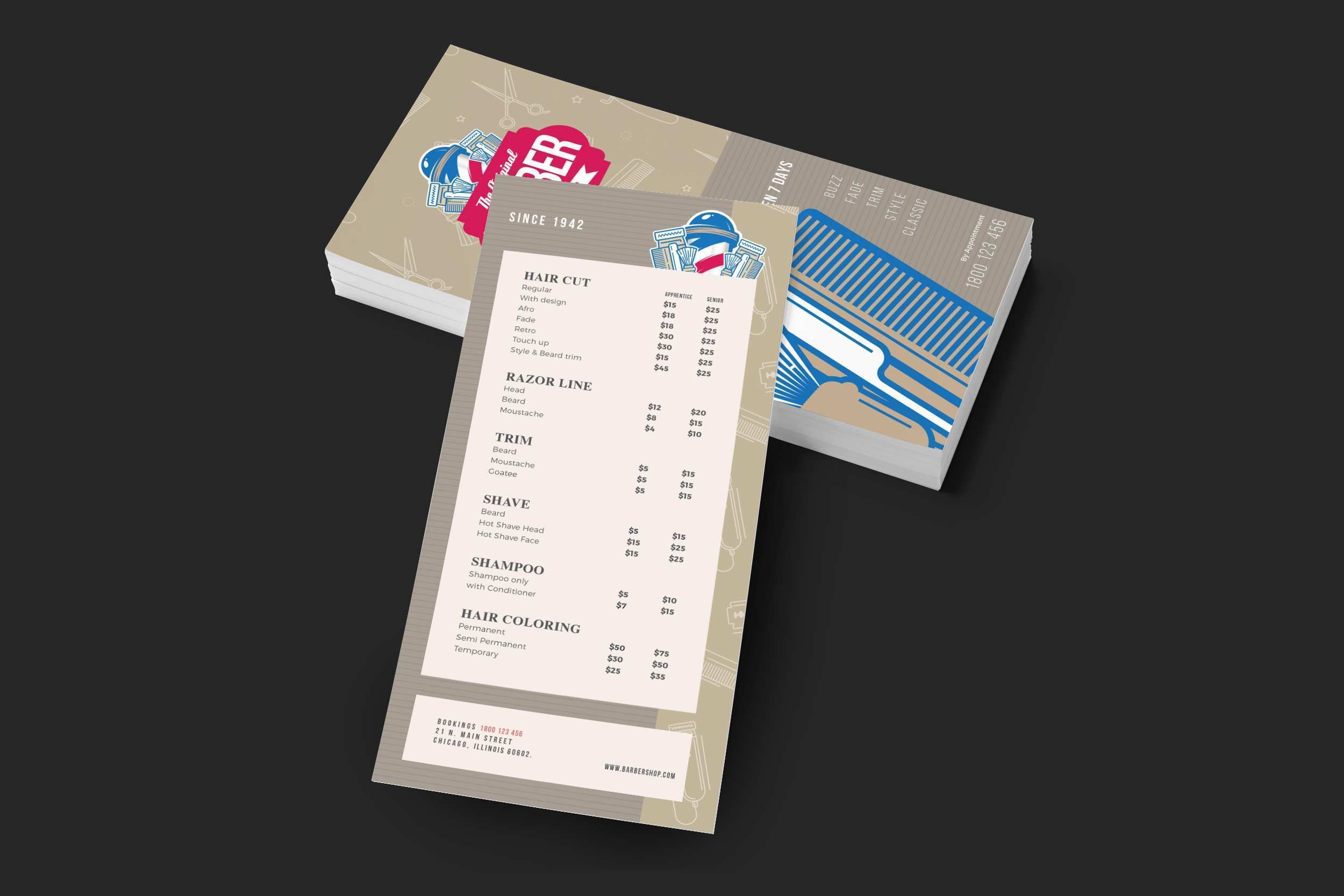 There are a variety of business card sizes, and if you want to consider using the more unconventional types, always take into account your purpose. This example made use of the longer, slimmer paper stock to make way for a list of their services. It also encourages you to create a more unique design to match the size.
---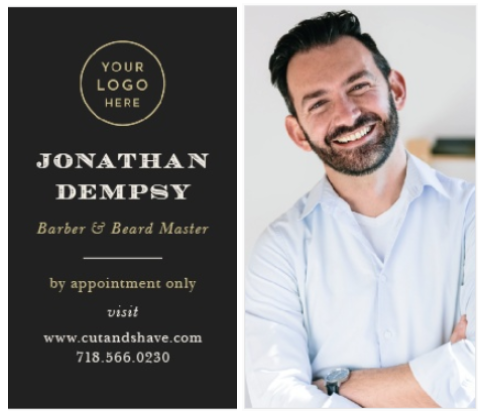 Why not add your photo to let prospective clients know the face behind your business? Clients are looking for a connection in order to build trust, and letting them get to know you can do just that. Keep the layout clean and simple, with your name prominently displayed.
---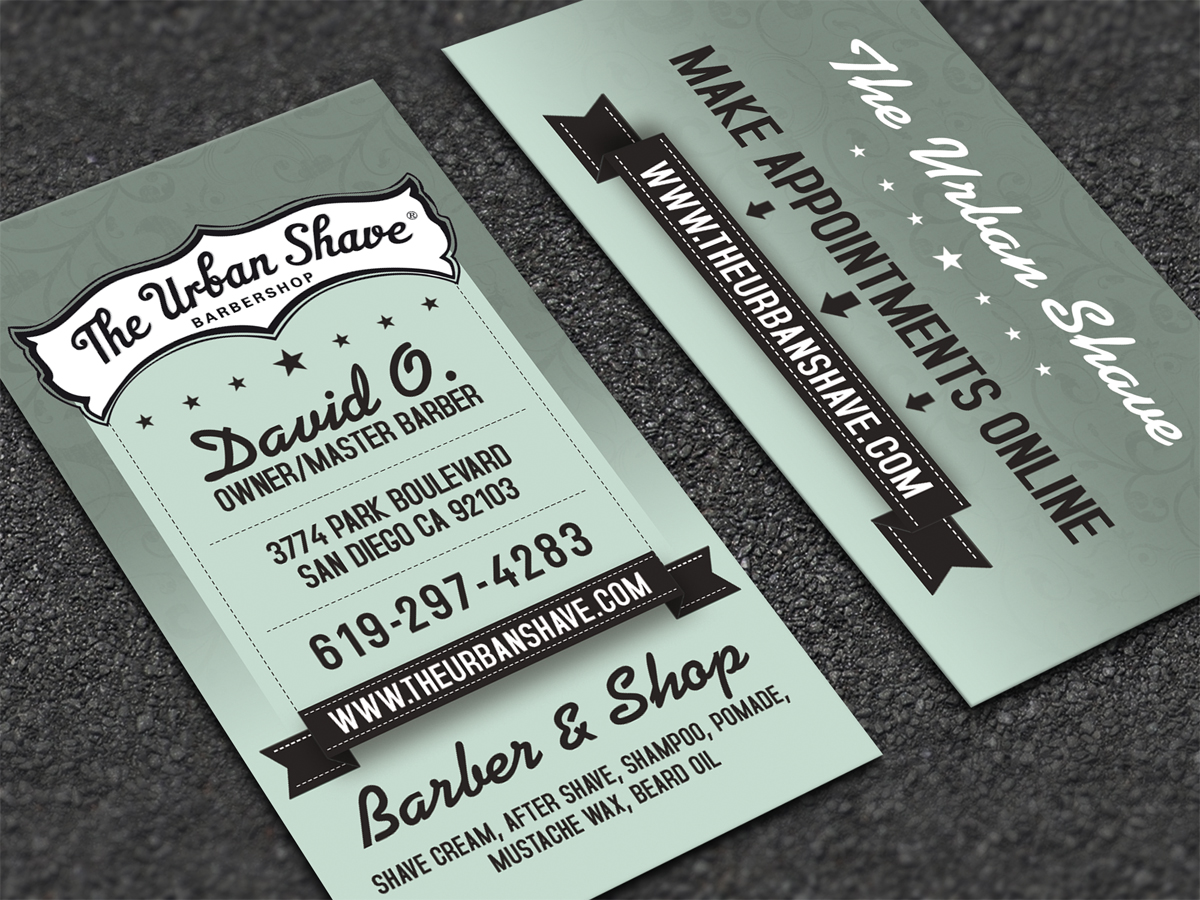 Vintage is a popular theme for barbershops, but yours doesn't have to look the same as every other barbershop business card. Try adding decorative banners to complete the retro look. But regardless of your choice of fonts, make they are large enough to read.
---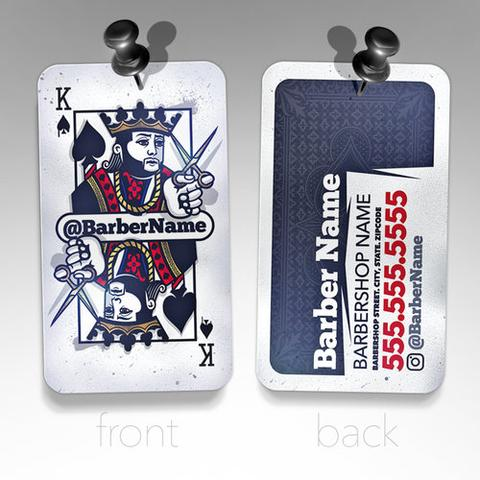 If you're looking for something more playful, try this example on for size. Think of ideas and images that appeal to your ideal client's interests and incorporate it on your business card design. We love the way the example added in small details like the scissor on the King of Spades' hand to complete the design.
---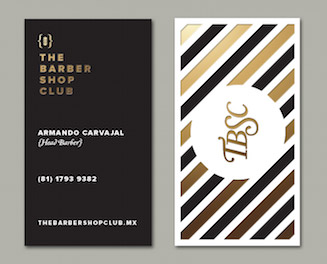 This tasteful black and gold design is for barbershops aiming for an exclusive look to their brand. Clients will feel like VIPs for carrying your card, which will prompt them to interact with it more often. Experiment with the use of shadows and spot UV finish to get the right effect.
---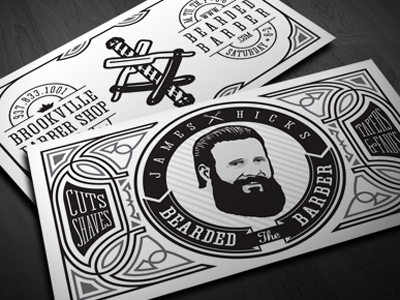 Adding illustrations to your business cards is always great for a conversation starter, so why not add an illustration of yourself? This example above captures a perfect way of featuring professional barbers on business cards. The design is a unique artwork that shows the owner's personality to clients.
---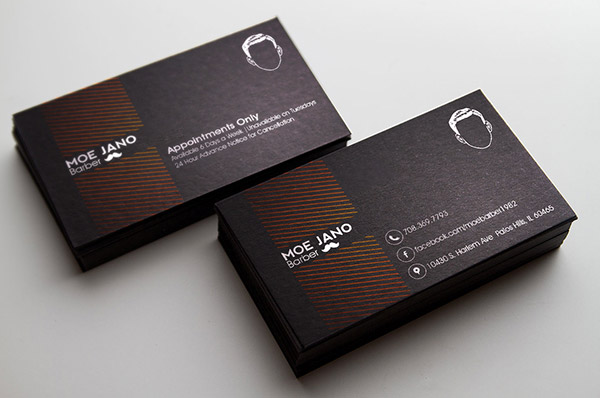 Use bronze foil on black business cards for a subtle, masculine look. A foil design works well when you're looking to add a unique element to capture a potential client's attention. The right combination of color and background helps you to achieve the perfect vibe to reflect your personality and brand.
---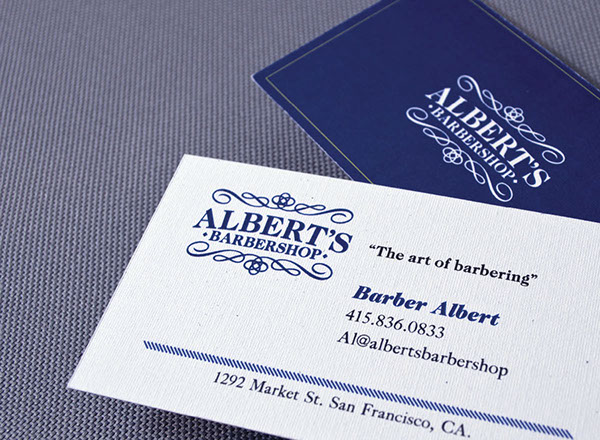 Using a textured paper gives your business card an extra interactive element for your clients. It can help achieve an elegant, classic look with the right design. Notice how the example above uses elegant flourish lines to frame the business name and chooses a shade of blue to create a classic royal feel to their business card.
---
A small folded business card is an interesting design that works well for professional barbers. Our example is slightly reminiscent of an old-school match pad, and the minimalist approach gives it a functional yet professional look that clients will enjoy.
---
Over to You
The relationship between clients and their professional barbers is one that's built on trust, so make sure that your business card presents you in the best way possible to potential clients. Get inspiration from our list of barber business cards and watch your clientele grow.
Want to share your own barbershop business card tips? Sound off in the comments.