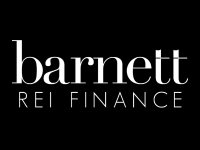 Barnett REI Finance
Bernett REI Finance offers hard money loans for fix and flip investors nationwide with rates that range from 9% to 17%. They'll typically lend up to 85% LTV and up to 85% ARV. There are no available reviews online for Barnett REI.
Lender Information
Barnett REI Finance Rates & Terms
Types of Properties
Single family residential
Multi-family
Mixed-use properties
Loan Amount
No minimum/maximum loan amounts, minimum of $100,000 ARV/LTV
LTV
65% to 85%
ARV
Up to 85%
Interest Rates
9% to 17%
Lender Fees
Points will vary and to be discussed with borrower
No prepayment penalty but have a minimum interest and points paid of $3,999
Inspection costs: Typically $125 per draw
Appraisal Costs
Loan Terms
9 months or longer, Unique to each project, discussed individually with the borrower
Minimum Qualifications / Documentation
Credit scores not considered, looking at the assets of borrowers instead
No recent bankruptcies or judgments
15% downpayment
Time to Funding
5 business days to 2 weeks
Other Financing Available
Lines of Credit
Buy and Hold Rental Properties
Cash Out Refinance
*Exceptions may be granted. Lender information is updated often, however exact lender terms may have changed.
States Currently Lending In
Nationwide and in Canada
Work For Barnett REI Finance? Claim This Page.