With the rise of telecommuting and customer collaboration, businesses need software that keeps everyone up-to-date on projects with documents and information in one place. Basecamp's and Monday.com's project management tools are comparably priced at about $10 per user, per month for 10 users. And, both balance powerful features with user-friendly interfaces.
When to Use Basecamp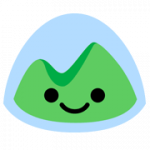 Basecamp is best for growing businesses with a distributed workforce of 12 or more employees. Not everyone in a company needs project management software, but it's a great advantage to have one online tool where team members can go to communicate, get information, seek help, and follow what others are doing.
For $99 per month, Basecamp allows unlimited team members to use a central hub for storing common documents like benefits information, weekly updates, and even social chat. That's why we find Basecamp perfect for any company that needs a user-friendly project and task management tool. Sign up for a free account.
When to Use Monday.com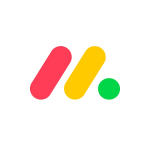 Monday.com's ease of use and intuitive interface make it great for busy teams that don't want to spend a lot of time setting up project management software. It's best for service industries, IT teams, and startups especially. It supports both experienced project management experts and those relatively new to managing projects.
Monday.com offers templates, workflow, custom columns, and more to help you keep information, from HR onboarding to software development projects, in one spot. Its multiple display boards let you manage and present project data in customizable ways. Sign up for a free 14-day trial.
When to Use an Alternative Option
While this article is focused on comparing Basecamp vs Monday.com, sales teams whose projects rely heavily on customer relationships may want to consider Insightly. Insightly combines a powerful customer relationship management (CRM) platform with native project management tools and rich automations.
Priced from $0 to $99 per user, per month, Insightly is a cost-effective solution for tracking sales and client projects. It too offers a free plan with limited features. If you do business-to-business (B2B) or high-end sales, consider Insightly. Sign up for the free plan for up to two users.
Basecamp vs Monday.com at a Glance
Basecamp

Monday

Pricing

$99/month
(flat rate)

$39-$79/month
(depends on plan tier)

# of Users

Unlimited

1-5

Guest Users (freelance,
clients, contractors)

Unlimited

4 guests billed as 1 user

# of Integrations

60 + API

21 + API

Customizable Templates,
Data Fields, Tags

✔

✔

Collaboration Tools

✔

✔

Custom Automations

N/A

✔

Kanban Boards,
Gantt Charts

N/A

✔

Forms Utilization

N/A

✔

File Storage

500GB

5GB—Unlimited

Ease of Use

Very easy

Very easy

More Information
Companies that have a distributed workforce or who have busy teams with little time for extra training will enjoy either Basecamp or Monday.com. Of all the project management tools we've reviewed, these are the easiest to use but still offer strong tools for collaboration, team communications, and project organization. Each has unique features that make it better suited for specific situations or industries, but in general, either is a sound choice.
Based on what small businesses need to manage their projects, we compared:
Price: We looked at Monday vs Basecamp for various levels of users, such as a single user versus a small team versus an enterprise project management department.
Ease of setup and use: We compared Monday vs Basecamp in terms of how easy each is to create and modify projects—and for casual users to grasp and use.
Use cases: We looked at how each tool supports specific company needs (like email communication), as well as work management styles (like Kanban).
Collaboration: We compared how Monday and Basecamp work to help your team stay on track, from timelines to document storage, plus team feedback and communication.
Charts and reports: We compared Basecamp vs Monday on how much visual data they provide, like Gantt and Pert charts, standard reports, customization options, and data exports.
Integrations: Project management tools integrate with numerous software, and their mobile apps and application interfaces (APIs) function differently.
Resources and support: We compared Monday vs Basecamp for support tools, templates, user communities, documentation, training, and customer service options.
Other: We looked at what's unique about Basecamp vs Monday that may save you time or improve efficiency in ways beyond project management.
Based on this, we consider Monday.com the best project management tool. It's more versatile, feature-rich, and customizable. The interface, while marginally more complex, is nonetheless bright and intuitive. And, it offers templates and workflow to streamline common work tasks.
Basecamp vs Monday: Pricing & Features
Between the two, Basecamp is the more cost-effective solution when dealing with a dozen or more users because of its $99 per month flat rate. It's great for when you have a large number of customers or outside collaborators who need access to the software. In contrast, Monday prices by groups of five, so the per-user cost varies depending on where you are in the pricing tier.
Basecamp Pricing & Features
Basecamp has a single monthly fee of $99 for an unlimited number of users. When looking at cost per user, it's a great deal for companies with a dozen or more employees, outside collaborators, or customers. It offers its project software program free for educational institutions and at discount for nonprofits. Plus, there is a free business version (limited to 20 users and three projects).
Basecamp is not the flashiest project management software on the market. Unlike Monday.com, it offers few tools for Agile-style workflow management. However, it's powerful, and its built-in integrations make it easy to tailor to your or your client's industry.
Here are a few of Basecamp's most important features:
Unlimited users and unlimited projects
Tasks and to-do lists
Collaboration tools and search functions
Email notifications
Templates and reports
Advanced client access
500GB document storage
Email support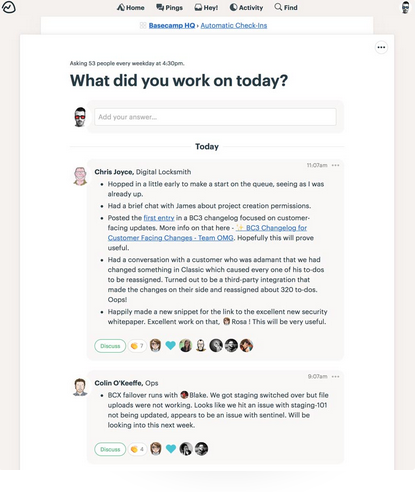 Basecamp's HQ section has a daily check-in for general updates and requests.
Where Basecamp Beats Monday.com: Company HQ
Both Monday.com and Basecamp have great communication features, but Basecamp's HQ function takes it to the next level. This handy feature provides a top-of-screen display everyone in the company can access. You can place policies there or start a social chat room to build company unity.
The HQ function also holds a special section where people can post and discuss their daily updates. It's a great place to brag, ask for help, or check in to see how someone is progressing on a project you're interested in but not part of.
Basecamp's Project & Task Management Tools
Basecamp has all the basic tools needed for effective project management—customizable project templates that include tasks, dates, tags, and more. It's easy to attach files and provides two options to manage progress: board or list views. You can set calendars and message boards within the project or for your team.
There's video embedding, a handy feature for demos or marketing teams. Admins and project owners can turn off unused tools to keep the interface clean. Finally, users can see their daily to-do list and get emails reminding them to post updates.
Basecamp Communication Tools
Not everyone is comfortable with more modern forms of communication, like chats or posting directly on project management software. Some still prefer email, and sometimes, such as with clients, it's not worth the effort of changing their minds. Basecamp can send email reminders, such as the daily check-in, and lets you forward emails to projects. The nice thing about that is that future replies will land directly in Basecamp.
Basecamp's Mobile Apps
Basecamp's mobile app is powerful but just as easy to use as its desktop version. It lets you track projects and daily tasks, post announcements and updates, chat with your team, make deadlines, schedule milestones, and load and read documents. Android users rate it 4.3 out of 5 stars, while iOS users rate the mobile app 4.7 stars.
Basecamp's Integrations
With over 60 integrations, Basecamp offers three times that of the integrations Monday.com offers. For software development, it works with TestLodge, Ybug, Userback, and others; for customer support, Akita, Supportbee, Doorbell.io, and EvantoDesk. The Proposify integration lets you make contracts, while programs from Clockify to Ganttify assist with reporting.
MangoBoard and Tracked can add Kanban-board functionality, since it's not built-in as it is in Monday.com. It should be noted that Basecamp does not integrate with some of the big software like Salesforce or Mailchimp, and that Basecamp's integrations often cover features that Monday.com natively supplies.
Basecamp's Security
Basecamp does not list its security certifications on its website, aside from saying it is PCI compliant for taking your payments. It does, however, state that the infrastructure is regularly updated with the latest security patches, and the software runs on a dedicated network with firewalls and careful monitoring.
Admins and project owners can set permissions to limit viewing and editing of certain elements, which is handy when working with clients or coworkers who don't need full access to a project.
Basecamp's Plans for 2020
As noted on its About page, Basecamp is focused on keeping its software simple. Therefore, it prefers to invest in infrastructure and customer service rather than adding additional features. It does not have a published 2020 roadmap or a list of updates.
Monday.com Pricing & Features
Monday.com prices its plans in groups of five users, making it noticeably more cost-effective as you max out each pricing tier. For example, with five users, the basic plan costs $7.80 per user, per month, but it's still $39 per month even if you have only one user. This table shows pricing for one to five users across multiple plan types.
Monday.com Pricing Tiers for 1 to 5 Users
Features

Basic

Standard

Pro

Enterprise

Pricing

$39/month

$49/month

$79/month

Varies

Unlimited Viewers
& Boards

✔

✔

✔

✔

Forms Customization

N/A

✔

✔

✔

Timeline, Calendar
& Map Views

N/A

✔

✔

✔

Time Tracking

N/A

N/A

✔

✔

File Storage

5GB

50GB

Unlimited

Unlimited

Activity Log

1 week

Unlimited

Unlimited

Unlimited

Shareable Boards

N/A

4 guests billed as 1 user

Unlimited

Unlimited

Automations/Integrations

N/A

250 actions/month

25,000 actions/month

100,000 actions/month
The project management features in a plan do not change by the number of users. Whether you have one user or 100, all will enjoy the features of the plan you choose. Guests, like freelancers or customers, can also access the tools, but only for the boards and options you choose.
In fact, four external users counts as one paid user. Nonprofit organizations and educational institutions should contact Monday.com to get a discount on plans. There is a free 14-day trial.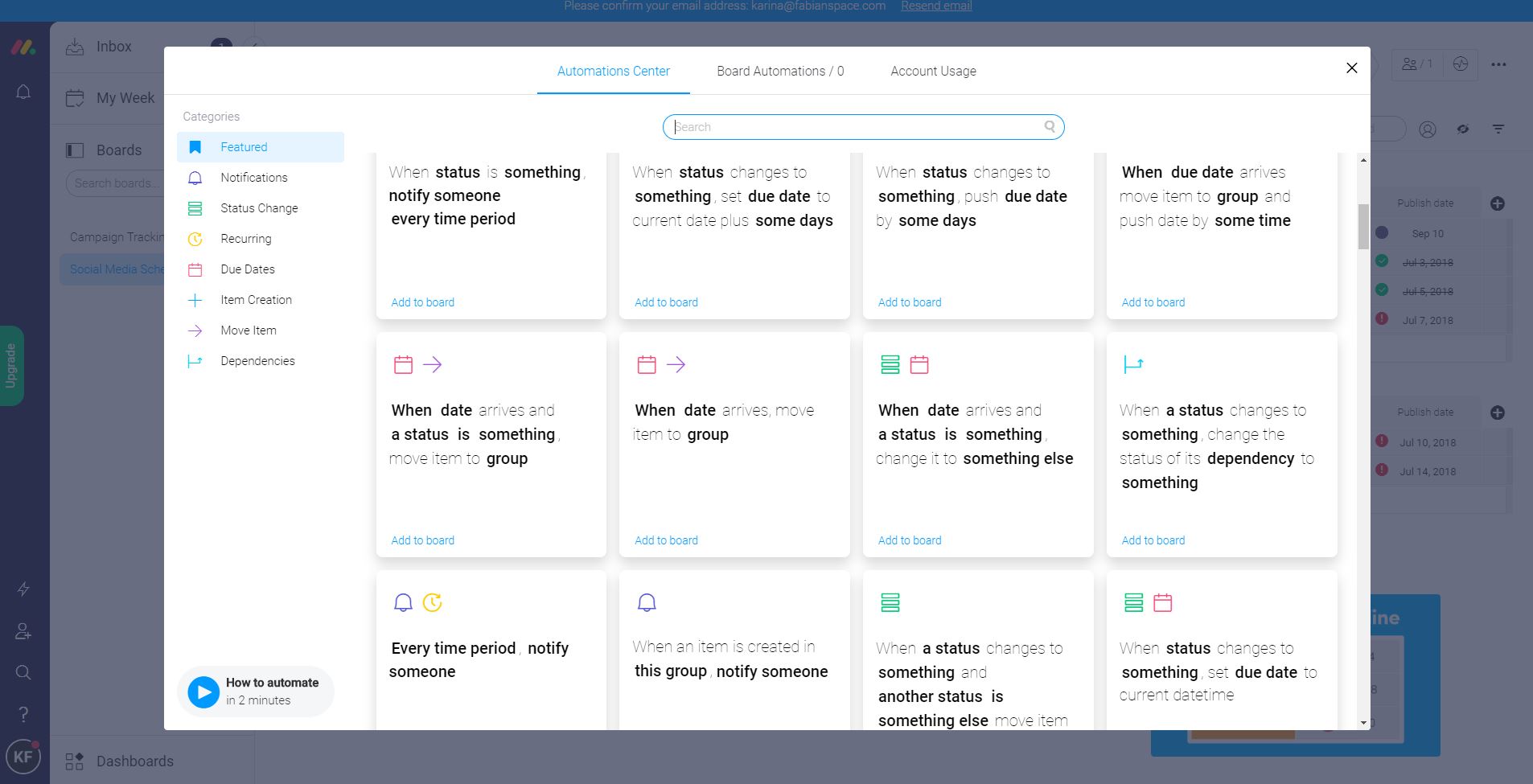 Monday.com's automations save you time and trouble when dealing with simple tasks.
Where Monday.com Beats Basecamp: Automations & Forms
Automations are Monday's strength. Simple and customizable, they free you from repetitive tasks inherent in any project: notifications, due date changes, or moving items to different groups. The Standard Plan lets you perform up to 250 automated actions each month. That's a lot of time saved.
Monday.com has another standout feature Basecamp lacks: Forms. With Forms, customers can request projects or services and include all the relevant information, from billing information to special instructions and even file attachments. These are automatically converted into a project or task in the software, where you can make changes and assign tasks. You can even program a workflow automation to send a thank-you message and redirect the user after they complete the form.
Monday.com's Project & Task Management Tools
Monday.com's management tools focus on making it easy to find information and collaborate. Monday.com offers 20 customizable fields that you can add right from the taskbar with no extra windows or pop-ups. You can choose to display or hide these as needed so everything is still in one place, but only the important information shows.
You can add documents and images, and teammates can comment on them with an in-document chat feature. There are Kanban and timeline views (like Gantt charts) as well as dashboards to track progress. While intuitive, Monday.com's project tools can support large and complex projects, on par with professional tools like MS Project, albeit much simpler to use.
Monday.com Communication Tools
Unlike Basecamp, which lets users email and view shared boards, Monday.com builds communication into projects and tasks. In fact, using Monday.com as your primary communication source may let you replace Slack or Messenger. In Monday.com, you can even add GIFs and @mentions to ensure others are aware of project updates while having a little fun.
Monday.com's Mobile Apps
Monday.com offers apps for iOS and Android that provide tools for communicating about tasks and working on projects. However, they are not as powerful as the desktop system nor are they as full-featured as Basecamp's apps.
Monday.com's Integrations
You can integrate Monday.com with other project management software (even Basecamp) to import project information. For communication and file sharing, Monday.com offers integration with Slack, Google Suite apps, and others. Business integrations include the powerful customer relationship management (CRM) software, Salesforce, and the popular online store, Shopify. The Mailchimp integration lets you plan email campaigns in Monday.com and then see its results in the app.
Monday.com's Security
Monday.com has General Data Protection Regulation (GDPR) and SOC 1, 2, and 3 compliance, plus multiple International Organization for Standardization (ISO) certifications. Companies dealing with medical information will be glad to know it's also HIPAA compliant.
Monday.com provides data encryption, multifactor authentication support, single sign-on (SSO), and advanced session management, as well as privacy controls. However, some of these features are only available on higher-tier plans.
Monday.com's Plans for 2020
Like Basecamp, Monday.com wants to preserve ease of use. But unlike Basecamp, Monday.com has big plans for innovations. First, it intends to capitalize on its customizable automations feature by allowing users to create their own time-saving workflows. Second, it wants to improve the mobile app to make it easier to use Monday.com from anywhere.
Finally, Monday.com is adding integrations for business functions like finance, marketing, design, and customer relationship management (CRM) software, as well as for video conferencing and chat. That way, users can more easily communicate with each other and with customers no matter where they are located. Also, app improvements will be a priority focus for 2020.
Basecamp vs Monday: Ease of Use
If you need user-friendly tools, you can't go wrong with either of these project and task management solutions. Both are very intuitive. Most users can jump right in with minimal training, making it great for casual or low-tech users. Both are great for companies that work with freelancers or clients who may not have time to dig into a complex system.
Basecamp Ease of Use
Basecamp prides itself on being incredibly easy to use. It purposely limits its features, electing instead to capitalize on user-friendly lists, document sharing, discussions, and notifications. With email reporting, direct messaging, and the Company HQ section, users don't have an excuse for not staying informed.
With Basecamp, it's easy to build a project, assign people, see your tasks, and even view shared calendars, such as an employee vacation schedule. Users say their clients "get it" immediately, making it easy to coordinate with customers, suppliers, and freelancers on projects.
Monday.com Ease of Use
Monday.com offers excellent templates for specific projects ranging from software development to building a house. You can modify the templates to make them your own. Creating a project from scratch is not hard, either. You can customize your tasks right on the taskbar, adding and modifying data fields with ease. Its bright interface and color-coding make it easy to see progress at a glance.
The in-app help tools are very well designed, and the task list view is familiar to anyone using a spreadsheet. Thus, even users new to project management software will catch on fast. Project management experts will find it contains all the advanced project management options If they need assistance; the in-app and online walkthroughs can show you what to do via articles, videos, and even step-by-step instructions without leaving the screen you're on.
Basecamp vs Monday: Customer Service
In the case of Monday vs Basecamp for customer service, Monday.com is the clear winner. While Basecamp offers acceptable customer support, there's nothing extraordinary about what it provides. Meanwhile, Monday.com bakes in an impressive number of modern help features that are as clever and easy to use as the software itself.
Basecamp Customer Service
For all of Basecamp's ease of use and professed focus on customer service, we were underwhelmed with its support options. On the website, there's no separate menu item for the knowledge base. The knowledge base itself is searchable and offers articles and videos, but nothing out of the ordinary.
For more personal support, you need to use an online contact form. Basecamp claims an average response time of seven minutes during its standard business hours of 8 a.m. to 6:30 p.m. Central Time, Monday through Friday. There's no weekend support. When considering this, keep in mind that the simplicity of Basecamp means you may not need customer support as often as with more complex programs.
Monday.com Customer Service
Monday.com's customer support blows away the competition, and not just compared to Basecamp. Monday.com's live phone and 24/7 email support means you can get help even after standard business hours, including weekends. The in-app help section is the best we've seen; not only is it searchable, but it goes beyond the help guide with video demonstrations. In some cases, the software itself walks you through completing a task, pointing out which buttons to push.
In addition, Monday.com offers:
Knowledge base
Guides
Video tutorials
Webinars
Community forum
VIP training package
Monday.com also offers professional services that include custom implementations, data migrations from existing project management tools, onboarding, training, and industry-specific integrations. It can make the move from other project management software (or Microsoft Excel sheets) easy.
Basecamp vs Monday: Customer Reviews
"Easy collaboration!"
"User-friendly!"
"Very intuitive!"
"Got us organized!"
Can't tell which refers to Monday.com and which to Basecamp? You won't. These are the most common comments made by users of both online project management software. Current customers consistently rated both programs at 4.5 stars and higher. People love these intuitive project management solutions.
Basecamp Customer Reviews
How ironic is it that one of the complaints about Basecamp is that it's too easy? Some users said that the communication and sharing tools are so simple, it was easy for customers to comment and post in the wrong places. Nonetheless, Basecamp user reviews show general agreement that the simplicity and intuitiveness are what make Basecamp so valuable when working with others.
Monday.com Customer Reviews
Previously known as Dapulse, Monday.com has a fiercely loyal following. Users rave about the desktop solution for its automations and ease of use. Many Monday.com business reviewers mentioned that the intuitive format makes it easy to get control of their processes and team workflows. The primary complaints concern the mobile app, which Monday says is a focal point for 2020 upgrades. Although some users found it intuitive and useful, a few have complained of bugs.
Bottom Line
Both Basecamp and Monday.com have strong user interfaces and powerful tools. For project and task management, each has individual strengths that make it preferable in some situations. However, for small or growing businesses, especially those with remote workers, freelancers, or customers, either solution is a good choice.
Nonetheless, Monday.com finishes ahead of Basecamp for richness of features that are intuitive to both new and seasoned project managers. It offers more views, tools, and customizations while still maintaining a highly flexible and attractive interface. Its help options are first-rate as well. The pricing compares favorably to Basecamp, and it offers discounts for nonprofits. Sign up for a 14-day free trial of Monday.com.