The Better Business Bureau (BBB) is a non-profit accrediting body for businesses that meet certain standards of quality, trustworthiness, and responsibility. Consumers can view information, ratings, and complaints of accredited businesses on the BBB's website. The BBB also facilitates dispute resolution between consumers and businesses.
This article explains how to become BBB accredited, the pros and cons of getting accredited, and other information you may need to help you get that highly recognizable badge of business trust. You will also find insights from Mary E. Power, President and CEO of the Council of BBB, from an interview we conducted with her previously.
One way to improve your chances of getting your BBB accreditation is to get more positive reviews from your customers. Podium is an online tool that lets you solicit and manage reviews across more than 20 review sites, including the BBB, all from one dashboard. You can send invitations, respond to customers, and manage reviews in just a few clicks. Click here to watch a 3-minute demo.
Benefits of Becoming BBB Accredited
It is essential for businesses to be found online. According to Search Engine Land's recent Local Consumer Review Survey, 85% of consumers use the internet to research businesses before deciding to make a purchase. But in a world where sites like Yelp and Google Reviews get millions of visitors every month, does getting accredited by the BBB even matter anymore?
Yes, here's why the BBB accreditation is still relevant and beneficial:
Get Instant Recognition Among Customers
Yelp, with over 70 million visitors per month, is one of the top ten websites in the US. This dwarfs the BBB, which gets only about a tenth that number. However, getting accredited by the BBB still gives you instant recognition and trust among customers. You get an accreditation badge that you can post on your website, business cards, and other business assets.
More than 90% of consumers recognize the BBB badge and what it means. In a world that's full of information from different online and offline sources, a BBB mark of accreditation is something that can't be discounted.
A Nielsen study found that 8 out of 10 consumers recognize the BBB seal and are likely to purchase from a business that displays it. Consumers particularly relate the BBB symbol to honesty, quality, approval, good business standing, and reliability.
Unbiased Accreditation Gives An Edge Over Competitors
Online review sites like Yelp are based on information and reviews that come from ordinary customers. In contrast, a BBB seal gives customers assurance that you were accredited by an established non-profit and non-biased accreditation body. Customers can leave reviews of your company on the BBB's website, but if you are accredited, it already means that you are following responsible, honest practices.
If your business offers products and services in an industry that is saturated with other players, having a BBB accreditation badge can give you an edge compared to them, especially if you're offering highly specialized services. It would be a reason for customers to choose you over other competitors.
Make It Easy For Your Business Be Found Online
BBB helps in increasing a business' positive exposure online. All accredited companies are listed in BBB's business directory which includes all necessary information about your company such as location, logo, online assets, and contact information. Getting listed in business directories like the BBB's is the first step to helping your website rank on search engines like Google.
Pro tip: While BBB can improve your positive exposure, it's only one small component of increasing your online visibility and search ranking. The digital marketing specialists at Hibu offer affordable services, including search engine marketing and optimization, review management, and social campaign creation and management to help small businesses grow their online presence. Click here to speak to a representative today.
Expand Your Network
BBB holds events and networking gatherings that expose you to other members in and out of your industry. This is a great way to meet other businesses that you can potentially partner with and expand your network of contacts within multiple industries.
Become Better Equipped In Running Your Business
BBB provides different types of resources to help you better your business operations and be more effective in servicing your customers. This includes providing you with informative materials such as workshops, webinars, trainings, and newsletters.
Disadvantages of Becoming BBB Accredited
Getting accredited and having the chance to display the BBB accreditation mark on your website and business assets comes with an annual recurring fee, between $500 to $1500 for small businesses under 100 employees. Sites like Yelp and Angie's List, in contrast, let you get a business listing for free.
BBB Accreditation Is Not Free
Some businesses don't mind paying the additional cost because of the recognition that a BBB badge comes with and because their competitors are accredited. However, some businesses say that they don't see the value of getting accredited in terms of its effect on their business performance. They don't see an increase in sales or customer inquiries.
To decide whether paying for BBB accreditation is worth it, have a thorough look at your target market and the products and services you offer. For example, a novelty consumer product targeting younger audiences might be better with a simple Yelp business profile, while businesses with B2B products or highly specialized services might appear more credible to an older customer base who needs the assurance of a BBB seal.
How A Business Can Qualify For Accreditation
Companies need to meet 8 BBB Accreditation Standards to be eligible for accreditation. This includes truthful advertising and selling, satisfactory customer service practices, and a consistent reliable transaction record with customers.
Below is a summary of the accreditation standards from BBB's website that businesses need to meet to qualify for accreditation:
Businesses should have established and maintained a positive track record in the industry.
They should have displayed adherence to standards of selling and advertising their products and services.
They have honestly represented their products and services, including clear and adequate disclosures of all material terms.
They should have openly identified the nature, location, and ownership of their business, and clearly disclosed all policies, procedures, and guarantees that bear on a customer's decision to buy.
They are abiding by all written agreements and verbal representations with customers.
They have addressed all marketplace disputes quickly, professionally, and in good faith.
They have protected any data collected against mishandling and fraud (including sensitive credit card information), collected personal information only as needed, and respected the preferences of customers regarding the use of their information.
Finally, businesses should have approached all business dealings, marketplace transactions, and commitments with integrity.
How BBB Grading, Complaints, & Reviews Work
Regardless of whether you become an accredited business or not, the BBB offers three services for consumers/businesses:
Grade – The BBB provides a A-F grade for businesses.
Complaints – The BBB lets consumers file complaints against businesses, such as payment disputes and false advertising claims.
Reviews – The BBB lets customers post reviews of businesses.
Your business' grade, complaints filed against you, and reviews of your business all appear on your BBB Business Profile Page. Here's how each of these processes works.
BBB Grades Your Business
The BBB rates businesses from A+ (highest) to F (lowest). The rating will be visible in the BBB badge that is awarded to your business, as well as your BBB Business Profile Page. Accredited businesses can use the BBB badge showing their grade in branding and marketing efforts. Non-accredited businesses cannot.
BBB's independent rating standards are quite extensive. However, below are some of the factors that determine your grade:
Number and resolution of complaints. BBB determines the number of complaints filed against a business and the way these complaints were handled.
Nature of the business. It should be clear what a business does and that it is publicly transparent with its nature of operations.
Longevity of business operations. It should be clear how long a business has been in the marketplace and how consistent it is in its operations. This determines if a business has had discrepancies in its existence in the market.
Business transparency. Companies applying for accreditation must make sure that they are completely transparent with the products and services that they are offering, and has a physical business address.
Legal operations history. Companies should be transparent if they have had previous legal issues and how it was resolved and addressed.
Complaints Can Be Filed Against Your Business
In addition to being an accrediting entity, the BBB is also a forum where consumers can file complaints against businesses. Consumers can file complaints by contacting BBB through their website and following an official complaint process.
Complaints about your company are published in BBB's business directory page and are publicly available for everyone to see. Complaints can be filed whether your business is accredited or not. However, if you are accredited, you commit to responding to complaints within the timelines and specifications set out by the BBB.
In general, businesses get 10 days to respond to a complaint. If you don't respond in a timely manner, your accreditation can be revoked and your BBB review page will reflect that the complaint went unanswered. Even if you do respond on time, negative complaints are taken into account by the BBB when they rate your business.
Reviews, Positive & Negative, Are Displayed On Your Page
Similar to online review sites, customers can leave feedback about their experience dealing with a certain company on the company's BBB profile page – these could be positive, negative, or neutral. The BBB vets and verifies each review by sending an email confirmation to the poster. Like complaints filed against a company, reviews on their products and services are also visible on the BBB business page.
Cost of BBB Accreditation
The BBB charges businesses an annual fee based on the size of their organization. Small businesses under 100 employees can expect to pay within the range of $500 to $1,500 per year.
Here is the BBB's estimated fee schedule for companies of different sizes. BBB's online calculator will give you a more specific fee estimate.
BBB Accreditation Fee By Company Size
| Number of Full Time Equivalent Employees | Estimated Annual Fee |
| --- | --- |
| 1-6 | $490 |
| 7-10 | $600 |
| 11-20 | $790 |
| 21-40 | $990 |
| 41-100 | $1,500 |
| 101-200 | $2,350 |
| 201-1000 | $3,100 |
| 1001-2000 | $7,100 |
| 2000+ | $11,000 |
Source: Better Business Bureau
How To Submit Your Accreditation Application
To get accredited, businesses can start their application by filling out the application form online. Upon receipt of the application, BBB will do the following:
Review the form, evaluate the information provided, and research the business using public data sources
Verify and confirm that the information provided is true and correct
If necessary, contact the business and request additional information and proof to support their business information
Once the evaluation is done, BBB will decide whether to accredit a business or not. If a business' accreditation application gets approved, they will be automatically listed in BBB's directory page as 'Accredited.' They will also receive a notice from BBB on the result of their application and get a BBB badge of accreditation with their corresponding grade, which they can use in their business assets and branding materials.
The duration of the accreditation application differs per company. However, based on the available information we found, the average time of application ranges from two to four weeks.
Here's an example of Kabbage, a small business lender, putting the BBB badge on their website home page: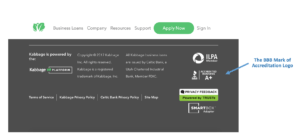 If a business gets denied, BBB will send a letter stating the standards that the business weren't able to meet and if there are changes that a business can make to be considered for accreditation.
Renewal Process
Accreditation is renewed annually and businesses can update their information online, upon approval of BBB. The organization gets in touch with businesses once their accreditation is about to expire to ask if they will renew or not.
Insights from a BBB Expert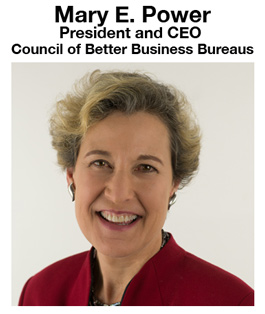 We had an opportunity to have an email interview with Mary E. Power, President and CEO of the Council of BBB and below are her insights on why businesses should aspire to become BBB accredited.
Our basic question was, "Is BBB accreditation still meaningful in a world where consumers turn to Yelp, Angie's List, and TripAdvisor for business reviews?"
Ms. Power believes that becoming accredited by the BBB offers big benefits to small businesses. The key term is "accredited" rather than "join". A company must apply to become accredited with a local BBB. Not all companies are accepted, and those that do must operate with integrity to keep their accreditation. Because not every company can be accredited, a BBB accreditation is meaningful to potential customers. Consumers turn to the BBB's website 130 million times per year to look up businesses. The BBB website provides basic information on businesses, their BBB rating, as well as detailed information about customer complaints.
Here are some other questions that we asked Ms. Powers.
Why should a business join their local BBB?
BBB has been around for more than 100 years… since the days of snake oil salesmen, when advertising was a bit of a "wild, wild west." No one was looking out for consumers who were being misled by deceptive ads until BBB was created. With today's online, interconnected, global economy, we're right back to that "wild, wild west." People need to know who they can trust, and BBB Accreditation helps a company stand out. If a business is accepted for accreditation, they become part of one of the most widely recognized benchmarks for trustworthy businesses.
The strength of BBB is that we are governed by standards that are set at the international level, but services are provided at the local level… so it's really the best of both worlds. Each BBB is an independent, local non-profit corporation governed by a board of directors that is made up of local business leaders. The BBBs are out in the community, working with Chambers of Commerce, Attorneys General, law enforcement, and others to promote ethical businesses and to protect consumers from unethical ones.
What does it take to become a member? What are basic standards that members agree to meet?
Becoming accredited gives a business the opportunity to show its level of commitment to being a company that customers can trust.
For starters, businesses must have a B or higher rating with BBB in order to be accredited. They apply for accreditation with their local BBB and must be approved by its board of directors, which is made up of other local business leaders. BBB will look at a range of factors when making the decision, including how long the company has been in business, whether they have any complaints on file, how well they have handled those complaints, the reputation of the owners or principals, etc. They will also look at the company's website, its advertising and its marketing materials to make sure it is truthful in its dealings with the public. If the business is in an industry that must be licensed, BBB will require proof of that, as well.
Businesses must pledge to adhere to the BBB Standards for Trust, the eight principles that sum up the important elements for maintaining a trustworthy business: build trust, advertise honestly, tell the truth, be transparent, honor promises, be responsive, safeguard privacy, and embody integrity. The eight principles are the foundation for the BBB Code of Business Practices and the BBB Code of Advertising, which all Accredited Businesses must follow.
What is the cost of "membership"? What are the benefits?
The cost of accreditation is set by the local BBB where the business is based, and it varies depending on the size of the business and the number of employees. For small businesses, the range is roughly $400-1,000 per year.
The primary benefit to businesses is being associated with an organization that has stood for trust in the marketplace for more than 100 years. Each BBB provides its Accredited Businesses with the BBB seal in a variety of forms that can be displayed in stores and offices, on company vehicles, on websites and in advertising. The seal shows customers and potential customers that the business is committed to ethical standards.
What happens when a consumer files a complaint?
One thing that really sets us apart from most services that provide reviews; we verify that the consumer is actually a customer of the business and we give the business a chance to respond before we publish anything.
The first thing we do, usually the day the complaint is received, is acknowledge the complaint to the consumer so they know we are working on it. Then we contact the business, share the complaint with them, and ask them to respond within 14 days. We really encourage the business to work the problem out with their customer, and we give the customer the opportunity to let us know if they are satisfied with the business's response. This helps reestablish trust between the business and their customer, and a significant portion of our complaints are resolved at this level. If we feel the company has been responsive and reasonable, their handling of the dispute is reflected positively in their BBB rating.
If we don't hear back from the business within the 14 days, we send them a second notice and give them another two weeks to respond. If we still don't hear back from them, we close the case and their lack of action is negatively reflected in their BBB rating. It's not possible to ignore complaints and keep a good grade, so businesses that don't respond will see their grade drop…as far down as an F if they keep ignoring their customers' complaints.
If a business and a customer can't work out the dispute we try to help them, first informally and then through mediation or arbitration. We have hundreds of trained arbitrators to assist with this process.
Sometimes a business tries hard to settle a complaint but the customer still isn't satisfied. If we feel the business made a good faith effort but the customer is being unreasonable, we will note that on the file and close the case in the business's favor. With dispute resolution, not everyone will always be happy with the results! The goal is to be fair.
How popular is the BBB website?
Our website – bbb.org – is very popular! It's one of the top 350 websites in the United States, according to Alexa. Only a couple of nonprofits rank higher than us (Wikipedia and NPR, for example). We get between 10-12 million visitors every month to our website, and consumers look up businesses more than 130 million times every year. bbb.org also has what is called a Domain Authority of 96 out of 100, which means it is highly trusted by users, other web sites and search engines.
Because of these two factors, being listed on BBB's website adds to the search engine optimization (SEO) of the business's website and helps them rank higher in consumer searches. Many customers also find businesses they can trust by searching on bbb.org, so there is the referral factor. And of course, displaying the seal online and at the place of business helps consumers recognize the company's commitment to trust in the marketplace. All these have helped BBB maintain one of the highest trust factors of any review or ratings service (we tie with Consumer Reports in most surveys and we outrank all of the for-profit review services).
How has the value proposition of the BBB changed for businesses due to advent of review sites like Yelp, Angie's list, and Google Reviews?
While BBB is often lumped together with online review sites, we don't really see them as "competitors" because we offer more in-depth information. We suggest that consumers check BBB first, but other sites can be helpful in addition to BBB.
I should point out that Angie's List is a BBB Accredited Business with an A+ rating, so clearly they understand the value of BBB to a business. Although Yelp is not accredited, they respond promptly to complaints and work hard to maintain their A+ rating. Google currently has a B rating due to a government action, but they handle all of their BBB complaints promptly. We are also working with Google and the National Cyber Security Alliance on a series of events this summer and fall to promote two-step verification, which will help consumers be safer online. These are all companies that offer meaningful services to consumers and that value their relationship with BBB.
That said, we also offer more services to both consumers and businesses than most online review sites. For starters, we have locations in every major market in North America, with local elected business leaders. In each location, some staffers are dedicated to accrediting good businesses, while others are dedicated to exposing bad businesses and scams. Because we verify that all complaints and reviews come from actual customers, it is not possible to trick our system into an artificially high or low grade. Thanks to the Accredited Businesses that pay dues to their local BBBs, we are able to offer our services for free to all consumers.
I should also add that some so-called review sites publish negative reviews and then charge businesses to take them down. We consider that substandard marketplace behavior and we absolutely do not condone that. In fact, many of those review sites have F ratings with us.
What determines a company's rating?
There are 16 factors that go into determining the BBB rating and we explain them on our website. The letter grade (from A+ to F) represents BBB's opinion of the business based on the information we have from the business itself, from its customers and from our experience with them. On each Business Review, we explain the significant factors that both raised and lowered the grade, how many complaints we've received in the past three years, and how the business has done in responding to those complaints. We also publish details of the complaints, minus personal information, so consumers can read for themselves the experiences of other customers and see how the business responded.
What should small business know about the BBB?
Ethical businesses should know that BBB is here to help them succeed. Business owners who understand the value of a trusted relationship with their customers will be very much at home with BBB, and we would love to talk to them and show them how BBB accreditation can help their business.
Bottom Line: BBB Accreditation for Small Businesses
While the customer landscape has greatly changed over the years and customers have become heavily reliant on review sites online, it still carries significant weight to be accredited by a prestigious and internationally-recognized business accreditation body such as the BBB.
Having the BBB mark of accreditation is an instant badge of trust for your business as it gives potential customers a guarantee that your operations are ethical, professional, and credible. Getting accredited also means you have an added layer of motivation to ensure that your customer dealings are always of top quality.
Don't forget to ask for those reviews that will help you get your BBB accreditation. Podium lets you send customers review invitations, use ready-to-send review templates, get notified about new online reviews, and respond directly from one inbox so you can take control of your online reputation. Click here to watch a quick demo.