Getting involved in the luxury real estate market is appealing to many agents. After all, one luxury real estate property sale could equate to what other real estate agents make in a year. However, breaking into the luxury market requires you to penetrate the right network of professionals and clientele, develop targeted marketing strategies, and create high-end experiences.
To reach a niche audience before other luxury agents, consider using Smartzip to market to leads when they are just beginning to consider a real estate transaction. Smartzip uses predictive analytics to pinpoint homeowners likely to sell their homes in the next year with 70% accuracy. Smartzip could be the key to breaking into the luxury real estate market.
If you feel intimidated about working with luxury properties and clients, read the following 13 tips to learn how to become a luxury real estate agent.
1. Understand What Defines Luxury Real Estate
Depending on your geographic location and your experience, your version of a "luxury home" could mean $750,000 or $10 million. This is because a luxury home is relative to the area and doesn't have a cut-and-dry definition. In general, a home is considered high-end when it is in the top 10% of properties in the local real estate.
The price is the most obvious way to value a home, but luxury homes are also defined by their:
Location: Proximity to features or popular locations like a lake, ocean, or city.
Price point: Homes priced in the top 10% of the area are considered high-end.
Square footage and amenities: Size is a big part of determining the value of high-end homes. Luxury homes typically have an excess of space, storage, and bedrooms, and include special features like tennis courts, outdoor kitchens, or theater rooms.
High-quality construction and materials: True luxury homes are unique down to the details. You'll see materials like herringbone floors, marble countertops, and floor-to-ceiling windows.
When working with luxury properties, it's important to know how to navigate relationships with high-end homeowners and buyers. Make sure that your marketing and follow-up strategies are proactive and that you never let a potential five-figure commission fall through the cracks.
With a customer relationship manager (CRM) like Top Producer, you can build genuine relationships without manually spending hours individually crafting messages. Top Producer provides insights on your leads through each communication channel and even helps you stay organized during transactions. See how Top Producer can help your business today.
2. Know the Pros & Cons of Becoming a Luxury Real Estate Agent
When you see luxury agents walking through multi-million-dollar properties and working with celebrities, it can be easy to think that this niche is the best way to be successful. However, like every business and niche, there are many challenges and obstacles to becoming a luxury realtor. Make sure you evaluate the benefits and drawbacks of working with this audience before you start turning away other clients.
PROS

CONS

Significantly higher commissions per property
Significantly higher expenses
Lower number of listings required to meet income and sales goals
Can be difficult to break into
Relationship-focused market
Clients and listings can be more demanding
Ability to visit high-end properties
Smaller pool of buyers and sellers
Based on these notable pros and cons, it may be easier to recognize whether learning how to become a luxury real estate agent is a good choice for you. For example, if you're just beginning your real estate career and have a limited budget, it's probably best to get some experience before diving into an expensive and demanding niche.
On the other hand, if you have been working with real estate clients for a few years and have built up a savings account, reliable lead generation strategies, and a network of clients and referrals, it may be the perfect time to develop this specialty. You may choose to focus solely on luxury clients and properties, or you can ease your way into this niche while continuing to work on other types of transactions.
3. Set Your Budget & Be Willing to Spend Money
The first step to moving into the high-end markets is to make the decision and commit to the process. Selling a $2 million house might earn you a $50,000 to $60,000 commission, but you may need to spend $10,000 in marketing to find the right buyer. Lower or mid-range properties often sell themselves, but high-end listings require high-end services, like custom branding, marketing, advertising, and event planning.
While you might be able to create your own ads and marketing materials with tools online, it's unlikely that your DIY marketing will properly display a multi-million-dollar property to the right buyer. It's essential to invest in the right expertise, automation, and services to appeal to high-end tastes. For example, you should expect to spend money to hire a professional real estate photographer, an in-person or virtual stager, and advertise or promote the listing on a variety of platforms.
4. Join a Brokerage With Experience in Selling Luxury Listings
When you decide that you want to break into the luxury real estate market, you'll find that there's a big learning curve. The best way to learn anything quickly is to surround yourself with like-minded experts and mentors in that field. By joining a brokerage that specializes in these types of properties, you'll be able to leverage their knowledge, reputation, and existing marketing strategies to gain valuable experience and make connections that will show you firsthand how to become a high-end real estate agent.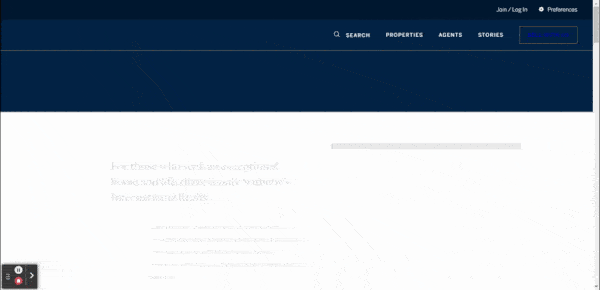 ---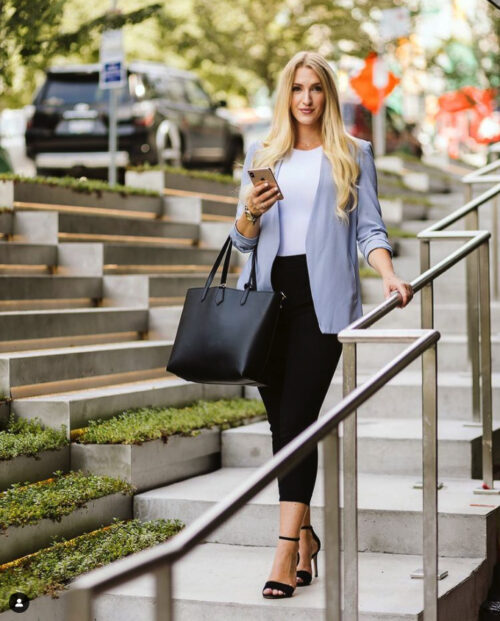 ---
In addition, learn from other luxury agents even if they aren't in your brokerage. Pay special attention to their branding, marketing strategies, real estate farm area, and even how they dress at events. Initially, it's important to be ready to learn anything and everything to get the right experience in luxury real estate.
Remember that you may have to start by splitting the commission on your first few properties. However, taking a short-term loss for the benefit of your business is likely an investment worth making. If you need help deciding which brokerage is right for you, read through our article on how to choose a real estate company to work for.
5. Earn a Luxury Real Estate Certification
Although learning how to be a luxury real estate agent requires real-world experience, it's ideal to start with clear education. There are a few different courses for aspiring and current luxury real estate agents that allow you to earn a certification or designation. This will help you be more confident, and having a certification proves to your audience that you have the authority and expertise to help them.
The most common and well-respected luxury real estate training programs are:
For even more education and ongoing resources, check out the Institute for Luxury Home Marketing by Colibri Real Estate. The school provides the CLHMS in multiple formats, as well as a membership, network, and continual resources and insights into the industry. Check our Colibri Real Estate review for more information.
6. Research & Target the Right Area or Clientele
No matter how incredible your marketing strategy is, you won't become a luxury real estate agent if you aren't targeting the right area or clientele. Many new residential real estate agents mistakenly believe they can only target an audience based on location, but many luxury agents also find success by focusing on a specific demographic, like doctors, lawyers, or tech executives.
The key is to get specific about your audience and determine the best ways to connect with them. If you aren't already familiar with the demographics, neighborhoods, and home types in your area, use a data source like Claritas to get insights. Generate a report with market data and graphs to show your audience's demographics and lifestyle behaviors like salary range, shopping, technology, insurance, and purchases. This will be able to guide you to the individuals most likely to invest in the luxury market and target your marketing toward that clientele.
Once you have the facts and information about your target audience, it's much easier to create effective marketing strategies that reach them and help you get more real estate clients. Depending on your audience, they may be most receptive on social media, at local events, through direct mail, or through professional referrals.
If you choose to target a geographic area, it's important to find a farm area with 500 or more homes at a luxury price point for your city. Then, you can multiply your ability to reach the audience within this area with Smartzip, a predictive analytics tool. Smartzip uses artificial intelligence (AI) and a wide variety of high-quality data sources to accurately predict homeowners most likely to sell their homes. It then automatically provides highly targeted marketing to help you generate and convert luxury leads before your competition reaches them.
7. Create Your Luxury Real Estate Brand
Since luxury real estate is heavily dependent on reputation and trustworthiness, it is absolutely essential for your branding to reflect your professionalism and attract your target clientele. Studies show that consistent branding can increase a business' revenue by 20%. Even though many brokerages offer prebranded content, appealing to a luxury audience means going the extra mile to present a unique, standout luxury brand.
To start creating a brand that appeals to your luxury audience, ask yourself these questions:
Where is my target audience located (e.g., near a beach, ski resort, or golf resort)?
What home features are most important to my audience (e.g., mountain views, ocean views, pool, game room, smart appliances, etc.)?
What home style is most appealing to my audience (e.g., ranch, modern, farmhouse, etc.)?
What type of magazines or online publications does this audience read? What are their branding colors and elements?
Creating strong real estate branding doesn't happen by accident. Make sure you tailor your branding colors, fonts, and materials to your audience, specifically addressing their needs or desires. Incorporate your branding in everything you do by including your logo on social media posts, mailers, and emails, and always have business cards ready to hand out.
In addition, make sure you have a website that serves as the home base of your online marketing and branding elements. This will build an authoritative presence with your target audience and help you more efficiently build brand recognition with all of your additional marketing materials. Plus, Market Leader makes it easy to create a website and cohesive branding. It provides a customizable website builder, automated marketing tools, and a complete suite of marketing tools for both digital and print marketing.
8. Make Connections in the Luxury World
Real estate is all about making the right connections at the right time, and that's especially true when figuring out how to get into luxury real estate. You should always be prepared to meet your next client, which means dressing and acting professionally everywhere you go. You should naturally be able to connect with your clients in order to build rapport and trust. Therefore, you need to be familiar with their preferences.
Start attending charity events, art galleries, happy hours at upscale bars and restaurants, and designer boutiques with the intention of connecting with your future clientele. Consider taking up a hobby that's common with affluent members of your community. Even if you can't afford to buy anything in the beginning, you will be knowledgeable about the environment and be ready to make conversation.
With VistaPrint, you can easily design and customize unique business cards and marketing materials. There are specialty cards with foil accents or embossing to help you further stand out from the competition. Check out VistaPrint today.
9. Leverage Offline & Online Marketing
Marketing and building trust are absolutely vital for every realtor, but especially for those wanting to learn how to become a luxury real estate agent. Luxury clients are usually spending millions of dollars on their next home, so they are only going to work with an agent who has their full confidence. To build this credibility and attract high-end clients, you must implement a thorough marketing strategy that includes both online and offline tactics.
Here are a few ways to utilize both digital marketing and classic offline marketing to break into luxury real estate:
Offline Marketing
As powerful as digital marketing can be, don't forget about the marketing methods that have decades of proven results. These classic offline marketing techniques continue to successfully generate leads for real estate agents in all locations and with every type of property or niche.
A few of the "old school" marketing techniques that are valuable include:
Phone calls
Sponsoring events
Even though digital marketing is extremely powerful, it is not a replacement for your ability to meet, connect, and build in-person relationships. Make sure that you're taking advantage of every available strategy and opportunity to reach high-end buyers and homeowners.
Real estate agents have been sending mailers for decades, but they continue to generate leads and build brand recognition. Try sending direct mail with a modern twist by leveraging the variety of topics from ProspectsPLUS!. You can easily customize postcards with recipes, home maintenance tips, life events, and even postcards for entertainment value. ProspectsPLUS! offers the widest variety of mailers and direct mail campaign strategies.
Online Marketing
Digital, or online, marketing has completely transformed the landscape of real estate marketing, and having the ability to get your message to an online audience is expected of luxury agents. Owners and buyers of high-end properties want high-end service, and they need to know without a doubt that you can sell their property for its maximum value. Online marketing is comprised of a wide range of communication and advertising channels and strategies, including:
In general, real estate marketing statistics show that these methods provide a larger reach and more specific targeting options than print marketing methods. Whether you use Facebook ads or emails, there are features to help you create highly specific campaigns. For example, you can create a campaign for potential buyers in a specific ZIP code or for an audience based on multiple factors, like location, income, profession, and behavior. This will make it easier to tailor your luxury campaigns to generate leads for your real estate business.
An ideal way to combine your digital and real-world marketing strategies is with Zillow Premier Agent (ZPA). As a Premier Agent, you'll get your name on high-value listings even if they aren't yours. Since Zillow is the top real estate platform in the world, with millions of monthly viewers, this is the most surefire way to connect with luxury buyers and sellers. In addition, your Zillow profile is a perfect place to show your realtor bio, your recent sales data, and links to any other online platforms like your website or social media. Learn more about how Zillow Premier Agent can boost your marketing today.
10. Strategically Advertise Luxury Services
In addition to marketing yourself effectively, it's important to use advertising to get yourself in front of high-end leads. This shows that you aren't afraid of spending money to get results and that you know how to reach this particular audience.
Some typical prospecting ideas and strategies will also apply to luxury real estate, like social media advertising and direct mail. However, the best results will come from being able to stand out more clearly to your ideal clientele. Get creative and consider unique places where luxury homeowners and buyers spend time, or methods of advertising yourself that would appeal to their tastes.
For example, consider partnering with luxury property homeowners associations (HOAs) or resort clubs or sponsoring an event for high-end associations or events. Make sure that you use real estate words and imagery that accurately reflect the luxury nature of the properties and clientele you work with. Instead of sending postcards with one listing image, send a booklet or magazine-style mailer. By making small adjustments to your advertising strategy, you'll attract luxury real estate clients.
11. Co-market With Other Luxury Realtors & Professionals
Networking is a core element of every real estate lead generation strategy, and it's especially important when becoming a luxury real estate agent. You won't stumble into deals for multi-million-dollar properties if no one recommends you or vouches for your skills. Therefore, a great way to establish your place in the luxury real estate market is by creating partnerships with other professionals who serve the same audience.
Consider ways to partner with other high-end realtors in your market to co-list or co-market a luxury home. Even if you have limited experience, it can be appealing to luxury clients to have two agents working on their property. On the other hand, other high-end professionals, like private lenders or financial advisers, can offer an incredible level of value and connections. Implementing a real estate referral system with your network could result in hundreds of thousands of dollars in commissions.
12. Publish Content That Builds Trust
Beyond building a highly recognizable brand, one of the most effective ways to build a trustworthy reputation is through content marketing. Real estate content marketing means sharing content about your business or brand through videos, blogs, website content, social media posts, or emails. Studies show that businesses with blogs generate 67% more leads than others, and 70% of consumers say they would rather read an article about a business than see an ad.
To start creating luxury real estate content, consider the specific questions, struggles, and desires of your target audience. For example, create a video or blog about the pros, cons, and differences between various neighborhoods with luxury properties in order to accurately guide your clients. Consistently publishing content that appeals to a local, luxury audience is a powerful way to become the go-to luxury real estate expert.
As you make your content marketing plan, make sure you choose the right tools to help you publish and spread your content as efficiently and easily as possible. For example, Placester provides professional and highly customizable website templates and marketing services specifically for real estate agents. Its platform is search engine optimization (SEO)-friendly and designed for real estate content marketing, allowing unlimited posts and pages and user-friendly editing tools. Plus, you can try Placester free for 30 days.
13. Create a Luxury Open House Experience
In every real estate niche, open houses are a valuable business opportunity to network and create relationships with potential homebuyers and sellers. If another luxury real estate agent within your brokerage has multiple listings, ask them if you can host one of their open houses. This can put you directly in the path of luxury buyers and provide valuable connections.
Even if you've hosted open houses before, keep in mind that marketing a seven-plus-figure home should be treated as a special event instead of a typical casual Sunday afternoon open house. Planning events should be a thorough and well-thought-out process, starting with your budget, guest list, invitations, and potential vendors. Take the extra time to match the quality of the open house with the quality of the home.
Go the extra mile and take advantage of open house ideas that create a full experience to attract luxury clients, like:
Host the event at an unconventional time, like a Friday or Saturday evening
Provide specialty dining or drinks
Invite only a specific association or networking group to make it exclusive
Incentivize guests with entertainment or live music
Consider the specific preferences of the ideal buyer for a luxury property. Make sure that you focus on the details in the home so that everything feels special—from the size or architecture all the way down to the furniture and decor.
Luxury Real Estate Statistics 2023
As you learn more about how to become a luxury real estate agent, make sure that you're staying up to date on national and local market data for high-end properties, homeowners, and buyers. This information is also essential when marketing to luxury clients since the state of the market heavily impacts their buying and selling decisions.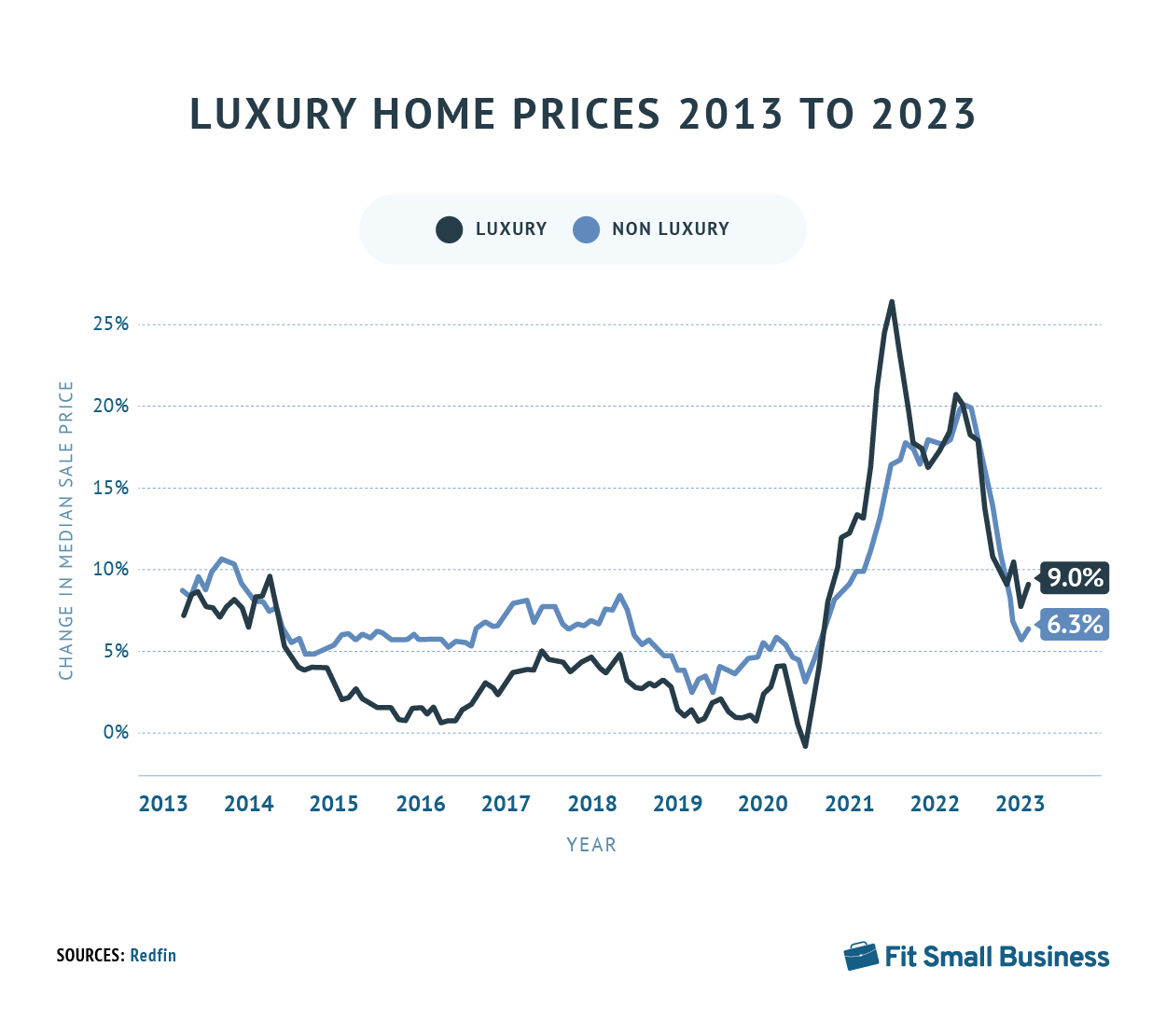 Here are a few important luxury real estate statistics:
Bottom Line
Agents who work in the luxury real estate market have to learn to effectively connect with and attract high-end real estate clients. While luxury real estate isn't the best fit for all agents, it is possible to break into the industry with the right strategies and connections. Use the tips above to learn how to become a luxury real estate agent and get more familiar with luxury clients and professionals in your area.