Are you interested in learning how to become an Uber driver? If so, you're in the right place. You'll need to know the requirements to get started, how to submit your application online, and how to set your schedule and start driving. We go over this plus answer frequently asked questions that often come up when getting started with Uber. Read on to find out how you can apply and make sure you qualify.
Step 1: Make Sure You Pass Uber's Driving Requirements
Here are the basic requirements that you need to meet in order to become an Uber driver:
Must be 21 years old or older. (If you're 19 years old, have a driver's license and legally able to work, you are eligible to apply for Uber delivery)
Must have an in-state U.S. driver's license. You must be licensed for at least one year (at least three years if you're under 23).
Must have a Social Security number
In-state plates with current registration
Access to a four-door vehicle that is 10 years old or newer (model year 2007 in most cities)
Have an in-state auto insurance with your name listed on the policy (you don't need to be the policy holder)
Must pass an Uber vehicle inspection (we'll talk more about this in the section below)
Able to pass a background check going back 7 years. In order to pass, you cannot have been charged with any of the following:

DUIs or drug-related offenses (this extends back ten years in California)
Fatal vehicular accidents
Reckless driving
Incidents of driving without a license or insurance
Other criminal history (felony or misdemeanor for theft, burglary, stealing, robbery, and the like)
Speeding violations for the past 3 years (driving 20 mph or greater over the speed limit)
Note: These are the basic requirements in most of the cities, but some of these requirements may vary by city. For instance in Nevada, Uber driver applicants also need to secure a Nevada TNC Permit Sticker as well as a Nevada State Business License. While in New York City, Uber requires a commercial car insurance and TLC license. TLC stands for Taxi and Limousine Commission. To get this license you'll need to go through a series of steps including an interview. See more details here.
Step 2: Submit Your Uber Application
There are three parts to fully submitting your Uber application:
1. Fill Out Your Application Online
If you pass all of the requirements, the next step is to fill out an application online. You will be asked to provide your complete name, email address, phone number, city, and the type of vehicle you plan to drive.
2. Have Your Vehicle Inspected
Uber will require you to send photos of your car as well as to get a safety inspection to make sure your car qualifies. In many larger markets, Uber provides free inspections at locations called Greenlight Spots, Greenlight Hubs, or Inspection Centers.
Go to the Uber cities page to select your city, then click 'Drive', and select 'Local Driver Guide' on the menu. You'll then see the 'Select a Topic' section. In this section, you'll find a lot of useful resources specific to your target city. Choose 'Vehicle Inspections' to find an inspection center near you.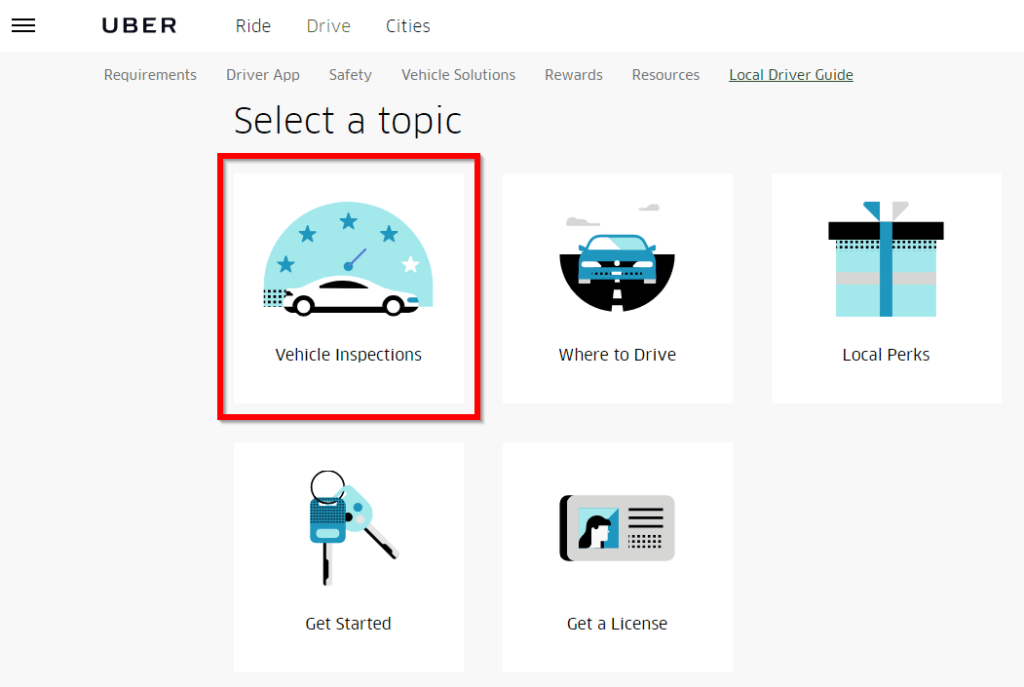 After that, you'll be able to see the available inspection centers in your city. The page will look something like this: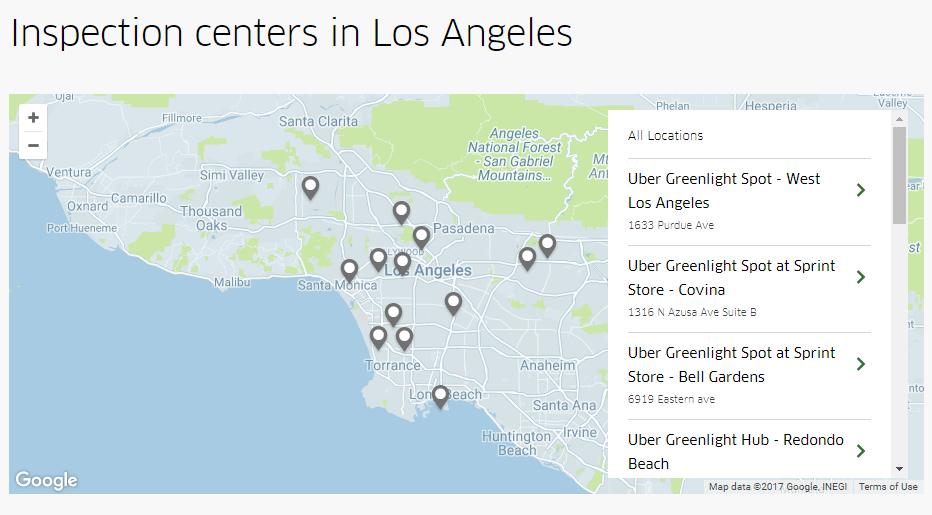 All cities that have Uber service have at least one of these locations. Certain areas have a fixed price with participating mechanics. But pricing is typically around $20 for a car inspection.
If there's no Uber car inspection hub in your area, you can have your vehicle inspected by a third party. However, inspections must only be done by an ASE-certified mechanic. Just make sure to bring the official Uber inspection form with you. See below:
The inspection is in-depth, covering different parts of your vehicle from the brake lights to the bumpers. So make sure to have your car ready! Inspection requirements vary by city as well. Once you register with Uber, you'll be able to see the specific requirements for your market.
Uber Service Vehicle Requirements
Drivers can choose their preference from the list of Uber vehicle types/services. Typically your car needs to be model year 2007 or newer in most cities and have four doors that can comfortably seat at least four people. You can find your city's vehicle requirements on Uber's website.
UberX – this is the basic and most affordable Uber service; any 4 door car
UberXL – more expensive than X as it can accommodate more passengers; larger vehicles such as mini-vans and SUVs
UberSELECT – entry level Uber luxury service; mid-size to full-size vehicles with leather interior
UberSUV – this is a combination of UberXL and UberSELECT; luxury SUVs.
UberBLACK – these are black on black premium cars; mid-size or full-size cars.
UberLUX – highest end luxury vehicles
UberPOOL – offers more affordable rates. UberPOOL passengers may carpool with other UberX riders
UberT / UberTAXI – Uber's taxi service
Note that the list of eligible vehicle types and models varies by city. For more information on Uber vehicle requirements that go with each type, visit Uber's website.
3. Submit Your Paperwork
Upload your driver's license, vehicle insurance and registration details. You need to have updated registration tags for the state you plan to drive in, along with in-state license plates. While Uber offers extended insurance coverage while you're driving for them, you still need personal auto insurance in your name to get accepted. Your car also has to be registered with the state, although it doesn't necessarily have to be under your name.
Make sure that the photos of your vehicle are clear and that all of the text on your documents are legible. Ensure that all the important information can be clearly read and are fully in frame. Provide the following photos of your car:
Exterior – front of vehicle, passenger side of vehicle, driver side of vehicle, and rear of vehicle (including license plate)
Interior – front and back seats
After you submit all your paperwork, you just have to wait for Uber's background check to clear and you're on your way to becoming an Uber driver.
Step 3: Set Your Own Schedule & Start Driving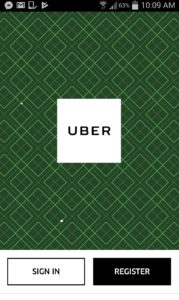 How Does the Uber Driver App Work?
The process of picking up and dropping off passengers involves only a few steps:
Log Into the Uber Driver App and Go Online. Simply click "Go Online" to list yourself as available for pickups. You can go offline anytime as well.
Wait For a Ride Request. Waiting time depends on how busy the area you are in is. Your phone will start beeping once you receive a ride request.You can see the rider location as well as the destination. Just tap on your phone screen to accept the request.
You only have about 30 seconds to accept a ride request before the blue circular line disappears. If you choose not to accept the request, it will get passed onto the next closest Uber driver.
Navigate To Your Passenger's Location. Click on the "navigate" button at the upper right-hand corner of the app. You can use Google maps or other GPS apps like Waze.
Pick Up The Passenger/s. Notify the rider right away when you have arrived. You should also verify the name of the passenger to ensure you are picking up the right person.
Drive To Your Passenger's Destination. Verify with your passenger where you're heading to before you start driving. Also, don't forget to start the trip once you pick up your passenger.
Note: You will be able to choose a personal destination twice a day. This allows you to only receive trips that have a destination near your desired drop off point. Otherwise, you do not have control over the destination.
Drop Off Your Passenger. Once you've reached your passenger's destination it's time to end the trip in the app.
Rate Your Rider. After you have completed the trip you will be asked to rate your passenger. Both the rider and the driver will be prompted to rate each other with 1-5 stars and even leave comments. This system ensures that both parties are taken care off. Note that if your driver rating drops too low, you may have your status reviewed by Uber.
Tips to Maximize Your Earnings with Uber
You should try to minimize the distance that you go between pickups. Drive around busy areas so that you'll receive a lot of requests.
Try driving at different times of the day and night to help you determine the best times and places to drive in.
Use apps to find cheap gas. Gas prices go up and down all the time. In order to lower your expenses while driving with Uber, use apps like GasBuddy or MapQuest Gas Prices to find the cheapest gas prices near you.
Drive during high demand times. Demand often increases during special events. If you don't have anything important to do at that time, you can make more money driving as trip fares go up.
Take advantage of tax deductions. Since you're an independent contractor, you essentially have your own business. This means you can lower your tax burden by hundreds or even thousands of dollars. Some of the deductions you can include are monthly car payments, interest on your auto loan, standard mileage, cell phone bill, insurance, and vehicle property taxes.
Step 4: Get Paid
Uber will pay you through direct deposit. When you sign up as an Uber driver you can supply your bank details or add the details later. Uber will pay you weekly based on the number of rides you provide to customers.
If you don't have a bank account yet and need to set one up, check out Bank of America.
Remember, the fare you see when you end a trip will not be the final amount you are paid for that trip – that is the amount charged to the rider. There are several things included in this amount:
Trip Fare – This is based on the time and distance of the trip.
Booking Fee – Each trip includes a booking fee, which varies by city. Uber collects this from the rider on your behalf to cover the costs of insurance and safety features. It doesn't affect the trip fare.
Tolls – If you had to pay a toll while on a trip, it will be included in the fare as well. Your earnings for each trip will only include the Trip Fare and any Toll.
Note: Since UberXL is a more expensive service than UberX, UberXL drivers can earn about 40% more revenue-per-trip than UberX drivers. Uber offers different prices for its XL services in different cities as well. If you have the appropriate vehicle, you might want to consider driving for UberXL especially during in-demand hours. You can switch your driver app from the default setting (both X and XL) to accept only UberXL fares. And then switch it back whenever the situation calls for it.
How much do uber drivers actually make?
The Uber driver will be paid a portion of the total trip fare (75%), as Uber will take the rest. 
Uber does not include a tip when billing a passenger for a trip fare. Tipping is voluntary. While riders are not obliged to offer a gratuity in cash, an Uber driver is welcome to accept.
In order to maintain your Uber partner account, you have to accept at least one trip every 30 days. If not, you may have to reapply.
Frequently Asked Questions
How much do Uber drivers get paid?
It really depends on the number of trips you make. Uber advertises that drivers can make $50,000 – $90,000 a year driving passengers around.
However, don't forget to consider the cost of owning and operating your car. Also include the amount of gas used per mile, maintenance, insurance, state fees, financing, and more. Figure out what your costs are, then subtract them from the amount you made to determine how much you really brought in. You need to track your costs efficiently if you want to be a successful Uber driver.
How does the rating system affect my account?
Your rating is based on the average number of post-trip stars riders gave you (the most recent 500 rated trips or the total number of rated trips you've taken if you have less than 500). While you have the chance to improve over time, there's a minimum average rating in each city. Uber will alert you if your rating is approaching this limit. If your average rating continues to fall below the minimum, you will lose access to your account.
What is the acceptable cancellation rate?
Quality drivers usually have a cancellation rate lower than 5%. Maximum cancellation rate also varies per city. Like with the star rating system, you will be notified if your cancellation rate is getting higher than what's acceptable. You may also lose your account if you continue to exceed the maximum limit.
Can I still be an Uber driver if I don't have a car?
Even if you don't have a car you own, you can still become an Uber driver. Uber can help you rent or lease one in certain areas. Check out Uber Xchange for details.
With Uber's leasing program, drivers pay $2,000 to begin leasing a car. Uber then deducts regular payments from the drivers' paychecks. This lending program, however, locks you into Uber and actually costs more than a traditional lease. That's why it is recommended to have your own car if you wish to become a fulltime Uber driver.
Do I need to purchase commercial insurance?
Uber only requires you to have personal auto insurance (except in New York City wherein a commercial insurance is required). Once you accept a ride, you are provided additional commercial insurance by Uber. This coverage ends once you close the Uber Driver app.
Uber covers the cost of additional insurance but that expense is paid for by taking a cut out of each ride an Uber driver takes. So no need to purchase special insurance to get started.
Do I need a Commercial Driver's License?
For most cities in the U.S., you do not need to secure a commercial driver license (CDL) in order to be an UberX driver (the basic driver level). However, as you begin the application process, you'll be instructed as to whether or not your chosen level would require a higher class of license.
How long does the application process take?
The process is pretty straightforward and should not take too long. Some drivers are up and running within a week, while others can take up to 10 days. You can always sign into your account and check your status daily or contact their support for any issues regarding your application.
Can I reapply if I get rejected?
Yes, but you have to wait 3 to 6 months. Uber won't specifically tell you why you get rejected. They may say something vague about your background, but they won't exactly pinpoint what caused them to reject you. Therefore, your chances of getting approved following a rejection are quite low.
How do I pay taxes as an Uber driver?
Uber drivers are classified as independent contractors. Therefore, your taxes are not withheld by the federal or state government. So it is your responsibility to file taxes (generally using a Schedule C) at the end of each year. Visit the Tax Information tab on your partner dashboard to learn everything you need to file your taxes as an independent contractor.
Can I drive for Uber if I'm not a US citizen?
No. Uber doesn't honor international driving experience. You need to have a US license for at least one year as well as a Social Security number.
What are the drawbacks of driving for Uber?
No job is perfect. One of the biggest drawbacks of being an Uber driver is the relentless wear and tear on your vehicle. Also, since Uber drivers work as independent contractors, the expenses such as gas and maintenance, need to be paid for out of their own pockets.