5 Best Appointment Scheduling Apps for Every Business
Appointment scheduling apps typically have two main functions. They either let you book meetings internally with your staff and teams or allow customers to book appointments with you or your business—some even do both. The best appointment scheduling apps are easy to use and available on iOS and Android. They should also let staff and clients view and manage their bookings conveniently.
Basic appointment apps typically cost $0–$50 per month, while comprehensive business management apps with integrated appointment scheduling can cost anywhere from $50–$90 per month.
Here we take a look at the five best appointment scheduling apps:
Best Appointment Scheduling Apps Compared
| | Free Plan | Cost for Paid Plans | Video Appointment Integrations | Payment Integrations | Customization Features | Price Structure |
| --- | --- | --- | --- | --- | --- | --- |
| | Free trial only | $25–$85 per month | ✔ | Vagaro Payments | Fair (widget only; not app) | Scales with number of employees |
| | Free trial only | $15–$50 per month | ✔ | Stripe, Square, Google, and PayPal | Fair (limited in lower plans) | Tiered based on features and number of employees |
| | Free for four people | $9–$12 per user per month | ✔ | Stripe, Square, and PayPal | Good (booking page and widget) | Scales based on features |
| | Free for four people | $50–$90 per month (custom pricing for 10+ employees) | ✕ | Square Payments only | Fair (booking website; not widget) | Scales based on number of employees |
| | Free trial only | $9–$39 per month | ✔ | HoneyBook Payments only | Good (app and booking page) | Tiered based on features and number of employees |
How We Evaluated Appointment Scheduling Apps
To rank the top appointment scheduling apps, we first considered whether each one was available as a mobile app for all devices (iOS and Android). After that, we tested the apps to determine their ease of use and the tools and features available for staff and for clients. Pricing is important, of course, and while there are many free appointment scheduling platforms, they're usually fairly limited.
Click through the tabs in the box below to view our full scoring criteria for identifying the best appointment scheduling app.
40%
Booking and Management Tools
15% of Overall Score
For the most part, appointment scheduling apps are affordable, and many include free plans. We gave more credit to apps that don't lock you into long-term contracts and those that offer multiple plans so that your available services can grow as your teams do.
40% of Overall Score
Many businesses rely on clients showing up for appointments, so we weighed automatic appointment reminders heavily. Not all businesses require payment through the app, but it helps (especially to discourage no-shows), so we prioritized that feature as well.
30% of Overall Score
All the apps on our list are available for mobile devices, whether you're on iOS or Android. An important integration we want to see in an appointment scheduling app is calendar sync for Google, Outlook, and Microsoft 365; some also work with iCloud.
15% of Overall Score
Ease of use, value, and standout features can be subjective. So, we scored these areas lightly, but we want to point out unique features of apps and speak a bit about the relative ease of use (at least in our experience and that of other users via reviews).
*Percentages of overall score
When searching for the best appointment scheduling apps, we looked at 17 options and narrowed down to our top five based on how they scored in our evaluation. Based on our scoring, Vagaro got the top score with a 4.71 out of 5. Vagaro offers a rich menu of features and an easy-to-use app and is overall a great value and product.
Vagaro: Best Overall Appointment Scheduling App
Vagaro

What We Like
Up-to-date appointment schedule for you and your employees
Online invoicing
Mobile app for business and customer
Integrate Vagaro booking right into your business's website, social media pages, and Yelp
What's Missing
No free plan
Intake forms only available with $10 monthly add on fee
Vagaro is an appointment scheduling app for appointment-based businesses like salons, spas, and fitness centers. Through the app, customers can book appointments or sign up for classes without ever having to contact you. From there, the appointment will sync both with their personal calendar as well as yours. This means that as customers make appointments and sign up for your services, your schedule will update automatically to reflect any additions (or cancellations).
Vagaro users can manage their appointments straight from the Vagaro app and your calendar will update as well. Don't worry, though, as there is also a cancellation management feature where you can set cancellation windows and charge fees for customers who cancel outside of the allowed time.
In addition to the customer Vagaro app, there is also a Vagaro app for you and your employees. Here you can see your appointments, view your customer database, and look at stats and reports about your business. This makes it easy to keep track of your customers and their past services and maintain familiarity with your clients. Vagaro also has a desktop version.
Vagaro also offers powerful integrations. When you sign up for Vagaro, you can integrate the appointment scheduler with your Instagram, Facebook, personal website, and Yelp, so that customers can book with you directly from those platforms. Vagaro is also the richest option on this list when it comes to features—offering ample reporting, integration, app branding, and application features for both you and your clients. Those features helped it earn a 4.71 out of 5 in our scoring; it was hurt by its lack of a free plan and appointment limits in its base offering.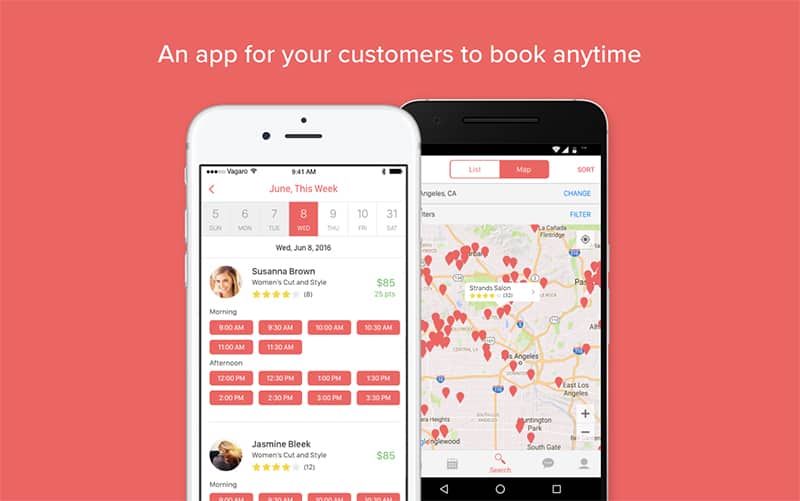 ---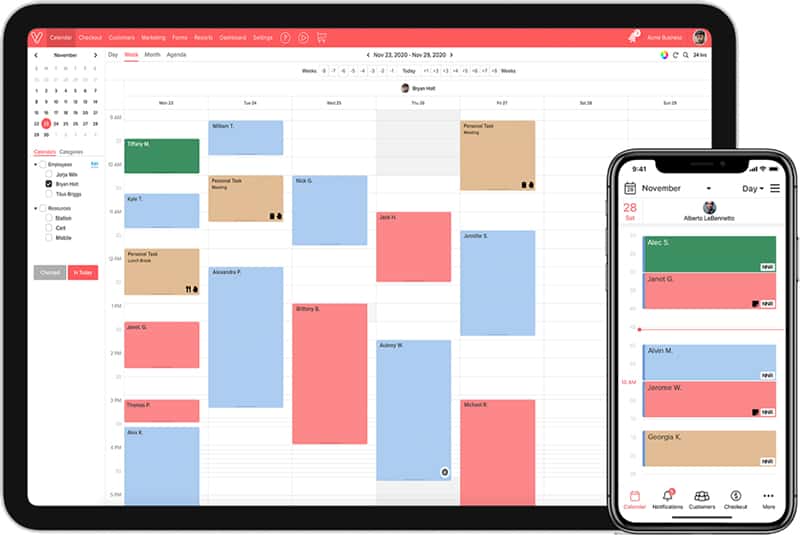 ---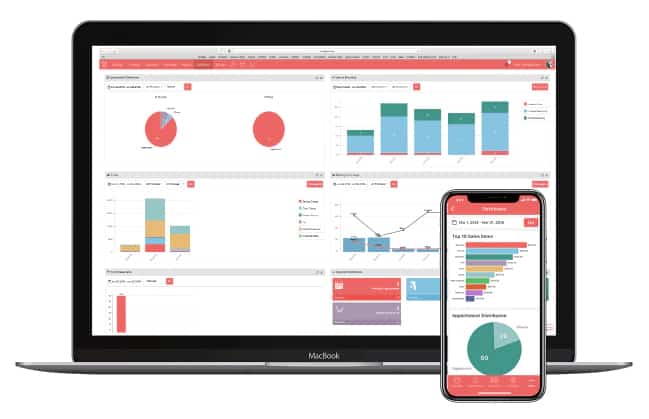 ---
What Vagaro Is Missing
While Vagaro certainly brings a lot to the table, there are some limitations that the app does present. First, Vagaro only supports its own payment processor, which is an additional $10 per month for businesses that process more than $4,000 of payments monthly. Additionally, Vagaro does not offer a free subscription, unlike Setmore and Square, and charges between $25–$85 each month depending on how many employees you have.
Acuity: Best for Flexible Scheduling
Acuity

What We Like
Automatic calendar syncing to most calendars
Unlimited appointments including classes, groups, and video
Email and text appointment reminders
Includes intake forms
What's Missing
Text notifications only with higher-tier plans
Limited customizations in lower-tier plans
Key Features
Monthly fees*: $15–$50 per month
Available on: iOS, Android, and browser
Supported calendars: Google Calendar, iCloud, and Microsoft 365
Supported payments: Stripe, Square, Google, and PayPal
Apple App Store rating: 4.9/5
Google Play Store rating: 3.2/5
*You can save from 6%–10% by paying
annually.
Acuity is a powerful appointment scheduling app that works well for almost any small business that relies on client bookings. Like Vagaro, Acuity includes two main applications: one for clients to book and manage their appointments and one for you.
It is great for accessing your schedule in real time, so you can add new appointments on the fly, update your availability, and manage your appointments. You can also enable notifications for whenever you get a new booking, so you never miss a beat. Not only that, but Acuity makes it easy to add an Acuity booking widget to your website or ecommerce store so clients can self-book and/or purchase classes, workshops, private sessions, interviews, etc.
Based on our scoring, Acuity landed a 4.55 out of 5 for its rich management features and seamless website integration. It lost some points for its lack of SMS notifications in the base plan and limited customizations in the lower-tier options.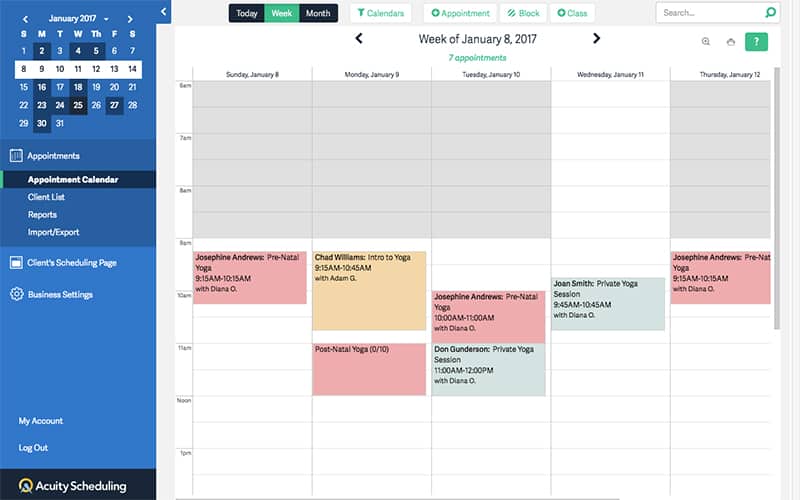 ---
---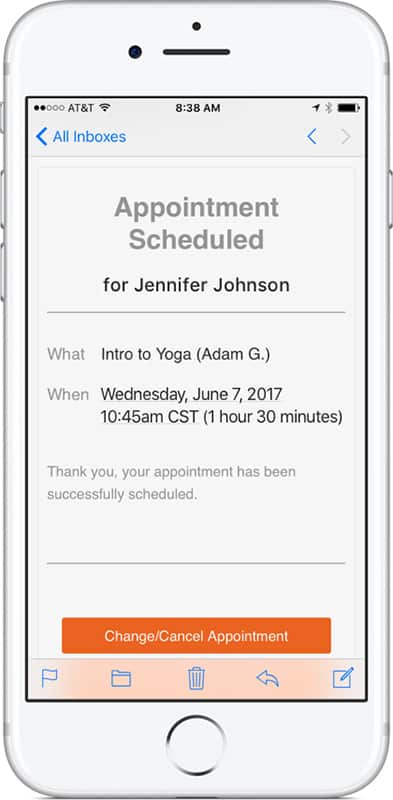 ---
What Acuity Is Missing
Though easy to use, Acuity is not a very customizable solution, unless you subscribe to the $50 monthly Powerhouse subscription. Additionally, unlike Vagaro or Square, there is no way to collect a no-show fee to protect your business from sudden cancellations or flaky clients. Acuity's Android app is the lowest-scoring in user reviews, with users citing glitches and malfunctions.
Setmore: Best for Teams Wanting a Free App
Setmore

What We Like
Free plan available with up to four staff members
Unlimited appointments on all plans
Custom booking site for all plans
Integrates with social media, video software, CRMs
What's Missing
Automatic appointment reminders only with a paid plan
No intake forms
Key Features
Monthly fees*: Free; $9–$12 per user, per month, for paid plans
Available on: iOS, Android, and browser
Supported calendars: Google and Microsoft 365
Supported payments: Square, Stripe, and PayPal
Apple App Store rating: 4.7/5
Google Play Store rating: 4.3/5
*You can save from 25%–55% by paying
annually.
Setmore is a popular appointment scheduling app for many types of small businesses, but its most notable feature is that it allows for up to four team members and unlimited appointments in the free plan. Most other apps, including Square, limit you to one team member in the free plan. Powered by pricing, Setmore earned a 4.27 out of 5 in our evaluation, with lack of intake forms and limited appointment reminders preventing it from scoring higher.
Unlike Vagaro and Acuity, Setmore has no customer app. Rather, it lets you create a custom-branded booking page where customers can view your schedule and make appointments online. You can integrate your booking page into your website with a customizable "book now" widget as well as onto your social media pages.
Setmore also allows you to display customer reviews on your booking page, book unlimited appointments, and access reporting and analytics on your performance and customers.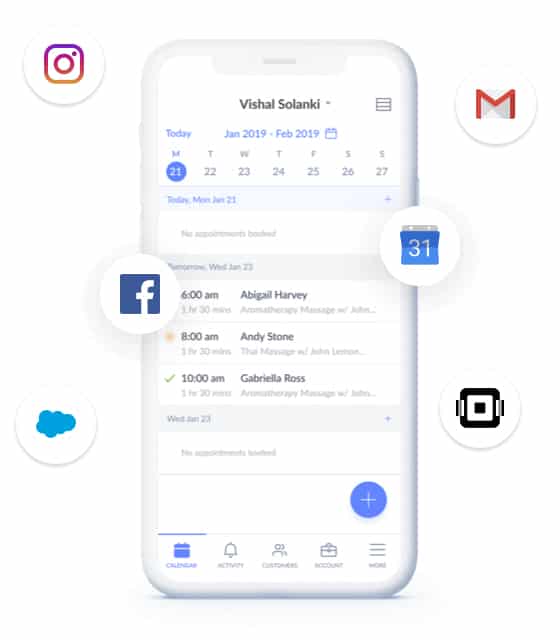 ---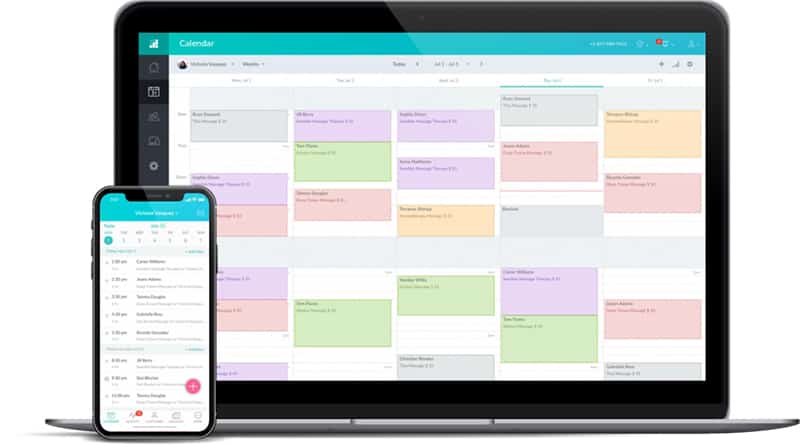 ---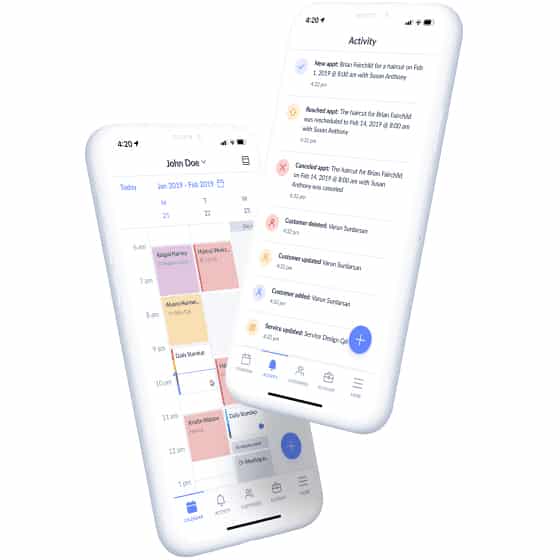 ---
What Setmore Is Missing
Unlike Acuity, there are no intake forms with the Setmore app, so you can't easily gather the info you need on clients. You would need to do that through another platform and then apply the info to your client list in Setmore. Additionally, there is no customer app where clients can manage their own appointments, as there is with Vagaro and Acuity. The pricing structure for the paid plans also makes Setmore costly for larger enterprises, unlike the flat structure you find with Acuity or HoneyBook.
Square Appointments: Best for Solo Service Workers & Salons
Square Appointments

What We Like
Free for one person
Accept payments from the app including prepayments and cancellation fees
Includes a client-facing automated messaging tool
What's Missing
Only integrates with Google Calendar
No intake forms
No video appointment integrations
Square Appointments offers a free plan for individuals that is easy to use, packed with useful features, and available on both iOS and Android operating systems. Free features include a custom-branded online booking website, automated text and email appointment reminders, detailed customer profiles, and an automated messaging tool so clients can book and reschedule 24/7.
Although it offers the best value for individuals, it also has a few standout features in its paid plans that make it a good fit for salons and spas needing an appointment POS, including integrated commission reporting, commission tiers, resource booking, multi-staff appointments, loyalty programs, and messaging/marketing campaigns.
Like Setmore, Square Appointments does not offer a customer app. Rather, clients book through a booking page. Look to Vagaro or Acuity for apps for your customers. Square Appointments lets you add a booking to your website and social media pages so customers can access your booking page from these locations, but unlike Setmore, the widget cannot be customized.
You can also sync Square Appointments with Google Calendar, customize your availability, and manage clients through the app. The app processes payments, so your customers can purchase their appointments when they book, and you can have a card on file in case of no-shows or sudden cancellations.
In our evaluation, Square Appointments earned 4.08 out of 5 for its robust features and free option, losing points mainly for its lack of calendar and video integrations.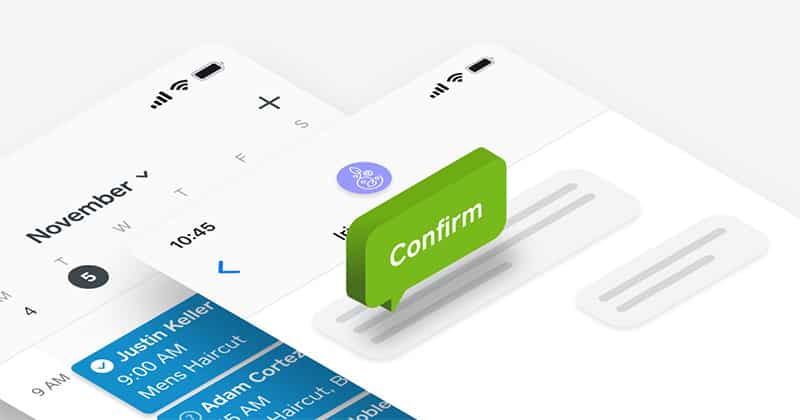 ---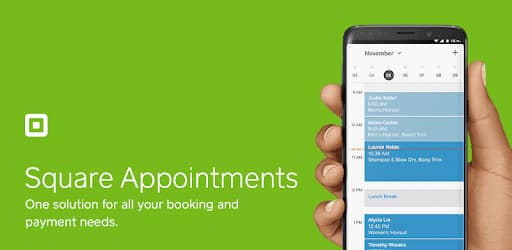 ---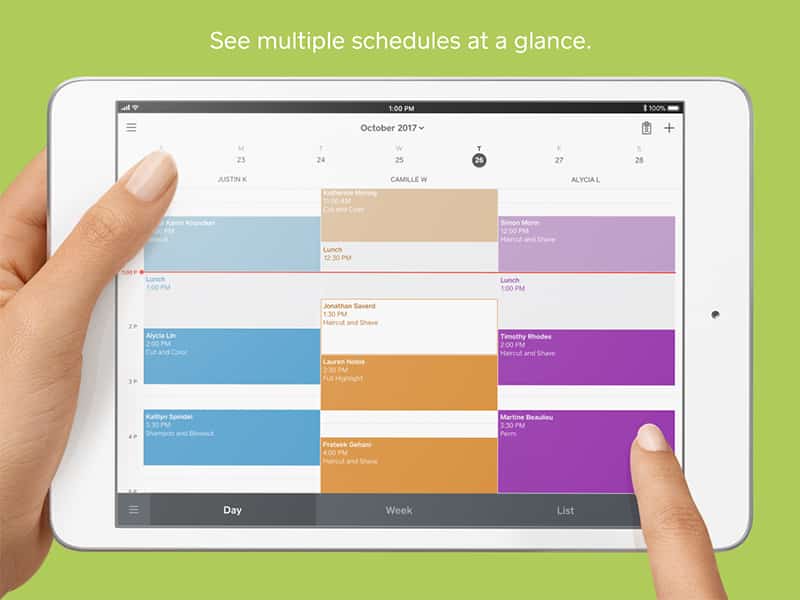 ---
What Square Appointments Is Missing
Square Appointments is a great option for someone just starting out with a solo business, thanks to the free plan and integrated payment processor. However, it doesn't support class or group appointments as Acuity does. Also, because Square Appointments only integrates seamlessly with other Square products, it's a somewhat limiting option if you're already using other software you like such as CRMs, calendars, or another payment processor.
HoneyBook: Best for Internal Meeting Scheduling & Management
HoneyBook

What We Like
Project management features
Daily overview dashboard
Internal meeting scheduling
What's Missing
No class bookings
No free option
Limited calendar integrations
HoneyBook is a bit different from the rest of the tools on this list as it has both customer appointment management tools as well as internal meeting and project management features.
With HoneyBook, you can manage internal projects, assign tasks and questions to co-workers, set meetings, and see your entire day at a glance on the employee dashboard. On the dashboard, all your tasks, projects, incoming questions, meetings, appointments, and overview calendars are conveniently displayed so that you can get a snapshot of your day and stay on top of what you need to handle.
In addition to internal management, HoneyBook also has customer/client appointment and management options. Whereas with our other options, customers could make appointments directly, with HoneyBook, you share your personal schedule link and customers can make appointments from there. There are no website or social media integrations like you see with Vagaro. From there, any customer appointments will sync with your personal calendar as well as your customers' Google calendar.
You can also customize HoneyBook's customer interface to your brand. This means that when your customers are making their appointments, the entire experience will be branded to fit your business, creating a cohesive customer experience. Not only that, but you can invoice customers directly through HoneyBook, making it easy to get paid.
With its great appointment and project management tools, HoneyBook earned at 3.60 out of 5 in our scoring—booking limitations and higher pricing are its main pitfalls.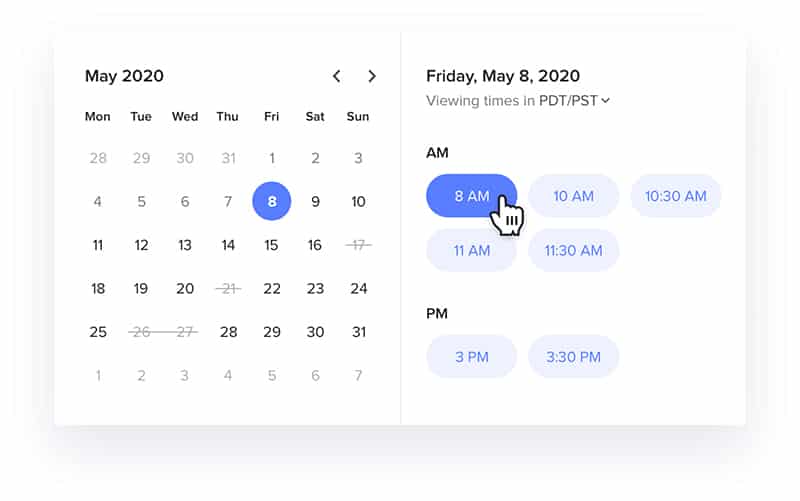 ---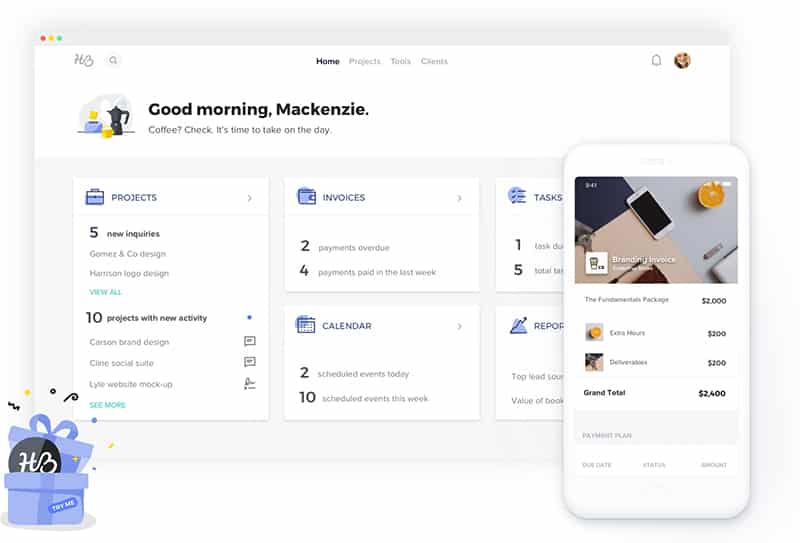 ---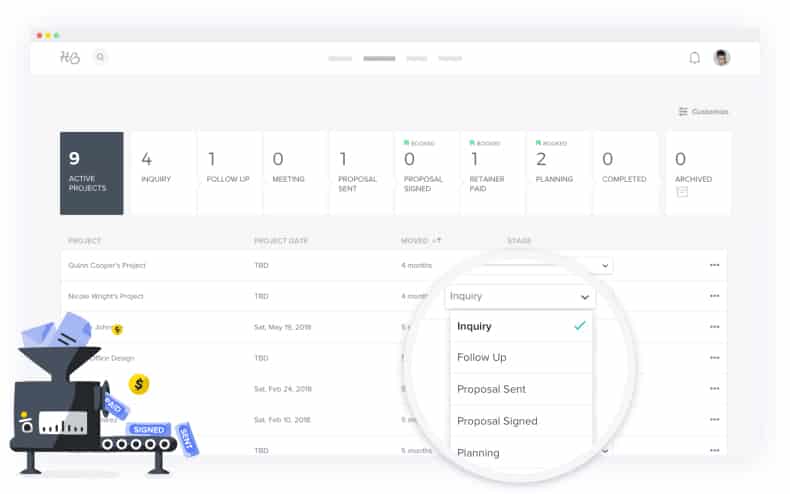 ---
What HoneyBook Is Missing
While HoneyBook is a great option for keeping track of your daily tasks and managing your meetings and appointments all in one place, the app does have a few shortcomings. First, unlike Vagaro, Acuity, and Setmore, there are no group/class appointments. Additionally, HoneyBook requires you to use its payments processor for all your transactions (Square and Vagaro do the same). It also had relatively low ratings in the app store due to bad customer service experiences and functionality glitches.
Bottom Line
Freelancers, salons, auto shops, and software companies have two obvious needs in common: clients and appointments. Both of those needs require the best appointment scheduling app. Being able to access, book, and adjust your appointments from an app on your phone saves an entrepreneur or small business a lot of time.
Vagaro is our pick for the best appointment scheduling app because of its affordability, flexibility, and feature-rich plans. It works well for almost any small business that relies on customers booking appointments or meetings. You can try Vagaro free for a week.