Auction software gives users a platform to organize, manage, and conduct live auctions either as a way for a business to sell their products or for nonprofit organizations to fundraise. We looked at the most popular options and up and comers and reviewed Silent Auction Pro, the WordPress plugin Ultimate Auction, and 32auctions. These services covered the range for small businesses in terms of features and price. Read on for our comparison and review of these three options, as well as our top recommendations.
Best Auction Software for Small Businesses in 2017: Ultimate Auction
We recommend Ultimate Auction as the best auction software for small businesses in 2017 because it offers the most flexibility, it can be used as an ongoing revenue stream, and it's affordably priced.
Auction Software Comparison Table: Ultimate Auction vs Silent Auction Pro vs 32auctions
Ultimate Auction

Silent Auction Pro

32auctions

Best For

Frequent auctions as a part of your business' ongoing revenue stream

Individual auctions, such as events or fundraisers
Basic functionality for free
$99
$99 for one event20% discount for second event30% discount for third and subsequent events
Free

Intermediate

Easy
Easiest
Sell downloadable items
Third-party payment processing integrations
Multi-currency support
Powered by Wordpress, so most flexible
Fully responsive design
Supports third-party auctions
Event management
Contact management
Donor management
Generate and print supporting materials, such as bid sheets and gift certificates
Private auctions
Third-party payment processing integrations
Fully responsive design
Online knowledge base, live chat, and email support
Online knowledge base, email, and phone support
Online knowledge base and email support
Best Auction Software for Small Businesses: Ultimate Auction

We recommend Ultimate Auction as the best auction software for small businesses because it offers the greatest flexibility, it can be used as an ongoing revenue stream instead of on a per event basis, and it's competitively priced.
Because Ultimate Auction is a WordPress plugin, your auctions will be built on the same platform as just over 25% of the internet. As one of the original and most popular website platforms, WordPress is supported by a large community of users and developers who contribute endless themes and plugins to add to your website. We have a full guide on how to build a WordPress Website in under an hour.
This gives you an endless amount of flexibility in how you design and build your website. Or you can use the theme that Ultimate Auction already includes. Neither Silent Auction Pro nor 32auctions can offer nearly the same level of flexibility to customize.
Ultimate Auction gives you several options for how to structure and manage your auctions, including:
Straight auctions – where users bid on an item and highest bid after a defined time purchases the item
Reverse auctions – where auctions start at a defined amount, then users bid down — useful for requests for proposals from vendors
Regular bids
Proxy bids – where a user bids a maximum amount, then the software automatically increases their bid to that maximum by small increments as they're outbid by other users
Physical goods – including fixed shipping costs above the final bid
Downloadable items
Ultimate Auction integrates with PayPal for payment processing, supports multiple currencies, and can add local sales taxes to the winning bid. You can even use Ultimate Auction to manage third-party auctions where other users post their items for sale to your website and you charge a commission on their sales.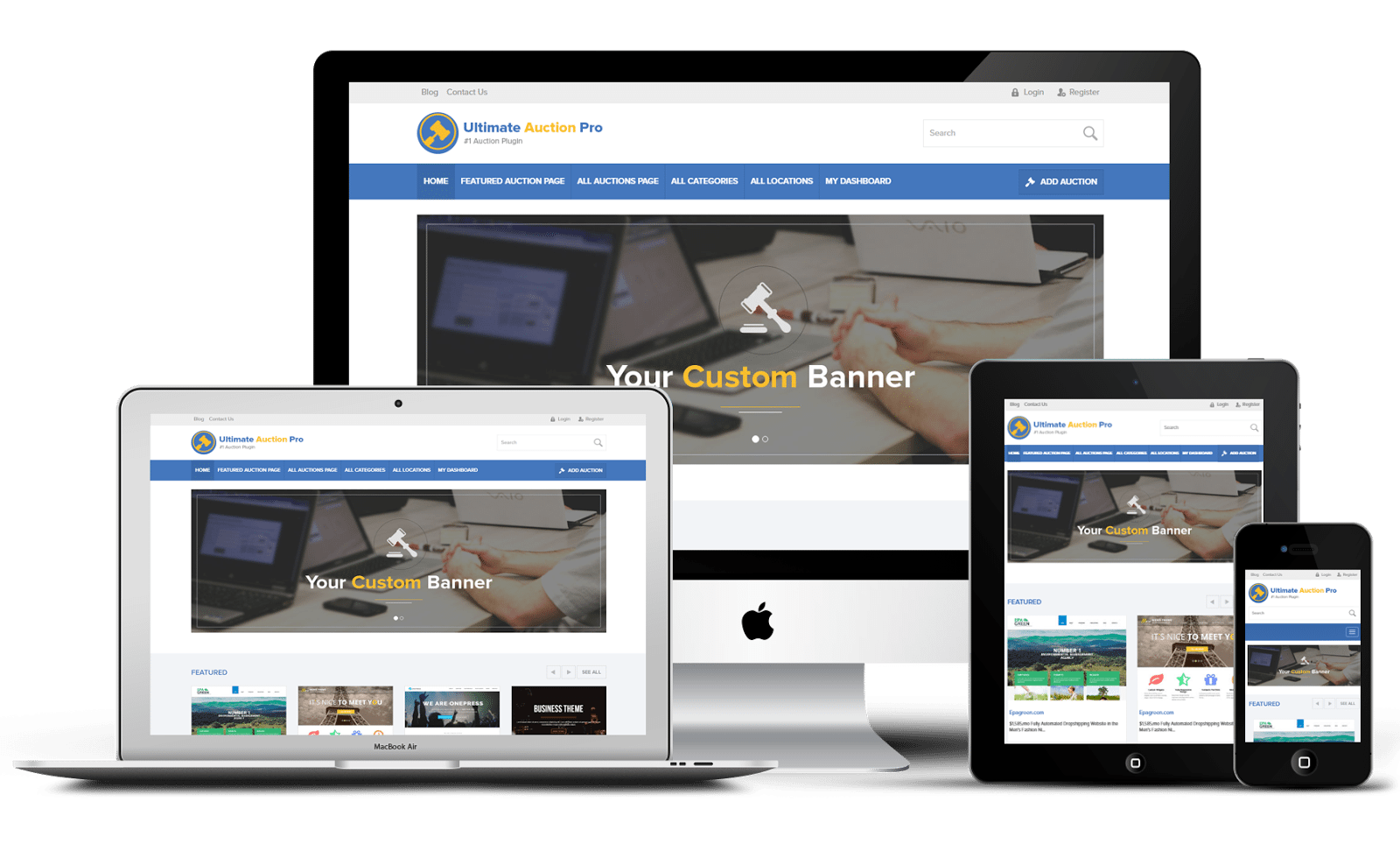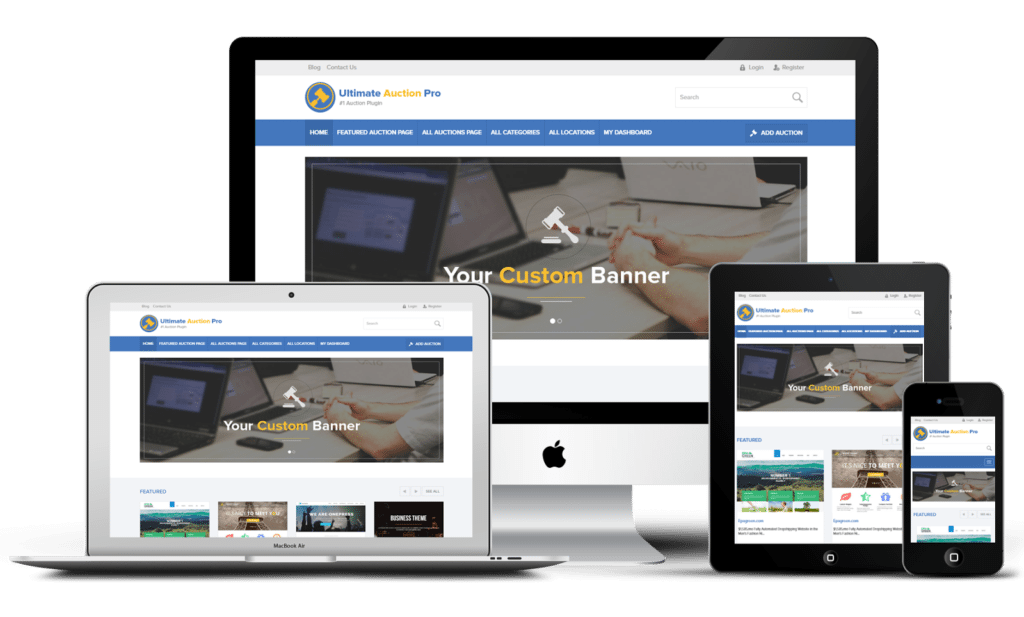 Like 32auctions, the theme that Ultimate Auction includes is fully mobile responsive, something that you have to pay an additional $299 for with Silent Auction Pro.
The primary downside to Ultimate Auction is that it requires time and effort to set up, including a new Wordpress website if you don't already have one. As well, it can only be used on the WordPress platform.

We recommend Silent Auction Pro as the best auction software for events because of the wide range of features it offers to help you promote and manage your event as well as the auction component of it.
Similar to Ultimate Auction, Silent Auction Pro lets you choose between straight and reverse auctions and supports regular and proxy bids. However, it also offers other features that differentiate it from Ultimate Auction and 32auctions.
Silent Auction Pro is targeted towards fundraising events where auctions will be a one-time occurrence rather than an ongoing revenue stream. That's not to say that for-profit businesses can't make use of its features, of course, but it helps to add some context around why they offer what they do and may help you make a more informed decision.
Silent Auction Pro provides an end-to-end solution to help you manage any auctions at your event. Contact management, donation management, and the ability to generate and print supporting materials such as bid sheets or gift certificates are all included in the base AuctionCore package. While Ultimate Auction and 32auctions are effective tools for managing online auctions, neither can compare to the range of features that Silent Auction Pro offers for events.
However, since Silent Auction Pro is targeted towards events, there are relatively few customization options when compared to Ultimate Auction. You may add your business' logo, but that's about it. As well, there is no mechanism for processing payments once bidding on an item has closed unless you upgrade to a more expensive package. Finally, only physical items are supported, not downloadable ones.
Best Budget Auction Software: 32auctions

We recommend 32auctions as the best budget auction software because it's one of the very few on the market to offer a free package, albeit one with very few features or customization options. However, their à la carte pricing model lets you add, and pay for, only those features that your business needs.
32auctions' free auction package includes the following features:
Up to 20 items
One image per item
Basic donor information storage and management
Fully responsive and templated design
Regular bids, proxy bids, and buy it now option
Add shipping fees on top of winning bids
Third-party payment integration
Metrics and analytics
However, there are some downsides to their free auction option, such as the inclusion of third-party ads, limiting you to one image per auction, and 32auctions branding. Businesses have to pay additional fees to remove these ads and/or add their own branding.
In-Depth Review: Ultimate Auction vs Silent Auction Pro vs 32auctions
Pricing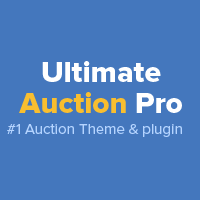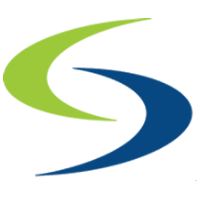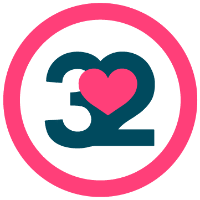 Ease of Setup/Use
Ultimate Auction, Silent Auction Pro, and 32auctions are very different platforms that involve different setup processes, each with their relative difficulties. Let's look at each one in more detail.
Because Ultimate Auction is a WordPress plugin, there may be several steps to its installation.
If your business already uses WordPress to power your website, then this process will be a little easier. If not, or if you want your auctions to live on a standalone website, then your first step will be to build and launch a WordPress website. This doesn't need to be as complicated as it sounds — there are plenty of website hosts that will complete the installation for you for free and we have a full guide on how to setup wordpress as well. Ultimate Auction comes with pre-built themes you can use to jumpstart the design process.
Once your Wordpress website is up and running, you'll need to install the Ultimate Auction plugin. This is a very easy process — literally, just a few clicks to install and activate it. If you want to customize the design or layout of your website, WordPress gives you access to most files through its administration dashboard or you can access them directly on the server that's hosting your website.
While it's possible for someone who is web savvy to make minor changes to the PHP and CSS, we recommend that you hire a web developer to be safe. Because there is such a large community of people who use WordPress, finding a good resource on a freelancer site like Upwork is generally easy.
From here, the process to set up your auction is relatively easy — particularly if you've ever used popular services like eBay.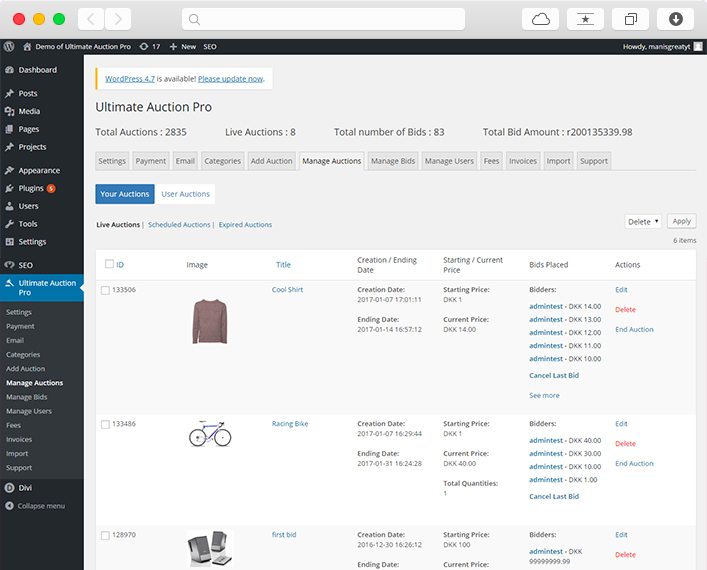 All of your auctions are managed through the easy to navigate WordPress administration dashboard.
Silent Auction Pro is an entirely web-based service, so unlike Ultimate Auction there is no need to setup your own website to host the auctions first.
That said, the administration and configuration of Silent Auction Pro is more involved than with Ultimate Auction. As well, the user interface is quite dated and does not incorporate many modern advances in usability and user experience design.
Fortunately, though, Silent Auction Pro does include a very comprehensive help section on their website. The wiki-like format includes step-by-step instructions for any and every function you could want to perform and most are accompanied by links to YouTube videos that walk you through the process.
A demo section also lets you create mock auctions so you can learn the process before you work with your business' actual data and live auction.
Because 32auctions is a more basic service, the setup has relatively few options and is therefore easier to complete. With minimal information required, you can have your auction live within minutes of creating your account. The auctions are also private, giving you the control over who is permitted to view it based on who you provide the unique URL to.
The auctions themselves are equally easy to navigate and participate in, with information simply laid out and prompts for users clear.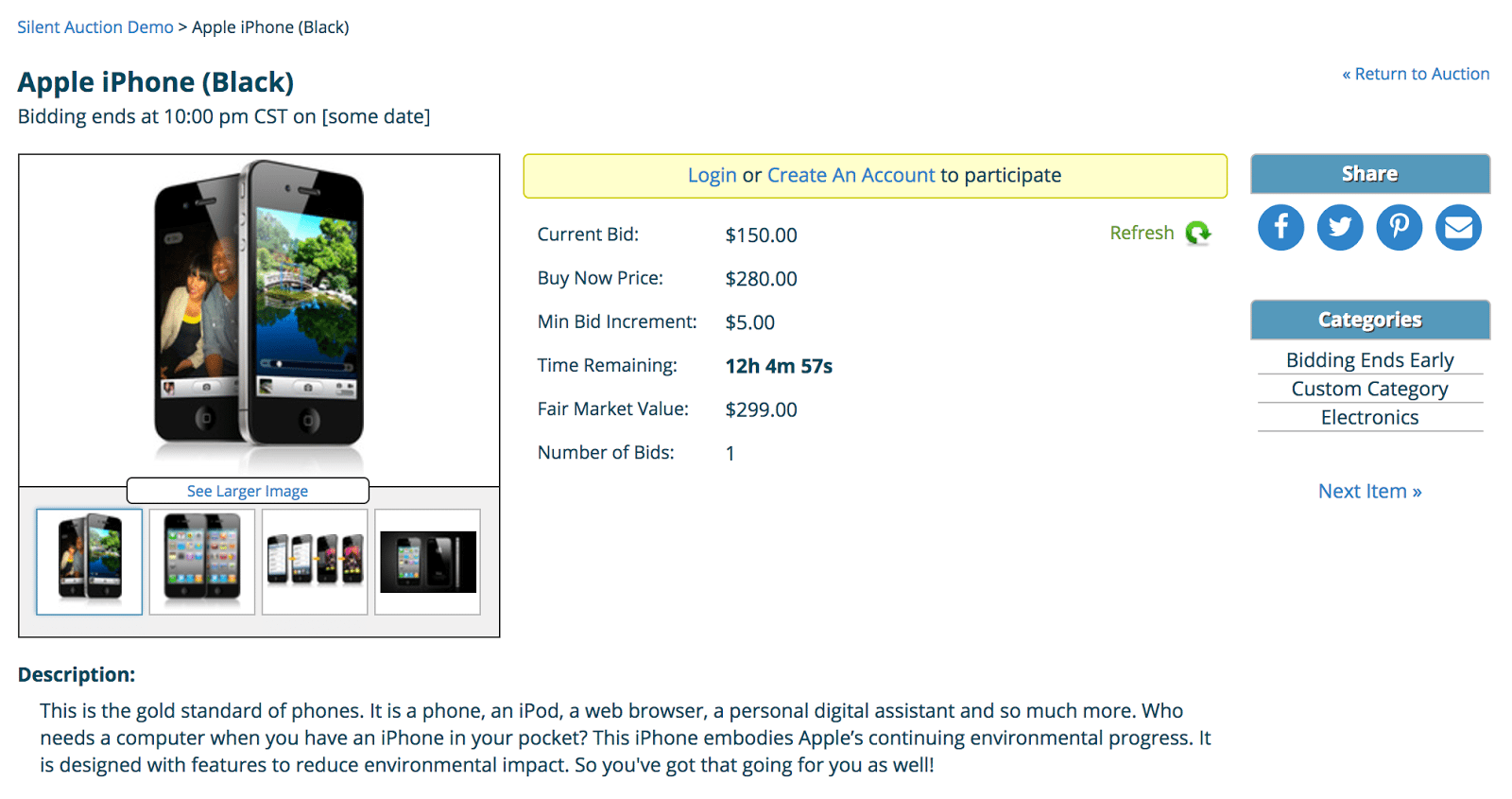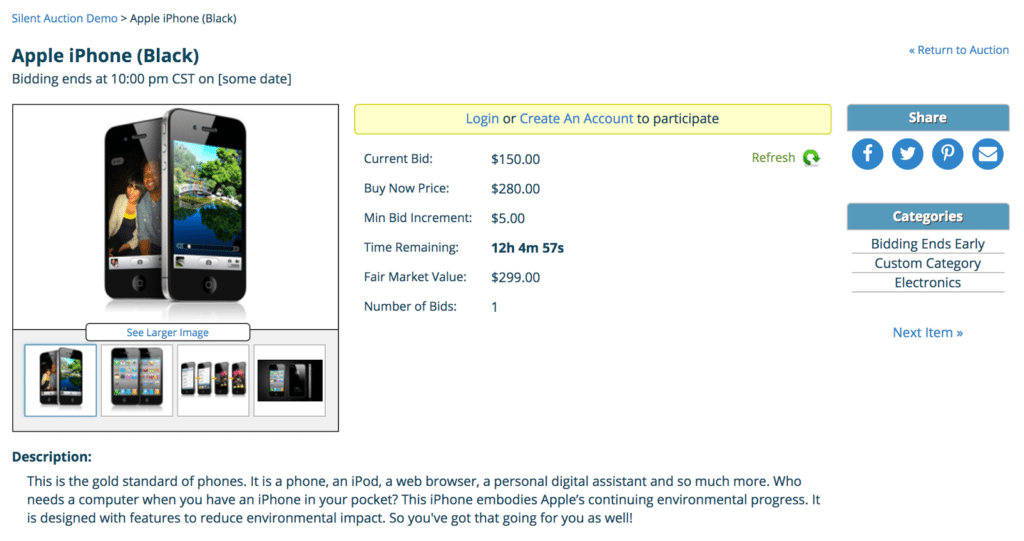 Features
Ultimate Auction, Silent Auction Pro, and 32auctions all deliver the basic features that you need to manage your auctions, albeit in different ways.
Straight or reverse auctions
Regular or proxy bids
Metrics and analytics
Bidder and donor information
Additional shipping fees
Design templates
But because all three are targeted towards different types of business uses, they each offer some unique features.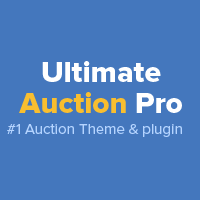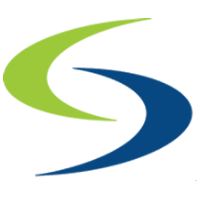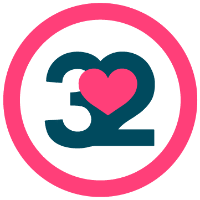 Customer Support
Ultimate Auction, Silent Auction Pro, and 32auctions all offer similar customer support options. All three offer online knowledge bases, with Ultimate Auctions' and Silent Auction Pro's being much more comprehensive, as well as email-based support.
Ultimate Auction also offers live chat support and Silent Auction Pro is the only auction software of the three to include phone support.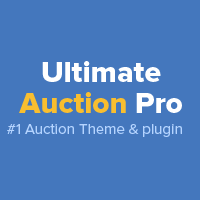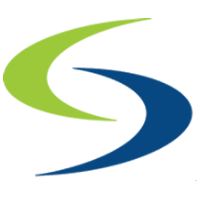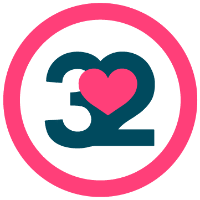 Other Auction Software Options
There are many other auction software options on the market that may be a better fit for your business' needs. Here are some of the others that we liked and what makes them unique:
| Provider Name | What Makes It Unique? |
| --- | --- |
| | Best software for small businesses, especially for ongoing revenue |
| | Best for events |
| | Best budget option |
| | Targeted to non-profits, specifically schools |
| | Targeted to non-profits more broadly, exceptional customer support |
| | Another alternative for events |
| | Comprehensive end-to-end solution |
The Bottom Line
Ultimate Auction represents the best combination of flexibility, included features, and price. It's powered by WordPress, which means there is an endless community to support it; it is the best of the three software we reviewed to support auctions as an ongoing revenue stream; and, it is reasonably priced when compared to most alternatives. As such, it is our recommendation for the best auction software for 2017.