Black Friday is the most popular shopping day during Thanksgiving weekend, with sales reaching $717.5 billion in 2018. Retailers work year-round to plan the best Black Friday marketing ideas and boost sales during the season. This includes launching flash sales and collaborating with other businesses for unique deals to stand out from the competition.
Here are 15 of the best Black Friday marketing ideas you can use to maximize your sales:
Before Black Friday Sale
People tend to spend more during Thanksgiving weekend than at other times of the year, and business owners all aim to get a large share of the pie. This is why it's not unusual for retailers to prepare for the season months ahead of time. This allows them to launch their campaign just early enough to stand out even against their largest competitors.
1. Audit Your Online Presence
Regardless of whether you have an online store or not, it's important to do a thorough check up of your online presence. Consumers nowadays begin their shopping with a quick Google search of stores they find interesting, and if your business information online is not updated, you might end up losing potential customers. You should make sure that your address, phone number, and business hours are accurate on all online directories.
Here are some ways to check for your business information online:
Visit business review platforms like Yelp and check for your company information.
Verify and claim your local business listing with Google My Business.
Run a free scan using tools like Yext.
Search for your business name on Facebook.
For online stores, this kind of audit is slightly different. Online store owners will want to make sure that their website ranks high on search results pages so this process will mean improving their website design and content to conform with search engine algorithms.
2. Collaborate With Other Businesses for Unique Deals
Customers expect the best deals on Black Friday, and it doesn't always mean offering the largest discounts or the lowest price. You can also focus on providing unique deals by partnering with other businesses. People won't mind purchasing products at a premium if you offer them something that they won't find anywhere else.
The best collaboration ideas would be products that complement each other. For example, creating a bundle of three books (or series) and a high quality reading light (or pair of reading glasses), or selling a bundle that partners a T-shirt with a backpack for kids. These are really good deals that are not sold at a very low price but make up an offer that customers might not find again after Black Friday.
3. Send Exclusive Deals to Your Email Subscribers
This is your opportunity to strengthen your engagement with your email subscribers. They are your audience and already interested in your products, so you should capitalize on the Black Friday season to score more sales. The idea of exclusivity will make your offer more attractive to your buyers and will motivate them to visit your store.
Remember that the Black Friday sale is a competitive season on discounts and promotions so make sure that your email is short, simple, with an effective CTA and immediately leads to key messages that will convince your audience to buy your products.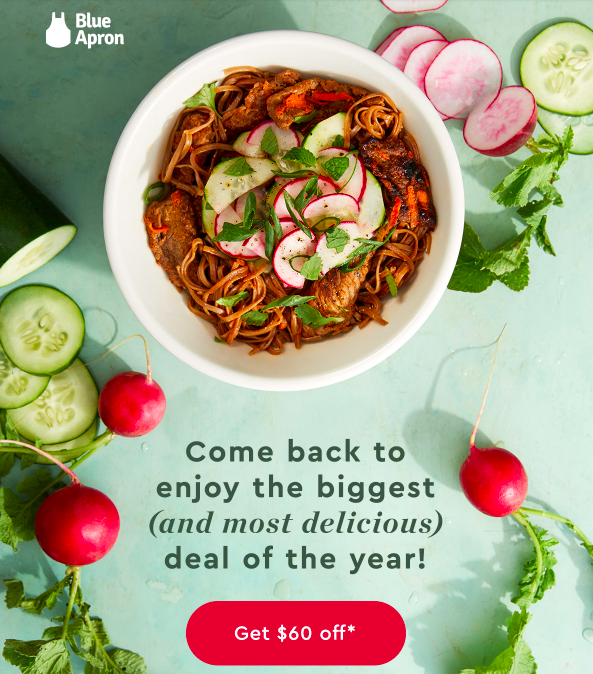 This Black Friday email marketing campaign from Blue Apron makes use of the season to regain lost customers with attractive deals
4. Market Heavily Through Social Media
With the right strategy, social media can play a crucial role in increasing your Black Friday sales. Use your social media account to build excitement over your planned events on Black Friday by posting relevant content and creating activities to engage your followers. Your posts should be properly planned and well timed to continue engaging followers before, during, and after Thanksgiving weekend.
Some social media marketing ideas for Black Friday are:
Promoting your own hashtag
Creating teasers using short video clips
Sharing Black Friday store design photos
Starting a giveaway event through your social media
Offer discounts and vouchers in exchange of post sharing (retweeting)
Offer gift cards to customers who share their experience while shopping in your store
One professional tip for getting followers to engage with you over social media is to keep your game mechanics quick and easy. Asking your followers to spend more time than they would necessarily do when browsing social media for leisure will most likely make them lose interest.
5. Make Your Business Available Offline and Online
One of the best times for businesses to branch out is during Thanksgiving weekend sale. Brick and mortar shops can finally launch their online store while shoppers are aggressively looking to buy. On the other hand, online stores can test their business offline with pop up shops. People are out and about to begin going through their Christmas shopping list and both online and offline shops are assured a higher chance of visibility and success with their expansion.
Shopify is the perfect ecommerce platform and point-of-sale solution for your business expansion. Its online sales platform offers beautiful, responsive themes to complement your brick and mortar shop, and its point-of-sale system works well for running pop up shops. It can also seamlessly integrate with fulfillment providers like Oberlo for your shipping needs. You can try Shopify for free.
6. Redesign Your Shop
Invest in redesigning your shop in anticipation of the Thanksgiving holiday weekend. Because business owners are taking a huge risk at lowering their prices, each and every store will want to make sure that they are able to get a return on their investment by maximizing their sales. It's important that your store doesn't get lost in a sea of Black Friday ads that vie for attention from consumers.
Here are design suggestions for brick and mortar shops:
Hire professionals like Mira Signage so you can design your own Black Friday signages to put up in and out of your store.
Update your window displays.
Audit and evaluate your store's layout to maximize your shopper's experience.
Update your online store design with these suggestions:
Add Black Friday welcome pop ups and offer special discounts for email subscriptions
Display a Black Friday sale countdown and your discount offers on the main page
Improve the design of your checkout window with larger buttons and intuitive product suggestions
Your customer's shopping experience is of the utmost experience especially during sales like Black Friday. Both online stores and brick and mortar shops should start planning improvements to their front-end processes to make sure customers come back for more.
During Black Friday Sale
Whether your business is online or offline, you want the frenzy that goes along with Black Friday to affect your store. This is why your marketing plan should not stop as soon as Thanksgiving weekend starts. As a business owner, you'll want to sustain the high energy from shoppers inside your shop with more engagement and strategies that convince them to stay longer and buy more products.
7. Distribute a Gift Guide
If you haven't done it yet, make sure you send out gift guides to your subscribers and even to potential customers as they come into your store. A gift guide is a catalog of products featured during a sale, and usually includes special discounts and coupons. You can distribute printed gift guides right outside of your store.
For online shops, make sure your gift guide is available and prominent on your main page so customers will easily find it and download. Gift guides are the perfect opportunity to add high impact call to action (CTA) to get customers buying more.
8. Create Special Hourly Flash Sales
A flash sale is a selling strategy where products are available for customers at prices that are significantly reduced for a specific time. This motivates customers to make immediate buying decisions for fear of missing out on a great deal. Business owners use this strategy during Black Friday sales so they can time their offers strategically and help them avoid coinciding with sales of their competitors.
Consider automating your next Thanksgiving weekend flash sale with ecommerce automation tools like Launchpad by Shopify. Launchpad helps maximize sales for Shopify Plus businesses during and after the holidays while also allowing them to put more focus on growing their businesses and still efficiently execute complex sales strategies like flash sales.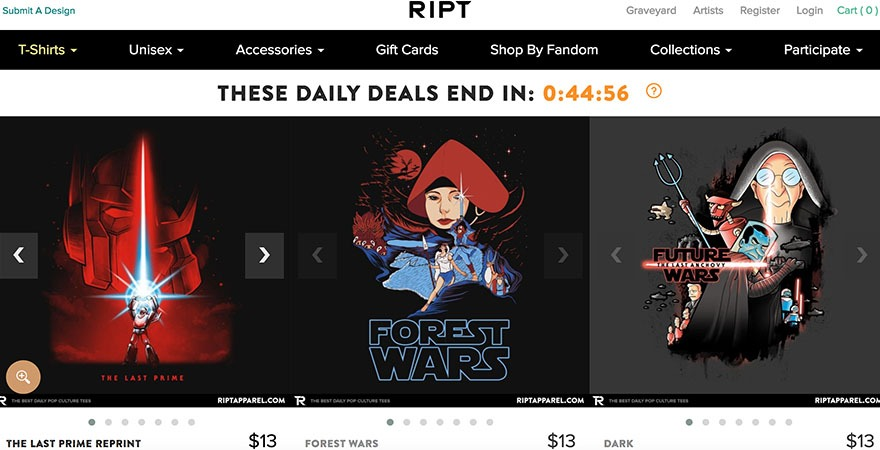 Use a flash sale countdown timer to motivate sales from customers through fear of missing out on the best deals
9. Extend Your Business Hours
Extending business hours during the Black Friday sale is common for business owners. Remember that consumers spend most of the day outside going through shops, and this allows store owners to accommodate late shoppers during the season. Because of the unusually high volume of shoppers, businesses have the opportunity to start earlier than usual, close later, or even both.
However, business owners should give this strategy serious thought before implementing. Remember that with extended business hours, you also incur overhead expenses like electricity and payroll. Proper analysis should be done on previous year's sales and expense data to make sure that the cost of extending business hours is worth the potential sales for the business.
10. Improve Your Customer's Checkout Experience
Brick and mortar stores enjoy more foot traffic during Black Friday, which means there will be more opportunity for sales. Smart store owners should include plans on how to manage the volume increase of transactions to be processed during their Black Friday sale preparations, and make sure that the staff is equipped and well trained.
Vend is a retail point-of-sale (POS) system that's fast and easy to use which means being able to process more customers. It's omnichannel selling features also integrates well with Shopify and works on any device with a web browser. Vend also features customer management and loyalty software that will allow retailers to design their own custom loyalty program.
11. Offer Surprise Savings at Point of Sale
Another strategy that's worth trying is offering surprise savings at your point-of-sale system. If you have customers waiting in queue for a long time who lose interest in the shopping experience, you're at risk of losing a sale. A point of sale marketing strategy will give your customers a reason to stay and motivate them by rewarding their patience. It improves the overall buying experience and will promote a positive image of your brand, even after the season ends.
After Black Friday Sale
Even with Cyber Monday around the corner, there are still a number of ways to make more sales after Black Friday passes. People are usually looking for ways to purchase more merchandise, and any discounts attributed to Black Friday (even after the fact) are enough to get customers buying. It's important to remember that people will have just started working on their Christmas gift list, which means they'll still be inclined to spend more, even after Thanksgiving weekend.
12. Share Highlights of Your Black Friday Events
Although consumers give themselves some well-deserved quick breaks over the weekend, you should still make sure that your store stays at the forefront of their minds. Share highlights of your Black Friday activities to remind customers how much they enjoyed shopping in your store, or to show people who didn't drop by during the sale what they missed out on.
Some ideas to consider are:
Announcing winners of your Black Friday giveaways with a poster on your store's wall or sharing it on your website as well as your social media account
Tag loyal customers on their photos and add a short feature with a hashtag
Print out special loyalty cards to celebrate a successful season and hand them out to your customers
If you connected your Black Friday sales with a good cause, you can share how much you raised and celebrate it on your website
Be sure to have this stage of your Black Friday marketing strategy planned out from the start. For example, install photo booths in your brick and mortar shop during the sale and share photos on your social media after the event.
13. Offer Last Minute Deals
Last minute deals for Black Friday sales are a great way to motivate customers to buy on impulse. Assume by default that not all interested buyers managed to reach your store or had time to. Now that other sales are done, your last minute deals will stand out more and those who didn't have an opportunity to get to your Black Friday sales on time will have a chance to enjoy similar deals before it officially ends.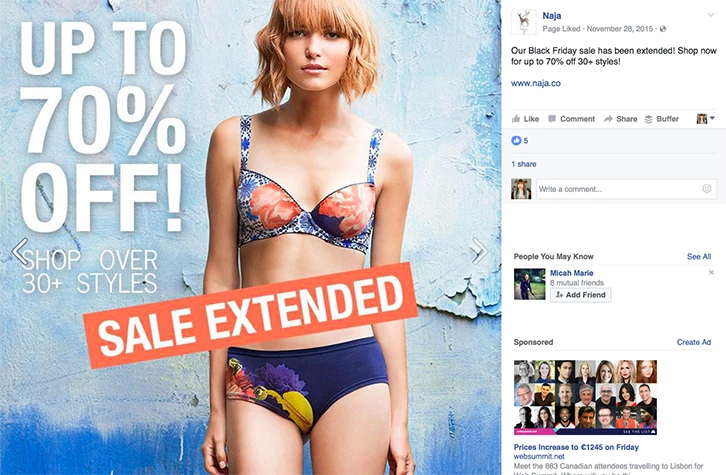 Your last minute deals should be directly related to your Black Friday sale to complete the idea of "last chance" purchase
Like your other Black Friday marketing strategies, last minute deals are only called as such. The truth is, you should already have any last-minute discounts planned well in advance of the holidays. The only bit that may vary are the sale products that are left in the store. You can sweeten the pot by raising the discount or adding the product to a set for a special price.
14. Nurture Your New Leads
Black Friday sales are bound to give you new leads, from first-time email subscribers to new loyalty rewards members. These are the prospects to whom you should market. Nurture this relationship by reaching out to them on a regular basis and giving incentives that will help turn them into loyal customers.
Use social media and email to offer exclusive deals and special discounts. Give your leads first access to newly launched products and ask for their review to make them feel appreciated. You can even send special notes and tokens on their birthdays.
15. Initiate Your Cart Abandonment Remarketing Strategy
For online stores, cart abandonment (and even checkout abandonment) remarketing is an important tool for maximizing sales. A lot of online customers leave their carts at or before reaching the checkout stage for a number of reasons. Whatever the reasons, you should always have a remarketing strategy ready to be implemented in order to convince lost customers to complete their purchase.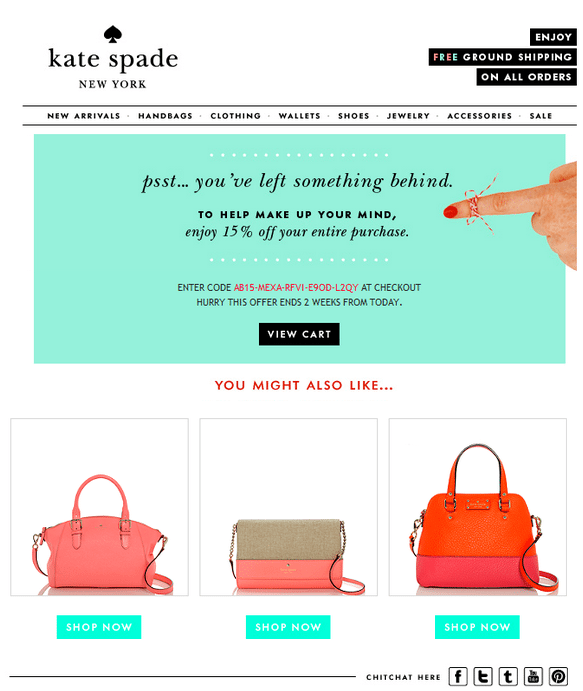 Kate Spade's abandoned cart email offers discounts, especially for lost customers
There are a number of tools you can use to set up your remarketing strategy. There's Mailchimp, an email marketing service with an extensive remarketing tool and access to other service platforms. These tools will help you bring customers back to the buying stage where they left off so they can complete their purchases.
Bottom Line
Thanksgiving weekend is the time when millions of people start on their Christmas shopping list. Consumers look forward to hefty deals and jaw-dropping discounts to get the most out of their budget. Therefore, retailers should take advantage of the season with the best Black Friday marketing ideas to cut through the Black Friday marketing noise.