Providers of the best business cards online make it easy for you to create and print your own business cards, either using your own design or with predesigned templates. We looked at a variety of online providers and narrowed it down to these six best options in terms of price, available designs, and turnaround time.
Top 6 Business Card Providers 2019
| Business Card Providers | Best For |
| --- | --- |
| | (Best Overall) Small businesses that need quality affordable business cards |
| | Photographers and other artistic brands that want high-end cards with photo printing |
| | Businesses who want unique cards with materials like wood, cork, or linen |
| Zazzle | Businesses that want to choose from an extensive library of professionally designed, customizable card templates |
| | Businesses whose highest priority is fast turnaround of affordable online business cards |
| | Businesses that need personal help designing and ordering cards at in-person and online locations |
How We Evaluated Business Card Printers
The reality is that business cards are the kind of thing people don't realize they need until they've pretty much run out. They also are one of the most tangible representations of your brand on a regular basis since they are the most common leave-behind marketing materials at networking and sales events. That means that the best providers need to be able to produce high-quality cards with a fast turnaround.
To determine the best, based on the factors important to small businesses, we looked at:
Price: Ordering new business cards shouldn't be expensive, so we took into consideration the base price as well as any add-ons to find options that were affordable and a good value.
Quality: Since business cards are often one of the most common ways to leave behind a representation of your company, it matters that they are done well. Professional looking materials, as well as accurate color and cuts, add up to the right impression.
Turnaround time: If you need new business cards, you probably need them now. We looked at the standard order production time as well as what shipping options are available to help you choose the quickest providers.
Templates & design tools: Business owners who are creating their own cards need simple design tools and predesigned templates to choose from, so we looked at how the options on our list made it easy to create professional looking cards.
Paper & enhancements: While most business cards are relatively simple, we looked at each provider to see what types of additional options are available, especially heavier paper stocks and foil printing.
We recommend Vistaprint based on its ability to provide quality business card printing for small business at affordable prices. Vistaprint offers a standard turnaround time that is comparable or better to the options on this list and offers a variety of design options as well as paper stocks and printing enhancements.
Best Overall Business Card Provider for Small Businesses: Vistaprint

Vistaprint is the best overall business card provider for small businesses as a result of its large library of templates, easy design interface, fast turnaround, and affordable pricing. It offers basic card printing for $16 for 100 cards, making it also the most affordable option on this list and great for companies on a budget needing quick service.
Vistaprint Pricing
Vistaprint charges a relatively inexpensive $16 for 100 cards. Options like paper stock, die-cutting, folding, and specialty printing are available at additional costs ranging from $6 to $20 per 100 cards. For example, rounded corners are available for $24 for 100 cards, and metallic ink is available for $29.95 for 100 cards.
Vistaprint Features
Vistaprint includes an easy-to-use design tool along with a vast library of templates, along with a variety of paper options and add-ons. Users can design everything from basic business cards to cards with metallic ink and foil printing.
Templates & Design
Vistaprint has a library of more than 8,500 templates to help you get started, which is more than FedEx Office, but less than the 100,000-plus offered by Zazzle. In addition, you can upload your own design, or use its simple-to-use design tools to create the ideal business card for your brand. Vistaprint also offers a service that allows you to have a professional graphic designer create your design in as little as 24 hours.
Ease of Use
The ordering process is straightforward via the Vistaprint website. Likewise, the design tools and template library are easy to navigate and use to create professional looking business cards. Even users who aren't experienced designers can create cards without a problem.
Turnaround Time
Vistaprint is generally reliable and quick when it comes to turnaround times. In fact, it currently offers eight predesigned templates that you can order for what it calls "fast shipping." Depending on your order size, some orders ship within 24 hours, which is as fast as any of the options on this list. In addition, Vistaprint provides an estimated shipping lead time when you place your order, so there are no surprises.
What Vistaprint Is Missing
While the template library is large, it lacks the more current design themes found in other options, especially compared to Moo. Vistaprint also does not have any physical printing facilities like FedEx Office, meaning that the only option is to order online and wait for them to be shipped to your home or office.
What Users Think About Vistaprint
User reviews are somewhat mixed about Vistaprint, though most users like the affordable products and print quality. Most of the negative feedback is the result of the fact that Vistaprint aggressively upsells additional products alongside you order, which many users find to be annoying at best.
Best for High-end Cards With Photo Printing: Moo

Moo offers the highest-quality printing of business cards we reviewed, although certainly not the least expensive. Moo cards start at 40 cents per card, for standard 16-point paper stock. Moo also offers a variety of die cut sizes and additional printing options like high-quality photo printing. This makes it best for photographers or artistic brands who want to showcase their work on their cards.
Moo Pricing
Moo pricing starts at 40 cents per card, with discounts available for orders of more than  200 cards. Users can upgrade paper types and finishing touches at an additional cost, ranging from 8 to 40 cents per card. Moo pricing includes full-color printing on both sides of the card, unlike most printers who charge extra for this feature.
Moo Features
Moo offers a variety of quality paper types, styles, and add-ons to customize your cards based on your brand. It also offers features like photo cards, mini cards, and other high-end paper choices as well as unique options like letterpress cards and business cards with digital near-field communication (NFC) chips embedded.
Templates & Design
Moo offers a variety of templates to use for your business card. While its library isn't as extensive as Vistaprint, it generally has a more modern design and has a higher-end feel. Moo also includes a design tool that is easy to use, even without graphic design knowledge. One area Moo is different than other options is that it allows you to order each card with a unique back by uploading a collection of photos, which is a great option for photo cards.
Ease of Use
Moo's website is probably the simplest to use, and because of the high-quality templates, it's simple to order professional-looking cards without having a graphic design background. Creating a collection of cards with different photos is as easy as uploading them and letting Moo automatically configure them on the backs of your card design.
Turnaround Time
Moo is one of the fastest business card providers we looked at, with a guarantee that if you order your cards before 2 p.m., you can have them delivered the next business day. While not every printing option from Moo is available this fast, but most of the standard and premium paper stocks and options are offered.
Paper & Styles
Moo's standard paper is a high-quality 16-point card stock, which is heavier than what you can get through Vistaprint. It also offers cotton paper, as well as 18-point and 32-point luxury paper stocks, the latter of which isn't offered by most other providers. Moo also offers ultra-high end options like letterpress cards and cards with an embedded NFC chip to share directions or digital contact information directly from your paper business card easily.
What Moo Is Missing
Unlike Vistaprint, Moo does not offer folded cards. While it offers some of the best business cards online, it lacks other printing services like flyers, posters, or invitations, which are available from other providers like Vistaprint. However, it does offer some other options like postcards.
What Users Think About Moo
Moo gets highly positive reviews, especially for its ease of use, print quality, and turnaround time. It is known for its exceptional customer service, and customers rave about the way it responds to any issues. One of the only negative areas that customers point out is that Moo is more expensive than most other providers.
Best for Unique Business Card Materials & Shapes: Jukebox

We recommend Jukebox as the best business card provider for unique business cards because of its range of cardstock options. It offers options that include materials such as wood, silk, cork, sparkle, or bamboo, plus a variety of different shapes. Pricing begins at $35 for 500 standard matte cards. Choose Jukebox if you want to make a statement with business cards that people likely haven't seen before.
Jukebox Pricing
Jukebox prices its business cards based on turnaround, giving you the option of "wait and save cards" and "same day business cards." Standard business cards are $35 for 500, which is more than Vistaprint, but slightly less than Moo. Unique materials such as wood or cork, are available for an additional $100 to $300.
Jukebox Features
Jukebox offers a variety of business card options, including standard printing as well as unique offerings like cork or silk business cards. Jukebox also offers fast printing on select options, which is a good choice for customers who need their cards quickly.
Templates & Design
Jukebox has the fewest number of templates, with more than 120 from which to choose. These templates are not as aesthetically pleasing as Moo's professionally designed templates, but you will still probably be able to find something that works for you. Jukebox also offers high-end business card design that allows you to submit an online request form for a custom design that you can review and approve to have printed.
Ease of Use
Partly because of all of the unique options available, Jukebox is a little more difficult to use than Vistaprint and Moo. It's not quite as intuitive and is harder to navigate. For example, at first, it seems that you have to purchase the cards before you can see a proof, though this is not the case. This differs from Moo and Vistaprint, which both have a "get started" button that walks you through the complete process without having to jump around the website.
Turnaround Time
Jukebox has same-day business cards available, but to take advantage of this fast turnaround time, you will need to be located in Vancouver to pick them up. If you're not, you will need to pay from $25 to $130 for next-day shipping. With this option, you can choose from a limited number of its products and expect to pay around $50 more for your cards. If you can wait, the standard option takes about a week to print and ship.
Paper & Styles
Jukebox offers some of the most unique stock options of any of the providers on this list. Its business cards can be printed on cotton, cork, bamboo, wood, and thick paper stocks. It also offers 3D embossed cards, die-cut shapes, and letterpress, making Jukebox the best option for unique business cards that are sure to start a conversation.
What Jukebox Is Missing
Jukebox has a much more limited design template library compared to Vistaprint, and it doesn't have the group photo upload feature found with Moo. Jukebox also doesn't have the 32-point heavy paper stock that Moo offers, although most of the other providers also lack this thickness.
What Users Think About Jukebox
Users give Jukebox good reviews for the variety of different and unique options available. Users also give it high marks for the overall quality and finish of the cards it produces. They do wish that the navigation and design interfaces were a little more intuitive. They also comment that the number of options can be slightly overwhelming.
Best for High-quality Design Templates: Zazzle

Zazzle is an online marketplace that offers professionally designed cards from a network of artists and graphic designers to help you find the right card for your small business quickly. Zazzle has the largest selection of professionally designed cards, with standard-sized cards beginning at $20.95 for 100 cards, making it an affordable option for businesses looking for quality predesigned templates.
Zazzle Pricing
Zazzle pricing is based on a combination of the size, stock, and design. Since Zazzle designs are created by independent artists, the price often varies based on the artwork involved, although standard card sizes begin at $20.95 for 100 cards, which is more expensive than Vistaprint, though less expensive than FedEx Office or Moo.
Zazzle Features
Zazzle is a marketplace where artists can sell their design work not unlike Etsy, making it a great place to find quality templates and designs. It includes a variety of designs from both independent artists as well as large brands that can be used on different products.
Templates & Design
Zazzle's strongest feature is the large selection of design templates available. There are more than 100,000 templates to choose from, far more than any of the other providers we reviewed, and Zazzle organizes them by style as well as by profession. This makes it easy to find the design template that best matches your brand. Like most business card providers, Zazzle offers the ability to customize templates as well as start from scratch using its online design tool.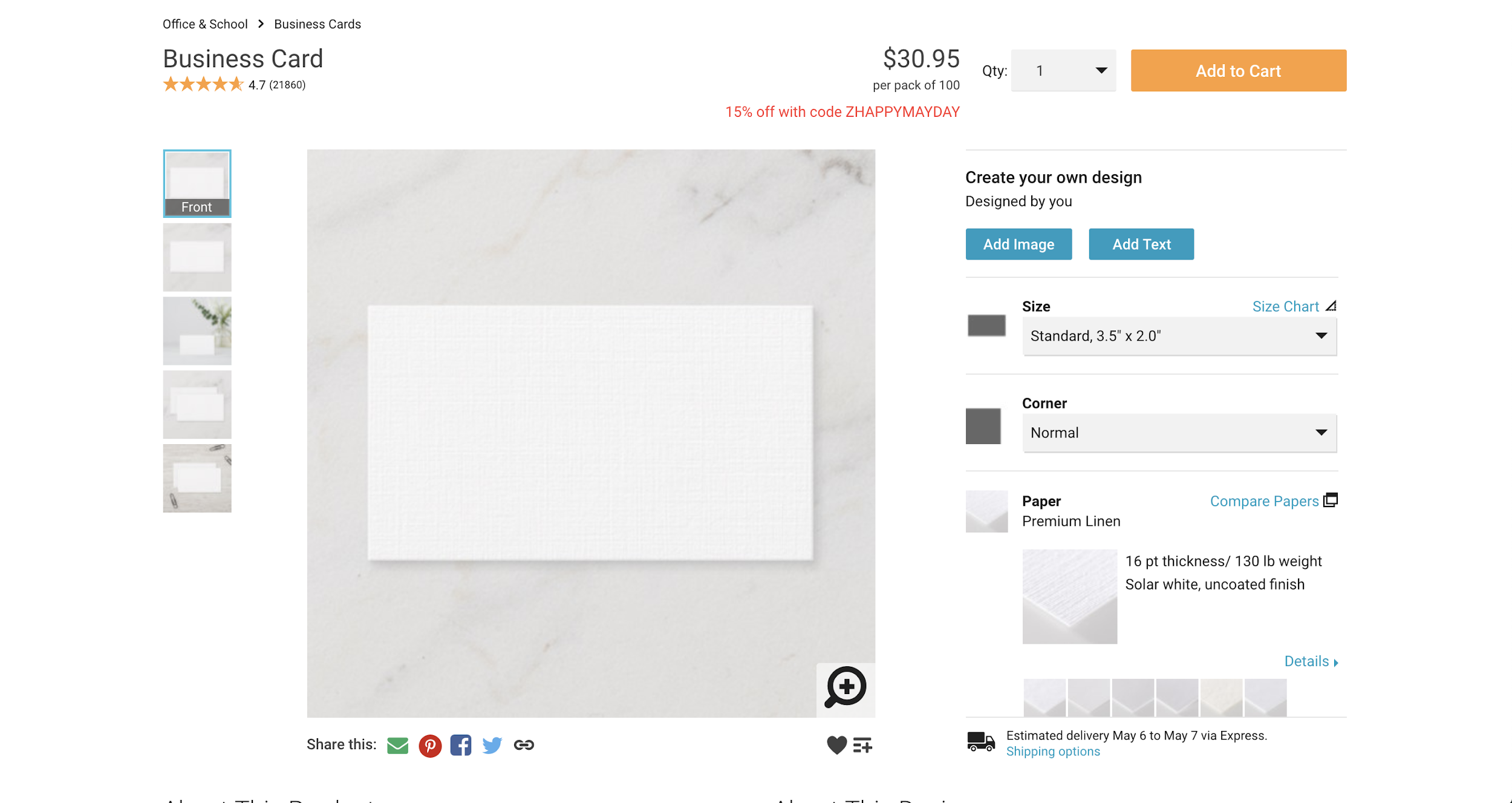 Ease of Use
While Zazzle can be a little overwhelming because of the number of designs available, the ability to filter by style or by profession makes it much easier to find what you are seeking. Customizing templates is easy, and creating your own card design is intuitive using its online design tool. Overall, the ordering process should be relatively easy for most users.
Turnaround Time
Zazzle's standard turnaround time takes about a week, including shipping time, which is average compared to most online business card providers. Express options are available at an additional cost, including two-business-day delivery. Additional production times sometimes apply for custom design work.
Paper & Styles
Zazzle offers printing on 12 different paper types, which is more than Vistaprint and Moo but less than Jukebox. Its standard stock is 13.5 point, which is heavier than Vistaprint, but not as durable as the 16 point from Moo. Zazzle also offers thick, premium paper stock, including the same 32-point heavy stock that is available from Moo and Zazzle offers a variety of finishes including matte, kraft paper, and both coated and uncoated ultraviolet finishes.
What Zazzle Is Missing
Zazzle does not offer pdf proofing that you can download and print, only what you see during the design process. In addition, Zazzle does not offer the assorted photo card backgrounds that are available from Moo. It also doesn't offer the variety of materials found with Jukebox, or the different die cut shapes found at other providers.
What Users Think About Zazzle
Users like the overall design catalog and the ability to select designs based on profession or style. Users find the design templates to be high quality, and the printing is good as well. Some users, however, wish that there were more options in terms of shapes or sizes and that the design tool provided more proofing options.

OvernightPrints doesn't offer some of the fancy options found with other providers on this list, but it does one thing well: it'll get your cards in your hands the next day if you order before 8 p.m. EST. Pricing beings at $27.45 for 100 cards, although it frequently runs half-price sales. Overnight Prints is the clear best option when you absolutely have to have your business cards the next day.
Overnight Prints Pricing
OvernightPrints isn't the least expensive option on the list, with a base price of $27.45 for 100 cards, although it is known for regularly running sales up to half off those prices. Shipping charges, including superfast next-day turnaround, ranges from $6 to $40 depending on when you choose to have your cards delivered.
Overnight Prints Features
Overnight Prints isn't as fancy overall as some of the options we reviewed, and it isn't the cheapest, but it is good at meeting tight deadlines. It also offers decent quality standard cards, with the ability to create your card from a template or design your own.
Templates & Design
Customers can start by using one of OvernightPrints' options from its library of templates or design their own. It offers a large selection of designs to customize to fit your business, although not as many as Zazzle or Vistaprint. The predesigned templates are good, though not nearly as modern as those offered by Moo.
Ease of Use
Overnight Prints' interface is a little less intuitive, and a little more cumbersome than the other options on this list, although it's probably in need of an update. It's easy enough to use to create your own card from one of its templated designs or create your own. Like other options, you're able to see how changes you make affect your card in real-time.
Turnaround Time
Quick turnaround is where Overnight Prints is at its best. There are other options that offer quick turnaround, but where Overnight Prints exceeds the rest is that you can place an order as late as 8 p.m. on the East Coast, and still get them the next day. While it's not a cheap way to order cards, this could be a huge deal for the worker who travels to a conference only to realize he forget his business cards and needs to have them expedited before the event the next day.
Paper & Styles
OvernightPrints offers many of the basic paper stocks found at other providers, including a selection of heavier stocks for high-quality, durable cards that make an impression. OvernightPrints does not offer the unique selection of materials found at Jukebox but does offer extra thick, "sandwich cards" with a color stock between two printed layer, a unique offering found only here and at Moo.
What OvernightPrints Is Missing
OvernightPrints has less overall paper selections than Zazzle, Vistaprint, or Jukebox, but does include the ability to choose between several weights and finishes. It also doesn't include the variety of advanced options like die-cuts that Jukebox has. Additionally, the template library is far more limited than Moo or Zazzle.
What Users Think About OvernightPrints
The primary thing that users like about OvernightPrints is that it offers such a late cutoff for overnight delivery. Users also comment that the quality is good. However, some users comment that there are occasional printing issues, although OvernightPrints tends to do a good job of taking care of any issues that arise.
Best for On-site Printing & Design Help: FedEx Office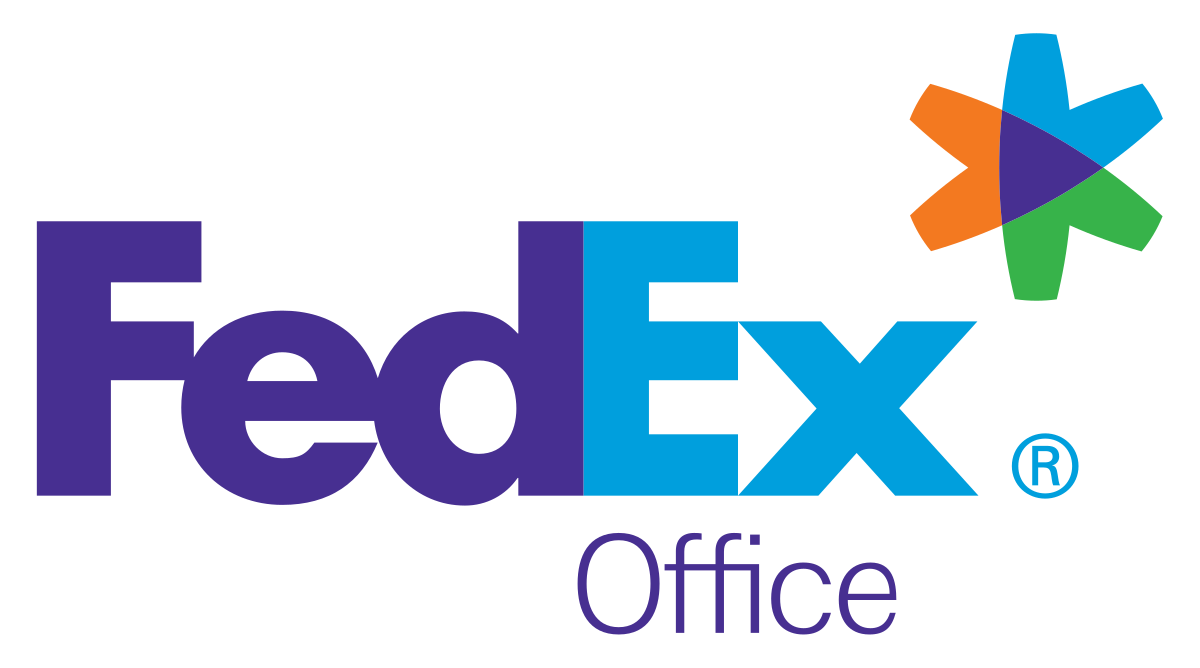 FedEx Office is a retail print location that also allows customers to order business cards online, and either pick them up or have them shipped to their location. This makes it a flexible option, especially for businesses that need same day or remote printing services. Pricing begins at $29.99 for 100 cards, which is about average for the options we reviewed. FedEx office is best for businesses wanting personal help creating and ordering their business cards.
FedEx Office Pricing
FedEx Office business cards begin at $29.99 for 100 cards, which is more than Vistaprint or OvernightPrints, but about average. Additional options like upgraded paper stocks or design features can add costs ranging from 20 to 40 cents per card. Shipping fees also apply when ordering to have cards delivered to your home or office.
FedEx Office Features
FedEx Office has the advantage of having hundreds of locations across the United States, making it a convenient option for business owners looking to have someone walk them through their order. It's also a great option for remote workers who want to order cards through their company and then pick them up at the location closest to them.
Templates & Design
FedEx Office has a template library that offers a variety of styles and designs, although it is much smaller than Zazzle or Vistaprint. It does offer professional looking templates that can be customized easily through its print online feature, or by visiting a center to have a team member help you place your order from one of its design catalogs.
Ease of Use
FedEx Office has an online printing design portal that lets users create their order using a predesigned template or by uploading their own design. Users can create their own but, essentially, you have to start with some form of a template and customize it. Additionally, FedEx Office has physical locations you can visit for help from their employees to place your order, making it a convenient option for less tech-savvy customers.
Turnaround Time
FedEx Office can turnaround cards in-house as quickly as the next business day. In some cases, users can have their orders printed the same day for pickup, without extra rush charges. This means that FedEx Office can be the fastest overall option if you're willing to go and pick them up, although it charges a far higher rush fee than Overnightprints.com. Normally, FedEx Office requires a business day or two, depending on the size of your order.
Paper & Styles
FedEx Office offers three different paper weights, which is less than any of the other options on this list. FedEx Office tends to cater to larger corporate customers or the solopreneur who needs a basic card, without the extra fancy touches of unique paper selections or alternative materials like wood.
What FedEx Office Is Missing
FedEx Office is far more limited in both template designs and paper selections compared to options like Vistaprint, Zazzle, or Jukebox. It also doesn't have the same offset printing quality for in-house orders found on Moo or Jukebox cards.
What Users Think About FedEx Office
FedEx Office users like that they can get personal help designing and ordering their business cards, and that they're able to pick up their order in person easily. They also comment that the quick turnaround time is a bonus for busy professionals. On the negative, most of the in-house printing is not offset printing, meaning it isn't going to have the same high-end appearance as raised four-color printing services.
Bottom Line
There are a variety of business card online providers, and it's important to know which options deliver the best value. Depending on whether you are looking for higher quality cards, or faster turnaround times, this list will help you find the best business card providers for your business.
We recommend Vistaprint as the best business card provider for affordable and professional looking business cards. We found it offers the best combination of quality and price with a website that's easy to navigate and design tools that are intuitive to use.