A slogan promotes a product by telling customers how it's different from those of competitors. A tagline, on the other hand, represents a company's entire identity and branding. The best slogans and taglines are memorable, benefit-focused, catchy, emotion-inducing, and tell a story. Below, we've highlighted the best slogans and taglines of the last 50 years.
When you're ready to craft your own slogan or tagline, consider leveraging the expertise and creativity of freelancers who have spent years building company brands. You can find one of these experts on Fiverr—many of whom charge less than $20 for slogan or tagline ideation. Check out the top freelancers on Fiverr today.
Here are the 18 best slogans and taglines of the last 50 years.
1. De Beers: 'A Diamond Is Forever'
What says love more than forever? Developed by N.W. Ayer ad agency, De Beers's tagline went to the heart of peoples' romantic sentiments—specifically in the context of marriage—with their "A Diamond Is Forever" tagline. Referencing a stone that lasts forever, the tagline helped couples express a desire to make a "forever" commitment to each other, encapsulating the emotions of millions and turning their product into a standard for any proper engagement.
2. Apple: 'Think different.'
When it comes to differentiating a brand via a tagline, perhaps no other company has succeeded quite like Apple. Their 1997 "Think different." campaign (by ad agency TBWA) was launched in response to IBM's "Think IBM." To define what it meant to "think different," Apple showcased the tagline alongside revolutionaries like Albert Einstein and Amelia Earhart, helping consumers envision themselves in a more forward-thinking class than their contemporaries.
3. Bounty: 'The Quicker Picker Upper'
Introduced in 1957, P&G's Bounty slogan, "The Quicker Picker Upper," hit the nail on the head as they were aiming to showcase their product's function. The function of a paper towel is to absorb, of course. If it absorbs well, it absorbs quickly. While other brands emphasized strength or softness, Bounty went to the heart of what consumers sought in a paper towel with a slogan that was catchy, functional, and fun to say.
4. Mastercard: 'There are things money can't buy. For everything else, there's Mastercard.'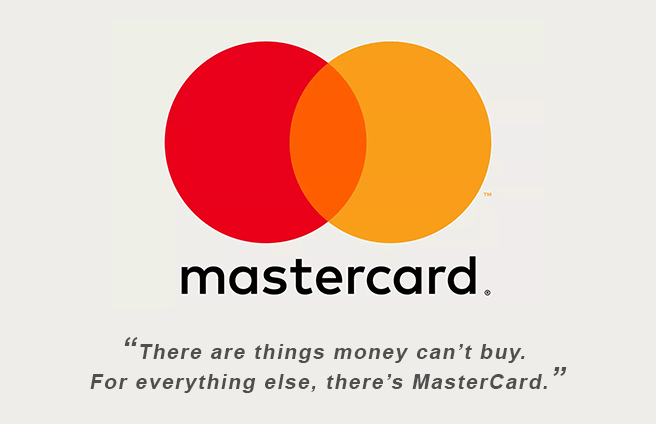 Mastercard's 1997 "There are some things money can't buy. For everything else, there's Mastercard." tagline created a viral response across the globe. Consumers responded by creating their own lists of purchased items that led to priceless experiences. The result: a campaign that filled consumers with nostalgia, appreciation, joy, and love, then prompted them to sign up for the card that promises to keep the good feelings coming.
5. Nike: 'Just Do It.'
Nike's "Just Do It." tagline was introduced in 1988 by the advertising agency Weiden + Kennedy. A study from Texas Tech University determined "Just Do It." to be the most recalled tagline of all time. It evokes determination and confidence, is short and catchy, and helps Nike customers envision themselves achieving. It's also personal. People automatically think about what they want to "just do" and look to Nike products to help them do it.
6. The New York Times: 'All the News That's Fit to Print'
Created by Adolph S. Ochs, the "All the News That's Fit to Print" tagline landed on the front page of the New York Times in 1896 and has lived there since. Proudly displayed on one of the thickest United States newspapers, it confirms the paper's goal never to miss a tantalizing or informative headline. In turn, it promises comprehensive coverage so that there's no need to read news elsewhere, resulting in the paper's daily consumption by 3 million Americans.
7. U.S. Army: 'Be All You Can Be.'
Developed by Senior copywriter Earl Carter (pen-name, E.N.J Carter) of the N.W. Ayer Advertising Agency, "Be All You Can Be." became the recruiting slogan of the U.S. Army in 1980. Short but powerful, the phrase evokes an image of success and strength for young, driven people looking to make a difference. It tells recruits a story of what they're being offered: a success story centered on them as the main character.
8. United Airlines: 'Fly the Friendly Skies'
By 1965, air travel was no longer just for the elite business class, but also for families. Unfortunately, United Airlines was seen as efficient, official, and professional—but not family-friendly. Thus came the "Fly the Friendly Skies" tagline, created by the Leo Burnett Agency. The campaign was accompanied by the debut of female stewardesses who brought a softer, warmer feel to the flying experience, launching the U.S. into a new era of family air travel.
9. Maxwell House: 'Good to the Last Drop'
Debuting in 1915 as the Maxwell Coffee House tagline, "Good to the Last Drop" was originally Coca-Cola's 1907 campaign tagline. Maxwell House, however, took it and ran with it, claiming that it was the phrase Teddy Roosevelt habitually used when drinking the coffee. This history turned the tagline into an American story. While it was later dispelled as myth, the tagline stuck; America had adopted Maxwell House Coffee as a morning tradition.
10. Timex: 'It Takes a Licking and Keeps on Ticking'
Timex's 1950's watch slogan "It Takes a Licking and Keeps on Ticking" was reintroduced in the 1990s because the slogan still had appeal. Its message of durability spoke to the heart of what its target audience—sports-loving young people—needed, both in the products they used and in their own performance on the field.
11. Coca-Cola: 'It's the real thing'
In the 1940s, the D'Arcy Agency created the now-famous Coca-Cola tagline, "It's the real thing," but it wasn't until the 1960s and 1970s that the tagline began to resonate. Brand manager Ira C. Herbert's research during these decades showed people wanted an escape from phoniness, and Coca-Cola sought to give them what they wanted. The brand differentiated itself successfully by pointing out they were the original soda company phony competitors imitated.
12. M&Ms: 'Melts in Your Mouth―Not in Your Hands'
M&M's' "The Milk Chocolate Melts in Your Mouth―Not in Your Hands" slogan was created in 1954 by Ted Bates and has endured for decades as one of the most-loved American catchphrases. While chocolate melts by nature, Mars makes its chocolate stand out by giving all chocolate-lovers a treat they can casually eat or offer their little ones without worrying about a mess.
13. AT&T: 'Reach out and touch someone'
Created and launched in 1979 by N.W. Ayer, AT&T's "Reach out and touch someone" tagline launched when long-distance calling was just becoming a thing. Travel was booming, and people wanted to connect with loved ones at increasingly longer distances. While some companies offered select long-distance calling, AT&T's offered long-distance calls anytime, anywhere, making way for travel without long periods of total separation.
14. BMW: 'The ultimate driving machine'
BMW's tagline, "The ultimate driving machine," was created by Ammirati & Puris in 1975 and has enjoyed a decades-long reign. In a time when baby boomers were making money and striving for success, "The ultimate driving machine" tagline spoke to their need to showcase their success. What makes this tagline powerful is its innate promise to help baby boomers flaunt their success after working so hard to achieve it.
15. The U.S. Marine Corps: 'The Few. The Proud. The Marines.'
Crafted by J. Walter Thompson Agency in 1977, "The Few. The Proud. The Marines." depicts the U.S. Marines Corps as a high-caliber class of the few, thereby setting it apart from other U.S. military branches. In turn, it elicits a slew of emotions, including pride and determination. The tagline is also three quick-hit sentences. By their very cadence, the words help recruits envision a marching team on an elite mission.
16. Kellogg's Rice Krispies: 'Snap! Crackle! Pop!'
Created in 1932 by N.W. Ayer, Kellogg's Rice Krispies "Snap! Crackle! Pop!" slogan became a story that spoke to Americans over the decades. Commercials with this jingle appealed to moms looking for a healthy breakfast by positioning the cereal's sounds as the "song of health" for their families. During World War II, the Snap, Crackle, and Pop characters urged people to save time, fuel, and energy. Over time, the slogan built trust via stories that spoke to American needs.
17. Ronseal: 'Does exactly what it says on the tin.'
Ronseal's "Does exactly what it says on the tin." spoke to do-it-yourselfers (DIYers) who were tired of confusing products with vague claims. They wanted to buy with confidence and straight-talking Ronseal delivered. Ads with the slogan depicted regular people and phrases like "Don't worry, it's just varnish," putting people at ease and sending a message that, with the right product, there was no guesswork in DIY wood staining.
18. California Milk Processor Board: 'Got milk?'
The California Milk Processor Board's 1995 "Got milk?" slogan was a ploy to combat the rise of fast-food and sodas in favor of a healthier America. "Got milk?" used deprivation marketing to remind people how lucky they were to have a healthy drink readily available to them. Ads featuring celebrities like Jennifer Love Hewitt sporting milk mustaches were made to appeal to TV-watchers who wanted to appear cool while enjoying their milk.
How to Write the Best Slogan
There are many ways to approach the writing of a good tagline or slogan, and companies must focus on the strategies that are most effective for them based on their audience's wants and needs. However, the best ones are typically memorable, differentiate a brand or product from competitors, focus on a benefit, tell a story, and spark an emotional response.
Make It Memorable
Some brands create a memorable tagline or slogan by using rhyming words or a play on words. Rhyming words help people anticipate what might come next while a play on words makes people ponder the tagline instead of just passively consuming it, thereby cementing it in their minds. For example, consider Timex's "It Takes a Licking and Keeps on Ticking" slogan. It's fun to say because it rhymes, making it memorable.
Focus on a Differentiator
Some brands try to create a clever or cute tagline but don't highlight their differentiating qualities. Instead, focus on what makes your product different and explain that quality in three to five words. Consider Ronseal's "Does exactly what it says on the tin." While competitor brands made varnishing seem intimidating, Ronseal differentiated itself by creating a straight-forward slogan people immediately understood.
Focus on a Benefit
As you focus on what makes your product different, be sure to explain what key benefits customers will enjoy if they use it. Consider M&M's "The Milk Chocolate Melts in Your Mouth―Not in Your Hands" slogan that offers a promise of clean eating and convenience. All chocolate companies can claim a delicious treat, but few can claim a mess-free treat.
Tell a Story
The best slogans and taglines tell a story with your target audience as the hero character. Consider the U.S. Marines' "The Few. The Proud. The Marines." tagline. Recruits imagine themselves as part of an elite class with a future as a protector of the country.
Create an Emotion
People remember emotions—and what sparks those emotions. Consider AT&T's "Reach out and touch someone" campaign. Hearing that makes customers think of loved ones and family. The result is a brand that's associated with positive memories and experiences people want to remember.
"To create an effective company tagline or slogan, think about what problems your product or service solves for the people who are purchasing it. Potential leads aren't interested in you and what you do. They want to know what the benefit is to them and how you can help them. Why should they care? Why should they want to find out more? Think 'you' instead of 'I'."

—Clare Lankester, search engine consultant (SEO) Consultant, Boutique Digital Media
Slogan vs Tagline
While the terms "slogan" and "tagline" are often used interchangeably, they serve two different purposes in company marketing and advertising. Taglines represent businesses as a whole, whereas slogans are used to promote a specific product or service.
Here are the differences between a tagline and a slogan:
Tagline: A tagline represents your business in a catchy way that leaves an image of your brand's lasting identity in people's minds. For example, Coca-Cola's "It's the real thing" tells consumers they are the original soda company, eliciting an image of the historical Coca-Cola logo that has been a part of consumers' minds for generations.
Slogan: A slogan is more often associated with a company's current strategy to differentiate its products from competitor products. For example, Bounty's "The Quicker Picker Upper" slogan positions Bounty's paper towels as more absorbent than competitors, thereby revealing their unique position in the industry.
While a tagline often accompanies a brand's logo, a slogan often appears on packaging and advertisements to help differentiate a product. Often, however, they are used in tandem on product packaging or advertisements.
"The most important consideration when writing a tagline is that it ought to be direct. Above all else, a tagline needs to clearly state what your business does. Each customer who reads your tagline should immediately understand what your business does. One of the most common mistakes is to create a tagline that is, in your eyes, cute, or witty. Often, cute taglines sound promising but they will ultimately fail by confusing customers."

—Kyle Feigenbaum, Co-founder & CEO, healthybud
Bottom Line: The Best Taglines & Slogans
While a slogan represents a product, a tagline represents a company and its lasting identity. Both, however, should be memorable, clear, benefit-focused, emotion-inducing, and/or tell a story where the target customer is the hero. They do this by using rhyming, being straightforward, remaining short and simple, and tying brands and products to common stories.
While many small businesses don't have the funds to hire top ad agencies to create their company slogans and taglines, there is affordable help available on platforms like Fiverr. For less than $20 per project, you can hire a 5-star advertising expert to help you create the best slogan or tagline for your company or campaign. Click here to get started with Fiverr.