Not all bloggers can get away with just stock images. Whether you are taking photos of the great meal you made, filming an unboxing, or capturing a special moment that inspires you, having a great camera can make the difference between "Aw!" and "Oh, no!" We looked at the best blogging cameras for both stills and videos, so you can decide which one is right for you.
How We Evaluated Blog Cameras
Not every blogger has the time or interest to become a professional photographer, but with the cameras we selected and a little effort and experimentation, you can take photos that will both inform and inspire. We capped our budget at $1,000 and found some excellent options praised highly by review sites, bloggers, and users on Amazon.
Praise from others isn't the only thing to consider, however. To find the best cameras for bloggers, we looked at:
Connectivity: Wi-Fi or connectivity to a laptop or PC is vital so you can load photos directly to your blog or social media. As a bonus, some apps even offer remote control.
High-quality images: The higher the number of megapixels (MP), the sharper your image is. Higher ISO means brighter photos in dark environments. Naturally, you want autofocus, and most cameras have other functions for making a snapshot great.
Ease-of-use: While some bloggers may want to work with a bunch of different settings and lenses, we gave priority to cameras that were easiest to use.
Flexibility: Features like zoom, filters, and manual settings make it simple to get or create interesting photos. For more experienced photographers, versatility in available settings is beneficial.
Selfie features: We looked for view screens that flip, remote viewing through a smartphone, and face tracking. This helps tremendously for bloggers that don't have help setting up the perfect shot.
Video: Video quality is key, but we also looked for the ability to pull stills from a short video burst, slow-motion or time-lapse filming, and sound quality.

Note on frame rate: 24 frames per second (fps) is standard for video viewing. Higher frame rates are smoother and less cinegraphic, but also allow you to create slow-motion clips.
We considered a wide range of cameras, including cellphone cameras, which are actually strong contenders nowadays. For a basic blogger wanting something a little "extra," the Sony A6000 is the best. Highly recommended by users, camera reviewers, and bloggers, it takes excellent photos without a lot of messing with dials or functions, has dynamic video choices, and is reasonably priced at $548.
Sony A6000: Best Overall Camera for Bloggers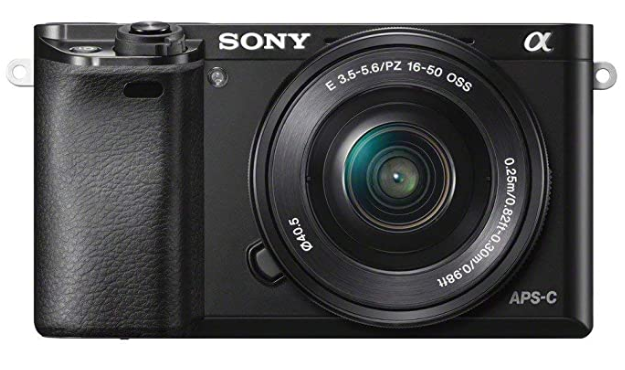 We looked for expert opinions from bloggers and other reviewers, and more of them recommended the Sony A6000 than any other camera for bloggers. It's easy to see why. At $548, it's right in the sweet spot for camera price. Plus, it's lightweight, takes excellent photos, has nice video capabilities for vlogging, and lets you switch out lenses if you want to take your photography to the next level.
| Strength | Weakness |
| --- | --- |
| 24MP | No touchscreen |
| ISO 100-25,000 | No 4K video |
| 179-point autofocus | Not weather-sealed or waterproof |
| HD 1920 x 1080 video at 24fps or 60fps | Viewscreen only moves 90 degrees |
Sony A6000 Pricing
At $548, the Sony A6000 gives a lot of value for the price. It comes with a 16/50mm to 55-210mm lens. However, you can use any Sony E mount lens and compatible filters or hoods. From retro leather cases to metal cages, there are plenty of ways to hold and carry it. You can also get extra memory cards, chargers, flashes, and more. It does not have an external mic jack but does have a multi-interface hot shoe, which works for some mics.
Sony A6000 Features
The Sony A6000 is a mirrorless camera that's lightweight and great for beginners but has features that make it good for the experienced amateur as well.
Versatility makes it the best: Professional reviewers and beginning users alike agree that the A6000 is just easy and fun. You can go all automatic, or use manual lenses, take high-quality (not quite 4K) video or action video at 60fps.
Tiltscreen for ease of shooting: The 90-degree tilting viewscreen lets you take shots at different angles without having to contort into odd angles yourself.
Great photos in any light: With an ISO range of 100 to 25,600, this camera goes from bright day to mysterious low-light. If you need a flash, it offers a pop-up or a hot-shoe for a larger flash. It also offers several built-in filters for improving shots or adding artistry to them.
Sharp images: Start with 24MP to get a rich field of view. Then add autofocus with 179-point phase-detection—not the highest available, but still noteworthy. Then bring in moving-object tracking, and you get great shots, whether for stills or video.
Connectivity: You can connect via Wi-Fi or micro USB cable to download your photos to the computer, your blog, YouTube, or Twitch.
Need more features? While still amazingly popular, the A6000 is an older camera. Sony has come out with several newer models that add more options for vloggers, such as improved mic capabilities and a flip screen so you can see yourself as you film. These are pricier, but might be worth the upgrade if you need it.
Fuji T30: Best Camera for Travel or Nature Bloggers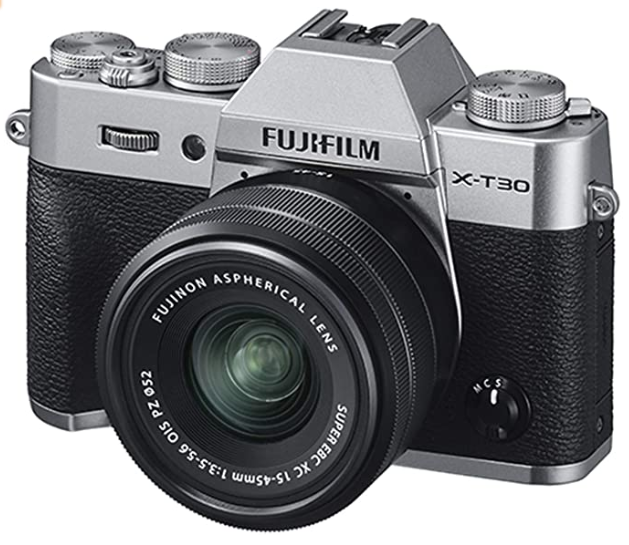 The Fujifilm X-T30 (and its older model, the X-T20) is another favorite among bloggers. Lightweight, versatile, and with remote control via your cellphone, it's an excellent choice for travel and nature bloggers. It's among the most expensive on our list, but still under $1,000.
First, it's just a great camera for travel: lightweight, incredible megapixel count, and 4K video capability, plus 425-point autofocus. You can go completely automatic and get great, clear shots, or use the dials to control every aspect from shutter speed to exposure so you can compose your shot in every detail. Even better, it lets you control the camera from your phone and has editing software.
This gives the nature blogger or the travel blogger fantastic capabilities for capturing the perfect shot, and taking a great short video. Bloggers can even set up the camera and move away for photos of wildlife uninhibited by their presence. This is a huge advantage in case you ever want to make money blogging as a wildlife photographer for tourism boards.
| Strength | Weakness |
| --- | --- |
| 26.1MP | The screen does not tilt 180 degrees |
| 425-point autofocus with face or eye detection | Not well-designed for large hands |
| 4K video at 30fps, or at 1080p at 120fps | No manual zoom adjustments |
| ISO to 51,200 | Not water sealed |
Fuji T30 Pricing
The Fuji X-T30 comes in just under $1,000: $999 on Amazon for the camera with a standard lens; the X-T20 is $928. You get the lens in silver or black. Any Fujifilm X-mount lens will work with this camera, giving you some great options if you want to get long shots. Other accessories include lens hoods, carrying cases and mounts, memory cards, tripods, shutter controls, and flashes. You can attach an external mic using a converter cable or on the hot shoe.
Fuji T30 Features
The Fuji X-T30 weighs 3.3 pounds with a standard lens. It has a classic design with a 3-inch viewscreen that tilts. It offers features like face detection and image stabilization to make it a terrific all-around camera, but the remote features set it apart for travel.
Great for nature bloggers: Cellphone remote control! With the Fujifilm camera remote app, you can control the camera. If your presence is keeping the wildlife from showing their best, you can set up the camera, walk away, and snap those great shots right from your phone.
Standout for travel bloggers: Have you ever come back from a great trip only to look over your photos and realize you aren't sure where that one perfect shot came from? The X-T30 offers geotagging to mark each photo with the location so you don't forget.
Clear, sharp photos in any light: The light sensitivity on this little beauty goes to 51,200. The autofocus uses 425 points, plus face and eye detection during photos or video recording in order to keep images sharp where they most need to be.
Great action shooting: Need to shoot from a moving vehicle—or are you shooting a moving object? The X-T30's mechanical shutter shoots continuously at 8fps, and in Sports Finder Mode, the electronic shutter can move up to 30fps.
Bring out your creative side: Not only do the manual controls give you the ability to make a shot uniquely yours, but the Fujifilm X-T30 also offers 16 film simulation modes to bring out the best colors and moods. Choose from options like Probia, Asita, Chrome, and Acros. You can save in RAW or JPG, and Fujifilm offers free downloadable editing tools.
More professional reviewers recommended this camera over any other we looked at. Further, it has 4.6 out of 5 stars on Amazon. Users praised the autofocus and lightweight design. People with large hands should try it out first; the Q button is not well placed.
Canon M50: Best Camera for vloggers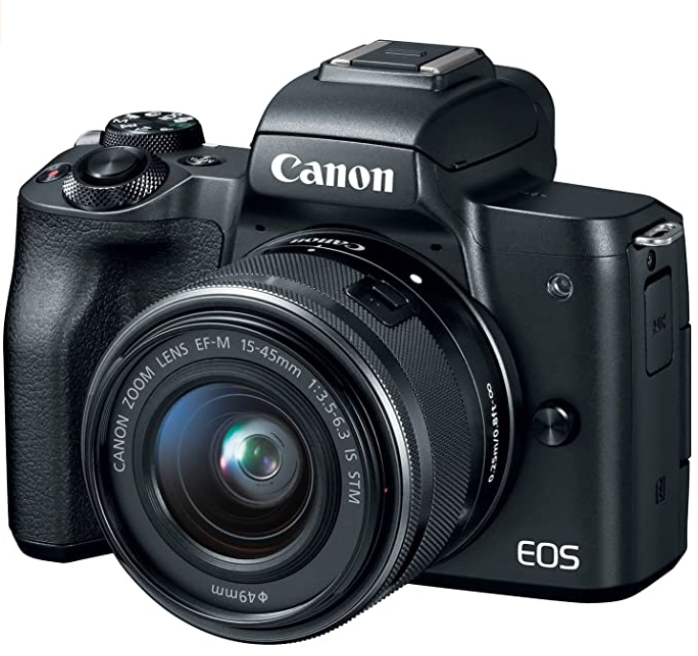 The EOS M50 is perfect for vloggers. It has multiple video modes so you can go from cinegraphic to slo-mo. The viewscreen flips out the side so you can see yourself to compose the perfect shot, and the face-selection autofocus keeps you sharp even if you move. The hot shoe allows for Rode mics for sound that's superior to that of most cameras. At under $650 even when fully kitted out, it's a great deal for the vlogger who needs a handy but hearty camera.
| Strength | Weakness |
| --- | --- |
| 24.1MP | Slower frames per second than the Fuji X T-20/30 |
| Autofocus tracking | 4K video crops at 1.6 |
| ISO 100-51,200 | Some users complain of short battery life |
| Image stabilization | Not weather sealed |
Canon M50 Pricing
Amazon sells the Canon M50 for $599, but you can find some nice bundles for as low as $619. Bundles include extra lenses, filters, memory cards, external flash, and a tripod. What makes this stand out is that it's compatible with Rode mics, which start at $59. You can also find these mics in some Canon M50 kits.
Canon M50 Features
A user-reviewer who has this camera for his YouTube channel calls the M50 "a little workhorse." It's got great features for video, though the most common complaint is the short battery life.
Selfie-enabled: With a view screen that flips out to the side, you can see what the camera sees even when you are the subject.
Lots of focus options: The M50s autofocus has multiple modes. Zone keeps everything sharp. There's single point focus, one-shot autofocus, continuous autofocus, and face-tracking. With face-tracking, you select the subject, and autofocus keeps on that while it moves. If you are going for a style, you can always manually focus as well.
Video Versatility: Want your vlog in ultra high def? Canon's M50 films in 4K UHD 24fps for cinematic clarity. Or go for the standard Full HD 1080. However, if you want slo-mo, film in high-speed 120fps in high def. Great options for getting creative!
Beautiful pictures: Even if you're vlogging, there's no point getting a camera that doesn't take great stills. In addition to the autofocus feature, the light sensitivity ranges from 100 to 51,200 ISO so you can capture all the light you need for a good shot. Image stabilization protects against camera motion. The shutter speed is slower than the Fuji in sports mode—only 10fps—but still a respectable speed.
Connectivity and remote control: By downloading the Canon Camera Connect app, you can pair with your camera not only for transferring photos, but also remote shooting with live-view imaging of the camera.
Canon M50 ranks #1 in mirrorless cameras on Amazon, with average ratings of 4.6 out of 5 stars. Out of 743 ratings, 82% were 5-star.
Panasonic Lumix FZ80: Best Camera for Bloggers on a Budget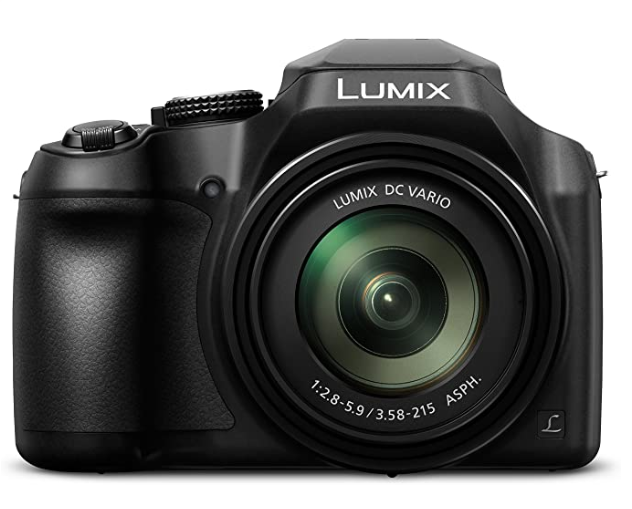 While great photos can enhance a blog, not every blogger wants or needs to spend $600 or more on a camera. We considered several budget cameras, but if you want something better than what a good smartphone provides, you need to spend about $300 for a dedicated camera. The Panasonic Lumix FZ80 comes in just under that at $297. An Amazon Choice product, it's a great camera for stills or video at a bargain price.
| Strength | Weakness |
| --- | --- |
| Inexpensive | 18MP |
| 60X zoom (20mm-120mm) lens | Not weather sealed |
| Power optical image stabilization | 6,400 ISO |
| 4K video | Integrated view screen |
| Remote recording via smartphone | Can't switch lenses |
Panasonic Lumix FZ80 Pricing
The FZ80 is about half the price of the other cameras on our list, coming in at $297. You can find kits with extra SD cards, batteries, cleaning kits, tripods, and a case for as low as $329. There are lens extenders and filters, but you can't switch out the lenses; still, 60x zoom is nothing to sneeze at.
Panasonic Lumix FZ80 Features
They say, "you get what you pay for," but with this little beauty, you get quite a lot. It takes great stills and 4K video. Plus, this point-and-shoot is small and light enough to take anywhere for those unexpected moments that make great blog topics later.
Clear photos: With 18MP, the images are not as crisp as with other cameras, but that's not as big an issue when all you want is a good snapshot for your blog or Instagram. In the meantime, it has image stabilization and low-light features. Need a close-up of something far off? The 60x zoom gives you a focal length of a 120mm lens.
Post Focus lets you fix errors, get creative: Ever take a shot and realize you focused on the wrong person or object? Panasonic has a "post-focus" feature that lets you set desired focal points after taking the shot. Plus, it has a focus stacking feature that lets you add depth to your photos.
Video that lets you pull stills: Another fun feature is the 4K video which records at 3840 x 2160. User reviewers say the video works great. Even better is the ability to do a 4K video burst, then pull the image you want from the ones it took.
Remote Control: The Lumix FZ80 has Wi-Fi, and you can use the Panasonic Image App to take photos or recordings. It doesn't work with time-lapse or panorama settings, but it's still a nifty feature for a bargain camera.
Customers on Amazon give the Panasonic Lumix FZ80 4.3 out of 5 stars. Many folks call it a great "bridge" camera, taking you from simple point-and-shoot to a more sophisticated photographic experience. People who didn't like it (about 7%) complained about the zoom not giving clear shots.
Special Mention: GoProHero8 for Adventure Bloggers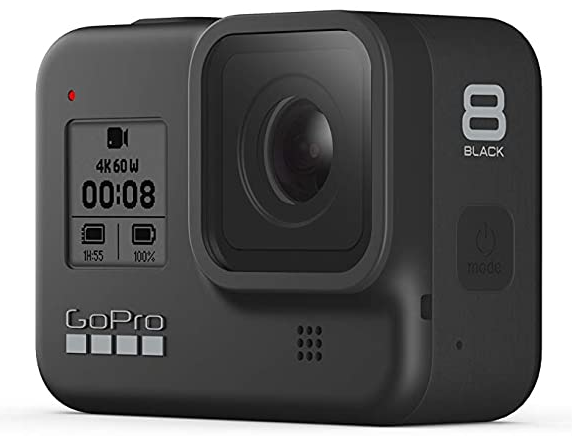 Bloggers or vloggers who are all about the action should consider the GoPro. At $299.99, the GoPro Hero8 provides clear shots with three levels of stabilization whether you are carrying it on a selfie stick or attaching it to a helmet. It has 14 voice commands like "GoPro, start recording," making it an excellent choice for sports. The app makes it easy to edit and share your recordings.
GoPro images go from 16mm to 27mm, which is less range than the other cameras on our list. However, it has automatic speed selection, improved contrast, and live burst that captures the action 1.5 seconds before and after you hit the shutter, so you can pick the best still from 90 images or share a 3-second 4K video clip. You can trick it out with a flip-up viewscreen, lights, and a mic.
Special Mention: Samsung Galaxy S20 & iPhone 11 Pro for Best Cellphone Cameras
The thing about cellphone cameras is that with each upgrade, the camera usually gets better. It's possible to take blog-worthy shots with a camera phone. Check out our article for tips for taking great photos with your camera phone. In the meantime, here are our phone camera choices for 2020:
Android: Samsung Galaxy S20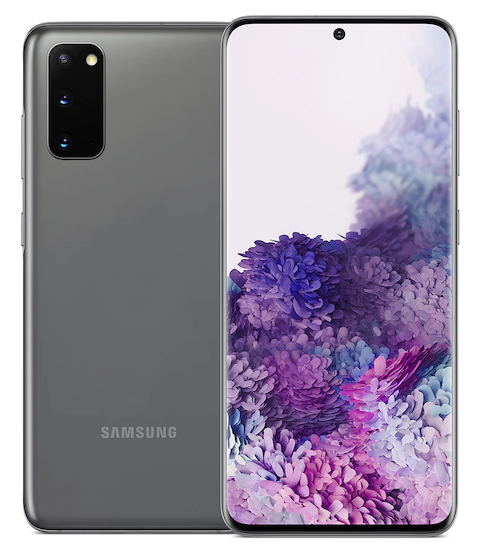 Photos are a focus of the Samsung Galaxy S20-Plus. It has four cameras: a 12MP main shooter joined by a 64MP telephoto lens, 12MP ultra-wide-angle lens, and a time-of-flight sensor. However, the cheaper version removes the telephoto lens. With burst mode, you capture 10 seconds of stills and video with a single tap, great for those spur-of-the-moment shots where you don't have time to compose.
This phone zooms to 30x, and in night mode, it will merge multiple images to a single shot so you get clearer lines and less noise. And 4K video? Ha! Samsung has upped the bar with 8K resolution at 24fps. At $899.99, it's competitive with cameras and cheaper than the iPhone 11.
iPhone 11 Pro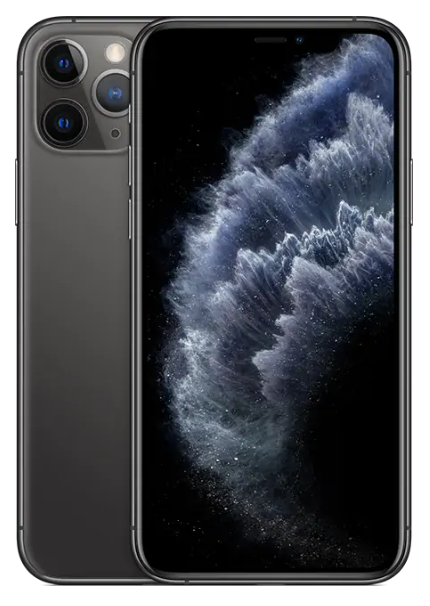 If you are loyal to Apple, you will love this phone. The iPhone 11 Pro Max tops the charts for camera phones, with noteworthy low-light capability that uses machine learning to over- or under-expose areas in order to get the best shot. Plus, it has not one, but three lenses for ultra-wide and telephoto as well as video.
The cameras have only 12MP clarity, which is great for a smartphone but does not compete against an actual camera. However, the video is competitive: 4K at 60fps. Plus, at $999.99, you get not only a good camera, but also a terrific phone.
Bottom Line
There are a lot of excellent choices for blogger cameras. No matter which blogging camera you choose, focus on one that offers good zoom (or the ability to change lenses), and has low-light capabilities. Autofocus can take in the whole scene, and a camera that connects to your smartphone or via cable to a computer for easy download is invaluable. We've covered seven of the best.
Of these, the Sony A6000 is the best all-around camera for bloggers. It takes excellent, clear photos in multiple lighting situations, takes great video, and is reasonably priced. It's a favorite among bloggers and photographers who want a handy camera to take with them for inspired, on-the-go shots that nonetheless are worthy of sharing with the world.