Chart programs seem to come in extremes: They're either too simple to do anything useful, or too complicated to ever figure out.
At Fit Small Business, we were looking for a middle-ground solution. We wanted something that was easy to use, but also had a lot of editing features so we could tailor charts to our liking. We also needed our graphing program to run online, so our team members could easily collaborate on projects.
Here are the top five programs we found. As a bonus, each of them offer free versions, so if you were looking for free chart software or free infographic software, you came to the right place.
1. Best Chart Software: Venngage
Our top pick is the chart and infographic-building program Venngage. Easy-to-use but extremely flexible, Venngage was the perfect balance. You can pick from many different fonts, set custom colors (with HEX values), and adjust size/placement with ease.
Because Venngage doubles as infographic software, you can add more graphics after your chart is finished. Add photos, draw arrows, write additional notes: whatever your creative mind desires. This was important for us, since there's often more to the story than just the chart itself.
At the same time, Venngage doesn't skimp on the graphing engine (as other infographic programs unfortunately do). You can add data on a built-in spreadsheet, or import a Google Sheet. Venngage may not be able to handle more complex or 3D graphing, but it actually handled my simple bar graph data set better than Excel or Google (more on that later).
Venngage is free to use with a limited number of templates. Their premium version ($19/month) unlocks all templates and lets you export to PDF and PNG.
2. Google Sheets
The spreadsheet program of choice for many Google Apps users. Google Sheets is a simple and effective spreadsheet program with a surprisingly wide range of chart options: You can create Line graphs, Area graphs, Column/Bar graphs, Pie charts, Scatterplots, Geographic maps, Histograms, Timelines, Gauges, Radar charts, Org charts and more.
The editing tools of Google Sheets, however, leave some to be desired. On my sample test, I couldn't control the X-axis or Y-axis values. Google Sheets also has limited font and color options. Here's how my test run ended up: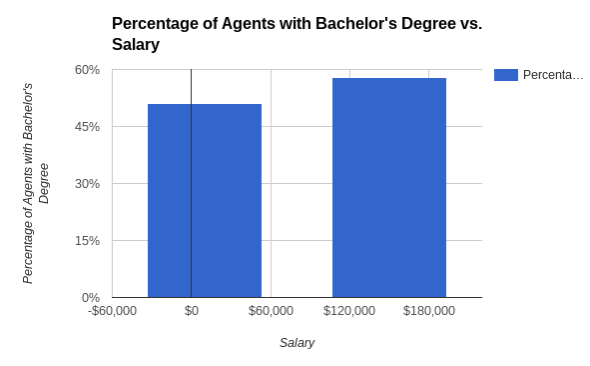 Good for personal use? Sure. Good for a presentation? Probably not. Nonetheless, Google Sheets is where a lot of data starts out (especially here at Fit Small Business). So if you just need a quick way to generate charts – and formatting isn't too important – it's worth checking out their wide range of graphing options.
3. Excel Online
Excel Online is Microsoft's response to Google Sheets. It takes the Office mainstay and moves it to the cloud. Like Google Sheets, you can use Excel Online for free. You just have to create (or sign into) a Microsoft account.
Excel Online is a bit more elegant than Google Sheets. Creating charts is a smoother process. It features a more simple menu that Microsoft Office users will surely find familiar and intuitive. The "Open in Excel" button allows you to switch to the desktop program without closing your document.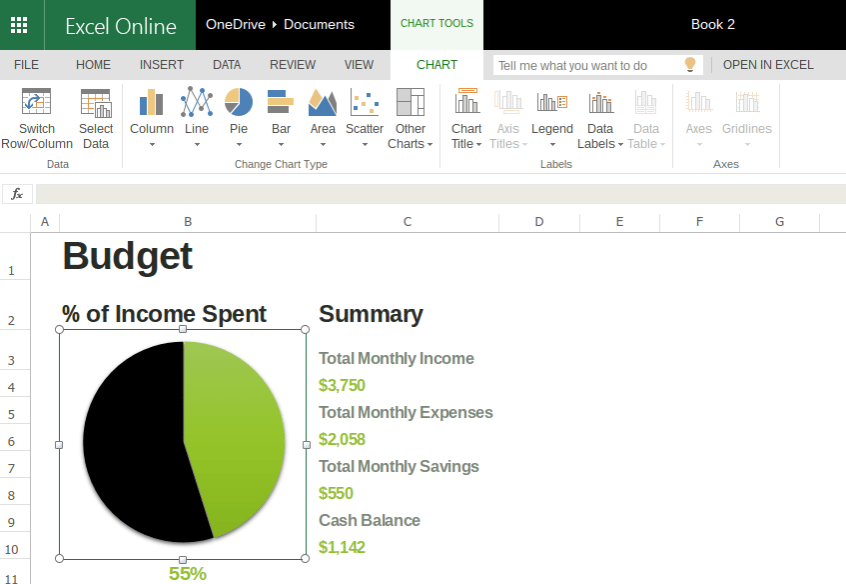 The issue I had with Excel Online – as well as its desktop counterpart – is that it couldn't handle my simple data set. For whatever reason, it was determined to graph my two columns on one axis, rather than compare them against each other on the X and Y axes.
While there might be a workaround for this (if anybody knows one, please do share in the comments below) the lack of additional drawing tools signaled the end of my Excel Online trial run. It was a mostly positive experience, but just not what we're looking for at Fit Small Business.
If you want to learn more about Excel Online and Excel Desktop, check out our guide to Office 365 for Small Businesses.
4. Infogr.am
Similar to Venngage, Infogram is free infographic software with chart-making capabilities. Their key advantage is offering "responsive" charts – a user can press a button and alter the data. For my example, this would be helpful if I wanted to show how data changed from year to year: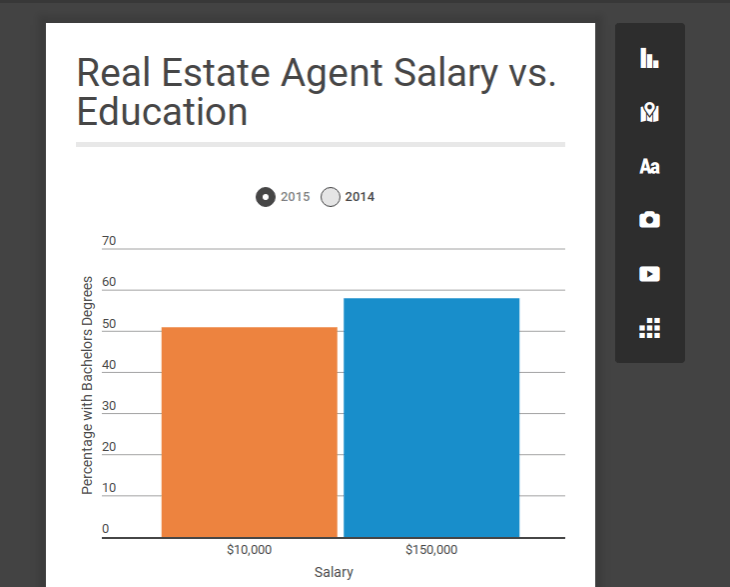 By embedding this chart on my website, users could click between "2015" and "2014" and watch as the graph changes.
In addition, you can add text, objects, images and media – similar to Venngage. What ultimately made us pass on Infogr.am, however, was the lack of formatting tools for charts. You can't change the font or size of text, nor can you adjust grid lines.
The free version of Infogr.am allows you to save up to 10 charts at one time. Advanced editions start at $19/month.
5. Plot.ly
There's a few things I really liked about the chart-making program Plot.ly. For one, you choose which axis each column will go onto. This solves the issue I was having with Excel, when the program kept placing my data on the wrong axes.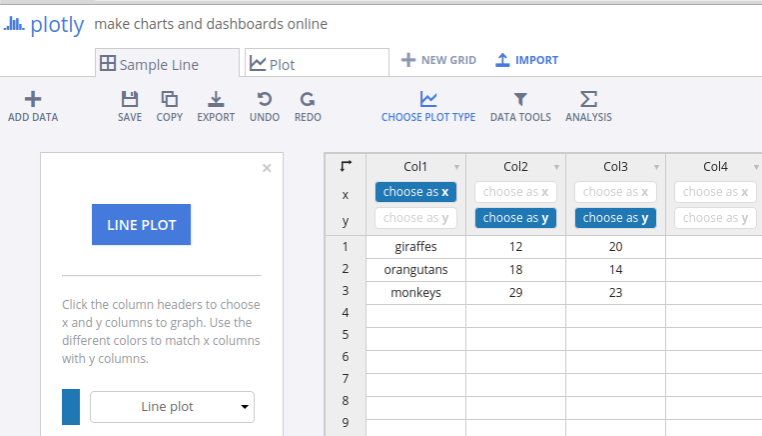 Another thing that's great about Plot.ly is the advanced chart options, including 3D plots, heatmaps and chloropleth maps. While this might make Plot.ly an unbeatable option for complex datasets, it was a bit too complicated for our purposes. It was a bit cumbersome to get my simple bar graph looking right.
Plot.ly is free to use for creating 1 chart (at a time). Otherwise it's $19/month, and that includes the ability to save custom themes and export in a variety of formats.
The Bottom Line
Without the right software, the seemingly small task of creating a chart can give you a big headache. Whether you need it to spice up your presentation, publish a chart online or create an engaging infographic, being able to customize your chart and add graphics will help spring your data to life. If you need a chart to do something specific, like create an org chart, here are additional software options.
At Fit Small Business, we settled on Venngage, since we could save our color scheme and annotate our charts, among other benefits. The same might work for your business, or try our some of the other free options we highlighted.