Chatbots use artificial intelligence software to automate conversations with website visitors answering questions and allowing service agents to spend more time resolving more complicated issues. We compared more than 20 options narrowing down our list to six based on customer satisfaction, ease of use and features to find the best tools for businesses with different needs.
Top 6 Best Chatbots to Improve Customer Service for 2018
| ChatBot Software | Best For |
| --- | --- |
| | (Best Overall) A full-featured chatbot that is easy to create and integrates with most messaging platforms |
| | Businesses that want a free chatbot and free live chat software combined solution |
| | Teams looking for a chatbot with an integrated communications platform |
| | Companies that want a powerful chatbot with live chat integration options |
| | Best for companies looking for sophisticated artificial intelligence |
| | Organizations that need highly targeted customer identification |
How We Evaluated Chatbots
Chatbot software uses artificial intelligence to automate answers to website visitor questions. Because it can handle multiple queries simultaneously and instantaneously 24/7, a chatbot can decrease the number of questions requiring answers by live agents, reducing costs and providing faster service to customers and, therefore, increasing customer satisfaction.
The criteria we used to evaluate the best chatbot software include:
Pricing: We looked at free and paid options and what upgrade paths looked like for growing businesses
Intelligence: We reviewed the intelligence potential of the bots, if they offered "if/then" communication, recognized keywords and/or understood chat context
Features: We looked at chat message limits, whether they included prebuilt bots and the potential intelligence of bots related to options for "training"
Integration: We looked at the integration options with business account management software and messenger platforms like Facebook Messenger, Slack, Skype and other communication tools
Customer support: We reviewed the support options to see if there was chat, email and or phone support as well as if there was substantial community support
Ease of use: We reviewed user interfaces, set up and the steps it would take to bring a chatbot live
User satisfaction: We looked at user reviews for ease of setup for the chatbots and any integrations
"Chatbots have become a useful tool for communicating and engaging with customers across a variety of websites, mobile applications and social media platforms. Rather than using a basic web form, which can be very boring, chatbots allow you to gather information by asking a series of simple questions and responding with the correct answers in real-time."

— Jordan Goodman, Marketing Technologist, Gorilla Group
Because it provides unlimited bots and messages, reporting and an intuitive and trainable chatbot, we think SnatchBot is the best chatbot to improve customer service in 2018. It is designed so that anyone can create bots that will help improve customer service in their organizations without the need for programming skills.
Best Overall Chatbot for Customer Service: SnatchBot


SnatchBot is a free, feature-rich chatbot that integrates with many popular messaging platforms like Facebook, Skype and Slack. It has dozens of industry- and event-specific bot templates that can be added at no charge from the store. It also offers one of the most intuitive chatbot creator interfaces. It's best for companies that want a full-featured, easy-to-use bot that can integrate with most communications platforms.
SnatchBot Pricing
SnatchBot's out of the box plan is free and includes unlimited bots, messages and community support. The Pro plan costs $39 per month providing an unbranded chatbot, one-to-one support and more detailed reporting than the free version. It does, however, set monthly message limits at this first level at 10,000 per month.
SnatchBot Tiered Features
| | Free | Pro |
| --- | --- | --- |
| Pricing | Unlimited messages/unlimited bots | $39/10,000 monthly messages (the next tier is 25,000 messages at $79) |
| Messages | Unlimited | 10,000/month |
| Unlimited bots | ✔ | ✔ |
| Unlimited support via community | ✔ | ✔ |
| Industry-specific bot templates | ✔ | ✔ |
| Paypal integration | ✔ | ✔ |
| Branding removed | | ✔ |
| 1 to 1 Support | | ✔ |
Free
The Free plan includes unlimited bots and messages and access to a bot store where there are several hundred free industry- and event-specific bot templates to add on. For example, a troubleshooting bot asks diagnostic questions with pre-made "interactions" and also gives you the ability to customize your own. For example, one interaction asks you to diagnose your computer's central processing unit in a Q&A format. There's also a PayPal integration to take payments.
The broadcast feature allows you to send targeted messages to several users at once through channels like Facebook Messenger. You can also direct a chatbot conversation to live chat easily to have an agent take over chat within the chat screen. This chatbot is best for companies that want to create an intuitive chatbot to handle customer service interactions using a variety of message channels and service actions.
Pro
The Pro plan is on a sliding scale and starts at $39 per month for up to 10,000 message exchanges with visitors. The next tier comes with up to 25,000 messages and costs $79 per month. It allows you to remove branding and upgrades to live-person support rather than the Free plan's reliance on the community pages for questions and answers.
The Pro has all of the features of the Free plan. It also provides premium customer service and the ability to remove branding. It's for organizations that want an intuitive and powerful chatbot to handle customer service questions and that need full support for the software without needing a developer to implement.
What SnatchBot Is Missing
While the chatbot itself can be configured to chat in more than 50 languages, the user platform is only available in French, Chinese and English, which can be limiting to many users especially as there are some technical aspects to creating a bot from scratch.
What Users Think About SnatchBot
Users of SnatchBot like that they can connect their bots to different messenger apps like Slack, Facebook and Skype, giving them and their customers more options to communicate. The broadcast feature — sending specific messages to certain people — is also noted as being powerful yet easy to use compared to other platforms.
Where to Find SnatchBot
SnatchBot provides businesses of all sizes a chatbot program that will connect with customers in a variety of channels whether it's answering questions or taking payments. The SnatchBot store provides dozens of industry- and task-specific bots from information for coffee shop visitors to school event bots for students. You can sign up for the free plan and deploy a bot in less than 30 minutes.
Best Free Chatbot with Free Live Chat Software Suite: ArtiBot

ArtiBot is a chatbot designed by and for chat software Pure Chat. It includes unlimited bots and leads, hosted bot pages and bot templates. Pure Chat's software offers unlimited chats, up to three users, file transfers and can be integrated easily with a number of web and marketing platforms. It's also very easy to install and operate once up and running. This product is best for businesses that need both a free, basic chatbot solution and free live chat software.
ArtiBot Pricing
ArtiBot's free plan includes unlimited bots, unlimited leads, free templates, lead to email, three users and is managed within its own dashboard that is separate from Pure Chat. The ArtiBot Pro plan costs $15 per month and includes unlimited users, bots and leads and allows you to send leads to short message system (SMS) and text. It's also unbranded.
ArtiBot Tiered Features
| | Free | Pro |
| --- | --- | --- |
| Pricing | Includes 3 users | $15/month per bot, paid annually (unlimited users) |
| Unlimited Bots | ✔ | ✔ |
| Unlimited Leads | ✔ | ✔ |
| Hosted Bot Pages | ✔ | ✔ |
| Bot Templates | ✔ | ✔ |
| Lead to Email | ✔ | ✔ |
| Lead to SMS & Text | | ✔ |
| Unbranded Bot | | ✔ |
Free
The Free chatbot sets up easily by adding a line of widget script code to your website. There are more than 25 templates for different industries that can be customized using "if/then" branching statements. Captured leads are sent to email or can be exported to other software like customer relationship management tools (CRMs) with the Zapier connector giving customer service teams immediate access to service requests that can be routed accordingly.
The Free plan is good for small teams that want an easy to deploy chatbot that can answer basic questions, capture leads and inform them when live involvement is necessary.
Pro
The Pro plan costs $15 per month and removes the branding and provides unlimited users and conversations. It also adds the ability to send leads to SMS or text providing, in addition to email notifications, another way for users to reach out to visitors who need live help.
It's a basic chatbot that's intuitive and easy to set up. The Pro is best for businesses that want to have multiple people notified of bot conversations and able to respond if needed. This would be particularly useful for service teams with people in the field who made need text notifications.
What ArtiBot Is Missing
Currently, the bot does not pass information to Pure Chat and must be managed on the ArtiBot dashboard. If you're looking for a more connected experience between bot and chat, you should look into a paid options like BotEngine, which integrates with Live Chat and Chat.io. That said, a Pure Chat representative told us that it is looking to merge the two platforms.
What Users Think About ArtiBot
We could not find any reviews specifically for ArtiBot, but you can see a select list of customers currently using it on its website. You can see Pure Chat reviews if you head over to the Fit Small Business website.
Best Basic Chatbot with an Integrated Communications Platform: HubSpot

HubSpot is a CRM offering chat as part of its sales, marketing and service hubs. It can show visitors helpful content, create support tickets, qualify leads and book meetings. All of the hubs are connected into one conversations inbox. This makes HubSpot an excellent choice for businesses that want an all-in-one communication solution.
Pricing
HubSpot's chatbot is included in its forever-free CRM, which provides access to the live chat tool and limited versions of the marketing, sales and service hubs. Upgrades to the three hubs can be purchased together as a Growth Suite and start at $150 per month for one user or individually starting at $50 per month.
HubSpot Service Hub Features
| | Free | Starter | Professional |
| --- | --- | --- | --- |
| Pricing | Unlimited Users | $50/user per month | $400 per month |
| Book a Meeting | 1 | 1,000 | 1,000 |
| Conversations Inbox | 1 | 1 | 10 |
| Conversation Bots | ✔ | ✔ | ✔ |
| Create a Ticket | ✔ | ✔ | ✔ |
| HubSpot Branding Removed | | ✔ | ✔ |
| Email Sequences | | ✔ | ✔ |
| Custom Branching Logic | | | ✔ |
| Phone Support | | | ✔ |
| Knowledge Base | | | ✔ |
Free
The chatbot feature is accessed from the CRM, where you'll be able to create an operational bot in less than 10 minutes. You are able to create a linear flow of basic questions like asking for name, email, company and also giving the visitor the option to sign up for an email subscription, book a meeting, create a service ticket or hand off to an agent.
Missing from the chatbot is the ability to use branching logic to create custom "paths" of communication like those offered by SnatchBot, ArtiBot and Dialogflow. However, it does allow for bot handoff to a specific user using the free live chat software found in the CRM. All communication from bot, chat and email roll up into a centralized conversations dashboard making best for small businesses that want basic chat and a unified communications platform.
Starter
The Starter costs $50 per user per month and includes email sequences, conversation routing and branding removal. Sequences allow you to create a series of automated, customized emails to customers and prospects for post conversation follow up. This is performed in the CRM and integrates with Gmail, G Suite, Outlook and Office 365. With routing, you can assign the bot handoff to specific service agents, depending on who is least busy.
The Starter plan provides the additional automation features of email sequences and the handing off of bot conversations to specific users. These make it easier for teams to handle larger volumes of chats. It's best for those that have separate service and sales teams and need additional control over bot handoffs and post conversation automated follow-up.
Professional
The Professional plan costs $400 per month, includes five users and has the option to create up to 10 different conversation inboxes. It also includes bot branching logic, customer service automation and support surveys, multiple ticket pipelines and a knowledge base. The knowledge base can be hosted on a HubSpot system domain or your own and connected to the chatbot to provide a customizable, searchable site housing all of your service articles.
Although it has bot branching logic for building out "if/then" and "yes or no" conversation scenarios, this feature is standard on all of the chatbot programs we reviewed at a fraction of the cost. The value in the Professional comes from the knowledge base and the ability to automate customer service processes with ticket routing, task creation and escalation, making it ideal for multidepartment businesses that want to automate all of their chats and service.
What Is HubSpot Missing
To get logic branching logic, which is a feature of all the other chatbots we reviewed, you need to upgrade to the $400 per month Professional plan. This could be cost-prohibitive for many small businesses that are looking at $50 per month competitors. If you wanted the branching logic feature in a free bot, we would recommend SnatchBot.
What Users Think About HubSpot
Users like how all chat, email, phone and notes are logged into a single system that everyone can access and see. Others liked the knowledge base they can send visitors to for answers to service and product questions.
Best Chatbot with Robust Live Chat Integration Options: BotEngine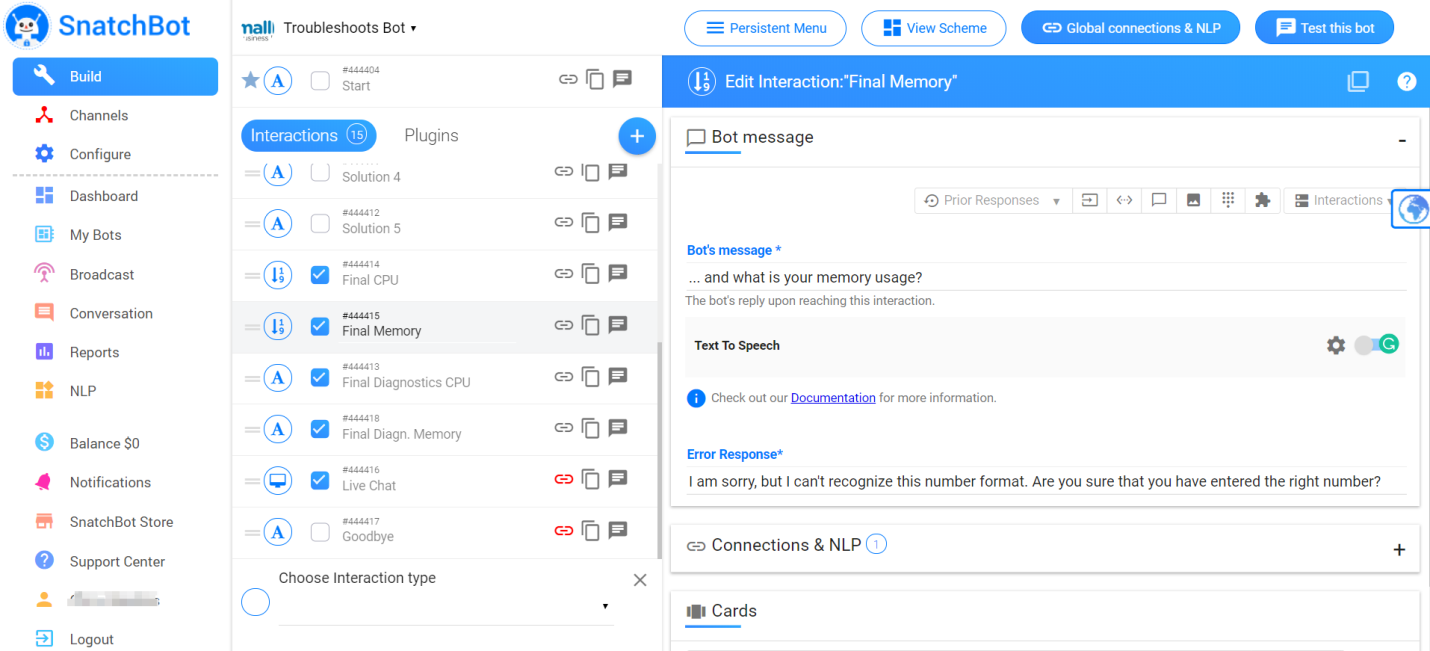 Example of customer service bot template.


BotEngine is a full-featured chatbot that natively integrates with LiveChat and Chat.io. It can also be implemented as a standalone solution giving businesses flexibility. The trainable chatbot's stories let the user define the elements and how it responds to questions and allows for connections to third-party platforms to handle customer-specific queries via web hooks. This makes it best for companies that want integration options with robust live chat software.
Pricing
BotEngine's sole plan costs $50 per month and includes stories, interactions, rich messages, live testing and integrations with LiveChat, Chat.io, Slack and Facebook Messenger. Integrated with LiveChat, BotEngine becomes a full-featured communication platform for both bot and live chat. It can also be used as a standalone chatbot.
BotEngine Features
BotEngine is a robust chatbot that integrates with live chat software LiveChat and Chat.io. LiveChat is a full-featured chat solution and Chat.io is an inexpensive option. It can also be used as a standalone chatbot. The bot is trainable allowing the user to define how it responds to questions through the use of stories. It also connects to third-party platforms with web hooks to handle customer-specific questions.
Conversation Elements
Stories are the scenarios you create for the chatbot to carry on a conversation and can include the following elements. Interactions are the basic elements that define what the bot does. Web hooks handle items like purchases, sending receipts and sending data between the bot and your databases. Entities let you pull information from chats like email or phone numbers. Attributes allow you to use personal information like as referring a customer by name.
Live Testing
This feature allows you to test chatbots before you go live with it. You pick your chatbot story, type various queries and see how it interacts. While you are testing, you can change how the bot responds if you're not happy with a response or question. Although this feature was included in several other chatbots we reviewed, this loaded faster than the others.
Bot Training
This tool improves the chatbot by using the data from chats to train it. You can review a list of user phrases the bot didn't understand in the chat and add them to your story so it will understand them in future chats. By reviewing this list, you are also learning what answers your users are looking for and how they are asking questions.
Integrations
The integration with live chat software LiveChat and Chat.io makes BotEngine a powerful customer service combination. When the bot can no longer answer questions, you can route the conversation to an agent automatically. The bot integration was designed specifically to be used with these two live chat solutions so customer service agents will see the bot conversations directly in their chat dashboard.
What BotEngine Is Missing
BotEngine does not have video or audio functionality for the chatbot. This is a small complaint, but it's a feature you would expect from a $50 per month chatbot, especially when the free SnatchBot has this.
What Users Think About BotEngine
Users liked the ease of set up and the integrations with platforms like WordPress, Slack and Facebook Messenger. They also liked the integration with LiveChat. A con for many was that it couldn't respond to complex questions.
Best Chatbot with Sophisticated Artificial Intelligence: Dialogflow


Acquired by Google in 2016, Dialogflow is a highly sophisticated chatbot that recognizes human expressions belonging to certain categories and can understand the context of a user's request based on what it knows about the user. These features make it an ideal fit for businesses like ecommerce that want a chatbot that can handle very specific customer service requests like checking an order status.
Dialogflow Pricing
Dialogflow's Free chatbot plan includes integrations with Facebook Messenger, Slack and Skype among others and currently supports 21 languages. The chatbot has the following limits on conversations: text (180 requests per minute), audio (100 requests per minute) and phone calls (30 minutes per day). Support is provided by email and an extensive community of users.
Dialogflow Features
Dialogflow is more sophisticated than any other chatbots we reviewed. It allows you to create user scenarios that can handle an almost limitless number of customer service requests. While you don't need programming skills, plan to spend some time getting used to all of the features like intents with its contexts, training phases, entities and responses.
Conversation Elements
The context feature remembers elements of the conversation and reuses them. For example, if it asks "what's your favorite food?" The visitor answers "tacos." Then, it asks "what is your favorite drink?" The visitor answers "beer." The bot puts these elements together: "So, your favorite food is tacos and favorite drink is beer."
Entities build on training phrases by allowing the user to ask more specific questions. Entities are based on parameter values. For example, a parameter value in an order is the order number. The software will detect the order number as a numerical input in a phrase like "what's the status for order number 01432988?"
Responses are answers based on the intent of the visitor and should prompt the visitors to keep the conversation going. The bot can return a static response based on predefined parameters. It can also use a web hook to return a dynamic response using fulfillment. The fulfillment code processes the intent information, sending a request to an external application programming interface (API) specific to the information and parameters in the visitor response.
Live Testing
Dialogflow makes it easy to test a bot in the dashboard before you go live. As your building your bot using the different conversation elements, you can test it as you go to see how and if it recognizes what you've set up. This makes it easy to see if each element of the conversation works before deploying the bot live. You can also test it using voice, which is a feature only found in SnatchBot.
Bot Training
The intent here is understanding what the user wants and form the heart of the chatbot. The first step to understanding are the phrases you can expect from users that trigger intent. For example, for checking on an order status, you can add phrases that train the bot to understand user intent like, "What is the status of order?" or "When will I get my order?"
Integrations
Though it does have integrations with other communications tools like Slack and Facebook Messenger, it does not currently have a native integration with live chat software. BotEngine is the only software we reviewed that has the bot conversation integrated into the live chat window to provide a seamless pass off between bot, customer and agent.
What Dialogflow Is Missing
Though Dialogflow's plan is free, there are limits to daily chats. However, for most small businesses, this should not be a problem. The number of options to available to customize the chatbot are only limited by you. This is a double-edged sword for those that want this level of sophistication, but don't have the experience and/or time to implement it. It also lacks a native integration with live chat software like that found in BotEngine.
What Users Think About Dialogflow
Users of Dialogflow like the large community and extensive documentation for help when solving problems. Also noted were the prebuilt bots for a variety of industries and business use scenarios.
Best Chatbot for Highly Targeted Customer Identification: Zoho SalesIQ

The Zoho SalesIQ chatbot can be triggered by over 40 highly targeted customer filters like the number of past chats, email, visitor question and other prequalifiers to help the service team quickly assess their needs for a more targeted post-bot interaction. Because it's part of the live chat software, conversations can be routed to a live agent easily. Therefore, it's best for businesses that need to define customers using specific parameters for bot conversations.
Pricing
The chatbot feature is included in Zoho SalesIQ live chat software starting with its Basic plan for $17 per month, which includes 1,000 live and bot conversations per month. The Professional costs $53 per month, includes unlimited conversations and additional features like audio call from chat, live chat monitoring and detailed agent reporting.
Zoho SalesIQ Tiered Features
| | Basic | Professional |
| --- | --- | --- |
| Pricing | $17 per month (billed annually) | $53 per month (billed annually) |
| Chat Visitors Tracked per Month | 50,000 | 100,000 |
| Live/Bot Chat Volume per Month | 1,000 conversations | Unlimited |
| Number of Chatbots | 50 | 50 |
| Lead Scoring   | ✔ | ✔ |
| Live Chat Audio Call | | ✔ |
| Monitor live Chats | | ✔ |
Basic
The Basic plan costs $17 per month and includes the live chat and chatbot functions, which allow for 1,000 combined monthly conversations. The provided chat templates can be customized for up to 50 chatbots using branching "if/then" logic. You can create trigger rules for each bot based on filters like campaign name, visitor question, number of past chats, location and others. The bot will then reach out to the visitor based on these rules.
This plan's chatbot is complimented with live chat features so that all chats are collected, monitored and routed from the same dashboard. Bot conversations can include the option to speak with an agent and bots can also automatically schedule meetings with support. The Basic plan is for teams that need a way to initiate targeted chatbot conversations with customers whether for support or upsell.
Professional
The Professional costs $53 per month and includes unlimited live and bot conversations and five operators. The chatbot functionality is the same as the Basic plan. However, live chat has premium features like intelligent triggers, adding another way to automate conversations and has operator performance reports and intelligent trigger tracking with insights on how many are initiated and responded to.
The Professional plan is for businesses that have high volumes of traffic like ecommerce stores and want ways to identify, initiate and start conversations with customers and visitors with chatbots. It is also a great plan for businesses that want to be able to identify high priority visitors quickly for live agent handoff.
What ZohoSales IQ Is Missing
The chatbot is missing a user-friendly bot creator. There are prompts for things like an "if/then" condition, but any changes or customization must be done in the code displayed by entering a script for the change. This will be mostly intuitive for anyone who has ever dabbled with HTML code but not for those who need more technology hand holding. If you're looking for an easy bot creator, consider SnatchBot.
What Users Think About ZohoSales IQ
Because the chatbot is a feature of the larger ZohoSales IQ platform, we could not find specific reviews of this feature. However, for the overall solution, users generally like the insights it provides about what pages a visitor visits, where they leave and the overall value it provides with features like lead scoring. For more user reviews on the overall platform, visit our Zoho SalesIQ user review page.
The Bottom Line
Chatbot software is an automated communication channel that should become part of every business' customer service operation. While it cannot currently take the place of a live account management representative, it can answer many high-level questions and even be programmed to return customer-specific queries. The more a chatbot is used, the more it learns the specifics related to that business and its customers making it a tool to be invested in right now.
We found SnatchBot offered the best mix between of customizability, intelligence, cost and overall features for the small business. Creating bots from scratch is easy plus the store provides bot templates for dozens of industries and business needs to make the process even easier. Sign up for the free version to test it out.
Visit SnatchBot