2019 is your year. You're finally going to open that business of your dreams ― in Portsmouth, New Hampshire.
No, that wasn't a mistake. It turns out Portsmouth is just one of several surprisingly ideal launching pads for new businesses in 2019 — many which are far cries from startup meccas like San Francisco and New York City. The reason is simple: The best cities for entrepreneurs are not based on sheer population but a number of location-specific elements like access to startup funding, an educated workforce, business support, and low cost of living. Combined, these factors equate to a high rate of startup success in small and large cities across the United States.
Evidently, the choice of city can make or break your startup in the first year, so we compiled our annual list to give entrepreneurs a definitive roadmap of the cities that offer the best chance of survival. Last year, our first-ever ranking of the best cities for entrepreneurs showcased some predictable big names: San Diego, Atlanta, Miami, New York. This year, our survey found more surprising standouts.
In 2019, locations like Seattle, Denver, and St. Louis top the rankings due to extensive financing options, supportive business cultures, and skilled workers who can be recruited to grow your startup. We also considered metrics like tax rates to determine possible hindrances to profitability, business survivability, general economic growth, cost of living, and quality of life.
Here are the weighted metrics we used to compile our definitive ranking:
Business survivability rate (15%): The early startup survival rate is the percent of startups that are still active after one year; while this metric is not indicative of long-term success, it does help provide insight into short-term growth and early startup success
Economic growth rate (15%): The economic growth rate reflects the year-over-year changes in gross domestic product at the state level; while this is not city-specific, it does point to the likely economic health of cities within a given state
New business growth (15%): This figure represents the year-over-year percentage of new business growth; this data is indicative of the likelihood of a small business growing in a particular city or region
Financial landscape (15%): The cost to legally start a business varies by state from less than $100 to more than $300; we considered this entry point as well as available state financing; while financing might seem worthy of weightier consideration, we found that most financing is not restricted to cities or states, making location-specific funding a less important consideration
Tax climate (15%): Taxes vary on a state-by-state basis, each with differing tax-types and amounts; state-based income, corporate, and sales taxes were considered as significant factors in our ranking; high tax rates often make startup success difficult, so we favored states and cities with lower taxes
Labor market (10%): Not having the right team is the number three reason startups fail, according to Entrepreneur; that's why we favored cities with an educated, available labor force
Quality of life (10%): It's easier to get burned out when you aren't happy in your environment, and burnout is another cause of startup failure; we sought cities that are highly rated for quality of life, contributing to an entrepreneur's overall well-being and motivation
Cost of living (5%): The more you have to spend on housing, food, and transportation, the less money you have to invest in a successful startup; for that reason, we favored cities that are more affordable to live in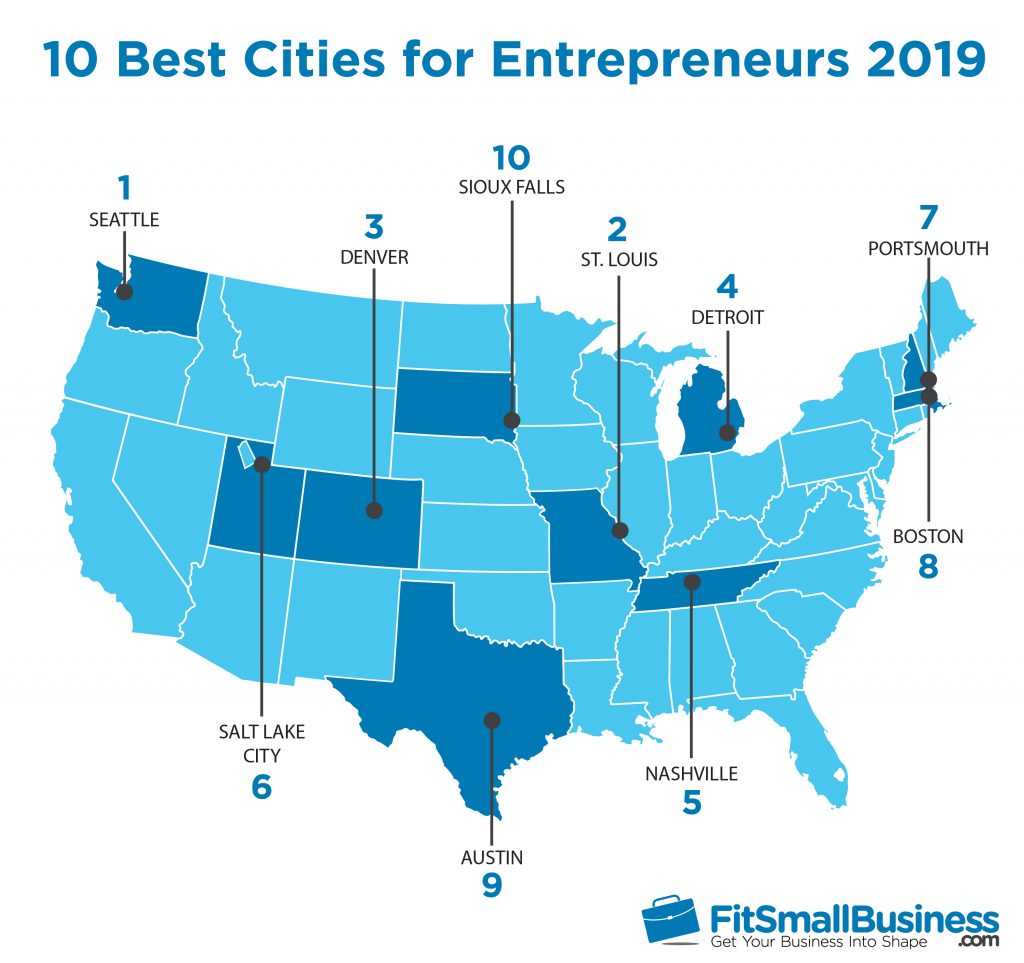 Below is our definitive list of the top 10 best cities for entrepreneurs in 2019, with a table at the end of this list ranking cities from all 50 states.
1. Seattle
Seattle, or Cloud City as it's often called, lands at No. 1 on our best cities for entrepreneurs. The city once known for bad weather has become synonymous with tech innovation. Notably, Corporate tech giants like Amazon, Google, and Microsoft have laid down roots in the area during the last 30 years. With zero corporate or income tax, a higher-than-average rate of business survivability, and a high quality of living, it's a great place for businesses to get their feet off the ground.
The startup city's workforce is made up of 5.5% entrepreneurs and has a 2.2% high-growth company density — startups with 20% year-over-year growth. It also has the nation's highest annual wage growth at 9.4%, according to INC [https://www.inc.com/surge-cities/best-places-start-business.html]. The reason behind the entrepreneurial success in Seattle? Simple: the amount of resources available to local entrepreneurs — from mentorship programs to networking events — alongside vast funding networks. For example, Madrona Venture Group, a Seattle venture capitalist firm, had a record of four initial public offerings (IPOs) just in the past two years.
2. St. Louis
St. Louis lands as the second-best city for entrepreneurs thanks to its high business survivability, lower-than-average tax rate, and very low cost of living. While this may seem surprising to aspiring startup owners who equate bigger cities like San Francisco with entrepreneurship, St. Louis's affordability and undersaturation make it the ideal proving ground for new businesses.
St. Louis not only has the nation's highest business survivability rating at 85.32% — compared to the national average of 79.27% — but it also ranks as one of the top 10 cities in the U.S. for millennial entrepreneurs. About 40 percent of new ventures are started by millennials and 42% by Gen Xers, according to Lending Tree. The city also boasts a number of startup resources, such as Accelerate St. Louis, a business accelerator, and EQ, a media platform dedicated to startups.
3. Denver
Denver has rapidly become one of the country's largest tech towns with more than 600 tech startups nestled within the city's boundaries. It has a high 8.7% rate of entrepreneurship with a 3.5% high-growth company density per 100,000 people, according to INC. Its low corporate and income tax rate of 4.63%—along with an economic growth rate of 3.7% (compared to the national average of 3.4%)—creates an environment for startups to grow and flourish.
The city also boasts plenty of resources for entrepreneurs, such as the uber-successful Denver Startup Week. Additionally, the Denver area is home to several well-known venture capitalist firms, including the Denver Angels and Rockies Venture Club, as well as the Techstars Sustainability Accelerator. Denver also has a remarkably educated labor force, with 39.40% of the populace holding bachelor's degrees. This provides startup owners with the necessary talent to thrive at launch.
4. Detroit
Detroit has long been synonymous with industrialism and capitalism, but as markets shift, it's making a conscious effort to craft a business-forward reputation in the 21st century. As part of this effort, the city touts its low cost of living index (89.3) as well as robust financial support and a sprawling small business network.
In fact, in 2018, Michigan saw higher-than-national-average business funding of $2.1 billion, according to the Small Business Administration (SBA). The additional access to support groups and events — such as Grow Detroit, a startup community, and Detroit Den, an entrepreneurship network — resulted in Detroit becoming one of the nation's top five places for business survivability with a rating of 81.47%. No wonder, then, that they landed at No. 4 on our list.
5. Nashville
Nashville isn't just a place to make it big in music — it's also a hotbed of startup growth. Shocking to most, the Capital of Country has become known as a medical business hub thanks to the 800-plus healthcare companies located within city limits, many of which are startups.
In fact, the city has a 7.9% rate of entrepreneurship, according to INC, and is in the nation's top five for businesses survivability with an 81.18% rating. Resources for startups are also abundant, and the city has a large pool of educated talent, given the 20 colleges and universities in the area. Coupled with no income tax, a lower than average cost of living, and a high quality of life, these factors make Nashville a good bet for starting a profitable business.
6. Salt Lake City
Outside of the coasts, Salt Lake City has a reputation for being the go-to city for tech entrepreneurs. In fact, it's now referred to as the Silicon Slopes, playing off its status as the mountainous version of the Silicon Valley. The city boasts an impressive 6.99% rate of entrepreneurship and the nation's highest rate of high-growth company density at 6.1%, according to INC. Tech startups are flocking here, sparking new small business networks and attracting the eye of many venture capitalists.
The Silicon Slopes is among the top five cities for its concentration of "tech unicorns" and is surpassed only by three cities: San Francisco Bay Area, New York City, and Boston, according to The New York Times. Intrigued by the high number of startups based in Salt Lake City, Crunchbase reported on the resources that are keeping them going, cataloging 30 venture capital firms and funds, tons of startup events, five accelerators, and more than 20 startup organizations and groups.
7. Portsmouth
The No. 7 spot on our list goes to Portsmouth, a city of just 21,000 on the seacoast of New Hampshire. It earned the ranking because it has a positive business climate with some of the lowest taxes in the country, a high quality of life, and a highly educated labor pool; 36% of residents have a bachelor's degree or higher, due to its proximity to college-rich towns like Boston and New York City.
The barrier to market entry is very low in the area due to the city's low cost of living, low taxes, and a lack of small business saturation. With international cities like Boston nearby, Portsmouth also has access to a highly qualified labor pool and countless financial and support networks. Additionally, it has a higher-than-national-average economic growth rate of 4.4%, more than 5,000 local investors, and a $2.5 million average business valuation, according to AngelList.
8. Boston
Boston is a hub for international business and one of the best cities for international entrepreneurs due to its accessibility to the United Kingdom and Europe. One of the primary reasons it landed in our top 10 is because it is among the nation's top five cities for business survivability, with a rating of 82.74%. This is no surprise for a city that boasts dozens of world-class colleges and universities; a highly motivated and talented labor force, readily accessible to entrepreneurs, is key to small business success.
Beyond its labor pool perks, Boston boasts extensive networking opportunities and financial resources. Since TechStar's Boston launch in 2009, the accelerator has provided financial resources to more startups than any of its other locations worldwide — 134 companies and $715 million in funding. Naturally, this boom in startup success has resulted in the growth of several Boston-based entrepreneurial networks, which now frame the support structure for new entrepreneurs.
9. Austin
Austin has made quite a name for itself as a startup mecca in the 21st century, and entrepreneurs are flocking there by the thousands each year. This is in part due to its business-friendly legal and tax climate; with public incentives for starting a business in Texas, such as no corporate taxes, it's easy for startup owners to see more profits.
Austin-based startups have an average business valuation of $4.7 billion, according to AngelList, with more than 4,000 companies and more than 6,000 investors dotting the municipal landscape. Texas as a whole offers more money in small business loans than any other state in the nation ($6.8 billion), according to the most recent data from the SBA. To boot, Texas has a general economic growth rate of 5% — much higher than the national average of 3.4%, illustrating the state's flourishing business climate.
10. Sioux Falls
Sioux Falls is a city of entrepreneurs. Despite having a population of less than 200,000, it has become a startup hub due to its business-friendly tax climate — no income and corporate taxes — low cost of living, a large community of entrepreneurs, and organizations to help new ventures launch and succeed. It is also in the nation's top five for business survivability with a rating of 81.44%.
Still finding it hard to believe Sioux Falls is a top entrepreneurial city? It's a city that celebrates entrepreneurship — literally. Its mayor created the city's very own "Entrepreneurial Day" where entrepreneurs and small businesses are celebrated. It also has seven entrepreneurship organizations, such as the Zeal Center for Entrepreneurship and Enterprise Institute, and five local angel investment funds available to local entrepreneurs.
Data Chart With List of All 50 states
Financial Landscape

Tax Climate

Cost of Living Index Rating

Labor Market

Economic Growth Rate
(U.S. Average: 3.4)


Year-over-Year Percent of New Businesses

Business Survivability

Quality of Life

CITY
STATE

Total
15%

Total
15%

Total
5%

Total
10%

Total
15%

Total
15%

Total
15%

Total
10%

TOTAL POINTS

NEW - OVERALL RANK

Seattle
Washington

20.5

7

25

23

3.9

1.95

5.55

3

28.03

1

St. Louis
Missouri

30

5

35

20

3.15

1.05

7.5

3.6

28

2

Denver
Colorado

34

6

28

31

3.3

1.5

2.4

4.1

27.05

3

Detroit
Michigan

33

5

16.25

16

3

1.65

6.9

2.2

25.71

4

Nashville
Tennessee

22.5

6

14.5

15

2.4

2.1

6.6

2.3

24.85

5

Salt Lake City
Utah

25

6

17.5

28

3.6

1.95

3.45

2.9

24.83

6

Portsmouth
New Hampshire

15

7

15.75

33

4.05

1.35

1.5

4.7

24.69

7

Boston
Massachusetts

19

3

13.25

35

3.45

1.65

7.2

2.6

24.56

8

Austin
Texas

24

7

16.5

22

4.2

1.05

4.65

0.5

24.23

9

Sioux Falls
South Dakota

10

7

14.25

20

0.15

0.3

6.75

4.6

23.36

10

Billings
Montana

20

6

7

19

0.9

0.9

6.3

3.8

22.8

11

Miami-Fort Lauderdale
Florida

34

6

6.5

19

2.4

1.95

2.7

1.8

22.48

12

Minneapolis
Minnesota

20.5

0

16.25

30

1.5

1.35

7.35

4.9

22.39

13

Wilmington
Delaware

10.5

5

13

24

4.35

1.5

3.3

2.7

21.88

14

New York
New York

29

2

4.75

27

3.75

1.95

4.95

1.4

21.69

15

Madison
Wisconsin

24

2

14.75

24

2.55

1.35

4.35

4.8

21.39

16

Portland-Bend
Oregon

24.5

4

6.5

21

3.45

1.65

3

3.3

21.35

17

Charleston
South Carolina

20.5

4

9

17

2.25

1.65

6.45

2.1

21.28

18

Richmond-Norfolk
Virginia

29.5

5

15.5

33

1.35

1.8

3.6

1

21

19

Portland
Maine

12.5

1

6.25

23

2.55

0.9

7.65

3.9

20.64

20

Mobile
Alabama

18

5

12.75

12

1.95

1.5

5.7

1.6

20.49

21

Charlotte-Raleigh
North Carolina

28

4

11

20

2.4

1.35

3.9

1.7

20.1

22

Philedelphia
Pennsylvania

29.5

3

12.25

20

2.55

1.65

5.25

0.7

19.99

23

San Franscisco Bay Area-Southern California
California

32

0

7

23

2.85

2.1

7.05

0.1

19.65

24

Jackson
Mississippi

25.5

4

12.5

4

1.95

0.75

2.85

4.5

19.25

25

Cheyenne
Wyoming

10

8

20

13

1.65

0.9

1.35

4

19.15

26

Des Moines
Iowa

26

0

17.75

21

1.2

0.6

5.85

4.2

19.04

27

Boise City
Idaho

18

1

10

18

2.1

1.35

6.15

3.1

19

28

Columbus
Ohio

27.5

6

15.75

11

3.6

1.35

0.45

1.1

18.96

29

Fargo-Bismarck
North Dakota

12.5

6

17

25

0.6

0.45

1.2

5

18.43

30

Oklahoma City-Tulsa
Oklahoma

27.5

5

16.5

14

2.1

0.6

0.9

3.4

18.4

31

Atlanta
Georgia

29

5

15

20

2.55

1.65

0.15

1.9

18.25

32

Little Rock-Fayetteville
Arkansas

26.5

3

12.5

9

0.9

0.75

4.05

4.4

18.15

33

Phoenix-Tucson
Arizona

31

4

11

12

2.25

1.95

2.1

1.2

18.1

34

Indianapolis-Fort Wayne
Indiana

25.5

3

15.75

13

1.95

1.5

5.4

0.3

18.06

35

Las Vegas-Reno
Nevada

23.5

7

7.75

8

2.7

1.8

1.05

0.8

17.96

36

Jersey City-Paterson
New Jersey

29

1

12.75

28

1.95

2.1

5.1

0.2

17.89

37

Bridgeport-New Haven-Stamford
Connecticut

15

1

14

30

3.6

1.2

4.8

1.3

17.85

38

Lexington-Fayetteville
Kentucky

26

4

11

8

1.2

0.9

4.2

2.4

17.55

39

Chicago
Illinois

24.5

2

15.25

23

3

2.4

2.55

0.4

16.59

40

Baltimore
Maryland

21.5

2

14

31

1.8

1.8

1.8

2

16.48

41

Anchorage-Fairbanks
Alaska

4

7

14.75

13

0.75

0.15

3.15

3.2

16.44

42

Honolulu
Hawaii

23.5

3

9.75

28

0.45

2.1

2.25

1.5

16.26

43

New Orleans-Baton Rouge
Louisiana

22.5

3

9.75

5

0.3

1.35

6

0.9

16.21

44

Burlington
Vermont

8.5

1

8.5

34

2.85

1.05

3.75

2.5

16.1

45

Omaha-Lincoln
Nebraska

21.5

2

17.25

26

0.75

0.6

1.95

3.7

15.64

46

Providence
Rhode Island

5.5

2

9.75

25

3

1.95

1.65

2.8

15.41

47

Kansas City-Wichita
Kansas

18.5

3

18

25

1.05

0.45

0.3

3.5

14.93

48

Albuquerque
New Mexico

15.5

4

9.75

9

0.6

1.5

0.6

4.3

14.41

49

Charleston
West Virginia

15.5

2

8

2

2.25

0.75

4.5

0.6

12.83

50
Click here
to see all data considered in our study.
Methodology
We based the ranking of the 10 most entrepreneurial cities on six overarching categories comprised of 14 metrics in total. We then weighted each metric based on its relative importance.
Startup Activity ― 45%
Startup activity is comprised of three elements: business survivability (15%), new business growth (15%), and economic growth rate (15%). The culmination of these three factors provide insight into each area's startup outlook. Business survivability is the early startup survival rate or those businesses that are still running after their first year of operation. New business growth is the year-over-year percentage of new business growth. Lastly, the economic growth rate measures gross domestic product (GDP) growth on a state-by-state basis year over year.
Business-friendly Tax Climate ― 15%
State and local tax policies can make or break a business, especially small businesses. For this reason, we sought cities with tax-friendly policies that reduce barriers to early startup success and increase a company's profits. This category is comprised of different types of taxes, including income tax, corporate tax, and sales tax.
Financial Landscape ― 15%
This metric encompasses both the cost of starting a business and the amount of small business loan and private funding in each state, according to data collected by the SBA. These metrics give insight into a city's barrier to business entry as well as the potential for securing startup funding. However, as most funding is not location-specific, we chose not to weight this more than tax climate or startup activity.
Labor Market ― 10%
Since one of the causes of startup failure is poor staffing, we favored cities with a large, educated labor pool — bachelor's degree or higher. This indicates the amount of talent available to growing businesses in a given area, which in turn, suggests likely startup success.
Quality of Life ― 10%
Entrepreneurs are more likely to become burned out when they aren't happy with their environment, and burnout is a leading cause of startup failure. To help prevent this, we included quality of life as a metric for determining the best cities for entrepreneurs. This metric included two main considerations — natural environment and social environment. Data measuring these two considerations were provided by Business Insider [https://www.businessinsider.com/us-news-best-states-quality-of-life-ranked-2018-2#49-new-jersey-2].
Cost of Living ― 5%
Cost of living may not be directly related to startup success. However, it does indirectly affect a startup's success. As many startups are bootstrapped, which means funded by the owners themselves, a low cost of living means these owners have more available funds to spend on their business — not on day-to-day essentials. Therefore, we favored cities with a low cost of living.
Bottom Line ― Best Cities for Entrepreneurs 2019
The best cities for entrepreneurs changed greatly from 2018 to 2019. Previously, the top cities were those based in coastal regions of the country, such as Miami, New York City, and Los Angeles. This year, however, several ranking cities are located inland, such as St. Louis and Denver. Startup trends are evolving, but for entrepreneurs ready to take the leap in 2019, it's worth considering the locations in our definitive ranking above.