Content management systems (CMS) are the platforms that most of the websites on the internet are built on. They provide an administrative backend for website owners to add, edit, and manage all of the content that a user sees when they visit that website.
We looked at the most popular options and decided to review Wordpress, Drupal, and Joomla, which together make up about 60% of the share of CMSs on the internet.  However, if you're hosting 'training specific' content like e-learning or training videos consider a learning management system instead. Otherwise, the companies below covered the range of content-management options for small businesses in terms of features, flexibility, and ease of use.
Best CMS For Small Businesses: Wordpress
We recommend Wordpress as the best CMS for small businesses because it offers the best balance of features, flexibility, and ease of use. In fact, we believe in it so strongly, it's the CMS we use to power fitsmallbusiness.com.
WordPress vs Drupal vs Joomla Summary Table
Best For
Ease of use and flexibility, particularly for news or blog websites

More advanced websites with complex data organization needs

More content and structure flexibility for users with more technical knowledge
Free
Free
Free
Easy

Intermediate

Intermediate
Advantages

Very user friendly
Extensive SEO integration
Most themes are fully responsive
Largest user community
Most free themes and plugins

Very stable and versatile
One code base can support multiple sites
Easily scalable and enterprise ready
Best for speed and performance

Best user admin for managing large amounts of data
Best for e-commerce
Large and active developer community
Wide range of plugin and extension types

Disadvantages

Prone to security breaches
Somewhat bloated code base

Smaller developer community
Steeper technical learning curve

Fewest free themes and plugins
Plugin compatibility issues aren't uncommon

Free Themes
3,000+
2,000+
1,000+
Free Plugins
44,000+
26,000+
5,000+
Average Update Frequency
Every 40 days
Every 30 days
Every 36 days
Website
www.Drupal.com
www.Joomla.com
Best Overall CMS for Small Businesses: Wordpress
We recommend Wordpress as the best CMS for small businesses because of its range of features, flexibility, and ease of use. It's the best choice for beginners, is especially well-suited to small and medium-sized businesses, and smaller e-commerce websites. It's also the world's most popular content management system.
For most small businesses, WordPress is the best balance between ease of use and flexibility with an emphasis on the former.
One of WordPress' most notable features is one-click installation, which is offered by most hosting companies. With the help of this feature, even the most novice user can have a basic blog website up and running within 5-10 minutes of registering a domain name and signing up for a hosting package. Once WordPress is installed, you can choose from one of the included themes and begin posting within minutes. Drupal and Joomla both offer one-click installation as well, but WordPress is quicker and easier to configure and launch once installed.
Of course, you'll likely want to customize your website to your business' branding and needs. This is where WordPress excels over its peers. With over 3,000 free themes and over 44,000 free plugins compared to 2,000 and 26,000 for Drupal and 1,000 and 5,000 for Joomla, respectively, there's a theme you can adapt for any aesthetic and a plugin available for almost every need. And those are just the free options.
WordPress also has the largest community of users compared to Drupal and Joomla, which means that support is more accessible and updates to themes and plugins are more frequent.
The downside to WordPress' popularity is that it's become a more attractive target for hackers and is more prone to attacks and security breaches. Wordpress is also known for having a somewhat bloated code base, which can negatively impact speed and performance — but it's unlikely that the typical small business' website will be large enough for this to be an issue. Finally, WordPress does not offer multi-language support out of the box — there are plugins that will add this functionality, but it's not included natively like it is with Drupal and Joomla.
Best CMS for Complex Data Organization: Drupal

We recommend Drupal as the best CMS for organizing complex data, whether in content taxonomies or deploying multiple websites from one code base.
Drupal is more technically advanced and fully realized than Wordpress and Joomla, which makes it the most attractive option for businesses with dedicated development resources or who outsource this work. You can also access and edit the root files directly if you need to make more significant changes to the code base. It's also less resource-intensive, which means that it offers better performance with faster loading pages and response times.
Drupal's recent update to version 8 added some upgrades that help to enhance the user experience for smaller businesses, including:
Authoring, which is the cornerstone of Drupal's improved administrator experience. In addition to a basic WYSIWYG editor, which is similar to those offered by WordPress and Joomla, Drupal also provides in-line and in-context editing directly on the webpage. This is a huge time saver for businesses that manage content on their website — especially simple edits or for those who may not be technically inclined.
Flexible content delivery enables you to create and deploy content as a service to multiple channels, devices, or applications or when you integrate content from other sources into Drupal. As APIs become more and more common, this will help businesses to maximize them.
Finally, translation and localization are much easier with Drupal. The CMS natively supports options from the authoring side with dozens of languages. Drupal can also support your business processes around language translation and localization — for example, integration with external translation service providers.
However, some of Drupal's advantages for some users will be disadvantages to others — it can be too much for many small businesses to manage. WordPress and Joomla are much easier to use "out of the box" and require less development to set up, manage, and maintain. Drupal also has a steeper learning curve and a smaller community of users, which means some businesses may need to be more resourceful and self-reliant in managing it.
Or as Brent Wilker, Vice President of Business Development at the leading Drupal development agency, ImageX Media, explains:
"Each CMS has uses cases which make it a better fit than others, and Drupal is no different. Drupal is considered the premier 'enterprise open source CMS' for its ability to integrate with other software and its scalability. Web applications, transactional sites, heavy data sets, large scale processing and heavy traffic will find Drupal to be a very effective platform for their needs."
Best CMS for Content and Structure Flexibility: Joomla

We recommend Joomla as the best CMS for content and structure flexibility. It also presents the middle ground in usability between WordPress and Drupal — powerful enough to manage complex websites, but doesn't require as much technical knowledge as Drupal.
Some of the benefits specific to Joomla include:
Joomla makes it easy to create social networks within the websites it powers
Some e-commerce support is included natively, bypassing the need to add and configure third-party plugins or modules
Its administrative interface is the best of the three CMSs we reviewed for managing a large number of articles or building and editing content structures
While Joomla does have more of a learning curve than WordPress, a relatively minimal investment in time to learn its structure and terminology will give you a CMS with greater power and flexibility that's easier to use than Drupal.
The most significant downside to Joomla is that, despite it being more popular than Drupal, it offers fewer free themes and plugins than both WordPress and Drupal. This means that customization may be more difficult to achieve and maintain than with the other CMSs.
As well, while Joomla does include some basic SEO assistance, it falls short of the features that are included in WordPress and Drupal natively.
In-Depth Review: WordPress vs Drupal vs Joomla
Price
Wordpress, Drupal, and Joomla are all open source software, which means that the base product is free to use and supported by communities of thousands of users. Extras that you can add to customize the base product, such as themes, plugins, and extensions, are offered by third-parties and often at a cost. As well, your website will need to be hosted by a third-party hosting company.
Because of this, the actual cost of building a website using any of these three software may vary widely depending on your specific needs. As well, there is no official customer support; all three rely on their user communities.
Ease of Setup & Use
The primary purpose of a CMS is to make it easy for your business to design, build, and launch your website. A CMS provides an easy interface for you to input, edit, and manage all of the content on your website and is the platform on which you can add individual themes and plugins to extend and customize its functionality to your needs.
Because of this, finding the right balance between ease of use and flexibility will likely be the main consideration in determining which CMS is the best for your business.
Wordpress, Drupal, and Joomla all offer variations of a one-click installation depending on the third-party hosting company you choose. Let's look at what you can expect once your CMS is installed.
The post-installation setup process for Wordpress is much quicker and easier than with Drupal or Joomla. Users are presented with a simple and clean interface with the menus to create posts, pages, or start customizing the appearance with themes or functionality with plugins.
On the same left-hand navigation is a series of links to profile and system configuration pages. Rolling over the menu items with your mouse will reveal a submenu, or you can click on the top-level menu link and navigate through each page. Fields on each page are clearly labeled and prompt you to input basic information about your business, such as name, tagline, contact information, and social media links and system settings like time zones and default URL structure (if you want to change it).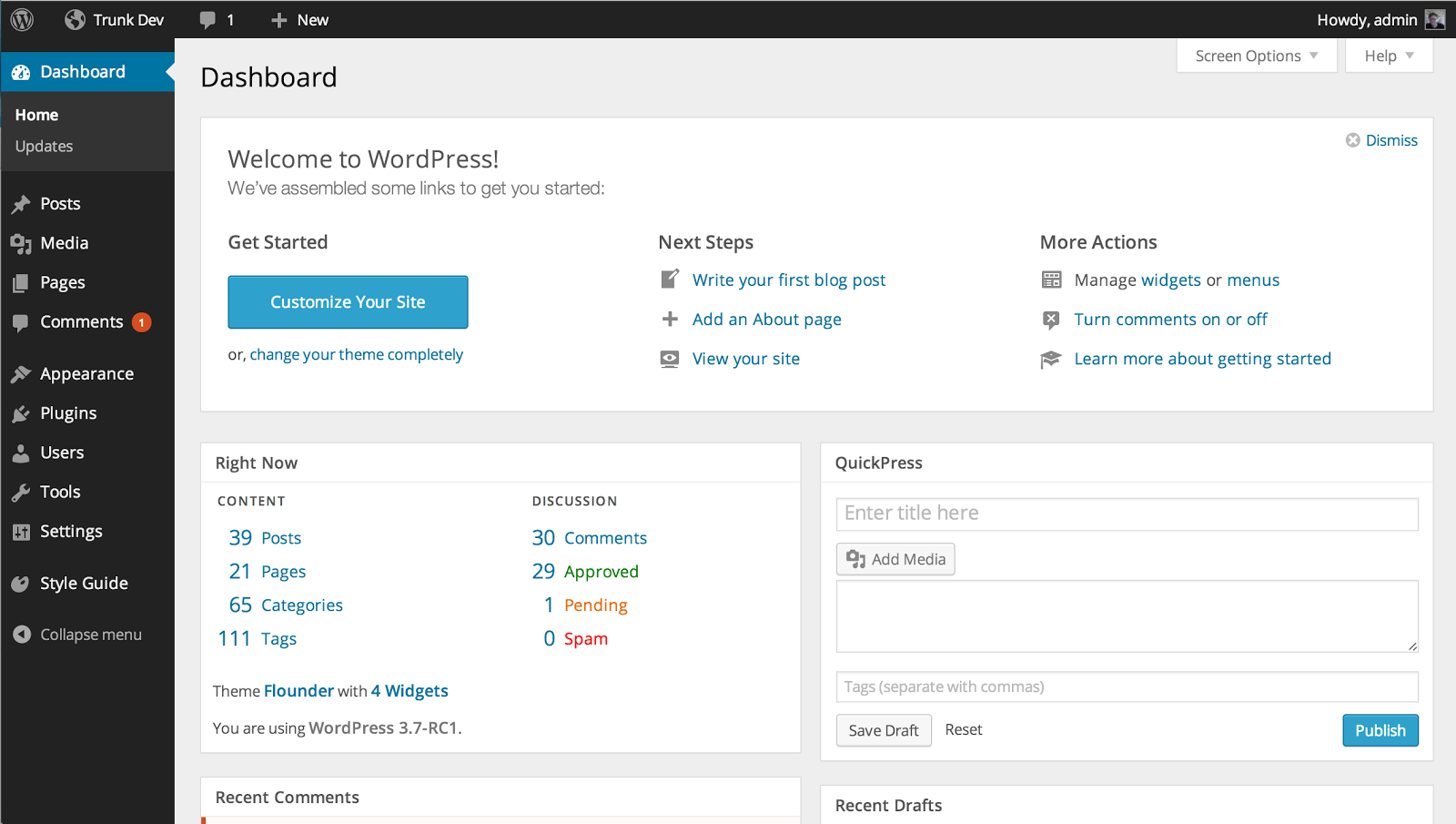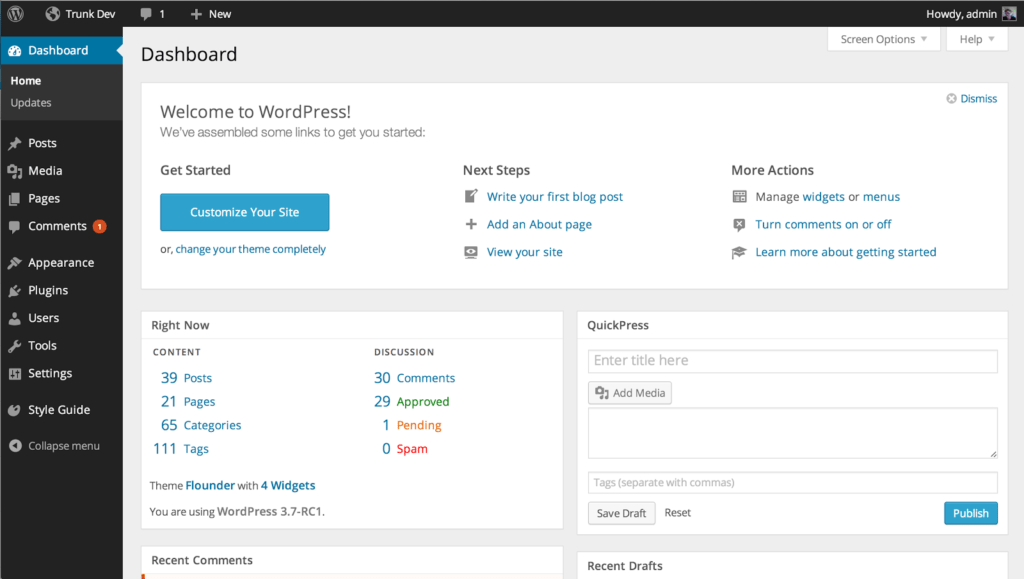 If this sounds intimidating or overly technical, be reassured that it's not. Navigation is intuitive, fields are clear, and you won't be overwhelmed with options. WordPress' defaults, while not ideal, are also enough to launch a basic website for you.
Once your profile and system settings are set up, you can begin to customize the look, feel, and functionality of your website with themes and plugins. WordPress comes preloaded with several common themes and plugins that you can use as-is or customize with some basic coding knowledge.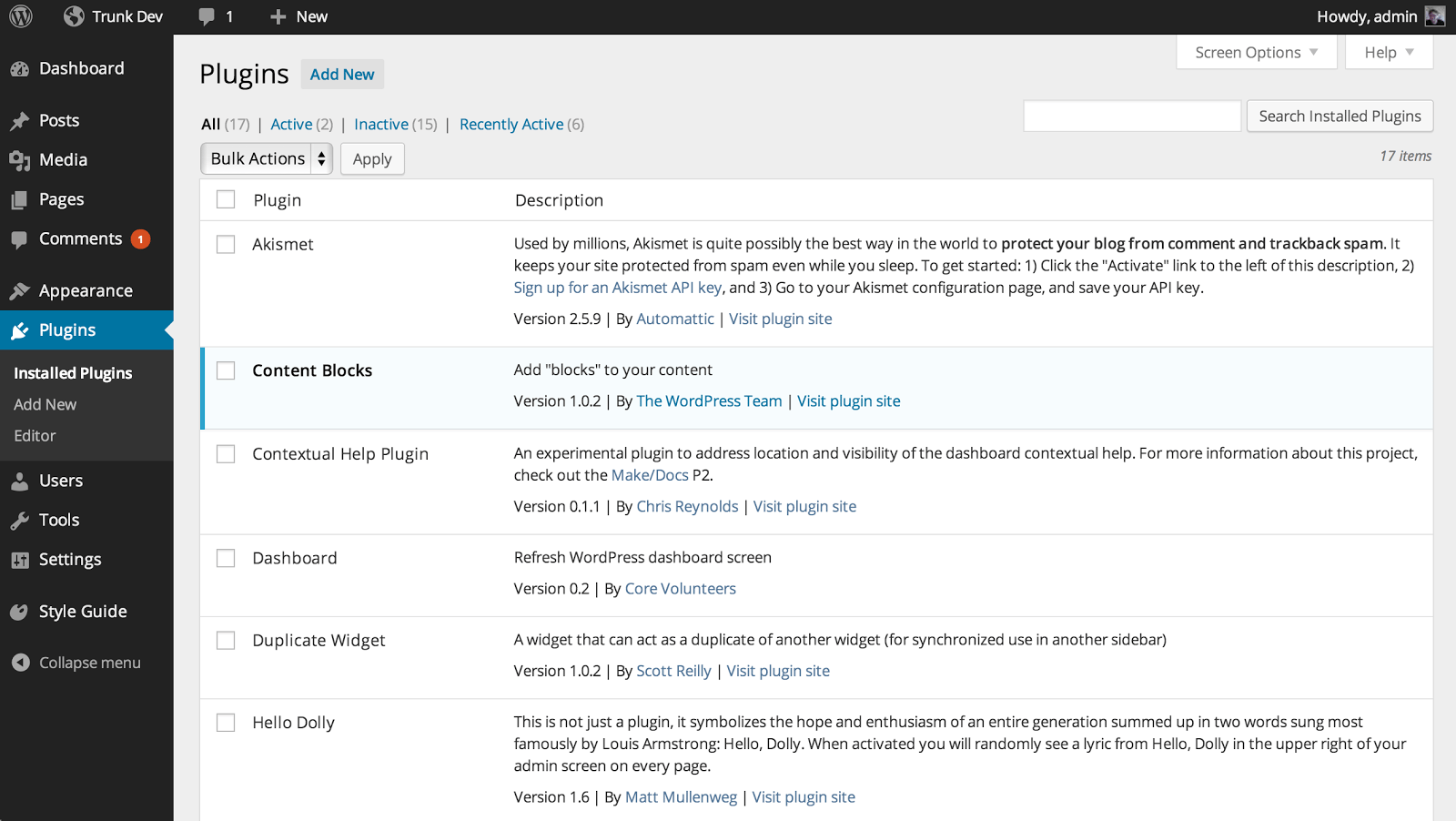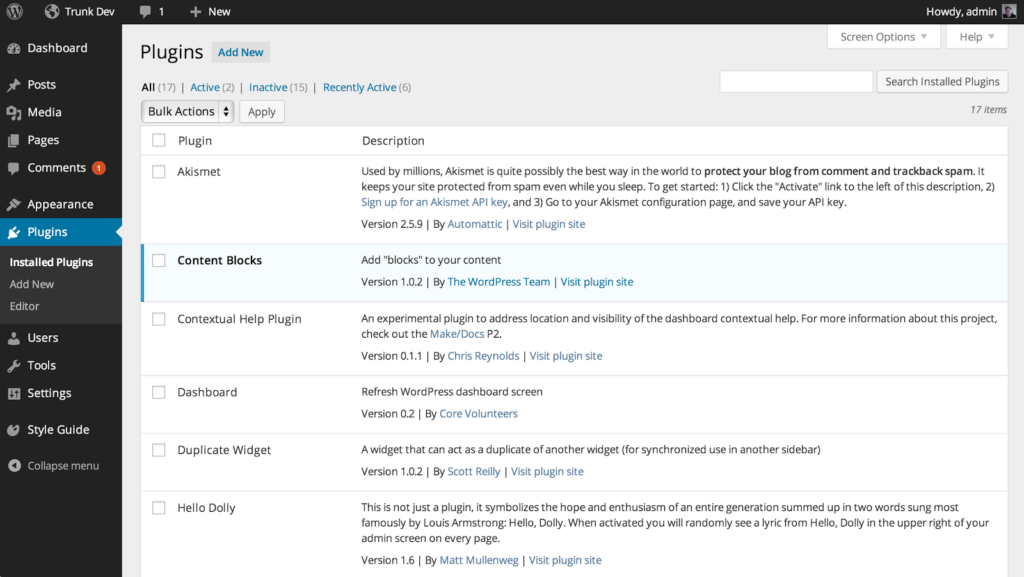 However, this benefit is also one of WordPress' drawbacks. WordPress is an easy to use CMS because it limits the ability for most users to make significant edits to the code. This helps to minimize the risk of error, but it also means that you can't make significant structural changes to your website without the help of a designer and/or developer. Drupal and Joomla make it easier for you to make more meaningful changes to your website, but that comes with the associated risks.
If you'd prefer more choice, you can browse through the thousands of free themes and/or consider paying for one from third-party marketplaces like ThemeForest (which also includes options for Drupal and Joomla, albeit far fewer). Adding plugins to extend the functionality of your website follows a similar process.
Of course, there's a lot to learn about how WordPress works regardless of how easy it is to setup and use. This is where the benefit of Wordpress' large user base becomes clear. There are an endless number of websites devoted to tutorials, from the absolute basics to more advanced topics like enhancing security. Individual themes and plugins also generally offer their own support as well, particularly if you're using a paid version.
Between Wordpress, Drupal, and Joomla, Drupal is the most flexible but also the most difficult to learn and use. It's the most robust, complex, and powerful CMS, which means that it also has the steepest learning curve. If your business needs more than a basic blog or small website, it's likely that you'll need some technical support and/or development assistance to create it and integrate the modules you need to customize it.
Once Drupal is installed, the setup process is much less intuitive and straightforward than with WordPress or Joomla. Drupal does make it very easy to create and add new content — in fact, how it manages complex content is one of its biggest strengths — but basic changes to the website's appearance and functionality are less obvious.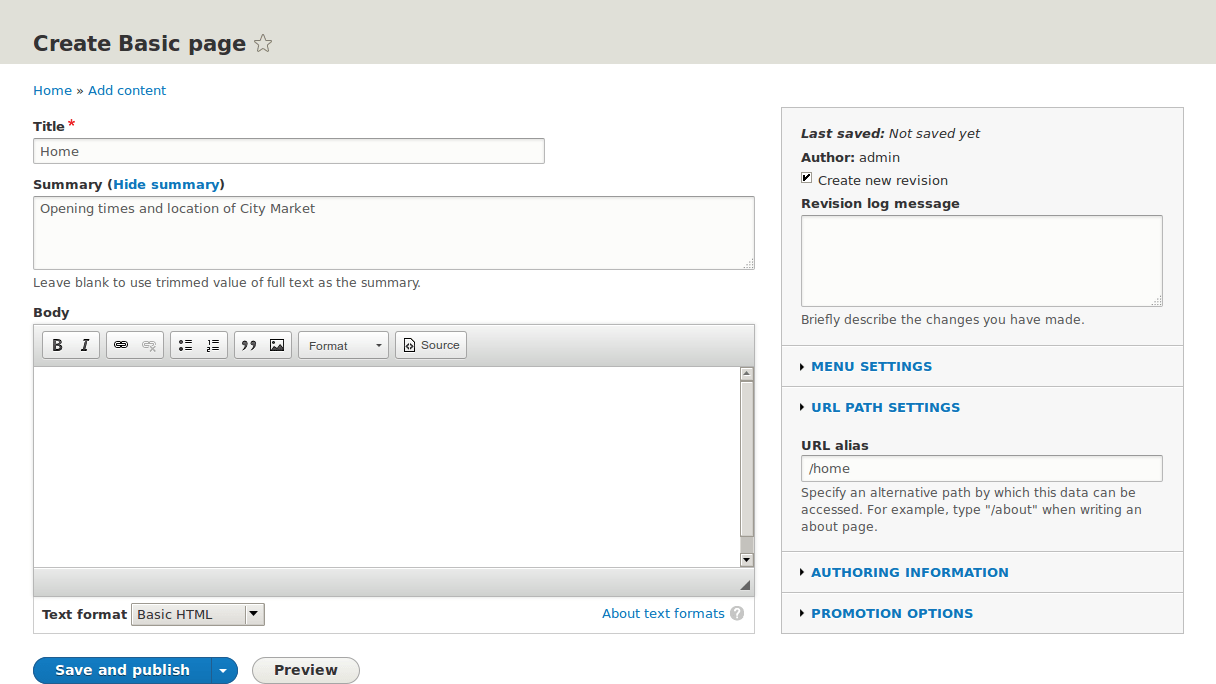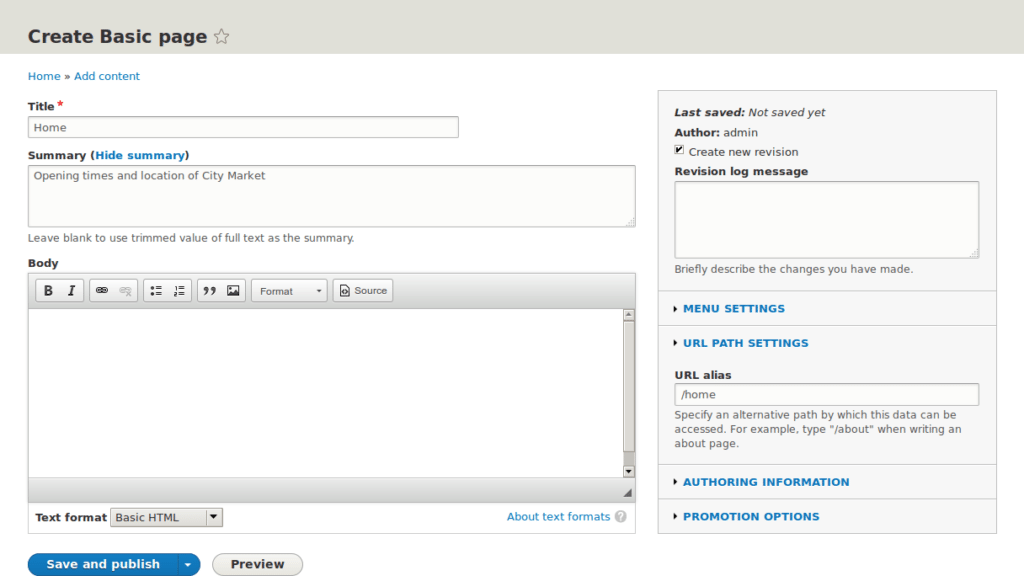 As well, searching for and adding new themes and modules requires you to leave your website's administration section, unlike WordPress and Joomla which embed search field within theirs.
If you're considering Drupal as your business' CMS, it will help to have a basic understanding of HTML, PHP, and other common website coding languages. You don't need to be an expert, but understanding the basic structure, hierarchy, and being able to trace through the CMS' code to make changes may save you a lot of time and money.
Once your website begins to gain some traction in the market, growing it will likely require a dedicated developer (either in-house or outsourcing) to ensure that it continues to perform smoothly and scales efficiently. This can pose a challenge for some small businesses because Drupal expertise is sometimes harder and more expensive to find than with a more common CMS like Wordpress.
Joomla's ease of use falls somewhere in between Wordpress and Drupal — not as easy, but more flexible, than WordPress and easier, but not as flexible or powerful, as Drupal. You might assume that this makes Joomla the best balance between ease of use and flexibility, but we weigh ease of use more heavily in our evaluation since this is likely the primary concern of most small businesses with limited resources.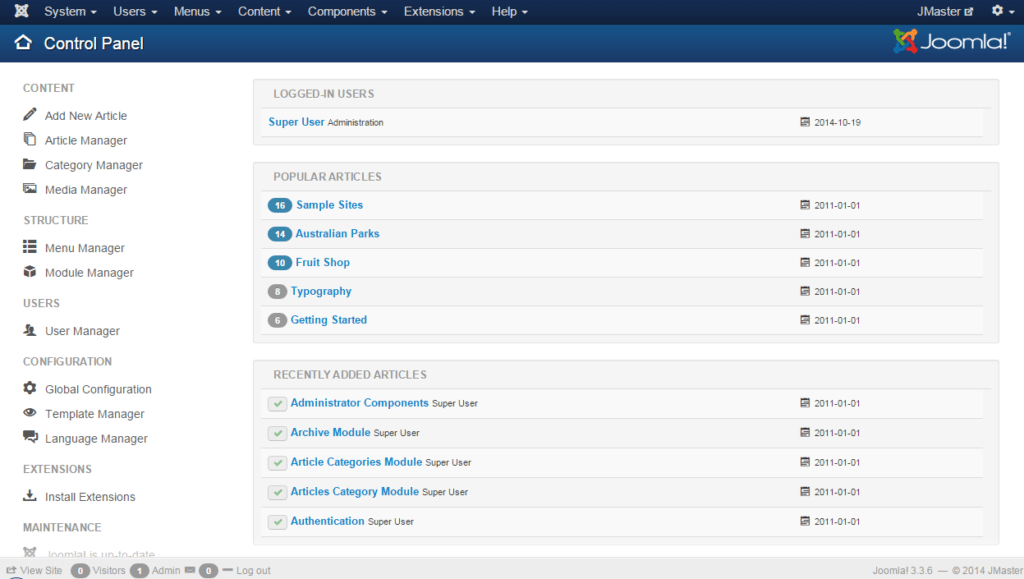 Setting up a basic website is relatively easy, once you understand Joomla's structure and can navigate through its administrative section. Where Joomla excels is that it makes it easy to create user communities, social networks, membership areas, newsrooms, discussion forums, articles, e-commerce websites, or accept inputs from external content contributors — all with features that come natively. It's also easy to create a navigation structure for your website with little or no knowledge of HTML or other coding languages.
However, the downside to its flexibility is that the administrative section is weighed down by many options, menus, and submenus and can be overwhelming for novice users. It doesn't require the technical knowledge of Drupal, but it's not nearly as intuitive as Wordpress.
Features & Integrations
First, it helps to explain what Wordpress, Drupal, and Joomla all have in common. They're all open source software, which means that their base code is distributed for free and they're supported by their respective communities of users. They're all written primarily in PHP and support MySQL as their database management system. And they all use themes as the templates for the visual appearance of their websites and plugins, widgets, modules, or extensions for extending their features.
While they have these similarities, there are many differences that directly affect how users interact with them to build their websites and what they're each particularly adept at.
Wordpress' primary feature is its ease of use. While this doesn't necessarily refer to any particular element of the CMS, the overall user experience and learning curve will directly affect the CMS' usefulness for your business. The less time you spend learning how to use the CMS, the faster your website can be launched to support your business. As well, you're more likely to customize it to your needs and take advantage of WordPress' other features.
WordPress' large and active community of users is its other distinguishing feature. As an open source CMS, improvements to the software and ongoing support rely on those who use it and choose to contribute. WordPress offers many more free themes and plugins than Drupal and Joomla and this is made possible because of its popularity.
Finally, WordPress includes many SEO best practices out of the box such as friendly URL structures, easy to update metadata, and automatically generated XML sitemaps. Most themes are also fully responsive, which directly impacts how Google ranks your website.
Drupal's primary features generally stem from the fact that it's the most technically advanced CMS of those that we reviewed.
The first feature is that it's the most capable of managing complex data organization and taxonomies. Its code base is lean, stable, and delivers excellent performance and response times. This also makes it the most suitable option for scalability, so if you expect the demands placed on your website to grow quickly, then Drupal may be your most efficient and economical CMS over the long run.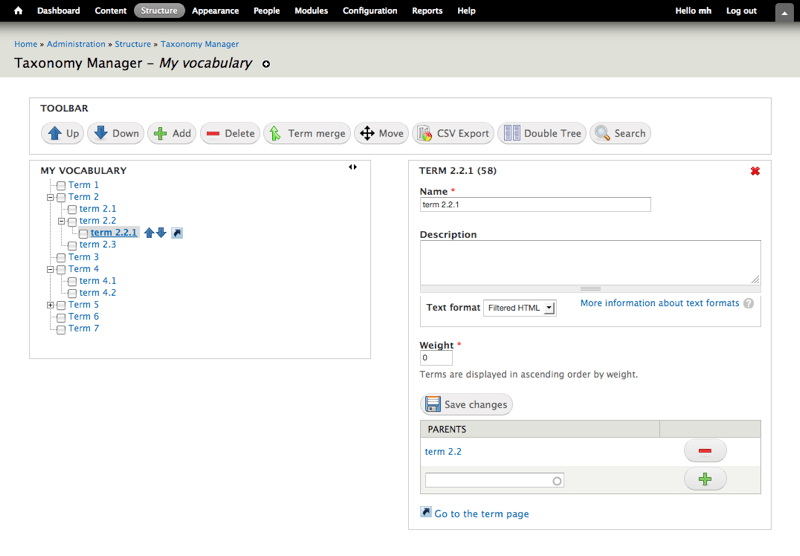 You can also deploy multiple websites from the same Drupal code base. An example of this that I have worked on in the past is a university's website. Every school, department, and program at the university had their own website, but they were all based on the same base Drupal installation. This created many efficiencies of scale despite the larger up-front investment. Neither WordPress nor Joomla can offer a similar solution.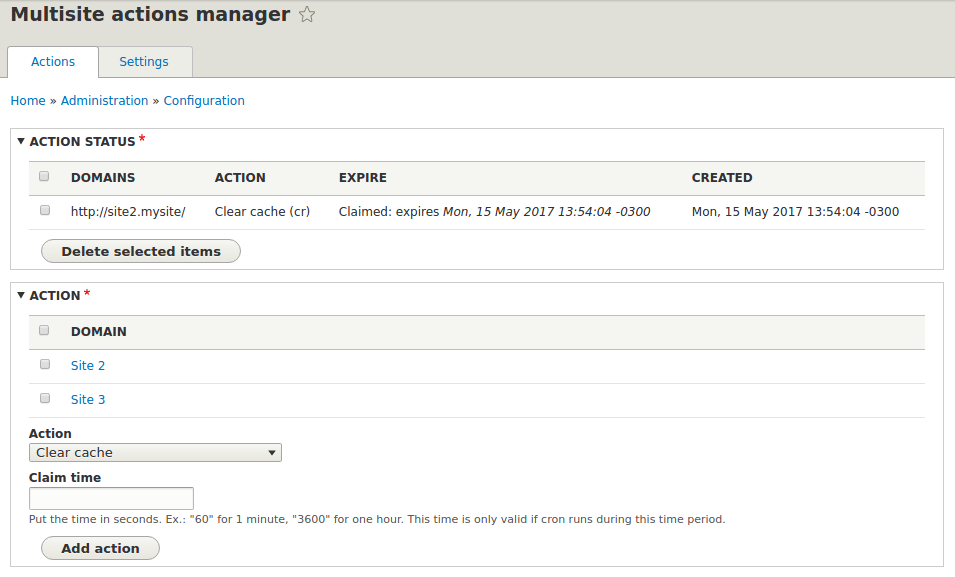 Finally, Drupal is the most flexible and customizable CMS of those we reviewed — assuming you have the technical knowledge, or have hired a developer who does. This opens up many possibilities for your Drupal-based website, if you're willing and able to incur the associated costs.
Joomla's primary features are built around its ability to efficiently manage large amounts of data and that it excels at content and structure flexibility. In fact, Joomla is designed to perform best as a community platform with strong social networking features.
Because of this, Joomla is the best of the CMSs we reviewed at managing data-intensive and social applications such as:
User communities
Social networks
Membership areas
Discussion forums
E-commerce websites
Accepting inputs from external content contributors
Support for all of these applications is included natively with Joomla — you don't need to search for, audition, and configure third-party plugins or modules like you do with Wordpress or Drupal.
Customer Service
Because Wordpress, Drupal, and Joomla are all open source software, they're supported by their communities of users — not a centralized business with a support center. WordPress has the largest user base, and so it has the largest support base; Drupal is next, followed by Joomla.
The developers of individual themes, plugins, and modules will often offer support for their own products, particularly for paid versions.
WordPress, Drupal, and Joomla also all offer user documentation on their websites, each maintained by their respective communities.
All CMS Options for Small Businesses
We recognize that there are many CMS options out there, and here's a look at the best of some of our research from around the web:
| Software Name | Overview |
| --- | --- |
| | Best overall CMS for small businesses |
| | Best CMS for complex data and scalability |
| | Balance between ease of use and flexibility |
| | Best for most small business e-commerce websites |
| | Another e-commerce option good for enterprise-level websites |
| | Easiest CMS to build a quick templated website |
| | Customize your website with a drag and drop interface |
Bottom Line: Best Content Management System
WordPress, Drupal, and Joomla are all excellent CMS options with their own unique features and use cases. Choosing the best CMS for your business will come down to ease of use and flexibility — no two businesses or websites are the same, so there is no universal answer to the question.
Wordpress is the easiest to use out of the box, has the most free themes and plugins, and has the largest community of users. However, its code base can be somewhat bloated and prone to hacking or other security breaches.
Drupal offers the most flexibility and scalability, manages complex data with ease, and can be deployed across multiple websites from one code base. However, it has the steepest learning curve and requires more technical knowledge to use.
Joomla's administrative user experience is the best for websites with a large amount of data or content and the platform balances ease of use with flexibility. However, it offers the fewest free themes and plugins and lacks anything more than rudimentary SEO friendliness.
That said, we recommend Wordpress as the best CMS for small businesses because of its balance between ease of use and flexibility as well as its large and active community of users.