Artificial intelligence technology (AI) has improved drastically over the years—so much so that it is now an integral part of the business world. AI technology has become a staple in businesses, with voice recognition software making easy work of mundane tasks like scheduling appointments. We examined six of the top names on the market, choosing our picks for the best voice recognition software.

| Voice Recognition Software | Best For |
| --- | --- |
| | (Best Overall) Business wanting a well-designed voice recognition software with a high accuracy rating |
| | Anybody who wants to sync their virtual assistant with almost any device you can think of |
| | Anybody looking to take advantage of digital typing rather than manual typing |
| | Apple users who want a great voice recognition software built into their devices |
| | Microsoft users needing a comprehensive built-in digital assistant |
| | Companies and everyday people who want a simple, no-fuss voice dictation software |
How We Evaluated Voice Recognition Software
Accuracy is the most important factor of voice recognition software. Above all, the best voice recognition software must have a high accuracy rating for properly translating speech to text and recognizing voice commands. Aside from accuracy, however, we looked at factors such as price and average user rating, as well as available features.
We evaluated voice recognition software based on the following:
Price
Accuracy
User-friendliness
Languages supported
Operating systems
Included features
Additional features
Dragon: Best Overall Voice Recognition Software

Supported devices: PC, Android, and iDevices
Price: There are three versions of the software and pricing is based on a one-time purchase per user, which are priced this way:
Dragon Home: $150
Dragon Professional: $300
Dragon Legal: $500
What Makes It Great Voice Recognition Software
Dragon has an impressive, well-rounded set of features that easily wins it our top spot. Beyond features, it is also highly accurate and, as the website claims, dictates at a speed three times faster than typing. However, our favorite feature is its customization capabilities that make Dragon easy to personalize for each user. You can create your own vocabulary terms, words, and even voice commands.

| Dragon Strengths | Dragon Weaknesses |
| --- | --- |
| Operating systems: You can run the software on Windows, Android, and Apple devices as well as a cloud-based portal. | Mac support: Many users complain that it is not easy to run Dragon on a Mac, if possible at all. |
| Learns as you use: User reviews state that diction is 90% accurate out of the box, but grows to about 95% as you use the software. | Customer service: A common complaint is Dragon's slow and unresponsive customer service team. |
| Easy: Overwhelmingly positive reviews praising the user interface (UI) and layout, making Dragon easy to learn. | Sluggish: Hours of use can make the program run very slowly. |
Dragon Additional Features
Transcribe from audio files: If you don't have access to Dragon software and need to create an audio recording on your phone, you can easily upload the file for quick transcription. Use whatever recording software you have available or use Dragon's mobile app.
Interchangeable microphones: Rather than stay tied to a single microphone, choose from a multitude of options like external USB mics, wireless microphones, and even hands-free options.
Highly user-friendly: Beyond individual pages for each feature, Dragon also offers tutorials to users to give you more in-depth help.
Google Assistant: Best Voice Recognition Software for Multiple Devices

Supported devices: PC, Chromebooks, Android, and iDevices
Price: Free to download; comes pre-installed on Chromebooks and Android devices.
What Makes It Great Voice Recognition Software
Google Assistant is already built into some Android devices, but you can download it for your iDevice and Chromebook as well. It is a free option for companies on a budget. However, its most useful feature is its integration with other Google apps that makes it possible to use Google Assistant across all your devices, including your car, laptop, smart speaker, phone, and more.

| Google Assistant Strengths | Google Assistant Weaknesses |
| --- | --- |
| Fast: Google is already known for its lightning-fast speed of answering questions, and its Assistant holds the same reputation. | Sound quality: Users report that the sound quality through home speaker devices is merely mediocre and could be improved upon. |
| Learns your voice: AI technology recognizes you and up to six other voices in the home. | Limited control options: Compared to other options, Google offers less control over your AI assistant. |
| Supports YouTube Music and Google Play: Stream music from two of the biggest names in the industry through Google Assistant. | Monitoring: Every so often, your assistant might give you the feeling that you're being monitored, which is uncomfortable for some people. |
Google Assistant Additional Features
Voice commands: To activate Google Assistant, all you need to do is say "Hey Google." This command will let you do everything from schedule appointments to turn on the battery-saving mode on your device.
Quickly find answers: Google Assistant helps you instantly find answers to all your burning questions, whether you're curious about the weather, how your favorite sports team did during the game, or how to translate phrases during your travels.
Make your house smarter: You can control your home's settings from afar by using the Google Assistant app. Use your phone to sync your smart home devices like your heat and air conditioning, lighting, and home appliances.
Learn More About Google Assistant
Google Docs Voice Typing: Best Word Processing Voice Recognition Software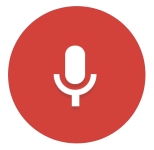 Supported devices: PC, Chromebooks, and Android devices
Price: You pay nothing to use Google Docs Voice Typing; it is free with a Google account.
What Makes It Great Voice Recognition Software
Voice-activated dictation software can save your employees bundles of time that would otherwise be spent typing and transcribing documents. Even better, the Google Docs Voice app has a high accuracy rating, which means that documents are transcribed to text, even despite heavy background noise and other contributing factors.

| Google Docs Voice Typing Strengths | Google Docs Voice Typing Weaknesses |
| --- | --- |
| Very accurate: Google Docs Voice Typing gets impressively high accuracy marks. | Phone support: Google is notorious for poor phone support, and the same is true with its voice typing feature. |
| Free: You don't have to pay anything to use Google Assistant; it's free with a Google account. | Limited: You can only use the feature within Google applications, nothing else. |
| Language support: Docs Voice Typing supports dozens and dozens of languages. | Not an AI assistant: You cannot control anything outside of the G Suite platform; this is not a smart assistant like Google Assistant. |
Google Docs Voice Typing Additional Features
Easy to use: All you need to do is change a setting to get started with Google Docs Voice Typing. The rest is very user-friendly and simple to use.
Disability-friendly: The ability to type with your voice as your only tool can help to empower users with disabilities or other special accommodations.
Popular with businesses: Existing businesses already love Google Docs Voice Typing and use it in their workday, so the software's reputation precedes it. You know that you're using a quality, well-used product that you can depend on.
Learn More About Google Docs Voice Typing
Siri: Best Voice Recognition Software for Apple Devices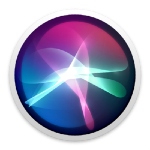 Supported devices: iDevices
Price: Siri is free with all Apple devices.
What Makes It Great Voice Recognition Software
Apple is a huge name in the smartphone, tablet, and wearable technology industry. Users who are loyal to the brand can easily use and sync Siri on all their devices. Siri helps you to easily automate all of your tasks from your iDevices, such as schedule calendar appointments, set reminders, and send text messages.

| Siri Strengths | Siri Weaknesses |
| --- | --- |
| Hands-free: Enabling the "Hey Siri" command allows you to make telephone calls and send texts while your hands are busy. | Not "smart": Although you can integrate Siri with some third-party apps, it is not a smart home automation system. |
| Efficient: Siri answers all of your questions almost instantly, or directs you to a list of websites that can help you. | Internet-dependent: If you do not have internet access, Siri will not work. |
| Calculator: If you don't want to use the Calculator app, you can ask Siri to quickly solve mathematical equations for you. | Not always accurate: As handy as Siri is, it does not always accurately translate your commands, which can be very frustrating. |
Siri Additional Features
Answers questions: By holding down the Home button, you can ask Siri any question and it will surf the internet for the best relevant answer.
Automation: Siri can connect with existing Apple software like Notes, Messages, and even Calculator to help you streamline and create tasks throughout your day.
User-friendly: Anybody can learn to use the Siri function; Apple ensures that it is easy to find and access for all users. Even little children understand how to use Siri and enjoy asking it questions.
Cortana: Best Voice Recognition Software for Microsoft Devices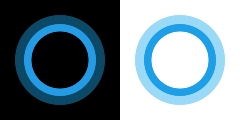 Supported devices: PC, Android Devices, and iDevices
Price: Cortana is free with Windows 10 devices and in the app store.
What Makes It Great Voice Recognition Software
Like Siri, Cortana is very user-friendly and is built into all Windows 10 devices. You can also download the Cortana app onto your Android or iPhone to use on the go. As it is already built into the Microsoft environment, and can be used to help you to quickly find answers to questions and automate tasks during your day, it is the ideal companion to the Microsoft suite.

| Cortana Strengths | Cortana Weaknesses |
| --- | --- |
| Hosting service: Cortana is hosted on the Azure platform, a highly trusted hosting service with strong uptimes. | Overwhelming: Microsoft's overabundance of menus, submenus, and windows can be overwhelming to some users. |
| Languages: As of an April 2020 update, Cortana now supports 12 languages. | Less comprehensive: Cortana seems to respond less to your questions and sends you to Bing more often to find your own answers. |
| Customizable: Cortana allows you to create more custom commands than others like Siri. | Not as accurate: Compared to competitors, Cortana leaves much to be desired in terms of accuracy. |
Cortana Additional Features
Use in other browsers: If Microsoft Edge is not your favorite browser, you can still use Cortana within whichever browser you choose. It is an easily changeable option within your Settings menu, and Cortana will work from that browser.
Track flights: A handy and underrepresented widget, by asking Cortana the status of any flight, for example Alaska flight 5987, it will give you its current status and expected landing time.
Automation: Through Cortana, you can build your schedule and manage tasks using nothing but your voice. You can even say, "Hey Cortana, what's my schedule today?" and you will be presented with all of your scheduled tasks listed sequentially.
Speechnotes: Best No-frills Speech Recognition Software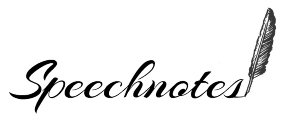 Supported devices: As Speechnotes is completely web-based, it can be used by any device that supports a Chrome browser.
Price: It is absolutely free to use Speechnotes. You can choose to upgrade to Speechnotes Premium for a one-time fee of $9.99 if you wish.
What Makes It Great Voice Recognition Software
If you quickly need a platform to notate your thoughts, then Speechnotes delivers exactly that. It is not pretty, it is not fancy, but it gives you exactly what you need in the moment. It is also easy to use. All you need is a microphone of some kind to begin recording. Simply navigate to the Speechnotes website, click the "Record" icon, and start talking.

| Speechnotes Strengths | Speechnotes Weaknesses |
| --- | --- |
| Easy: Anybody can use Speechnotes, whether you are a young student or a business professional. | Mostly accurate: Upon testing, we noticed that Speechnotes was prone to mixing up words (e.g., four/for, their/they're). |
| Languages: Choose from English, German, or Spanish when dictating your words. | Punctuation: You must manually insert punctuation with Speechnotes; it does not auto-detect commas and periods. |
| Open to all: Anybody who wants to use Speechnotes can simply navigate to the site and start speaking; there is no login or subscription fee. | Capitalization: As with punctuation, Speechnotes is odd about capitalization. You will find randomly capitalized words, or words that are inaccurately lowercase. |
Speechnotes Additional Features
Options: Speechnotes has a more impressive set of options than you might realize at first glance, especially for a free option. Its Options pane is located on the left-hand side of the screen and includes autosave, full-screen mode, save, and others.
Upload and share: Download your transcription as a TXT (Notepad) file or Word document, email it, or upload it to Google Drive and share with others.
Premium: Paying the $9.99 fee unlocks access to a Chrome extension, keyboard shortcuts, emojis, and more.
Bottom Line
Though you have many different options for voice recognition software, which one fits your company the best is up to you to decide. You might need a robust software that you don't mind paying for, or you might need something a little less hearty that is a free option. The nature of your business will be the deciding factor.