There are hundreds of quality email marketing software on the market today. The key to choosing which is best for your business is to understand what you are looking to get out of the software. Since every business has different needs, there is no one size fits all email marketing software, but you can break them all down into 4 primary categories:
We chose our favorite from each category based on hours of research and testing. In this article we will compare each top pick with two competitors within their category in order for you to see the full range of options.
Best Email Marketing Software for Small Businesses
This is the category for most small businesses who want an easy to use email marketing software that will be able to send out nice looking email blasts, capture leads from subscription forms, and has basic functionality to send out automated emails.
Software in this category will not be able to trigger emails based on subscriber events (such as opening an email), link activity on your website to unique subscribers, or create landing pages based on a subscriber's purchase history. This type of advanced email marketing is overkill for most small businesses as it is more expensive and makes sending out emails fairly complicated.
Best Email Marketing for Small Businesses Summary Table
Price (for entry level package)
Free
$20 per month
$19 per month
What you get for the price
2,000 subscribers +
12,000 emails per month
500 subscribers +
Unlimited emails
500 subscribers +
Unlimited emails
Ease of Use
Easy
Easy
Easy
Templates
110 pre-designed templates + 25 fully customizable layouts with drag and drop design
100 pre-designed templates + drag and drop design
200 pre-designed templates + drag and drop design
Customer Support
Self-help articles and email support
Offers phone, email, chat and twitter support

Phone support open M-Th: 7am-11pm ET
F: 7am-9pm ET
Offers phone, email, and chat support

Phone support open
M-F: 8am-8pm ET
Sa-Su: 9am-5pm ET
Ability to Send Automated Emails
Need to upgrade to $10/ month plan for basic automation
Yes, basic automation available.
Yes, basic automation available.
Reporting
Yes
Yes
Yes
Integrations
Shopify, Salesforce, WordPress, Survey Monkey, and many more
Facebook, LeadPages, PayPal, and WordPress among others
Microsoft Outlook, Salesforce, Wix, Zoho, and others
Free Trial
Forever free
Yes, 60 day free trial
Yes, 30 day free trial
Best Email Marketing Service for Small Business Owners: MailChimp

We prioritized price, ease of use, templates, and customer support when choosing the best email marketing software for small businesses. MailChimp is the winner in all of these categories except for customer support, which is why we have named them the best for small businesses.
At no cost you have access to dozens of great looking, easily customizable templates that you can send out to up to 2,000 subscribers. You will be able to track which subscribers opened and clicked through on a particular email, and see an overview of whether your open rates are increasing or decreasing over a period of time.
With hundreds of integrations, it's likely MailChimp will be able to work with your current systems (website, CRM, social media pages). Plus, once you feel like you've outgrown the free plan and want to try your hand at more advanced features, such as email automation, MailChimp has a pro plan that starts at just $10/month. This way MailChimp grows with your business.
The one downside to MailChimp is that there is no phone support, so if you have a question about the system you will have to send an email and wait for a response, or find the answer yourself in one of their self help articles.
Best Email Marketing Software for Customer Service: Constant Contact


While Constant Contact does not offer a free version, their $20 a month plan offers most of the same features as MailChimp. What they offer that MailChimp doesn't is phone support, so if you want a lot of hand holding, Constant Contact may be a better option for you.
Another Email Marketing Software Option: AWeber

We included AWeber since it is a popular email marketing software in the small business space. However, compared to MailChimp and Constant contact, it's less intuitive to use and the interface is not as clean. Plus, it does not offer any major functionality that MailChimp or Constant Contact doesn't have. It does have more templates, but you're likely to find a template you like with MailChimp or Constant Contact too.
All Email Marketing Software for Small Businesses
Best Email Marketing Software for Online Marketers
This category is right for you if you have the time and expertise to take full advantage of complex marketing automation features. You fit into this category if you want to automate the content that is sent to a subscriber based on how they interact with your website and your previous emails.
For example, if someone displays interest (e.g. by reading articles) in a certain section of your website, you can then send them emails promoting products that are relevant to the section of the website they seem most interested in. This is all done automatically through the email marketing software. The reason why we don't recommend this for most small business owners is because this software comes with an added level of cost and complexity.
Best Email Marketing Software for Online Marketers Summary Table
Price (for recommended plan)
$29 per month
$41 per month
$800/ month + 3,000 for onboarding (one-time fee)
What you get for the price
2,500 subscribers
Unlimited emails
3 users
2,500 subscribers Unlimited emails Unlimited users
1,000 subscribers (+$50/mo per 1k extra)
10,000 emails
Unlimited users
Ease of Use
Intermediate
Intermediate
Advanced
Marketing Automation
Great visual workflow charts and ability to choose from over 50 different trigger options
Great visual workflow chart with 16 triggers
Excellent automation capabilities that pull from all aspects of your business (website, social media, etc.)
A/B Testing
Test your subject line, from line, and time sent
Test your subject line, send time, and from name
Test your subject line, send time, and from name
Lead Capture
Capture leads using forms and determine which email list to add them to
Code forms on your own website, or have Drip host the forms on your behalf
Show targeted content to leads so they are more likely to subscribe to your email list
Reporting
Good reporting features on each email, but hard to see the bigger picture of how all campaigns are performing
Keep tabs on subscriber growth, engagement, and ROI
Amazing reporting features across all platforms. Ability to report on Google AdWords, website, and email marketing.
Integration
Some of the most popular options include Google Analytics, Shopify, Twitter, and Survey Monkey. See the rest here.
Integrates with authorize.net, Eventbrite, Insightly, and Salesforce. View all integrations here.
Integrates with join.me, AdRoll, Unbounce, and Wordpress. Here's the full list.
Customer Support
Call, request a callback, or email
Self help documents and email
Call, request a callback, or email
Best Email Marketing Software for Online Marketers: ActiveCampaign

The main focus for this category is marketing automation. That's because online marketers need to push out their content strategically to make sure they are targeting the right people at the right time. ActiveCampaign is the winner in this category, as they have easy to understand visual workflows to create different journeys for subscribers depending on their actions.
For example, let's say you want to re-engage subscribers who have not opened an email in 30 days, and if they still don't engage, then you want to unsubscribe them from your list. This would look like the flowchart below. As you can see, it is very simple to understand the flow and easy to add different conditions.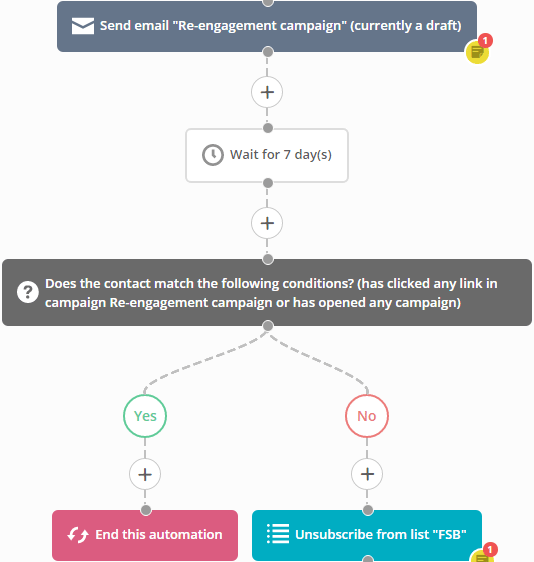 We use ActiveCampaign at Fit Small Business and definitely recommend it to bloggers, software as a service (SAAS) companies, and any other online business with a lot of informative content.
Best Free Option: Drip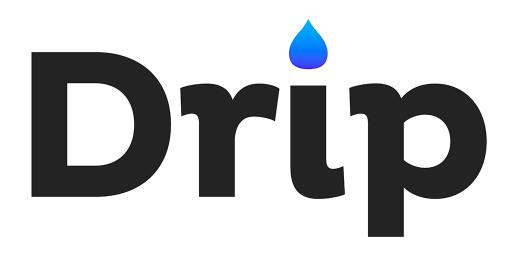 Drip is the only option in this category that has a forever free plan (unlimited emails to 100 subscribers). Drip is an up and comer in this space and was built with marketing automation in mind. It is pretty neck and neck with ActiveCampaign, but in the end did not match up with the amount of features that ActiveCampaign has.
Best for Content Management: HubSpot

We included HubSpot in this category because it is an amazing tool for online marketers. It combines your content management system with email marketing and sales to create personas for all of your subscribers. Then you can target different content at different times through different devices depending on what you know about that person.
All of this functionality can be overwhelming for the average online marketer, and if you are not taking advantage of all of the capabilities, than it's not worth the high price tag.
All Email Marketing Software for Online Marketers
Best Email Marketing Software for Ecommerce Businesses
Ecommerce businesses are looking for an email software that can easily track their customers and send them targeted product suggestions based on their purchase and browsing history. The great thing about email marketing software that are created with ecommerce in mind is that they make it easy to set up things like abandoned cart emails or product suggestion emails.
Best Email Marketing Software for Ecommerce Businesses Summary Table
Price (for recommended plan)
$25 per month
$100 per month
$299 per month + $999 one time fee to help you get started
What you get for the price
500 subscribers (+$25 /mo per 500 extra)
Unlimited emails
Unlimited users
3,000 subscribers
30,000 emails
Unlimited users
5,000 subscribers
25,000 emails
4 users
Ease of Use
Intermediate
Intermediate
Advanced
Integration with online stores
Yes, integrates with all major ecommerce platforms (Shopify, Magento, WooCommerce, etc.)
Yes, integrates with all major ecommerce platforms (Shopify, Magento, WooCommerce, etc.)
Yes, integrates with all major ecommerce platforms +
option to create your own storefront and shopping cart on Infusionsoft
List Segmentation
Yes
Yes
Yes
Ability to collect and track customer information
Yes, full profiles of customers and prospects and ability to send emails based on that behavior
Yes, ability to send personalized email to customers based on purchase history
Yes, most powerful features when it comes to collecting and tracking customer information
Customer Support
Offers email support
Offers email and phone support
Offers 24/7 chat and email support.
Phone hours:
M-F 6am - 5pm MST
Best Email Marketing Software for Ecommerce Businesses: Klaviyo

Klaviyo is a good combination of having smart marketing automation solutions while still being easy enough for the average marketer to use without needing months to learn the system. This is why it is our winner for Ecommerce businesses.
Since Klaviyo is built with Ecommerce in mind, they make it easy to send out cart reminders, personalized newsletters and other best practice emails that are proven to work in Ecommerce. You are able to target customers based on their spending history, activity on your website and interactions with previous emails you have sent.
One downside is that since there is only email support, it can take a long time to get help from an expert, especially if there is a lot of back and forth. Though the customer support is knowledgeable, if you need immediate assistance, the wait time can be frustrating.
Best for Weekly Feedback: Remarkety

If you prefer more assistance when setting up your email marketing, Remarkety might be the best fit for you. They analyze the data from your account and send out a weekly newsletter with suggestions for how to improve your email campaigns.
Best for Integrated Shopping Cart: Infusionsoft

Infusionsoft is a combination of an online store, customer relationship management (CRM) software, and email marketing. This makes it a very powerful all in one email marketing solution, where you will have a lot of data about each subscriber in one system.
With this ability comes a steep learning curve, which is why you will have to purchase a $999 package to help you get started. However, once you learn how to use Infusionsoft, it has a lot of capabilities for ecommerce businesses.
All Email Marketing Software for Ecommerce Businesses
All-In-One Marketing Options for Advanced Marketers
This is the right category for you if you have a medium to large business that wants to combine sales and marketing efforts in order to generate leads and increase revenue. You will need a marketing team with the time and resources to set up the software, as it takes time and knowledge to set up all of your systems (website, CRM, social media, Google AdWords, etc.) so that they are interacting with each other within the software.
What makes these software so powerful is that since all of your sales and marketing efforts are in one place, you get a full picture of each of your customers and prospects. You can take what you know about them from various touch points, and automatically send them targeted emails based on their activity.
This may sound great, but it is very costly and time consuming to manage this process. If you don't have an online store, multiple online marketing efforts, and a large sales and marketing team, then this is not the right category for you. However, we thought we would give you the top software in this category so you know what is out there.
| Email Marketing Software | Best For | Description |
| --- | --- | --- |
| Marketo | Overall marketing | Marketo is widely thought of as the best of the best when it comes to all-in-one marketing solutions. |
| Pardot | Integration with sales team | Pardot is owned by Salesforce, and therefore puts a heavy emphasis on using email marketing to close sales. |
| Eloqua | Large databases | Eloqua is most commonly used by large business to business (B2B) companies. |
| Omnisend | Ecommerce and online store owners | Omnisend, formerly called Soundest, has mechanisms that enable users to conduct order follow-ups and customer reactivation. |
Bottom Line
When choosing an email marketing software for your business, make sure you understand what you want to get out of the software first. What's right for one company may not be the right fit for you, so find the one that fits your specific needs.
Here's our roundup of best email marketing software:
If you have used or are currently using any of the email marketing software in this article, let us know in the comments section below. We love to hear from you!