The best government websites go beyond just offering public information—they also boost the visitor's confidence in the government (or sector of the government) itself. The approach to building a user-friendly government website is the same as building a small business website, as the two are aiming to effectively share their offering as well as build confidence in their department or brand. So we put together the top government sites, including what makes them effective and how you can create a similar one.
Here are the top 10 government websites in the U.S.:
1. Utah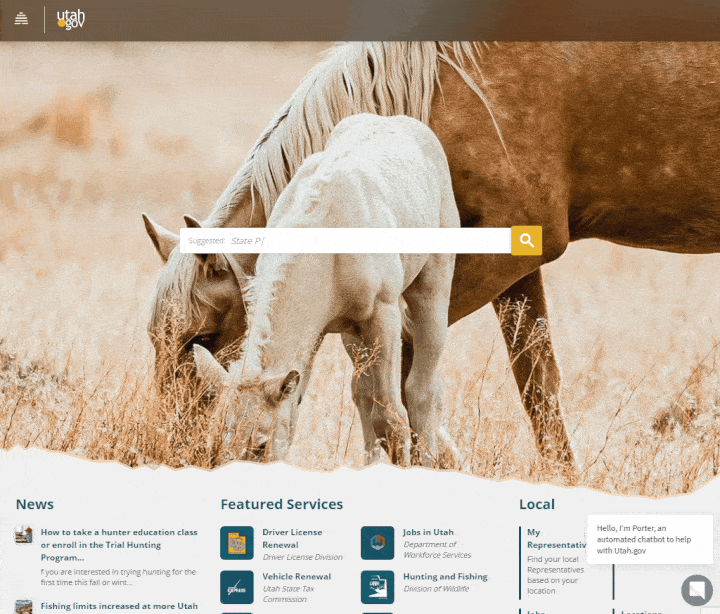 Why it works: Utah.gov deviates from the "in your face" approach. The website blends an informative and inviting approach together by displaying the famous sights of Utah while catering to the standard expectations of a state website. When you go to a government website, most likely you're looking for different agencies, services, or announcements—the site offers necessary information but with a little more "touch of Utah." Utilize only the best pictures for your website.
Notable site elements:
Fixed background: Clever use of a still background. This design layout, which is also known as parallax scrolling, works because the website is not that long—on a full screen at standard screen size, rolling all the way down will not cover the background.
Perfect font size: The text does not go overboard (except for the news), making it very readable.
Chatbot: "Porter," the website's automated chatbot. The downside is that it suggests going to coronavirus.utah.gov if the question asked cannot be answered.
2. Hawaii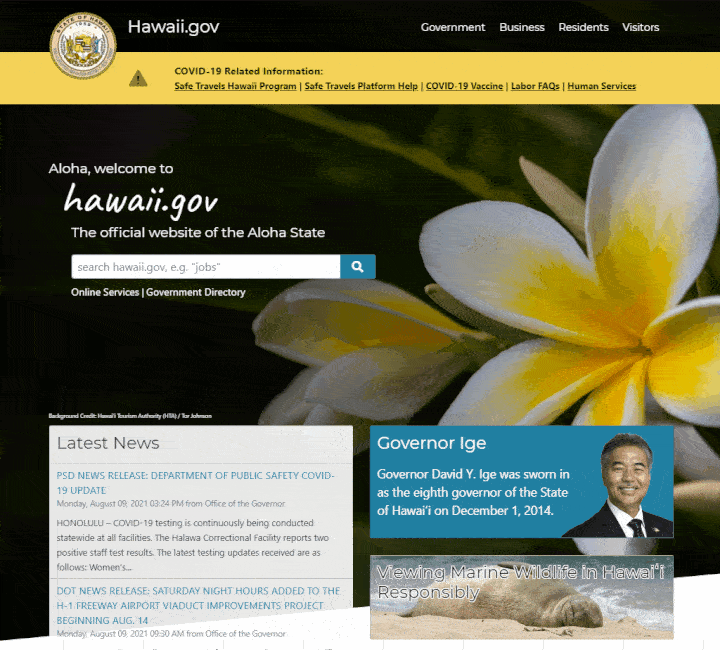 Why it works: Ehawaii.gov is a website that does a great job of presenting state information in a visually pleasing way that lends to its primary industry: tourism compartmentalizing. The information on the website is tailored for visitors to imagine what it's like in Hawaii while catering to the queries of the locals. From the weather to clear and divided segments for business, residents, and visitors, the website caters to both local insiders and tourist outsiders alike. Make your website inclusive of more visitors by adding segments to fit each group.
Notable site elements:
Logical scroll-down sequence: This brochure-inspired website knows what to prioritize—providing interesting facts before showing its services.
Homepage Hero: The site is a reflection of the state, and what better way to solidify its presence than with the face of the governor himself.
Prioritizing readability: Government websites have a way of seeming unfriendly, but this website does the opposite with big fonts, easy website division, and more.
3. Texas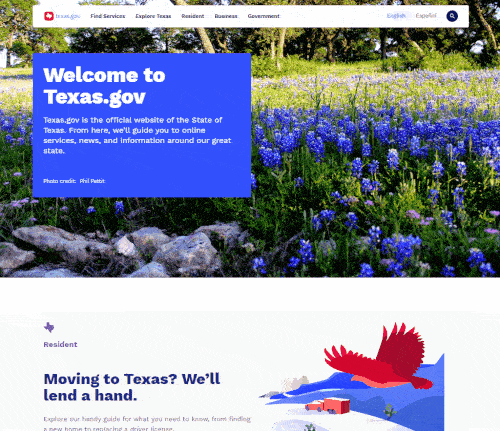 Why it works: Texas.gov works as a simple, modern, but also still appealing website. Instead of being rough around the edges, the website strips to its bare necessities, giving each important element enough space of its own. Inviting new residents, catering to existing residents, or showcasing existing government services has been made easier through the spacious maximized website. Don't be afraid of white space—use it to your advantage!
Notable site elements:
Compact descriptions: The descriptions on the website do not exceed 30 words per segment.
Respecting white space: The information can be digested when it is given enough room.
Keeping to essentials: Avoiding over-saturation, the site only retains key segments while flushing out the rest.
4. Michigan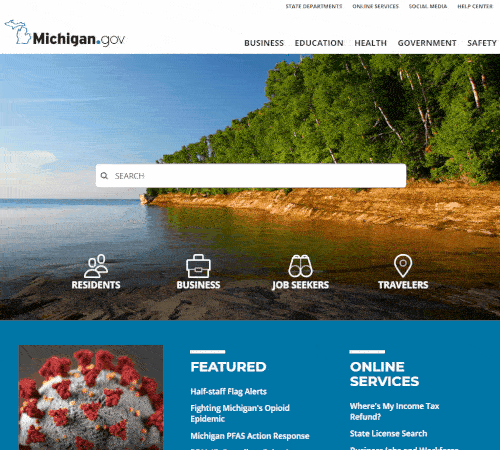 Why it works: Michigan.gov gently divides the beefy information into different sectors, avoiding decongestion in any way. Instead of cramming everything in the website's header, the website offers more options below the search bar with easily identifiable icons along with additional options at the upper right part of the website to avoid clutter. There's a right way to put chunky information on your website—put icons below your middle search bar.
Notable site elements:
Multiple segments: The site has three segments: the first located at the upper right, the main header segments, and below the search bar.
Color scheme: A website can be very professional without feeling sterile and corporate. The colors used reflect the background with blue and green.
Simplified website division: No part of the website is cluttered as visitors scroll through.
5. California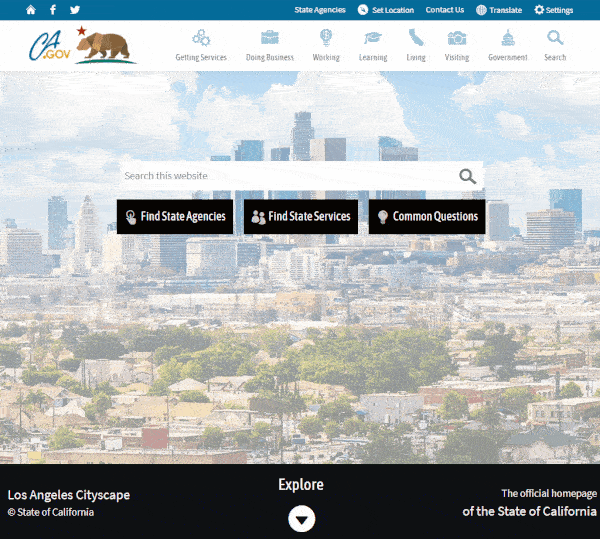 Why it works: CA.gov is a very effective website simply because it cuts to the chase. Without being too cluttered, the website manages to present vital information in an orderly manner. The website remains entertaining with a statistics section, an open data portal, and trending news from Twitter. The homepage search bar is located at the front and center, where visitors can easily look for what they want to see on the website. It makes use of data to entertain visitors.
Notable site elements:
Specific search bar: Offering three options narrows down the search for visitors.
Clear icons: Icons make the website easier on the eyes—visitors can see where they want to go even before reading the text.
Statistics: The website automatically shows the state's standing in terms of population, economy, and civilians in the labor force, and even annual visitors.
Twitter updates: Featuring live Twitter updates gives visitors instant access to what's going on.
6. Indiana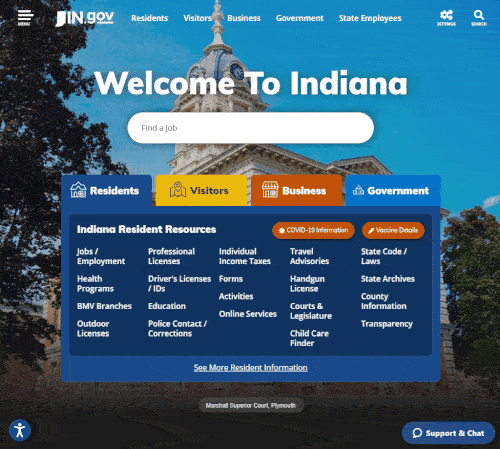 Why it works: In.gov is one of the most interactive best government websites that focuses more on the user experience (UX) than just design. While other websites focus on being attractive, this website focuses on functionality, with drop-down segments making it easier for visitors to find what they are looking for—cut to the chase and go straight to site offerings. The website remains an interesting web design inspiration as it fits chunky information into a well-utilized space. Categorize your information properly to save space.
Notable site elements:
Transparent header: Having a transparent header puts more focus on the middle of the website, which includes the main site offerings, while keeping the site very clean-looking.
Balanced notable site elements: The website balances out images, texts, and color.
Interactive chat support: The chat support, or artificial intelligence (AI) chatbot, is responsive and gives good answers.
7. Nebraska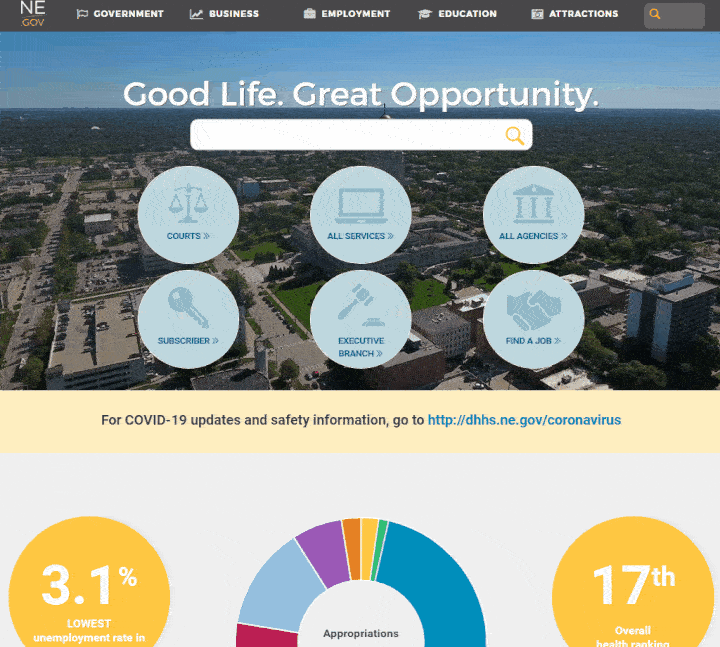 Why it works: Nebraska.gov owns its serious approach with a twist of friendly UX elements, making it super-easy to navigate through. The interactive government website design gives visitors important statistics about the state. To avoid clutter, the most popular segments are represented by easy-on-the-eyes icons in circles. The header, the search bar, and the buttons are three inviting ways that information can be searched on the website. Use circular "buttons" for a more mobile-friendly UX.
Notable site elements:
User navigation choices: Users aren't limited to one search thread and can find information as they please through three choices.
Mobile-friendly: The circular buttons are extremely mobile-friendly.
All essential: Only the essentials are displayed while other information isn't hard to search for through the website's "buttons."
Interactive statistics: This interactive element keeps visitors entertained while saving space and clutter on the website.
8. Vermont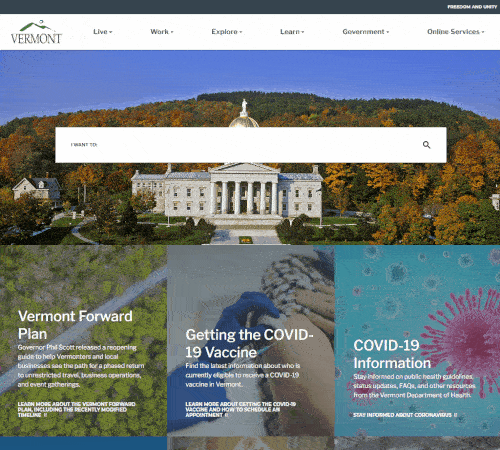 Why it works: Vermont.gov takes a blog-like approach to make its announcements and initiatives more noticeable. The light white text, image background approach makes the words pop out. Its photo-collage aesthetic makes the longer and smaller texts more noticeable. Not everyone who goes to government websites reads the news, but Vermont's website makes the news more interesting. If you're focusing on news, design your website like a blog.
Notable site elements:
White text: The white text on top of an image background makes the text pop and is more readable.
Short news titles: The shorter the title, the less chances of readers skipping the text.
Sandwich structure: The more formal information is in the middle in the white background while the top and bottom of the website rely heavily on images.
9. Idaho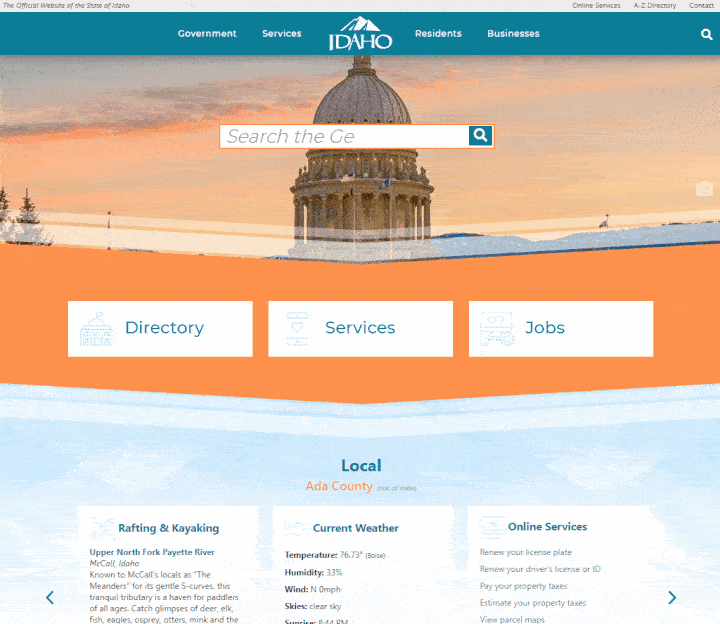 Why it works: Idaho.gov cleverly integrates scroll-downs for its news segment to help save space and maximize the information on the website. The juicy website even tailors the news by county. The website strips everything down to its bare essentials using header drop-downs to maximize choices. Use scroll-downs whenever you'll need to fit chunky text in a small segment.
Notable site elements:
Segment scroll downs: Instead of cluttering the page, three segments are provided for users to easily scroll down to see more information.
A-to-Z directory: Searching A to Z makes the website very user-friendly.
Orange arrow division: Instead of a straight line, the website is divided by a wide arrow. The orange matches well with the sunset background.
10. Arkansas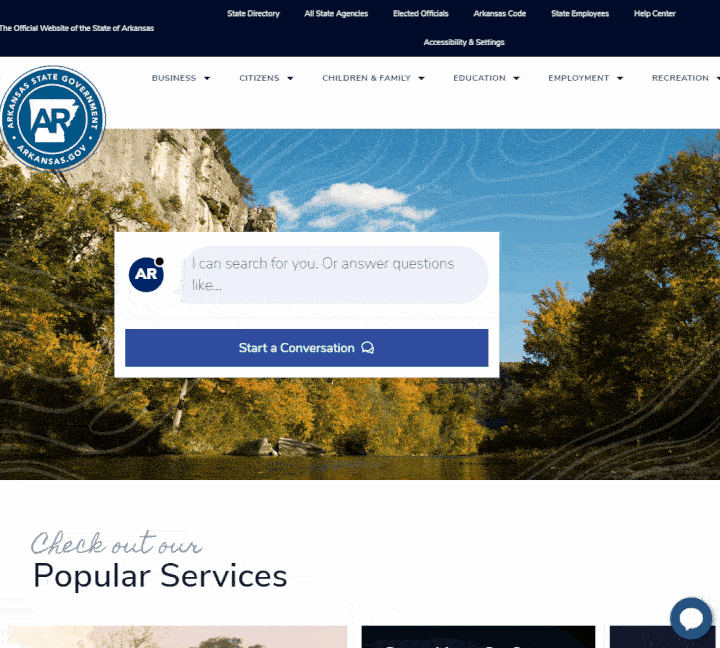 Why it works: Arkansas.gov has a very sophisticated, modern design with parallax scrolling, providing a good user experience by making a very content-heavy site very easy to navigate. The website uses live chat instead of the search bar, providing a more personal connection—and could be a very effective tool for getting the information and help you need quickly. The site is built on WordPress with the drag-and-drop page builder, Elementor. Chatbots like Freshchat can be very useful. Learn how to use Freshchat as an alternative to the typical search option.
Notable site elements:
Live chat front and center: Instead of a search bar, the website uses a chat box to connect more personally with visitors.
Clean navigation: From the chat box to images for services, the website provides a simplified way for visitors to search the website for certain information.
Parallax scroll for visual appeal: Elements of the website meet the visitor as they scroll down the website.
Interested in learning more about how you can turn WordPress into a drag-and-drop site builder with the help of a page builder plugin, such as Elementor? Learn more about the best page builder plugins to get started.
What Makes a Good Website
As taken from the government website designs above, there are certain elements that can be used in order to improve any type of website. A good website must perform well in the following:
Functionality: What's the point of a good website if things don't run the way they should? Make sure the website doesn't fail its main purpose.
UI/UX: Government website designs have to be logically laid out to flow smoothly and liquid-like. Broken links, unnecessary pages, and subpar widgets must be avoided.
Mobile compatible: Mobile searches have increased a great deal recently. Make sure your website is mobile-friendly.
Good quality content: To avoid keeping their websites dull, a few sites listed above include a "tweet" segment to update the website with fresh content.
Security: Although a government website might not hold confidential information, inquiries and contacts made through the website are very important.
Functionality should always come first. Once your website serves its clear purpose, adjust and add elements to improve your website's aesthetics, put in segments to entertain visitors, and design your website in a way that is both informative and entertaining. The perfect UX web design has to have well-balanced functionality and aesthetics.
Frequently Asked Questions (FAQs)
How much does WordPress cost?
Although WordPress is a free open-source platform, making a professional website on WordPress could cost hundreds to thousands of dollars, depending on factors such as your development specs and requirements, whether you opt to use a premium theme and premium plugins, and whether you build it yourself or hire a professional. Get the full breakdown of how much WordPress costs.
What is the easiest way to build a professional website?
Instead of sourcing out to a web designer, full stack developer, and the whole team, using an all-in-one site builder is a great way to make a fully functional website on a budget. Find out the best website builder platforms you can use on a budget without compromising quality.
How do you build a WordPress website?
Building a WordPress is no easy feat, but it is entirely possible—even without web design experience—if you're willing to take a bit of time to learn. In a nutshell, to build a WordPress site, start by getting a web hosting plan. From there, get a domain name (available for free with most of the leading hosting plans), and install WordPress using the one-click WordPress installation tool from your web hosting cPanel. Then, install your chosen theme and plugins, and customize your theme. Get the step-by-step details on how to make a WordPress website.
Bottom Line
The best government websites provide the public with important information, including elected officials, contacts to agencies, initiatives, the latest news, and the best way to reach public servants or services. And those that most effectively achieve this are those that are visually appealing, easy to use, and quickly give site visitors the information they came to the site for. Of course, security is the baseline for a great site. One of the easiest and most effective ways to protect your site and its visitors is to use a leading web host with top-notch built-in security for peace of mind, such as Bluehost.
You Might Also Like…