HR training providers help business owners and their management staff understand and apply best human resources practices, comply with labor laws, and avoid expensive lawsuits. HR training classes can be held locally or online, allowing managers and business owners to complete them at their own pace. Some also provide onsite HR compliance training for all staff.
If you need to train your HR staff on additional practices specific to your business, check out TalentLMS. It lets you build online training courses in minutes using existing videos, PowerPoint presentations, and other multimedia sources. It's free for up to 5 users and integrates with GoToMeeting, Zoom, and Slack making it easy to share and present your courses. Click here to get started.
We looked at five of the best HR training options that covered the range of features for small business HR training needs in terms of ease of use, content covered, and available training delivery options.
Best HR Training Providers Summary Table
| HR Training Providers | Best For |
| --- | --- |
| SHRM | Labor law compliance; the HR Body of Knowledge; HR certification in multiple content areas, such as benefits. Both online and classroom-based training available with some local options. |
| HR.Com | Self-paced HR training delivered online with short webinars and live webcasts. |
| | HR certification preparation and HR testing prep tools (HRCI and SHRM work in close partnership to train and provide HR certification credentials). Training provided online as well as in classroom seminars. |
| | HR training for managers and business owners who want to know more about HR in general and prevent costly HR mistakes. Most courses online. |
| | Pay as you go HR, compliance, and labor law training for business owners, managers and staff. Most courses online. |
How We Evaluated HR Training Providers
We evaluated HR training providers that could offer small business owners, and those working to support their HR tasks, with the labor law training needed to ensure HR compliance. Many of these training providers also educate managers on best practices, such as preventing discrimination and adherence to fair labor practices. HR training providers help small businesses avoid common and costly employment law mistakes. Some also offer HR certification.
In most cases, you can sign employees up for a class they can take off-site or online. However, some of the providers require a membership, either to give you a course discount or to allow users to access the courses at all. Course lengths vary from two minutes (online) to multiple days, depending on how in-depth the training is. For example, an HR certification course can take four days to complete in a classroom setting.
Here are the kinds of training topics most HR training providers offer:
Labor law training, such as FLSA, ADA, and HIPAA, as well as state and local laws
Best practice HR training, such as hiring, interviewing, and managing performance
Culture and values training to help businesses create a great place to work
Annual compliance training, such as sexual harassment or workplace safety
Certification training for those who want to obtain HR certification in one or more areas
There is some overlap between HR training providers and leadership training providers, as many of the latter also provide HR training as part of a leadership development curriculum. However, for the purposes of this article, the focus is on HR training providers and those with solid HR training options within their course library.
Best HR Training for HR Certification: SHRM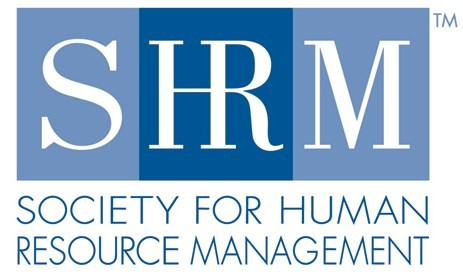 The Society for Human Resource Management (SHRM) is the leader in HR expertise, and their training is best for anyone who wants to learn about HR or is seeking to be certified as an HR professional. It's a good idea for small business owners to train at least one staff member on federal labor laws related to all aspects of the human resources process if they don't have an HR manager on staff. SHRM offers a huge number and variety of HR training options.
You can access SHRM's downloadable PDF catalogs here.
Once your HR employee completes training, they can choose a certification based on the number of years of experience, amount of training, and their college education level. For example, even non-degreed employees can earn HR credentials. However, to be certified as an HR professional (SHRM-CP), the employee needs a combination of training and education as shown below.
In addition to HR certification training, SHRM, as the premier HR industry organization, has expertise in all manner of labor law, HR compliance, benefits options, and payroll. In addition, they provide best practice supervisor and management training on everything from giving employees performance feedback to hiring temporary staff and complying with the affordable health care act (ACA).
SHRM Pricing
SHRM offers seminars, onsite training, e-learning, and webcasts that start as low as $40. They also have DVDs, HR templates, and labor law posters.
Their prices vary widely. For example, a three-day certification preparation classroom seminar in Los Angeles will cost $1,755, whereas a three-week virtual seminar covering the same information will cost only $720.
A great course for your HR team member is Mastering Your HR Generalist Role. It provides 15 personal development credits and can be used toward HR re-certification as well. SHRM members get discounts. For example, a SHRM member would pay $1,195 for a four-week virtual course, instead of $1,470, the non-member rate.
Trainees can receive micro-credentials and badges for completing a series of separate courses and passing an exam. In addition, SHRM members receive a substantial discount as illustrated in the pricing chart below.
SHRM Pricing Chart
E-learning &
Micro-credentials

2-Day Classroom Seminar

Multi-week Virtual Seminar

Program Price

Workplace Harassment $40
California Labor Law $99


One-day $1,100
Two-day $1,755

$720 to $1,590 depending on topic

Member Discounts

Corporate discounts vary

Save $200-$300 per seminar

Save $200-$300 per virtual seminar

What You Get

E-learning course and exam

Classroom-based training and exam

Online instructor-led training and exam
Obtaining an SHRM professional membership costs only $209 per year, and typically pays for itself with the discount off just one course. In addition, membership provides your HR rep with best-in-class tools, templates, resources and expertise, as well as free webinars, a robust peer group called "SHRM Connect," and a monthly magazine on HR topics.
SHRM Features
The best option for SHRM HR training for a small business owner and managers would be the courseware referred to as SHRM Essentials of Human Resources. It's great for anyone new to HR, such as a new business owner or first-time supervisors. It provides all the HR basics that managers and professionals need if they have responsibility for staff.
The SHRM Essentials for HR training program covers six key areas:
Human Resources – to help you understand what's required of an HR role
Employment Law – to help you comply

—

as well as avoid

—

fines and lawsuits
Talent Acquisition – to help you use best practices to recruit and hire staff
Total Rewards – to help you set up appropriate compensation and bonus programs
Learning and Development – to educate you on the best way to train employees
Performance Management – to help you manage your employee performance programs, performance reviews and maximize employee productivity
As an organization, SHRM provides expertise in what they call the SHRM BoCK, which includes all aspects of HR, shown below.
Online Training Delivery Options
SHRM offers a wide range of delivery options, making it perfect for busy small business owners and managers. They have seminars your staff could attend, classes you could host onsite for your management team, and e-learning and virtual events like webinars that your employees could participate in from their desk. In essence, whichever learning method you prefer, SHRM offers training in that format, as shown in their learning options:
HR Certification Options
The most common HR training with certification sought by HR professionals is the SHRM-CP, which stands for Society of Human Resource Management, Certified Professional. The SHRM-SCP is the same but given to HR professionals who have more years of experience (the S stands for "senior"). There are also specific training certifications for those working in California, as well as those working in international HR.
HR certification covers the following behavioral competencies and knowledge domains. This is helpful whether you're hiring an HR professional part-time, or want to certify your own HR staff members (or yourself) in these areas. SHRM's HR certification training prepares you or your HR team member for the very demanding certification exam.
HR training options within the certification prep program include a Self-Study Program, seminars on HR (which can be completed in a full two-day onsite session), or online training provided over multiple weeks in a virtual training format.
SHRM also partners with many universities and other educational firms to provide SHRM HR training content. Local SHRM chapters and authorized SHRM trainers may be better if you want to attend courses at a local university (you can search the SHRM site by state for one near you).
SHRM's website provides a list of onsite SHRM approved instructors and content that can bring the training onsite to your business location—for example, if you want all managers trained at one time on how to interview correctly or how to manage employee discipline.
Customer Support
SHRM provides their members with HR customer support Monday through Friday, 8:30 a.m. to 8:00 p.m. ET. They also provide online chat, self-service and a member forum where other HR practitioners can help answer common HR questions. This is especially helpful when your business operates with an HR department of one.
What's Missing from SHRM
SHRM is targeted toward HR professionals and employees, supervisors and business owners seeking to become knowledgeable in HR. Their courses are therefore typically more in-depth, longer and sometimes more costly than purchasing a short-term or introductory course or webinar on HR topics from some of the other vendors we recommend below. However, due to the complexity of HR and labor law, SHRM would be our go-to choice for HR training if HR certification is your goal.
Best HR Training for Online Delivery: HR.com

We recommend HR.com for those businesses that want to provide HR training to their team online, avoiding travel costs. HR.com provides free webinars and all of their content is online. Once you join, you get access to additional resources such as member-only online seminars and short, two- to twenty-minute webcasts tailored to beginners, like managers and supervisors, as well as advanced versions of the courses for HR professionals.
HR.com is easy to search, so you can find the HR training or resources you need quickly, whether it's certification training as shown above, or short webcasts to help educate staff. The search functionality is much more user-friendly than SHRM in comparison.
HR.com Pricing
HR.com bases its prices on the service time frame you choose. You can join for free to obtain access to some of their online content. Otherwise, for one person to join the HR Genius membership, it's $29 per month or $300 per year, with access to all training content. Three years costs $500, so that's a better value for HR training, averaging only $167 per year per member.
HR.com also offers an HR Ambassador program, but that option doesn't provide much HR training. Instead, the Ambassador program is focused on HR tools like downloadable forms and interactive HR guides, similar to those offered by an SHRM membership. If you buy both programs, HR Genius and HR Ambassador, it's $399 per year per member, a bit more costly than an SHRM membership.
| | HR Genius | HR Ambassador |
| --- | --- | --- |
| Focus | "It's about me — HR career and development" | "It's about my company — HR compliance, productivity, tools and discounts" |
| Price | $300/year per person | $189/year per person |
| Training | Unlimited access to training | 60 live webcasts |
| Other HR Resources & Tools | Career planning tool, suggestions on new HR skills to learn | Downloadable forms, research reports, salary surveys, job descriptions, compliance updates, interactive guides |
To purchase a membership on HR.com, or access any of their tools like certification prep courses, HR guides or articles, go to their HR.com store. You can drill down by subject to choose your membership or to purchase resources, as shown in the screen capture below.
HR.com Features
HR.com provides information, training, and tools to help businesses manage their HR functions. Some of their HR training offerings include:
Training for HR certification and re-certification
HR product and service reviews and technology discussions
Webcasts and virtual events
Annual two-day conference for HR professionals
HR Genius membership with access to online training on all HR topics
Ambassador program targeted to HR professionals with access to tools and networking
HR Certification Options
HR.com hosts most of its content online, including webinars for HR professionals to prepare for their HR certification or to earn credits toward re-certification. In addition, HR.com offers full-blown, multi-day HR certification and re-certification preparation courses.
For example, in the screenshot below showing a weekly training calendar, you'll see course options via webcast and live virtual conference (content spread across several sessions) provided in multiple formats by HR.com. There are also events for members only, shown in orange.
Customer Support
HR.com provides support via phone and email. You can contact them Monday through Friday, 8:00 a.m. to 5:00 p.m. EST.
What's Missing from HR.com
HR.com's website isn't really geared to one-off topics. You'll likely have to purchase a membership to access the training content if you want more than what's provided for free. For example, if you want to train all managers at one time on avoiding sexual harassment, HR.com wouldn't be your best choice as you'd need each manager to have their own membership.

HR Certification Institute (HRCI) provides HR content in a self-paced mode with practice exams. It is a low-cost way to educate HR staff members or prepare those seeking HR certification. They can review the HR content outlines for what's included on the exams for free, and then take timed and untimed practice tests to see how they do.
HRCI Pricing
Most of the resources on the site are free, including free webinars. Prices for HRCI practice exams run from $50 to $150 per exam, depending on which test your HR staff member or you are signed up to take. For example, an untimed HR practice exam for professional in human resource certification (PHR) costs only $50. The timed practice exam costs $150.
HRCI Features
In addition to providing basic training tools in print, free webinars, and practice tests, HRCI provides a list of over 200 HR training providers who can offer HR certification training worldwide. In that way, they're similar to SHRM. You can sign up to take the HR certification exams, sign up for the test-taking preparation, or both. They also provide links to recorded webinars you can view at no cost, like the ones listed below.
HR Certification Options
HRCI certifications are the same as used by HR.com and SHRM. You could offer certification to the person doing HR in your company, or offer certification to your entire management staff to ensure they're up to date on HR best practices and all aspects of labor law compliance. The most common HR certifications HRCI provides training for are shown below.
Customer Support
Customer support is provided through phone, email or by using an online web form to request assistance. HRCI can be reached Monday through Friday from 8:30 a.m. to 6:30 p.m. EST.
What's Missing from HRCI
HRCI doesn't provide training outside of the training needed to prepare to be certified in HR or to earn HR training re-certification credits. In other words, they don't provide training on general HR-related topics geared toward educating managers and supervisors on HR best practices, like interviewing skills.
Best HR Training for Managers and Supervisors: BizLibrary


We recommend BizLibrary to those businesses that want HR training options not just for their HR staff, but also for training managers and supervisors on HR topics. BizLibrary provides thousands of video, interactive, e-learning, and short- and long-term courses. They also track training with an online Learning Management System (LMS) in addition to providing off-the-shelf courses.
As a bonus, BizLibrary offers much more than just HR training. They're a full-service training provider. For example, you might notice on the screen capture below that your team members could take courses on leadership, business skills, safety or computer technology in addition to HR compliance training topics.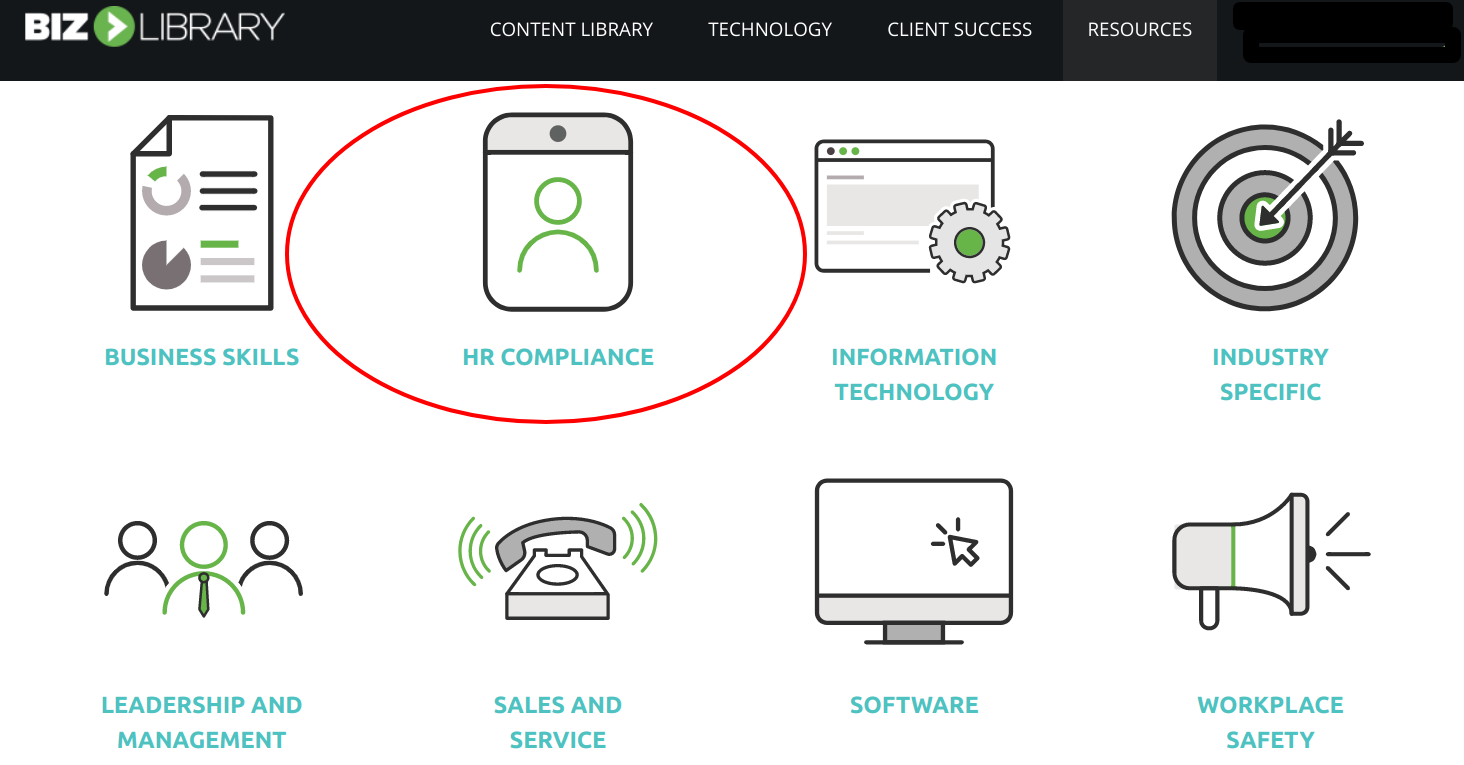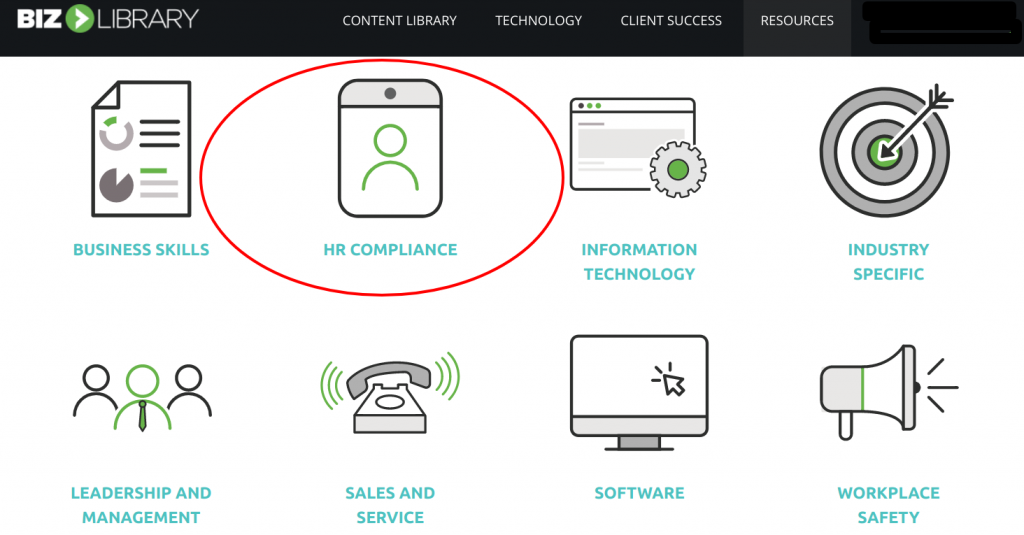 BizLibrary Pricing
Many of the courses on BizLibrary are free. They offer free webinars, free e-books, and free infographics as part of their HR training resources. However, to get the full library shown above, it may cost as much as $150 per employee per year, with the LMS feature optional at about $15 per year per employee extra.
However, to get specific BizLibrary pricing, you have to fill out an online form and agree to a demo of their course and management system. They will then customize pricing to your company size and employee-training needs.
BizLibrary Features
BizLibrary is an online, micro-video training library with support resources. It's mobile-friendly, and its HR training courses are accredited through HRCI and SHRM. BizLibrary provides reinforcement boosters in terms of polls and thought-provoking questions, which is something the other HR training providers don't have. BizLibrary includes all standard HR training topics and related content such as workplace safety. They also provide training reports so you can keep track of who's been trained on what.
In addition, BizLibrary provides their content in multiple formats:
Webinars
E-books
Reports
Infographics
Competency Guides
BizLibrary also provides an optional, full-blown Learning Management System (LMS) with a learning portal, content management, and learning management so you can assign and manage the courses your employees take.
HR Certification Options
Many of the HR courses offered on BizLibrary can be applied to HR certification through SHRM and HRCI. However, BizLibrary doesn't have an HR certification preparation course for those seeking to obtain or renew their HR certification.
Customer Support
BizLibrary provides support via phone, email and online website chat (if you're using their LMS). Their services hours are Monday through Friday from 7:00 a.m. to 7:00 p.m. Central time, and on weekends from 8:00 a.m. to 5:00 p.m. Central.
What's Missing from BizLibrary
As an HR training provider, BizLibrary doesn't specialize in training courses to prepare HR practitioners for the various HR certifications. And although they offer many free HR courses, to get access to courses hosted on their LMS, you have to purchase a company subscription. The pricing isn't transparent (you have to sit through a demo first), and if you just have a quick question before signing up, it's difficult to find a phone number on their website.
Best HR Training for a Low per Unit Price: HR Classroom


We recommend HR Classroom for those businesses that want many employees trained on HR topics. Depending on the size of your company, you can get HR training for your employees for as low as $1.10 per class. However, the minimum number of units is 50, so HR Classroom is best if you plan on training many team members, or want to provide training on multiple HR topics, such as those shown below on how to create a drug-free workplace or prevent sexual harassment.
HR Classroom Pricing
You can get started on HR Classroom for as low as $499 per year, which includes 50 training licenses or units. Additional licenses are sold in packages of 50, with price breaks shown below. It's a pay as you go model. Let's say you have 10 employees and want them each to take five HR training classes (10 x 5 = 50). You'd need to purchase the minimum package of 50 units.
HR Classroom Pricing Table
| Training Units (Attendee or Course) | Price per Unit | Minimum Purchase |
| --- | --- | --- |
| 50-100 | $9.98 | $499.00 |
| 100-500 | $7.50 | $750.00 |
| 500-1,000 | $6.96 | $3,481.50 |
| 1,000-2,000 | $5.99 | $5,990.00 |
| 2,000-3,000 | $5.15 | $10,300.00 |
| 3,000-5,000 | $4.79 | $14,355.00 |
| 5,000 | $4.35 | $21,725.00 |
| 10,000 | $3.95 | $39,500.00 |
| 50,000 | $1.10 | $55,000.00 |
HR Training Pricing by Unit
Source: HR Training
HR Classroom offers an additional package called the Advance Compliance Feature set. It's $1,500 per year for the activation and support fee for the Advanced Compliance Features set, which includes a way to track that employees have completed their HR and compliance training.
It's not an LMS, but has tracking and reporting features similar to an LMS.
That's helpful if you're in a regulated industry where employees like nurses, child care workers, insurance agents or truck drivers need ongoing updated certification, or you have a large HR staff. Otherwise, for a small business, it's not really needed. If you don't choose the Advanced Compliance Features, you'd track employee training compliance by running simple reports.
HR Classroom Features
Being a cloud-based system like most of the other training content providers, HR Classroom doesn't require any new hardware or software. In addition to a great list of searchable training topics, you can add and track your own custom training in PowerPoint. You can also add your own audio, video, and important documents such as company policies and your employee handbook. It's easy to run reports to see who has completed training using an intuitive reporting data input form, shown below:
Like SHRM, HR Classroom provides access to federal and state laws, as well as handbooks. But unlike SHRM, there's no membership required to access those resources. It's a pay-as-you-go model for training that lets you and employees learn at their own pace. HR training can be completed anytime with just a few minutes to set up. You can also add your own custom policies and custom questions into the training—that's a feature none of the other programs offer at such a low price, if at all.
HR Certification Options
HR Classroom doesn't provide HR certification like SHRM, HRCI, and HR.com, but the training it provides can support the CEUs and professional development credits that HR certified staff need in order to retain their existing HR certification. In that sense, it's more like BizLibrary. Your HR employee would need to provide a report showing how much training they'd completed in order to request those training hours be applied toward their HR re-certification.
Customer Support
Customer support is provided by HR Classroom via phone and an online web form. There are also FAQs on the site to help you manage basic issues. They're available Monday through Friday from 7:00 a.m. to 6:00 p.m. MST.
What's Missing from HR Classroom
There's no HR certification training available on HR Classroom, so it's not the best HR training option to prepare your HR manager for HR certification. There's also no LMS, but that means there are no LMS fees or implementation processes either. HR Classroom is a pay-as-you-go system, best for one-off training on common HR topics instead.
Still Have Questions?
Have a question about choosing the right HR training provider for your business? Our analysts are standing by to answer!
The Bottom Line
For HR training that checks all the boxes, SHRM is the best option, especially if you're looking for training and HR certification for yourself or your HR staff. However, if general HR training for management and staff is what's needed, then one of the other training providers, like BizLibrary or HR Classroom, may be a better choice since you can obtain a company membership or pay as you go.
Don't forget to check out TalentLMS which lets you quickly create custom online employee training courses. It's also free for up to 5 users making it a great option for small businesses. Click here to get started.