Ice cream is in a slump. By and large they're losing out to frozen yogurt and other healthier treats – or that at least seem healthier. Nonetheless, we've taken a good hard look at the top ice cream chains and identified the two best ice cream franchise opportunities. We'll also give you the scoop on other top contenders to give you a full picture on the current ice cream game.
If you're interested in reading about frozen yogurt franchises, check out our guide to the Best Frozen Yogurt Franchises. For more on franchising in general, check out our guides to Choosing a Franchise and Opening a Franchise.
Did you know? If you have more than $50,000 in your retirement account you can use this money to start or buy a business without paying early withdrawal penalties. Click here to learn more or speak with a professional at Guidant.
Total Initial Investment: $160K – $381K
No. Existing Locations: 49
Employees Required: 5 to 10
Royalty Fees: 6%
Agreement Length: 10 years
Location: Nationwide
Research Franchise Opportunities By Cost, Location and Industry: Here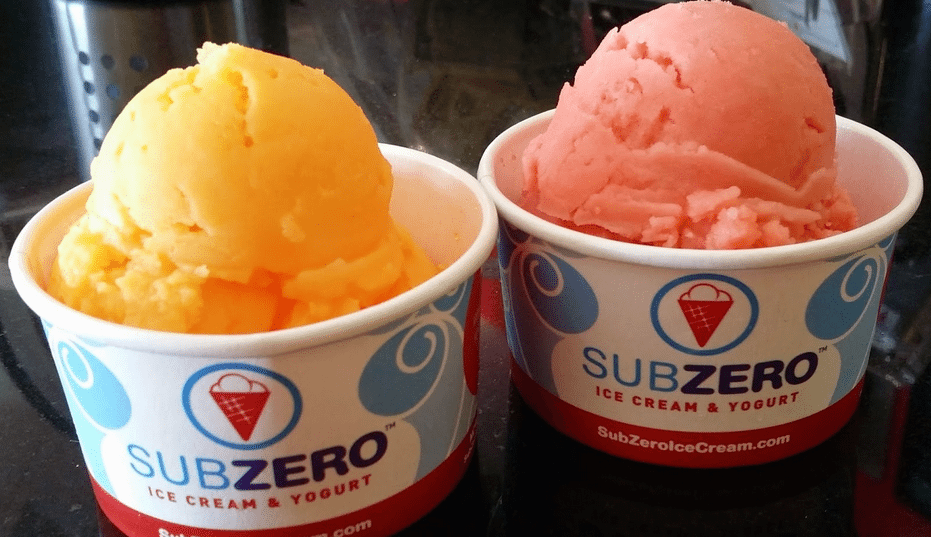 Though a relatively new and unknown franchise, we recommend Sub Zero, in no small part, because they're one of the only major ice cream franchises that's growing. Sub Zero was founded in 2004 with the unique idea of making ice cream on the spot with liquid nitrogen. Whereas most ice cream chains have stagnated or declined in the past five years, Sub Zero has almost tripled in size – granted, they're still fairly small, with only 49 locations.
As one enthusiastic customer pointed out on Franchise Chatter, the freeze-on-the-spot method gives franchise owners numerous advantages:
Flexibility

: The customer gets to choose their cream base, flavors and mix-ins, as well as the firmness of the ice cream.

Healthy Options

: Whereas traditional ice creams stores have just a couple low-fat or vegan options, Sub Zero can mix any milk base (i.e. original, low-fat, yogurt, lactose-free, vegan, etc.) with any flavor.

Easier Storage

: Being made on the spot, you don't need giant freezers to store ice cream containers.

A Spectacle

: The process behind the counter, which involves liquid nitrogen and clouds of vapor, is a marketing attraction in and of itself.
On the other hand, the fact that it's made and served behind the counter means you need a larger staff around, especially during peak hours. Also, as a smaller chain, there isn't much data out there about their current profitability. Nonetheless, given their unique concept and growth, we feel this is one of the best ice cream franchise opportunities currently out there, especially considering their initial investment cost can be as low as $160,000.
Check out this video of a Sub Zero Ice Cream franchise in action:

Best Traditional Ice Cream Franchise: Dairy Queen
Total Initial Investment: $362.4K – $1.8M
No. Existing Locations: 6,388
Employees Required: 20 to 100
Royalty Fees: 4 to 5%
Agreement Length: 20 years
Location: Nationwide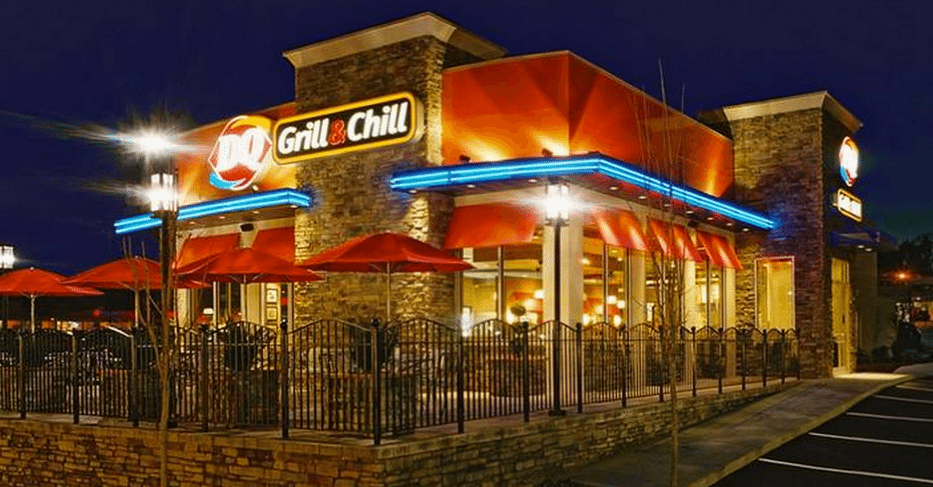 Of all the major ice cream chains, Dairy Queen has fared the best. Whereas Cold Stone and Ben & Jerry's have declined in the last 5 years, Dairy Queen's number of domestic locations has remained roughly the same – plus they've managed to grow roughly 25% internationally.
Between 2001 and 2011, they've had the lowest new franchise failure rate compared to all the other chains we reviewed, as measured by SBA loan failure rates. Only 9.41% of SBA loans failed, compared to 41.93% for Cold Stone and 23.58% Baskin Robbins.
What makes Dairy Queen such a strong bet? The answer is tricky. The biggest trend in the frozen treat has been frozen yogurt – largely popular due to its perceived healthiness, self-serve model and customization options. Dairy Queen does not follow any of these trends, however. So what makes them appeal to modern consumers?
One answer is legacy. They were the first chain to introduce self-serve ice cream in 1940, and just about everyone born since then can remember going to a Dairy Queen as a kid. It makes sense that if any soft-serve ice cream chain is going to persist through new trends, it will be Dairy Queen. The 2nd answer is that they have been innovating – but not in the way that frozen yogurt chains have. Their DQ Grill & Chill concept has introduced an expanded menu of food, while keeping the classic ice cream products.
Research Franchise Opportunities By Cost, Location and Industry: Here
Other Popular Ice Cream Franchises
Total Initial Investment: $80K – $366K
No. Existing Locations: 129
Employees Required: 1
Royalty Fees: Varies
Agreement Length: 5 years
Location: Nationwide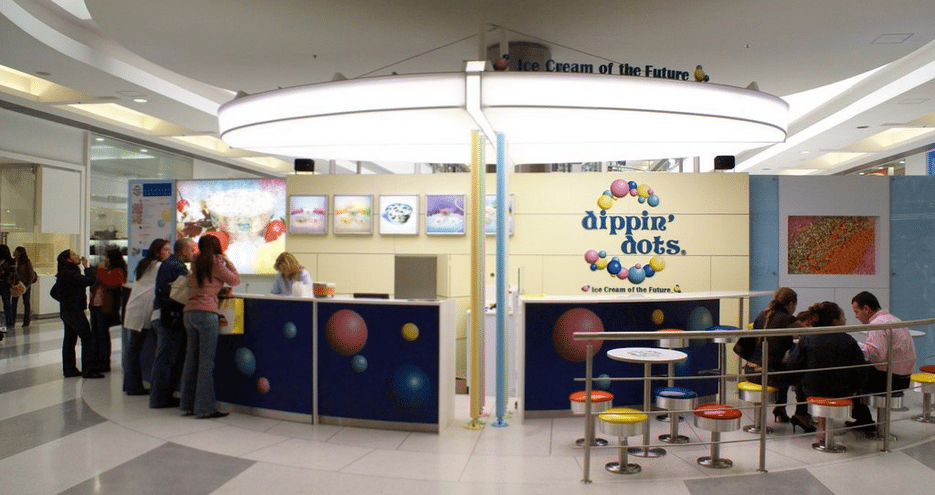 Dippin' Dots took a major hit in 2008 amid a failed lawsuit against a competitor and the decline the amusement parks and similar venues where Dippin' Dots make a good portion of their sales. This culminated into bankruptcy in 2011, however, since then things have been pretty stable. They began turning a profit again shortly after, and their number of locations has stayed about the same since 2012 at 129 units.
One complaint noted by a former franchisee on Hub Pages was the requirement to open a physical shop if you want to sell from a mobile kiosk. Dippin' Dots performs well at ball games, carnivals, zoos and special events, but they their storefront locations are not particularly profitable. The franchisee who wrote this ended their relationship several years ago, and I have not been able to find out if they still have this requirement. If not, I think it could be an attractive, low-cost mobile franchise opportunity. If you do need to open a physical shop, then maybe pass this one up.
Total Initial Investment: $102.9K – $388.6K
No. Existing Locations: 7,552
Employees Required: n/a
Royalty Fees: 5.9%
Agreement Length: n/a
Location: Nationwide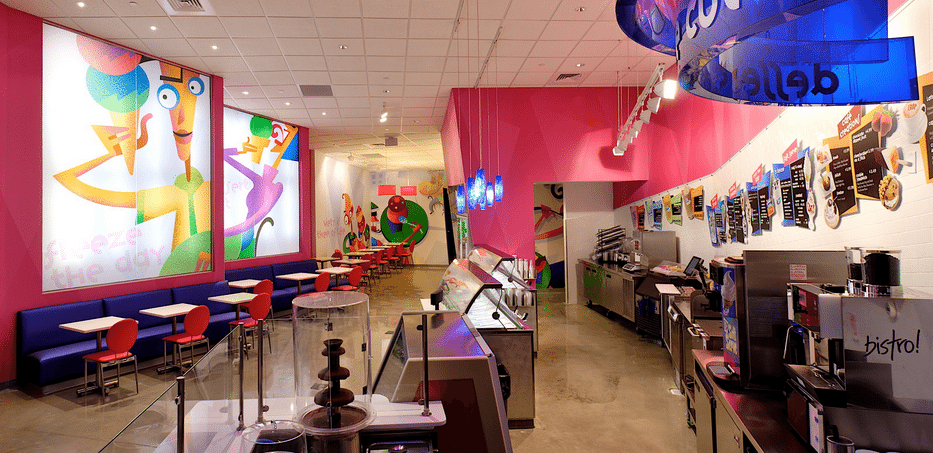 Like Dairy Queen, Baskin-Robbins has surprisingly fared OK amid the ice cream meltdown. Their number of domestic locations has remained about the same in the last five years while internationally they've grown about 10%. Whereas Dairy Queen has diversified into fruit smoothies, burgers and other grilled foods, however, Baskin-Robbins has stayed about the same. The only major change I came across is a store interior revamp that follows the youthful color scheme of frozen yogurt shops.
Baskin-Robbins overall profits have been up since 2012, according to Market Realist, but much of this is due to their new international locations. In the US market, revenue grew only 2% in 2014. Long story short, Baskin-Robbins seems to be stabilizing in US, but don't expect to get rich quick with this franchise.
Total Initial Investment: $277.4K – $464.3K
No. Existing Locations: 1,235
Employees Required: 10 to 15
Royalty Fees: 4 to 5%
Agreement Length: 20 years
Location: Nationwide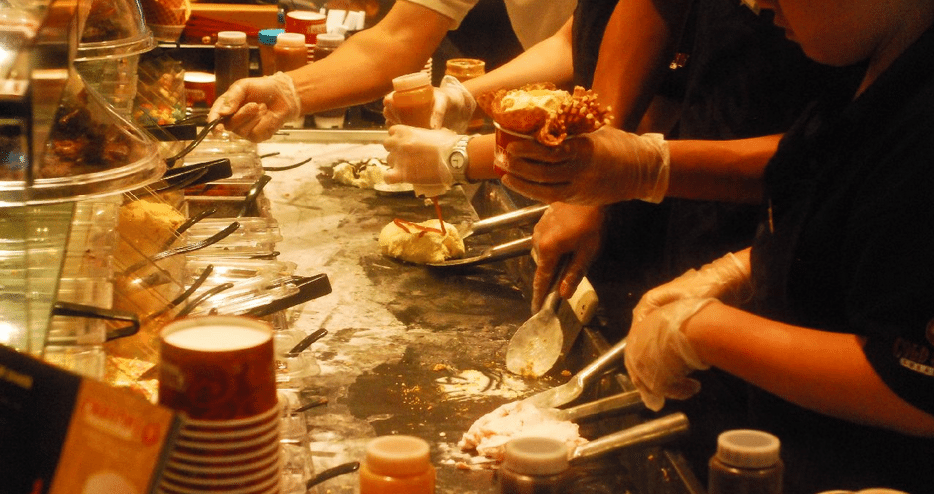 Cold-Stone Creamery has taken a lot of heat. A few years ago, it's high SBA loan failure rate was widely reported. Between 2001 and 2011, 41.93% of new franchisees defaulted on their SBA loans. They've also taken a lot of heat from franchisees after it was revealed that supplies, like their milk-base and bottled water, was marked up so Cold-Stone could receive kickbacks from suppliers. This infuriated franchisees who found the high cost of supplies was hurting their bottom line, and it lead to some legal action.
So how have they performed since 2011? The chain has lost about 10% of its US units and almost all of its Canadian units. Their average sales per unit in 2013 was $373,000, according to QSR Magazine. This is up from average sales of $352,000 in 2011, but down from $400,000 in 2005, according to the Wall Street Journal.
For now, Coldstone may be stabilizing, but given the amount of controversy they've stirred in the past, this is not a recommendation we can make.
Bottom Line
As you can see, owning a franchise can be a great small business and there are many opportunities in the ice cream space. Obtaining financing can be the hardest step in opening your franchise. You can read our guide to financing a new business here. Also, if you have over $50,000 in your retirement account you can use this money to start or buy a business without paying early withdrawal penalties by doing a ROBS. Read our full article on ROBS here or speak with the ROBS pros at Guidant.