Businesses use lead generation software to capture a lead's information (usually from a website), and then build a database of contacts for the purpose of qualifying and converting those leads to customers. From embedded forms to software that manages drip email campaigns, here are the 13 best lead generation software for sales.
13 Best Software for Generating Sales Leads
| | Best for |
| --- | --- |
| Mailchimp | Generating leads from engagement with email drip campaigns. |
| LinkedIn Sales Navigator | Creating a prospect list of decision-makers at target companies. |
| HubSpot | Generating leads through inbound marketing. |
| Infusionsoft | Converting email subscribers to ecommerce customers. |
| JotForm | Collecting leads through your Facebook business page. |
| Freshchat | Engaging with leads in real-time on your website. |
| AdWords | Attracting traffic to your landing pages through targeted keyword ads. |
| WPForms | Collecting leads based on visitors on your WordPress site. |
| Zapier | Automatically populating your CRM with leads from existing email marketing or other webforms. |
| Squarespace | Building websites and landing pages to collect leads. |
| Weebly | Building simple do-it-yourself websites for ecommerce. |
| Zoho Social | Engaging with and capturing leads on social media. |
| UpLead | Purchasing scrubbed lists of leads. |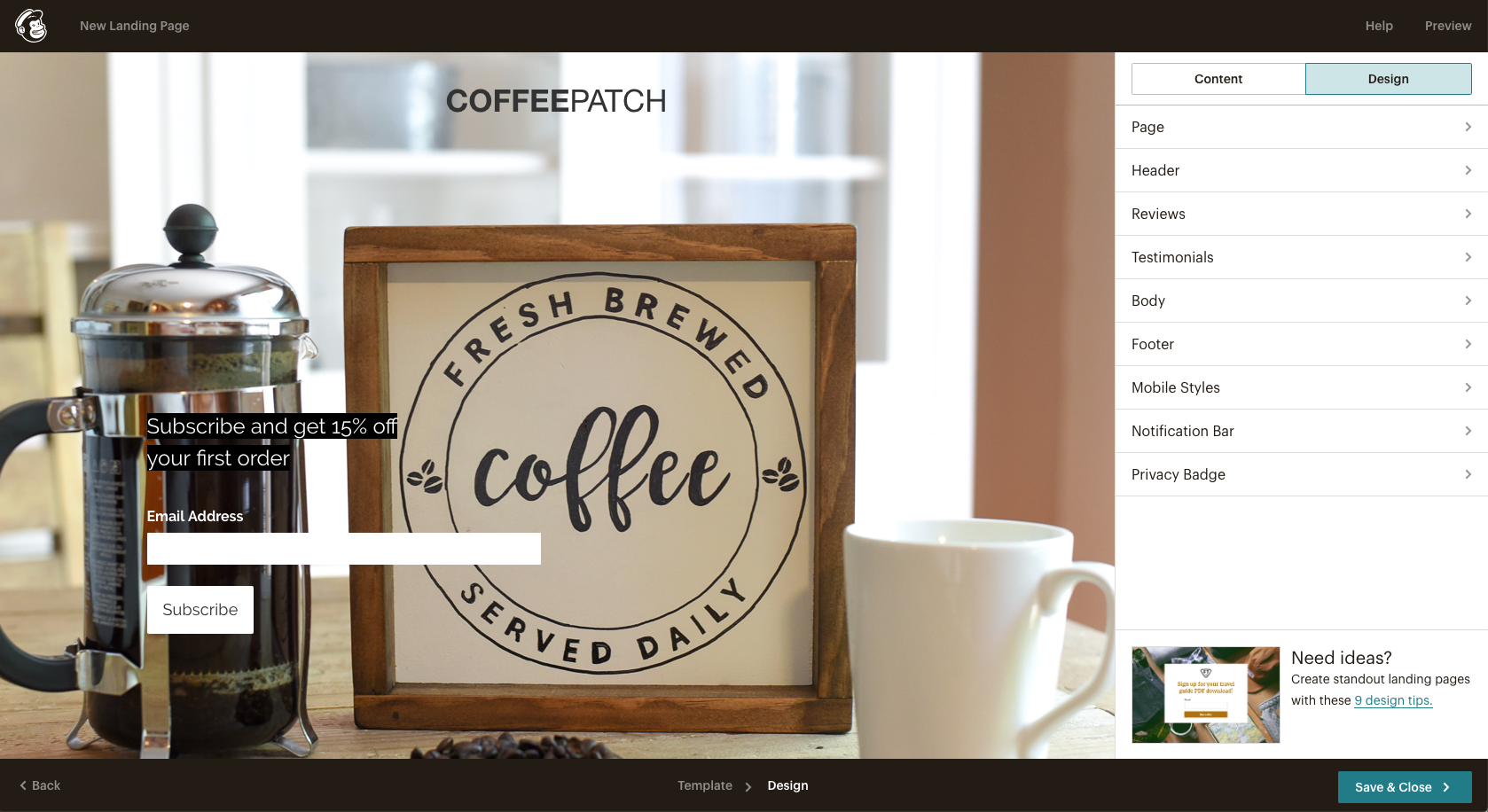 Who it's for: Small businesses looking to generate leads through email drip campaigns.
What it costs: Free up to 2,000 contacts.
Mailchimp is one of the industry-leading email automation tools, allowing users to create elaborate drip campaigns and sign up subscribers on your existing website. Mailchimp includes the ability to create sign-up forms, opt-in form pop-ups, and Facebook forms, all designed to capture important lead information that you can then target with email marketing campaigns.
One of the advantages of Mailchimp as a lead generation tool is that it's free to use for up to 2,000 contacts, which is great for small businesses just starting out with email subscriber lead capture. Beyond the free plan, you can add additional contacts as well as features depending on what best fits your business.
An additional feature that is especially valuable for lead generation is the social profiles add-on. This allows you to gather publicly available information about your contact's social media profiles and activity, and allows you to target your drip campaigns based on criteria like demographics or social media interactions. This can help you qualify and focus your attention on the most valuable leads you generate.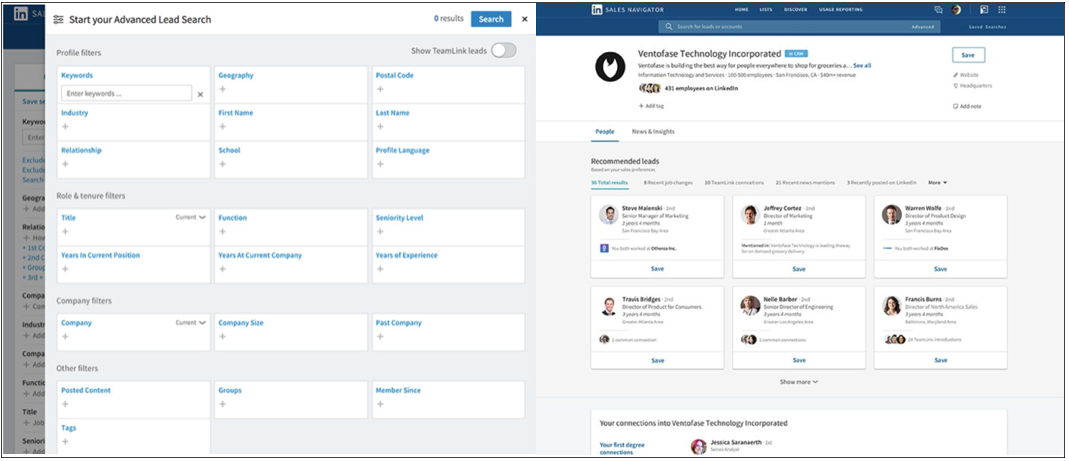 Who it's for: Sales professionals wanting to make direct connections to decision-makers at their target companies.
What it costs: $79.99/month.
Sales Navigator is lead generation software designed to provide additional features to your LinkedIn account, including the ability to import your existing leads, predictive search, and advanced keyword and search filters. One of the most powerful aspects of Sales Navigator for generating leads is the advanced search feature that allows you to filter profiles by industry, title, company, geographic location, and more.
Sales Navigator costs $79.99/month and provides you access to the entire LinkedIn network for prospecting and lead generation. It gives you in-depth information about both your leads and their companies. It includes recommended leads, which are prospects that LinkedIn identifies based on factors like their company, their connection to existing leads, and their roles.
For sales professionals who are active on LinkedIn, and those who focus on account-based sales management, Sales Navigator can be a valuable software tool to identify, connect with, and close new sales opportunities.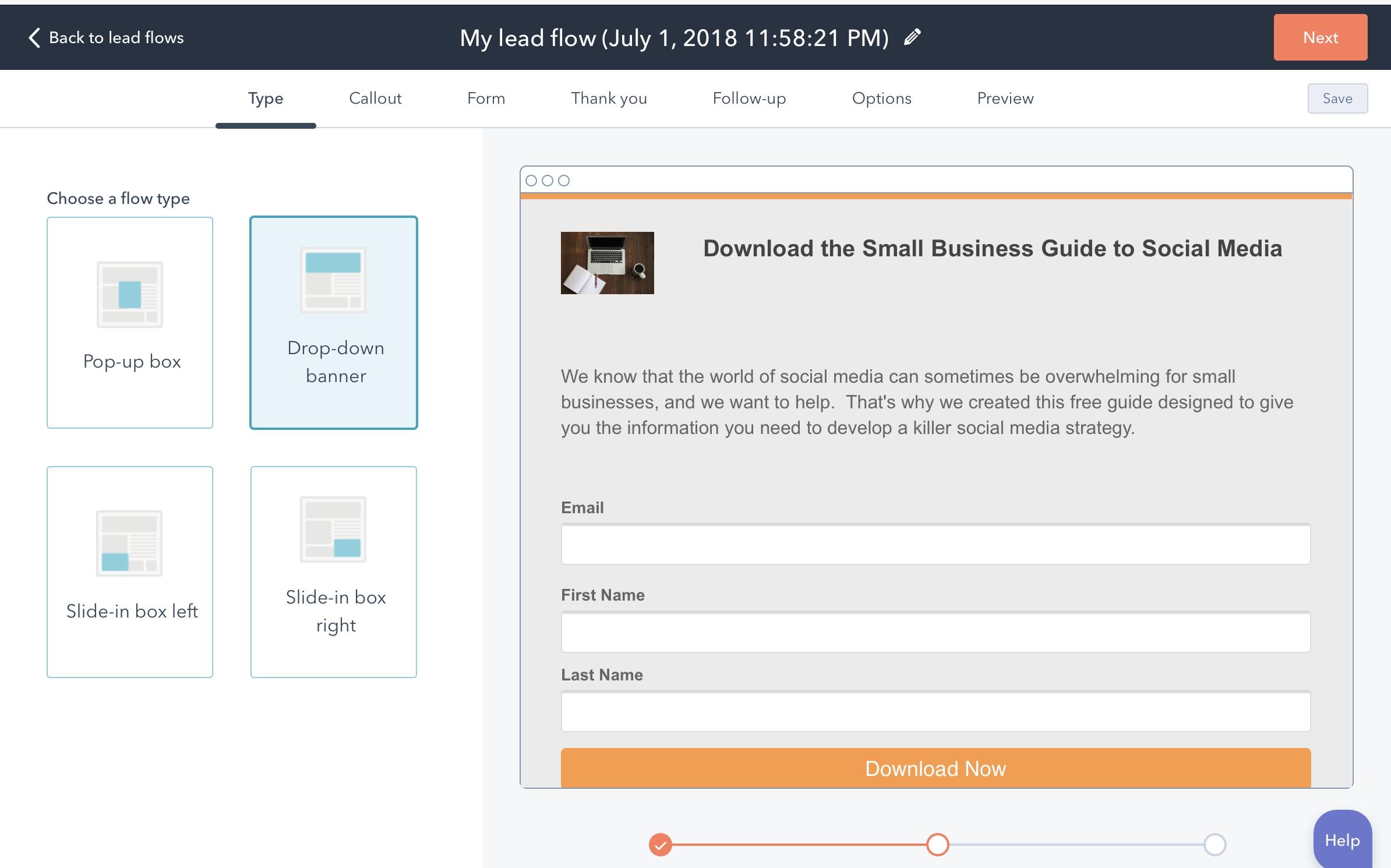 Who it's for: Small businesses looking to generate and qualify a large number of leads through content and email marketing.
What it costs: Free to $800/month (depending on plan and number of contacts).
HubSpot is a leading lead generation and marketing automation platform that provides the ability to create landing pages, lead generation forms, lead nurturing email campaigns, and lead scoring. It's ideal for businesses looking to generate leads on their website with content marketing and robust lead management.
More than just email subscriptions, HubSpot incorporates a complete Content Management Software (CMS) that lets you publish landing pages, blog posts, and contact forms for the purpose of capturing new lead information. In addition, unlike many other stand-alone lead generation tools, it features a free built-in CRM that houses all of your lead information and updates it based on your contact's activity and offers chatbots that allow potential customers to engage with your brand without a phone.
While HubSpot's free CRM allows you to collect lead information and manage your sales process, paid plans are also available at $50 and $800, and include advanced automation features like drip campaigns that help you convert leads into paying customers.
Infusionsoft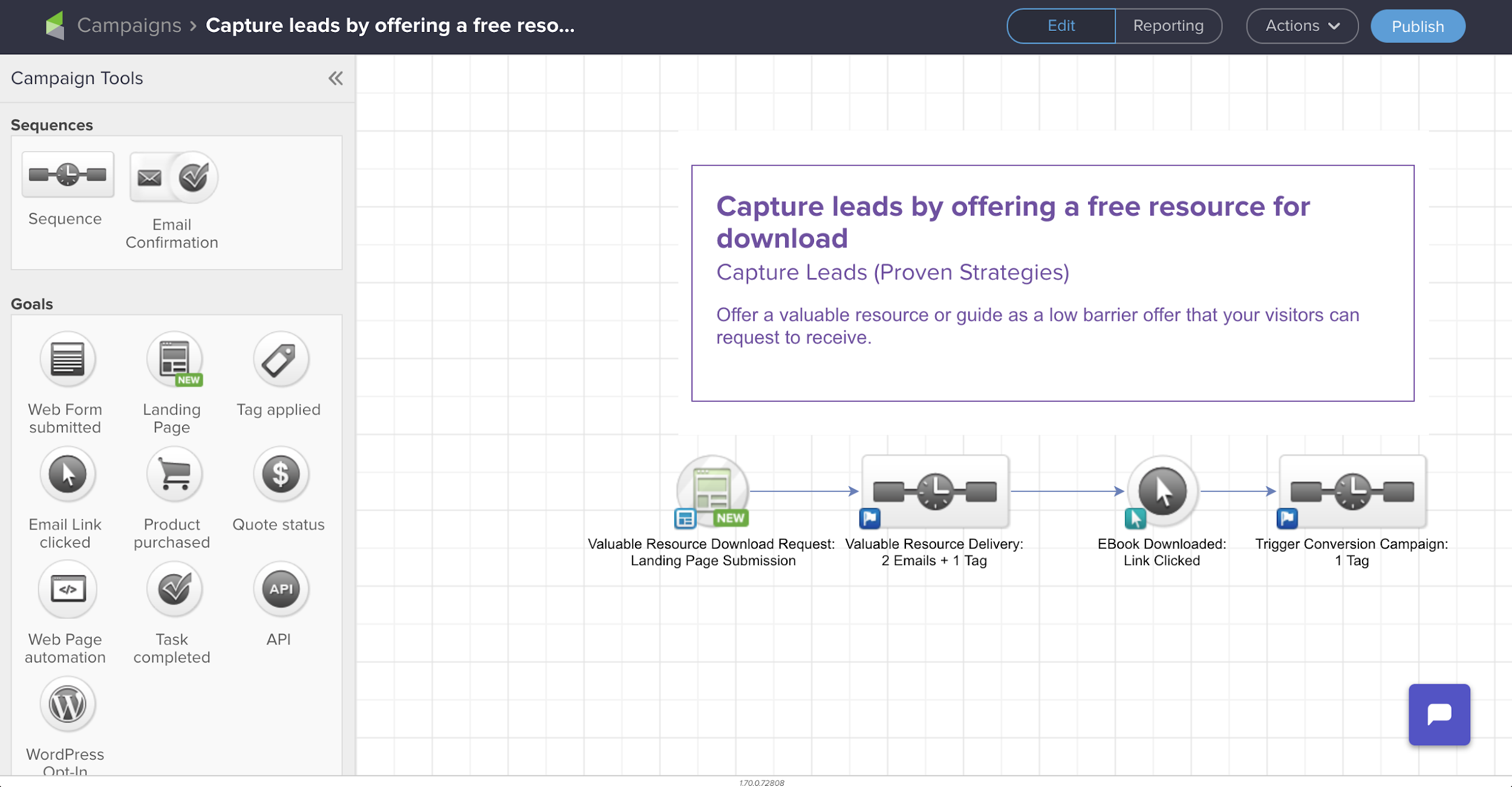 Who it's for: Businesses that sell products and services to their email newsletter subscribers.
What it costs: $99/month for 500 contacts.
Infusionsoft is a marketing automation tool that includes a full ecommerce suite in addition to its lead generation tools. For businesses that want to capture leads and email subscribers and sell them products or services on the same platform, Infusionsoft is a powerful sales tool. Because it does not have a content management system built in like HubSpot, for example, you would integrate Infusionsoft into your existing site.
Infusionsoft's pricing is based on the number of contacts you have in your database. In addition, you can add on features like ecommerce and their sales pipeline for an extra monthly fee. For a business with 1,500 emails contacts and the ecommerce option, Infusionsoft would cost $188/month.
Infusionsoft allows the creation of detailed lead generation campaigns that include emails, content offers, and user interactions. It helps you generate leads primarily through email subscriptions and content downloads, and provides tools to nurture those leads and convert them into customers. Infusionsoft is ideal for educational content businesses, real estate agents, and other service-based brands that provide resources to their mailing list.
JotForm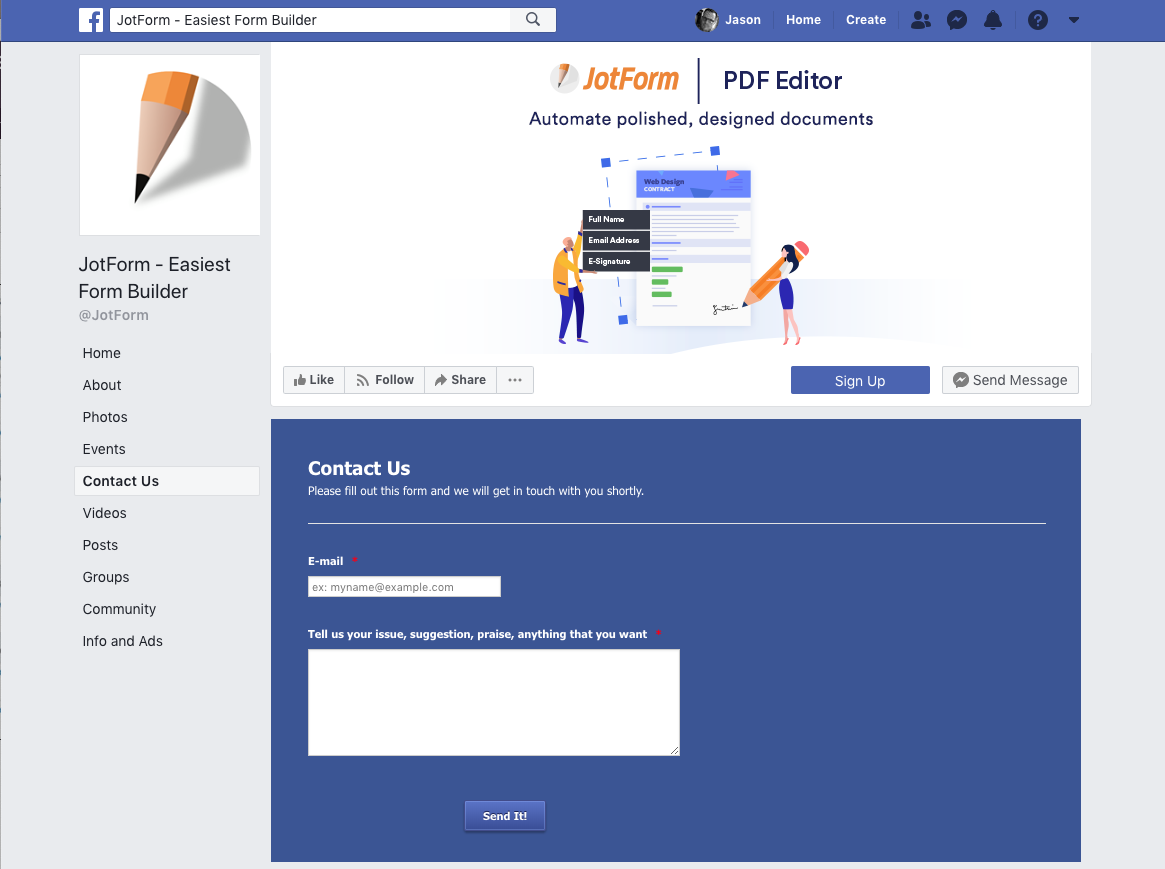 Who it's for: Businesses looking to collect leads from their Facebook Business Page.
What it costs: Free to up to $99/month.
JotForm is dedicated lead generation software and an easy way to add forms to your Facebook Business Page to collect contact information. Using JotForm's embeddable forms, you can use the audience you've built on your Facebook Page to generate leads, and then send them to your CRM or other sales tools.
JotForm is an affordable option for businesses that mostly market on Facebook and want to be able to collect new lead information right from their Facebook Business Page. The free plan is a great option for business just starting to collect leads on Facebook, and includes five different forms and up to 100 submissions. The paid plans increase the number of forms and submissions, and add features like increased storage and HIPAA compliance.
For businesses that advertise on Facebook and want to focus their lead generation efforts where their target audience already is, JotForm is a powerful tool to turn their social media audience into leads. This can be great for businesses like service companies or local retailers who build a following on Facebook and want to convert them to sales leads and, eventually, customers.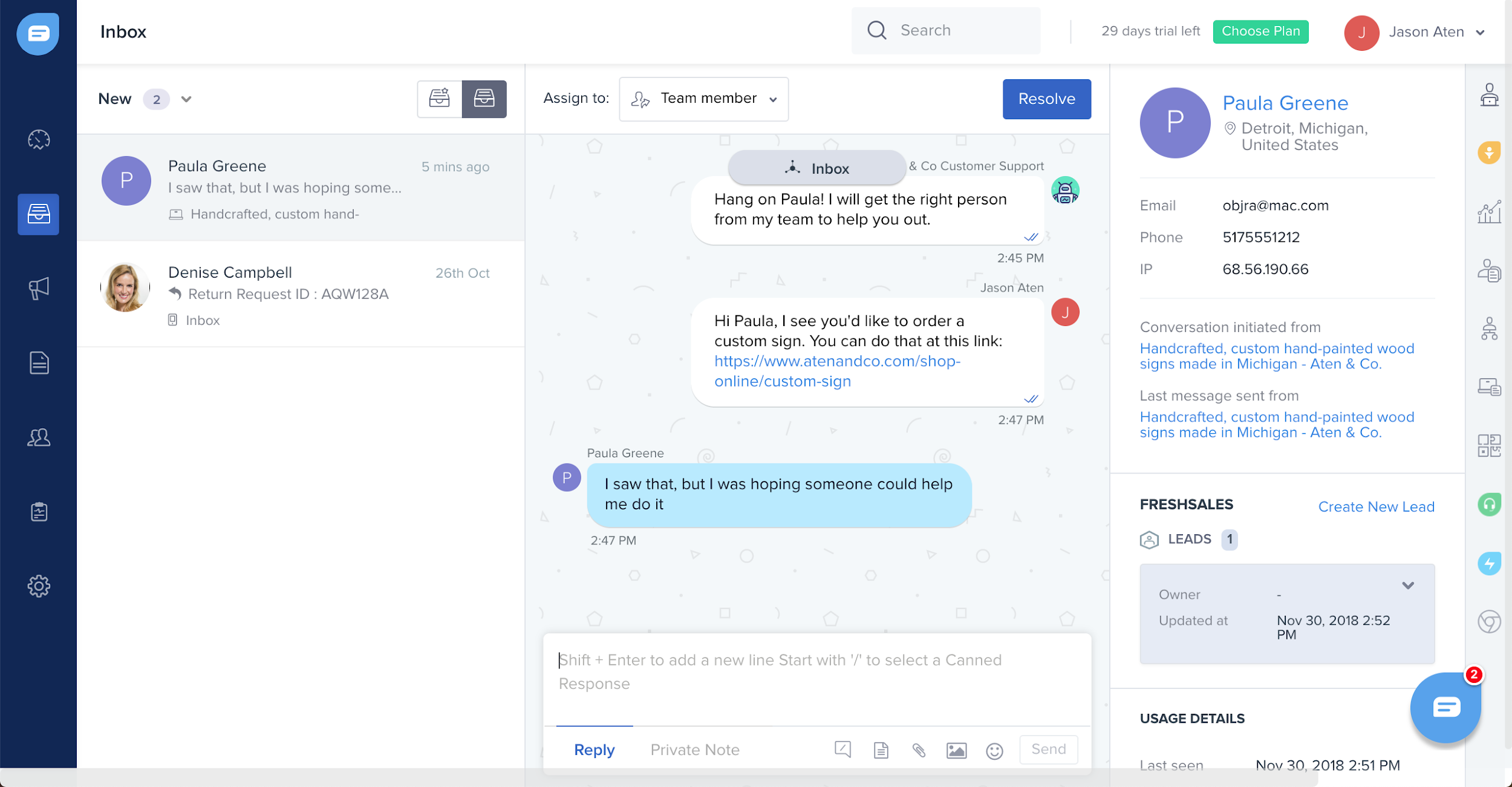 Who it's for: Businesses looking to engage with leads in real-time on their website.
What it costs: Free to $19/$29/$49 per month.
Freshchat is lead generation software in the form of a chat widget that allows your sales team to engage with your customers on your website in real-time. Your sales team can configure automated campaigns to start a conversation with visitors while they are on your site, and then convert them to leads in Freshworks CRM. In addition, you can create "bots" to provide automated answers to common sales questions and point your visitors in the right direction.
Since Freshchat integrates with Freshworks CRM, you can send contacts to your CRM as leads and assign them to your sales team to begin the sales process. Information that is sent includes the lead's activity on your site as well as the chat conversation, providing your sales team with valuable context as they follow up and pursue sales opportunities with leads.
Freshchat has a free plan that includes the basic chat features as well as notifications for your team. The paid plans are $19/$29/$49 per month, and add features that include advanced integrations, multilingual chat support, triggered messages, and bot responders. Freshchat is especially well suited for online retailers as well as software and service businesses that want to connect with potential customers while they are engaged on the website.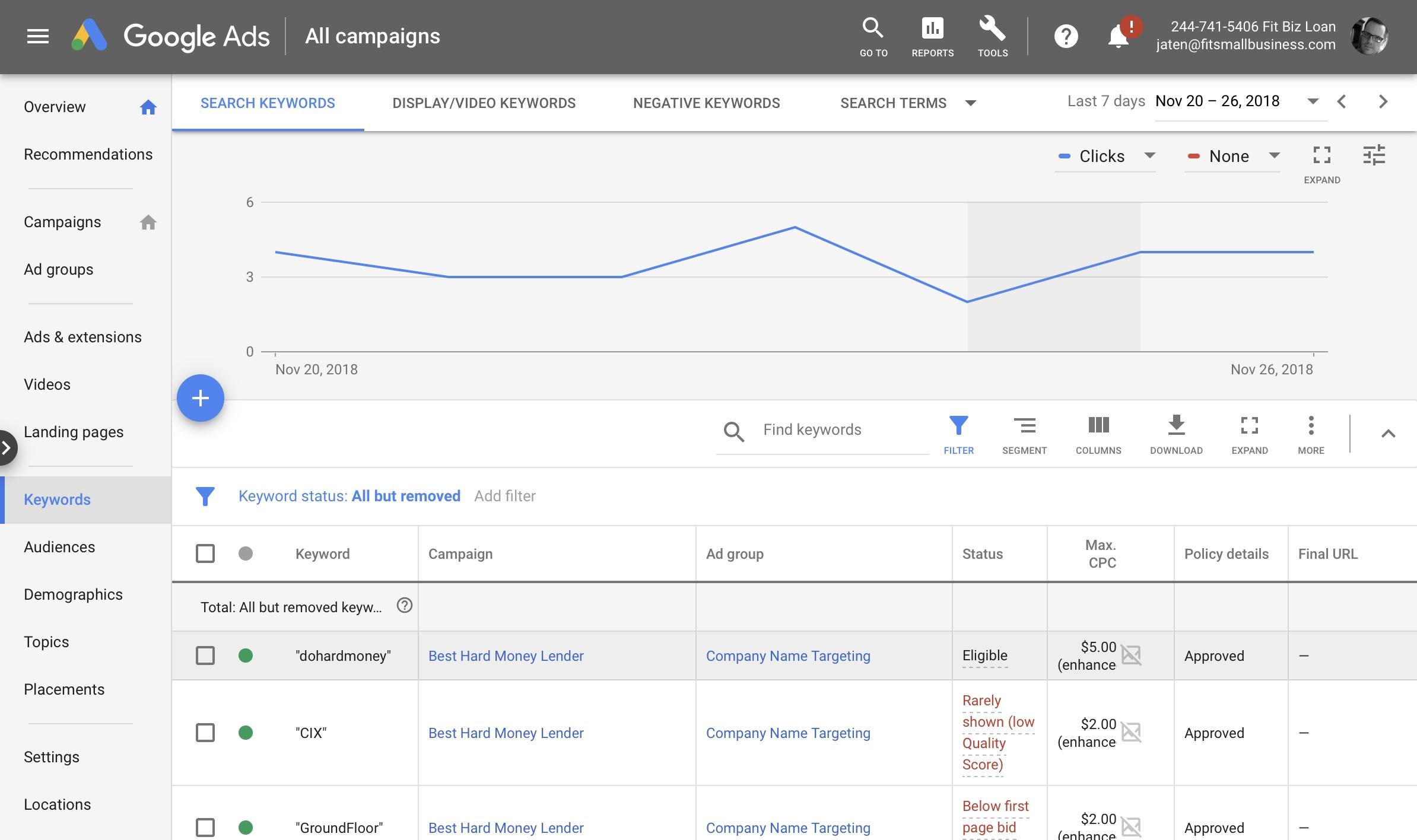 Who it's for: Businesses that want to drive traffic to their landing pages using paid keyword search ads.
What it costs: Varies based on keyword value.
AdWords is the industry-leading digital advertising platform from Google. AdWords allows you to advertise on Google Search and their advertising network based on the keywords that users search for, making it a very powerful example of lead generation software. It is also especially valuable for businesses that want to attract high numbers of visitors to landing pages on their website based on paid advertising.
The pricing for AdWords varies based on the specific keywords you choose to target your ads. Pricing can be based on every time a user clicks on your ad (CPC) or every 1,000 times your ad appears in search results (CPM). AdWords works on a bidding system, meaning that more popular search keywords cost more because there is more competition.
AdWords is especially useful for companies that want to generate leads to their websites in order to sell products. Because AdWords is based on matching your ads to the relevant keywords, customers that end up on your website are generally more qualified leads that are interested in your product. Online retailers and local service providers often find AdWords to be a valuable source of lead generation.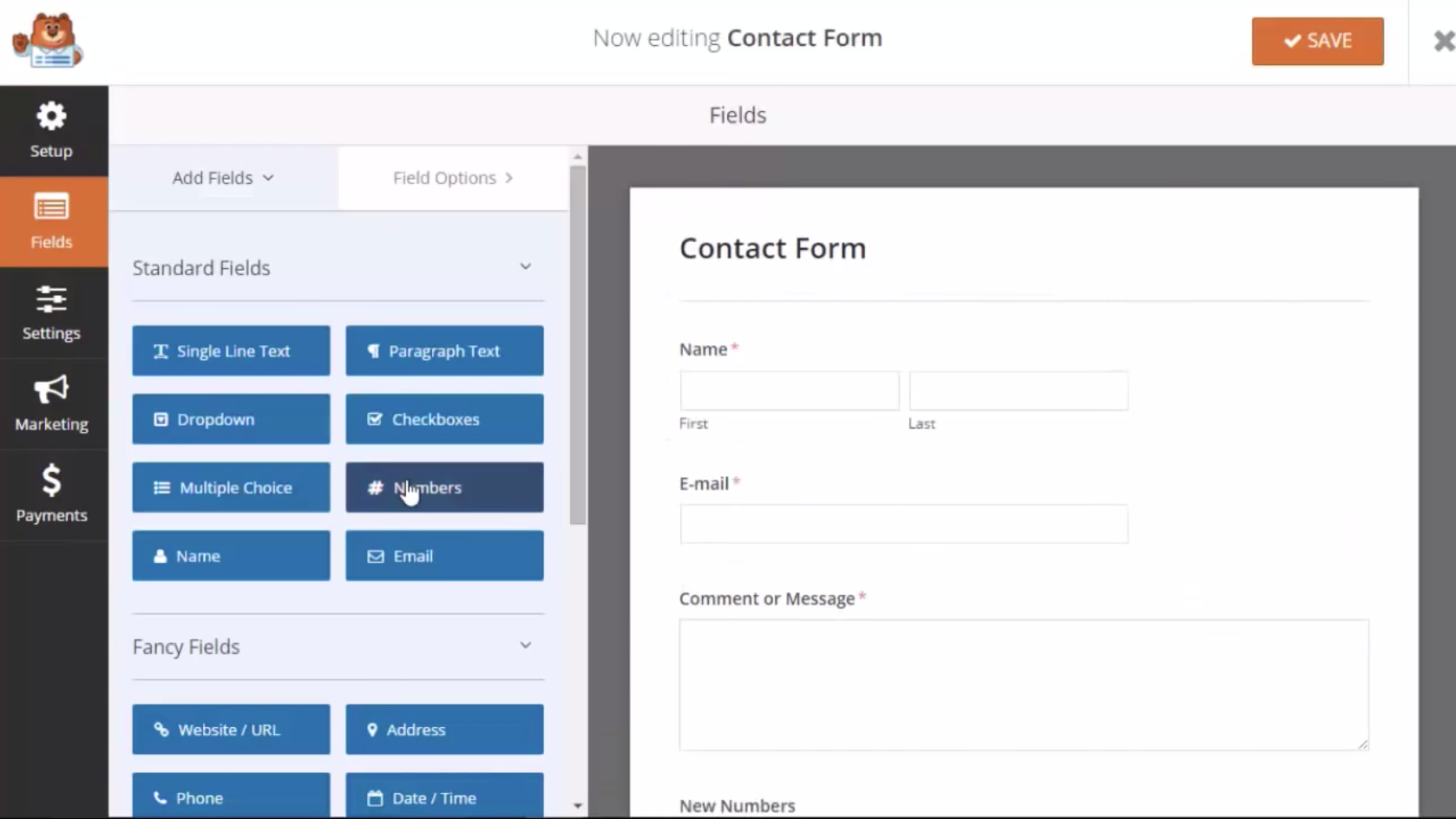 Who it's for: Businesses that want an easy and powerful way to generate leads on their WordPress site.
What it costs: $79 to $239/year.
WPForms is super-simple lead generation software designed to capture leads from your existing WordPress site. Using the drag-and-drop form builder, you can create lead generation forms that you can embed in your website. WPForms also offers numerous form templates to allow the user to get started quickly. Each of these templates can be used as is, or adapted according to your specific needs.
WPForms charges an annual fee of between $79 and $239, and offers unlimited form submissions, integration with email marketing, spam protection, and instant notification of new submissions. WPForms also includes multi-page forms, and allows users to upload files with their form submission. WPForms is responsive, which is especially useful for businesses with large amounts of mobile traffic.
WPForms is ideal for companies that have a large amount of traffic to their WordPress website and are looking for a way to capture visitor information as leads. WPForms integrates with most of the industry-leading email marketing software, which allow you to funnel your leads into drip campaigns and your CRM (using Zapier).
Who it's for: Connecting software that don't have built-in integrations,
What it costs: Free to $250/month.
Zapier is a very useful tool that allows you to connect software that doesn't have built-in integrations. It is helpful in terms of lead capture because it allows you to move leads to your CRM from your existing email marketing or web forms more effectively. For example, Zapier can create what it calls a "Zap" to connect Instagram to your CRM to create a new lead every time someone posts on Instagram and includes a certain hashtag or tags your company in a photo.
Zapier makes it easy for your sales team to connect with these leads by automating the sales process you already use rather than require salespeople to manually search or enter contact information. The free plan allows you to create up to five "Zaps" at a time, and will send 100 contacts per month. Paid plans increase both the number of Zaps and the amount of information you can send.
Zapier is ideal for businesses that invest their marketing efforts in social media or other digital marketing and want to incorporate engagement and activity into their lead generation process. It's also useful for sales teams that use a variety of lead generation tools and want to be sure that everything plays nicely together and that all of their information stays up to date.
Who it's for: Businesses looking for easy-to-build landing pages and websites to attract leads.
What it costs: $12/month to $40/month.
Squarespace is a website design tool that offers a low-cost plans allowing users to build everything from simple landing pages to fully-featured ecommerce sites. Squarespace's lead generation tools include a variety of beautiful templates that are highly customizable to fit any business or industry. The cover page feature is perfect for creating a simple, one-page website that can be used as a landing page for attracting leads.
Squarespace integrates seamlessly with Mailchimp, sending new lead information into your email marketing campaigns and allowing form submissions to be saved in a Google Sheets spreadsheet. Squarespace also has its own email marketing feature, that while less robust than services like Mailchimp, is ideal for smaller businesses looking for a simple way to target leads with easy-to-design emails.
Squarespace is a top choice for service-oriented brands like artists, photographers, and designers. Additionally, the ecommerce features make it ideal for online retailers like jewelry makers, who want to attract leads and sell products directly online. Small businesses also benefit from Squarespace's industry-leading, 24/7 customer support.
Who it's for: Small businesses wanting a simple-to-build membership website.
What it costs: $12 to $38/month for ecommerce plans.
Weebly is a website platform that allows users to create easy-to-build, templated ecommerce and membership websites without design or coding ability. Users are walked through the process of building and setting up their site, and the templated themes make it easy to get up and get running quickly.
Weebly is a low-cost choice for organizations and businesses that want to create simple sites to sign up members. The lead capture and subscription features make it a good choice for a DIY website to build your organization's membership. Weebly is also a good choice for small retailers who want a do-it-yourself solution to sell products in an online store, but don't have the budget for a designer.
Weebly ecommerce plans start at $12/month for 25 products. Higher-priced plans are available for $25/month and $38/month and include unlimited products, no transaction fees, checkout hosted on your own domain, and integrated email marketing campaigns.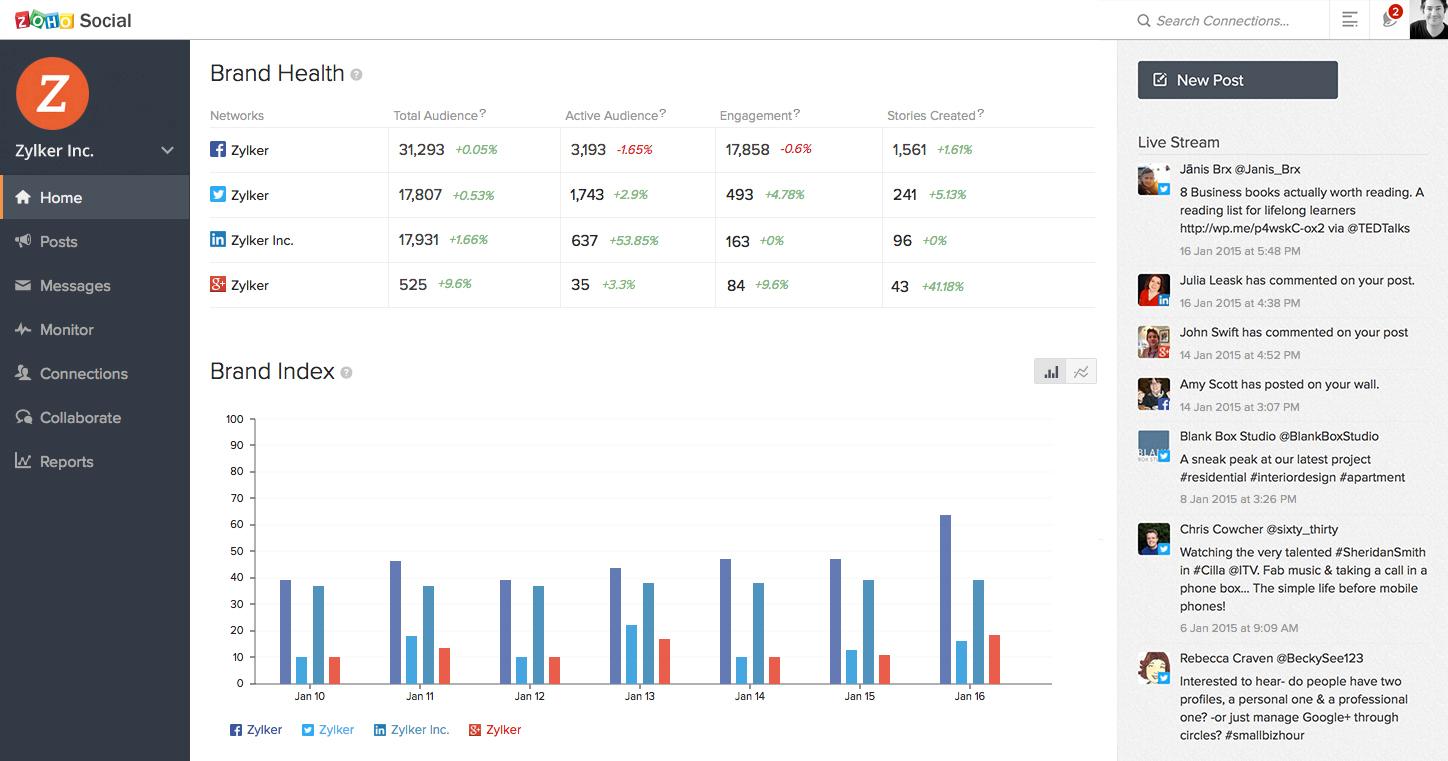 Who it's for: Businesses wanting to convert social engagement into CRM leads.
What it costs: $10/month to $50/month.
Zoho Social is a social media management tool and lead generation software that allows you to publish content, monitor your brand mentions, and convert conversations into leads by sending them to Zoho CRM. When someone engages with your business on social media, Zoho Social lets you add them to your Zoho CRM with just one click.
Plans begin at $10/month for one brand; it costs $50/month for up to three brands. In addition, the $50/month plan integrates with Facebook Lead Ads, which capture lead information directly from Facebook lead forms.
Zoho Social is ideal for businesses that attract leads through social media and want to capture them into their CRM. As an example, an accounting firm might post a link to a recent blog article about tax changes on Twitter. Their followers post comments, and Zoho Social will let them monitor those conversations and then convert promising followers into leads in Zoho CRM.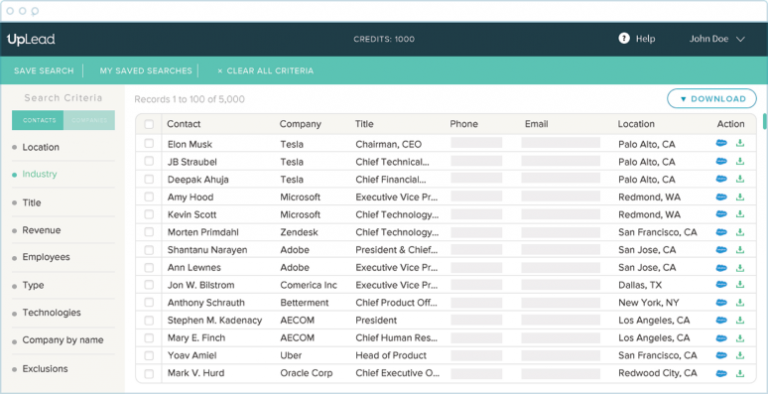 Who it's for: Businesses looking to purchase scrubbed lists of leads.
What it costs: $49 to $299/month.
UpLead describes itself as a "real-time verified B2B database that helps you find new customers and accelerate growth." What that means is that they provide lists of email address in a searchable database that they have verified for accuracy. UpLead verifies these contacts upon export, ensuring that users won't end up with large lists of bounced emails or take a hit to their sender reputation due to bad email addresses.
UpLead is a good fit for businesses looking for lead generation software that base a large amount of their prospecting on cold calls/cold emails, and those that need to generate large quantities of leads to move through a sales process. UpLead allows you to search for contacts based on criteria such as industry, title, location, company, and social profiles, among others.
UpLead charges a monthly fee based on a number of credits, which can be used for contact downloads. Pricing starts at $49/month for 200 credits. Plans are also available at $149/month for 1,000 credits, and $299/month for 3,000 credits. UpLead also features an integration with Salesforce, which allows you to export contact directly to your CRM to manage.
How We Evaluated the Best
We looked at the software that helps sales professionals generate leads in a variety of ways. Specifically, we looked at tools that are easy to integrate into your existing sales process, were intuitive to use, and that were affordable for small businesses. We also evaluated which tools were the best for generating sales leads in a variety of circumstances to provide you with the best options for your business,
We looked at the following criteria to determine the best software for generating leads.
Affordability/Price – We looked at how affordable the software is to license for teams of various sizes, and the return on investment based on the overall value and functionality.
Ease of Use – We considered how easily the software is to fit into your existing sales and marketing strategies, and how intuitive it is to use for sales team members on a regular basis.
Integrations – We evaluated which common software tools each of the choices on our list connect with, including CRMs, lead distribution software, and marketing automation tools.
Support/Service – We evaluated the customer support options for each option, and whether training and implementation support are available. We also looked at user reviews and community forums for each, taking into consideration what types of peer education and support are available.
Overall Features & Functionality – We looked at the overall set of features for each software tool, considering what aspects of the lead generation process the software can handle.
Bottom Line – Lead Generation Software
Each of these tools can be a valuable addition to your sales toolkit. Whether your business is looking to convert more visitors on your website to leads, or generate more leads from social media, the good news is that there are powerful tools available to organize your leads and accomplish your sales goals.