Live chat software and live chat apps lets service and sales teams engage with website visitors and customers in real-time. We compared over a dozen chat options based on cost, ease of use, and features to find the six best software options, as well as the best overall, which we've identified in the table below.
Top 6 Live Chat Software for Small Business 2018
| Live Chat Software | Best For |
| --- | --- |
| LiveChat | (Best Overall) Businesses that want a scalable feature-rich, highly-rated live chat software. |
| Freshchat | Businesses needing chat with offline automation for 24/7/365 lead capture and customer assistance. |
| Pure Chat | Organizations looking for a free, no-frills live chat software solution. |
| LiveHelpNow | Businesses wanting multiple ways to communicate such as chat, text, Facebook and by phone. |
| Zendesk Chat | Businesses wanting a chat solution supported by extensive technical and community content. |
| Zoho SalesIQ | Organizations that want a chat tool designed for sales and marketing with lead scoring. |
How We Evaluated Live Chat Software
Live chat software provides businesses another channel to quickly and efficiently interact with customers and website visitors for an improved customer experience and gives marketing and sales a way to target the right person at the right time. We reviewed a range of options, taking into account the challenges that most small businesses will encounter, such as tighter budgets, small service and sales teams, and the need to answer questions 24/7.
The criteria we used to evaluate the best live chat software include:
Pricing – We compared the costs per user, whether a provider offered multiple plans and what each of the plans included.
Customization – We compared the customizability of each company's chat software widgets and reporting functions.
Mobile Readiness – We reviewed each plan's mobile options and the functionality.
Integration – We looked at the integration options with other platforms such as CRM, CMS, analytics and how the software integrated with websites overall.
Automation – We looked at the ability to automate some of the functions of chat, such as canned responses, bots, triggers, and chat routing.
Analytics and Reporting – We compared each service's ability to capture data, such as overall chat analytics, conversion tracking, average response time, and real-time monitoring.
Customer Support – We reviewed the support options to see if support was free, the type of support offered, and whether support fees kicked in at any point.
Ease of Use – We reviewed user interfaces, set-up requirements, and user reviews.
User Satisfaction – We looked at user reviews across the web, comparing things like software stability, value, and whether expectations were met.
Based on these criteria, we think LiveChat is the best live chat software solution. LiveChat offers the features most businesses will need to operate an efficient service and sales team, such as chat history, automated greetings, transfers and detailed analytics with pricing tiers that scale with you. They also offer excellent 24/7/365 support.
"Our marketing and sales platform provides a live chat feature that has been effective and efficient in capturing leads and getting conversations started with potential customers. Because of our success, we've also encouraged our clients to use chat software to offer another, more efficient level of customer service and pre-sales."

– Janelle Zander, Head of Marketing & Digital Strategy, Hydration Media
Best Overall Live Chat Software for Small Businesses: LiveChat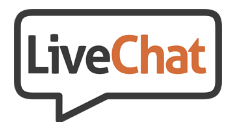 LiveChat offers a full-featured live chat solution that is easy to use and is one of the most customizable options out there—while also remaining affordable. Its many automation features make both small and growing service and sales teams more efficient. However, LiveChat is best for businesses that have high traffic volumes and need a way to more efficiently handle customer service with multiple agents.
LiveChat Pricing
LiveChat's pricing tiers start at a competitive $16 per seat per month for the Starter plan, $33 per seat per month for its Team plan, and $50 per seat per month for the Business plan. Though they don't offer a free plan, they do offer a free 30-day trial of the Team plan.
LiveChat Tiered Features
| | Starter | Team | Business |
| --- | --- | --- | --- |
| Pricing | $16 monthly per seat (billed annually) | $33 monthly per seat (billed annually) | $50 monthly per seat (billed annually) |
| Visitor tracking | Up to 100 | Up to 400 | 1,000 |
| Automated greetings | 1 greeting | ✔ | ✔ |
| Chat history | 60-day | ✔ | ✔ |
| Smart chat routing | ✔ | ✔ | ✔ |
| Ticket management | ✔ | ✔ | ✔ |
| Automated follow-ups | ✔ | ✔ | ✔ |
| Multiple websites | ✔ | ✔ | ✔ |
| Ticket statistics | ✔ | ✔ | ✔ |
| 24/7/365 Support | ✔ | ✔ | ✔ |
| Ecommerce Sales Tracker | | ✔ | ✔ |
| Chat window CSS customization | | ✔ | ✔ |
| 2-step verification | | ✔ | ✔ |
| Staff prediction | | | ✔ |
| Agent activity | | | ✔ |
| First & average response time | | | ✔ |
Starter
The Starter plan costs $16 per user per month and includes chat as well as canned responses, visitor details, and ticket creation and management. It also has smart chat routing and multiple website chat capability, features not usually found on plans at this price. However, the Starter plan is missing file sharing, a feature found on most entry-level plans, as well as a work scheduler and some deeper reporting, such as agent activity and average response time.
Because of some of these limitations, the Starter plan is best for small teams that want to get started with live chat as another contact channel for their business. Larger, more established organizations that receive a lot of web traffic and potential chats should look at the higher tiers. Compared to other solutions out there, this plan has features that companies with multiple agents will find useful.
Team
The Team plan costs $33 per user per month and delivers significantly more features, such as giving you the option to customize pre- and post-chat surveys and after-hours ticket forms. It also has an ecommerce goals and sales tracker that tracks sales back to agents, making it unique among similarly-priced plans. However, it does not provide the comprehensive statistics of the higher-end plan.
The Team plan is best for businesses that want some customization in how they communicate when engaging with a visitor and when some automation is required. It's also for those that need the ability to customize all of their chat tools, from language translation to selecting themes and chat buttons.
Business
For larger organizations that want the deepest level of reporting, the Business plan offers staffing prediction, agent activity, first response time and average response time data. Staffing prediction reviews past chat data and estimates the number of agents you'll need to efficiently it. Other than these features, this plan is basically the same as the Team plan, at $50 per month per user.
Overall, the Business plan will please businesses that want to equip themselves and their customers with features that make communication personal, yet efficient. Businesses with higher volumes and bigger teams will like staffing prediction, average response time, and agent activity to better manage their organization.
What LiveChat Is Missing
For all of the features provided, LiveChat's mobile version is missing some of the capabilities of the desktop version, such as not being able to respond to tickets. Also, for chat channels, they offer Facebook Messenger and SMS/text (via Twilio integration), but no option for landline phone or Twitter, unlike what is found in LiveHelpNow.
What Users Think About LiveChat
Users of LiveChat reported they like its ease of use and customization as well as the canned responses feature that allowed them to respond to multiple queries quickly. For more user reviews, please visit our LiveChat review page.
Where to Find LiveChat
LiveChat offers a stable platform, lots of functionality, and excellent support. It has also received consistently high user reviews, which made it our choice for the best live chat software option. You can sign up for a 30-day free trial to test drive LiveChat's Team plan, which will give you a good idea of the platform's overall capabilities.
Best Live Chat Software for Automating Chats with Bots: Freshchat

Freshchat allows businesses to engage visitors with live chat as well as a customizable, automated chatbot that can ask and answer basic visitor questions and collect lead information. It's also more affordable at the highest tier compared to other software options with similar features. Therefore, it is best for teams that want to be able to interact with visitors with 24×7 response even while they are away.
Freshchat Pricing
Freshchat provides a variety of options from the free Sprout plan, which gives basic chat features including a mobile app, up to the Estate plan at $39 per member per month with all of their bot and automation technology. The $15 per month Blossom plan and $24 per month Garden sit in the middle.
Freshchat Tiered Features
| | Sprout | Blossom | Garden | Estate |
| --- | --- | --- | --- | --- |
| Pricing | Free/10 members | $15/member per month billed yearly | $24/member per month billed yearly | $39/member per month billed yearly |
| Priority inbox | ✔ | ✔ | ✔ | ✔ |
| Integrations | ✔ | ✔ | ✔ | ✔ |
| Notifications | ✔ | ✔ | ✔ | ✔ |
| File Attachments | | ✔ | ✔ | ✔ |
| Bots | | | ✔ | ✔ |
| In-app campaigns | | | ✔ | ✔ |
| IntelliAssign | | | | ✔ |
Sprout
The free Sprout plan provides very basic chat functionality. It does, however, integrate with Slack, Facebook, and WordPress, among others, and allows for up to 10 team members, which is a feature not found in most other free plans. Missing is the bot functionality and other automated features found in the next two tiers.
This plan is best for teams that are new to chat, have multiple users, and need affordable upgrade options. Upgrading to the next tier is a minimal cost jump, but provides an additional eight features to take your customer experience to the next level.
Blossom
The $15 per member per month Blossom plan crosses into automation territory with features that will make your team more efficient and leave your visitors feeling more satisfied. The triggered messages feature provides automated campaigns to engage and convert visitors, and integrated FAQs inside the messenger give visitors quick answers before even engaging your team.
Like the Sprout plan, Blossom lacks the bot features for 24×7 automated responses. The Blossom plan is best for organizations that want to provide a helpful, partially automated customer experience and that don't necessarily need 24×7 automation. Its low cost makes it attractive for those wanting to get started with Freshchat.
Garden
The Garden plan sits squarely in automation territory, providing bots that automate lead capture and responses while auto-uploading these leads into your CRM. In-app campaigns allow you to communicate with customers inside your product, onboarding new users with instructions, and increasing engagement and feature adoption.
This $24 per member per month plan is for businesses that want to be "open" 24×7 with automation. It's also for those teams that want to pre-qualify visitors with initial chatbot questions and capture leads that can be funneled to the sales team.
Estate
With the Estate plan, you'll get additional artificial intelligence by way of IntelliAssign, which auto-assigns conversations to members based on conversation load and skill level. The addition of the skill level parameter makes this chat routing unique compared to the other solutions we reviewed. With assignment rules, you can create rules for time of the day, channels, and message text. The $39 per member per month price is lower than similarly featured competitors.
This plan is for businesses that want flexibility in managing conversations, routing the right visitors to the right member based on rules you decide. It's also for those that want to make their sales team more immediately connected to leads and visitor conversations.
What Freshchat Is Missing
Though there are some options to customize the chat feature, it is limited, especially compared to other companies like LiveChat, which offers over a dozen ways to change the look and feel of the chat window. There is also no way to disable the default message channel, which some users noted they disliked.
What Users Think About Freshchat
Users of Freshchat reported they like its simple set up and excellent support. They also liked that the chatbot could handle queries and collect visitor information even when their agents were not online. Check out our Freshchat review page for more information.
Where to Find Freshchat
While chat bots can't replace humans, they are currently the next best thing. And Freshchat gives you all the automation tools you'll need to provide a service and sales experience even when you are not online. You can sign up for a 30-day free trial of any of the plans reviewed or use the free version for as long as you like.
Best Live Chat Software for a Free, No-Frills Option: Pure Chat

Pure Chat offers a free chat plan for smaller teams and a paid plan for teams needing unlimited users. The Free plan includes unlimited chats and chat history and file transfer, and can be integrated with a number of commerce and marketing platforms. This product is best for businesses needing a free solution with minimal restrictions, as well as the ability to upgrade as their business grows.
Pure Chat Pricing
Pure Chat keeps it simple, offering a Free plan and their Pro plan for $79 per month with unlimited users. Both plans provide unlimited chats, mobile apps, canned responses and chat notifications. There is, however, no middle-tiered plan for customers that are on a tighter budget.
Pure Chat Tiered Features
| | Free | Pro |
| --- | --- | --- |
| Pricing | Includes 3 users | $79/month paid annually (unlimited users) |
| Unlimited chats | ✔ | ✔ |
| iOS and Android mobile apps | ✔ | ✔ |
| Canned responses | ✔ | ✔ |
| Chat notifications | ✔ | ✔ |
| Visitor tracking | | ✔ |
| Trigger-based actions/alerts | | ✔ |
| Comprehensive reports | | ✔ |
| SMS notifications | | ✔ |
Free
The Free plan enables businesses to get a small team (three users) up and running quickly and easily by copying and pasting a few lines of code. Setup guides for Squarespace, HubSpot, Wix and others make the process even easier. Integrating with WordPress is also simple.
For businesses that are new to live chat, the Free plan has enough features to get started fast and easily. It also has some features, such as file transfer, that are lacking in other free chat plans we compared. This makes it ideal for businesses that want a free plan with the ability to share files.
Pro
The Pro plan costs $79 per month and includes unlimited users, contacts, and websites, as well as automated trigger-based actions and alerts. It also has comprehensive reports that can help identify which marketing campaigns are working, average response times, average chat duration, and more.
For businesses that require multiple users and have high traffic volumes (such as an online store), the Pro is a good value because of its unlimited users. But you'll have to have three or more users to justify the $79 per month cost. Similar competitor plans, such as LiveChat's Team, are $33 per month per user.
What Pure Chat Is Missing
Having two tiered plans makes choosing simple, but it also may push some buyers to a competitor because there is no middle plan that bridges the feature gap between the Free version and the Pro. The Pro plan allows for unlimited users but is $79 per month.
What Users Think About Pure Chat
Pure Chat users reported that it's simple to integrate into existing websites, and the free version made the decision to try it easy. The ease of integrating with WordPress was also noted. One complaint was the software's lack of a web application. For more user reviews, please visit our Pure Chat review page.
Where to Find Pure Chat
Even the Free version will satisfy those looking for an easy to use, basic chat option. And for those looking for one with advanced features, the Pro is a great option, especially for those with multiple users. You can sign up for the free or the Pro version of Pure Chat, which comes with a 30-day money back guarantee.
Best Live Chat Software for Multiple Chat Channels: LiveHelpNow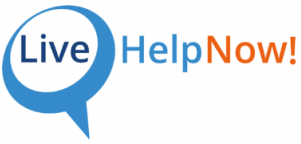 LiveHelpNow is our top recommendation for live chat offering multiple chat channels, and it is moderately priced. In addition to the traditional online chat window, they also offer other options, including Facebook Messenger, SMS/text, and landline phone. This makes it a great option for teams with a diverse customer base that need multiple ways to communicate.
LiveHelpNow Pricing
LiveHelpNow offers their only Chat/SMS package for live chat for $21 per month as well as several standalone and/or add-on products: Call Management ($21/agent/month), FAQ/Self Service ($21/agent/month) and Call Management ($9/agent/month). Some features of the four plans overlap while others are specific the plan.
LiveHelpNow Features
LiveHelpNow provides multiple ways for businesses to chat with their visitors, from the old-fashioned landline phone to text to Facebook. It also includes features not seen in any other chat program, such as advertising billboards for showing promotional messages to visitors. The secure forms feature allows you to collect credit card information into an encrypted form.
SMS/Text
The SMS/text features provide customers another way to contact your business. If a visitor is on their mobile phone, they can send a text using the phone number published on your site, which avoids them having to initiate a chat via the chat window. It provides you with their contact number and the visitor with a record of the call on their phone. This is the only software we reviewed that has this feature built in.
Chat Whisper
This allows users to monitor and coach each other as they chat with visitors. A user selects an active chat session and then types a message in the chat box. The message is only seen by the two users and not the visitor. This is a feature we found in only two other chat solutions we reviewed.
Twitter Integration
This feature lets you integrate your Twitter account with the chat platform. Any time a user mentions your brand/product/service in a Tweet or sends a direct message, a ticket is created. These tickets can then be routed automatically to the appropriate department or agent. Zendesk Chat is the only other platform we reviewed that has this feature.
Billboards
The billboards feature allows you to place up to 10 rotating messages within the customer-facing chat window. These can be a combination of text and images with the ability to customize the background, font and border colors. You can use this to promote a sale, upcoming events, or any other information you want your visitors to have. None of the other chat software we reviewed had this feature.
What LiveHelpNow Is Missing
One of the main complaints in reviews for the software is that the user interface (UI) is clunky and outdated. This is subjective of course, but it's worth noting that you cannot change the look and feel of the UI if this is important. You can only change what information is shown (e.g., current page URL, chat timer, pre-chat fields, etc.).
What Users Think About LiveHelpNow
One thing that stands out about the reviews on various sites are the responses from LiveHelpNow staff to both negative, positive and neutral reviews. It shows they are paying attention and are concerned about the user experience. Users noted they like the many different communication channel options (Chat, SMS, Landline, Facebook) and the support provided.
Where to Find LiveHelpNow
LiveHelpNow's many features, multiple chat options and responses to reviews show they are a company that values good communication. This is reinforced with the company's focus on providing their clients multiple to ways to chat with their customers. You can sign up for a free 30-day trial by visiting their website.
Best Live Chat Software for Customer Support and Knowledge Base: Zendesk Chat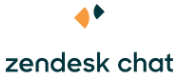 With Zendesk Chat, you get a competitively-priced live chat solution with excellent customer support and a community forum and knowledge base. Even if you're new to live chat, the help center provides detailed articles about features and can even help with use cases to show you how other businesses are finding success with it. This solution is right for businesses needing extensive community support and content on how to improve the chat experience.
Zendesk Chat Pricing
Zendesk Chat starts with their free Lite plan that's limited to one user. Its subscription plans include the $14 per month Team and the Professional at $29 per month, but you can try it out first with a free 30-day trial.
Zendesk Chat Tiered Features
| | Lite | Team | Professional |
| --- | --- | --- | --- |
| Pricing | Free | $14/agent per month (billed annually) | $29/agent per month (billed annually) |
| Live chat support | None | 24x5 | 24x5 |
| Self-service help center & community | ✔ | ✔ | ✔ |
| Android & iOS apps | ✔ | ✔ | ✔ |
| Chat rating | ✔ | ✔ | ✔ |
| Transfer chats | | ✔ | ✔ |
| Email support | | ✔ | ✔ |
| File Sending | | ✔ | ✔ |
| Advanced widget customization | | ✔ | ✔ |
| Agent leaderboard | | | ✔ |
| Conversion tracking | | | ✔ |
Lite
Lite is Zendesk Chat's free plan and only allows for one user. Besides basic chat functions, it includes chat rating, pre-chat form, 14 days of chat history, and the ability to rate chats, which is not often offered in free plans. You won't have email or live chat support, but you will have access to the help center and community, where you'll find articles on podcasts on best practices, success stories, customer service strategy, and service trends.
Small businesses looking to provide another communication option can start with Lite, but the one user may be too constrictive. By comparison, Pure Chat Free allows three users and has many of the same features.
Team
The Team plan at $14 per month comes with unlimited chats, two triggers, and a customizable widget and chat badge plus the same support level as the Professional. Though this is a relatively low-cost plan, the one thing missing is analytics and reporting. Even Pure Chat's Free plan comes with basic reporting.
The Team plan is best for businesses that want a basic live chat platform with robust customer support, such as email and 24×5 live chat support. However, the lack of reports and analytics for some may be a deal-breaker.
Professional
The $29 a month Professional plan includes unlimited triggers, allowing you to target high value leads based on specific actions taken. Combine this with the conversion tracking feature and you'll be able to track these actions seeing which conversions were influenced by chat and even the agent involved. Zendesk's customer service and community forum options make setting these up easy.
The Professional plan's main benefit over the Team plan is reporting, which for most organizations is a must-have. Teams that are not marketing-savvy will find the community forum helpful for setting up the advanced features, like triggers and conversion tracking.
What Zendesk Chat Is Missing
The Zendesk Chat Team plan lacks any reporting, unlike the comparably priced plan from Freshchat. You are also limited to just one third-party integration within all of the plans. In addition, chatbots are only available in the Enterprise plan, which for many small businesses is probably too expensive.
What Users Think About Zendesk Chat
Zendesk Chat users like the ease of set up and the support provided, with one user saying, "It's help desk for the help desk." Users also liked the Zendesk community and the ability to suggest features and changes that the company will act on with enough user votes. Check out more reviews on our Zendesk Chat review page.
Where to Find Zendesk Chat
Zendesk Chat provides a way for teams to target leads with triggers and track the conversions with conversion tracking. It also offers a robust community forum to answer questions, share best practices and make your use of the software successful. Start a free 30-day trial for any of the plans.
Best Live Chat Software for Sales and Marketing Teams: Zoho SalesIQ

Zoho provides their live chat software, called Zoho SalesIQ, as an add-on service for a reasonable price. The app lets sales and marketing teams monitor campaigns in real-time, automate engagement with triggers, and score leads based on your own scoring rules, making it a powerful collaboration tool. Therefore, it is best for teams wanting to identify, target, and engage visitors to produce better quality leads.
Zoho SalesIQ Pricing
Zoho SalesIQ offers a Free plan for two users to access the core features, the Basic plan at $17/month for three users, and the Professional at $53/month that includes five users. Both the Basic and Professional plans offer a free 15-day trial.
Zoho SalesIQ Tiered Features
| | Free | Basic | Professional |
| --- | --- | --- | --- |
| Pricing | (includes 2 operators) | $17/month billed annually (includes 3 operators) | $53/month billed annually (includes 5 operators) |
| Chat volume/month | Unlimited | 1,000 conversations | 100 conversations |
| Chat history | 30 days | Unlimited | Unlimited |
| Advanced visitor info | Basic | Advanced | Advanced |
| Lead scores | ✔ | ✔ | ✔ |
| File sharing | ✔ | ✔ | ✔ |
| Offline messaging | ✔ | ✔ | ✔ |
| Zoho campaign | | ✔ | ✔ |
| Analytics integration | | ✔ | ✔ |
| Audio call | | | ✔ |
| Monitor live chats | | | ✔ |
Free
The Free plan gives you two operators, website visitor history and the ability to attach lead scores to visitors, a feature not offered by any other free plan. Advanced visitor information provides the operator with basic information about the visitor, allowing for quicker, more specific support. Lead scoring, which allows you to set action-based rules scoring on visitors, is also included.
This plan is a good starting point for solopreneurs or those who manage both sales and marketing functions. Lead scoring is a good starting point for understanding what makes a good prospect, especially if you are talking to them directly and getting a sense for their pain points. This feature is not seen on any other platforms we reviewed.
Basic
The Basic plan comes with functions such as file uploads, canned messages, and anonymous visitor ID. But it also has advanced features that sales and marketing teams will love, including intelligent triggers, email campaign tracking, and analytics integration. At $17 per month for three operators, this makes the Basic plan less expensive per user than plans by LiveChat, Freshchat, and Zendesk Chat.
This plan is great for sales and marketing teams that want better collaboration, from knowing which marketing messages are working to identifying visitors that would make good prospects with lead scoring. It also has lots of integration capability with analytics, CRM and marketing platforms.
Professional
The Professional plan includes the same functionality as the Basic plan as well as features such as audio call, live chat monitoring, and more comprehensive reporting. The $53 per month price includes five operators with the ability to add additional operators at $10 per month each.
The Professional plan is for marketing and sales teams that want to work together more effectively. Triggers, campaign tracking, lead scoring and in-depth reporting give these two departments the tools they need to identify, qualify, and engage the right visitors at the right time with the right message.
What Zoho SalesIQ Is Missing
Zoho SalesIQ is missing channels other than the chat window to communicate. There is currently no way to chat by SMS/text, Facebook Messenger, landline phone or Twitter. There is also no way to tag chats with labels to help categorize for archive and review later, a function seen in others such as Zendesk Chat and LiveChat.
What Users Think About Zoho SalesIQ
Users reported that they liked seeing visitor activity in real-time and using that to better engage them. One complaint we saw that was thematic was the difficulty in setting up the platform and some of its features. In addition to their help desk, Zoho SalesIQ offers an extensive resource section with guides, videos, and a forum for those wanting self-help service. For more user reviews, visit our Zoho SalesIQ user review page.
Where to Find Zoho SalesIQ
Zoho SalesIQ is not just live chat software—it's also a tool to help align sales and marketing to better target the right visitors and leads. Get started with the Free version or jump right into a paid plan with a free 15-day trial with no credit card required.
Bottom Line – Best Live Chat Apps
Live chat software once only belonged in the domain of large companies, but that's changed as small businesses see the value in providing another communication channel to visitors and customers. Today's chat tools are part customer service, part sales and marketing, and part intelligence gathering, making them a valuable part of any company's technology.
After reviewing over a dozen products with various pricing and functionality, we found LiveChat offered the best value based on its features, reliability, and support. Best of all, you can take advantage of its free 30-day trial to see if how LiveChat improves your customer communications.