Marketing automation tools allow you to consistently complete marketing tasks without being glued to your computer or phone constantly. They save you time and energy by simplifying and automating your tasks so you can focus on real estate. To help, we've identified 10 of the best real estate marketing automation tools.
10 Best Real Estate Marketing Automation Tools 2020
| Real Estate Marketing Automation Tools | Best For |
| --- | --- |
| | Agents and teams in need of centralized lead and communication tracking |
| | Multi-agent brokerages who want to combine their website with lead generation tools |
| | Real estate professionals looking to streamline tools and processes while utilizing marketing professionals |
| Home Value Leads | Agents wanting to generate home values with text and email alerts |
| Sprout Social | Real estate agents needing to automate social media across multiple platforms |
| Chime | Agents looking for a CRM with advanced targeting lead generation tools |
| | Agents looking to easily optimize their website for traffic from Google |
| Getresponse | Real estate professionals looking for landing page templates and an automated email strategy |
| | Agents looking for a team to customize their digital marketing strategy |
| | Real estate professionals looking for a customized ad management tool |
How We Evaluated Real Estate Marketing Automation Tools
Some agents only need simplified tools to make parts of their marketing strategy easier, while other agents need comprehensive platforms with many extra features. We considered the different needs of real estate agents as we evaluated the best marketing automation tools for real estate.
These are the criteria used to evaluate the best real estate marketing automation tools:
Price: Although the pricing of many marketing automation tools are dependent on each user's needs, we only selected tools that have been proven to give agents a significant ROI (return on investment).
Capabilities: Automation can be used to set up a simple welcome email when someone adds their email to your website, streamline a much more complex workflow, or be used to integrate things like ads with other additional tools. As there are thousands of marketing automation solutions you can use, we selected a variety of tools for different marketing needs.
Real estate-specific: While there are many marketing automation tools that can be used by various industries, tools that are created specifically for real estate agents often provide the most convenient and affordable packages.
Ease of use: As a busy real estate agent, you shouldn't have to become a marketing expert to be able to implement a successful marketing strategy. We selected tools that make your job easier with a friendly user interface.
Customer support: The marketing automation tools you use are crucial to your business, so it's crucial for those tools to have available and knowledgeable customer support.
There's a wide range of real estate marketing automation tools that can help you take your business to the next level. Since these tools fill many different needs, there is not an overall best marketing tool we recommend. You'll see a large variety of marketing automation tools to choose from on this list.
What it costs: Prices range from $21-$99 per month
How it automates marketing: Tracks and automates your communication with new leads and organizes your clients' transaction process.
LionDesk is a real estate CRM and transaction management tool. Although LionDesk doesn't include a full email marketing or advertising software, it allows you to integrate many additional tools like Zillow, BoldLeads, Real Geeks, Facebook, and more. This means LionDesk serves as a central location for keeping track of your leads that come through different platforms and have different methods of communication.
While there are three tiered plans with added features, its most basic package, which starts at $21 per month, allows you to track all of your contacts, send bulk emails and texts, and use its templates to customize your messages. For a larger team, you can choose one of LionDesk's higher level packages and even receive one-on-one training.
What it costs: Propertybase offers two packages with the option of adding specific platforms for transaction management and lead generation. It also offers personalized marketing services, so the pricing will vary based on your needs.
How it automates marketing: Organizes all of your contacts and leads and can be paired with a custom website and lead generation strategy.
Propertybase is a real estate CRM that provides you with branded templates for emails and print materials. Its email automation systems will keep your contacts organized and help you save time. If you also need a website, landing page, lead generation strategy, transaction management tool, SEO, or content marketing, Propertybase offers all of these services and more as add-on options.
Propertybase is a partner of Salesforce, Boldleads, and Backagent, so you can be confident that any package or service you choose has been highly rated by thousands of people.
What it costs: $249 for two agents, $25 for each additional agent
How it automates marketing: Helps streamline your marketing tasks by combining your website, lead generation, email, SMS, and ad management into one platform.
Real Geeks is a CRM and marketing tool for real estate agents and brokers. With Real Geeks, you can create an IDX website, a lead generation strategy with automated email campaigns, automate SMS follow-ups, create Google and Facebook ads, and more. You can stay top of mind by giving your leads updates on listings and communicating with them easily.
If you're looking for a combination of the best marketing automation tools for your real estate business, Real Geeks might be a fit for you because of the variety of marketing tools it offers in combination with a full CRM.
4. Home Value Leads
What it costs: $59.99 per month
How it automates marketing: Attracts potential home sellers who want a full report of their home's value.
Home Value Leads offers an accurate home value estimation for your website visitors along with a full report. You will also get a notification every time someone searches for their home value on your website. Even though the follow-up strategy will already be automated, this keeps you informed when you have a new lead. You don't even have to log in or open an extra app to know that your lead generation strategy is working!
If a lead doesn't provide all of their contact information, Home Value Leads also offers a tool that can automatically search for it. This is a great way to target people who are interested in selling their home, and looking for more information. Using an automated drip campaign can help build trust.
What it costs: Between $99-$249 per month
How it automates marketing: Allows you to combine, organize, track, and plan your social media content across multiple platforms.
Sprout social is a comprehensive social media management tool that allows you to organize five different social profiles with the standard plan. You can plan and schedule social media posts for different platforms on one dashboard, and use the extensive analytics to strategically craft posts to share real estate tips or listings that will attract new buyers and sellers.
There is also a social media CRM, which allows you to put notes on contacts and see your conversation history. This is not the same type of real estate CRM you get from Real Geeks or Propertybase, but it can help you see if your followers are more interested in seeing your real estate listings, tips, or behind the scenes posts.
6. Chime
What it costs: $499 per month for agents and small teams
How it automates marketing: Helps create customized workflows and nurture your leads individually on autopilot.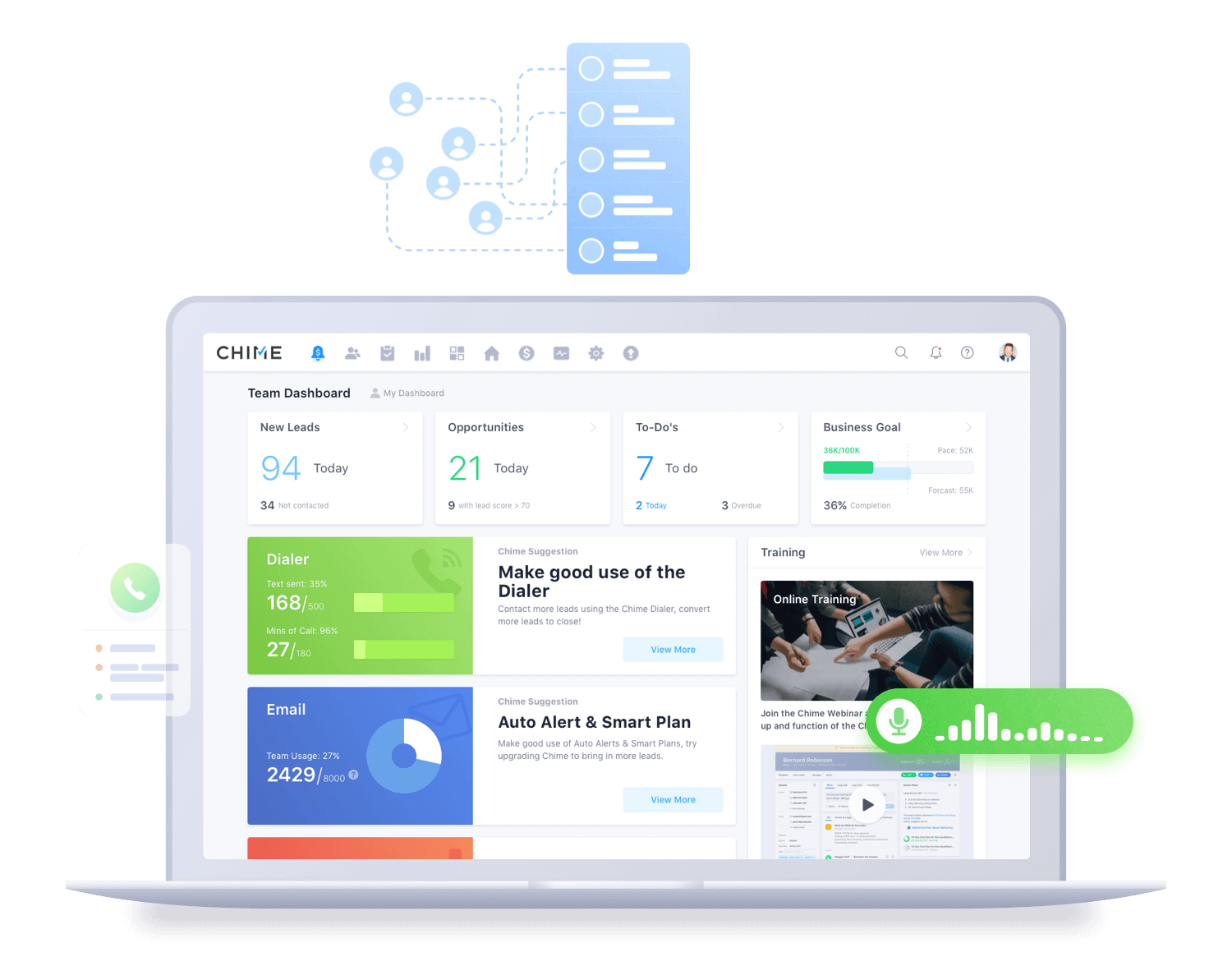 Chime is an IDX website building platform and CRM that employs a targeted lead generation strategy. This means that when you get a new lead through your website, they are more likely to be ready to buy or sell and become a new client. Chime also helps automate your real estate marketing tasks by utilizing chatbots to qualify your new leads. Your time won't be wasted on leads that will never become clients.
Chime also specializes in helping you nurture your leads so they don't fall through the cracks. It does this by setting dynamic workflows and "smart plans" for your leads, instead of just one mass drip campaign. They also provide you with monthly real estate market reports and send your leads property alerts.
What it costs: $199 for one year of a website, plus add-ons that range between $250-$3,950
How it automates marketing: Increases the likelihood your SEO strategy will be a success by directing organic traffic to your website.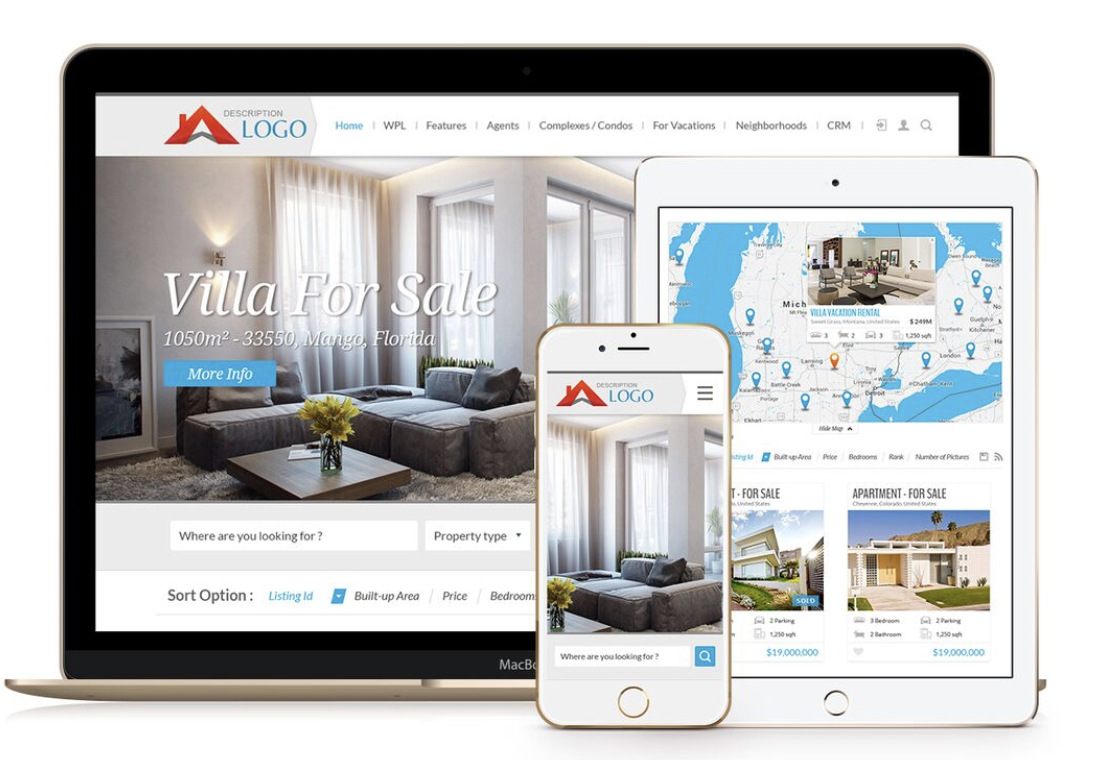 RealtyNA is a WordPress plugin that provides you with many options for your website. You can create a simple website that shows local listings, or you can select add-on options to enhance your website with SMS notifications, property analytics, and more. RealtyNA is the only real estate marketing automation tool that gives you the option of your own branded app.
Even though thousands of agents have an IDX website, they may not know that Google does not favor IDX. If having a fully SEO optimized website is part of your marketing strategy, RealtyNA can provide you with an IDX service that actually helps increase your Google rankings.
8. GetResponse
What it costs: Between $10-$69 per month
How it automates marketing: Simplifies the task of creating multiple email sequences to nurture your leads.
GetResponse makes it easy to build a successful funnel to take your first-time website visitors and convert them into clients. They offer an easy way to create every part of your lead generation and follow-up strategy, from landing page builders to nurturing email sequences. You can create different emails for potential buyers and for potential sellers, focusing on their specific needs.
Even though GetResponse is not intended specifically for real estate agents, this could be the best marketing automation tool for you if you need an affordable solution that helps you create an effective landing page and email strategy.
What it costs: $300 per month
How it automates marketing: Gives you access to a team of marketing experts who will implement a marketing strategy for you.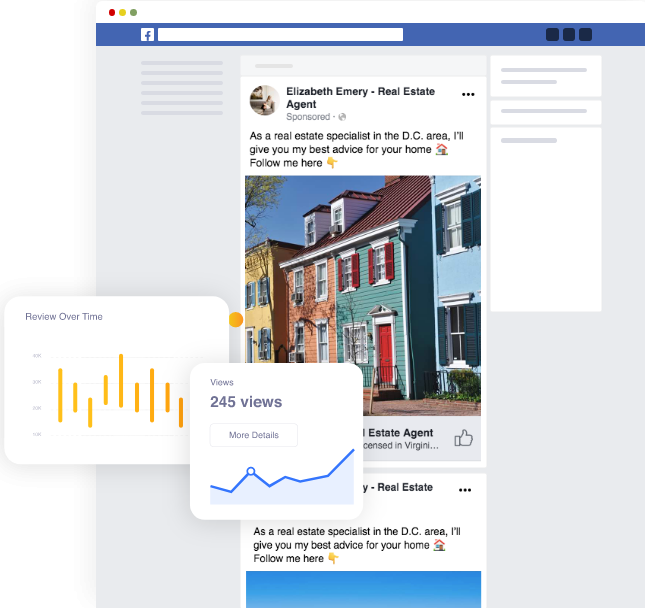 Artur'In is a team of marketing experts that will create and manage your digital marketing tasks through social media, Google My Business, content marketing, and email marketing. You can also choose to add on services for personalized photography and videography as well as automated Facebook ad management.
If you are looking for an affordable solution that will decrease the time you spend on marketing tasks, Artur'In is the best fit for you. Although it does not come with a CRM or email marketing software, it will allow you to spend the maximum amount of time on your real estate business without worrying about marketing.
What it costs: Pricing is dependent on ZIP code, and can range between $39-99 per month
How it automates marketing: Makes it easy to create and customize your digital ads without having to manage the confusing Facebook and Google ad managers.
Adwerx is a digital advertising platform that makes it easy to create, customize, and run your Facebook or Google ad. Its ad templates help you optimize your advertisement without needing a graphic designer, and you can choose if you want to show ads to users based on ZIP code, listings, or if you only want to show ads to contacts on your email list.
If you're looking to start running digital ads but don't want to pay the high price for an ad manager, Adwerx could be the best marketing automation tool for you.
The Bottom Line: Real Estate Marketing Automation
A key component to a successful real estate marketing strategy is choosing the right tools to automate, simplify, and organize your tasks. The marketing automation tools described in this article can be used to save you time and money while bringing you new clients and increasing your income.