6 Best Membership Website Builders in 2022
The easiest way to start a membership site for gated content such as a private forum or online course is to use a site builder with membership features. The best membership website builders are affordable and have built-in tools that make it easy to create and manage a membership site. After comparing dozens of options, we narrowed our list to the best membership site platforms based on features, cost, and ease of use.
Here are the top membership website builders for small businesses and when to use each one:
Best Membership Website Builders at a Glance
Membership Site Platform

Free Plan

Starting Monthly Cost of Ad-free Paid Plans*

Starting Monthly Cost for Recurring Payments*

Monthly Billing Available

✔

$12

$12

✔

X

$1

$5

X

✔

$6.99

$13.99

✔

✔

$16

$27

✔

X

$2.95

$24.95

X

✔

$16

$16

✔
*Based on annual billing
Weebly: Overall Best Membership Site Platform & Best for Ecommerce Businesses
What We Like
Robust ecommerce tools, even in the free version
Low-cost, ad-free paid plans come with a domain, SSL certificate, and unlimited storage and bandwidth
App marketplace to add even more functionality
Very easy to start a membership site—integrations like ecommerce, forums, bookings, and video uploading come with your plan
Easy to set any page to member-only access
What's Missing
No member features in the free version or lowest-tier paid plan
Lacks membership site templates
Full membership features require a Performance subscription and is limited to 100 members
Unlimited memberships requires highest-tier paid plan subscription
Advanced features may require paid subscription with a third-party app
Editor and design tools fall well-short of what you get with Wix or GoDaddy
Best For
Businesses that need a cheap way to sell online courses and classes or membership plans for content, software, resource access, and more
Ecommerce sellers looking to create private content for all customers or VIP-level clients
The changes Weebly has made since being acquired by small business payment processing powerhouse Square are truly impressive. It comes with integrated ecommerce tools, even in the free version, enabling ecommerce startups to get online and start selling quickly. It's also the best website builder for restaurants thanks to free ecommerce plans and integration with apps that provide free online ordering and reservations.
Many of these same tools can be adapted easily for membership websites, which is why Weebly scored the highest of all the membership site platforms we compared. If its native features aren't advanced enough for the site you envision, there are several third-party apps that can expand your site's functionality.
While it's also one of the best cheap website builders, one of its biggest shortcomings is its design capabilities. Its membership site building editor is nowhere near as beginner-friendly as GoDaddy's, nor does it give you the intuitive design customization tools you get with Wix. Still, if ecommerce features are a top priority in addition to membership capabilities, Weebly could be ideal for you.
Weebly Membership Site Features
Weebly remains one of the most affordable ways to make parts of your website—or your whole website—private. To use it as a membership website builder, you need the features that start at the Professional plan, although keep in mind that you can only have 100 members at this plan. To get unlimited memberships, you'll need to upgrade to the higher-tier Performance plan.
By way of comparison, Weebly's Performance plan costs $26 per month with annual billing. For comparable features with Wix, you'll pay $27 per month or $13.99 a month (the first year) with GoDaddy. However, you can start a membership with IONOS for $1 a month for the first year, although it lacks advanced features that might make another platform a better choice.
Building a website with Weebly is easy and it has some of the most well-rounded membership capabilities we've seen. Membership features extend beyond ecommerce—you can also build exclusive forums, upload videos directly to your site, and set up appointment booking. Direct video uploads make it a great way for instructors to sell online classes and courses.
Although the number of members you can have is capped in the Professional plan, it's a great way to test the waters. At this level, you can also make use of Weebly's membership and ecommerce integration. You can sell a specific product and invite buyers to access exclusive content, set membership fees, and group members for easier management.
Once you jump to the Performance plan, you get access to new perks, like unlimited members and the ability to put a "Register" button on your site. This is pretty huge. With either plan, you'll need to manually add new members one by one by building a database elsewhere and then importing it.
Weebly Pricing & Tier Features
| | Free | Professional | Performance |
| --- | --- | --- | --- |
| Price per Month* | $0 | $12 | $26 |
| Free Domain or Connect a Domain | Hosted on a Weebly subdomain | ✔ | ✔ |
| Free SSL Certificate | ✔ | ✔ | ✔ |
| Ecommerce | ✔ | ✔ | ✔ |
| Search Engine Optimization (SEO) Features | ✔ | ✔ | ✔ |
| Ad-free | X | ✔ | ✔ |
| Unlimited Storage & Bandwidth | X | ✔ | ✔ |
| Third-party Apps | X | ✔ | ✔ |
| Members | X | 100 | Unlimited |
| Transaction Fees | 3% | 3% | 0% |
| Accept Payments via PayPal | X | Via third-party integration | ✔ |
*On an annual billing cycle
Our Expert Opinion
Weebly has a ton to offer by way of a membership site platform, especially for the price. You can easily and affordably start a membership website with gated content. It also comes with many useful features that integrate seamlessly, such as forums, direct video uploading, ecommerce, and appointment booking. Weebly is our top pick among the best membership website builders, so it's definitely worth testing out, but before you do, read our Weebly review first.
IONOS: Cheapest Membership Site Platform
What We Like
Super-cheap website builder for basic membership sites
Cheap ecommerce plans for online stores
Free domain, SSL certificate, and email account on your domain with any plan
Personal consultant to help you get the most value out of the site builder
Built for speed and site visitor experience (good for SEO)
Appointment booking and customer management tools (Plus and Pro plans)
Social media and marketplace selling
What's Missing
Lacks advanced membership features
No dedicated membership tools beyond ability to gate content
Can't sell digital goods without subscribing to a $35 per month ecommerce plan
No free plan or free trial to test the site builder
Best For
Startups and small businesses needing a basic, cheap membership website builder to gate off content
Membership websites that don't need advanced features like a community forum or member profiles
While Weebly comes loaded with membership extras like forums and video hosting, IONOS is the best cheap membership website builder if all you really need is to gate off content. If you don't mind spending a bit more, IONOS does have advanced ecommerce website builder plans that allow you to sell digital goods.
While its membership features are basic in entry site builder plans, IONOS websites are built for speed, which is great for site visitor experience and search engine optimization (SEO). You have two options to start with: the MyWebsite Now basic site editor in the Starter plan ($1 per month the first year) or the far more full-featured MyWebsite Creator and Creator+ versions in the Plus and Pro plans.
If you can afford the higher starting cost of $5 per month, we recommend the Plus plan. Your site's design will be more customizable and there are more templates and premade content blocks to start with. Alternatively, to build a basic membership site quickly, the Starter plan could be all you need.
Uniquely, with IONOS you get the most personalized support. Customer care is available to you 24/7/365 but you also get access to a dedicated personal consultant who can help with questions you have about building a site, setting up an online store, and more. All IONOS plans also come with a free email address; Bluehost is the only other platform to include emails on your domain.
IONOS Membership Site Features
With any site builder plan, you can set any page to private to gate it off for members, but unfortunately, IONOS hasn't yet added features such as member-only areas. Plus, to sell memberships, you may need to integrate a PayPal button or send site visitors to a dedicated landing page outside of your site.
You also have the option to sell digital goods in IONOS ecommerce store plans starting at $35 per month. However, you can do this far more economically with Weebly, GoDaddy, or Wix. So for advanced membership site features, we recommend that you try one of those.
IONOS Pricing & Tier Features
| | Starter | Professional | Performance | Expert |
| --- | --- | --- | --- | --- |
| Price per Month | $1* | $5** | $25** | $35** |
| Renewal Price After Intro | $12 | $25 | $35 | $50 |
| Free Domain & SSL Certificate | ✔ | ✔ | ✔ | ✔ |
| Free Email Address | ✔ | ✔ | ✔ | ✔ |
| Ecommerce | ✔ | ✔ | ✔ | ✔ |
| SEO Features | ✔ | ✔ | ✔ | ✔ |
| Unlimited Storage & Bandwidth | ✔ | ✔ | ✔ | ✔ |
| Advertise, Sell & Sync to Facebook & Instagram | ✔ | ✔ | ✔ | ✔ |
| Payments via PayPal & Credit/Debit Cards | ✔ | ✔ | ✔ | ✔ |
| Multilingual Sites/Stores | X | X | ✔ | ✔ |
| Sell Digital Products | X | X | X | ✔ |
*With annual billing, introductory pricing for the first 12 months
**With annual billing, introductory pricing for the first six months
Our Expert Opinion
IONOS (formerly 1&1 IONOS and IONOS by 1&1) is a long-time web hosting service and domain registrar. Its site builder plans make it easy to set up a great-looking membership site with gated content on the cheap. It falls short, however, in not allowing sales of digital goods in lower tiers, so it's not the best option for every business.
GoDaddy: Most Beginner-friendly Way to Start a Membership Site
What We Like
Most beginner-friendly membership site platform
Gate off content for members starting with the free version
Affordable paid plans with features like memberships, ecommerce, and email marketing
Unlimited storage and bandwidth means plenty of room to upload videos or large media libraries
Solid native tools like appointments, reservations, social integration, and good website builder for SEO
What's Missing
A template is chosen for you, and layout variations and design customization is limited
Limited to 50 pages per site—not the best for blogging
Fewer third-party integrations available than Wix or Weebly
Lacks advanced features like community forums or subscriptions
Best For
Businesses on a budget looking for an easy way to get private pages for members
Businesses whose members need the ability to book sessions or appointments (thanks to robust built-in appointment booking tools—starting in the free version)
GoDaddy isn't the most advanced membership website builder. However, it has a host of well-rounded features and tools that can help small businesses in various industries grow and scale, especially service-based businesses. Among them is the ability to create password-protected pages and appointment booking tools members can use to schedule sessions, such as for fitness professionals and trainers, counseling, tutoring, and more.
Despite the lack of advanced features, GoDaddy is the most beginner-friendly membership website builder. Where it mainly falls short is design.
While you do have the ability to design a professional-looking website easily, you won't get the maximum design freedom of Wix, nor access to hundreds of templates. What you will get is an intuitive, block-based editor, the ability to set your site's colors, fonts, and styling, and solid SEO features to get found online, all starting with the free version.
GoDaddy Membership Site Features
It's easy to build a GoDaddy website and to gate off content. Adding member-only content is as simple as going to a page's settings and making it private. To do this, you'll first need to enable the membership feature through your dashboard by clicking on Settings. You can grant member access to anyone who signs up for an account on your site, or you can choose which members get access to what.
The membership features integrate with GoDaddy's solid booking system, making it a steal for businesses that need both, like an instructor looking to teach classes online. While previous versions didn't allow for easy video integration, you can now create and publish videos directly from the site builder and share them on your website as well as social media.
You can also add HTML to your site to add a forum and even a chatroom to private pages. Additional functionality, such as subscription-based memberships, will have to come through coding or third-party apps.
Although it's a pretty straightforward process, GoDaddy doesn't have membership groups the way Wix and Weebly do. Every time you make a page for a specific group, you have to send each person a separate email link to sign up. If you're looking for a tiered membership system, then we suggest you skip GoDaddy in favor of either of those options.
GoDaddy Pricing & Tier Features
| | Free | Free | Premium | Premium | Commerce Plus |
| --- | --- | --- | --- | --- | --- |
| Price per Month* | $0 | $6.99 | $13.99 | $14.99 | $29.99 |
| Renews At* | N/A | $11.99 | $21.99 | $24.99 | $44.99 |
| SEO Features | Basic | Basic | Advanced | Advanced | Advanced |
| Free SSL | ✔ | ✔ | ✔ | ✔ | ✔ |
| Connect to Domain | X | ✔ | ✔ | ✔ | ✔ |
| Unlimited Storage & Bandwidth | X | ✔ | ✔ | ✔ | ✔ |
| PayPal Donations | ✔ | ✔ | ✔ | ✔ | ✔ |
| One-time Appointments | ✔ | ✔ | ✔ | ✔ | ✔ |
| Memberships | ✔ | ✔ | ✔ | ✔ | |
| Ecommerce | ✔ | ✔ | ✔ | ✔ | ✔ |
| Recurring Appointments | X | ✔ | ✔ | ✔ | ✔ |
| Appointment Payments | X | ✔ | ✔ | ✔ | ✔ |
*When billed annually; monthly billing is available at a higher cost
Our Expert Opinion
GoDaddy's membership features aren't the most robust, but we're more impressed by the ease with which even a true beginner can build a website with member-gated content. Unlike Wix, don't expect a groundbreaking site when it comes to design. But it's the most beginner-friendly way to start a membership site. To learn more, read our GoDaddy review.
Wix: Most Customizable Membership Website Builder
What We Like
Most design freedom of any membership website builder
Native advanced membership features, Wix Bookings, ecommerce, calendars, forums, and a third-party app marketplace for even more integrations
Membership features even on the free plan, although to accept online payments, you'll need the $27 per month ecommerce plan
What's Missing
Unlimited storage doesn't come in any plan, and unmetered bandwidth only starts at the third-tier plan
Lacks templates specifically for membership sites
No ability to create a members-only website, as you'll have to create individual private pages
Doesn't offer features like advanced SEO that you get with Squarespace, or built-in coding capabilities
Best For
Businesses that want a highly customized site with exclusive content built in
Member-based sites that need a quick way to disseminate modules online
Those wanting an affordable, all-in-one plan with ecommerce and membership features
Wix is one of the most popular website builders for small businesses in general as well as one of the best membership site platforms. Like Weebly, it seems to continually add value to its plan tiers with additional features.
For example, you get robust member website tools as well as full-featured ecommerce in the first business and ecommerce plan tier (Business Basic). From the get-go, you have options for creating different types of membership sites, including features for community forums, selling online courses, and offering subscriptions.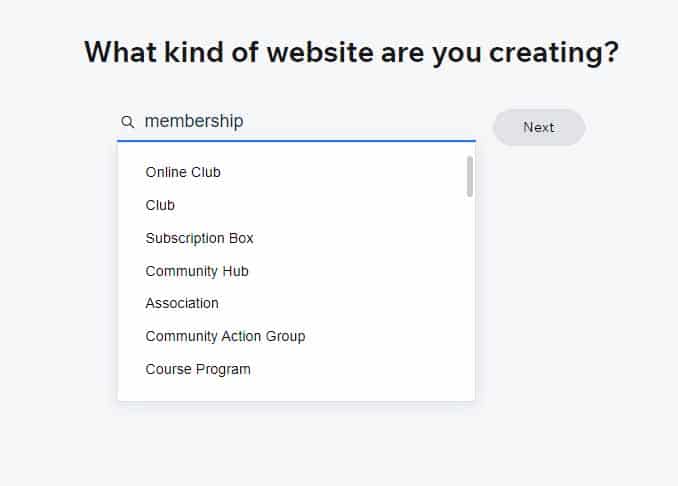 Wix's library has over 800 templates and once you start building, there are a variety of premade blocks you can drop in to add different features and functionality. To test out its membership website platform capabilities, create a free account and see how easy it is to build a website using Wix.
Wix also has one of the largest third-party app marketplaces and a true drag-and-drop editor, making it the best choice for those wanting a custom website in both design and functionality. In fact, it's our top pick of all drag-and-drop website builders for small businesses.
The free plan really gives you a feel of how powerful Wix can be (and Wix tops our list of the best free site builders). On the free plan, you can access Wix's membership features, but you won't be able to take bookings and payments until you upgrade to the ecommerce plan. When you do, however, you get a host of membership and ecommerce features, making it well worth the cost.
Wix Membership Site Features
Wix has some of the most powerful membership features of the membership site builders on this list. However, Weebly and GoDaddy both edge it out thanks to unlimited storage and bandwidth, a combo Wix doesn't have on any of its plans. Despite that, Wix has amazing features, and in our opinion, you get the best value by far compared to any other provider's ecommerce plans.
With Wix's built-in membership tools, you can easily create exclusive pages for members. Aside from basic and advanced membership features similar to what Weebly provides (e.g., forums, subscriptions, and membership groups), Wix has some pretty nifty tools like a file library feature, shared membership file feature, and an online course feature.
These are all built in, so adding them to your site only takes a few clicks. Remember that in addition, you also have the option to integrate other built-in Wix features, like bookings and a blog.
Finally, if you really can't find what you're looking for in terms of membership website platform integrations, you can add more functionality through Wix's extensive app marketplace. Currently, Wix has more than 300 free or premium apps you can integrate. However, you don't get all these integrations if you're using Wix's ADI editor (instead of Wix's drag-and-drop editor), so keep that in mind when choosing which editor to go with.
Wix Pricing & Tier Features
| | Free (With Ads) | Combo | Unlimited | Business Basic |
| --- | --- | --- | --- | --- |
| Price per Month* | $0 | $16 | $22 | $27 |
| Storage | 500MB | 3GB | 10GB | 50GB |
| Bandwidth | 500MB | 2GB | Unlimited | Unlimited |
| SEO Features | Basic | Basic | Advanced | Advanced |
| Video Storage | X | 30 minutes | 1 hour | 5 hour |
| Free Domain & SSL, or Connect to Domain | X | ✔ | ✔ | ✔ |
| Memberships | ✔ | ✔ | ✔ | ✔ |
| Third-party Integrations | ✔ | ✔ | ✔ | ✔ |
| Ecommerce | X | X | X | ✔ |
| Unlimited Products/Services | X | X | X | ✔ |
| Subscriptions | X | X | X | ✔ |
| Booking & Reservation Systems | X | X | X | ✔ |
*On an annual billing cycle; monthly billing is also available at a higher cost
Our Expert Opinion
Wix is a great membership website builder if you want a website with advanced membership features and a custom design. Wix's biggest drawback is its limited storage, which could limit your ability to grow your member spaces, depending on the type of resources (e.g., video, online courses, and so on) you need to house on your site. Read our full Wix review to see if it's right for you.
Bluehost: Best Way to Build a WordPress Membership Website
What We Like
WordPress site builder lessens the learning curve of building a membership website
Plans come with a free domain, SSL certificate, and from 5 to unlimited free email addresses on your domain
Virtually unlimited membership features available in the WordPress plugin ecosphere
Site design customization surpasses that of Wix, depending on extras like your theme, page builder, and developer coding
What's Missing
WordPress costs can quickly exceed that of all-in-one website builders, depending on premium themes and plugins
Bluehost Builder is meant as a starter plan; for more customization, you'll need to migrate to a WordPress theme or page builder, such as Elementor
Even with the site builder, WordPress has an inherent learning curve, especially to add, configure, and maintain plugins like those needed for membership sites
Best For
Small businesses that need unique functionality or want the extensive capabilities that come with access to thousands of WordPress plugins
Those wanting to easily and quickly build a membership site on WordPress
Bluehost is one of the best web hosting companies for small businesses, especially those wanting to build a business website on WordPress. Bluehost plans come with the Bluehost Builder, a drag-and-drop site builder developed specifically to make WordPress website design easier.
Plans come with the WordPress website builder as well as a free domain and SSL certificate, and from five up to unlimited email accounts on your domain. They also include free Cloudflare content delivery network (CDN) for fast site load times and better site visitor experiences, and thus, better SEO.
Bluehost Membership Site Features
The WordPress content management system (CMS) doesn't have inherent membership features. Instead, membership websites are created using plugins, and there are thousands of plugins available. You can get a better sense of how to build a membership site by reading our article detailing how to make a forum website, since many membership sites have community forums.
While there are other ecommerce plugins available, one way to create a membership website on WordPress is with the free and uber-popular WooCommerce plugin. However, you are likely to need the premium WooCommerce membership plugin to get all the features you need. This plugin alone costs about $200 annually, which quickly increases the cost of using WordPress for your member site.
There are many different WordPress plugins available with various membership features. Make sure you take the time to discover not only those with the features and tools you want for your site, but those which are well-documented, offer support, are highly rated, and are being updated on a regular basis.
Bluehost Pricing & Tier Features
| | Basic | Pro | Online Store |
| --- | --- | --- | --- |
| Price per Month* | $2.95 | $9.95 | $24.95 |
| Renews At* | $10.99 | $14.99 | $39.95 |
| Email Addresses on Your Domain | 5 | Unlimited | Unlimited |
| Templates | 300+ | 300+ plus 30 premium templates | 300+ plus 30 premium templates |
| Includes Hosting, Free Domain & SSL | ✔ | ✔ | ✔ |
| Email Marketing | ✔ | ✔ | ✔ |
| WordPress Installed & Updates Done for You | ✔ | ✔ | ✔ |
| WooCommerce Plugin Installed | X | ✔ | ✔ |
| Unlimited Products | X | ✔ | ✔ |
| Subscriptions | X | X | ✔ |
| Appointment Booking | X | X | ✔ |
| Sales Tax Management | X | X | ✔ |
*With annual billing
Our Expert Opinion
Building a membership website on WordPress is more difficult than with platforms like Weebly and Wix. You'll handle plugin updates and other site maintenance tasks that are done for you with all-in-one site builders. However, the Bluehost Builder simplifies the process of using WordPress to start a membership site, so if you don't mind the learning curve and extra work, the payoff could be well worth it.
Strikingly: Fastest Way to Start a Membership Site
What We Like
Fastest way to get online thanks to premade templates specifically for membership websites
Really strong collection of modern templates and an easy-to-use editor
No need to upgrade, as the lowest-tier paid plan has all you need, including recurring subscriptions
2% transaction fee is lower than many other platforms
What's Missing
Low 20GB storage limit per site (but you can build an unlimited number of sites)
Lowest-tier paid plan displays ads and doesn't come with membership features
Steep price increase to get advanced membership features in the VIP plan
Best For
Small businesses looking for a streamlined way to create a membership site and get it online quickly
Those wanting premade templates specifically for membership sites to make the process easier
Strikingly may be one of the best website builders you've never heard of—yet. We love that membership features, including recurring subscriptions, come in its first ecommerce plan at just $16 per month with annual billing or $20 month-to-month.
Besides being affordable, Strikingly is the only website builder that comes with premade templates specifically for membership websites. This is going to make creating a website easier and getting it online faster. In fact, the landing page of the website boasts that you can make a website in minutes.
Strikingly Membership Site Features
Based on our use of the platform, the claim that you can start a membership website in minutes is 100% true. Add a tiered pricing table with one click and customize it with your plans and features. Start with a template that already has online booking or add it easily.
You won't have all the design freedom of Wix, but the design editor is very intuitive and starts you off with a tour just to make things go even faster. You will have to upgrade to the Pro plan to get membership features, but with that upgrade comes most of the membership features you will need, from custom forms to recurring subscriptions.
Unfortunately, some membership features are locked behind the highest-plan tier, which costs quite a bit more than the Pro plan. The other shortcoming of Strikingly is that 20GB per website in the Pro tier may not be enough for an online course platform, especially one using video. GoDaddy and Weebly both provide unlimited storage and bandwidth if this is the case.
Strikingly Pricing & Tier Features
| | Free | Limited | Pro | VIP |
| --- | --- | --- | --- | --- |
| Price per Month* | $0 | $8 | $16 | $49 |
| Websites | 1 | 2 limited sites, unlimited free sites | 3 Pro sites, free unlimited websites | 5 VIP sites, unlimited free websites |
| Storage per Site | 1GB | 1GB | 20GB | 100GB |
| Bandwidth | 50GB | 50GB | Unlimited | Unlimited |
| Free domain & SSL, or Connect a Domain | X | ✔ | ✔ | ✔ |
| Ecommerce | X | 5 products | 300 products | Unlimited products |
| Transaction Fee | X | 5% | 2% | 0% |
| Ad-free | X | X | ✔ | ✔ |
| Subscriptions | X | X | ✔ | ✔ |
| Multitier Memberships | X | X | X | ✔ |
| Email Marketing | X | X | X | ✔ |
*With annual billing; monthly billing is also available at a higher cost
Our Expert Opinion
Strikingly offers the fastest way to start a membership website and get it online, thanks to premade templates for membership sites and content blocks with multitier plan pricing. However, it doesn't provide the same value for the money or design freedom of Wix and also lacks the storage and bandwidth provided by Weebly.
Honorable Mention: Shopify for Serious Ecommerce Operations
Shopify didn't score high enough to challenge the top membership site platforms above, but it's the best option for serious ecommerce operations. Though built for ecommerce and online stores selling physical products, you can integrate a membership app in order to gate off member content. Read our Shopify review to learn more.
Here are some of the membership apps currently available on Shopify:
Membership by Bold (starting at $9.99 per month): A membership app with a well-rounded set of features; use it to lock out pages, blogs, prices, and even switch out templates for members and non-members. It's a very flexible and powerful membership tool that scales its prices based on the number of members you have.
Customer Fields (starting at $12 per month): This isn't a dedicated membership app; rather, it works with your chosen software to gather customer information. It's a very powerful registration tool that you can use to build your membership database.
Xenforum (starting at $19 per month): An app that lets you manage members and add exclusive forums to your website.
There are hundreds more apps you can browse and download through Shopify's app store, and Shopify is consistently rated as the best ecommerce platform for small businesses. Its most affordable plan starts at $29 per month.
If you aren't an online seller, there are better (and cheaper) membership website builders out there, like Wix. Likewise, if you are a more casual ecommerce business, Weebly has better native membership site features at a far lower cost. Find out all you need to know to set up a Shopify store.
How We Evaluated the Best Membership Website Builders
To be considered, membership site platforms had to have native or easily integrated membership features that didn't make it impractical cost-wise for small businesses. We looked for niche membership features as well as general capabilities, such as the ability to gate off content, add a forum, sell online classes, and more.
Based on our comparison, Weebly is the best membership website builder for small businesses. Membership features come built in and more can be easily added through free and premium third-party apps. Ecommerce needed to sell memberships is included starting in the free version, making it a no-risk option for you to check out.
Click on any of the tabs to get more information about our ranking criteria:
20% of Overall Score
Cost is one of the most important considerations when picking a membership website builder, especially for a small business with a limited budget. We analyzed site builder platforms to find the ones that give you the best bang for your buck.
20% of Overall Score
All-in-one website builders should have features to help you easily create a professional-looking small business website that can grow and scale. These features include storage, bandwidth, templates, ease of use, and SEO.
30% of Overall Score
Since this article discusses the best site builders for membership websites, it's only fair to give it the most weight in our criteria. Some offer membership features without subscription features, while some only offer membership features as third-party plugins. We looked for platforms that offered the best mix of features for member websites.
10% of Overall Score
Building a membership website or adding specific features might mean you need some help. We considered whether support is available 24/7/365, and on what channels you can reach out for customer care.
20% of Overall Score
While it's easy to judge a platform by the features they list and the prices they state, it's a whole different story when it comes to actually building your site. We tested these site builders hands-on to determine which are the best to use in real-world situations vs those that aren't worth considering.
*Percentages of overall score
Frequently Asked Questions (FAQs)
Can I build my own membership website?
Creating a business website with membership features is as easy as signing up with an all-in-one site builder like Weebly or Wix. While you won't be able to create a fully customized website on all of these builders, they make it easy for anyone (even complete beginners) to build a beautifully designed, professional website for any industry.
Should I hire someone to build my website?
One of the best and most cost-effective ways to get a fully custom membership website is to hire a professional through Fiverr. There are Fiverr pros who are skilled in using each of these site builders, depending on which you prefer. Alternatively, you can outsource to a top digital marketing agency like Hibu for the best SEO and smart website features needed to get found online.
How can I get people to sign up on my website?
The first step in the sales funnel is to get as many people on your website as possible through effective website marketing, including SEO. Once you've built an audience, you can persuade them to do what you want them to do (e.g., buy a product, or become a member) through lead nurturing with a strong and compelling call to action.
Bottom Line
Creating exclusive content for your customers, like member-only content or online classes and forums, can be as easy as finding the right site builder. Our top recommended membership website builder for most small businesses is Weebly. You can try it out for free and paid plans include both the basic and advanced features most businesses will need.
You Might Also Like…
Wondering how Squarespace stacks up to the best membership site platforms? Learn more by reading our Squarespace review.
Trying to grow your business online or get found in Google search? Get discovered with the best website builders for SEO.
Confused by all the acronyms? Find out what CRM vs CMS stands for and which your business might need.