Need a paper shredder for your home or office? We scoured the web and identified the best paper shredders for businesses, based on price, features, reliability and customer satisfaction. Below find our recommendations of the best paper shredder for personal use, small office use and large office use.
We start with general purpose cross-cut shredders. For those that need an added level of security we also cover micro-cut shredders later in the article.
Best Paper Shredder (Cross-Cut):
Recommended Product

For Personal Use




For Small Offices:




For Large Offices:




Product

Price

$50

$120

$150

Max Capacity

6 Sheets

10 Sheets

18 Sheets

Operating Time

2 minutes on
30 minutes off

6 minutes on
20 minutes off

40 minutes on

How Much
Can You Shred
Per Session?

50 Sheets

250 Sheets

3,000 Sheets

Cut Size

5.5mm by 47mm
(about 2")

4mm by 51mm
(about 2")

4mm by 29mm
(about 1 ⅛")

Also Shreds:

Credit Cards

Credit Cards

Credit Cards, CDs

Amazon Rating

4.4 Stars

4.3 Stars

4.6 Stars

Warranty

1 Year

1 Year

1 Year
These three cross-cut style shredders strike a good balance between security and practicality. Unlike strip-cut shredders (discussed below), which only cut vertically, cross-cut shredders add horizontal cuts every 1 to 2 inches. This makes them more secure and better-suited for shredding documents like bank statements or paystubs.
Other important factors when choosing a paper shredder are:
Capacity –

How many sheets can it shred at once?

For bigger jobs chose a larger capacity, obviously. But also note that in practice, the advertised number is usually 20-30% lower. For speed and optimal performance, for example, a 10 sheet shredder should only take 7 or 8 sheets at a time.

Operating Time –

How long can it shred before it needs to stop and cool down?

If it only runs 2 minutes before needing a 30 minute cool down (like the

AmazonBasics 6-Sheet Cross-Cut

), you'll have a tough time getting through a stack of paper.

The Royal 1840M,

on the other hand, runs for up to 40 minutes, so you can get through over 3,000 pages before it needs a rest.

Reliability –

How does the machine hold in the long-term / are there any design flaws that affect usability?

Fortunately you can pass on this question since we only chose machines with the best reviews and few-to-zero complaints of parts breaking.
Another key question is shred size. The Royal 1840M cuts paper a little smaller than the other shredders (1 ⅛" long vs. 2" long), so you get a little bit more security. For maximum security, however, you'll want to check out micro-cut shredders, which we cover in the next section.
Best Micro-Cut Paper Shredders:
For Personal Use:




For Small Offices:




For Large Offices:



Product

AmazonBasics 12-Sheet High Security Micro-Cut Paper Shredder

Price

$49.99

$99.99

$152.00

Prime Eligible?

Yes

Yes

Yes

Max Capacity

6 Sheets

12 Sheets

12 Sheets

Operating Time

2 minutes on
30 minutes off

8 minutes on
45 minutes off

60 minutes

How Much Can
You Shred
Per Session?

25 Sheets

200 Sheets

1,500 Sheets

Cut Size

4mm by 12mm

4mm by 12mm

4mm by 10mm

Also Shreds:

Credit Cards

Credit Cards, CDs

Credit Cards, CDs

Amazon Rating

4.8 Stars

4.6 Stars

4.6 Stars

Warranty

1 Year

1 Year

1 Year
*According to reviewers, not officially stated in product description
For those who handle lots of financial documents or work in fields where security is a concern, like law or engineering firms, micro-cut shredders give you the most protection. Cutting paper into 4mm by 12mm confetti-like strips, these machines cut a standard-sized paper into over 2,000 tiny pieces (compared to 360 pieces from a cross-cut shredder).
The downside is they're a bit more expensive and run slower since there's so many cuts being made. If you don't need the extra security, then a cross-cut shredder is a more practical choice.
As with Cross-Cut shredders, the biggest factors in your decision will be capacity and operating time. The Bonsaii EverShred C149-D can handle 12 sheets at once and run for up to 60 minutes straight, so you can handle over 1,500 standard-weight pages in one session.
The AmazonBasics 12-Sheet Micro-Cut also has a capacity of 12 sheets, but it can only run 8 minutes straight. So you're limited to around 200 sheets per session. Likewise, it's smaller counterpart, the AmazonBasics 6-Sheet Micro-Cut, can only run for 2 minutes. It has a capacity of 6 sheets, so only expect to shred around 25 sheets per session. If you only have a few documents now and then around the house, however, then the 6-sheet micro-cut might be perfect.
The Bottom Line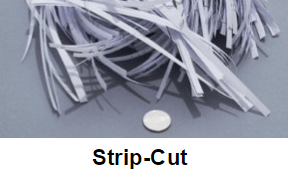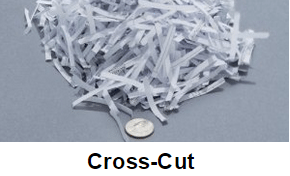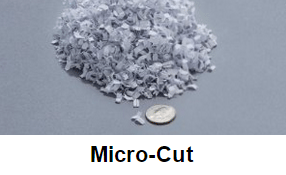 Although strip-cut shredders are what most people think of what it comes to paper shredding, these machines are typically not used in offices. This is because they cut paper into long strips, on which it's possible for secure information, like bank account numbers, to remain intact. There's a few small strip-cut shredders made for home use, but it's actually rare to find larger models.
Instead, cross-cut and micro-cut shredders are the norm for businesses. They're much more secure and you find a lot more models out there for business use.
Click Here to get our FREE Google advertising guide and discover the 6 steps you can use to show up #1 in Google search