A good paper shredder is an essential tool in any office as it securely destroys sensitive documents. We've found the best cross-cut and micro-cut paper shredders for businesses based on price, features, reliability, and customer satisfaction. Read on for our recommendations of the best paper shredder for personal, small office, and large office use.
Best Cross-Cut Paper Shredders
Our three recommended cross-cut paper shredders offer a balance between security, practicality, and price. Unlike strip-cut shredders (see below), which only shred your documents into vertical strips, cross-cut shredders add horizontal cuts every 1-2 inches. This makes them more secure and better-suited for shredding sensitive documents like bank statements or paystubs.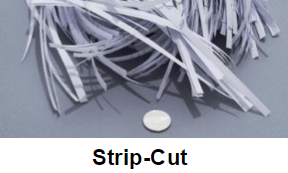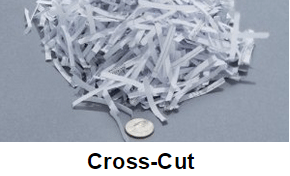 Other important factors to consider when choosing a paper shredder include:
Capacity – A paper shredder's capacity refers to how many sheets of paper it can shred at once. However, for optimal performance on larger continuous jobs, you should only feed about 70-80% of a shredder's advertised capacity at one time.
Continuous Run Time – The motor in a paper shredder will tend to run hot, so it needs time to cool down after a continuous job. A paper shredder's operating time is how long it can run for before it needs a break. The longer the operating time, the larger the job you can complete at one time.
Paper per Session – This refers to the approximate number of pieces of paper you can shred during one session of the shredder's runtime.
Cut Size – The smaller the cut size, the more secure the shred. For the most security, we recommend micro-cut shredders (see below).
Reliability – How does the machine hold in the long-term and/or are there any design flaws that affect usability? Fortunately you can pass on this question since we only chose machines with the best reviews and few-to-zero complaints of parts breaking.
Best Micro-Cut Paper Shredders
If your business manages a lot of sensitive paper documents, such as a legal or medical firm, then micro-cut shredders will deliver the most protection. By shredding paper into 4mm x 12mm confetti-like strips, these machines cut a standard-sized piece of paper into over 2,000 tiny pieces compared to about 360 pieces from a cross-cut shredder.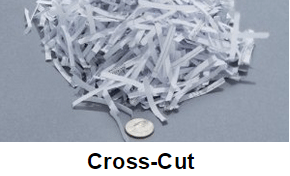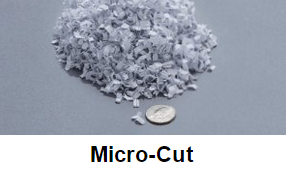 The downside to the added security, however, is that micro-cut paper shredders tend to be more expensive than cross-cut ones and they generally run more slowly because more cuts are being made. If you don't need the extra security, then a cross-cut paper shredder will be more than enough for most uses.
The Bottom Line
Although strip-cut shredders are what most people think of what it comes to paper shredding, these machines are not typically used in offices. Because they cut paper into long vertical strips, it's still possible (albeit difficult) to identify sensitive information like bank account or social security numbers.
Instead, cross-cut paper shredders are the minimum for most businesses and micro-cut paper shredders are more suitable for businesses that manage particularly sensitive documents.