Presentation software allows your sales reps to pitch your products and services more clearly, powerfully and professionally to your customers. We looked at the available options and decided to review Slidebean, Canva and PowerPoint. These three options cover the range for small business in terms of features and support.
If you want to learn more about the all the other aspects of delivering a sales pitch, I recommend reading How to Create a Winning Sales Pitch.
Best Presentation Software for Small Business: Slidebean
We recommend Slidebean because it's the easiest presentation software to use and allows non-graphic design experts to create professional-looking presentations in minutes rather than hours.
Best Presentation Software Summary Table
Slidebean

Canva

PowerPoint

Price


Learn More
$24/month per user

$13/month per user for 3 users and $10/user thereafter

Or $39/ presentation
$12.95/month per user
$5/month per user
(Part of Office 365 including: Excel, Word, Skype & Outlook)
Free version

Learn More
No
Yes - up to 10 users
& 1GB of storage
No
Ease of Use

Learn More
Easy
Moderate
Hard
Lockdown Brand Fonts & Colors

Learn More
Yes

Yes
No
Themes, Templates, Images & Graphs


Learn More
Over 50 templates
Access to millions of free images and GIFs
Basic graphing tools
Over 8,000 templates
Access millions of images for $1 each
Basic graphing tools
100s of free templates
No image library
Advanced graphing tools
Supported Media



Learn More
Embed, YouTube, Vimeo & Wistia
Add photos, videos, GIFs & audio
Hyperlink off to video platforms like YouTube
Add photos and 1000s of of themes
Embed YouTube Videos
Add photos, videos & audio.
Analytics

Learn More
Yes
No
No
Customer Support

Learn More
24/7 phone and email support from a dedicated account manager
No phone/email support
No phone/email support
www.Slidebean.com
www.Canva.com
www.PowerPoint.com
Why We Chose Slidebean as Best Presentation Software for Small Business

We recommend Slidebean because it's very easy to use and great value for money (when you take the cost of images into consideration).
Slidebean's philosophy is to rely on you to enter your content, and then use its "magic beans" to turn your content into a professional looking presentation. Having tested Slidebean, I have to say that it's intuitive, easy to use and the finished results do look great.
Slidebean does cost more for one user than the other presentation software options, but is roughly the same cost as Canva if you sign-up 3 or more users. Not to mention, Slidebean provides access to millions of high-quality images and GIFs that you can use for free. So if you make a few slide decks each month, and use images as much as you should, Slidebean will soon work out more cost effective, even for one user.
Slidebean is the only presentation software option that allows you to track your viewer's behavior for each presentation. You can find out when, where and for how long they viewed your presentation as well as which slides they looked at for the longest. This sort of information is like gold-dust in the right sales reps hands as it helps them to prioritize their opportunities and know who to call, when to call and what to talk about.
Finally, one of the things that really impresses me about Slidebean is that even though it is the easiest platform to use when compared with our other options, Slidebean still provide the most comprehensive customer support and training. For instance, you get 1-hour of free advice each month from a designer built into your monthly subscription to provide you with advice and tips on how to raise your game.
The only aspect of Slidebean that is missing is a tablet-based editor. Having said this, it's not a big downside as most businesses create important presentations on their desktop.
When to use Canva: Best Free Presentation Software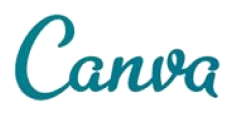 Canva also makes it easy to design unique, high-quality presentations, with the added perk that you can use many tools for free. Canva has over 8,000 user generated design templates that make it very likely that you will find one that matches your needs. Then it's simple to overlay your content to replace what is already there.
Having tested Canva, I would choose it if I was looking for one tool that would allow me to create all of my digital marketing assets, as Canva allows you to create anything from infographics to gift-cards and posters to pitch presentations.
I would also use Canva if I was looking for a free presentation software platform. Canva has a good free option that provides you with most of the features you need for up to 10-users and 1GB or storage. However, you cannot select your brand colors or your brand fonts and lock these down.
As good as Canva is, Slidebean is better if you are looking to create presentations. Slidebean is just easier to use and the end results look more professional. In addition, Canva does not provide a free image library, you cannot embed videos or GIFs into your presentation and customer support is only available via online resources.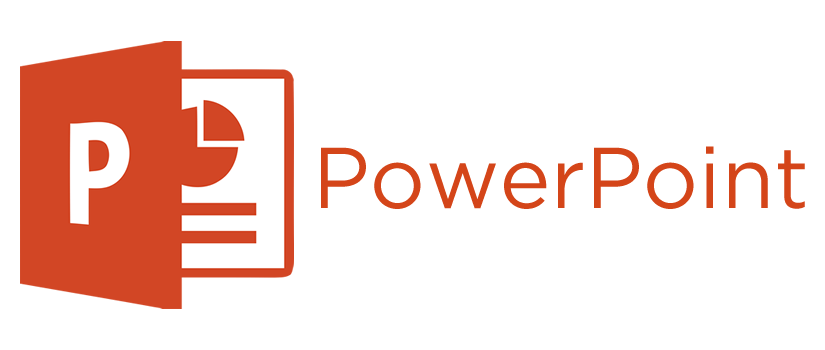 PowerPoint is the ideal presentation software solution for Microsoft lifers, who know their way around PowerPoint's numerous and complex features like they're riding a bike.
As the granddaddy of presentation software, PowerPoint is packed with features and both the download and cloud-based version are robust and bug-free. PowerPoint's software is technically excellent. For instance it works across Android and iOS operating systems on phone, tablet and laptop. Plus it supports most media you can think of. In addition, when it is used by someone with graphic design skills and training in PowerPoint, it can create amazing presentations.
I would recommend PowerPoint to businesses already using MS Office given PowerPoint comes as part of the package. Though with one caveat; make sure you have someone on your team that is already a PowerPoint expert or you could be guilty of creating presentations that are "death by PowerPoint!"
The advantage of PowerPoint is also its main downside; you really do need graphic design skills and training in PowerPoint to make presentations that will excite your customers. Why? Because PowerPoint is much more difficult to master. If you are not a PowerPoint expert, you will probably end up with a heading, some bullets and maybe an image.
PowerPoint also have one other very serious limitation, which is that unlike the other options, you cannot lock down your fonts, logo and colors to ensure that your visual brand is consistently presented in the right way.
In-Depth Review: Slidebean vs. Canva vs. PowerPoint
Read on to find out how each of our 3 presentation software options compare in detail across key features and service support.
Pricing
All 3 presentation software options have have a suitable price point for small business and provide unlimited usage and storage. They also allow you to complete a free trial of the paid package before making any financial commitment.
Pricing
Individual
Teams
Corporate
Price
$24/month per user
$39/month per team for 3 users. Additional users at $10/month
Speak to sales
Features
1 user
Unlimited storage
Minimum of 3 users
Unlimited storage
Customized plan
Slidebean costs $24/user/month for the first user licence, but if you need 3 licences then the cost comes down to $13/user/month and $10/user/month thereafter. Fairly uniquely, Slidebean includes a dedicated account manager, professional designer consultation time and design reviews into the monthly cost. Not a bad idea given how many poor slide deck presentations I have sat through that were created in perfectly good tools.
Slidebean provide a 14-day free trial, which you can cancel at any time.
Unlike Canva, Slidebean does not have a free version.
Pricing
Canva
Canva for Work
Canva for Enterprise
Price
Free
$12.95/month per user
Coming soon
Features
Up to 10 users
1GB of storage
Up to 50 users
Unlimited storage
Over 50 users
Unlimited storage
Canva provide a 30-day free trial, which you can cancel at any time.  Canva costs $12.95/user/month, which represents good value for money given Canva comes with over 8,000 templates. Unlike Slidebean and PowerPoint, Canva allows you to create a lot more than just pitch presentations. You can create over 30 different document types, ranging from infographics to newsletters, posters and presentations. Canva allows you to access and insert images into your presentation at a cost of $1 per image. There are some free images, but very few and not the ones that you want to use.
There is also a free version of Canva, which provides all of the basic features for up to 10 users and 1GB of storage.
Pricing
| | Business Essentials | Business | Business Premium |
| --- | --- | --- | --- |
| Price | $5/month per user | $8.25/month per user | $12.50/month per user |
| Features | Cloud based Outlook, Skype, OneDrive, Word, OneNote, PowerPoint, Excel & more | Fully installed versions of Word, PowerPoint, Excel & more | Online, offline and mobile apps for all applications & more |
If your business already subscribes to Office 365 for things like MS Word, Office and Outlook then Powerpoint comes as part of this package, which costs $5/user/month. If you don't use Office 365 then you will still need to buy it to get PowerPoint as it cannot be purchased separately.
PowerPoint provide a 30-day free trial, which you can cancel at any time.
Office 365 only provide a free version for student and school use.
Ease of Use
For small businesses, the most important factor when choosing presentation software is ease of use and the ability to create professional looking presentations without the need for extensive training or graphic design expertise.
From a technical standpoint, all 3 presentation software options are reliable, with an offline mode that ensures you can present to an audience without the risk of internet glitches. When it comes to ease of design, however, Slidebean came out as the clear winner, with Canva in a close second. Here's how they compare:
Slidebean is refreshingly different from every other presentation software I have experienced, and I have experienced most. All you have to do is select a template to use and input your content assets. Slidebean then turns your content into professional looking slides and allows you to apply your business font and color preferences consistently to all slides in one click. Compared to PowerPoint, the finished results take a fraction of the time to create and look much more professional. Compared to Canva, Slidebean is easier to use.
Like Canva, Slidebean allows you to collaborate when creating your presentation with other team members in real-time. This is very useful, especially for distributed teams.
Even though Slidebean is the easiest presentation tool to use, it also comes with dedicated account and design support, which I am not aware of any other presentation tool building into its service. This recognizes that it's difficult to make things look great if you are not graphically blessed, and allows you to get those important presentations just how you want them to be.
Slidebean does not currently have a mobile app version, but there is a nifty mobile app that turns your phone into a remote control for presenters.
Like Slidebean, Canva is also refreshingly different in concept to all the PowerPoint clones. You simply select a template that you like the look of from over 8,000 currently available and overlay the content that you want in your presentation. Canva also has a great feature that automatically re-optimizes your image if your crop it or change its dimensions. See the two layouts below which I was able to create in seconds because the tool magically makes the image still look great.
Like Slidebean, Canva allows you to collaborate when creating your presentation with other team members in real-time.
Canva has a great mobile version that allows you to create, edit and present on iPad.
The downside of Canva is also one of its strengths. There are so many template options that you can end up spending much longer that you want to find the right one to use. But once you do, it's like cooking on gas.
PowerPoint can be used straight out of the box. You can select a template to use from 100s available. You can then add text, images, video and more to build your slide presentation. One of the great things about PowerPoint is that you can embed video that will work offline if you buy Office 365 Business for $8.25/user. Whereas Slidebean and Canva rely on connecting with cloud based services that cannot play video offline.
If you purchase the Office 365 Business Premium you can create, edit and present in PowerPoint on Android and iOS phones and tablets.
The downside with PowerPoint is that if you need to be gifted to make professional looking presentations. This is because it is much harder to use, and takes a lot longer to create presentations compared to Slidebean and Canva. Plus when you have finished, there is the distinct possibility it still looks like a boring, out-dated PowerPoint presentation unless you have a design professional on your team that knows how to make PowerPoint sing.
Themes, Templates, Images, Video & Graphs
All 3 of our options use templates or themes to make it easier to create presentations. They also allow you to display images, video and graphs. Let's look at how they differ.
Slidebean has around 50 beautiful templates that are fully thought out in detail and populated with sample content so that you can see what you are aiming for. These 50 templates are organised into 4 themes, which cover most use-cases that I can think of for a small business:
Startups
Marketing agencies
Business Managers
Teachers and Students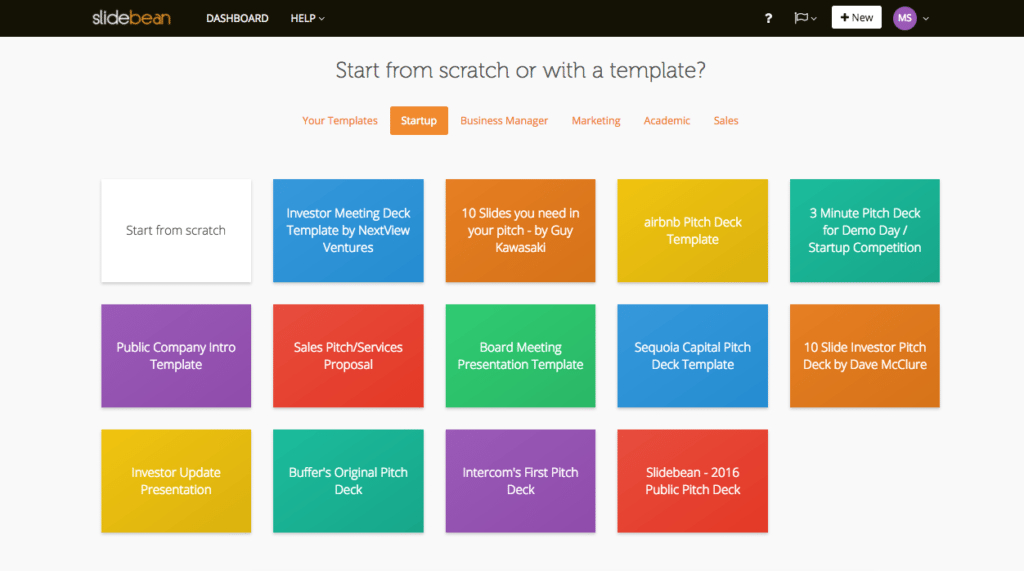 Unlike Canva and PowerPoint, you can insert millions of rights-free commercial commons images and GIFs for no additional cost. Canva allows you to insert images, but they cost $1 per image. This will make Slidebean more cost effective if you are using images to liven up your presentation as much as you should be.
Like PowerPoint, Slidebean also allows you to insert video from YouTube, Vimeo and Wistia. Vimeo and Wistia are great options to have because they allow you to gather analytics on how your customers view video in your leave-behind presentations.
Like Canva, Slidebean also have an awesome tool that makes it really easy for anyone to create bar, line or pie graphs. This is important if you are intending to give a sales presentation, as people like to be given the facts in an easy to digest visual format.
Like Canva, you can lockdown your color and font choices to ensure that regardless of who is using Slidebean, the presentation is always on brand.
Canva has over 8,000 template themes to choose from. However, most are user generated and so the quality is somewhat variable. I found that you can find the perfect one to use, but it takes time more time than it does in Slidebean.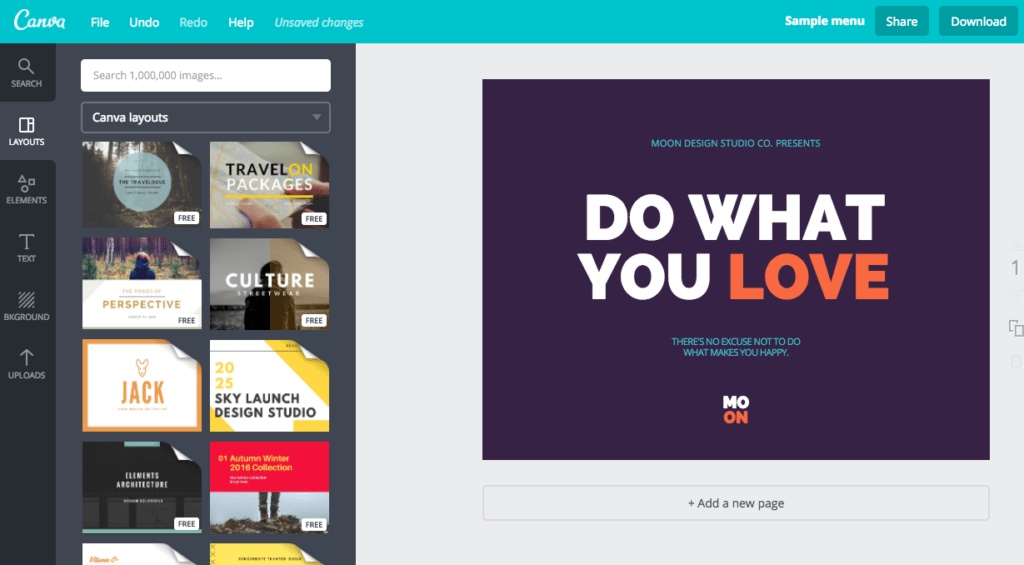 There are over a million images to choose from in Canva and some of these are free. However, you do have to pay $1 each for the vast majority, which are always the ones you want to use! One great thing about these images is that if you change their shape or size, they magically re-organize themselves to look perfectly formatted again.
Unlike Slidebean or PowerPoint, you cannot embed video in Canva at present. To show video, you have to insert a hyperlink and take your audience out of your presentation and off to YouTube or another video platform.
Like Slidebean, Canva makes it very easy to create all the usual types of graph. Unlike Slidebean and PowerPoint, you can also create a useful range of venn diagrams.
Also like Slidebean, you can lockdown your colourways and font choices to ensure presentations are always on brand.
PowerPoint has 100s of templates to choose from, which include fonts and basic colourways, but not graph-treatments and sample images to help the non-graphically blessed to understand what they are aiming for. It's to have so many options, although most feel somewhat dated.
PowerPoint does not include access to a free or a paid image or GIF library. If you are used to using presentation tools then you can go and get your images from an image bank service and insert them. However, many people will struggle to work out how to do this by themselves or simply not have the time to learn.
PowerPoint allows you to embed all common video formats. Unlike with Slidebean and Canva, you can store video's on your device and still play video when offline.
PowerPoint also have one of the most sophisticated graphing tools that provides you with the freedom to create a massive range of different types of graph, including 3-D charts, for instance. The problem is that you have to either get training or invest a lot of time to learn how to use the powerful features and options available to you.
One major drawback of using PowerPoint as your presentation software (like all Microsoft products) is that you are not able to lockdown your brand colour and font options to ensure that all of your users stay on-brand.
Analytics
Something that most sales reps would view as essential but very few presentation software products provide is customer analytics. These come into play after your sales rep has completed their sales pitch presentation and left their presentation with your customer prospect to reflect on.
Only a few presentation software tools recognise the importance of providing insight into when your prospects review your pitch, what they are most interested in and how long they spend considering your cost proposal section. This feedback can also help you to refine and improve your pitch presentations.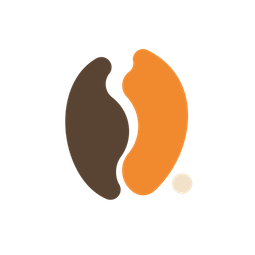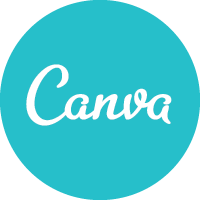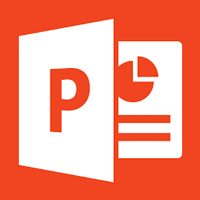 Customer Support
With some tools customer support is not very important, because the tools just work and it's easy to make them do what you want. This is not the case with presentation software. The tools do just work, but it's rare that a non-graphic designer creates a professional looking presentation even with the best tools at their finger-tips.
Let's see what our 3 options do to recognise the need for customer support in the right areas.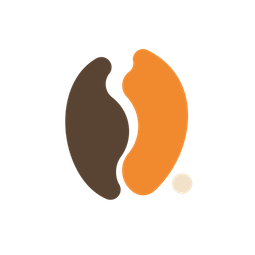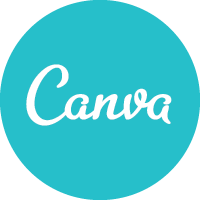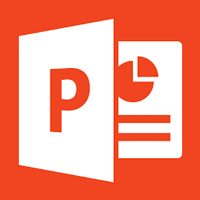 All Presentation Software Options Reviewed
Here are the 7 best presentation software options currently available that we reviewed before selecting the best 3 to review in more detail.
| | Best For | Description |
| --- | --- | --- |
| Slidebean | Business and sales pitch presentations | Slidebean is the easiest presentation software to use and allows non-graphic design experts to create professional-looking presentations in minutes rather than hours. |
| Canva | Small business | Canva allows you to create anything from professional infographics to sales decks and posters. What's more it's powerful and very easy to use. |
| PowerPoint | MS Office users | If your business uses MS Office, PowerPoint comes as part of this package. PowerPoint is a very powerful package, but you really need proper training to make it sing. The sort of time investment many small businesses struggle to make. |
| Haiku Deck | Image heavy presentations | Haiku Deck is a great system for creating more engaging (less corporate) slide presentations in minutes. It also links to millions of rights free commercial commons images. |
| Google Slides | Free real-time collaboration | Simple and robust, Google Slides is like a simple version of PowerPoint. What's great is that you can collaborate in real-time with colleagues when creating your presentation. |
| iCloud Keynote | Apple Mac users | All you've come to expect from Apple if you're a fan in a free online presentation application for Apple users. Anything you create can be shared online by sending a simple link to your audience or by converting to PDF or PowerPoint |
| Prezi | Non-linear presentations | Prezi lets you create non-linear, dynamic presentations without traditional slides. However, the dynamic nature of the transitions does make a lot of people (me included!) feel sea-sick. |
The Bottom Line
The acid test for deciding which presentation software to purchase requires the following 3 questions:
Is it the most intuitive and easy system to use?
Can a non-graphic design expert create professional looking presentations?
Does the cost represent good value for money?
I recommend Slidebean because it provides the best answer to these 3 questions.
However, if you are looking for a tool to create all of your digital sales/marketing materials, then you may want to consider Canva. This is because it lets you create anything from infographics to giftcards and from posters to pitch presentations.
Then again, if your business already uses MS Office and you have a PowerPoint expert in your team then you should probably use PowerPoint as it comes as part of MS Office and it's a very powerful tool in the right hands.