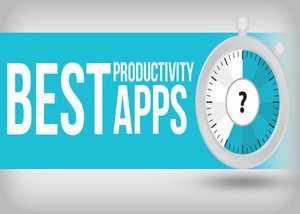 We polled 29 top small business experts and asked them for the best productivity apps recommendations.  Below is what they told us.
We also include our recommendation for best productivity app at the bottom of the list.  Spoiler Alert! It's Insightly 🙂
Let's get to the list!

I have two apps that make a huge difference in enabling me to do quantity work:
Dragon Naturally Speaking. It takes much less time to dictate than to type. I use Dragon for emails, writing books and other kinds of writing. Where I find it most useful is editing my books. It's hard for me to edit on screen. I work with a hard copy. But when I'm done, I dictate all my edits with Dragon. Goes way faster than typing, and I'm a fast typist (93 wpm).
Ivona Text-to-Speech. This is the opposite of Dragon. I have tons and tons of reading to do and I use Ivona to read it for me. I use the voice "Salli." It's totally natural and very pleasant to listen to. However, the reason it's so fantastic is because I can adjust the speed of the reading. I adjust mine to super fast and can listen to a whole bunch of material in no time at all. So much easier and faster than reading on the computer screen. You can use Ivona to read anything on the computer.

30/30 is an amazing app that helps me organize my lists and the timing of each task into one centralized platform.
I love the app because not only does it list out all of my tasks, but with the timing feature associated with it, it allows for me to be much more productive. If I'm trying to schedule out social posts for a day and know I shouldn't dedicate more than 45-minutes to the task, 30/30 will keep me on track.
Our Top Pick
Our favorite productivity software here at FitSmallBusiness is Insightly. We use its CRM capabilities to keep track of all our customer and vendor information.  Insightly also gives us free project management software that we use to manage all of our articles from writing, to editing, to posting and promotion.  See our review of Insightly and other CRM softwares here.
Do you have a favorite productivity app that is not on this list?  Let us know in the comments section below!