6 Best Property Management CRMs 2023
Customer relationship management (CRM) software for property managers helps investors and property managers generate, track, and nurture leads more efficiently. It should also include project management and team collaboration tools that are fitting for small and large property management companies as well as real estate investors. We evaluated many different products to determine the best property management CRM, which include:
Best Property Management CRM Software at a Glance
Property Management CRM

Free Plan

Starting Price for Paid Plans

(per User, per Month)

Free Trial

Customer Support

✓

up to 2 users

$8

14 days

Email, phone, and live chat

✓

up to 3 users

$18

21 days

Email, phone, and live chat

✓

up to 3 users

$20

15 days

Email, phone and live chat

✕

$25

14 days

Email, phone and live chat

✓

$50

14 days

Email, phone and live chat

✕

$29

14 days

Phone and live chat
Take our quiz to help you decide which real estate property management CRM is the best for your business:

Which property management CRM is best for you?
Property Management CRM vs Property Management Software
Property management CRMs, like those mentioned in this article, are focused on managing leads and contacts, which helps property managers and investors find and maintain high-quality tenants. On the other hand, property management software is designed for the ongoing needs of current managers, like screening, onboarding, and managing tenant relationships.
Read our guide on the 6 Best Property Management Software for Small Businesses for more details.
monday sales CRM: Most Customizable CRM for Property Management Teams

Pros
Highly visual and user-friendly interface
Extensive customization options for dashboards and collaboration tools
Unlimited contacts, boards, and pipelines
Cons
Pricing can be expensive for medium to large teams
Lacks social media management tools
Somewhat limited email marketing tools
Our Expert Opinion on monday sales CRM
The monday sales CRM is an easy-to-use tool built for teams. Its features are ideal for investors and property managers, and include account management, contact management, lead scoring, email tracking, and CRM integrations. Its dashboards are highly visual and customizable, so you can easily view each of your leads and potential deals or tenants without having to constantly navigate through complex software.
The interface of monday sales CRM is extremely user-friendly, with drag-and-drop functionality, bright colors, and intuitive menus. Its ease of use, high level of customization options, and unrivaled variety of team collaboration tools make it the best CRM for property management teams. However, its marketing tools are limited to email, so it could be improved with more extensive outreach functionality.
Customizable dashboards: Provides extensive reporting options, and customizable dashboards make it easy for teams to view and track the most important data
Integrations: The marketplace offers over 100 apps specifically built for monday sales CRM users, including integrations with Outlook, Microsoft Teams, Dropbox, Slack, and Google
Automations: Automate processes like due date alerts, email opens, task assignments, and time tracking, ideal in an apartment CRM
Contact management: Track your communications and activities with each contact, and use the 360-degree customer view to get maximum insights into leads
---
monday sales CRM offers four paid plans, with pricing based on the number of users. The basic plan starts at $12.50 per user, monthly, and additional plans offer increased functionality for larger teams with more extensive activity management and sales needs. There is a free trial offered for all plans, and annual payments include an 18% discount.
| Features | Basic | Standard | Pro | Enterprise |
| --- | --- | --- | --- | --- |
| Monthly Price | $12.50 | $17 | $30 | Custom |
| Unlimited Contacts | ✓ | ✓ | ✓ | ✓ |
| Unlimited Customizable Pipelines | ✓ | ✓ | ✓ | ✓ |
| Unlimited Boards | ✓ | ✓ | ✓ | ✓ |
| Templates for Lead, Contact & Deal Management | ✓ | ✓ | ✓ | ✓ |
| iOS & Android Apps | ✓ | ✓ | ✓ | ✓ |
| Activity Management | ✕ | ✓ | ✓ | ✓ |
| Quotes & Invoices | ✕ | ✓ | ✓ | ✓ |
| Custom CRM Automations & Integrations | ✕ | ✓ | ✓ | ✓ |
| Sales Analytics | ✕ | ✓ | ✓ | ✓ |
| Email Templates | ✕ | ✕ | ✓ | ✓ |
| Customizable Email Signatures | ✕ | ✕ | ✓ | ✓ |
| Team Goals | ✕ | ✕ | ✕ | ✓ |
| Lead Scoring | ✕ | ✕ | ✕ | ✓ |
| Account Management | ✕ | ✕ | ✕ | ✓ |
---
With over 8,000 reviews, monday sales CRM has an excellent rating of 4.7 out of 5. Users raved about the user interface and easy-tracking live dashboards, as well as its customization and team collaboration tools. Reviewers also noted how it easily integrates with so many other tools, multiplying their productivity.
There are very few negative reviews for this tool, but users do make notes of improvements they'd like to see. For example, users mention multiple price increases and limitations in reporting. For a landlord CRM with more affordable and custom pricing options, consider HubSpot.
---
Freshsales: Best for Personalized Automation Using AI

Pros
Multi-channel nurture campaigns
AI contact scoring
Complex automation capabilities
Cons
Upper-level plans become expensive
No onboarding functionality
Limited project management features
Our Expert Opinion on Freshsales
Freshsales is an excellent, cost-effective CRM for property management with many necessary features, like multi-channel communication tracking, built-in phone, task management, appointment setting, and note-taking. It also uniquely uses artificial intelligence (AI) to provide insights and automate team and marketing tasks, simplifying the process of investing in real estate, marketing to tenants, and ultimately maximizing profits. Freshsales allows you to create complex workflows to assign leads, send emails, manage tasks, and start behavior-based sequences.
In addition, it provides landing pages, chatbots, and more lead generation and customer tracking capabilities, allowing you to create highly personalized marketing strategies. This makes Freshsales an ideal CRM property management software for investors and landlords. It is an all-in-one tool that allows them to automate lead generation and nurturing without sacrificing custom communication. However, it could be improved as a CRM rental management software by offering more functionality to support landlords and tenants once they convert people from leads to renters.
Freddy AI insights: Automated contact scoring to identify leads most likely to convert
360-degree customer context: View all customer interactions across marketing platforms in one place
Multi-channel marketing: Connect with leads across email, SMS, live chat, and social media
Mobile app: Access dashboards or customer reports on the go
---
Freshsales offers three tiered plans, although the Growth plan is free for three users or less. It offers a 21-day free trial of the Pro and Enterprise plans, as well as discounts with annual billing. Freshsales also offers two unique add-ons for branded documents and contracts and additional bot sessions.
| Features | Growth | Pro | Enterprise |
| --- | --- | --- | --- |
| Monthly Price | $18 | $47 | $83 |
| Contact, Account & Deal Management | ✓ | ✓ | ✓ |
| Built-in Chat, Email & Phone | ✓ | ✓ | ✓ |
| AI Contact Scoring | ✓ | ✓ | ✓ |
| Sales Sequences | ✓ | ✓ | ✓ |
| Multiple Sales Pipelines | ✕ | ✓ | ✓ |
| AI-powered Deal Insights | ✕ | ✓ | ✓ |
| Sales Teams | ✕ | ✓ | ✓ |
| Dedicated Account Manager | ✕ | ✕ | ✓ |
---
Customers have given Freshsales a great rating of 4.6 out 5, noting that it's a reliable tool that helps them more efficiently complete a variety of lead generation and marketing tasks. Many users also reported how the ability to connect so many communication channels and get a full view of every customer interaction helped them nurture leads more effectively.
Some users noted that the price for Freshsales can be steep and that there are glitches periodically. Although many people reported fast responses from customer support, one user noted that bugs in the software could take too long to be resolved. Although glitches are inevitable with technology, consider a CRM with more accessible support, like Salesforce.
---
Zoho CRM: Best Multi-channel Communication Tracking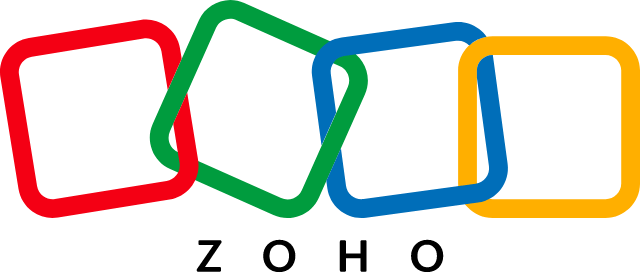 Pros
Affordable pricing
Many valuable third-party integrations
Robust lead and contact management features
Cons
Limited automation on the Standard plan
Customer support can be difficult to reach
Analytics and financial tools require additional subscriptions
Our Expert Opinion on Zoho CRM
Zoho CRM is an advanced, full-service platform for generating leads, managing contacts, automating sales and team processes, and integrating with a large number of important tools. It provides native connections with all the top social media platforms as well as email and phone, providing detailed insights on each new lead and simplifying communications.
As a CRM for rental businesses, it helps property managers easily stay in touch with residents. It allows you to market to leads effectively as well as manage existing tenants with support or property maintenance requests. This makes Zoho the best CRM for rental management—from generating leads to managing tenants. However, it could be improved with built-in access to financial and analytics tools.
Lead generation: Web forms and business card reader on the mobile app
Integrations: Integrates with hundreds of tools, including Google Workspace and Microsoft 360
Lead management: Qualify incoming leads, create a personalized nurturing strategy, and use multiple communication platforms to engage them
In-depth analytics: Built-in analytics provide valuable insight into lead sources, engagement rates, and conversion rates
Make sure to use the data you get from your CRM to improve your marketing and your business strategy. Start by learning how to calculate rent in our article, How Much Should You Charge for Rent?
---
There are four tiered package options for Zoho CRM, and users can test any package with a 15-day free trial. The standard plan includes basic modules, task management tools, pipelines, forecasting, email insights, and advanced filters. Additional plans offer increased marketing, reporting, customization, and automation functionalities. With annual billing, customers can save up to 34%.
| Features | Standard | Professional | Enterprise | Ultimate |
| --- | --- | --- | --- | --- |
| Monthly Price | $20 | $35 | $50 | $65 |
| Tasks, Calls & Events | ✓ | ✓ | ✓ | ✓ |
| Multiple Pipelines | ✓ | ✓ | ✓ | ✓ |
| Scoring Rules | ✓ | ✓ | ✓ | ✓ |
| Sales Forecasting | ✓ | ✓ | ✓ | ✓ |
| Email Insights | ✓ | ✓ | ✓ | ✓ |
| Workflow Rules | ✓ | ✓ | ✓ | ✓ |
| Homepage Customization | ✓ | ✓ | ✓ | ✓ |
| SalesSignals | ✕ | ✓ | ✓ | ✓ |
| Segmentation | ✕ | ✕ | ✓ | ✓ |
| Auto-responders | ✕ | ✕ | ✓ | ✓ |
---
With a good rating of 4.2 out of 5, Zoho users expressed that the functionality is incredibly robust for such an affordable price. They also say it's extremely easy to implement, with a minimal learning curve and features that grow with their team. Customers also reported that the wide range of integrations maximizes their productivity.
On the other hand, Zoho users also note that there are drawbacks to having so many customization options. It can take some time to determine the best way to set up your dashboards. Reviews were also mixed about Zoho's customer support, with some users saying that they were slow to respond. For a property management CRM with more accessible customer service, consider Salesforce or HubSpot.
Read how our experts feel about this CRM for property management in our Zoho CRM review.
---
Salesforce: Best for Large Property Management Teams
Pros
AI-based sales CRM
In-depth reporting
Extensive integrations
Cons
No free plan
Learning curve can be challenging
Product packages can be confusing
Our Expert Opinion on Salesforce
Salesforce is an all-in-one software for businesses of many sizes, with products for sales, services, marketing, finances, team collaboration, and analytics. As a CRM for apartment rentals, it provides a range of solutions for your needs, whether you're a real estate investor, landlord, or property manager. It helps you market to leads online, manage leads through marketing and nurturing strategies, manage tenants, and make smart business decisions with in-depth reporting tools.
Salesforce also incorporates artificial intelligence (AI) to help you navigate sales, manage analytics, and optimize spending. Because of its wide range of products, Salesforce is the best property management CRM for investors or managers who are building large teams in need of in-depth sales, service, marketing, and reporting functionality. However, it could be improved by offering a straightforward option for small property management teams.
Sales AI: Integration with Einstein GPT provides conversation insights, customer signals, call transcripts, and self-serve customer onboarding
Marketing: Connects to multiple marketing channels to provide maximum personalization and in-depth AI analytics
Team productivity: Native integration with Slack and automated sales tasks and workflows
---
Although Salesforce provides a range of many different products, its pricing structure for each product is almost identical. There are four plan options, and prices are per user, per month, although all packages are billed annually. The starter plans include important tools for email marketing, team collaboration, task management, and customer service, and upper-level plans offer additional tools for marketing, automation, and process management.
| Features | Starter | Professional | Enterprise | Unlimited |
| --- | --- | --- | --- | --- |
| Monthly Price | $25 | $75 | $150 | $300 |
| Account, Contact & Lead Management | ✓ | ✓ | ✓ | ✓ |
| Case Management | ✓ | ✓ | ✓ | ✓ |
| Contracts & Entitlements | ✕ | ✓ | ✓ | ✓ |
| Pipelines & Forecast Management | ✕ | ✓ | ✓ | ✓ |
| Sales Engagement & Insights | ✕ | ✕ | ✕ | ✓ |
| Premier Success Plan | ✕ | ✕ | ✕ | ✓ |
---
Salesforce has well over 10,000 online reviews and a high rating of 4.3 out of 5. Customers loved the wide range of functionality and said that it was easy to learn and use within both small and large teams. Users also noted that compared to other property management CRM systems, it provided much more extensive reporting and forecasting.
However, some unsatisfied customers noted that the platform takes too much time to learn and the training materials aren't thorough enough. One user also said they were disappointed that Salesforce doesn't include a calling feature, which is key for CRM property management. If your CRM needs to have calling functionality, check out Freshsales.
---
HubSpot CRM Suite: Best Scalable CRM for Individuals & Small Teams

Pros
Variety of free tools
Sales, service, and marketing features included
Content marketing tools
Cons
Higher-level plans are expensive
Pricing structure can be confusing
Starter plan doesn't include social media
Our Expert Opinion on HubSpot CRM Suite
HubSpot CRM is a business software with products for sales, marketing, operations, and customer service. Similar to Salesforce, it offers different product bundles for different types of businesses. However, its CRM Suite uniquely includes key features—from multiple products to help property managers manage leads and build their businesses most effectively.
HubSpot provides a variety of free tools, like a landing page builder, web hosting, online forms, chatbot builder, email templates, and a marketing plan generator. Its paid plans also provide valuable features for property management, like email marketing, pipeline management, payments, business insights, a sales dialer, and performance reports.
These features make HubSpot an ideal starting CRM for individuals or small property management teams. The starting package is affordable, and plans can be adjusted and customized as your team's needs grow. There is room for improvement since the reporting features of the Starter plan are somewhat limited.
Lead generation: Landing pages, ad management, customized forms, search engine optimization (SEO) recommendations, and blog posts
Lead management: Live chat, website activity tracking, custom properties, lead rotation
Email marketing: User-friendly email marketing platform with extensive personalization options, depending on your package
Task management: Task and activity lists and automatic reminders
Customer feedback: Gather feedback from customer surveys and automatically import data into the CRM
---
HubSpot's CRM Suite offers a package with free marketing, sales, service, content management system (CMS), and operations tools. However, to access the CRM, you must pay for the Starter plan or an upper-level plan. There are only two paid package options for individuals and small teams, although the CRM Suite can grow even further with enterprise-level plans. Annual billing can save you 40%.
| Features | Free Forever | Starter | Professional |
| --- | --- | --- | --- |
| Monthly Price | $0 | $50 | $1,781 |
| Contact Management | ✓ | ✓ | ✓ |
| Email Marketing | ✓ | ✓ | ✓ |
| Documents | ✓ | ✓ | ✓ |
| Reporting Dashboard | ✓ | ✓ | ✓ |
| Meeting Scheduling | ✓ | ✓ | ✓ |
| Tasks & Activities | ✓ | ✓ | ✓ |
| 1:1 Technical Support | ✕ | ✓ | ✓ |
| Payments | ✕ | ✓ | ✓ |
| Workflow Extensions | ✕ | ✕ | ✓ |
| Custom Reporting | ✕ | ✕ | ✓ |
---
HubSpot users reported that the software is easy to use and the training materials online are helpful. One user noted that HubSpot is great for businesses of all sizes since packages include tiered features for every facet of your business. Overall, HubSpot has received a great rating of 4.5 out of 5.
Although HubSpot CRM Suite has in-depth reporting capabilities, users noted that access to reports is limited on starter-level plans. And even though the interface is generally friendly, a few users noted that they will occasionally feel overwhelmed by the platform when trying to make an adjustment. For a property management CRM with more robust reporting and arguably the most user-friendly platform, check out monday Sales CRM.
---
Copper: Best for Integration With Google Workspace

Pros
CRM access in your Gmail inbox
14-day free trial
Team collaboration and productivity tools
Cons
No lead generation through landing pages, forms, or ads
No social media tracking
Integrations not offered on the Basic plan
Our Expert Opinion on Copper
Copper is a Google Workspace CRM that seamlessly connects to every Google product, including Gmail, Calendar, and Drive. It allows you to incorporate important email marketing tools into your existing Gmail account, like email tracking, sending bulk emails, drip campaigns, and email scheduling. It also uniquely allows you to create an unlimited number of customizable pipelines, which is ideal for property managers who have a variety of lead types to manage.
Copper is also a great choice for property management teams with productivity and collaboration tools like note-taking, activity logging, reminders, and internal comments. Overall, Copper is the best property management CRM for individuals or teams that rely on Google Workspace for their business. Copper could be improved by providing integrations on the Basic plan.
Unlimited pipelines: Customizable pipelines, pipeline data with filters, deal prioritization, and opportunity alerts
Lead and deal management: Automate workflows, capture and track leads from Gmail, nurture leads and customers with email campaigns, and get real-time alerts on leads
Reporting and insights: Customizable reporting templates so you don't have to start from scratch, personalized report templates, and report delivery via email
Accessible from your Google inbox: Copper communications, automation, and behavior tracking can be accessed easily within your Gmail inbox
---
Copper provides three paid plans, which are priced per user. The basic plan includes plenty of features for teams, pipelines, email marketing, and reporting, but additional plans increase the contact limit and automation capabilities. With annual pricing, customers receive a 20% discount.
| Features | Basic | Professional | Business |
| --- | --- | --- | --- |
| Monthly Price | $29 | $69 | $134 |
| Google Workspace Integration | ✓ | ✓ | ✓ |
| Pipelines | ✓ | ✓ | ✓ |
| Contact Enrichment | ✓ | ✓ | ✓ |
| Team Collaboration | ✓ | ✓ | ✓ |
| Bulk Email & Templates | ✕ | ✓ | ✓ |
| Reporting | ✕ | ✓ | ✓ |
| Unlimited Contacts | ✕ | ✕ | ✓ |
| Email Sequences & Drip Campaigns | ✕ | ✕ | ✓ |
| Website Tracking | ✕ | ✕ | ✓ |
| Lead Scoring | ✕ | ✕ | ✓ |
---
Copper has a great rating from users of 4.5 out of 5. Reviewers enthusiastically reported that Copper was highly customizable and said they loved how simple it was to set up. Users also said that this tool immediately multiplied their productivity and effectiveness by being accessible in their Gmail inbox and having built-in collaboration tools.
An extremely small number of reviewers noted that they experienced glitches with the platform and that it wasn't as seamless as they had hoped. A few users also mentioned difficulties with billing and communicating with customer support. For an alternative CRM with a Google Workspace integration, consider Zoho CRM.
---
How We Evaluated the Top Property Management CRMs
To determine the best CRM systems for property management, we evaluated the software features most relevant to management companies and real estate investors. For instance, you must be able to constantly market your properties to potential tenants or potential sellers. The right CRM will also have features for managing contacts, customizing pipelines for different types of leads, and collaborating with a team.
We found monday sales CRM to be the best property management CRM with its aesthetically pleasing and easy-to-use interface along with its extensive customization options. It is also built for team collaboration and provides automation for marketing as well as internal workflows.
The other criteria we used to evaluate property management CRMs include:
25% of Overall Score
We considered platforms that include reporting and analytics, customizable pipelines, integrations, task management features, and an aesthetically pleasing interface
15% of Overall Score
We evaluated CRMs that provide social media management or integrations, email marketing, project management, team collaboration tools, lead management functionality, and document software and management
15% of Overall Score
We evaluated plans with a free plan, free trial, monthly billing options, and affordable pricing options
15% of Overall Score
We rated the technical skill required to set up each CRM software, the tools with a mobile app, and platforms with an intuitive interface
10% of Overall Score
We looked into the convenience and attainability of customer service for technical support and assistance.
10% of Overall Score
Based on customer feedback for each platform, with particular attention given to actual user reviews of the product, and the popularity of each real estate lead generation company.
10% of Overall Score
We evaluated each platform's unique or standout features, as well as the ease of use and the overall value for the cost.
*Percentages of overall score
Frequently Asked Questions (FAQs)
A property management customer relationship manager (CRM) is designed to gather and store all of the data on your business contacts and leads. It should automatically connect with your lead sources and organize the data to help you effectively market to each of your leads.
---
Property management CRM software collects new leads' information and automatically sorts, tracks, and manages follow-up communications. By using the right CRM, you can continually gain insight into your leads individually and as a whole, and implement personalized nurturing techniques on autopilot to more effectively find new tenants, sellers, and leads.
---
There are different types of property management CRMs. Some property management-specific software tools are built for screening tenants, collecting payments, and managing maintenance requests. However, sales CRMs can be ideal for helping property managers generate and nurture leads and keep vacancy rates low. These CRMs must have lead management functionality, email marketing, team collaboration tools, task management, and a variety of integrations.
---
Bottom Line
The right CRM for property management must include basic features for gathering leads from multiple sources, organizing lead data, and automating lead follow-ups and communication. By choosing the right software and taking the time to create effective lead nurturing pipelines, you will be able to multiply your productivity, effectiveness, and profits.