6 Best Real Estate Lead Generation Websites in 2023
The best real estate lead generation websites enable agents to generate and attract qualified homebuyer and seller leads—essential for growing a successful real estate business. Many of these websites offer additional tools for lead management, lead nurturing, and advertising. We examined several platforms based on return on investment (ROI), lead quality, pricing, marketing features, and customer service to help you find the right real estate lead generation website for your business.
Based on our criteria, here are the six best lead-generating websites for realtors:
Best Real Estate Lead Generation Websites at a Glance
Websites

Starting Price

Free Trial

IDX Website

Branded Advertising

Customer Support

$99 per month

30 days

✓

✓

Phone, email, and live chat

$450 per month

✕

✓

✓

Phone, email, and live chat

$69 per month

✕

✓

✓

Phone and email

$49.95 per month

✕

✓

✓

Phone and email

Pricing varies by ZIP code; estimated cost per lead starts at $20

Free account

✓

✓

Phone and email

Pricing varies by ZIP code; estimated cost for lead generation starts at $200

Free account

✓

✓

Phone, email, and live chat
Disclaimer: Although we researched the pricing of all the lead generation websites for real estate agents above, we did not include the pricing within our evaluation criteria. The cost of each solution varies greatly depending on the services and features it provides. 
Which real estate lead generation website is best for you?
Placester: Best Overall for Outsourcing or Building Your Own Lead Generation Website
What We Like
Intuitive interface
Easy-to-customize and code-free websites
Unlimited updates on expert-built websites
What's Missing
Limited design options
Add-ons like testimonial imports, sold listing modules, and chatbot installation can get pricey
No free subscription plan
Monthly Pricing
Do It Yourself (DIY) Website: $99, includes website builder, CRM (customer relationship manager), and IDX integration
Do It For Me (DIFM) Website: $149 plus $500 one-off custom setup fee, includes everything in the DIY Website, plus designated website expert, a website created by a designer, and unlimited updates and maintenance are done for you
DIFM Content Pro: $399 plus $500 one-off custom setup fee, includes everything in the DIFM Website plus unique content, social media posts and reports, and Google Analytics setup
For Brokers: Placester Brokerage Management Software (Agent Manager) plus $25 per month for each active agent website under the brokerage
Placester is our top real estate lead generation website because of its easy-to-use, all-in-one real estate website creator and marketing platform, which offers a customer relationship management (CRM) platform, marketing tools, and lead magnets. It provides built-in search engine optimization (SEO) tools, like multiple index pages (blogs, testimonials, and area pages), that come with your Placester website. You can also add meta images, meta titles, and meta descriptions to your pages to improve your site ranking and attract leads organically.
Unlike general website designers, Placester is explicitly for real estate agents and brokers. All of its websites include IDX capabilities, which enable buyers to search for multiple listing service (MLS) properties in their area. If you're not code-savvy, Placester is the most efficient way to create a code-free professional real estate website without getting caught up in technical issues. Your website will also have ready-to-go lead magnets to appeal to buyers, sellers, or both.
If you don't have much time to build your website, Placester provides a "Do It For Me" (DIFM) option. If you choose DIFM, you will have a designated professional to build a custom website. After answering a series of questions, your designer will work on a website based on your branding and preference to reach your target audience. You can review a draft of the website within 48 hours and make additional adjustments. After your approval, your website will go live, and you can start capturing leads.
Additional Placester Features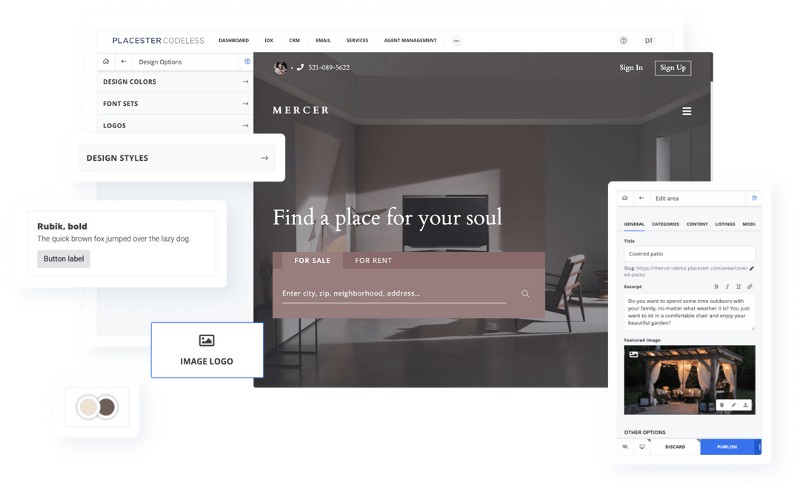 ---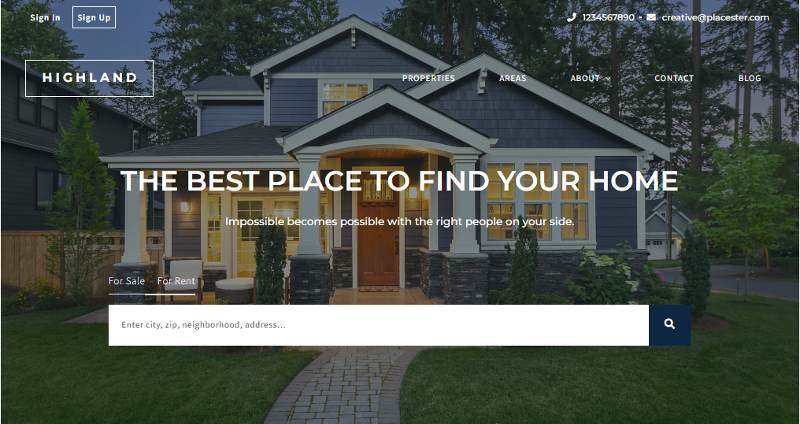 ---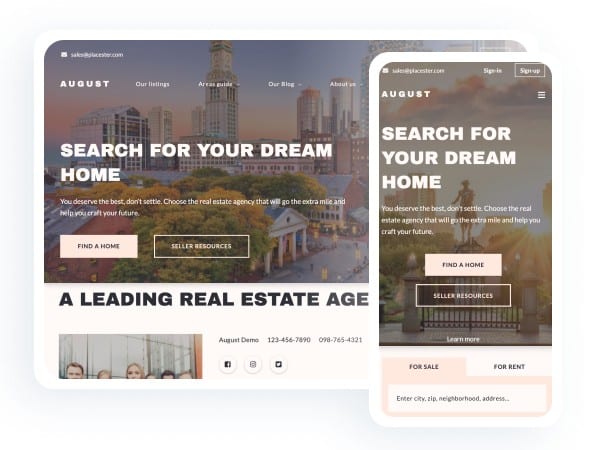 ---
Marketing integrations: Sync all of your marketing efforts with other software like Cloze, TotalBrokerage integrations, Userway, Contactually, KW Command, Intercom, Constant Contact, Privy, Gmail, Mailchimp, Pipedrive, and Trello.
Advanced IDX listing tools: Plug in multiple IDX feeds to display a customized search experience and better understand your site visitors' needs based on saved searches, saved listings, and branded property alerts.
Testimonial import: You can add customer reviews and testimonials from any source to your website and control how they are displayed.
SEO tools: Placester has built-in SEO tools to aid in maximizing your content and website for search engines.
Agent Manager: Placester offers a set of tools for real estate brokers to manage their back office, agents' websites, roster, profile, and onboarding in one platform.
Placester Reviews
Placester has received a customer rating of 3.6 out of 5. Several Placester reviews rave about how simple it is to build a beautiful website with Placester and its customer service that's ready to assist users with their concerns. Many say the support team went above and beyond to solve problems and make sure they had the tools to get their website up and running.
However, some noted technical difficulties with the customer relationship manager (CRM) or when running Google ads. Furthermore, Placester doesn't offer paid leads. If you're searching for a paid source for new leads, try Zillow Premier Agent (ZPA) and Realtor.com. For a more comprehensive CRM with less technical risk, Propertybase could be a better fit.
Chime: Best for Customizable IDX Website With Comprehensive Lead Generation Tools
What We Like
Multiple lead capture tools
Tracking features and lead insights
Comprehensive communication toolkit
Automated marketing options, including email and SMS messaging
What's Missing
Pricing more expensive than competitors
May take time to familiarize interface due to its many features
No free plan
Monthly Pricing
The Chime website doesn't display the exact pricing of each subscription; however, agents can use Chime starting at $450 per month.
Core Plan: Includes IDX website, CRM tools, marketing capabilities, and team management features
Premier Plan: Includes everything in the Core Plan plus external listing tool; best for fast-growing teams
Enterprise Plan: Includes everything in the Premier Plan; best for large teams and brokerages
Lead Generation: Based on the number and type of leads
Branding Ads: Based on target ZIP codes or the number of impressions
If you have a sizable budget, Chime is an excellent platform for creating a customizable IDX real estate website. Moreover, Chime is an all-in-one solution offering CRM, lead generation, and marketing tools you need to find leads and convert them to clients. With Chime, it's easy to manage client communication via texts, emails, and calls. You can even set up auto-triggered emails, leave voice messages, and document conversation notes—making Chime one of the best real estate websites for lead generation.
Chime's comprehensive library of templates empowers you to customize a website that reflects your branding message and showcases your real estate expertise. Chime also supports hundreds of MLS feeds in the U.S. and Canada, so your buyers can have the most up-to-date information. Additionally, you're able to add your own pocket listings to maximize potential sales.
With Chime's automated nurturing feature, your website can be designed with auto-property alerts, so you don't have to manually set up notifications for each property. Furthermore, Chime has lead-to-list matching to match listings to the right buyers. It also provides instant market analysis to give your site visitors an up-to-date view of market trends.
Additional Chime Features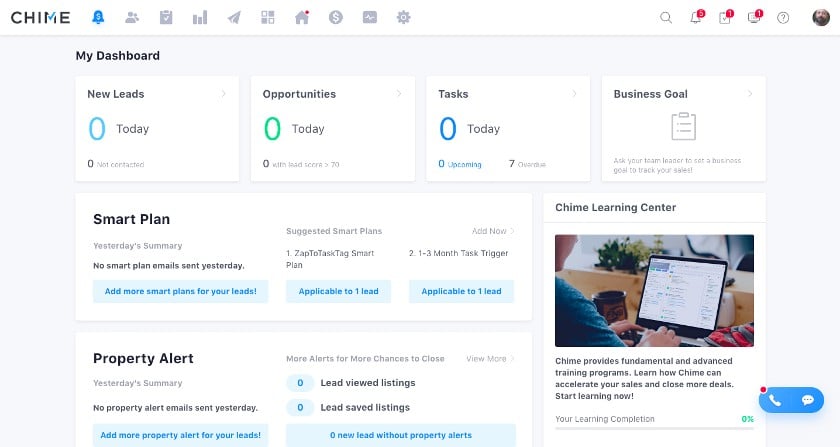 ---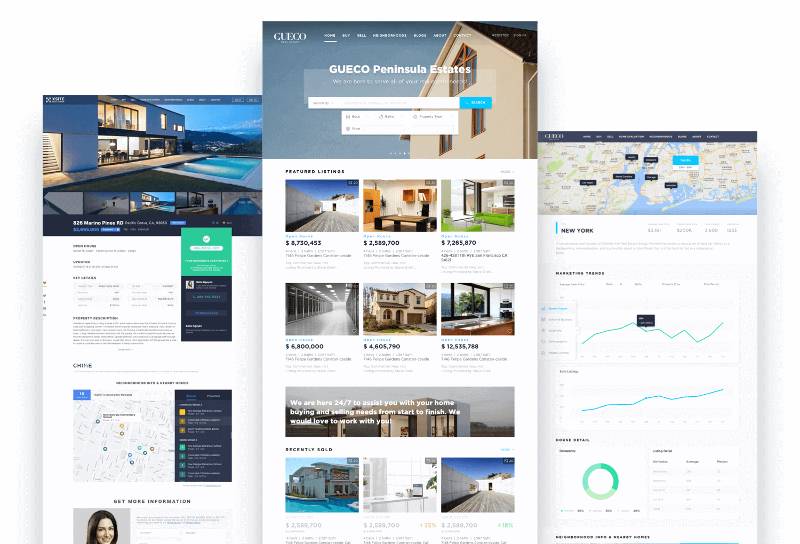 ---
Buyer and seller lead generation: With Chime's AI technology, you can automate your lead capture and advertising strategy, from lead registration on your Chime website to sending "Welcome" emails to leads.
Power dialer: Call your leads, customers, and team members in just a few clicks with Chime's easy-to-use Smart Dialer.
AI Inside Sales Agents (ISA) Assistant: Auto-respond to lead inquiries with scripted responses based on different lead sources and get in touch with new leads via texts and online chats 24/7.
Teamwork tools: Empower team members with a professional platform and ensure that no lead is missed through auto-lead distribution and automatic lead routing.
Enterprise platform for brokers: Provide a fully integrated platform for agents to boost their productivity while lowering operational costs. This combines lead generation, IDX websites, marketing automation, and offer management in one platform for brokerage firms.
Chime Reviews
With a customer rating of 4.5 out of 5, Chime received excellent reviews for its broad range of services and functions, as well as quick and responsive customer service. One customer likes Chime's communication center with "intuitive commentary that gets a conversation going with a new client." Another agent found Chime's comparative market analysis (CMA) to be user-friendly and efficient, which helped her create templates and smart plans to stay in contact with leads.
Though customers said they experienced very few limitations on Chime's platform, one client expressed difficulty with the limited design options when creating emails. Chime also has numerous features, which made navigation confusing to some users at first. Chime also has the most expensive pricing on this list at $450 per month. If you're looking for a functional IDX website at a lower cost, we recommend Placester, iNCOM, or Propertybase.
Propertybase: Best for Its Full-service Lead Generation System
What We Like
Managed Facebook and Google ads
Comprehensive CRM
Extensive follow-up and marketing tools
What's Missing
Additional costs for advanced transaction management and lead generation features
No free plan
Exact pricing not disclosed on the website
Monthly Pricing
Propertybase's pricing is not displayed on its website, but third-party sources say it could start at around $69 per month. Here are other products offered by Propertybase:
Propertybase GO (Website and CRM): Starts at $399 for five user licenses, includes access to one MLS and one Cloud CMA account
Propertybase GO (Website, CRM, Leads, and Text Concierge): Starts at $1,399 for five users, includes all packages from the first package, leads, and access to Text Concierge
You can also purchase add-on services from Propertybase. Contact the sales team for custom pricing.
Premier onboarding services
Digital marketing services
Website migration
Search engine optimization (SEO)
Content creation
Pay-per-click (PPC) campaign support
If you need a full-service platform that provides and manages online real estate lead generation through custom landing pages, branded ads, and automated follow-up, Propertybase is your best option. In addition to an IDX website, Propertybase's team can create, optimize, and manage your ad campaigns for you on Facebook, Google ads, and across the web. This helps you gather leads without spending months tinkering with ad settings, so you can focus more on nurturing client relationships.
Propertybase also offers other products, including a comprehensive CRM, custom websites, reporting, and even a back-office administrative system to track transactions. With such an extensive array of business-building features, Propertybase is ideal for agents, brokers, and teams who aim to simplify their lead management and conversion processes and increase their productivity.
Lastly, Propertybase can provide the best value for your money if you want to run ads edited and optimized by professionals. However, it may not be the best choice for budget-conscious agents who don't need so many features.
Additional Propertybase Features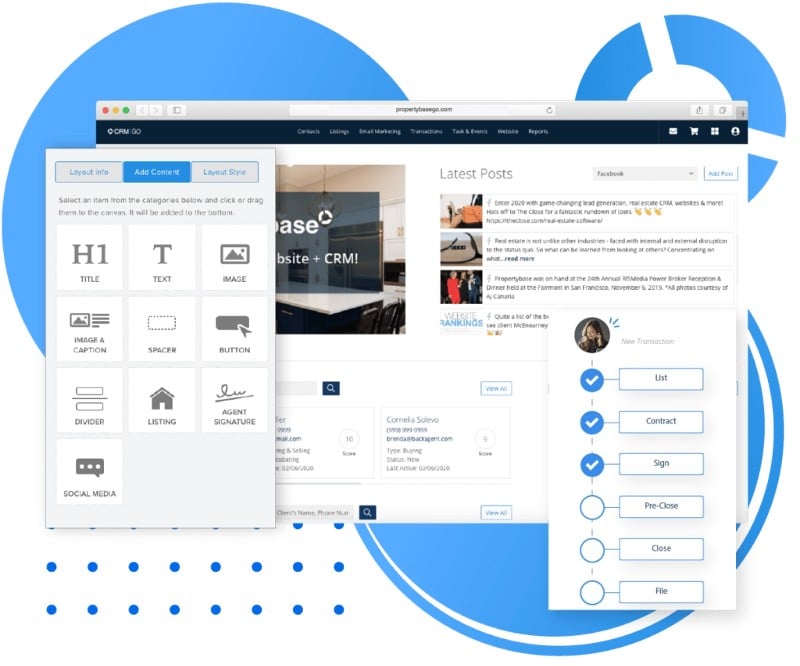 ---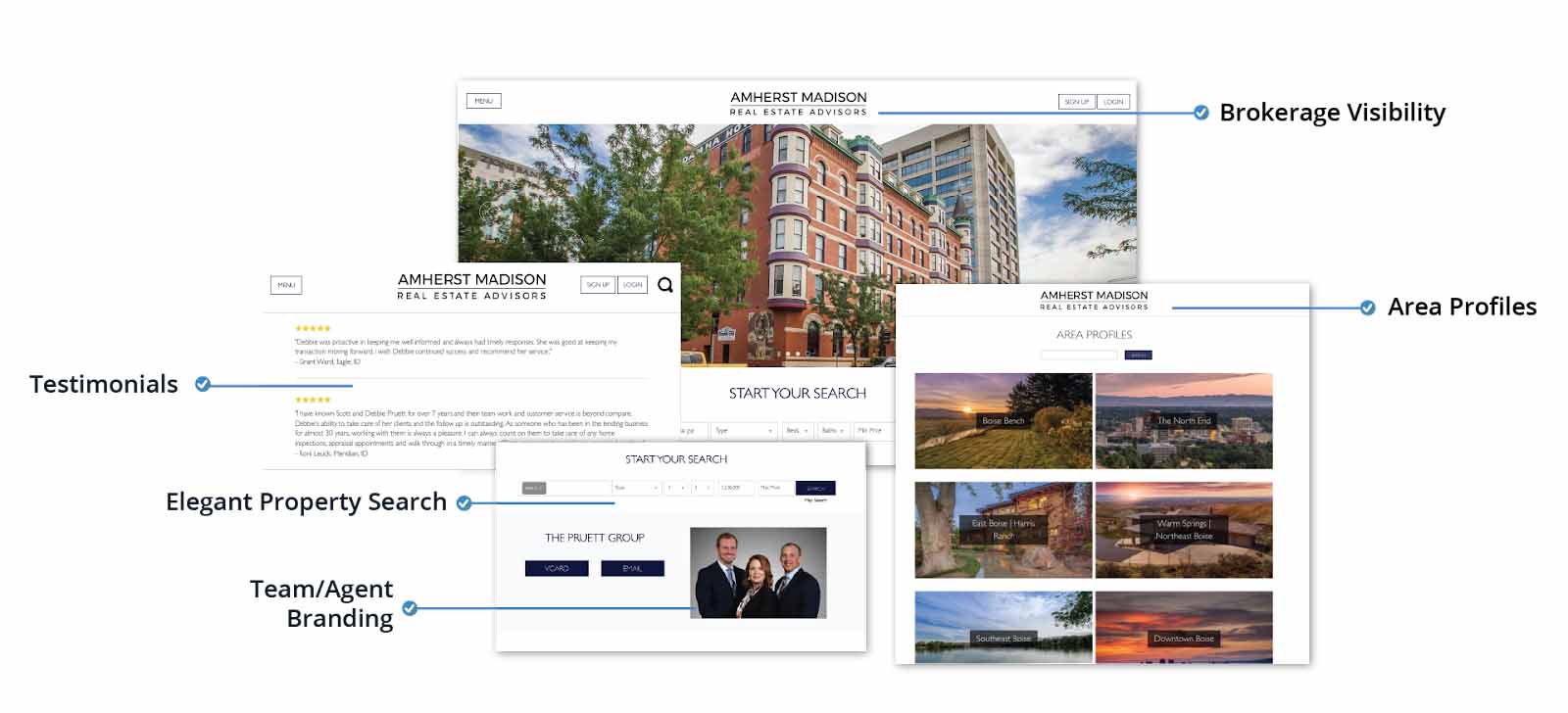 ---
Client relationship manager: Agents, teams, and brokers can centralize all their data and tools in one platform. The CRM integrates with major MLS, provides valuable insights and analytics, and makes automatic follow-ups to grow and nurture leads.
Email marketing studio: You can easily craft responsive and on-brand email designs using a drag-and-drop builder.
Marketing automation: Send automated email and SMS outreach based on triggered behaviors.
Social media listing boost: Launch a fully automated social media campaign to promote your listings to target niches.
Branded ads and landing pages: Propertybase's professional team can set up your landing pages, ads, and campaigns to save you time and energy in generating leads and marketing your real estate business.
Propertybase Reviews
With a customer rating of 4.7 out of 5, Propertybase is loved by its users for its all-in-one real estate solution. Customers also appreciated the assistance they got during the initial account setup.
However, some reviews state that Propertybase customer support can be slow to respond. Moreover, other users expressed that adding customizations to make the software work for their business was complicated. If you prefer to work with a more user-friendly real estate lead generation website, check out Placester.
iNCOM: Most Affordable Lead Generation & SEO Tools
What We Like
Multiple lead generation services
Customizable websites
Affordable fee for ad management
What's Missing
iNCOM website is required for ad management
Limited customer support
No free plan
Pricing
Monthly billing: $55 per month (plus $250 setup fee)
Annual billing: $49.95 per month (plus $250 setup fee)
iNCOM offers a plethora of real estate lead generation services—from custom landing pages and IDX websites for agents and brokerages to Google ads, Facebook ads, and built-in SEO tools. It even provides a unique service called ReCall Marketing that remarkets your website to previous site visitors through online display ads (similar to Google remarketing).
With iNCOM's built-in SEO tools and standalone SEO service, you can optimize your website. iNCOM's structured SEO plan includes full website assessment, keyword research, monthly keyword re-evaluation and reporting, and link building to make your website search-engine friendly. iNCOM also offers content building with keyword-focused copywriting, as well as search engine ranking analysis and submission so your website ranks higher on searches and attracts niche markets as you grow a successful real estate business.
You can easily make your website a valuable source of real estate insights. INCOM websites are equipped with numerous pages of content, such as buyer and seller guides, checklists, and tips, which you can easily edit to reflect your branding. Your website can also display the latest real estate news updated automatically from top news sources across North America.
Additional iNCOM Features

---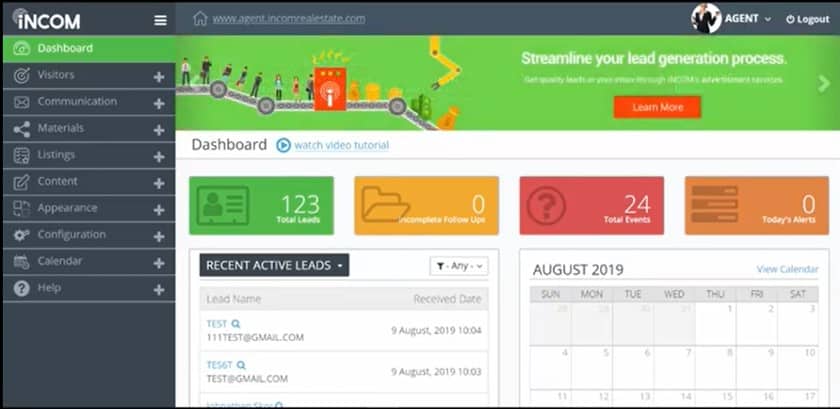 ---
Visitor registration: The iNCOM visitor registration form prompts website visitors to input their contact information to view listings on your website or landing page. Once information is collected, the information is automatically accessible from your CRM.
Website and landing page customizations: You can change theme colors, menu lists, and other features to enhance the visual appearance of your website. Website content is also customizable with an unlimited number of web pages.
Listing syndication: iNCOM provides free IDX listing syndication to advertise your listings on iNCOM's partner real estate websites and increase visitor traffic to your website and landing pages.
Virtual tours: All of your exclusive listings are enhanced by an auto-generated virtual tour.
Premade real estate content: iNCOM's website comes with premade real estate content, such as daily real estate news, mortgage calculators, buyer and seller guides, checklists, tips, and sold data, to help clients understand market fluctuations and price comparisons.
iNCOM Reviews
A customer rating of 4.8 out of 5 shows how customers trust iNCOM with their real estate websites and marketing campaigns. Many iNCOM users credit the platform for bringing in new clients. One reviewer noted they received a 300% return on investment from iNCOM in one year.
However, several reviewers complained about technical glitches. Some also experienced "unpleasant" customer service when they needed assistance. If you're looking for a company with excellent customer reviews, check out Placester and Chime.
Zillow Premier Agent: Most Viewed Lead Generation Platform
What We Like
Free agent profile
Includes extensive training
Exclusive placement on listings with Zillow advertising
Ability to reach millions of buyers on multiple platforms
What's Missing
Lead routing is not as robust as others on this list and not available to agents not subscribed to Premium advertising
Leads are not qualified
Lead generation costs can become expensive
Pricing
Creating your ZPA profile and website is free. ZPA's pricing for lead generation may vary depending on your marketing campaign (e.g., ZIP codes and competition). According to third-party sources, you may spend around $20 to $60 per lead on average, although the cost can go well above $100 per lead.
With over 291 million site visits per month on Zillow, having a Zillow Premier Agent (ZPA) account will give your brand high exposure to the best website for real estate leads. ZPA is a real estate lead generation tool offered by Zillow. The service puts your contact information on listings in your area, making you more visible and accessible to buyers and sellers. Furthermore, ZPA provides agents with free real estate lead generation websites.
Since your ZPA profile is featured directly on listings, potential leads can connect with you via phone to begin a qualifying conversation and discuss their home search needs right away. As mentioned, agents will also have their own website with local, map-based IDX property searches of MLS-listed homes. The website includes a personalized domain name, a variety of templates, themes, and colors, and the ability to add content, such as blog posts, videos, real estate data, mortgage widgets, and photo slideshows—all at no cost.
Your ZPA account will also include free CRM software. What's more, Zillow integrates with other lead sources, such as HubSpot and Real Geeks, to funnel all real estate leads into one platform. ZPA is the best choice for real estate agents and brokers who want a piece of the pie where millions of homebuyers and sellers are extremely active. However, if you'd like to use a more comprehensive CRM with more follow-up tools, consider Chime.
Additional Zillow Premier Agent Features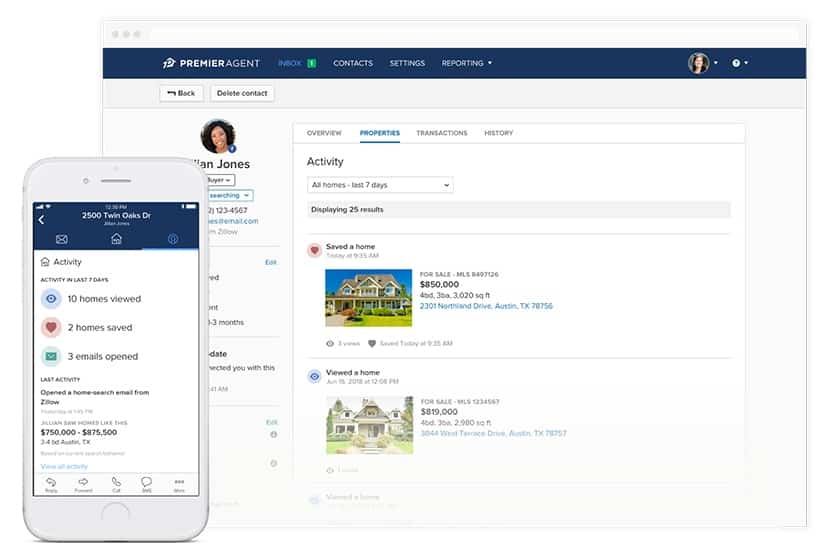 ---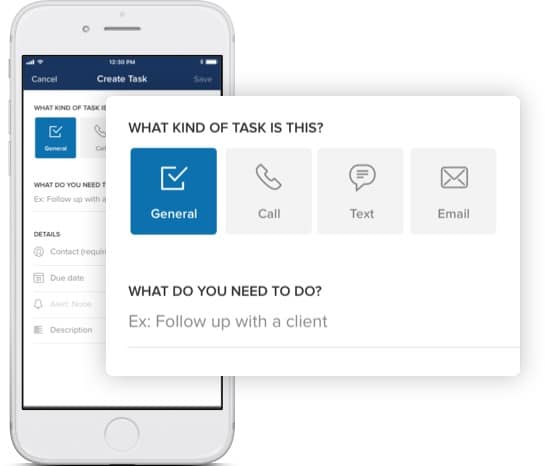 ---
Listing syndication: Most listings on Zillow are syndicated to various real estate websites, including Trulia, HotPads, and StreetEasy (for New York City listings).
ZPA CRM: Manage your client communication and lead generation processes using ZPA's free CRM software. It includes a communication center where you can follow up on leads via call, text, and email.
Zillow Realtor Advertising: You can claim your listings on Zillow for free to build brand awareness and generate leads. If you want to have exclusive placement on the Zillow listings you claim, invest in Zillow Realtor Advertising.
Third-party lead integrations: ZPA CRM can organize your leads from multiple third-party lead platforms like LionDesk, Follow Up Boss, and Market Leader.
Zillow 3D Homes: Add virtual tours to your listings straight from your mobile device and share videos on your website, MLS, or social media for extra exposure.
Zillow Premier Agent Reviews
At the time of writing, Zillow Premier Agent has a customer rating of 4.7 out of 5. Many Premier Agents credit Zillow for receiving and converting many leads each month. One agent particularly liked the updates they receive on the homes their clients are interested in, which helps them understand what buyers are looking for.
However, others note that Zillow doesn't qualify leads before sending them to you. There is also notable frustration with customer service and unavailable ZIP codes. Furthermore, compared to more comprehensive platforms like Chime and Placester, ZPA has limited CRM, website, and marketing capabilities.
Realtor.com: Recommended for Lead Generation & Advertising Combo
What We Like
Multiple lead generation products and options
One of the most-used real estate industry apps
Instant push notifications for each new lead
What's Missing
Many ZIP codes are unavailable
Pricing is not indicated on the website and can become expensive
No IDX website available for agents
Pricing
Realtor.com's pricing varies widely based on location. Though exact pricing is not listed on the website, third-party sources say that Realtor.com-generated leads can cost from $200 to $1,000.
Realtor.com is a real estate marketplace website and mobile app with around 118 million monthly users, making it an effective platform to be seen by active homebuyers and sellers as well as other real estate pros. To take advantage of that traffic, Realtor.com offers multiple lead generation products. These include ReadyConnect Concierge and Connections Plus for lead generation, and Local Expert and Market Reach for multiplatform ad campaigns.
With all of the products offered by Realtor.com, you can choose whether to focus on buyer leads directly from the platform with Connections Plus or run ads on the Realtor.com app, Facebook, and Instagram. This maximizes your brand exposure and lead generation on such a massive platform, whether you're targeting homebuyers or working to sell a listing for the highest price.
With a free Realtor.com profile, agents are able to showcase their listings, designations, and expertise. You can also add ratings and reviews from past clients on your profile to boost your credibility. Additionally, Realtor.com allows you to configure your blog and social media accounts on your profile so you can share expert content with prospects.
Additional Realtor.com Features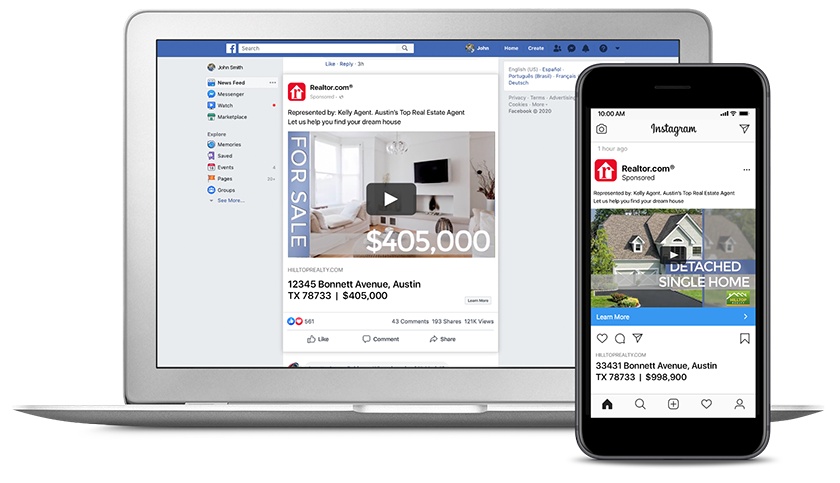 ---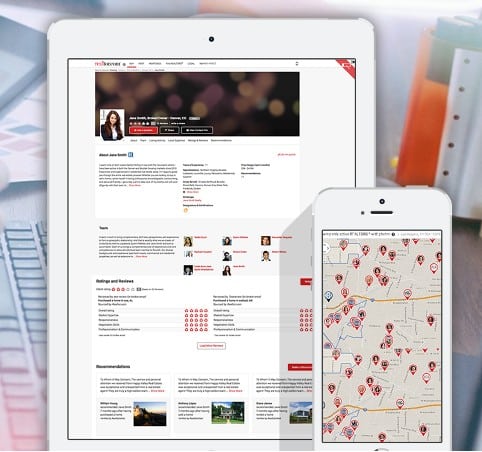 ---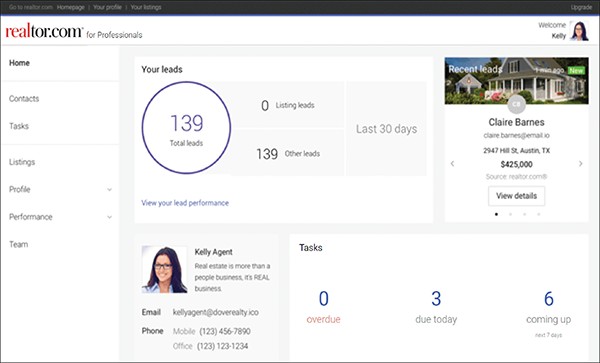 ---
Essentials Toolkit: A set of free tools to manage your Realtor.com profile, leads, and listings. This includes a professional dashboard, contact management, home seller reports, listing management, task management and notifications, and performance reports.
ReadConnect Concierge: Increase your conversion rate by building a referral pipeline and connecting to prescreened buyers and sellers over the phone, with no upfront costs.
Connections Plus: Realtor.com offers leads who are actively searching for properties, as well as software to capture, communicate, and connect with leads.
Market Reach: Create automated and professionally designed ads to promote your real estate listing and other services on Facebook and Instagram.
Virtual Learning Academy: Attend webinars and watch on-demand educational sessions to be more effective at using Realtor.com tools.
Realtor.com Reviews
Realtor.com has received a review rating of 3.7 from different users—agents, sellers, and buyers alike—which made it difficult to sift through reviews from agents. However, the majority of professionals who left reviews are happy with the service and functionality. Some agents also said that leads they found on Realtor.com were more likely to convert.
On the other hand, several users are not very enthusiastic about the costs that could add up quickly. Other agents further complained about the customer support that was unable to help them. If you're looking for a more comprehensive website and lead management platform, with better customer support, check out Chime and Placester.
How We Evaluated the Best Real Estate Lead Generation Websites
The best real estate lead generation websites offer varying methods for generating and converting leads. These include generating leads through a website or profile page, nurturing leads using marketing automation and outsourcing, running ads on Facebook and Google, or advertising on and buying leads from the most popular real estate listing platforms. We evaluated the best lead generation websites for realtors to determine which platform can give the best value for your money.
Placester is our top real estate lead generation website because of its affordable pricing and all-in-one lead generation and nurturing solution. It's also a more sustainable strategy than alternatives that require continual reinvestment in ad and list buying. Moreover, Placester's code-free website creator is very easy to use, enabling you to quickly build your own website with lead magnets and forms for ongoing lead generation.
Here is a breakdown of the criteria we used to evaluate the best lead generation sites for realtors:
30%
Marketing & Advertising Features
35% of Overall Score
General features include components essential in a lead generation website, such as a client relationship management (CRM) tool, reporting and analytics, IDX website, and lead sorting to guarantee high-quality leads.
30% of Overall Score
Lead generation websites should provide advertising options that allow agents to funnel qualified, targeted traffic to their profile or website. We chose platforms that provide options to run ads and target your marketing.
10% of Overall Score
Users should be able to understand the functionality of the lead generation website (with some or little technical support) and be able to manage and use it on mobile as well as desktop devices. In addition, we included customer reviews because it's important to see how users fare on these platforms.
10% of Overall Score
Expertise in the field and firsthand experience with the providers further allow us to evaluate the standout features, value for the money, and ease of use for each option.
15% of Overall Score
Agents can run into challenges when connecting with leads and making transactions. That's why each platform on our list needs to provide at least one customer service channel (phone, email, or live chat).
*Percentages of overall score