Illinois's single licensure requires 75 hours of prelicensing education in order to receive your broker's license. In addition, 12 hours of continuing education is required every two years. Although there are many education options available in the Land of Lincoln to meet these requirements, we narrowed down the top six schools that won't "anois" you based on course features, cost, support, and customer reviews.

| Best Real Estate Schools | Best For |
| --- | --- |
| | Best overall value for real estate agents looking for a quality online education |
| | Best for new agents who want additional support at the beginning of their career |
| | Best for customizable continuing education for real estate agents seeking license renewal |
| | Agents with a busy lifestyle looking for the fastest way to meet education requirements |
| | Agents wanting to mix and match courses to fit multiple learning styles |
| | Most affordable for budget-conscious agents |
How We Evaluated the Top Real Estate Schools for Illinois
Convenience and quality need to go hand-in-hand with a side of ranch for online education to be successful. Understanding that everyone needs to learn in different ways, we sought out the top online Illinois real estate schools that will fit for individuals seeking personalized education and time efficiency. The schools listed here stand out from the rest because of their diverse course formatting and detailed approach to the real estate specificity of Illinois.
With a 4.59 out of 5-point rating, The CE Shop is the best overall accredited online real estate school in Illinois. It earned this rating by being the most affordable option that offers all education types: pre- and post-licensing, continuing education (CE), and exam prep with interactive content.
Additional criteria we used to determine Illinois' best online schools are as follows:
40% of Overall Score
Pricing is based on the cost for pre- and post-licensing, continuing education courses, and exam prep.
Education Available (Included With Pricing)
The level of courses provided by each site according to licensing stage: prelicensing for new agents and continued education (CE) for licensed agents looking for license renewal options.
30% of Overall Score
Consist of various formatting and learning styles for each course to meet the specific needs of the agent as well as ease of course accessibility.
15% of Overall Score
Convenience and attainability of customer service support for technical support and instructor assistance.
15% of Overall Score
Based on customer feedback for each program, with particular attention to value for money, to certify the course meets user satisfaction.
*Percentages of overall score

Best Overall Online Real Estate School in Illinois

PROS
Best pass ratings (91%)
Downloadable content
Interactive learning

CONS
Mid-range pricing
No direct instructor access
RATING CRITERIA

Pricing
5.00
OUT OF
5
Course Features
3.75
OUT OF
5
Help & Support
4.75
OUT OF
5
Customer Reviews
4.99
OUT OF
5
Whether you're looking to become a real estate agent or are already licensed, The CE Shop has all the resources you need. It therefore has been ranked as our best overall online real estate school for Illinois. The CE Shop's custom learning platform LEAP 2.0 provides results-driven education based on knowledge retention, which provides high-quality engagement, tailored feedback, and interaction within each of the courses. Since it is self-paced and available on all devices, agents can decide when and where they want their learning to take place.
Pricing
Pricing
Prelicensing: $385
Post-licensing: $269
Continued education: $99
Exam prep: $69
What's Missing
The CE Shop does not provide director instructor access, but there is the option for additional assistance from the curriculum team. The pricing is not the most affordable on our list but competes with the others as one of the lowest available.
Features
Support offered seven days a week via phone, email, and chat
Courses expire after 12 months
30-day refund policy
Accessible on phone, tablet, or computer
Course navigation
Practice exercises: matching, true/false, images
Accredited by ARELLO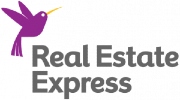 Best Prelicensing Resources

PROS
Course format variety
Customer support
Career hub

CONS
Six-month access after purchase
Mid-level pricing
RATING CRITERIA

Pricing
4.04
OUT OF
5
Course Features
4.88
OUT OF
5
Help & Support
4.75
OUT OF
5
Customer Reviews
4.07
OUT OF
5
Real Estate Express is our pick for best prelicensing courses because of its course features, career hub, and exam prep course. The courses allow for self-paced study or live stream capabilities, and direct instructor assistance for each course. Real Estate Express acknowledges the hurdles you may encounter and assists in educating agents on how to tackle them. Their career hub provides insightful information about starting your real estate career, salary, marketing, and so on. They also offer Exam Prep Master, which can be purchased separately or bundled for additional preparation.
Pro tip: Start your real estate education today with a special offer for our readers from Real Estate Express. Use promo code FSB25 for 25% off your purchase.
Pricing
Pricing
Prelicensing: $499
Post-licensing: $150
Continued education: $69.97
Exam prep: $99
What's Missing
For those agents who need a little extra study time, the six-month accessibility to the courses on Real Estate Express may pose an issue. Even though the Exam Prep Master is a great added resource for prelicensing, it does come at an additional charge.
Features
Customer support via phone, email, live chat, and text
Available on all devices
Eligible for a full refund if you do not pass the exam
Classroom interactivity
4.3 out of 5-star customer review rating
Accredited by ARELLO and IDECC

Best for Customizable Continuing Education

PROS
Affordable prices
Self-paced courses
Available on any device

CONS
Refund within seven days of purchase
Does not offer prelicensing in Illinois
RATING CRITERIA

Pricing
4.46
OUT OF
5
Course Features
3.63
OUT OF
5
Help & Support
4.75
OUT OF
5
Customer Reviews
2.65
OUT OF
5
With renewal required every two years, qualified online real estate schools such as Mbition are essential to have in your back pocket. As customizable as the toppings on a deep-dish pizza, Mbition allows you to choose the courses that are most interesting to you while fulfilling your license requirements. Their courses offer interactive, engaging content with real-world examples, which is perfect for agents continuing their real estate career education. Courses are self-paced on any device, so they can be completed between showings or client phone calls.
Pricing
Pricing
Continued education: $49
Exam prep: $129
What's Missing
Mbition offers only seven days for its refund policy, which is short compared to its competitors. Also, the customization of courses is excellent, but there are no full packages available for purchase.
Features
Purchase individual courses
Support from industry experts
Courses continually updated
Available on all devices
Courses expire six months from purchase
Accredited by ARELLO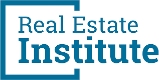 PROS
Two-week course option
Customer support
Instructor assistance

CONS
Courses are non-refundable
Pricing
RATING CRITERIA

Pricing
3.30
OUT OF
5
Course Features
4.88
OUT OF
5
Help & Support
4.75
OUT OF
5
Customer Reviews
4.33
OUT OF
5
The major draw of Real Estate Institute is the flexible scheduling options they offer so the education can fit your schedule. Their Fast-Track option allows completion within two weeks, Directed-Track within five to eight weeks, or you can study at your own pace. The courses include live webinars with qualified instructors as well as self-paced material and quizzes to check for understanding. They also have professional development and high-quality continuing education courses to build your Illinois real estate knowledge.
Pricing
Pricing
Prelicensing: $629
Post-licensing: $299
Continued education: $85
Exam prep: $59 (included with tuition for prelicensing or purchased separately)
What's Missing
The downfall of the Real Estate Institute is the pricing, which is the highest of the schools we examined. Before purchasing, make sure this is the course you intend to take because they have a no refund policy.
Features
One-on-one instructor assistance available
4.5 out of 5-star customer rating
Available on all devices
Six months to complete after purchase
Accredited by IDFPR (Illinois Department of Financial and Professional Regulation)
Most Course Format Variety

PROS
Livestream, OnDemand video, self-pace, home study formats
Direct instructor access
Additional career resources

CONS
No weekend customer support
Expensive
RATING CRITERIA

Pricing
3.33
OUT OF
5
Course Features
4.88
OUT OF
5
Help & Support
4.75
OUT OF
5
Customer Reviews
4.61
OUT OF
5
Not everyone learns the same way, and Kaplan recognizes that. Depending on your educational preferences, you can choose whether to go at your own pace using OnDemand video, online instruction, or home study option. If you'd like to study from the comfort of your Illinois home, but with an in-person feel, a live online instruction model could be a great fit. Their materials are created and taught by seasoned real estate professionals, so agents can rest assured that the content is relevant and high quality.
Pricing
Pricing
Prelicensing: $489
Post-licensing: $299
Continued education: $69
Exam prep: $99
What's Missing
Unfortunately, Kaplan's pricing is more expensive than many of its competitors. Although they provide technical support 24/7, customer support is limited to weekdays.
Features
30-day refund policy
Industry expert instruction
Six months of accessibility after purchase
Course demos
Mobile flashcard app
Agent resource center includes articles, advice, and career information
Accredited by ADRELLO and IDECC
Real Estate School of Illinois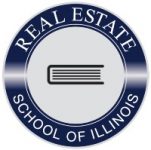 Most Affordable Online School

PROS
Guaranteed employment
Available on all devices
Low-price guarantee

CONS
No course format variety
Refund within seven days of purchase
No CE courses
RATING CRITERIA

Pricing
4.06
OUT OF
5
Course Features
2.94
OUT OF
5
Help & Support
4.50
OUT OF
5
Customer Reviews
3.73
OUT OF
5
Although the "s" in Illinois is silent, the "s" in savings is not. The Real Estate School of Illinois offers a low-price guarantee that if you find a school with lower prices than theirs, they will beat it by 10%. This ensures you will receive a high-quality online experience at the best price possible. Also, they focus exclusively on Illinois real estate, so their material is written entirely on the state's principles and regulations. Their online classes can be accessed on any device and are formatted for self-paced study via webinar or online formatting.
Pricing
Pricing
Prelicensing: $399 ($199 with coupon code SAVE200)
What's Missing
Although they are best priced and are a great choice for self-paced online education, the Real Estate School of Illinois does not offer a variety of course formatting nor continuing education classes.
Features
Guaranteed employment if you cannot find obtain employment yourself
Unlimited online access
92% passing rate
Instructor assistance
Printable materials
Audio presentations
Practice exercises and quizzes
Customer support
Accredited by IDFPR (Illinois Department of Financial and Professional Regulation)