Real estate web design companies provide internet data exchange (IDX)-enabled websites to help agents generate leads. We compared popular website platforms and narrowed them down to the six best sites for real estate agent web design. To evaluate options, we considered pricing, IDX features, blogging capabilities, third-party integrations and more to help choose the best platform for your team.
Top 6 Real Estate Web Design Companies 2019
| Real Estate Web Design Companies | Best For |
| --- | --- |
| Real Geeks | (Best Overall) All-in-one IDX website and lead generation tools for real estate teams |
| | Agents who want the flexibility to incorporate geomapping into their real estate websites |
| Placester | NAR members who want a free IDX website plus à la carte options |
| IDXCentral | Basic IDX features without bells and whistles like a CRM or SMS-based follow up |
| Chime | IDX website templates that are easy to use for agents who aren't tech-savvy |
| Easy Agent Pro | Agents who use a blog to attract leads and grow their business |
How We Evaluated Real Estate Web Design Companies
To evaluate the best web design companies, we considered the following criteria:
Pricing: We compared the monthly cost of each platform to determine which platforms offer the best value
IDX integration: The ability to integrate a website with IDX-enabled lead generation tools
IDX mapping: IDX mapping enables homebuyers to search for properties by searching a map rather than a list of properties
Customer relationship management (CRM) and lead nurturing: Whether the platform includes a CRM in addition to offering IDX functionality
Blogging: Some IDX real estate web design companies offer blogging capabilities or prepared blog content to help attract leads to your website through search engine optimization (SEO)
Social media: Integration between your real estate IDX website and social media sites can help you generate leads through Facebook ads and more
Customer support: Even a comprehensive real estate web design platform isn't helpful if it isn't user-friendly, so we considered customer support and user resources as part of our evaluation
Based on these factors, we identified Real Geeks as the overall best real estate web design company for small businesses. In addition to offering user-friendly IDX website options, Real Geeks provides agents comprehensive lead generation, management and nurturing tools like a CRM and automated email campaigns. Try Real Geeks if you have a small team of agents and want an IDX website that's supported by a robust CRM and lead nurturing tools.
Best Overall Real Estate Web Design Company: Real Geeks

Real Geeks is real estate lead generation software with editable IDX website templates, a CRM, and other robust features like customizable IDX landing pages. Pricing starts at $199 per month, placing it in the mid-range of the products we compared. Choose Real Geeks for an end-to-end lead generation and management solution that's best for real estate teams.
Real Geeks Pricing
Real Geeks pricing depends on your agency size and includes web design features like IDX websites, landing pages and a CRM. One to two agents cost $199 per month, plus $25 per additional agent and $500 for onboarding. Real Geeks is more expensive than other platforms we compared but a great value because of its robust functionality.
Real Geeks Features
Real Geeks provides agents a comprehensive IDX website platform that also includes a robust CRM and lead nurturing tools to build relationships and convert leads into sales. In addition to providing customizable IDX websites, landing pages and lead capture forms, Real Geeks features drip marketing email campaigns and a variety of third-party integrations through Zapier.
IDX Website
Real Geeks provides users with a variety of customizable IDX website templates. Like some other lead generation platforms, the platform provider owns your IDX web page, but it's an excellent and affordable way to generate leads without the trouble of hosting and managing your own independent IDX website. Real Geeks IDX websites are easy to use, attractive and feature A/B testing, a built-in blog and more tools to help maximize lead generation.
Lead Nurturing Tools
Real Geeks excels at lead nurturing because, unlike IDX Central and Diverse Solutions, the platform has its own robust CRM in addition to being real estate lead generation software. This means agents can organize their leads, send automated drip marketing campaigns and utilize short message service (SMS) auto-responders to follow up with leads consistently.
Third-party Integrations
Real Geeks seamlessly captures leads from Zillow, Trulia and Realtor.com. The platform also integrates with Zapier, a robust management tool that lets agents automate workflow. Plus, like Placester, the software is integrated with Mojo Dialer, making it possible for agents to dial leads directly without leaving the app, and InfusionSoft, so agents can integrate prospects with their sales and email marketing software.
Geomapping
Real Geeks offers users an interactive map search tool and a polygon map search tool. These tools let you set up a map search to view all the listings inside a shape or area, create searches for users that include listings within certain areas and create content and area pages that will pull listings from custom areas. However, these features are limited and are only available on three of the Real Geeks website templates, making it a less robust offering than other platforms like Diverse Solutions.
What Real Geeks Is Missing
Real Geeks provides agents customizable real estate IDX websites that include many of the features you need to increase lead generation and make the most out of new prospects. The platform doesn't lack many of the basic capabilities of a lead generation software, but some users have reported that the IDX website templates appear more outdated than other options like Chime.
What Users Think About Real Geeks
In general, Real Geeks users find that the software is well-priced and user-friendly. The available online support tools are reportedly helpful and agents consider the platform a great option for entry-level lead generation. Some user reviews mention that Real Geeks IDX websites are not very customizable and can appear outdated. For more information about what users think about Real Geeks, check out our Real Geeks review page.
Where to Find Real Geeks
For an all-around real estate lead generation, CRM and marketing software, check out Real Geeks. Not only is the platform an excellent value, but Real Geeks also offers a robust service and is a great option for agents and small teams that want beautiful, customizable IDX websites, SMS auto-responders and more.
Best Real Estate Web Design Company for Geomapping: Diverse Solutions

Diverse Solutions is a real estate website platform with IDX-enabled geo-located mapping tools for agents. The software excels at creating interactive and user-friendly IDX maps for any real estate website. Diverse Solutions doesn't include a robust CRM but is perfect for agents that already have a website and want to add IDX mapping functionality.
Diverse Solutions Pricing
Diverse Solutions offers two service packages: WordPress IDX and Mapping IDX. The WordPress IDX pricing depends on the features you need and costs $39.95 to $69.95 per month plus a $99.95 setup fee. In contrast, the IDX Mapping plan costs $109.95 per month or $999.95 per year plus a $199.95 setup fee.
Diverse Solutions Features
The Diverse Solutions WordPress IDX and Mapping IDX packages enable real estate agents to embed interactive IDX-enabled maps in their lead generation websites. Both packages include easy-to-install lead capture forms, but only the IDX mapping tool allows agents to add an IDX-enabled map to any website. In contrast, IDX WordPress tools may only be added to a WordPress site.
Diverse Solutions Tiered Features
| | Basic WordPress IDX | Pro WordPress IDX | Mapping IDX |
| --- | --- | --- | --- |
| Website Compatibility | WordPress | WordPress | All Websites |
| Installation | Installed on Your Server Through WordPress | Installed on Your Server Through WordPress | Copy & Pasted into Your Website |
| MLS Listings Search | ✔ | ✔ | ✔ |
| Interactive IDX Widget | ✔ | ✔ | ✔ |
| City & Neighborhood Pages | ✔ | ✔ | ✔ |
| IDX Search Capabilities | | ✔ | ✔ |
| Variety of Lead Capture Tools | | ✔ | ✔ |
| Optimized for Mobile Devices | | ✔ | ✔ |
| Display Sold Listings | | ✔ | ✔ |
| Integrated Contact Management | | ✔ | ✔ |
| Email Drip Campaigns & Templates | | | ✔ |
IDX Website
The Diverse Solutions WordPress IDX package includes a Basic and a Pro option. The features are easy to install using the dsIDXpress plug-in for WordPress and are SEO-optimized to attract more leads to your real estate website. The platform also features customization using Google sitemap integration, extensive listing details, social media integration and more. If you want to build your own WordPress site for the Diverse Solutions plug-in, check out our how-to guide.
Lead nurturing Tools
Diverse Solutions is an IDX-focused platform that excels at mapping real estate listings through your local multiple listing service (MLS). For this reason, the software does not offer any of the traditional lead nurturing tools that Real Geeks offers, like drip campaigns. However, you can use the platform to create custom searches to send to leads, so it's still a great way to build relationships with your prospects.
Geomapping
Similar to the WordPress IDX package, the Diverse Solutions IDX Mapping option includes informative property markers, school info, sold listings and more. However, unlike WordPress IDX, IDX maps created with this tool can be cut and pasted into any real estate website, making it a great option for agents who already have an established website.
Diverse Solutions also updates local listings in real time and enables users to search for properties based on features like foreclosures and short sales. Plus, your clients will be able to search custom polygons or search within a specific radius. Unlike WordPress IDX, Mapping IDX includes some integrated CRM tools and email marketing tools, but these features are not nearly as robust as other providers like Real Geeks.
What Diverse Solutions Is Missing
Diverse Solution is a dedicated IDX website platform but only its Mapping IDX plan — the most expensive option — offers CRM tools. Even then, the lead management and nurturing tools are limited and don't offer the full functionality and customization of other IDX real estate web design companies we evaluated. For that reason, Diverse Solutions is best if you have a CRM in place and just want to add mapping to your lead generation site.
What Users Think About Diverse Solutions
The reviews of Diverse Solutions are mixed. Many users love the ability to share IDX data in your blog posts, widgets, mobile IDX and individual webpages. However, others report extensive website outages, lackluster customer service and slow turnaround time for new listings and lead information. If you want more than IDX mapping capabilities, try another option like Real Geeks.
Where to Find Diverse Solutions
If you need a complete IDX website or just want to add IDX mapping capabilities to your existing site, check out Diverse Solutions. The platform offers comprehensive IDX mapping functionality that can be added to any real estate website and will help your leads access the market data they need. Plus, Diverse Solutions offers a free trial including California MLS data, so you can see how well the website can work for your agency.
Best Real Estate Web Design Company for NAR Members: Placester

Placester is a mobile-friendly web design platform with a CRM, email automation and property searches to help you generate leads. Placester is the best real estate website builder for NAR members because the platform offers a free IDX website as part of membership. Try Placester if you're a NAR member and on a tight budget.
Placester Pricing
In addition to their free option for NAR members, Placester offers two paid plans. Agent Pro costs $99 to $125 per month plus a setup fee and includes IDX functionality and lead management tools for agents. Broker Pro costs $199 to $250 per month and a setup fee for up to 10 agents. Add-on features are also available for monthly fees.
Placester add-ons include:
Content library access: $50 per month for access to two pre-written articles from the Placester real estate content library
Additional content credits: Agents can pay an additional $50 per month for access to two additional prewritten articles
Open Home Pro Premium: For an additional $25 per month, you can use Placester's iPad and tablet app for collecting leads, sending follow-up emails and creating reports
Data migration: Placester will handle the migration of data from your old website to your new website for custom price
In addition to Placester's standard pricing packages, the platform provides NAR members a free IDX website as part of the NAR REALTOR Benefits Program.
Placester Features
Placester offers agents customizable IDX websites and a variety of lead management and nurturing tools. Agents can also purchase add-on features including prewritten blog content, a comprehensive CRM and email marketing capabilities to help you convert more leads. Check out Placester's features if you want an affordable (or free) IDX website and a la carte nurturing tools.
Customizable IDX Websites
Placester's IDX websites are built specifically for real estate agents, so its search pages and forms will help your prospects find all of the information they need. What's more, every Placester web page includes easy-to-use contact forms, making it more likely that you'll generate valuable leads through the platform. Finally, Placester's fully customizable website designs are more modern than those offered by Real Geeks.
Lead nurturing Tools
Placester's Agent Pro package includes advanced lead management and nurturing tools like a CRM and email drip campaigns. You can segment contact lists based on attributes like family characteristics, preferences, how you met and more. Plus, the platform lets you create and send targeted emails and drip campaigns to prospects using Placester's prewritten campaigns — a feature not offered by other platforms we considered.
Third-party Integrations
In addition to including free IDX integration, Placester integrates with third-party apps like Zillow, Realtor.com, Homes.com and Trulia to make it easier to upload your new leads into one place. Like other platforms we reviewed, Placester can also be integrated with apps like Follow Up Boss, Mojo Dialer and Mailchimp to make it easier to nurture leads after you collect their contact information.
Geomapping
Placester's Map Search features let users search for properties and view them on an area map, rather than just in list form. Like other options like Real Geeks and Diverse Solutions, Placester's mapping feature enables homebuyers to zoom in to specific areas or draw an area on the embedded map to search for listings based on geographic preferences. You can also add a map to your Placester website by adding basic code and referencing listing-related code on the backend of your website.
What Placester Is Missing
Other companies we considered, like Chime and Real Geeks, offer advanced tools like transaction management and idle lead reassignment, respectively. On the other hand, Placester offers basic real estate web design services but is missing more advanced IDX features. For that reason, Placester is best for NAR members because of the free option but may not have enough functionality for agents who need more advanced tools.
What Users Think About Placester
In general, Placester users find the website to be extremely easy to set up and very user-friendly for their clients and potential leads. However, agents who use the lower-priced packages report that the features are limited and there isn't a great deal of design flexibility. For more information on what Placester users think about the platform, check out our reviews page.
Where to Find Placester
Placester's IDX website features are limited, but the free version is still an excellent option for NAR members. If you're a new agent on a tight budget, try Placester's free version to build leads for your real estate business. You can also check out a free demo of Placester's real estate web design services to determine if it's the right platform for you.
Best Real Estate Web Design Company for Basic IDX: IDXCentral

IDXCentral is a real estate web design platform built on WordPress. The platform features basic IDX capabilities like mobile-optimized sites, IDX and a real estate blog and a range of customization options that let you choose a price within your budget. Try IDXCentral if you're a solo agent looking for basic IDX features at a moderate price point.
IDXCentral Pricing
IDXCentral's IDX websites start at $69.99 per month. The basic IDX option includes an SEO-friendly WordPress website, free secure socket layer certificate and plug-ins valued up to $600. Agents also have access to lead generation forms and blogging capabilities. IDXCentral also provides semi-custom, limited edition and custom sites for an additional fee.
IDXCentral Features
IDXCentral provides agents a mobile-friendly WordPress website with hosting, IDX integration, lead generation forms, blogging capabilities and more. The platform also includes social sharing buttons to make it easier for clients to engage online as well as basic analytics features to help your agents evaluate leads. IDXCentral's features lack the bells and whistles of other platforms but provide good websites for less than other providers.
IDX Website
IDXCentral provides agents a basic real estate website that includes the ability to collect leads, help prospects search for homes via a desktop or mobile site and show up in organic online searches. Its websites are built using WordPress so, unlike Real Geeks, you own your own website. Plus, the sites are SEO-friendly, feature tons of premium WordPress plug-ins and are easy to build.
Lead nurturing Tools
Unlike many of the other options we compared, IDXCentral does not offer lead nurturing tools or a CRM as part of its services. Instead, the platform only offers agents IDX-enabled websites and basic IDX services. To make the most out of leads you generate with your IDXCentral website, you'll have to take advantage of third-party CRM and follow-up tools.
Third-party Integrations
Rather than integrating with third-party apps, IDXCentral relies on the WordPress platform to integrate real estate IDX tools. This is in sharp contrast to the other options we considered, which integrate with a variety of lead generation, organization and nurturing apps. Instead, users must rely on the ability of WordPress to integrate with tools like Mailchimp and other marketing tools.
Geomapping
IDXCentral includes a free IDX-enabled, interactive mapping platform as part of its IDX website tools. Like other geomapping tools, IDXCentral's maps let users search neighborhoods of interest to find properties pinpointed on the map. Plus, homebuyers can view listing details and photographs without leaving the map.
What IDXCentral Is Missing
IDXCentral is a basic IDX platform that lacks many of the bells and whistles available through other software options. What's more, IDXCentral doesn't offer a Facebook marketing tool for attracting leads through your social media presence like Real Geeks does. Still, IDXCentral is a good basic choice for agents who want IDX capabilities without the distraction of additional, more advanced features.
What Users Think About IDX Central
There aren't a lot of IDXCentral reviews available online. However, users report that IDXCentral websites are extremely well-designed and easy to navigate. Other agents have found IDXCentral's customer support to be extremely helpful. Because of the lack of online reviews, we have trouble identifying the platform's shortcomings, but the limited lead-nurturing tools are likely to top the list.
Where to Find IDX Central
IDXCentral is a great option if you want to incorporate basic IDX capabilities at an affordable price. The platform is easy to use and one of the more affordable options we considered, making it an excellent option for agents who are on a budget and don't need a ton of advanced lead generation tools.
Best Real Estate Web Design Company for Website Templates: Chime

Chime is a real estate lead generation website known for its beautifully designed IDX websites. However, Chime costs $316 to 475 per month plus setup fees and add-ons, so it's best for agents and teams with a healthy budget. Because of that, Chime is an excellent option for boutique agencies that want to impress upscale clients.
Chime Pricing
Chime costs between $316 per month and $475 per month — the most expensive of the options we considered — based on the size of your team and the level of lead management and nurturing tools necessary to grow your business. In addition, you can expand your reach with a variety of add-ons intended to increase lead generation through purchased leads, branding ads and networking ads.
Chime add-ons include:
Buyer and seller lead generation: Agents can purchase buyer and seller leads for $500 to $1,500 plus a 15 percent ad management fee and a $70 per month home valuation page
Branding ads: Purchase local market impressions for $150 per slot per ZIP code per month to make 10,000 impressions in your ZIP code area
Networking ads: Agents can also purchase networking contacts for $150 per 1,000 contacts per month so you can become more visible in your market
Chime Features
Chime is best known for its beautiful and modern IDX-enabled websites. However, the platform also features a CRM and variety of lead-nurturing tools like automated email campaigns. Chime also integrates with numerous third-party apps to improve productivity from lead generation to closing day.
Customizable IDX Websites
Chime's IDX websites are known for its beautiful, clean layouts and ease of use. Agents can choose from a variety of site templates in the Chime theme library like those offered by Easy Agent Pro and Real Geeks and then customize and optimize their site with drag-and-drop editing. Plus, in addition to being supported by hundreds of nationwide MLS, you can add your own pocket listings manually, so your clients have access to everything available in your market.
Lead nurturing Tools
Chime also includes a comprehensive CRM and prospect marketing tools like automated email campaigns and social media tracking. The built-in CRM also helps agents gain insights into their leads by providing a lead score and analysis, based on online behavior and property interests and smart suggestions for who and when to contact next — similar to IDX Central, but more robust. You can also use Chime's reporting tools to evaluate the website and listing traffic, business goals and more.
Third-party Integrations
To support the platform's CRM and lead nurturing capabilities, Chime integrates with a variety of third-party apps, including Gmail, Mailchimp and BombBomb. Integrations with sites like Zillow and Trulia allow you to import existing leads easily while the Dotloop integration assists with transaction management and BombBomb lets you build eye-catching videos to attract more leads. Chime's integrations are comparable to other options we considered.
Geomapping
Chime's IDX-enabled websites include a live map function. However, the platform's website doesn't promote this feature, and it does not appear to be a significant element of the software. As such, real estate agents who want to give leads access to mapping tools like polygon search should choose another design company like Diverse Solutions.
What Chime Is Missing
Unlike some of the other platforms we considered like Easy Agent Pro, Chime is missing robust customer service options. Instead of having a variety of online resources and easy phone access to a support team, Chime only features customer support via email. However, it's worth noting that users report the platform is easy to learn so more tech-savvy agents may not miss additional support options.
What Users Think About Chime
Chime users like that the platform is easy to learn and find the IDX-enabled websites to be attractive and modern. The primary concern among users is the lack of phone support. In addition, agents report that even the email support can be difficult to reach — especially for time-sensitive problems with your website. Check out our Chime reviews page for more information on what agents think about the platform.
Where to Find Chime
Chime offers agents everything from beautifully designed IDX-enabled websites to a CRM, sales reporting and forecasting tools, task management features and a variety of third-party integrations. If you want beautiful and modern websites for your boutique brokerage, check out Chime's packages.
Best Real Estate Web Design Company for Blogging: Easy Agent Pro

Easy Agent Pro is a website platform offering customized IDX website templates, CRM integrations and content optimized for SEO. As part of the package, Easy Agent Pro provides two professionally written blog posts each week to boost your online content. Check it out if you plan to use blogging to share content and attract leads.
Easy Agent Pro Pricing
Easy Agent Pro offers the LeadSites package for $159 per month and LeadSites Plus for $259 per month. In addition, you can get your first month of LeadSites for just $1. The platform is also contract-free and features a 15-day money back guarantee.
Easy Agent Pro Tiered Features
LeadSites

LeadSites Plus

Price

$159/Month
($1 for the First Month)

$259/Month

Complete Website

✔

✔

Unlimited Landing Pages

✔

✔

Local MLS IDX Included

✔

✔

16+ Lead Capture Apps

✔

✔

Powerful Blog Editor & 2 Blogs/Week

✔

✔

Google-friendly

✔

✔

20+ CRM Integrations

✔

✔

In-app Chat Support, Email Support & Weekly Coaching Webinars

✔

✔

Product Updates for Life

✔

✔

Branding Removal

✔

Expedited Delivery

✔

IDX Polygon Map Search

✔

Auto Post to Social Media

✔

Local Text Number

✔
Customizable IDX Website
Easy Agent Pro is fully customizable and offers unlimited landing pages for your IDX websites. Not only can you use a template to personalize your own IDX website like with Real Geeks, but Easy Agent Pro's team will create a website for you. The real estate web design team provides a personalized website that's based on your agency's needs within days of submitting your website design requests.
Easy Agent Pro also provides two blog posts for you to publish on your site, which makes it our top choice for real estate bloggers. These blog posts are SEO-focused, so your target audience is more likely to see them and provide their contact information. Although Real Geeks offers customizable IDX websites, it does not provide ready-made content, and similar content through Placester is a paid add-on.
Lead Nurturing Tools
Easy Agent Pro goes beyond lead generation with robust integrations with CRMs and email marketing platforms. In addition to integrating with apps like ConvertKit, Mailchimp and others, Easy Agent Pro provides agents with extensive online resources pertaining to real estate marketing and lead nurturing techniques. Like other platforms like Chime, Easy Agent Pro excels at generating leads while providing plenty of support once you're ready to convert prospects into clients.
Third-party Integrations
Unlike Real Geeks, Easy Agent Pro doesn't have its own CRM. Instead, the platform integrates with several major CRM platforms, like HubSpot and Follow Up Boss and updates them with leads from your Easy Agent Pro IDX website automatically. Integrating the apps requires a few steps, but Easy Agent Pro offers a ton of online resources that walk you through the process.
Geomapping
Like Diverse Solutions and Placester, Easy Agent Pro lets users search property listings using a list format or mapping tool. However, the platform's standard mapping capabilities are not as extensive as those offered by Diverse Solutions. Even so, agents can add the Marketboost Plus Polygon Map to search by drawing on the map, using basic map search or using advanced search based on parameters like waterfront, golf course, school district and more.
Customer Support
Easy Agent Pro offers the most robust customer support options of the real estate web design platforms we considered. The platform provides standard contact options like phone and email support, plus an online chat function for people with sales and support inquiries. What's more, the platform assists agents with weekly webinars and training sessions and regularly scheduled office hours where agents can ask specific questions about issues they encounter.
What Easy Agent Pro Is Missing
Easy Agent Pro's most obvious shortcoming is its lack of a built-in CRM. Unlike other real estate web design companies we evaluated, like Real Geeks, Easy Agent Pro doesn't directly integrate with the platform's own IDX-enabled websites. However, it's important to note that Easy Agent Pro integrates with a variety of third-party CRMs, so agents will still have access to the advanced lead management tools that fit their needs.
What Users Think About Easy Agent Pro
Easy Agent Pro users report increases in lead generation and conversion as a result of using the platform's IDX websites. Agents also appreciate the look of the platform's IDX websites, find the software is intuitive and have great customer service experiences. However, some find the functionality of other Easy Agent Pro features, like the CRM, to be limited. Check out our Easy Agent Pro reviews page for additional details from actual users.
Where to Find Easy Agent Pro
Easy Agent Pro is a great option if you want to attract leads with informative blog content. Not only does Easy Agent Pro help generate leads, but its extensive integrations also let you create a custom lead generation and nurturing system that works for your team. Try its demo to see if it's right for you and your agents.
Examples of Best Real Estate Web Design
Real Geeks Real Estate Web Design Example
Diverse Solutions Real Estate Web Design Example
Placester Real Estate Web Design Example
IDXCentral Real Estate Web Design
Chime Real Estate Web Design
Easy Agent Pro Real Estate Web Design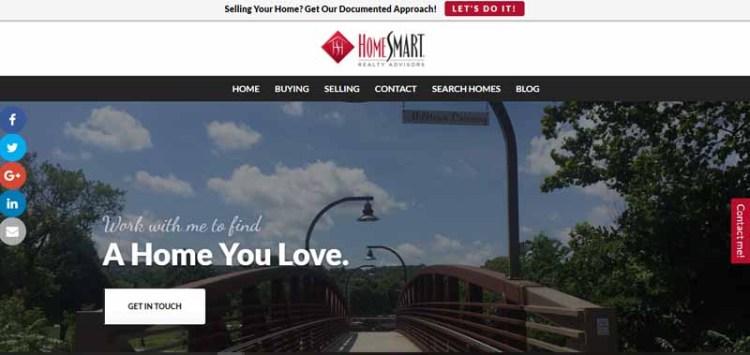 The Bottom Line
Real estate agent web design companies give agents the ability to share listings with potential clients through IDX-enabled websites and maps. Website platforms vary widely based on price, appearance and lead management and nurturing tools. As such, the six best options above represent a variety of strengths to meet the needs of your agents or brokerage.
If you're looking for a robust real estate web design service that also features lead management and nurturing tools, check out our top pick: Real Geeks. You can sign up for a free demo to see how Real Geeks can improve your lead management by signing up on its website today.