Reputation management software allows you to manage all of your online reviews in one place so you can make sure you are promoting a positive online image. We researched dozens of the most popular options and will review our top three picks: ReviewTrackers, GetFiveStars, and Grade.us. These companies cover the range for small businesses in terms of price and services offered. Read on for our comparison of these three options, as well as our recommendations.
Best Reputation Management Software for Small Businesses: ReviewTrackers
We recommend ReviewTrackers because they offer the best range of features for the price, are easy to use and have excellent customer support. Their innovative system not only requests and tracks reviews, you can also view the most common problems and praises in your customer's reviews across over 75 review websites.
Reputation Management Software Comparison Table: ReviewTrackers vs. GetFiveStars vs. Grade.us
ReviewTrackers

GetFiveStars

Grade.us

Price

Learn More
$49 per month for 1 location
$39.95 per month for 1 location
$70 per month for up to 5 locations

($59 per month when paid annually)
Ease of use

Learn More
Easy
Easy
Moderate
Review sites monitored

Learn More
Monitors over 75 review sites including niche review sites for restaurants, car dealerships, law and medical offices. Option to contact to add additional sites.
Monitors 7 review sites, including Google, Facebook, and TripAdvisor
Monitors 85 review sites with option to contact for additional sites.
Process for getting reviews

Learn More
Ask for reviews via email or by sending customers to a unique landing page. Can either send review request, or request for feedback.
Email is sent to customers asking them to rate your business. Customers that give positive rating asked to rate company on third party review site.
Customers are led through a "review funnel" where they are first asked to leave a review, and then sent different triggers depending on action taken or not taken.
Dashboard/
reporting

Learn More
Includes average review rating and number of reviews by month and review site
View your net promoter score, customer feedback, and email request open rate
See current and past reviews plus analytics on trends over time.
Customer support

Learn More
Phone, email, and ticket support
Phone, email, user guide, and live chat
Phone, email, and knowledge center
What does Reputation Management Software do?
Reputation management software helps businesses improve their online presence. They are able to do this in 4 ways:
Monitor online review sites for existing reviews, and alert you about any new reviews
Provide a tool that requests reviews from customers
Have a management platform that aggregates and interprets your online reviews
Create comprehensive reports, and export customer review data
For this article, we are reviewing software that provides these features at a low cost and in an easy to use way.
Best Reputation Management Software for Small Business: ReviewTrackers

We recommend ReviewTrackers because the software offers all of the four features mentioned above for an affordable price and with an easy to use interface. It is also the only company of the three that uses advanced technology to scan your existing reviews and formulate "Trending Topics" for your business. This helps you easily see common sentiments across all of your reviews, which you can use to quickly address the problems that are causing negative feedback.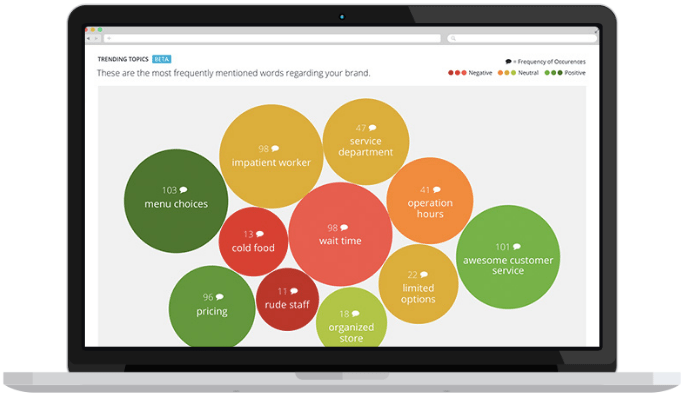 They have the most intuitive dashboard of the three software that I tested, where you can see all of your reviews across over 70 websites. You can click into your average rating for a site to see individual reviews, and easily respond to customers by hitting a button that will send you directly to that review site. They also have an excellent support team that is friendly and you can reach either by phone, email or by creating a ticket.
ReviewTrackers has the right mix of being easy enough for the average small business owner to be able to use it, but with still having a good amount of functionality to manage and improve your online presence.
The only downside is that the software is not as customizable as Grade.us. For example, many users mentioned that they wished there were a few more review request templates included. However, the average small business owner should be satisfied with the number of options, which is why ReviewTrackers is our recommended provider.
Best Reputation Management Software for Businesses on a Budget: GetFiveStars

GetFiveStars is the least expensive software of the three, and you will save $10 a month if you go with this option over ReviewTrackers. Therefore, if you are just looking for an easy way to request reviews from your customers and be alerted to any negative reviews, then this is a good option for you.
However, aside from counting the number of reviews and showing your feedback request open rate, the system does not analyze or interpret reviews. Therefore, if you want to learn more about why your customers' views towards your business are changing, or data to help you determine what you can do to change negative sentiments, then GetFiveStars will not offer enough information for you.
GetFiveStars offers a clean interface and a simple process at an affordable price. If you care less about the reporting side of it, and just want to rack up more online reviews, than GetFiveStars is the best option for you.
Best Reputation Management Software for Marketers: Grade.us

Grade.us offers the most customization and features of the three, so if you have the time and resources to dedicate to the process, then this is a good option for you.
For example, just with setting up the email for requesting reviews, there are tons of possibilities. You can insert custom feedback forms from Wufoo or Survey Monkey, attach an offer, brand the email specifically to your business, send customers to a custom domain, include custom HTML or CSS, add a "powered by" tagline, setup a drip email campaign, and more.
That is why this is a good option for you if you have a specific vision in mind for your feedback request form, as almost everything is completely customizable. However, with more options comes a steeper learning curve, and all of these possibilities can be overwhelming if you don't have the time or resources to set everything up in the system.
Therefore, if you are a tech-savvy marketer, then you will be very impressed with all of the options Grade.us provides. However, the average small business owner, will probably prefer using the simpler interface that both ReviewTrackers and GetFiveStars have to offer.
ReviewTrackers vs. GetFiveStars vs. Grade.us In-Depth Review
Pricing
All of the software are priced on a subscription basis, with no contract necessary. We will be discussing the single location option in the majority of this guide, but all three companies do offer multiple subscription options.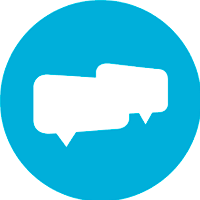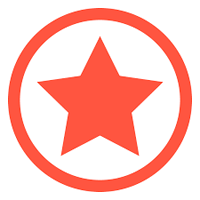 ---
Ease of Use
The ease of use of a software is important for small business owners who don't have much time to learn new platforms. That's why we took this into consideration when choosing our recommended reputation management software for small businesses.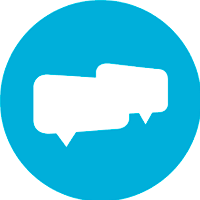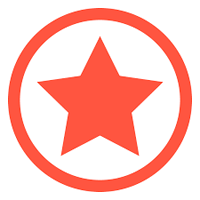 ---
Review Sites Monitored
It's important that the review management software that you choose monitors the review sites that are most popular amongst your type of business.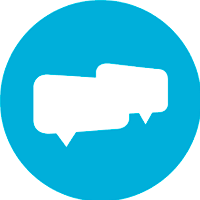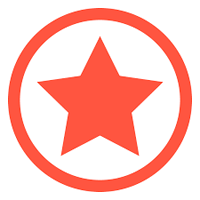 ---
Process for Getting Reviews
Businesses with multiple positive online reviews are much more trustworthy to potential customers than businesses with little or no reviews. However, asking your customers to leave a review is a delicate process because you don't to make people feel like you are pressuring them, and you never want to buy fake reviews. Plus, many sites will block your business if they notice suspicious activity, such as multiple 5 star reviews in one day.
Here are the strategies the three software use to generate more reviews for your business.
ReviewTrackers has 2 strategies to get more reviews:
Directly ask customers to leave a review on a selection of up to 3 review sites.
Ask customers to rate your business from 1-10, and send them to either a review website, or to a request for private feedback, based on their response.
GetFiveStars allows you to email your customers and ask for feedback. Based on their response, you can send them to a review site, or to a place where they can send feedback directly to your company.
Grade.us allows you to invite customers to review your page through email, phone/SMS (additional $8/month), or by printing out cards to distribute to your customers. With this software, you also have the option to gauge a customer's feelings towards your business before you send them to an outfacing review page. You have the option to use smiley faces, thumbs up or down, or a numerical scale to do this.
---
Dashboard/ Reporting
In order to see if your efforts to gain more positive reviews are working, you will need the ability to generate reports.
ReviewTracker's dashboard includes average review rating and number of reviews by month and review site. It also shows a breakdown of where your reviews are coming from. You can easily generate PDFs or export the data with different filters applied (dates, review sites, etc.)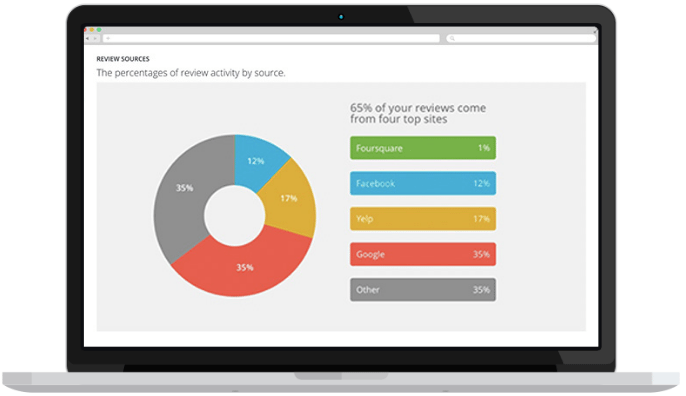 GetFiveStars has a dashboard that includes your Net Promoter Score (NPS), the number of requests for reviews you have sent out, and your feedback request open rate. Your NPS is a metric used to gauge customer loyalty. By asking your customers how likely they are to refer you to a friend or colleague you can establish your NPS, and bring statistical evaluation to your business growth.
Grade.us gives in-depth insights on how well your review requests are working. See trends over time, plus view your new reviews and where they are coming from.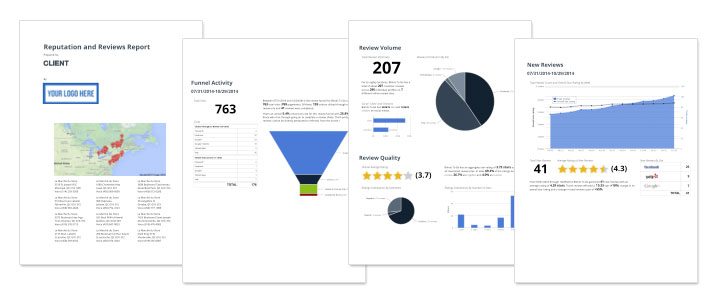 ---
Customer Support
It's important that your reputation management software has a supportive customer service team to help you get started. All three have excellent customer support with phone, email and self-help options. GetFiveStars also offers live chat.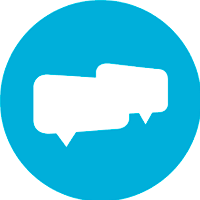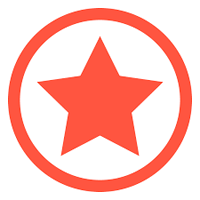 ---
All Reputation Management Software
| | Best For | Description |
| --- | --- | --- |
| ReviewTrackers | Small business owners | ReviewTrackers offer the best features for the price, and is our top pick for small businesses. |
| GetFiveStars | Businesses on a budget | GetFiveStars is the least expensive and most straightforward option. |
| Grade.us | Marketers | With the most advanced features, Grade.us is a good fit for businesses with a dedicated marketer with the time to learn the system and implement the features. |
| Podium | Sales teams | Podium allows multiple users to request reviews, and the system tracks the staff members' success rates. |
| BirdEye | Social media management | BirdEye monitors social media sites (Twitter, Facebook, etc.) and alerts you when someone makes a comment about your business. |
| Reputation Loop | Consistent citations | Manage your listings across 55+ websites to make sure your name, address and phone number is consistent across the board. |
| Brand24 | Finding industry influencers | Brand24 will identify commenters with the most social influence so that you can decide who you want to work with. |
| Brand Yourself | Individuals | Brand Yourself works to get the results you want to show when people Google your name. |
| Yotpo | User-generated content | Easily turn positive reviews into shareable content by pairing reviews with captivating images. |
| Reputology | Ease of setup | Reputology's team will handle the initial set up of your account. |
Bottom Line
Review management software is a great way to save time and improve your online presence. Using a system to aggregate reviews and show you improvements over time gives you better insight on what you can do to make your business better. We recommend ReviewTrackers for it's easy to use interface, low price point, and helpful customer support.
That being said, all three software offer free trials, so give them a test drive to see which system works best for your business. Let us know what you think in the comments below!