Restaurant POS systems go beyond processing payments for food service businesses by providing features to manage front- and back-of-house operations. POS systems for restaurants are tablet and cloud-based, making them more affordable than traditional countertop POS with proprietary hardware and software. Expect costs for these newer systems to be around $50 to $200 per month.
Top 8 Restaurant POS Systems for 2019
| Restaurant POS | Best For |
| --- | --- |
| | (Best Overall) Any size food service business needing restaurant-specific features in a complete POS solution |
| | Midsize restaurants wanting robust reporting |
| | Small to mid-sized restaurants needing the most affordable system |
| | Food trucks and small-midsize restaurants wanting to choose their own payment processor |
| | Sit-down restaurants looking for excellent guest management features and built-in payment processing |
| | Casual restaurants that need online ordering, pickup, and delivery features in one restaurant POS |
| | Cafes wanting a simple interface with detailed inventory tracking features |
| | Multilocation sitdown or quick-service chain restaurants |
Which Restaurant POS System is Right for You?
How We Evaluated Restaurant POS Systems
Restaurants have specific needs that warrant the use of a point-of-sale (POS) system built specifically for their business. A POS system for restaurants helps streamline everything from ingredient-level inventory management and loyalty programs to table management and implementing online ordering and delivery. We considered these food industry-specific needs when researching the best restaurant POS systems. We also took into account the payment processing options, ease of use of the front-of-house features, reporting on the back-end, and support from the provider.
This is the criteria we considered in our restaurant POS system comparison:
Pricing: We considered the cost of software, hardware, and transaction fees, and the transparency of all costs.
Ease of use: Restaurant POS systems should be easy to learn and navigate in a fast-paced environment.
Payment processing: The systems should have built-in payment processing, or allow for integrated third-party merchant providers.
Inventory management: Specifically, we considered restaurant systems that let you track products down to ingredient levels and allow for quick reordering.
Customer management: There should at least be light customer relationship management features, such as loyalty programs, customer profiles, online reservations, and gift card options.
Table and menu management: You should be able to manage the front-of-house easily with drag-and-drop table configurations, table assignments, and real-time menu updates.
Order and delivery management: We considered how each restaurant system lets you manage in-person and online orders, tips, split checks, and more, plus delivery tracking.
Employee management: We looked for restaurant POS systems with employee logins, shift scheduling, and various permission levels.
Integrations: Every solution should allow for integrations from third-party apps, such as accounting, reservations, online ordering, payroll, and more.
Reporting: We looked at how each restaurant POS system lets you track sales, tips, total guests, table turn time, and more based on the time period you want to view.
Support: We considered how both customer and tech support are handled with each restaurant POS system.
Toast sets itself apart from other restaurant POS systems with its full-feature set, robust inventory management, and menu-costing tool. It's slightly more expensive than other options on our list, but you'll need fewer integrations to make a complete solution to satisfy front- and back-of-house staff. Toast is an excellent choice for any food service small business, which is why we chose it as our top pick for restaurant POS system.
Toast: Best Restaurant POS System for Small Businesses



Toast is the best restaurant POS system because it caters to all types of restaurants, with specific features for food trucks, casual restaurants, and full-service restaurants. Features, such as easy-to-edit menu modifiers, menu costing, and inventory management, make it the best. Additionally, you get built-in payment processing and add-on features to complete your POS solution.
Toast Pricing
Toast is one of the pricier restaurant POS systems, but it's more feature-inclusive. One terminal starts at $79 per month. Add-ons are $25 to $50, and hardware is available at a reasonable price. Installation fees are high, starting at $499 for remote installation or $1,500 for onsite installation. One of the most affordable options, Square for Restaurants, has no installation fee (but that's an uncommon feature with Square).
Toast Pricing Chart
Feature

Cost

Software for one terminal

$79 monthly

Online Ordering

$50 monthly

Loyalty Program

$25 monthly

Remote Install

One time fee $499

Onsite Install

One time fee $1,500

Processing Fees* (swiped)

~2.49% + 15 cents/transaction

Processing Fees* (keyed-in)

~3.5% + 15 cents/transaction

Last updated on 04/27/2020
*These fees are based on three separate quotes, but fees can vary and change based on type of card and at Toast's discretion.
Toast Features
Toast is one of the few restaurant POS systems that works on Android-based tablets and terminals. The basic features you can expect include shelf-to-sheet inventory management, recipe and food costing tools, table and order management, and light customer relationship management (CRM). Helpful add-on features, such as the loyalty program and online ordering, fill out the Toast POS system.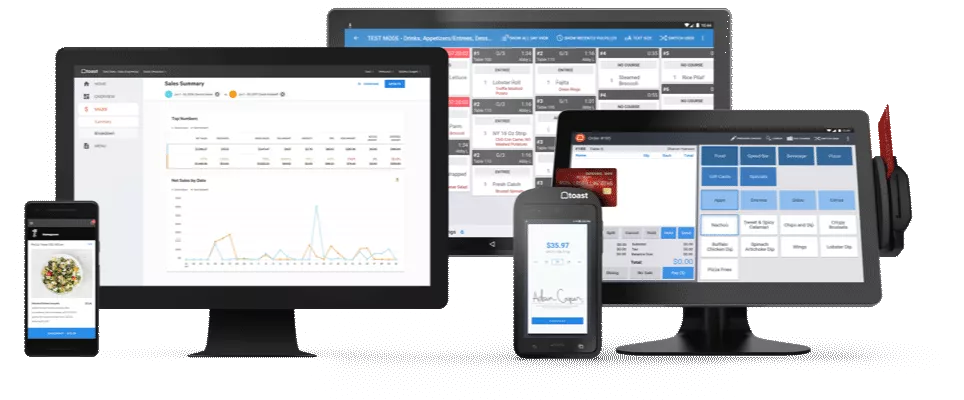 Toast countertop and tableside POS systems operate on Android systems, while reporting can be accessed from anywhere.
Toast Inventory Management
When it comes to your back-of-house tools, Toast has other restaurant POS systems beat. Similar to Lightspeed Restaurant, Toast lets you add and track inventory down to the ingredient level, which means you can create new menu items with existing inventory and keep food costs down. It's also our pick for the best bar POS system, thanks to its granular inventory system.
Speaking of food costs, there's also a food and recipe costing tool, so you can easily calculate how much each plate of food costs you, making it easier for you to price plates. Additionally, Toast allows sheet-to-shelf inventory tracking, so you know what's in your freezer, pantry, and so on, all organized in the same manner as your kitchen.
Table Management With Toast
Creating a floor plan in Toast is easier than most restaurant POS systems. You can drag and drop round or square tables in a configuration that matches your actual dining areas. Assign table numbers to each, and then the front-of-house staff will be able to see exactly who has which table, whether guests have ordered yet through color codes, and how many people are seated at each spot.
Toast Guest Management
Most restaurant POS systems offer some form of guest management and CRM, but Toast takes it a step further. You can collect guest information, such as names and contact information, and then you can track order history. Using this information, you can build email lists and send messages and promotions from Toast to help bring back existing customers.
Loyalty Program From Toast
Toast's loyalty program is an add-on feature that expands on its built-in CRM. The opt-in program lets customers sign up when making their payment at the table or at the counter, and they'll earn points toward a rewards account. Each time they spend money at your restaurant, they'll stack up those points toward a discount or free item. You also have the option of setting up birthday or sign-up incentives.
What Toast Is Missing
Toast only works on Android, so you may need to invest in new hardware if you're using an iOS-based system. QuickBooks users are out of luck, as Toast doesn't integrate with the accounting program. Employee scheduling isn't an included feature, either, but Lavu offers it.
Toast Reviews
In Toast reviews, it's easy to see that users are big fans of the multitude of features of this restaurant POS system. Ease of use is noted by many users, as is the inventory control you get with Toast. However, the credit card processing fees can be much higher than if you were able to use a third-party merchant service provider, but Toast locks you into their rates.



Lightspeed Restaurant combines front- and back-of-house features to create a solid system for small- to mid-sized eateries. It includes tools you'd expect to find, such as granular inventory control, staff management, tableside ordering, and robust reporting options. The cloud-based restaurant POS system works on iOS devices, which cuts down on any learning curve.
Lightspeed Restaurant Pricing
Pricing for Lightspeed Restaurant is on the more affordable side for these systems, starting at $69 per month for a single register. The monthly fee doesn't take hardware into account, so you'll have to call for a quote. Lightspeed offers a bundled kit that includes everything you'd need to get started, but the company doesn't list prices.
Lightspeed Restaurant doesn't offer built-in payment processing, but it does partner with TSYS and a few other merchant service providers, so you can shop around for the best transaction fees for your restaurant.
Lightspeed Restaurant Features
The back-end of Lightspeed Restaurant includes features to help you manage everything from inventory to employees to sales, which is the heart of restaurant POS systems. You can set up tableside or tabletop ordering, which is almost considered a core feature now. Lightspeed Restaurant also makes it easy for you to adjust the menu, floor plans, and see how your restaurant is doing with its insightful reporting system.
Lightspeed Restaurant Inventory Management
As powerful as Lightspeed Restaurant is, it's equally easy to use, even when you're adding, editing, or accessing your inventory. Get granular with inventory tracking by ingredient. You can create categories for products, such as menu items, to keep everything organized. Then assign the ingredients to products, such as menu items, so you can track all your menu items and know when you have to eliminate a menu item.
Lightspeed Restaurant Staff Management
Staff can access the Lightspeed Restaurant system with a unique login, and they can clock in or out for a shift from the profile screen. You'll have to grant a user elevated permissions to offer discounts, void a ticket, change a price on a menu item, or run end-of-day reports, for example. Scheduling isn't available like it is in Lavu, but you can integrate an app, like Homebase.
Floor Plans & Order Management With Lightspeed Restaurant
Designing your floor plans in Lightspeed Restaurant can be as easy or detailed as you'd like. Choose the color and texture of the floor, add tables and chairs, and name your tables. After you've placed a table, you can make a copy and then drag the new one to the location you prefer.
Like Toast and TouchBistro, Lightspeed Restaurant works on tablets and the cloud, which enables your restaurant to offer tableside ordering. Servers can place orders immediately without having to walk back to the counter to enter orders and send to the kitchen, which means faster turn times.
Lightspeed Restaurant Reporting
All POS systems for restaurants should offer end-of-day reports, at the very least, as does Lightspeed Restaurant, but it goes deeper with its data analysis. You can see which menu items are bestsellers, see your current stock for reordering or canceling ingredients, and get reports for sales, taxes, tips, and more.
What Lightspeed Restaurant Is Missing
Lightspeed Restaurant doesn't integrate with QuickBooks, like Square for Restaurants and TouchBistro, which might be a deal-breaker for you. There are also no menu costing tools or low-stock notifications; you'd have to run reports to see the numbers.
Lightspeed Restaurant Reviews
Many people have mentioned in Lightspeed Restaurant reviews that the software is easy to use and it's surprisingly affordable for what you get. With that said, it's also noted that the restaurant POS system can be a bit buggy sometimes, crashing or hanging for long periods. Plus, internet outages are an issue for the cloud-based system, unless you invest in the company's proprietary Lite Server, which backs up your data and allows you to continue to place orders.



Square created a restaurant POS system called Square for Restaurants that's different from basic Square. It's more affordable than most other expensive options, and it has an intuitive interface, helpful tools, and restaurant-specific features to help you manage your small eatery. Payment processing is built-in, so it's a good choice for new restaurateurs on a budget.
Square for Restaurants Pricing
Square for Restaurants is one of the most affordable options for restaurants, but the closest comparison in price would be Lavu. The monthly cost is $60 for the core software and $40 for each additional system.
Hardware is sold separately, and it's reasonably priced at $999 for the Square Register, or as low as $169 for a Square Stand for your iPad. Also, there are add-on features you can get for extra monthly fees, as you'll see in the chart below.
Square for Restaurants Pricing Chart
Feature

Cost

One Terminal Software Subscription

$60 per month

Additional POS

$40 per terminal per month

Gift Cards

(as low as) 80 cents/transaction

Loyalty Program

$25 - $50 per month

Payroll

$29 + $5 per employee

Email Marketing

$15 - $35 per month

Processing Fees* (swiped)

2.6% + 10 cents/transaction

Processing Fees* (keyed-in)

3.5% + 15 cents/transaction

Last updated on 04/27/2020
Square for Restaurants Features
If you've used Square, then Square for Restaurants will be immediately familiar. It has the same look, feel, and user-friendliness as the original software, but restaurant-specific features have been added, such as floor and menu management, order management, and employee management. You'll also get access to reports for analyzing important data, such as covers, sales, and more.
Square for Restaurants Menu Management
Square for Restaurants offers quite a bit of customizability with its menus, as does Toast. You'll have to spend some time creating the categories (appetizers, main courses, and so on) and adding menu items to each. You can include photos with each item, which helps servers and guests alike. Once you have your menus set, you can create modifier sets and set up a grid layout so you have color-coded menu tiles for easy access, which you can also drag and drop into a different layout.
Order Management With Square for Restaurants
All POS systems for restaurants should include features such as gratuity lines and split check options, but none of them make it easier than Square for Restaurants. You can apply auto-gratuity for large parties, quickly split checks in half, thirds, or fourths with just a tap, or split checks by covers.
Coursing is also easy with Square for Restaurants, as you can simply tap "Fire" or "Hold" to manage courses for a table. You can also apply discounts and make notes that only print on kitchen tickets, which is helpful when you have a guest with allergies or special requests.
Square for Restaurants Employee Management
Set up employee profiles and permissions in Square for Restaurants to manage who is able to do what. For example, allow managers to void checks or apply special discounts, but only allow servers to apply a standard discount. Square for Restaurants includes a time clock for employees, so you can track hours for payroll. What isn't included is payroll (pay for that separately) or employee scheduling (integrations for that are available, such as with Homebase).
Payment Processing With Square for Restaurants
Square for Restaurants makes it easy and convenient for you to start accepting payments at your restaurant with its built-in payment processor, which Toast also offers. The good thing about this feature is that you don't have to find your own merchant service provider, and the price you see is the price you pay—Square doesn't do hidden fees. However, the rates are higher than the industry average, so you're likely to pay more overall in transaction fees.
What Square for Restaurants Is Missing
The biggest omission from Square for Restaurants is advanced inventory control. You can certainly track inventory, but it isn't ingredient-level inventory, like in TouchBistro. There's also no menu costing, like you can find in Toast. The built-in payment processing in this restaurant POS system is convenient, but costly, and you don't have the option to shop for better rates. Smaller businesses may only need the standard Square setup, which may have fewer features, but it's more affordable and considered one of the best cafe POS systems around.
Square for Restaurants Reviews
You'll find most Square for Restaurant reviews are filled with praise for its ease of use. Setup is easy and doesn't require pricey professional installations. Although the restaurant POS system is affordable, the payment processing fees are hefty, and reviewers subtract points from Square for Restaurant because of it.
Reporting needs an overhaul, according to many users, to make reports more customizable by time and date. Plus, the lack of advanced inventory management is an issue for restaurants with larger menus that need ingredient tracking.
TouchBistro: Best Restaurant POS for Payment Processing Options



TouchBistro is a restaurant POS system built for iPad use and for restaurateurs who want a choice of merchant service providers. The full-featured system lets your server take tableside orders, and you can manage staff, menus, floor plans, and your inventory all in one place. It's only slightly more expensive than Square for Restaurants.
TouchBistro Pricing
TouchBistro offers four different plans for different sizes of restaurants, starting at $69. Regardless of which plan you choose, you'll get all the restaurant-specific features. Installations and help with setup will cost extra, but those prices are unlisted.
TouchBistro Pricing Chart
Feature

Cost

Solo Plan (one license)

$69 per month

Dual Plan (two licenses)

$129 per month

Team Plan (five licenses)

$249 per month

Unlimited Plan (unlimited licenses)

$399 per month

Loyalty Plan

$49 - $189 per month

Reservation Module

$229 per location

Last updated on 04/27/2020
TouchBistro Features
The TouchBistro main features are similar to other restaurant POS systems with inventory control, menu management, and reporting. Staff management includes employee scheduling, inventory control includes low-stock alerts, and it uses a hybrid cloud and local installation solution, so you can access some features without Wi-Fi, which is not typical of most systems. It's one of the best quick-service restaurant POS systems, thanks to its kitchen display system and easy-to-use iPad ordering system.
TouchBistro Inventory Management
TouchBistro is similar to the best restaurant POS system, Toast, in that it offers granular level inventory management. Enter all your ingredients and you can attach them to recipes, so you'll always know when a menu item is sold out. There are low-stock alerts that you can customize, so the alert pops up at zero, two, or 12 units, if you want.
TouchBistro Staff Management
Most restaurant POS systems include some form of staff management, but TouchBistro includes the typical missing feature: scheduling. You can also set permissions and wage levels, and employees can clock in and out right from the system.
TouchBistro Payments
TouchBistro doesn't offer a built-in payment processor like Toast and Square for Restaurants, but it does offer the most options for processors. You can integrate with Chase Merchant Services, Square, TSYS, and others. The benefit here is that you can keep using your same merchant service provider, or shop around for better rates to save you money. Also, if you opt for the Dual Plan or higher, you can use your iPad to take orders or payments tableside.
What TouchBistro Is Missing
As complete of a restaurant POS system TouchBistro appears to be, it is lacking a bit in advanced features. The CRM features are slim, only allowing you to create customer profiles with notes. Built-in online ordering is also noticeably absent, so if it's an important feature for you, consider Lightspeed Restaurant or Upserve. If you're looking for a POS system for food trucks, TouchBistro's features could work for you.
TouchBistro Reviews
When you read through TouchBistro reviews, it's easy to see there's a big fan base for the restaurant POS system. Users are happy with the multiple features that are smartly designed with staff in mind, and the 24/7 customer service gets big marks too. The biggest issues with TouchBistro, according to users, are that it has a bit of a learning curve, and some actions, like in inventory, require several steps to complete.
Upserve: Best Restaurant POS for Customer Relationships



Upserve is a restaurant POS system that focuses on customer relationships more than its competition. The robust built-in CRM makes it easy for you to stay in contact with customers and request feedback about your restaurant. It is an expensive solution compared to most other solutions, though.
Upserve Pricing
The cost per terminal for Upserve's restaurant POS system is about on par with most of its cloud-based competitors, but that $60 per month rate is per terminal and comes with additional subscription fees.
Upserve Pricing Plans
Feature

Cost

Core Subscription

$59

Pro Subscription

$199

Pro Plus Subscription

$359

Monthly POS Fee

$40 - $60 per terminal

Menu Optimization

Included in Pro & Pro Plus

Loyalty Program

Included in Pro & Pro Plus

Custom Reporting

Included in Pro Plus

Payment Processing *(swiped)

~2.40% + $0.15

Payment Processing * (keyed)

~2.99% + $0.15

Last updated on 04/27/2020
Upserve Features
One feature that sets Upserve apart from the other POS systems for restaurants is that it can work on either iPads or Android tablets. The only caveat is that you'll have to purchase Upserve's proprietary ELO hardware for Android. To get access to all the features, such as menu search, the loyalty program, and online ordering, you'll have to choose the Pro Plan.
Upserve Menu Management
Menu management with Upserve isn't typical for a restaurant POS. There's a menu item countdown, so you know precisely how many plates of a menu item you have left. Your servers will also have access to a search bar to let them find menu items quickly, which isn't a common feature, but especially helpful if you have a large menu.
CRM in Upserve
Guests are used to entering their names and contact information by now, and Upserve's guestbook feature makes it easy for them to do so. Plus, you can create a mailing list for email marketing campaigns.
There's also a reviews feature in Upserve that collects reviews of your restaurants from around the web and puts them all in one place, so you can manage your reputation without spending time searching for the reviews. The loyalty program is connected to a customer's credit card, so when they spend money at your restaurant, they earn cashback.
Upserve Online Ordering
Upserve offers built-in online ordering as a feature, which is another uncommon feature also found in Lavu. The benefits of this feature are that you won't have to integrate a separate app, pay extra fees or commissions, and it eliminates the need to manage multiple menus.
Payment Processing With Upserve
Upserve is one of several restaurant POS systems on this list, such as Square for Restaurants, that handles payment processing itself. Depending on how you view proprietary payment processing, this is either a good or bad feature. The fixed-rate means you won't wonder how much you're paying for each transaction. However, you won't be able to shop around for the best rates.
What Upserve Is Missing
The drawback of choosing Upserve as your restaurant POS system is that it's the priciest choice on our list. To take advantage of the software's best features, you'll have to opt for the Pro Plan, which will set you back $400 per month for four terminals.
Upserve Reviews
You'll find most Upserve reviews are positive, as this software is easy to use, full of useful features, and has helpful customer support. Users also mentioned that the analytics are powerful, so you get reports that show you the granular details of sales, staff, menu items, and inventory. However, the high price tag was noted as the biggest con for most users.
Lavu: Best Restaurant POS for Casual Restaurants



Lavu is a restaurant POS system that focuses on providing features typically overlooked by others, like built-in online ordering, pickup, and delivery, making it a great choice for pizzerias and casual eateries. You also get menu customization, inventory management, and staff management. Lavu is slightly pricier comparatively, starting at $79 per month.
Lavu Pricing
Lavu starts at $79 per month for one iPad terminal, and if you need more than one, you can add on more with discounted pricing. The built-in payment processing rates are unlisted, and they vary based on your business.
Pricing for hardware also varies, depending on promotions and whether you buy hardware through Lavu. If you do buy hardware through Lavu, you may be locked into a three-year credit card payment processing contract. Alternatively, you can choose a third-party merchant services provider that partners with Lavu, such as Square and WorldPay.
Lavu Features
The features of Lavu seem as though they were made with the casual and quick-service restaurant in mind. You'll get staff management, including shift scheduling, which is also offered in TouchBistro. Plus, there's online ordering, delivery, and menu management with happy hour deals.
Lavu Online Ordering & Delivery
Most restaurant POS systems require you to use a third-party option for online ordering and delivery, but Lavu lets you handle it from its software. Guests can place their orders online for delivery or pickup, making it a great pizza POS system. However, they won't be able to pay for the order online.
Staff Management With Lavu
While most of Lavu's competition stops short of complete staff management, Lavu includes shift scheduling. You can set up a schedule, let your employees trade shifts, and they can clock in and out through the restaurant POS.
Lavu Menu Management
Lavu allows you to totally customize your menu, so you can add categories, menu items, and attach a photo for each menu item (especially useful for tableside ordering). You can select to hold or fire a menu item for smart pacing for each table. Plus, Lavu offers a happy hour feature that lets you set discounts for particular menu items during a certain time frame.
What Lavu Is Missing
Lavu's inventory control is basic, so it's missing some of the advanced features that can be found in Toast. The online ordering option is a great add-on, but guests can't pay online, which may cause confusion. Plus, pricing doesn't seem as transparent as it could be, especially in payment processing terms.
Lavu Reviews
In Lavu reviews, users are quick to point out that the interface for the restaurant POS system is intuitive, so servers pick it up easily. The back-of-house features are easy to use too. However, users are also quick to note the frequent inaccuracies in reporting and billing. Customer support gets some negative reviews too, for being less than helpful.
ShopKeep: Best Restaurant POS for Cafes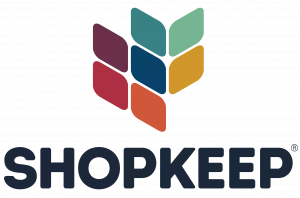 ShopKeep is an iPad POS system with preset sales and inventory reports, which are ideal for cafe restaurants that need detailed information at a glance, without having to manipulate data. ShopKeep has average POS pricing, starting around $70 per month with no setup fees, and built-in payment processing for an all-in-one system.
ShopKeep Pricing
Like most cloud-based software systems, ShopKeep comes with a monthly fee. ShopKeep creates a custom quote for each business for software, payment processing, and add-ons, so you will need to contact them directly for specific costs. However, ShopKeep generally has three types of monthly plans: Basic, Essential, and Advanced. Each comes with slightly different features and base costs.
ShopKeep Approximate Pricing Plans
| Feature | Cost |
| --- | --- |
| Basic | $69 (monthly) |
| Essential | $99 (monthly) |
| Advanced | $199 (monthly) |
| Pocket Reporting App | Included in Essential Advanced Subscriptions |
| Advanced Marketing Features | Included in Advanced Subscriptions |
| Customer Loyalty Program | Included in Advanced Subscriptions |
| Last updated on 04/27/2020 | |
ShopKeep Features
ShopKeep is a popular iPad POS system with different POS features for different business types, including specific POS products for retail, restaurant, quick-service, and coffee shops. ShopKeep's food service POS comes with built-in tools to manage customer orders and tickets, measure sales, monitor ingredient inventory levels, and track employees.
ShopKeep Inventory Management
ShopKeep, like many of the other systems on our list, comes with great inventory management features. What sets ShopKeep apart is that many of these features require minimal setup or configuration, yet still provide detailed insight.
ShopKeep lets businesses upload inventory items and ingredients in bulk with CSV files. Once ingredients are uploaded, you can create menu items and tie them with specific ingredient quantities to track stock levels in real-time as food and drinks are sold.
ShopKeep Purchase Order Management
Cafes can set up low-stock alerts for when ingredients fall to a certain threshold. This is a common feature that most of the restaurant POS systems on our list have. However, ShopKeep takes those items and automatically adds them to a Reorder Report, which can be exported to create a purchase order.
ShopKeep Reporting & Pocket App
In addition to ingredient-level inventory tracking, ShopKeep's preset reports show top-selling items, categories, and menus. Restaurants can also view sales totals, customer interactions, and employee information. Unlike Lightspeed, which has tools to create custom reports, ShopKeep has everything preset, which is ideal for cafes that don't have time to navigate data or newer restaurant owners learning the ins and outs of inventory reporting.
ShopKeep Customer Relationship Management
ShopKeep lets cafe and restaurant owners collect customer emails at checkout for digital receipts. These digital receipts can be customized to your business. The customer data, including name and contact information, is added to your customer directory automatically. The customer directory can be used with marketing integrations such as Mailchimp.
ShopKeep Staff Management
ShopKeep has features to let employees clock in and out directly from the POS. Businesses can also run reports on ShopKeep to monitor employee performance day-to-day or week-to-week.
What ShopKeep Is Missing
ShopKeep has preset reports, which means there's no option to create custom reports or manipulate data, like in Lightspeed with its custom report builder. ShopKeep also has built-in payment processing, which is not a bad thing—it just means you won't be able to shop around for the lowest rates.
ShopKeep Reviews
According to ShopKeep user reviews, this restaurant POS has excellent 24/7 customer support. Overall, users like that the system is affordable and easy to use. However, there is no trial period, and there are limited loyalty features.
Revel Systems: Best Multilocation Restaurant POS



Revel Systems is a cloud-based iPad POS specifically for the restaurant industry. In addition to standard industry features like ingredient-level tracking and menu management, Revel has rare features like card preauthorizations, self-order kiosks, and flexible hardware setups that make it a good fit for high-volume and multilocation restaurants.
Revel Systems Pricing
Revel Systems starts at $99 per register, per month, which is a higher base cost than most of the other restaurant POS systems on our list. However, Revel includes features like customer relationship management and employee management in the base price. Most other POS systems charge extra for these features.
Revel Systems operates on iPads, which can be purchased through Revel Systems along with accessories like iPad stands, cash drawers, receipt printers, and more. Restaurants using Revel POS can choose their own payment processor or use Revel Advantage Payment Processing. Pricing for Revel's proprietary payment processing solution is not disclosed on the website.
Revel Systems Features
Revel Systems is a robust restaurant POS with features for inventory tracking, customer relationship management, reporting, employee management, payment processing, and more. Revel also has lots of industry-specific features like menu and order management, the ability to open several customer tabs and toggle between them, and preauthorize credit cards.
Revel Systems Inventory Management
Like most of the restaurant POS systems on this list, Revel has ingredient-level inventory tracking. Businesses can create menus with individual items, and add the recipe for each item including specific ingredient quantities.
Revel Systems Customer Management & Loyalty
Revel Systems has standard restaurant CRM features like the ability to collect customer contact information and other data and compile it into a customer profile. What sets Revel Systems apart from other POS systems is that it includes a customer loyalty program in the base price. Revel also includes email marketing tools. Most other systems only offer these features through an add-on or integration and additional monthly fee.
Revel Systems Enterprise Features
Revel Systems has flexible configurations with customer-facing displays, kiosk, and kitchen display features. This makes Revel a good fit for large, high-volume, or chain restaurants that need more than just a checkout counter or tableside POS. The digital kitchen display automatically sends orders from the POS to iPad touchscreens in the kitchen.
Revel Systems also has a few customer-facing solutions, including a self-order kiosk and a traditional customer-facing display for countertop checkouts. Both of these are customizable to individual restaurants with branding, menu, and loyalty information, and they connect with the kitchen display systems.
What Revel Systems Is Missing
Most of the restaurant POS systems in our list are month-to-month or annual contracts. However, Revel Systems requires a three-year contract, which is not a good idea for new restaurants just starting out.
Revel Systems Reviews
According to Revel Systems user reviews, the company offers helpful customer support 24/7. Reviewers also like that the system provides a lot of back-office information for larger restaurants. Some reviewers report occasional software glitches or bugs when the system is updated.
Bottom Line
A restaurant POS system should streamline your front- and back-of-house operations, improve communication among staff members, and improve your table turns, menu management, and analysis of sales, guests, and inventory. Most solutions use iPads and a cloud-based system, both of which cut down on your costs and increase the ease of use all around.
Toast is our pick for the best restaurant POS system, as it offers some of the most robust features to help you manage all sides of your restaurant, whether it's a food truck, casual restaurant, or fine dining establishment. Plus, it's reasonably priced, making it affordable and valuable for any small restaurant owner. Try Toast today.