10 Best Restaurant Uniform Ideas
You don't have to have a uniform for your restaurant staff, but uniforms offer some advantages. First, they enable you to ensure your employees are wearing clothing appropriate for work. Second, they help promote your restaurant's atmosphere and brand. Finally, most diners and employees actually prefer them.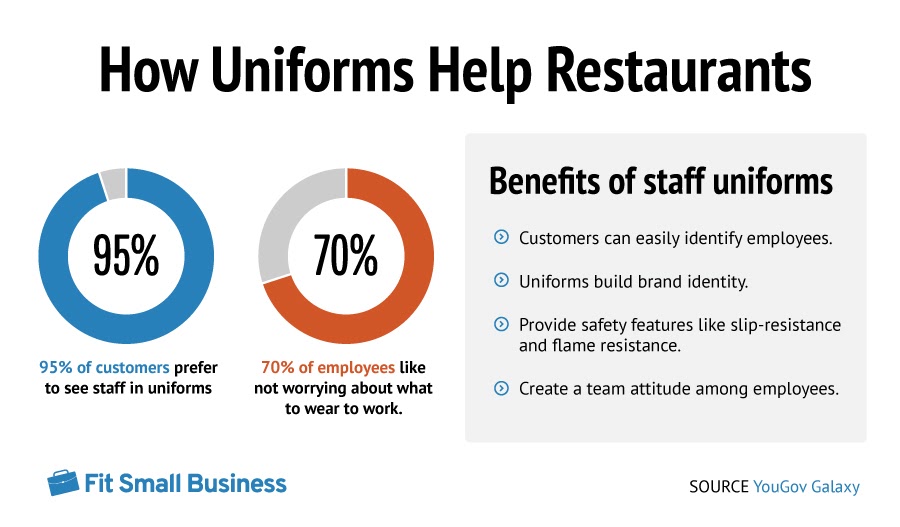 Uniform vs Dress Code
A dress code gives general guidelines and leaves the employee to choose the items. For example, you might get different shades of red T-shirts, black pants that vary from tights to black denim to flowing wide-leg slacks. Uniforms are ordered from a distributor either in bulk, or by piece by the employer. Employers often pay for uniforms or supply them and take the cost from the employee's paycheck. The variety of uniform items you need will depend on the types of restaurant staff you employ.
Different restaurants have different uniform needs. Here are 10 of the most common.
1. Pizza Shop Uniform
| Problem Area | Solution |
| --- | --- |
| Pizza ovens lead to a hot environment | Look for breathable materials like cotton. |
| Staff share duties between kitchen and counter | Blend BOH and FOH uniform elements like adding hats as head coverings. |
| Delivery drivers must deal with weather | Add jackets with logos. |
Pizza shops (and other restaurants that have high takeout and delivery sales volumes) benefit from comfortable clothes that prominently display your brand. Branded uniforms help customers identify your staff, especially if they are delivery drivers arriving at a customer's home. T-shirts or polo shirts in your company colors with logos on the back and front are a great fit for a place where workers need a lot of mobility.
To control costs you can complete your uniform look with dress code requirements for pants and non-slip shoes. If you are located in an area that experiences cold weather, consider adding branded jackets for your delivery people.
2. Deli Uniforms
| Problem Area | Solution |
| --- | --- |
| Temperature swings between hot and cool | Comfortable fabrics that breathe. |
| Staff share duties between kitchen and counter | Blend BOH and FOH uniform elements. Definitely include hats or head coverings. |
| The staff handles food that is consumed cold | In most locations, you'll need to provide staff with gloves for food preparation. |
Deli shop employees usually work both counter and food preparation, so the uniforms need to take that into account. Since you're mostly dealing with sandwiches, chef attire isn't needed, but full bib aprons are always a good idea. More important is a clean appearance that also adheres to kitchen safety. Headgear that keeps hair in check is a must, and you will need to provide gloves. For the rest, a branded T-shirt or polo shirt suffices, especially if you have a high turnover.
3. Cafe and Coffee Shop Uniforms
| Problem Area | Solution |
| --- | --- |
| Steam wands and hot milk | Long sleeves and thick aprons can protect staff from burns. |
| Slippery floors | Non-slip shoes are a must. |
| Lots of movement | Avoid tight-fitting clothing. |
Anyone who's stood in line for their morning coffee knows that coffee shops can get as rushed as any restaurant. Therefore, it's important that your employees have comfortable uniforms that let them move, especially in the narrow areas behind the counter. During a shift, an employee may work drive-thru, barista, and trash detail, so (as always) aprons and headgear are vital.
What other elements you include will depend on the atmosphere you want to promote. If you have a staff of mostly students or otherwise experience high turnover, you'll want to keep your costs down.
4. Food Truck
| Problem Area | Solution |
| --- | --- |
| Hot environment | Look for breathable materials like cotton. |
| Staff share duties between kitchen and counter | Blend BOH and FOH uniform elements. Hats are a must. |
| Competitive | Display your logo cleverly and prominently at chest level or higher. |
Food trucks are the ultimate in casual eating, but just because the location is "dressed down," doesn't mean your staff needs to be. Choose uniforms that can stay neat under pressure, don't wrinkle, and let your workers transition easily from serving to cooking. Most food truck uniforms are bright and memorable, featuring eye-catching logos or witty slogans. When placing your logos, be mindful of the height of the truck and the eye level of your customers. You want them to see your great designs and remember who you are.
Many food trucks operate as micro-businesses. If you are concerned about meeting minimum order requirements with larger, traditional restaurant uniform companies, you can easily order small amounts of shirts, hats, and even jackets from Vistaprint.
5. Counter Service / Fast Food
| Problem Area | Solution |
| --- | --- |
| Fast-paced environment | Comfortable clothes that are easy to move in. |
| High staff turnover | Inexpensive items for general workers. |
| Branding is paramount | Use brand colors and have logos prominent. |
Most fast-food chains already have set uniforms, so if you are competing in that space, it's a good idea to look to them for inspiration. In general, they have simple requirements for their general staff, with upgraded options for management. Uniforms reflect the brand in color and logo and are usually the same whether you are working kitchen or counter. While you want good quality, you should also budget for the wear and tear fast-food uniforms take. Even if departing workers return their uniforms to you, they may not be usable by another employee.
6. Full Service Casual
| Problem Area | Solution |
| --- | --- |
| Employees may perform several roles | Blend BOH and FOH uniform elements. Include head coverings. |
| Image and tone are important | Brand the top or apron and pair with khakis, black slacks, or jeans. |
| Personable atmosphere | Use T-shirts with different messages on the backs for a friendlier tone. |
Casual sit-down restaurants strive for return customers, so you want to be sure your uniforms, like your staff, reflect not just a welcoming atmosphere, but also the tone you wish to set. If you are going for a friendly atmosphere, consider T-shirts with slogans and catchphrases.
If you are going for something more upscale but still casual, polos or button-downs add a little formality without getting too stuffy. Pick something that your employees feel comfortable in; Olive Garden, for example, changed its uniform from a white shirt and tie to a more comfortable but stylish black button-down after employees complained about the ties.
7. Full Service Upscale
| Problem Area | Solution |
| --- | --- |
| Image is everything | Consider custom-made uniforms. |
| Defined roles | Maintain a consistent style even with uniforms that differ by role. |
| Polish is key | Use dark colors, and non-wrinkle fabrics. Consider hiring a laundry service for chefs' coats. |
People expect more from upscale restaurants, not just in food and service, but also in atmosphere. Your uniforms should reflect that. They should be higher-quality fabrics, especially ones that clean well. Your wait staff may not wear hats (or even aprons), but if they do, it will be to convey style rather than function. Hosts may wear dresses, while hosts and bartenders wear vests or jackets. You may want to dictate the entire uniform, down to shoe style, in order to achieve a truly cohesive look.
Darker colors are more sophisticated and hide stains. They are also great to pair with a contrasting color; though most upscale places stick to neutrals and blues. You may even want to consider custom fabrics. Contemporary uniform companies like Tilit NYC and CargoCrew offer sophisticated uniforms and varieties of fabrics and can work with you to create custom uniforms.
8. Fine Dining Restaurant
| Problem Area | Solution |
| --- | --- |
| Large staff | Get uniforms that flatter multiple body types. |
| Lots of Specialized Roles | Have a cohesive color scheme or style that plays through each uniform type. |
| Looks Matter. A Lot. | Consider custom uniforms by known designers. |
If you have a high-end fine dining establishment that enforces a dress code for your customers, you probably want your staff to dress at the level of your diners or higher. Subtle logos and stylish uniforms that differ by roles can lend an air of sophistication to your staff. With every worker having a special role, you can vary uniforms by specific needs, but use color and style to tie them together. Consider having some extras, like clean chef jackets, stocked in your back office so your team always looks polished in your dining room.
Many fine dining restaurants work directly with fashion designers to create styles that suit their brand. For example, the cutting-edge Chicago restaurant Alinea worked with the Zegna label to design their staff uniforms. This is a far more expensive option, but really gives your restaurant a one-of-a-kind look.
9. Seasonal Restaurant
| Problem Area | Solution |
| --- | --- |
| Weather dependent | Offer options for different temperatures, including short or long sleeves, or branded jacket. |
| High staff turnover | Limit uniform requirements to a single piece, like an apron, or go with less expensive, quirkier items. |
| Limited seasonal hours/ limited profit | Buy bulk aprons, shirts, or hats. |
Seasonal restaurants are only open for part of the year, such as ski season, tourist season, or summer breaks. As such, the uniforms should take into account the weather, especially if your customers will dine outdoors. Many uniform suppliers, like WaitStuff, have shorts. Alternatively, you may opt for long-sleeved uniforms and fleece vests for waitstaff at a ski lodge.
High staff and customer turnover can be a blessing to a seasonal restaurant, uniform-wise, because it gives you the opportunity to experiment with quirkier items that you might be able to get from retailers, like Hawaiian shirts. Remember health and safety needs when choosing this option. Use name tags, aprons, or headgear for your logo.
10. Bar Uniforms
| Problem Area | Solution |
| --- | --- |
| Lots of bar tools | Pockets are popular. |
| High visibility role | Stylish fabrics that reflect your brand or location. |
| Works in a wet environment with lots of glass | Consider darker colors that hide stains, washable fabrics, aprons that repel liquids, and sturdy shoes. |
People often choose a bar for its atmosphere, so the uniform you choose should support the brand or the uniqueness of the location. Tiki bars favor bright colors or floral prints, while a sophisticated downtown bar may dress bartenders in white jackets. Regardless of the style you choose, be sure that bar uniforms are easy to move around in and washable. Vests paired with a pocketed half-apron are popular, classy, and protect against spills.
How to Choose a Restaurant Uniform
When deciding how to choose a restaurant uniform, first think about the features you want for your front of the house (dining) uniforms and back of the house (kitchen) uniforms. Consider your restaurant's specific needs around brand/look, head coverings, shirt comfort, non-slip shoes, and aprons.
Front of the House VS Back of the House Uniforms

Regardless of the type of restaurant you have, uniforms should be something your employees are comfortable wearing. That means keeping in mind body shape as well as sizes. While some restaurants, like Hooters, expect tight or provocative clothing, most restaurants default to modesty and sensible shoes. Here are some other important considerations.
Work Environment: The materials should match the work environment. Cotton breathes easier, while some polyesters deflect water. Avoid nylon, which clings to the body and doesn't ventilate. Offer short and long-sleeve options, especially if you air-condition heavily.
Employee Tasks: Uniforms that are too restrictive can slow staff down, and uncomfortable fits make it hard to complete tasks that involve stretching or quick movements.
Safety: When considering styles and fabrics, think about conditions like gas fire stoves or barbecue pits. Sturdy shoes with non-slip soles are a must BOH and for most of your staff FOH. Chefs might benefit from sleevies or long-sleeved jackets to protect against burns.
Health requirements: Health codes require people handling food to wear headgear to keep their hair in check and gloves. Polyester has higher anti-microbial protection than cotton.
Style: In addition to brand colors and obvious themes, think about where you sit on the scale of flamboyant to formal. Also, consider styles that look good on all kinds of people, especially if you are thinking about dresses for your female employees.
Budget: Every employee should have at least two uniforms so that one can be in the wash at any time. Plan for spares. You can have common items, like aprons, that never leave the restaurant. In addition, think about replacement items and cleaning costs.
Turnover rate: The more items you have in a uniform, the more likely they will be lost, forgotten for a shift, or taken when the employee leaves. If you have a high staff turnover this is a greater concern.
It's not necessary to have a complex uniform. For some restaurants, a single item like a T-shirt can keep your brand. Aprons are the easiest default, and you can keep them in the restaurant since they fit anyone. Do set some dress code rules to ensure safety and appropriate attire.
How to Customize Your Uniforms
Regardless of the types of uniforms you purchase, customizations can make them stand out as uniquely yours.
In addition to style and color, here are ways to stand out:
Custom-made Uniforms: You can work with designers, local tailors, or uniform companies about creating special designs that reflect your unique style. You can work with the company to design a fabric, or find a designer on Fiverr.com and use a printed fabric site like Spoonflower to have it made.
Logos: If you don't already have a clear logo that reflects your brand, create one. Then you can use the logo on custom fabrics, or have it silk-screened or embroidered on the uniform. To find a logo designer, check out our list of top logo design companies.
Color Scheme: Color theory plays a role in restaurants too. Bright colors like yellow and orange are warm and friendly. Cooler colors like green signify health and make customers think of leafy greens. Red has been shown to encourage appetite, so it's a good fallback for any restaurant uniform. Blue is an attractive color on pretty much anyone, but has been shown to have appetite suppressing effects.
Branded Tools: Uniforms don't just have to be what you wear. Branded items like wine keys, bar towels, coasters, or writing pads add to the atmosphere.
Accessories: If you are on a budget, you can assign a strict dress code, then add an accessory to make your brand pop and add consistency. Hats, ties, bow ties, belts, or cummerbunds, can add a little flare. If you are going for a complete uniform, consider socks as well as shoes.
Face Masks: What to Know
The pandemic has caused a new accessory to come on the scene: face masks. Already, uniform companies are starting to create these, both to match their current uniform offerings or as custom-mades with your logo. When deciding on face masks for your team, consider the following:
Comfort: Masks with ear loops can rub if they are the wrong size, so get adjustable ones. There are also ear savers you can get printed with your logo. Otherwise, look at the ones that tie instead, or the bandana or neck-gaiter styles.
Fit: Masks need to fit well over the nose, usually with a piece of metal to allow adjusting. Otherwise, employees with glasses may have problems with fogging. Also, they should fit well over the face without gaps.
Shielding vs breathability: Fabric masks are not 100% secure, but they are even less useful if your employees are constantly pulling them down or readjusting them to breathe more easily. Find masks that fit the face, but allow room within the mask for air.
Branding: Just like you can get uniforms in branded fabrics, you can do the same with face masks. Print companies like Zazzle and Vistaprint are making masks you can put your logo on.
Restaurant Uniform Costs
Uniforms can be costly or inexpensive, depending not just on the item, but also the style, fabrics, customizations, and more. Some high-end restaurants even hire famous designers to create their uniforms.
In general, you can expect prices for individual items in these ranges:
Full apron: $10 to $130
Half apron: $30 to $65
Chef coat: $17 to $125
Reusable Face Mask: $7 to $35
Polo shirt: $24-$70
Button-front shirt: $38-$90
T-shirt: $10-$25
With uniforms, however, individual item prices are not always the whole story. Many restaurant uniform companies require a minimum order of items, especially if you want custom-made or custom-embroidered uniforms. Depending on the item type, minimum orders can range from 12 to 100 pieces.
Frequently Asked Questions (FAQs)
Do I have to buy my employee uniforms?
Some states, like California, Nevada, New Jersey, and New York, require that you provide and maintain uniforms. Others have no stipulations. If you purchase uniforms, they are considered a business expense.
If you do not provide uniforms, consider your employees. If you hire a lot of teens or part-time workers, you may want to provide items or at least make them inexpensive. By law, the charge of the uniform cannot take an employee below minimum wage.
Do I have to maintain uniforms?
Employees should be responsible for washing uniforms. However, if uniforms need to be ironed, dry cleaned, or specially laundered (because of heavy stains or color concerns), you may want to maintain the uniforms yourself or give employees an allowance to do so.
Can I charge employees for lost or damaged uniforms?
You may, but as with charging for uniforms, be sure you understand your state laws. If you choose to charge for this, be sure employees are aware when being hired, and include it in the employee handbook. Be specific about uniform standards.
Can I buy employee uniforms from a regular clothing store?
You can, but consider that retail stores change styles and colors every season, making it hard to keep a consistent brand. Also, many uniform sales will offer wholesale prices, discounts, and will not discontinue your patterns if you choose special colors. Therefore, going to a regular clothing store might be a good choice for unbranded items or temporary uniforms.
Some restaurants, however, will have their employees get pants from a regular clothing store, such as Dickies, so that they present a uniform appearance.
Bottom line
A good restaurant uniform, combined with a dress code, helps ensure your employees are dressed safely for the job, promotes your brand and atmosphere, and helps tie a team together. They can be as fancy as a complete outfit down to socks and shoes, or as simple as an apron with your logo.
Think about the unique needs of your restaurant style in terms of working conditions, employee roles, how casual or formal a dining experience you want for your customers, and unique requirements like delivery, seasons, or employee base. Next, be sure you have a clean logo to use on your uniform. Finally, we recommend a uniform supplier rather than retail, as they can provide bulk pricing, save your designs, and keep you in stock.