Sales management tools are applications, programs, or software that provide business owners, managers, and supervisors tools like reporting and dashboards to help them visualize team performance and identify areas for improvement. We reviewed dozens of applications and arranged this list of the 15 best sales management tools for helping sales team leaders be most effective.
Top 15 Sales Manager Tools
| Sales Management Tools | Best For |
| --- | --- |
| | Businesses wanting a visual tool to help managers and reps quickly determine deal status |
| | Teams needing a lead management platform that supports web-based calling and scripting |
| | Teams wanting an analytics-focused tool that inspects pipeline health and tracks sales goals |
| | Sales leaders looking to create an online knowledge base to supplement team performance |
| | Managers wanting gamification software to create custom games and contests that motivate reps |
| | Sales teams that want to showcase leaderboards on TVs for large-group visibility |
| | Businesses wanting a sales management platform with teams management and rep performance dashboards |
| | Sales managers who want to provide reps with verified contact lists for prospecting |
| | Managers looking to supplement Salesforce with mobile access to pipelines and reports |
| | Sales managers needing a multipurpose tool for training and communicating with reps |
| | Teams wanting a web platform for managing and reporting on document and email engagements |
| | Sales teams looking to improve forecasting by empowering reps with inventory management tools |
| | Businesses requiring a customer relationship management (CRM) solution with activity, forecasting, and trendline reports |
| | Sales teams looking to sync contact records with dashboards for easy deal monitoring |
| | Businesses wanting a phone line solution that supports simultaneous call handling and reporting |
How We Evaluated the Best Sales Management Tools
Sales managers are tasked with hiring and onboarding new hires, motivating reps, and identifying opportunities for coaching. To accomplish these tasks, they often look to consolidate information that feeds reporting and helps them make informed decisions regarding direct reports. Customer relationship management (CRM) tools, data analytics platforms, and other software can help manage and automate some of these sales management responsibilities.
Therefore, we evaluated the featured sales manager tools based on the following criteria:
Price: We took a look at the cost of using each application, including the features included with each available plan.
Customization: The ability to tailor software can improve adoption and make reporting more meaningful, so we examined the degree to which each tool can be customized.
Ease of use: We read customer reviews to determine how easy it is to use and set up each software tool.
Mobility: Many sales leaders travel often or work remotely, so we considered the availability of mobile features through each provider.
Reporting and analytics: We assessed built-in reporting and analytical features as core tenets of each tool.
Customer support: Finally, we compared how well each platform provides customers with post-purchase resources, including online knowledge bases and access to customer support.
What it costs: Pipedrive plans range from $12.50 to $49.90 per user, per month.
What it does: Web-based CRM software that visualizes sales processes so information is quickly decipherable.
Pipedrive is a web-based CRM tool that is designed to provide users with a unique visual experience. Deals can reflect numerical data, enabling reporting on expected commissions earned. Plus, pipelines are arranged in a Kanban-style and identified clearly by deal stage so that sales leaders can quickly determine what needs to be done and with what resources in order to help deals progress.
All Pipedrive plans include sales and activity reports, individual and company goal reporting, and a revenue forecast view, helping managers stay current on team efforts, goal attainment, and pipeline health. Pipedrive supports live dashboards that display updated metrics in real-time and offer workflows that allow managers to automatically assign new leads and tasks, saving valuable time. Visit Pipedrive's website today to learn more or to start a free trial.
What it costs: $80 per user, per month with a discount available with annual contracts.
What it does: Supports sales teams with dynamic scripting so that individual reps can have more successful phone calls.
VanillaSoft is a sales management software that provides sales managers tools for coaching reps through phone calls with prospects and customers. The Sales Engagement plan from VanillaSoft offers dynamic and logical branch scripting, which allows teams to create custom scripts for reps to follow during calls. The scripts can provide information or address objections, and based on customer responses, lay out pre-approved responses.
In addition to smart scripting, VanillaSoft's base platform offers lead routing and management, a real-time activities dashboard, and customized reporting for $80 per user, per month. Add-on services are available, including a web-based dialer and call recording, each offered at a monthly price of $30 per user. Two-way telephony is also an option for $33 per user, per month, as is caller ID for just $2 per area code, per month.
What it costs: Unspecified
What it does: Provides granular reporting on pipeline health and sales forecasts.
Clari is a revenue operations management software that includes sales goals tracker capabilities, making it easy for sales managers to keep up with how well efforts are producing results. Reporting includes deal flow analytics, which can call attention to points in the sales cycle where deals seem to be lost and to gaps in pipeline. This helps managers shift the team focus onto specific deal stages, keeping deals on track, and on refilling the pipeline as needed.
Clari does not publish pricing on its website. Team leaders who are interested in learning more or obtaining detailed pricing should contact Clari's sales teams via its website.
What it costs: From $14 to $24 per user, per month.
What it does: Helps teams consolidate team training materials and resources into one easy-to-use knowledge base.
Guru is an online platform that supports the creation of internal, employee-facing knowledge bases. Sales managers can use it to centralize the storage of documents for future access by sales reps, including customer collateral, sales enablement materials, and performance standards. Reps gain continuous access to their most-used resources, and sales managers gain access to analytics on how often the content is accessed and by whom.
Guru's Essential plan includes Slack integration and starts at $14 per user, per month, while the Team plan is $24 per user, per month and includes API access. There is an Enterprise option that is custom priced and includes a dedicated success manager to assist with setup and priority customer support for assistance with technical issues, should they arise.
What it costs: Unspecified
What it does: Permits the creation of engaging sales contests and games that incentivize sales reps.
Ambition is a sales management and gamification tool that supports the creation of custom sales contests and games. Sales managers can organize head-to-head matchups, team competitions, and individual contests based on one or more metrics that can be weighted. Real-time insights are also available so that reps can know where they stand in relation to teammates and what to do in order to remain competitive.
Pricing is not available publicly. Businesses that are considering a purchase or that want to learn more about Ambition can visit their website to engage a representative.
What it costs: From $31 to $479 per month.
What it does: Offers small business sales teams affordable and customizable leaderboards for large-screen display.
Geckoboard allows teams to build sales activity dashboards and display them on large-screen displays or televisions. This is ideal for sales managers looking to exhibit leaderboards with customized widgets that can show the top appointment setters, callers, and quota-makers within a given time frame. Not only does this recognize top performers, it motivates reps who have room for improvement and keeps entire teams up to date on team performance.
Geckoboard's introductory plan offers two dashboards on a single TV for $31 per month. The second tier supports five dashboards on unlimited TVs for $127 per month, while the third supports 10 dashboards on unlimited TVs for $199 per month. Finally, the fourth tier supports unlimited dashboards on unlimited TVs. To learn more about Geckoboard or to start a free trial, visit their website.
What it costs: From free to $500 per month.
What it does: Provides snapshots of team and agent productivity in real-time.
Sales Hub Professional is the advanced sales management option from HubSpot. The cloud-hosted software supports team management, allowing sales managers to organize reps by teams. Rep performance dashboards quantify activities, such as meetings, calls, emails, deals, and tasks by rep, in real-time or within specific date ranges. Data can then be exported and used as talking points during one-on-one coaching or performance reviews.
Sales managers who do not need team management, individual rep dashboards, or workflow automation will still appreciate HubSpot's free CRM plan that includes access to a reporting dashboard. The free plan also supports account, contact, lead, and deal management for an unlimited number of users, making it a solid choice for small business sales teams.
What it costs: Ranges from $79 to $349 monthly.
What it does: Provides marketing and sales organizations verified contacts and leads.
UpLead is a data provider that specializes in supplying business-to-business (B2B) sales organizations with leads, including names, titles, and verified email addresses. Sales teams looking to enable sales reps with quality call lists can export new contacts as spreadsheets or to a CRM database. This allows sales managers to create structured call plans based on current information, increasing the likelihood that reps will make contact and uncover new opportunities.
UpLead free trial users receive five credits, and each credit can be exchanged for a single new contact. The introductory plan is $79 per month and includes 200 monthly credits, and the second-tier plan is $199 per month with 1,000 credits. The third-tier package offers 3,000 credits and supports unlimited users at a per-month price of $349. Additional credits are just 10 cents per credit, and unused credits roll over to the next month.
What it costs: From $25 per user, per month.
What it does: Furnishes real-time data on pipeline health and sales performance in the form of graphics via a mobile app.
Salesforce Sales Analytics is a mobile app that supplements Salesforce CRM data with dynamic graphics on a mobile dashboard, keeping executives, managers, and reps up to date on recently won deals. The app also includes pipeline performance analytics, allowing sales leaders to compare pipeline health and revenue with previous years or within specific time frames, helping them better identify and attribute spikes or lulls in business.
Salesforce Sales Analytics is available with Salesforce CRM as Enterprise and Unlimited plan add-ons. Salesforce Enterprise is $150 per user, per month, and the Unlimited plan is $300 per user, per month. Because the analytics app costs an additional $50 per user, per month, it is a better fit for large teams with needs around partner management and workflow automation.
What it costs: Plans start from $17 monthly for two users.
What it does: Simplifies team communication and training within one central platform.
Monday.com is a web-based platform that permits managers to assign tasks, facilitate collaboration, and monitor team performance in addition to lead, contact, and deal management. Managers can also create custom plans for new hires in the form of a checklist with due dates, regulating training and reducing the amount of time it takes for new reps to become onboarded and fully productive.
Managers using Monday.com can also design knowledge bases with email templates, phone scripts, and product notes and share them, files, and attachments with individuals or groups via direct messaging. Plans are priced based on the number of total users: from $17 per month for two users, from $25 per month for five users, from $125 per month for 25 users, and from $500 per month for 100 users.
What it costs: Ranges from free to $40 per user, per month.
What it does: Offers sales leaders data on the performance of shared content, including emails.
SalesHandy is a small business-friendly tool and data analytics platform that is an extremely useful application for sales managers looking to track document shares and engagements. Sharing can be quantified per document by the number of views, average visit length, and total visit length, and sales managers can use these findings to point out which documents sales reps should use to stimulate more interest from potential buyers.
SalesHandy offers a free-forever plan that includes email tracking, as well as a cost-friendly introductory plan that includes document tracking for $7 per user, per month. The middle tier is $16 per user, per month and comes with a mail merge feature, while the highest tier supports larger content-sharing campaigns for $40 per user, per month.
What it costs: Ranges from free to $30 per user, per month.
What it does: Supports more accurate forecasting, leading to better inventory management.
Zoho CRM helps sales managers and their teams provide more accurate sales forecasting. Product and price book management ensures that deals and price quotes reflect accurate revenue totals based on the products in consideration for purchase and their associated costs. They also ensure that pipelines and revenue forecasts are accurate, leading to better inventory management and resource planning.
Price books, products, and quoting are included with the Professional plan for a monthly price of $20 per user. However, less feature-inclusive plans, like Zoho's free-forever plan for three users, or the Starter plan, costing $12 per user, are also available. In addition, there is a whole suite of additional Zoho-branded tools like Desk and Workplace for more seamless and centralized office productivity.
What it costs: From free to $79 per user, per month.
What it does: Automates reporting on the effectiveness of sales activities, forecasting, and trends.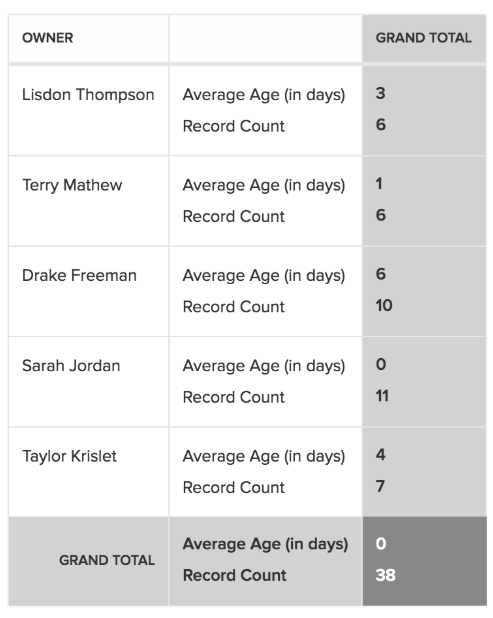 Freshsales is a web-based CRM that automates sales tracking by reporting on activities, sales velocity, and business trends as part of its Garden plan offered at $25 per user, per month. It provides sales managers and executives with the information they need to allocate order fulfillment resources, spot obstacles to the sales process, and make decisions regarding future sales initiatives.
Freshsales' free-forever plan gives sales teams access to web-based calling and account, contact, and deal management. Additional plans range from $12 to $79 per user, per month and offer lead assignment, team management, sales forecasting tools, and workflow automation.
What it costs: From $34 to $139 per user, per month.
What it does: Allows teams to sync contact records with dashboards for real-time updates.
Keap (formerly known as InfusionSoft) users can sync pipeline activities with contact records that then feed the customer life cycle dashboard. This allows sales managers to see where each contact is in the sales process from a single page. Keap also supports customer relationship management and detailed reporting dashboards that track recent activities, appointments, and tasks, providing managers with real-time insights.
Keap offers three packages. The entry-level plan is $34 per user, per month and includes team segmentation. The middle tier is $104 per user, per month and offers automated pipeline management that updates deal stages when triggered, but only the most feature-inclusive package offers contact sync with dashboards at a monthly per-user price of $139.
What it costs: Ranging from $20 to $30 per month.
What it does: Provides a virtual phone service to sales teams that want call recording and reporting functionality.
Nextiva is a virtual phone service provider that supports the recording of both incoming and outgoing calls, allowing sales managers to play back calls and pinpoint opportunities for coaching or training. Call analytics are also available, providing data on missed calls and comparing call volumes at different times. Not only does this help managers identify peak call times, it also helps them determine staffing needs.
Nextiva gives sales teams the same tools as many traditional business phone systems, such as call routing, voicemail, and fax. It features a customizable auto-attendant that prompts callers to respond with choices that will direct them to the appropriate representative, hold music, a dial-by-name directory, voicemail transcription, and business texting. Plus, service plans are affordable and range from $20 to $30 per month.
Bottom Line
Sales management tools can aid in the monitoring of performance, pipeline health, revenue forecasting, and trends that affect the development of new sales. They can also provide sales managers with a means of communicating with and training sales reps.
Pipedrive is an online CRM tool that provides a visual experience to help sales managers and sales reps alike manage deals and pipelines. Visit Pipedrive's website to learn more or to start a free trial today.