Phone systems used to be built on older landline technology, but newer small business VoIP providers leverage the internet to convert voice into data and add a variety of standard calling features to your office's physical phones. These can include call transfer, call queueing, extensions, and directories that used to require costly PBX hardware. We reviewed Nextiva, RingCentral, and 8×8 because they offer the best combination of features at different price points for small business owners. Read on to see our recommendations below.
Best Small Business VoIP Provider: Nextiva
We recommend Nextiva as the best small business VoIP provider because they deliver the right balance of standard features, customer support, and price. In fact, we feel so strongly about this recommendation that we use Nextiva in our own office.
Small Business VoIP Providers: Nextiva vs RingCentral vs 8×8
Nextiva

RingCentral

8x8

Best For
Small businesses who want the best balance between standard features, customer support, and price
Small businesses who need a full-featured service, regardless of cost
Small businesses who use a lot of long distance minutes in a month to those countries included in 8x8's top two pricing packages
Monthly Pricing
No activation fee

From,


$34.95/user for 1-4 users
$29.95/user for 5-19 users
$24.95/user for 20-99 users
$21.95/user for 100+ users

No activation fee

From,


$49.99/user for 1 user
$34.99/user for 2-19 users
$31.99/user for 20-99 users
$29.99/user for 100-999 users

$39.99 activation fee

From,


$24.99/user for 250 outbound minutes to the US and Canada and $0.029/minute thereafter
$39.99/user for unlimited minutes to the US, Canada, and 8x8's top 8 calling countries
$79.99/user for unlimited minutes to 8x8's top 40 calling countries

Ease of Setup and Use

Learn More
Easy
Easy
Easy
Differentiating Features





Learn More

Voicemail transcription (for $2.95/month per user)
Call barging

1,000 toll-free minutes
Unlimited video meetings with screen sharing
Integrations with Microsoft, Google Box, and Dropbox

Call recording
International calling to select destinations included in some monthly packages
HIPAA, PCI, and FISMA compliant

Mobile App


Learn More
iOS and Android
iOS and Android
iOS and Android
Customer Support



Learn More
Industry-leading multi-tiered support, available 24/7, with single point of contact by phone or online

Online knowledge base
Phone from 8am to 9pm EST
Online chat 24/7
Ticket requests

Online knowledge base, user guides, setup guides, online chat, and phone-based support as well as an online Q&A with other 8x8-selected power users
www.Nextiva.com
www.RingCentral.com
www.8x8.com
Note on Pricing
Nextiva and RingCentral offer the options of month-to-month agreements or annual contracts at a slightly reduced cost. RingCentral also offers the option to pay annually for an additional price reduction. 8×8 only offers 12-month agreements, then month-to-month thereafter.
For our comparison above, we have included the most flexible options for each provider — month-to-month from Nextiva and RingCentral and a 12-month agreement from 8×8. For pricing on other term agreements, please see Nextiva and RingCentral's pricing pages.
Best Small Businesses VoIP Phone System: Nextiva

We recommend Nextiva as the best small business phone system because they offer the best combination of standard features, industry-leading customer support, and price.
Nextiva includes most of the standard phone system features that your business should expect from their VoIP phone service provider, including:
Web-based system administration
Auto-attendant
Call forwarding
Conference bridge
Voicemail to email (audio file)
Voicemail transcription
Direct phone numbers for each extension (DID)
But Nextiva's primary differentiator from RingCentral and 8×8 is the high standard of customer support that they deliver. RingCentral and 8×8 both offer a variety of ways to interact with their support teams, but neither commits to the level of care that Nextiva does.
Nextiva's award winning team pairs your business with a US-based representative to assist you with the setup and use of your service. This helps to ensure that you're maximizing the features that can benefit your specific business.
Once your service is setup and in use, any issues are dealt with promptly. 95% of Nextiva's incoming support calls are answered by the second ring and their goal is to resolve your issue during your first contact with them.
Nextiva's pricing is competitive with RingCentral's and 8×8's, falling in between the two depending on your specific needs and usage.
Best High-End VoIP Provider: RingCentral

RingCentral is our recommendation for the best high-end phone system for small businesses. They are an industry leader in VoIP phone systems and offer a wide range of features, many of which are also available from Nextiva and 8×8, but at an added cost. However, by including these features as standard, RingCentral starts out at a significantly higher monthly cost than their competitors.
RingCentral's base pricing starts at $49.99/month per user for one user, $34.99/month per user for 2-19 users, $31.99/month per user for 20-99 users, and $29.99/month per user for 100-999 users. This is significantly more expensive than both Nextiva and 8×8.
Some of the added features that RingCentral offers include unlimited video meetings, the range of available third-party app integrations, unlimited calling within North America included with all pricing packages, and 1,000 toll-free minutes per month.
However, for businesses who make a lot of international calls, 8×8 may add up to be the more cost effective service because of the countries they include in their top two tiers of pricing packages. With RingCentral's international rates starting at $0.039/minute, call time can quickly add up. And for small businesses who want good features at a lower cost, we recommend Nextiva.
Another significant downside to RingCentral's service is that they dedicate more customer support resources to their larger accounts, which means that smaller businesses don't receive the same level or care. RingCentral outsources their customer support and routes accounts with less than 20 users offshore. It's only accounts with more than 20 users that receive US-based support. With Nextiva and 8×8, all support is US-based.
That said, RingCentral is one of the largest small business VoIP phone providers and they do deliver an excellent high-end service — albeit at a high additional cost.
Best Small Business VoIP Service for International Calling: 8×8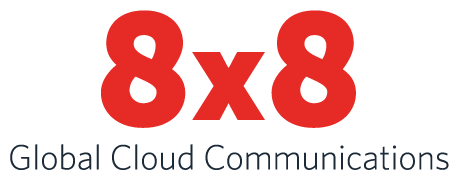 For businesses that make and receive a lot of international calls, 8×8's top two pricing packages may result in significant cost savings. That's because their Unlimited and Global plans include unlimited calls to either 8×8's top nine international destinations or 40, respectively.
8×8 is also the only VoIP provider we reviewed that is compliant with federal HIPAA, PCI, and FISMA data collection and storage regulations. This makes them the leading choice for small businesses that must adhere to these standards.
However, Nextiva and RingCentral both include many of the standard features that small businesses will require, such as call queuing and toll-free numbers. These are an additional cost with 8×8, and they can add up quickly depending on your needs. As well, the lack of 24/7 customer support means that 8×8 falls short of Nextiva.
In-Depth Review: Nextiva vs RingCentral vs 8×8
Ease of Setup/Use
Adding a new VoIP phone system to your business may seem like a significant task, particularly if you've only used a landline previously. Thankfully, however, the process is mostly seamless and the way that your staff uses their phones won't be any different for most basic tasks. There might be some additional steps to learn to take advantage of some of your system's newer features, but any learning curve will be minimal.
Nextiva, RingCentral, and 8×8 are all cloud-based VoIP services. Unlike traditional phone systems that require costly and complex PBX hardware to setup, VoIP phone systems just need a high-speed internet connection and your VoIP phones.
Once your VoIP phones are connected to your internet service, the phone system is setup through a web-based administration tool that your service provider will grant you access to. You can access the tool within your office or remotely to manage your service, performing basic tasks like creating ring groups, choosing a greeting or recording your own, and configuring any of the system's other features for your business.
Once your employees have been assigned their own extensions and granted access to the system, they can use the same tool for personal uses like voicemail or a computer-based calling feature known as a softphone.
Nextiva, RingCentral, and 8×8 each offer individual assistance and resources to help with the process of setting up your small business' phone system.
Nextiva demonstrates why their customer service team wins the awards they do as soon as you begin to setup your service. They assign a single point of contact to your business for each phase of the phone system, from setup and training to ongoing support. And in addition, their online knowledge base and user guides are comprehensive in their coverage.
RingCentral includes an efficient user portal for users. The graphical interface makes it easy to navigate and complete administrative tasks like setting up the auto attendant (pictured below). We also liked that RingCentral includes contextual "how to" videos directly within the interface, so you don't have to sift through support articles on their website as you're setting the system up.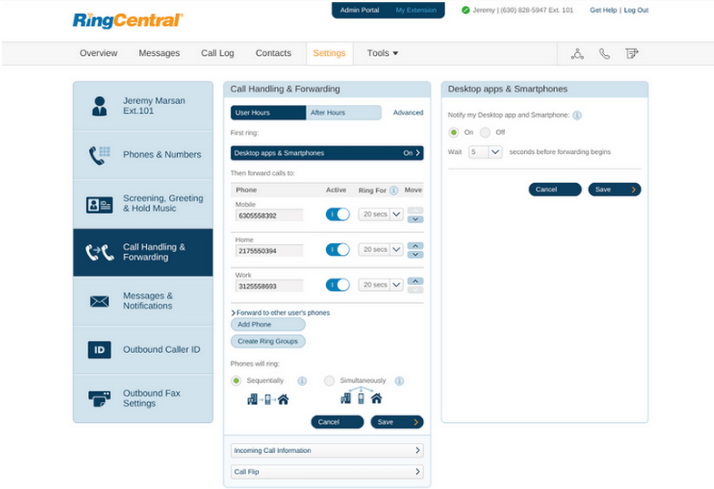 8×8 is unique in that they schedule a 60-minute phone call with every new business customer to introduce them to the phone system, its features, and how best to use those features depending on your business' needs. They also dedicate some of their support representatives to the setup process to ensure that there is an expert available to assist you during the most important window where you're introduced to the phone system. Finally, they also publish a comprehensive online knowledge base the includes video setup guides.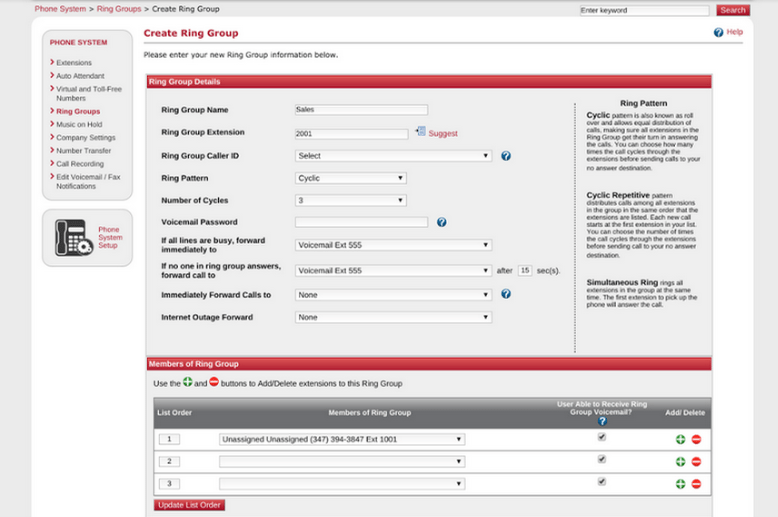 Features
One of the primary benefits of switching to the newer technology of a VoIP small business phone system is that many of the features that required additional PBX hardware and costs with landline technology now come standard. Nextiva, RingCentral, and 8×8 include many of these with their service.
Some of these standard features include:
Web-based system administration
Auto-attendant
Hold music
Call forwarding
Conference bridge
Caller ID
Call blocking
Call waiting
Call transfer
Ring groups
Share one line on multiple phones or devices
Voicemail to email (audio file)
Nextiva, RingCentral, and 8×8 each also include some additional features that differentiate their service from the others. We'll look at them in more detail below.
Mobile Apps
Nextiva, RingCentral, and 8×8 each offer mobile apps for your iOS or Android device that lets your users bring their office phone with them on the go. Some of the basic functions that they include — and that any phone system provider's mobile app should include — are:
Make calls from your business line (using either your mobile carrier's voice or data plan)
Send texts
Chat with other users using instant messaging
Check voicemails
Access call management features like setting up call forwarding rules
Nextiva's app includes additional functionality, allowing administrators to manage basic tasks like assigning extensions to new users.
Customer Support
Nextiva, RingCentral, and 8×8 all offer comprehensive online knowledge bases and multiple channels to connect with their customer support teams through. Here is how each service differs in how they offer customer care.
Other Small Business Phone System Providers
There are many other small business phone service provider options on the market that may be a better fit for your business' needs. Here are some of the others that we liked and what makes them unique:
| Provider Name | Best For |
| --- | --- |
| Nextiva | Combination of features, customer service, and value |
| 8x8 | International calling to many countries is higher-tier packages |
| RingCentral | Small business who want the most features, regardless of cost |
| Vonage | Partnership with Amazon Chime |
| Dialpad | Competitively priced and also available for use on hardware phones |
| Fonality | One-on-one assisted setup and hardware phones are included |
| Jive PBX | Highly rated customer support, an easy-to-use user interface, and enhanced analytics |
| phone.com | Virtual phone number for long distance calling |
| Grasshopper | Virtual phone number for domestic calling |
| Gradwell | Microsoft partner and Office 365 integration |
The Bottom Line
We recommend Nextiva as the best small business VoIP provider because they deliver a comprehensive set of features, one of the best customer support experiences in the industry, and at a price that's both competitive with 8×8 and significantly less than RingCentral.