A spa point-of-sale (POS) system manages client transactions, sales data, and tracks customer information just like any other POS system would. A spa POS also has spa-specific features like appointment scheduling, online booking, and client-facing account management tools. The best spa POS systems include all of these features and start at under $100 per month.
Top 6 Spa POS System 2019
| Spa POS System | Best For |
| --- | --- |
| | (Best Overall) Small spas needing online appointment booking, marketing, and low-cost payment processing |
| | Small massage therapy practices on a budget |
| | Membership-based spas needing automated recurring billing |
| | Medium - large spas wanting a branded scheduling app |
| | Busy spas needing automated waitlist management |
| | Solo practitioners wanting free online booking and built-in payment processing |
How We Evaluated Spa POS System
All spas need a software system to manage appointments and client accounts, process payments, sell products, and schedule employees. The best spa POS systems allow businesses to easily complete all of these tasks within one program. Ideally, spa POS systems also let customers book appointments online and allow employees to check their appointment schedules.
We used the following criteria to determine the best spa POS system for small businesses:
Price: Startup and monthly fees for a small business POS system should be affordable
Ease of use: Business owners, employees, and customers all interact with spa POS software so it needs to be intuitive and user-friendly
Appointment booking features: Spas need to be able to book customers for different types of appointments, manage appointment calendars, and let customers book their own appointments online
Customer relationship management (CRM) features: We considered features like built-in email marketing, two-way customer communications, and loyalty program features
Product sales and inventory management: Spas need a retail POS system that can process product sales, automatically track inventory, set low-stock alerts, and manage purchase orders
Employee management: We looked at what employee scheduling and payroll processing features are included in each spa POS system, including the ability to set and track commissions for different services
Reporting and analytics: We considered what kinds of sales, customer, employee, and inventory reports are included with each POS system
Integrations: We evaluated each system based on what other popular payment processing, accounting, marketing, and other solutions they integrate with
Based on the above criteria, WellnessLiving is our top choice spa POS system for small businesses. Many spa POS systems are very expensive for small businesses, and there are many other solutions that are free or low-cost, but better suited for individuals. WellnessLiving is a top-rated, affordable spa POS solution designed for small businesses that is full of appointment booking, employee scheduling, marketing features, and more.
WellnessLiving: Best Overall Small Business Spa POS

WellnessLiving is a cloud-based spa POS system for small businesses. It is our top pick because it is an affordable system with high-end features including unlimited customer and employee appointments and the ability to manage spa packages. WellnessLiving also has standard online booking and product sales features, making it the best all-around solution.
WellnessLiving Pricing
Monthly fees for WellnessLiving fall in the midrange of the other solutions on our list. The price ranges from $39 to $599 per month depending on which of the four plans you choose. Most small business spas would select the $99 or $199 per month plan.
WellnessLiving hardware costs are minimal. The system is browser-based so spas can operate the software at their front desk using any computer or tablet. Businesses can use their own credit card readers, scanners, and receipt printers, or purchase them through WellnessLiving.
WellnessLiving Pricing and Features
| | Starter | Standard | Professional | Enterprise |
| --- | --- | --- | --- | --- |
| Monthly fee | $39 | $99 | $199 | $599 |
| Integrated credit card & ACH payment processing | | ✔ | ✔ | ✔ |
| Unlimited clients | ✔ | ✔ | ✔ | ✔ |
| Unlimited employees & schedules | ✔ | ✔ | ✔ | ✔ |
| Online booking | ✔ | ✔ | ✔ | ✔ |
| Automated email reminders | ✔ | ✔ | ✔ | ✔ |
| Automated SMS text reminders | | ✔ | ✔ | ✔ |
| Employee payroll tracking | | | ✔ | ✔ |
| MailChimp & Constant Contact Integrations  | | ✔ | ✔ | ✔ |
| Customer SMS text messages | | | 500/month | 500/month |
| Sell products, memberships, packages, etc.  | | ✔ | ✔ | ✔ |
| Multi-location management  | | | ✔ | ✔ |
| Enhanced SEO & white label solutions  | | | | ✔ |
WellnessLiving Features
WellnessLiving, like many spa- and health-related POS systems, is slightly different from what you would find in a retail store or restaurant POS. It is an all-in-one management tool that includes appointment scheduling and management for both employees and customers, email and SEO marketing features, features for product and package sales, and more. WellnessLiving also has a customer-facing directory where all of their businesses have a bookable listing page.
WellnessLiving Appointment Booking Features
All WellnessLiving accounts come with a WellnessLiving business directory page with business information and a link to your personal business webpage. There is also a WellnessLiving app that customers can download to book appointments from their smartphones. WellnessLiving is one of the few spa POS systems that includes unlimited appointments and providers with all plans. There are also automated email appointment reminders with all plans, and SMS text reminders for the top two plans.
WellnessLiving Customer Relationship Management Features
As previously mentioned, WellnessLiving is one of the few systems that lets businesses set up unlimited client accounts and appointments, along with unlimited staff accounts, for every plan level. Every plan except for the Starter plan has features for adding custom notes and fields to client profiles, viewing purchase history, and attaching other documents such as health forms or waivers. All plans have features that let businesses view appointment history.
Rewards and loyalty programs are built-in for spas that opt for the Professional or Enterprise plans. Those plans also have built-in client retention tools, automated purchase follow-ups, and the ability to create custom emails.
WellnessLiving Product Sales and Inventory Management
WellnessLiving includes a full POS system in each plan except for the Starter. The POS can be used to sell spa packages, ring up appointments, sell gift cards, and sell products. Products and spa packages can also be sold online. WellnessLiving has integrated credit card processing for all plans except for standard, with Argus or Paragon as the processor options. Businesses can also set up ACH or EFT payments which are ideal for membership dues or recurring payments.
WellnessLiving Employee Management
WellnessLiving includes unlimited employee schedules and accounts with every plan, which is extremely rare. Most spa POS systems restrict the number of employee schedules available depending on how expensive the plan is. WellnessLiving has an employee-facing app so workers can check their appointment schedules remotely. The POS lets businesses set custom schedules, appointment types, and pay rates for each employee. WellnessLiving does not have built-in payroll processing, but the payroll reports can be exported.
WellnessLiving Reporting and Analytics
All WellnessLiving plans include basic reporting that includes client history. The Standard, Professional, and Enterprise plans include over 50 interactive reports with graphs and the ability to create custom reports.
WellnessLiving Integrations
WellnessLiving has a few unique integrations, including one with Google that publishes your business information on your Google My Business page, which allows customers to book directly from Google Search results on Google Maps. WellnessLiving also pulls together your online views from across the web to display on your Google business page. These features are available with all plans.
All plans except for Standard integrate with MailChimp and Constant Contact for building and sending email campaigns. They also integrate with payment processors, and those three plans have widgets so that spas can embed staff bios, customer reviews, and more on their websites. WellnessLiving also has a Groupon integration, to offer discounts through Groupon and easily redeem them when the client arrives.
What WellnessLiving is Missing
The biggest flaw with WellnessLiving is that the Standard Plan (the most affordable option) does not have integrated payment processing and has limited sales features. This means most small business spas would likely opt for the $99 or $199 per month plan, which is pricier than Square Appointments, which has built in payment processing and is free for one provider.
WellnessLiving Reviews
WellnessLiving reviews are very positive. The system is easy to use and provides a lot of features in one solution. However, reviewers say that the features are limited for the most basic monthly plan. They also report glitches or other issues with the reporting features.
Get Started With WellnessLiving
WellnessLiving provides unlimited appointments and employee schedules with online booking, POS features, marketing tools, and more, for a price that is very competitive for spa POS systems. Visit WellnessLiving to request a free demo.
MassageBook: Best Budget Spa POS for Massage Therapists

MassageBook is a cloud-based client management and appointment booking software designed for massage therapists managing their own business. MassageBook focuses on client scheduling and management, but also has integrated payment processing and tools to build a website. There is a free plan option and discounts for massage therapists who belong to professional organizations.
MassageBook Pricing
MassageBook is the most affordable spa POS systems on this list. There are three different monthly plans that range from free to $29 per month. There are also discounts available for members of the American Massage Therapy Associate (AMTA) and the Associated Bodywork and Massage Professionals (ABMP).
Like WellnessLiving, MassageBook is browser-based, so massage therapists can use any tablet or computer with an internet connection to manage their business. No specific hardware purchases are required. MassageBook also integrates with Square and Stripe for payment processing. Both of these solutions have very similar affordable payment rates and card readers.
Square prices and fees include:
Swiped card processing rates: 2.75%
Keyed-in processing rates: 3.5% + 15 cents per transaction
Online processing rates: 2.9% + 30 cents per transaction
Card reader: Free magstripe swipe card reader, others available for a fee
Stripe prices and fees include:
Swiped card processing rates: 2.75%
Keyed-in processing rates: 2.9% + 30 cents per transaction
Online processing rates: 2.9% + 30 cents per transaction
Bluetooth card reader compatible with MassageBook: $29.99
MassageBook Pricing and Features
| | Free  | Basic | Master  |
| --- | --- | --- | --- |
| Monthly Fee  | Free | $9.99* | $29.99* |
| Business website | ✔ | ✔ | ✔ |
| Online booking  | ✔ | ✔ | ✔ |
| Unlimited employees | ✔ | ✔ | ✔ |
| Integrated payment processing | ✔ | ✔ | ✔ |
| Built-in reviews | ✔ | ✔ | ✔ |
| Email reminders | | ✔ | ✔ |
| Google Calendar sync | | ✔ | ✔ |
| Facebook integrations | | ✔ | ✔ |
| Customizable website  | | | ✔ |
| Support  | ✔ | ✔ | ✔ |
*Discounts for AMTA and ABMP members
MassageBook Add-ons
MassageBook has optional add-ons for professional SOAP notes and for marketing features. SOAP notes are a type of medical charting. Each of these can be purchased together or separately and in conjunction with any of the three plans. The Clinical add-on for SOAP notes is $19.99 per month and includes digital chart notes with anatomical charts. Clinical also has digital client intake forms and receipts that clients can submit to insurance.
The Marketing add-on is $24.99 and includes unlimited text reminders for appointments. It also has unlimited staff text alerts to notify employees of appointments or changes. Marketing also has email campaign builders, promotional tools, and gift certificates.
MassageBook Features
MassageBook has all of the features that a small massage therapy spa business needs. There is an online booking platform, customer management, payment processing, a webpage, and marketing features. MassageBook is a fantastic and affordable option for massage therapists, but does not have features a traditional full-service spa would need such as product sales and inventory management, or detailed reporting.
MassageBook Appointment Booking Features
MassageBook has appointment booking features that are specifically designed for the physically demanding work of massage therapists. Each employee can set the number of massage hours or appointments they can handle in one day, so that even if there is an open space in the schedule, MassageBook will automatically stop accepting appointments on days that have met the maximum number of hours or appointments that employees can perform.
Clients can book appointments online, purchase services, and reschedule appointments online. Clients and employees can set up recurring or repeat appointments according to different patterns such as weekly or biweekly. Employees can also log in anywhere to check their appointments and schedules. Some versions of MassageBook also sync with Google Calendar so employees and clients can automatically add appointments to their personal calendars.
MassageBook Customer Relationship Management Features
MassageBook has a client database to track clients' past and future appointments, contact information, payment information, visit notes, and more. MassageBook also has features to send customers intake forms before appointments that can then be saved in their profiles.
Some versions of MassageBook have tools to send out targeted emails and promotions, such as Mother's Day specials. MassageBook also has options for email and text confirmations, which are also saved in the client's profile.
MassageBook Product Sales and Inventory Management
Product sales is one area where MassageBook falls short. This spa POS is geared toward service, and currently there is no inventory management system or product menu capabilities. You can record product sales and take payments with MassageBook, but you cannot track stock levels or save product information. If you need a system with inventory management, consider WellnessLiving, Square Appointments, MindBody, or Meevo.
MassageBook Employee Management
Massage therapists using MassageBook can add an unlimited amount of additional employees to their business for no extra cost. Each employee's schedule can be set up with custom hours and appointments types. Businesses can control the permission levels for each staff member. Each employee can login and view their schedules from anywhere, and change their availability depending on their permission level. MassageBook does not have the ability to calculate payroll or commissions.
MassageBook Reporting and Analytics
MassageBook does have a reporting tool, though it is somewhat limited. Businesses can see total sales for a certain time period, sales by employee, appointments by employee, sales tax collected, and more. Spas can also create end-of-year statements for clients. Reports can be filtered by date range, employee, client, payment type, and more. All reports can also be downloaded as a CSV file.
MassageBook Integrations
MassageBook integrates with Facebook so customers can book appointments directly from your Facebook Business Page. MassageBook also has a customer-facing website and directory that clients can use to find massage therapists. MasageBook also has a review integration, so customer reviews show up on your page. MassageBook integrates with Stripe and Square for payment processing.
MassageBook does not integrate with any email marketing solutions such as Mail Chimp, but it does have a built-in email marketing tool. The biggest integration that is missing from MassageBook is a QuickBooks integration.
What MassageBook is Missing
MassageBook's biggest flaw is the lack of product management capabilities. If you regularly sell products, or offer many services other than massage therapy, another spa POS such as WellnessLiving, MindBody, Meevo, or Square Appointments could be a better fit.
MassageBook Reviews
Reviews for MassageBook are very positive. Users say that the software is incredibly easy to use, is a great value, and includes good marketing tools. Some reviewers mention the lack of support for product sales and inventory management. However, overall there are very few complaints.
Get Started With MassageBook
MassageBook is the best spa POS system for massage therapists. It includes online scheduling, appointment booking, charting, marketing, payment processing, and more for an extremely competitive price. Visit MassageBook to set up an account for free.
Vagaro: Best Spa POS for Membership-based Spas


Vagaro is a cloud-based business management software for spas, salons, and fitness businesses. It can manage client memberships, recurring billing, and has tools to manage product sales and inventory. Vagaro is competitively priced at $25 to $85 depending on the number of employees, making it a great spa POS for full-featured spas that offer client memberships.
Vagaro Pricing
Vagaro charges a flat monthly software fee. Vagaro is different from WellnessLiving and MassageBook in that it charges based on the number of employees you have. The features are otherwise exactly the same for each plan.
Varago charges the following monthly fees:
One employee: $25 per month
Two employees: $35 per month
Three Employees: $45 per month
Four employees: $55 per month
Five employees: $65 per month
Six employees: $75 per month
Seven or more employees: $85 per month
Vagaro is one of the most affordable solutions on our list. Aside from MassageBook and Square Appointments, which offer a free version, Vagaro has some of the lowest pricing. Like most of the solutions on our list, Vagaro is browser-based, so it can be used on any tablet or computer that's connected to the internet. Businesses can use their own hardware, or purchase through Vagaro.
Vagaro optional hardware costs include:
Credit card reader: Free reader when you sign up for Vagaro for one year
Essential Mobile EMV POS: $74 includes credit card reader with dock and a tablet stand
Complete Mobile EMV POS: $428 includes cash drawer, tablet stand, receipt printer, and EMV reader with dock
Complete Computer EMV POS: $547 includes cash drawer, receipt printer, barcode reader, and EMV reader with dock.
Vagaro has built-in payment processing with flat-rate fees. Businesses charging less than $4,000 per month pay a 2.75% transaction fee on swiped cards and a 3.5% + 15 cents per transaction for keyed-in payments. Businesses processing more than $4,000 per month pay a flat $10 per month fee. The transaction rate is 2.2% + 19 cents for swiped payments and 3.0% + 19 cents for keyed-in transactions and online payments.
Vagaro Features
Vagaro includes standard spa POS features like online booking, calendar and schedule management for multiple employees, customer management, and reporting. Vagaro also has features for collecting and storing intake forms and chart notes on each customer account. Businesses can set up, sell, and track different kinds of membership packages with upfront or automated recurring payments. Vagaro also includes full inventory management and support for product sales.
Vagaro Appointment Booking Features
Vagaro lets customers book appointments online through Yelp, Facebook, Vagaro.com, the Vagaro app, or your businesses website. Businesses can create a custom website through Vagaro, or use a widget to plug in your online booking onto another website. Businesses can set custom lead time required for appointments, break time required between appointments, and types of services.
Spas can also control their own cancellation policies, including whether or not the customer can cancel or reschedule online. Businesses can require clients to enter credit card information online to book an appointment. You can choose to automatically accept all online appointments, or require requests for certain criteria, such as new clients.
One unique aspect of Vagaro is the ability to schedule mobile appointments for traveling service providers. Vagaro can automatically add travel time to your calendar for each appointment based on the client's location. There are also features to add surcharges for mobile clients based on location.
Vagaro Customer Relationship Management Features
Like all of the other spa POS solutions on our list, Vagaro stores data for every customer including service and product purchase history, contact information, notes, payment information, gift cards, and more. If you choose to set up memberships or packages, Vagaro automatically bills customers when the recurring payment is due and tracks how many prepaid services they have left. Customers can also view their own accounts and available services. Businesses can create points-based loyalty programs to reward clients for purchases.
Vagaro also includes automated appointment confirmations and reminders. Businesses can set up automated email reminders, SMS text messages, push notifications, and in-app notifications. Spas can also use the automated messages to send thank-you notes.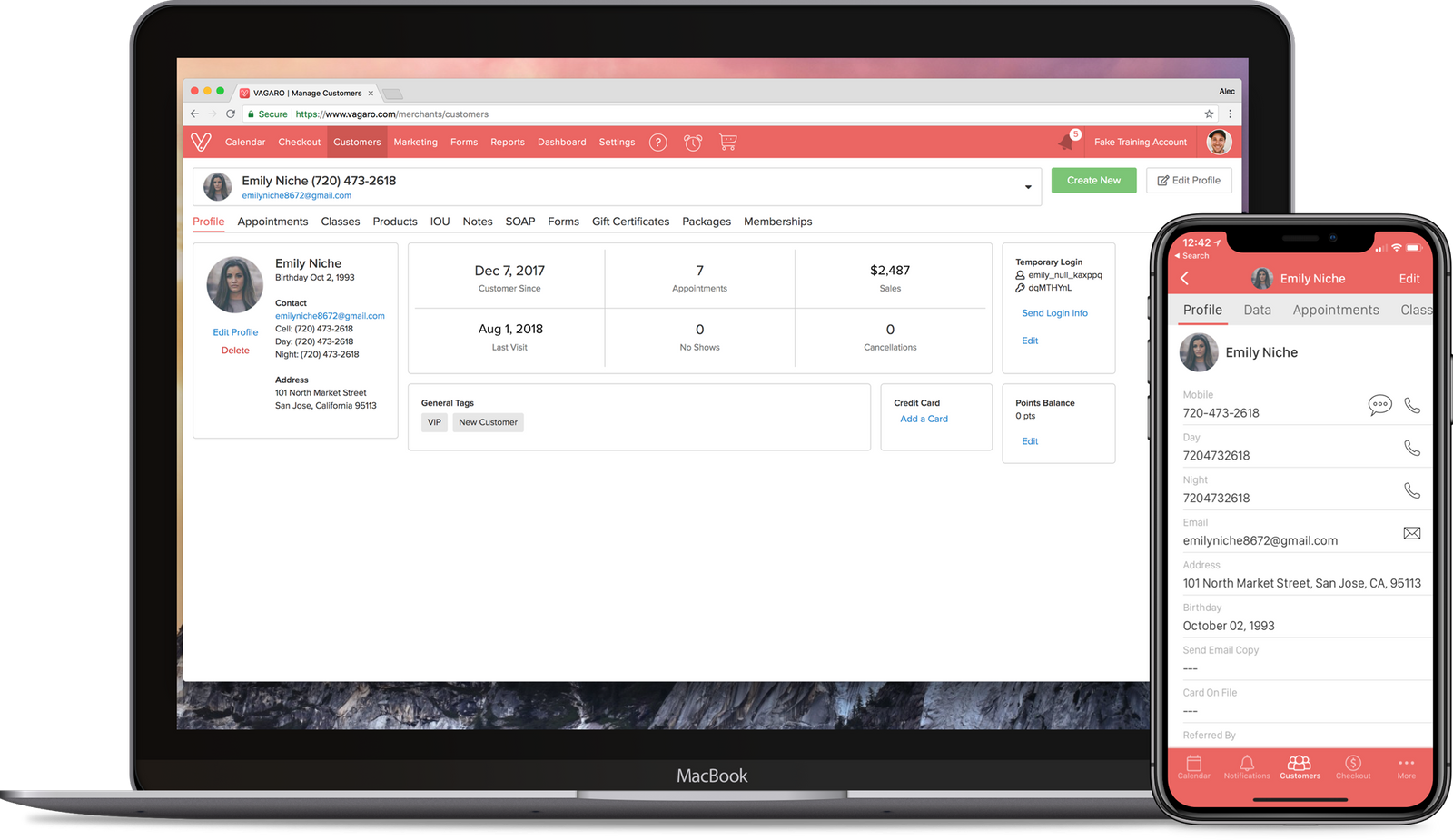 Vagaro Product Sales and Inventory Management
Vagaro has some of the more sophisticated inventory management tools out of the spa POS solutions on our list. Spas can add products and product details including barcode information, brand, product type, pictures, and average price. Businesses can add products individually, or there are tools to automatically upload your entire inventory.
Vagaro tracks on-hand quantities and spas can set custom low-stock alert levels to be notified when each product reaches a certain low quantity. Spas can create purchase orders right from Vagaro and email them to suppliers or print for reference. Vagaro is also one of the only spa POS systems that has tools to sell products online. Businesses can sell products through their Vagaro custom website. The system will automatically calculate and charge shipping costs based on the customer's location, or shoppers can choose to pick up items in-store.
Vagaro Employee Management
Vagaro's monthly fee is based on the number of employees at the spa. Businesses can add as many employees as they need, the monthly fee just increases by $10 until you have seven or more employees, at which point the monthly fee stays at $85. Businesses can set different schedules, appointment types, and permission levels for employees. There are also features to track employee commissions and run payroll reports.
Vagaro Reporting and Analytics
Vagaro has a reporting module that is user-friendly and color-coded, but slightly simplistic. Spas can view sales reports, reports based on service type, and reports on employees. Inventory reports include purchased items vs items sold, damaged items, and expired products. Spas can also view clock-in and clock-out information for employees and run an automated weekly, biweekly, or monthly payroll report. Businesses can set up custom commission levels based on service provider or appointment type.
Vagaro Integrations
Vagaro integrates with Xero and QuickBooks for reporting. Vagaro also syncs with multiple third-party calendars including Google Calendar, Apple Calendar, and Outlook Calendar. Vagaro also connects with many social media platforms for promotions and online booking including Instagram, Yelp, and Facebook.
What Vagaro is Missing
Vagaro does not have the most competitive credit card processing rates, and any business that uses Vagaro is also locked into using its credit card processing. Vagaro's reporting is also limited, and doesn't provide common insights such as average customer visits.
Vagaro Reviews
Vagaro reviews are extremely positive. Businesses like that the appointment booking features are easy to use and can be accessed by clients from so many different places. Businesses also like that Vagaro is like a POS system, booking platform, and website combined into one.
Get Started With Vagaro
Vagaro is an excellent spa POS system, especially for busy spas with membership programs or packages. It has great appointment booking features, integrated payment processing, and detailed product management. Visit Vagaro for a free trial.
MindBody: Best POS for Medium & Large Spas

MindBody is a cloud-based business management software for health and wellness businesses. MindBody includes standard POS, online booking, and marketing features, plus tools for spas to create branded mobile apps for booking, account management, and payments. MindBody is feature-rich, and comes at a higher price point, making MindBody a great fit for growing spas.
MindBody Pricing
Starting at $125 per month, MindBody is one of the most expensive spa POS systems on our list. The specific monthly fee you pay can range from $129 to $349 depending on your plan. Unlike other spa POS systems, which charge monthly fees based on the number of appointments or employees, MindBody has three different plans that include different features.
MindBody Pricing and Features
| | Essential | Accelerate | Ultimate |
| --- | --- | --- | --- |
| Monthly fee  | $129 | $239 | $349 |
| Appointment scheduling | ✔ | ✔ | ✔ |
| Retail POS & integrated payment processing | ✔ | ✔ | ✔ |
| Number of reports included  | 35 | 90 | 90 |
| Waitlists | ✔ | ✔ | ✔ |
| Online booking  | ✔ | ✔ | ✔ |
| Memberships and autopay billing | ✔ | ✔ | ✔ |
| Customer & staff profiles | ✔ | ✔ | ✔ |
| Hourly time clock & pay rates | ✔ | ✔ | ✔ |
| Google Calendar integrations | ✔ | ✔ | ✔ |
| Email campaign builder | | ✔ | ✔ |
| Two-way text reminders | | ✔ | ✔ |
| Customer feedback & referral programs | | | ✔ |
| Staff permissions | | ✔ | ✔ |
| Payroll integrations  | | ✔ | ✔ |
Businesses that are interested in having MindBody build a custom branded app for them pay $249 per month in addition to the monthly software price. MindBody creates the app for you and adds it to the Apple App Store and Google Play. Apps include appointment booking, account management, payments, membership management, and more. Businesses can send out push notifications and view app performance metrics.
MindBody Features
MindBody has all the essential appointment booking features and retail POS tools any spa would need to run daily operations. MindBody also has widgets businesses can use to add scheduling to third-party websites. One of the best parts about using MindBody is its consumer-facing app that has over 35 million global users. In addition to having the option of creating your own app, any business using MindBody is automatically listed on the consumer-facing MindBody app so customers can find, book, and keep track of appointments.
MindBody Appointment Booking Features
MindBody has easy-to-use booking tools for both businesses and customers. Customers can book appointments through the MindBody app, MindBody website, or your businesses' app or website. Appointments can be synced to employees' or customers' personal Google Calendars. There's also a waitlist feature for when appointment slots are fully booked. Some plans offer automated text and email appointment confirmations.
MindBody Customer Relationship Management Features
All MindBody plans include customer account management to store contact information, payment details, and appointment and purchase history. Spas can also set up membership and autopay options, set up custom alerts for certain clients, and establish discount options.
The Accelerate and Ultimate plans have tools to create email campaigns. Ultimate MindBody has tools to create personalized drip email campaigns, solicit feedback, and start a referral program. For as pricy as MindBody is, it is disappointing that automated text appointment reminders are not included in the $129 per month plan.
MindBody Product Sales and Inventory Management
MindBody has a full POS system for ringing up services and products. All MindBody plans also include an online store. Essential plan online store only includes service sales, but Accelerate and Ultimate include online product and service sales with shipping calculators. All plans have built-in credit card processing with a flat 2.75% transaction fee. All plans also have the option of setting up direct debit or ACH payment processing for recurring payments.
Spas using MindBody can also sell and manage gift cards, track product inventory, and accept SpaFinder Wellness gift cards (a popular third-party spa gift card program).
MindBody Employee Management
All MindBody plans include employee profiles with personal logins, time-tracking, and pay rates. MindBody can be used to track sales commissions. Accelerate and Ultimate plans have features to set different employee permission levels and integrate with payroll processing solutions like Paychex and ADP.
MindBody Reporting and Analytics
MindBody has 35 built-in reports in the Essential plan and 90 reports for the Accelerate and Ultimate plans. Reports include information on product and service sales, client transactions, daily summaries, tips, and more.
MindBody Integrations
MindBody has a ton of third-party integrations and partnerships. MindBody Accelerate and Ultimate integrate with payroll processors. MindBody also works with Constant Contact, Perkville, Active Campaign, SpaFinder, and more.
What MindBody is Missing
The biggest drawback with MindBody is the price point. For many small businesses, especially those just starting out, MindBody can be too pricy. The Essential plan, which is the most affordable option, also lacks some of the basic features that a spa would need, such as automated appointment confirmations. If you are a new or smaller business needing something more affordable, look into WellnessLiving, MassageBook, or Vagaro.
MindBody Reviews
MindBody reviews are generally positive. Businesses like that it is user-friendly and has lots of different scheduling options. The website widgets also make it really easy to add scheduling and other tools to your website. Most complaints are around MindBody's high price point.
Get Started With MindBody
MindBody is a household name with easy booking tools and innovative marketing solutions that help growing spas build their businesses. MindBody is a great all-in-one solution for medium to large spas that want online booking, retail sales, and a strong online presence. Visit MindBody to get started.
Meevo 2: Best POS for Spas Needing Automated Waitlists


Meevo 2 is a higher-end business management software by Millennium Systems International specifically designed for spas and salons. Meevo 2 has all of the standard spa POS features like online booking, appointment management, and client accounts. Additionally, Meevo 2 has automated features including waitlist management, making it a great fit for busy spas.
Meevo 2 Pricing
Meevo 2 has four plans with different monthly fees. Each plan has the same basic features but include different amounts of employee accounts and customer SMS text messages. Some of the pricier plans also include dedicated support.
Meevo 2 Pricing and Features
| | Grow | Pro | Powerhouse | Enterprise  |
| --- | --- | --- | --- | --- |
| Monthly fee | $97 | $197 | $297 | Custom |
| Number of employees | 10 | 25 | Unlimited | Unlimited  |
| Customer SMS text messages | 1500 | 2500 | 5000 | Custom |
| Color-coded drag and drop scheduling | ✔ | ✔ | ✔ | ✔ |
| Online booking  | ✔ | ✔ | ✔ | ✔ |
| Smart waitlist  | ✔ | ✔ | ✔ | ✔ |
| Mobile register & checkout app  | ✔ | ✔ | ✔ | ✔ |
| Integrated payment processing | ✔ | ✔ | ✔ | ✔ |
| Client account  | ✔ | ✔ | ✔ | ✔ |
| Reporting dashboard | ✔ | ✔ | ✔ | ✔ |
| Email marketing  | ✔ | ✔ | ✔ | ✔ |
| Customer feedback  | ✔ | ✔ | ✔ | ✔ |
| Support | Live 24/7 support  | Live 24/7 support  | Priority live 24/7 support  | Priority live 24/7 support  |
Meevo 2 Features
Each of the Meevo 2 plans include all of the same features including a very dynamic and user-friendly appointment book, online scheduling, and a customizable POS dashboard. Meevo 2 also has automated email and text notifications for appointment reminders, updates, and openings on the waitlist. Meevo also has complete retail POS tools to track products by stock levels, floor locations, and sales.
Meevo 2 Appointment Booking Features
Meevo 2 has a great appointment book that can be viewed, arranged, color-coded, and sorted by a number of criteria to create a system that works best for your business. Businesses can set different hours, service types, and break requirements for service providers. Customers can book online with Meevo 2's online booking feature that allows businesses to customize their own online booking page. Spas can set up their own cancellation processes for online booking, require credit card information to book, and designate services that can't be scheduled online.
Meevo 2 Customer Relationship Management Features
Meevo 2 includes automated text and email confirmations for all appointments and with every plan. Meevo 2 has an automated waitlist feature that lets front desk associates place clients on a waitlist when their desired appointment or time is already booked. When a spot opens up, the client at the top of the waitlist will automatically receive a text asking them to book the spot.
There is also a walk-in appointment management tool that businesses can use to manage walk-in clients by placing them in a virtual queue. Meevo also has great features for collecting feedback. Meevo 2 can send automated email or text messages to customers asking for feedback. Businesses can design custom points-based loyalty programs, and create personalized email campaigns.
Meevo 2 Product Sales and Inventory Management
Meevo 2 has the most robust product and inventory management tools out of any of the spa POS systems on our list. Businesses can use its mobile device to scan and count inventory instead of manually tallying products. Meevo 2 also automatically adjusts stock levels when a product is sold. Spas can set different sales floor locations to track which departments or physical areas are selling the best.
Spas can build purchase orders in Meevo 2, and set the software to automatically predict what is needed based on current inventory levels and typical stock quantities. Plus, businesses can track product sales by client or employee. Meevo 2 also can notify clients when it is time to restock on certain items.
Meevo 2 Employee Management
Meevo 2 has features for employees to clock in and out, track time, set breaks, and track commissions. Businesses can set hours, change work days, and set vacation days for individual employees. Meevo 2 also has an interesting tool that allows businesses to schedule promotions or rate increases in advance so that they can go into effect on a particular day.
Meevo 2 Reporting and Analytics
Meevo 2 has a very detailed reporting system that covers appointments, clients, products, payroll, daily summaries, gift cards, and more. Reports can show discounts used during a certain time, client turnover rates, membership or package sales, liability summaries, and more. Businesses can set up certain reports to be emailed to them at the end of the day or each week.
Meevo 2 also has a report based on the waiting list feature that shows businesses what appointment opportunities were missed. This can be used to identify areas where additional employees or hours are needed.
Meevo 2 Integrations
Meevo 2 has a few of their own solutions that can be added on for free, including the online booking tool, a tool to manage walk-in appointments and customers, a gift card tool, and online intake and charting forms. Meevo 2 also integrates with Emma for email marketing and Textel for client and employee text messages. Spas can also integrate with QuickBooks for accounting.
What Meevo 2 is Missing
One of the biggest issues with Meevo 2 is that it requires more training than other systems. It is a complex software, and takes more time to learn how to use all of the tools that a simpler program like Square Appointments or MassageBook would. Meevo 2 is also on the pricier end, which is not ideal for smaller businesses.
Meevo 2 Reviews
Meevo 2 online reviews are great. Meevo 2 was just released in 2018 as a replacement for the older Millennium Legacy spa management software. Some reviewers report bugs and glitches when the new program was first released. Reviewers like that the software is highly customizable and has a strong reporting module.
Get Started With Meevo 2
Meevo 2 is a full-featured spa POS with equal parts appointment scheduling, product and inventory management, and reporting features. Plus, it is the only system on our list that has automated tools to manage wait lists and walk-in clients, making it a great fit for traditional spas that have a very large clientele.


Square Appointments is a cloud-based appointment booking software that is part of the larger Square system. Businesses that use Square to manage appointments also have access to Square's free POS and payment processing features. Square Appointments is also free for individuals, making it the best spa POS for solo providers.
Square Appointments Pricing
Square Appointments charges a monthly fee based on the number of employees you have in your business. However, it is completely free to use for individuals, which is a great value. Square costs $50 per month or businesses with two to five employees and $90 per month for businesses with six to 10 employees. These prices are average, but are similar to other systems on our list that are specifically designed for spas, and include more industry-specific features.
Square Appointments Pricing and Features
| Monthly Fee | 0 | 50 | 90 | Custom |
| --- | --- | --- | --- | --- |
| Users | 1 | February 5, 2019 | June 10, 2019 | 10+ |
| Appointments per Month | Unlimited  | Unlimited  | Unlimited  | Unlimited  |
| Credit Card Processing  | 2.75% | 2.5% + 10 cents per transaction | 2.5% + 10 cents per transaction | Custom |
| Features  | All  | All  | All  | All  |
| Phone Support  | ✔ | ✔ | ✔ | ✔ |
Note: Square has recently changed its flat-rate fee of 2.75% to 2.6% + 10 cents per transaction. We will update the pricing and our ranking of providers in the next update of this article.
Square Appointments Features
Square is a popular software platform for small businesses in general because it is extremely user-friendly and offers a lot of basic features for free. Square Appointments integrates with Square's POS system seamlessly, and provides built-in credit card processing. Square Appointments is accessible on a browser or via the Square Appointments mobile app for iOS and Android.
Square Appointment Booking Features
Square Appointments includes a cloud-based calendar that's accessible from anywhere and automatically syncs across devices and personal calendars. The online booking tool is also user-friendly for customers. Square also has a free website and online store option if you need a website and want to connect your online appointment booking. Online booking can also be embedded into other websites, including social media.
Businesses can set specific types of appointments, services, and policies. Since Square Appointments has built-in payment processing, businesses can have customers prepay for appointments. Businesses can also setup automated cancellation or no-show fees and require customers to enter their credit card information when booking. When the appointment is booked, Square sends out free automated text and email confirmations.
Square Customer Relationship Management Features
Square Appointments has automated SMS text and email appointment reminders that can be set up to send when a customer books, and before their upcoming appointment. Square also has a customer database tool to save contact information, payment details, notes, and track appointment and purchase history.
Square has email marketing and loyalty program tools that can be added on to Square Appointments for additional monthly fees. Square Marketing with automated email campaigns and coupon options starts at $15 per month. Square Loyalty is a points-based rewards program that starts at $45 per month.
Square Product Sales and Inventory Management
Square Appointments includes a free basic POS system for ringing up products or services in-person. Spas can add products and product categories to automatically track sales and stock levels. Businesses can also manually adjust stock, add item descriptions, and receive customized daily emails detailing stock levels. However, Square POS is not robust enough to handle product sales for a large spa, as there are no features to create purchase orders, scan barcodes, or track detailed product information like a system such as Meevo 2 can.
Square Employee Management
With Square Appointments, any employee can view their appointment schedules on any synced device, and automatically receive notifications when new appointments are added. Businesses can also adjust permission levels for different employees.
Businesses can add-on additional employee management features to track time cards and view detailed reports based on each employee. Square Employee Management is $5 per month per employee. Square also has a Payroll software that businesses can use to process payroll and provide direct deposits. Square Payroll also has features to offer employee benefits such as health insurance. Square Payroll is $29 per month + $5 for each employee on payroll.
Square Reporting and Analytics
Square provides real-time reports including average customer spend, repeat visits, most popular appointments, and gross sales. These reports can be accessed through the Square Dashboard from any internet browser. Square's reporting tool is very easy to use, but does not include as much insight as Meevo 2, WellnessLiving, or MindBody.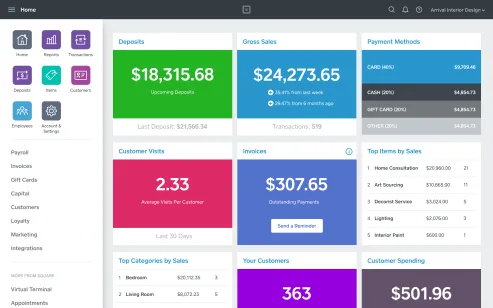 Square Integrations
Square Appointments works with all of the other software tools Square creates, including POS, email marketing, loyalty programs, gift cards, employee management, inventory management, payroll, and more. Square has built-in payment processing to accept online payments, in-person payments, automated charges for no-show appointments, and you can create and send invoices. Square also has tools to create a free basic website.
What Square Appointments is Missing
Square's online booking tool is great for individuals, but does not have some of the industry-specific features that larger spas often need, such as the ability to set maximum appointments or hands-on hours per day, or maximum appointments in a row. Square also does not offer customization options like the ability to change the app's appearance to fit your business brand. Square has lots of add-ons, but its fees add up really quickly.
Square Appointments Reviews
Square Appointments reviews are very positive. Businesses like that it is easy to set up, and that Square's integrated payment processing means all appointment charges, cancellation fees, and no-show fees are easily charged. Some reviewers wish that the interface was more customizable.
Get Started With Square Appointments
Square Appointments is a free, user-friendly tool for individual practitioners that want to be able to schedule appointments and ring up sales. Plus, you can create a free site and manage your client directory. Visit Square to create a free account.
Bottom Line
A POS system is essential for managing any spa business. In addition to the traditional functions of a POS, such as ringing up transactions, tracking sales, and managing inventory, spas also need software systems that can manage appointment schedules and detailed client accounts. The best spa POS systems are affordable and also have industry-specific features.
WellnessLiving is an affordable spa POS system that offers businesses unlimited employee accounts and schedules, appointments, and automated appointment confirmations. Plus, WellnessLiving also has tools to sell products, send marketing campaigns, and manage clients.