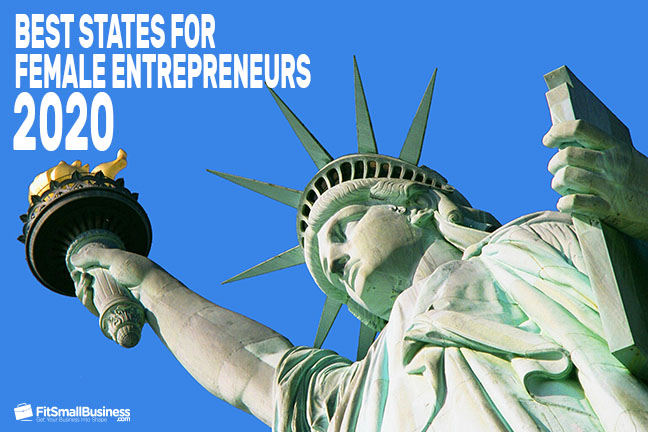 There is no more exciting time for the female entrepreneur than the present. According to a 2019 American Express report, the number of women-owned businesses has increased 21% within the past five years, compared to only 9% of all businesses—and with double the annual growth rate! As the start-up landscape braces for an unprecedented era of dynamic technological and global change, female entrepreneurs provide unique perspectives and possess the tenacity to overcome any of the challenges they may encounter.
However, to borrow a motto from the real estate industry, the key to these female entrepreneurs' success may lie in "location, location, location." Not only do their businesses depend on traditional state-wide metrics determining startup health such as growth, cost of living and tax rates, but also criteria more specifically related to their gender such as maternity leave laws and even rate of violence against women. With only a little under 18% of venture capital dollars going to female-owned companies as of 2018, access to VC funds seems to be another key metric of importance to consider.
When we crunched the data, a pattern emerged: There often seemed to be an inverse relationship between those states with low costs of living and other start-up friendly traditional factors as well as a general "woman-positive" business environment. For example, Alabama, which ranked at No. 5 on last year's list, is now dead last for 2020. While its very low cost of living and rosy corporate tax rate previously gave the state an advantage last year, when we incorporated some newly-discovered female-specific metrics, its ranking plummeted.
An opposite phenomenon happened with New York, which landed at 14 in our 2019 list but climbed up to 5 this year. Common wisdom—and hard data—indicates that the Empire State has a very high cost of living. However, this is balanced out with its excellent resources and protections for females in business. And when we applied the Kauffman Foundation's Indicators Of Entrepreneurship into our data mix, it was evident that quite a number of New York's startups were flourishing despite being a more expensive place to live.
At the heart of our research lies a possible dilemma (or, for some, an opportunity) for the female entrepreneur searching for an ideal company location: How to strike a balance between these two extremes that is both financially strategic but also a fair playing ground for women. It's our belief that the states that make up our Top Ten provide a good mix of both, including feisty outliers (Florida, Georgia and Iowa) and some more traditional business hubs (California, New York and Massachusetts).
The Best States for Female Entrepreneurs 2020, Ranked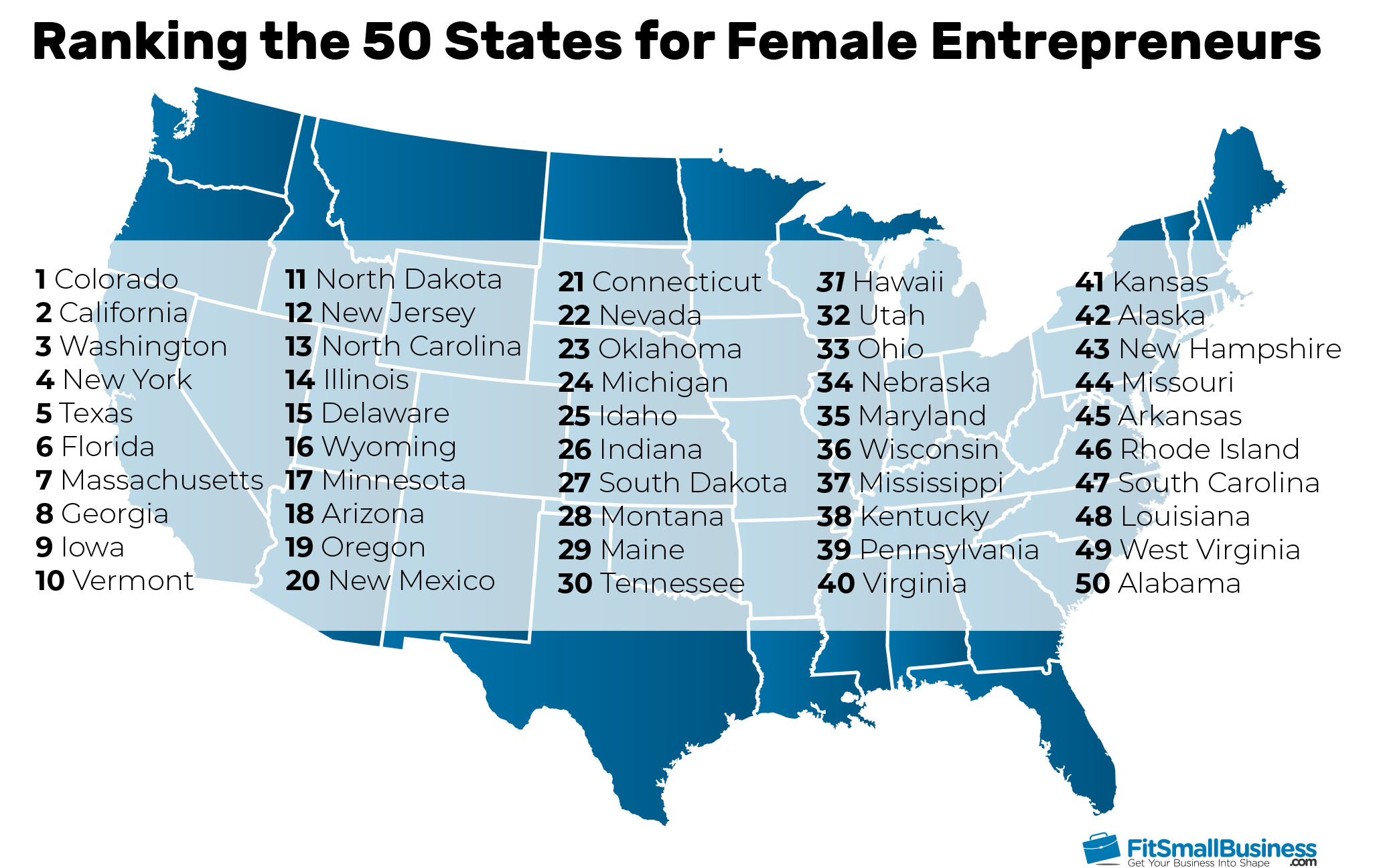 It's with these issues in mind that we present to you our rankings of the best states for female entrepreneurs in 2020. Read on for profiles on our top ten states for female entrepreneurs, and click here to access our full data tables containing not just rankings for all 50 states, but within our specific ranking criteria such as Start-Up Climate, Economic Health, Women's Health & Safety and Women's Business Opportunity.
IN FOCUS: THE TOP TEN STATES FOR FEMALE ENTREPRENEURS
1. COLORADO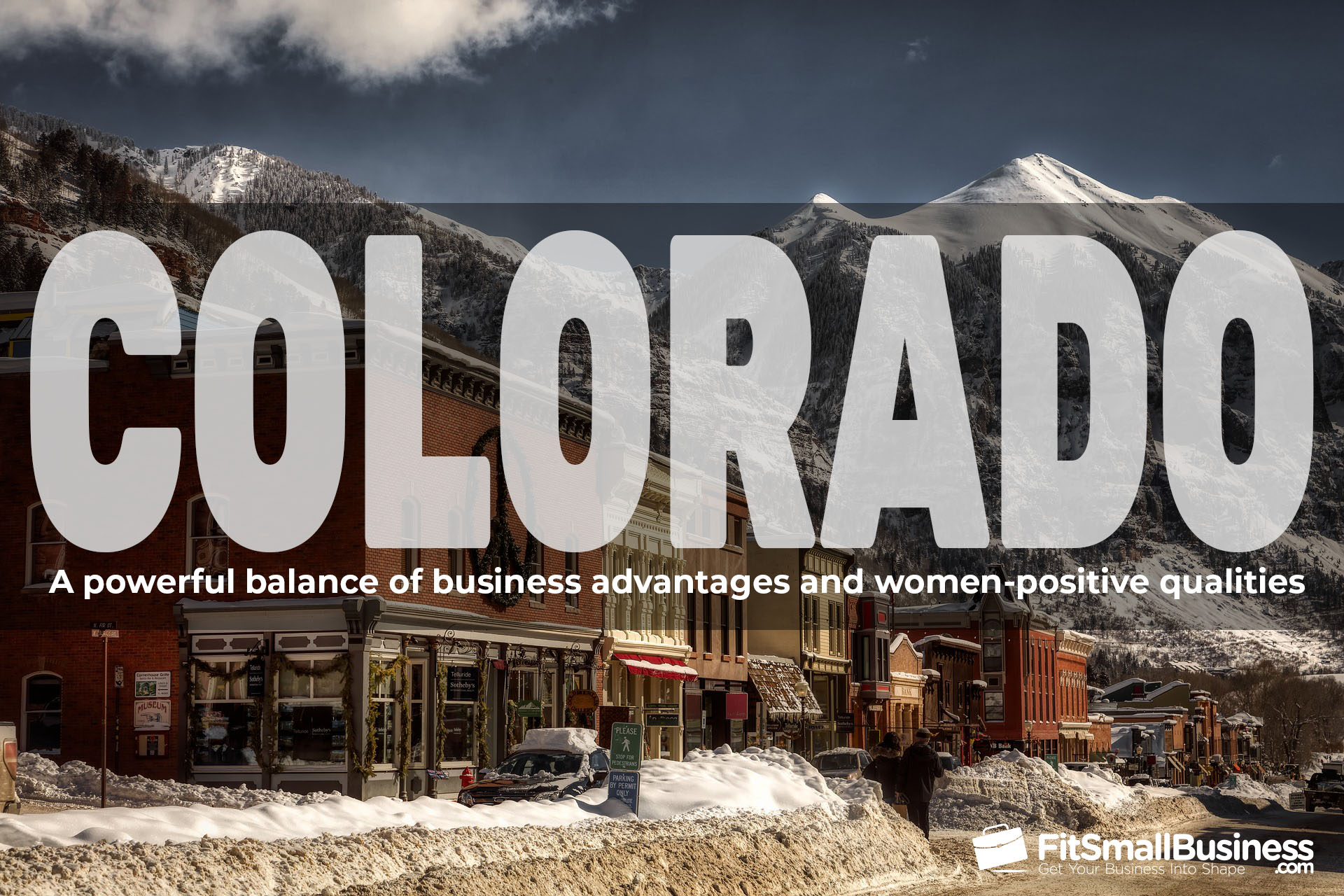 A vista encompassing breathtaking geography and cutting-edge tech startup hubs such as Denver and Boulder, the Centennial State is also home to a number of women's empowerment initiatives such as The Women's Foundation Of Colorado and The Women's Collaborative For Colorado. The state itself also has a robust Minority Business Office that assists female entrepreneurs with everything from applying for grants to business certifications. As we discussed in our introduction, a balance of economic advantages and female-friendly policies is ideal for the woman business-owner—and Colorado, with its very competitive corporate tax rate, access to technology meccas and abundant women's resources is the very model of this concept.
2. CALIFORNIA
Perhaps based on sheer size and concentration of VC capital alone, California is one of the best-known states for starting a business. San Francisco, home to the fabled Silicon Valley, regularly tops lists of U.S. states containing the most start-ups. Two factors we looked at closely when ranking the state for female entrepreneurs was cost of living and percentage of venture capital provided to women. It came as no surprise to us that Cali ranked second only to Hawaii as the most expensive place to live, but in terms of VC funding given to women, (as reported by Pitchbook's "Female Founders Dashboard") it was #1. When you consider the state's extremely progressive policies towards women, the entire mix still makes it an attractive location for females starting a business.
3. WASHINGTON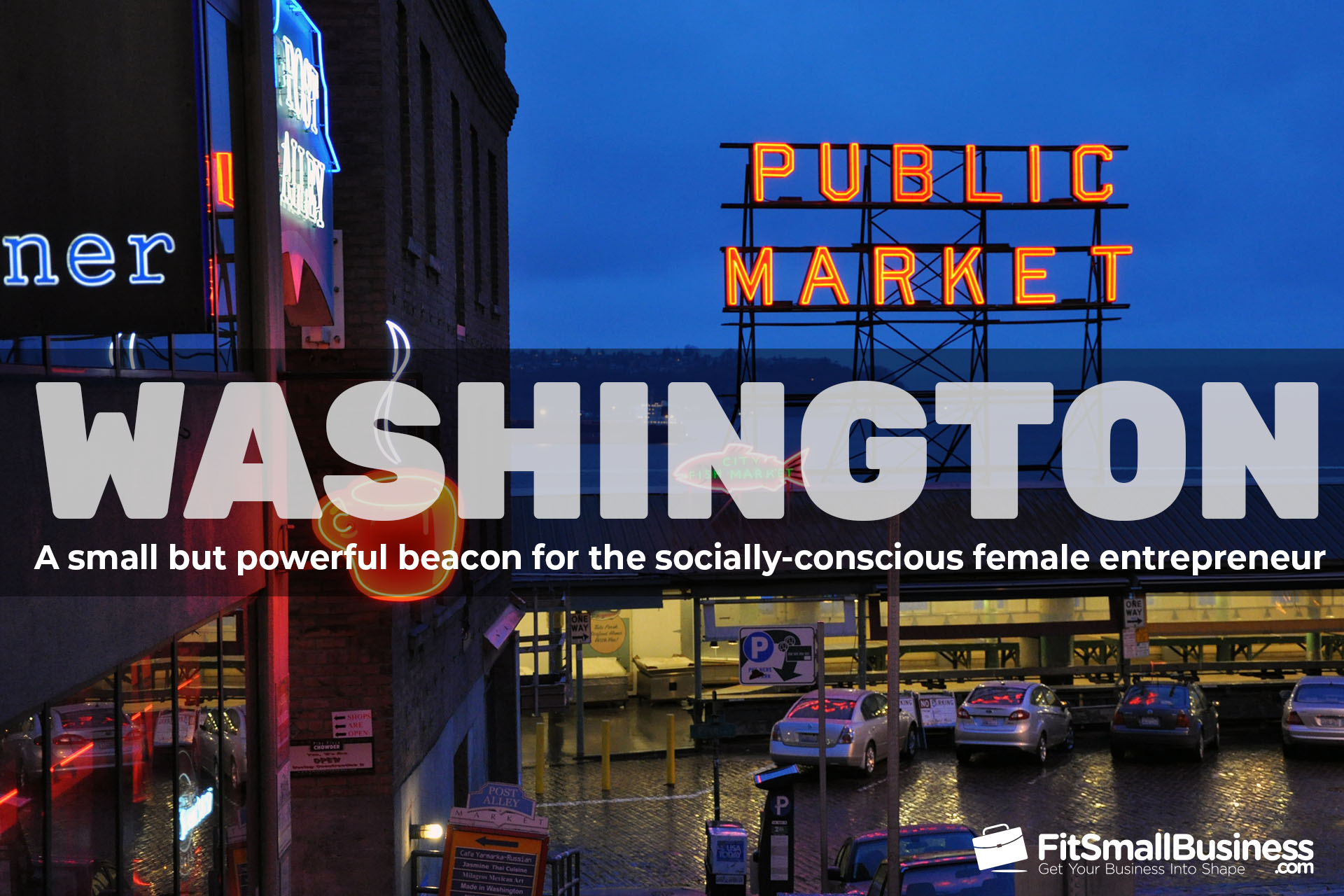 As in the similar case of California's San Francisco, Washington State boasts a start-up powerhouse city in Seattle (#1 in Business Insider's best U.S. cities to launch a business)—all within the larger context of a vibrant and thriving Pacific Northwest business landscape. While the cost of living there is high, it's not California or New York-level high. Plus, there's no corporate income tax! Factor in a plethora of major female empowerment and funding organizations—such as the Women's Funding Alliance, 100% Talent, Women's Funding Network and the WA Women's Foundation—and you have another state combining the best of economic opportunity and female-positive support.
4. NEW YORK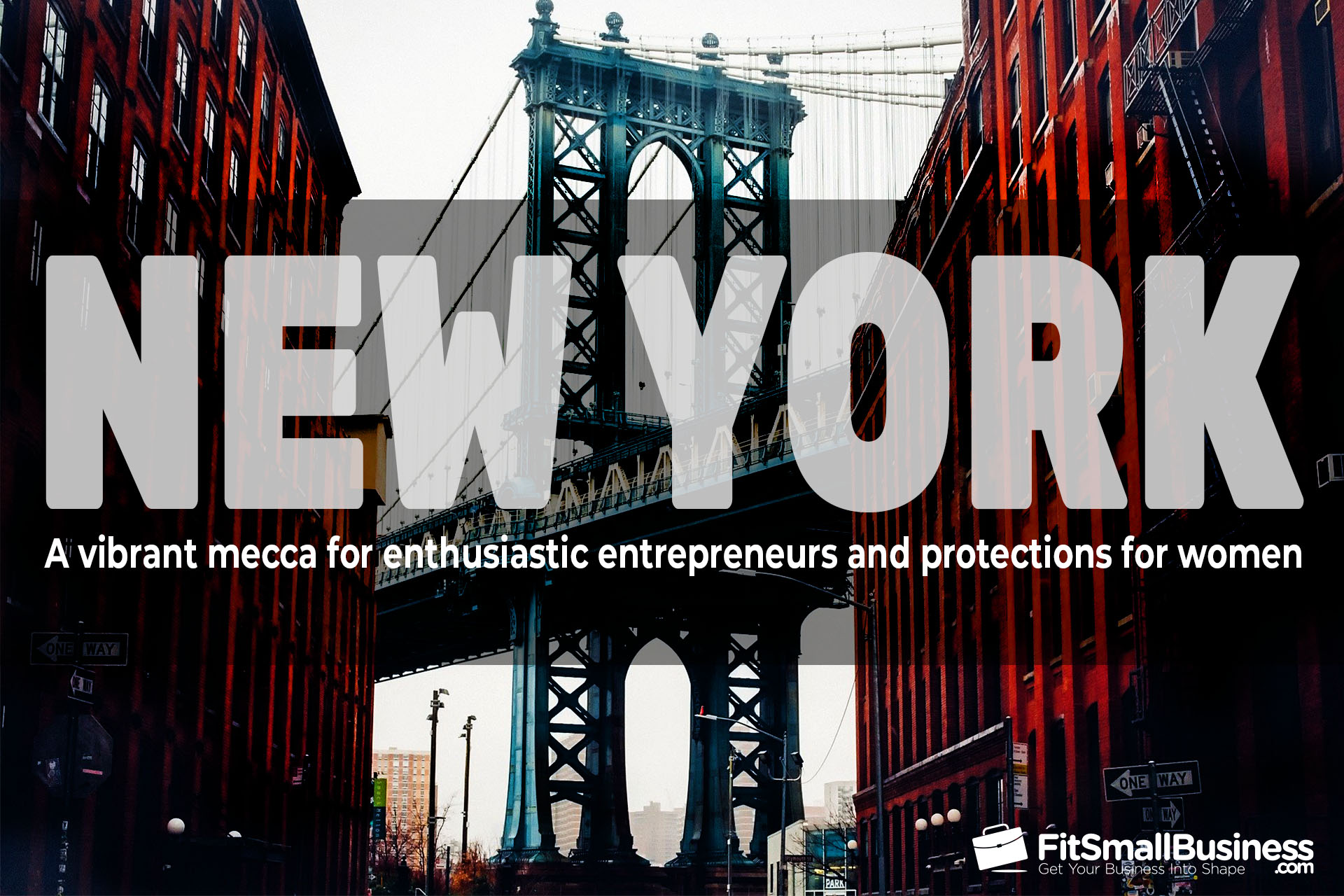 If you can make it in New York you can make it anywhere (at least, that's what the famous Frank Sinatra song tells us). Per our data, this might be particularly true of female business-owners. NYC's Commission On Gender Equity has a number of important women's initiatives, such as their 16 Days Against Gender Violence campaign, as well as a comprehensive roster of services. The Empire State's startup resources in general are enormous, as well as its access to potential VC funding. Cost of living was again an issue with NY being the 3rd most expensive on our list, but not enough to kick the Empire State out of the Top Five. Kauffman's KESE index indicates that despite this economic challenge, the state still ranks high not only in rate of new entrepreneurs and early start-up survival rate, but in the number of businesses opened up not because of economic hardship (such as part-time gigs), but by choice. This metric, called "Opportunity Share," is particularly important when assessing the growth of female entrepreneurs. According to the AMEX study, there is a big difference between standard women-owned businesses and these more temporary "Sidepreneur" jobs.
5. TEXAS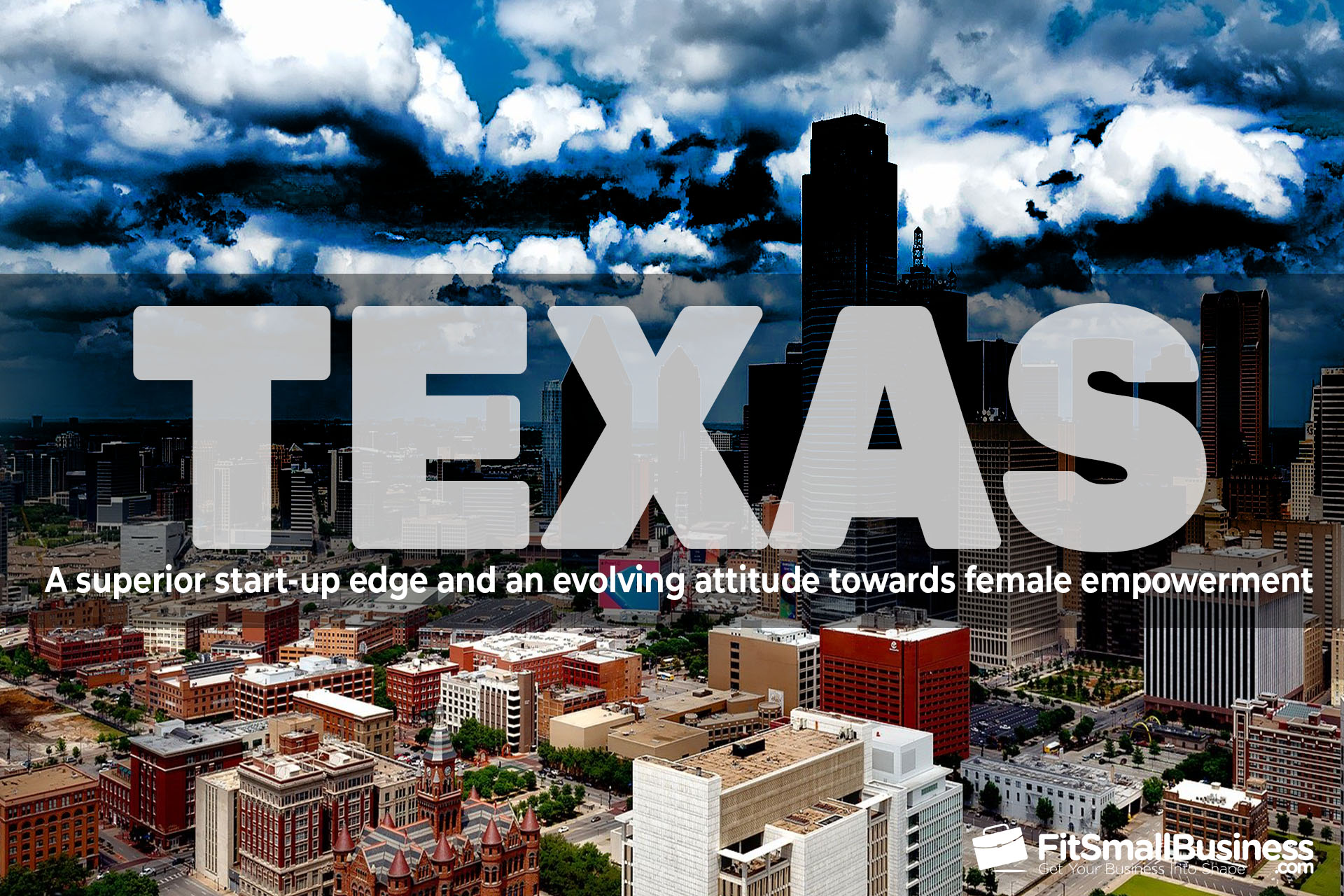 The Lone Star State topped our list last year, and has still made a decent ranking within our Top Five. Austin is the shining jewel of Texas startups, and regularly is top-ranked in numerous lists as a breakout city for new business. High start-up growth, no corporate income tax, and a moderate cost of living are all big pluses for the state, but how does it do regarding a friendly women's business and safety climate? Well, sort of "middle-of-the-road," by the numbers we sourced. Certain developments, such as a suggested draconian bill that would put females to death for having abortions, takes the bloom from the rose somewhat as an attractive women's business mecca (the bill failed approval, by the way). But there's also a number of very strong female business initiatives available, including the Texas Women's Foundation—having given over $26K in grant money.
6. FLORIDA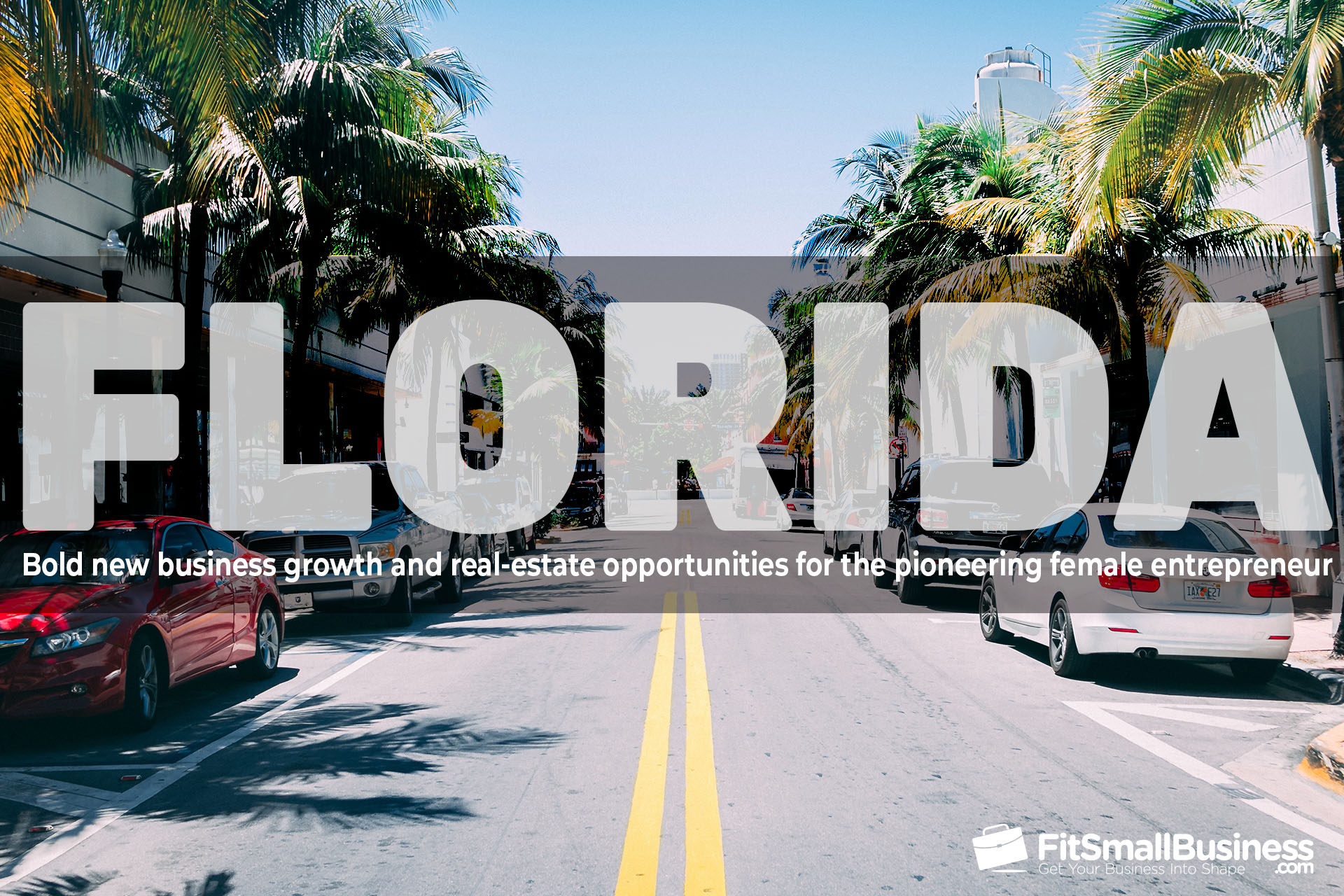 More than just theme parks, Kennedy Space Center, and oranges, Florida is also a site for explosive start-up growth. Miami has been ranked #1 by the Kauffman Foundation for start-ups two years in a row, and Orlando has been described by Inc. as possibly a better place to launch a business than Silicon Valley. The secret? Low cost of living, comfortable corporate tax rates and lots and lots of developing real-estate. Like Texas, however, the state ranks somewhere around the middle for women's issues and business opportunity. For example, it is one of the last states needed to ratify the Equal Rights Amendment, which it apparently hasn't done yet. However, with an influx of new residents from all over the country, Florida is very much a state in the middle of not only a dynamically evolving business landscape, but social landscape as well.
7. MASSACHUSETTS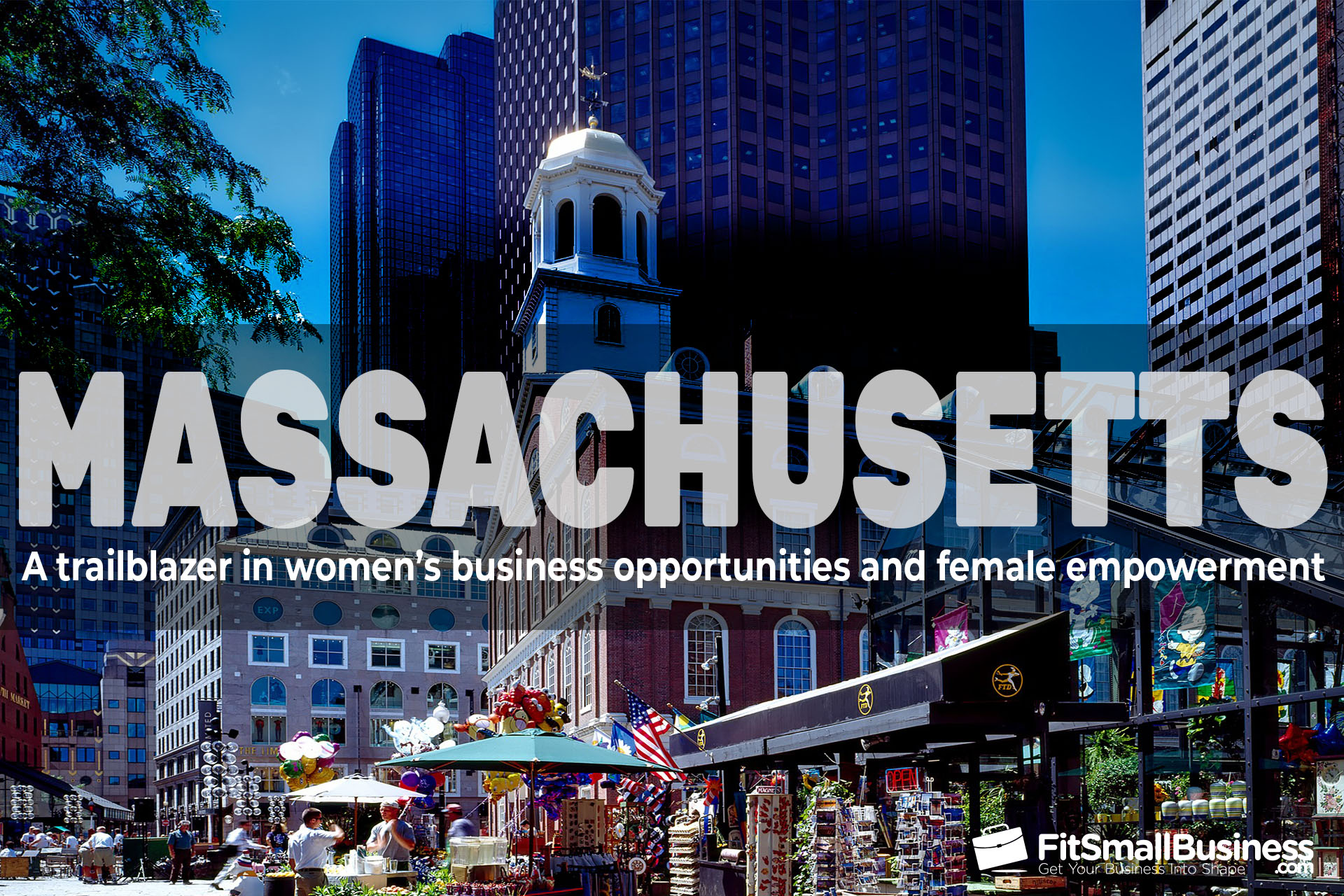 Long considered to be one of the most liberal states in the country (with near-universal healthcare), Massachusetts scores high marks for the support of women's business and well-being: Per our criteria rankings, at #1 and #3 respectively. Flipping to cost of living and other economic indicators, however, things move in the opposite direction—Massachusetts being one of the most costly places in the U.S. to live. And in the middle of all this is its start-up growth, which is "OK"; per Kauffman, the state particularly soars in Start-Up Early Job Creation. So this was a case where Massachusetts's women-positive factors were so overwhelmingly strong they pulled it ahead of only average start-up growth and expensive living costs. Of course, the determination as to whether this blend of factors is ideal for a female entrepreneur really depends on the specific female entrepreneur and her business's needs.
8. GEORGIA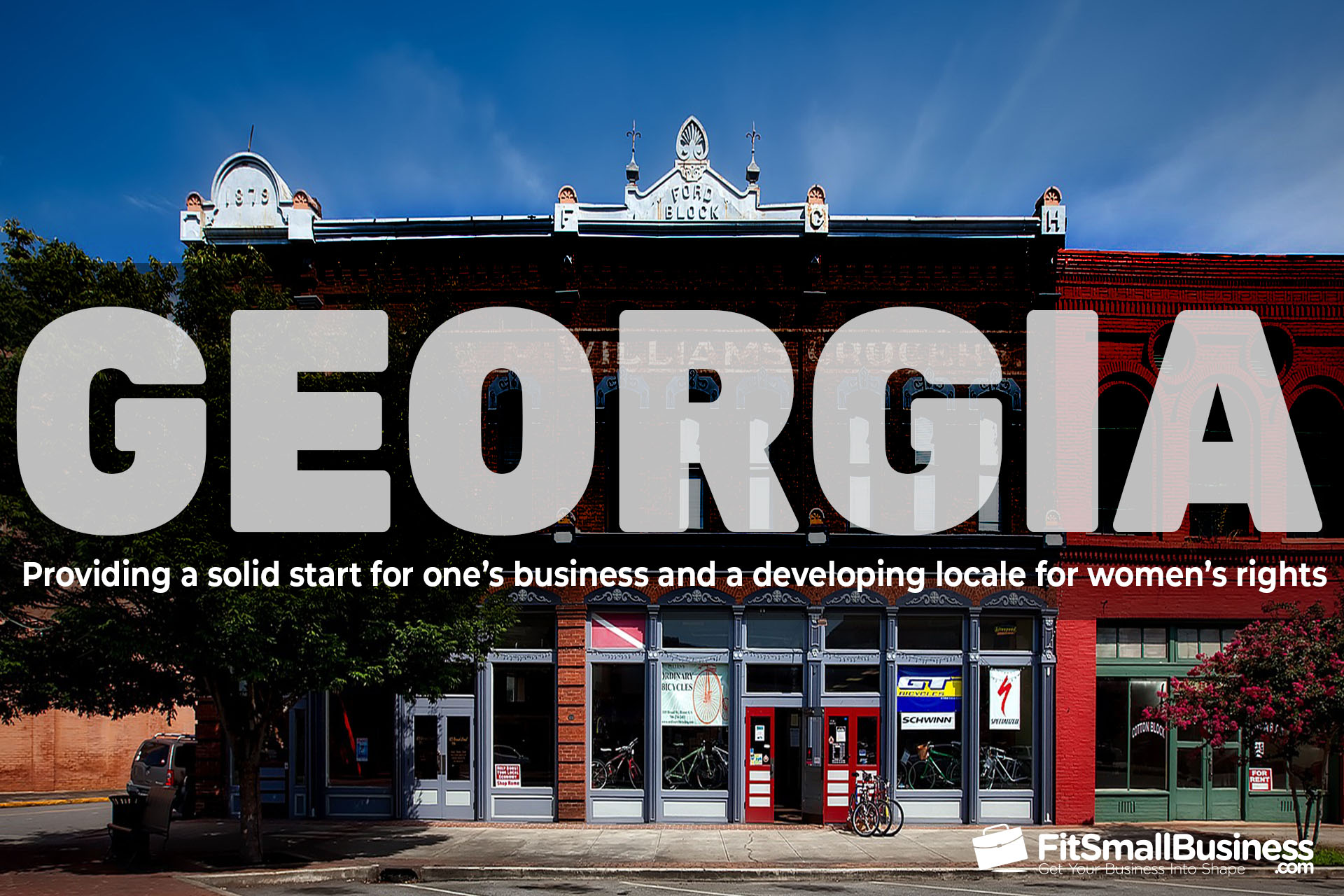 In terms of start-up growth, Georgia is truly "on my mind"—as well as that of the Nation it's dominating with highly impressive numbers. Ranking at 6 on our Start-Up Opportunity list, and 10 on Economic Health, there is no doubt that the Peach State is a viable choice for starting a new business. Its Women's Health and Safety ranking, however, is rather low (at 41) and Women's Business Opportunity is in the middle (26). Organizations such as the Greater Women's Business Council, however, are trying to change all that with a powerful selection of programs, webinars and events (such as their upcoming summits in 2020). As one of the fastest-growing locations for female-owned businesses, it's clear the state recognizes the importance of making Georgia a hub of female economic opportunity.
9. IOWA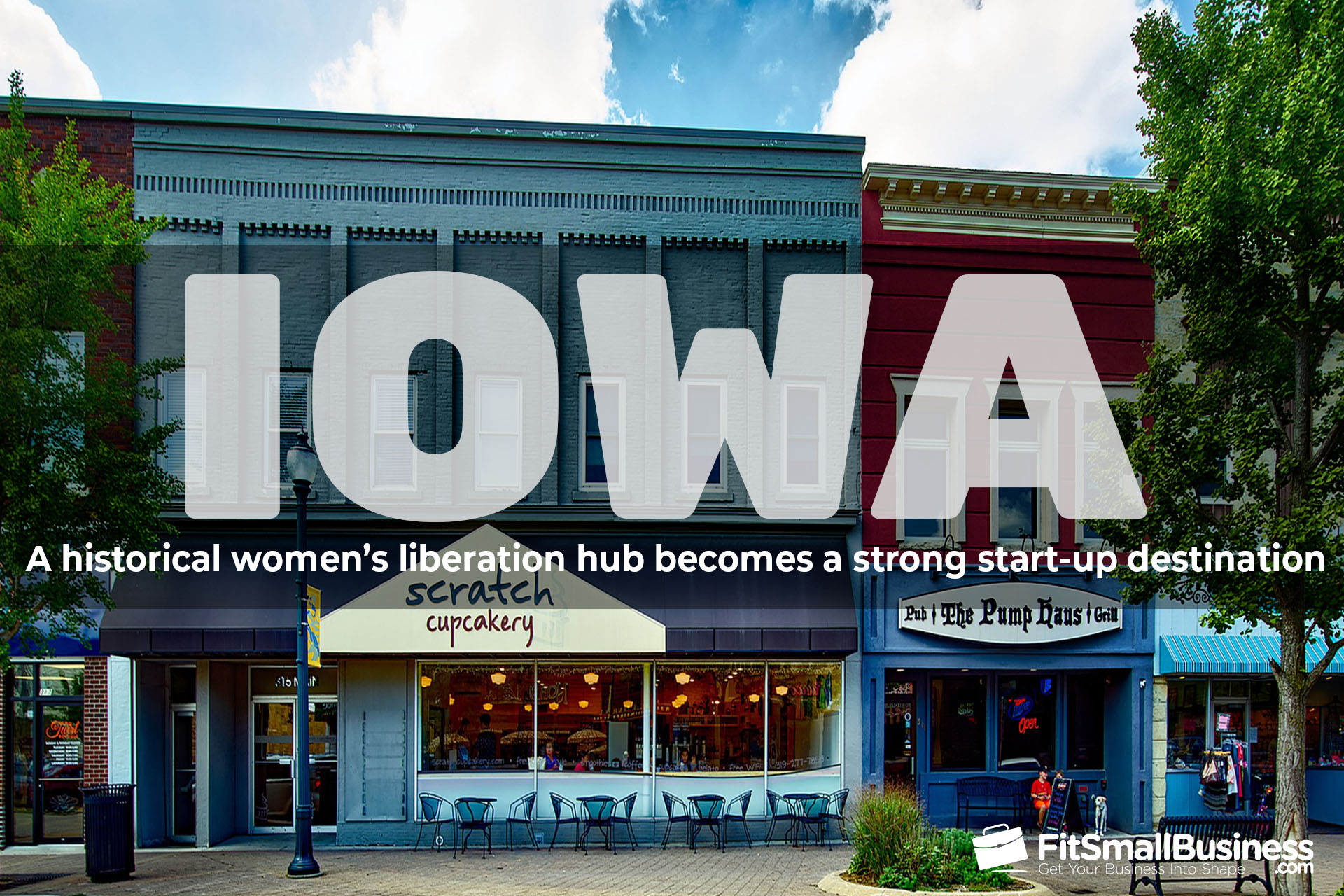 If there was an award given for most "all around balanced state for female entrepreneurs," it's possible Iowa would take the prize. The Hawkeye State's rankings for both women-specific and business/economic criteria are satisfactory and comparable with each other. With specialties in the biotechnology and green energy industries, the state—renowned for its own ecological beauty—might be particularly of interest to those female entrepreneurs with a science or environmental background. In terms of social justice, Iowa is a study in contrasts: With a rich historical past in racial equality and women's rights, it is also currently a battleground on issues like abortion (with the "fetal heartbeat" law being approved in 2018 and struck down a year later).
10. VERMONT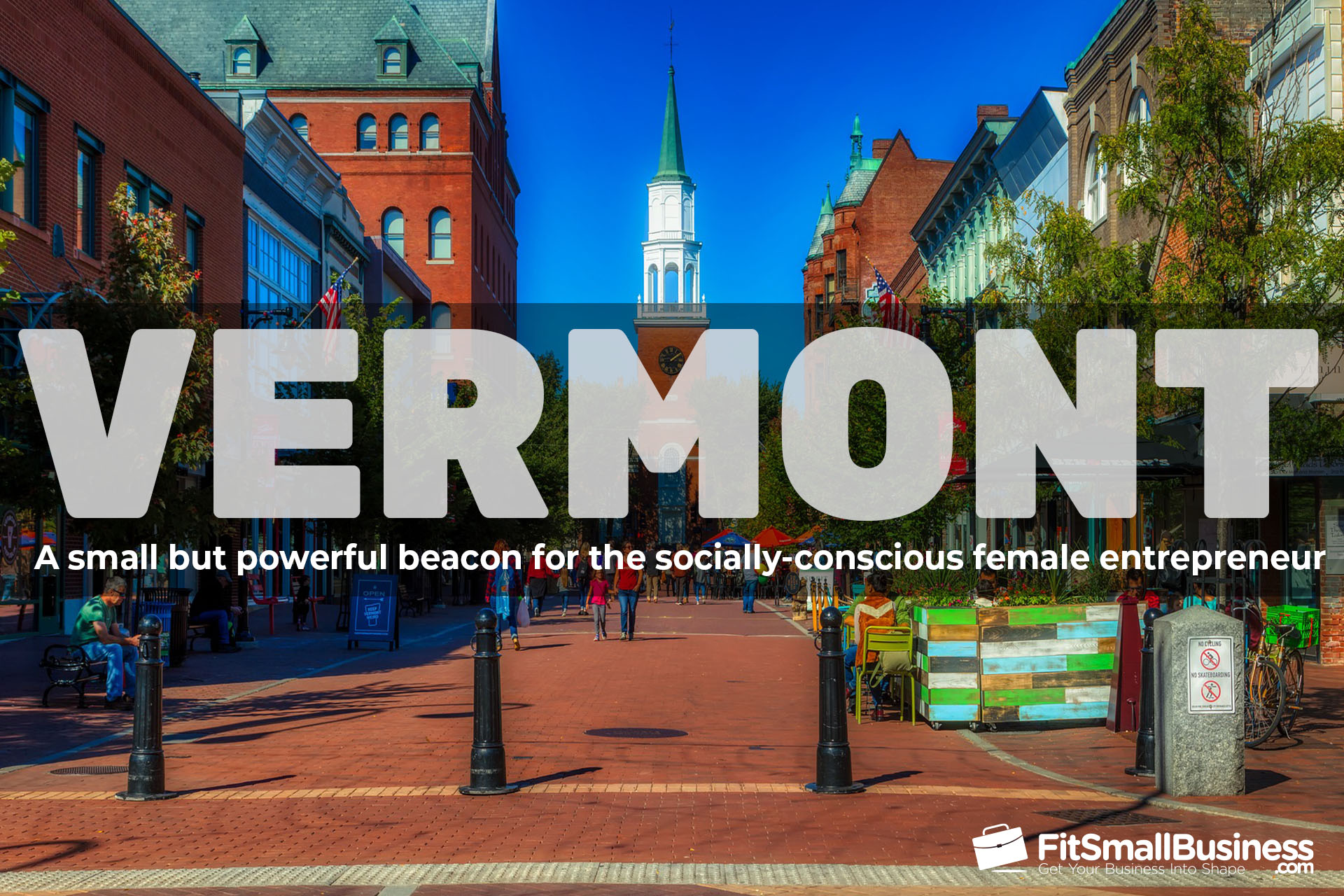 Rounding out our Top Ten is the Green Mountain State, which is second-smallest in population within the U.S.. Despite its relatively diminutive size, it still delivers a fair amount of VC funding to women, and ranks high in women's causes overall. From 2016-18, it also ranked as the safest of all the states according to crime statistics. As the homebase of Senator Bernie Sanders, it leans left of the 'traditional' Left, and consequently is a rather comfortable fit not just for female business owners but anybody concerned with social justice and reform. That said, Vermont also boasts a rather high cost of living and corporate tax rate, which is just another of these cases where a female business owner's mileage will vary in terms of whether this state has the ideal mix of factors she is looking for.
FEMALE ENTREPRENEURSHIP IN 2020: BUSINESS WOMEN'S PERSPECTIVES
Much of this look at female entrepreneurship across the United States involves lots and lots of hard data and numbers. But what about the personal view from women on the frontlines of the start-up world? We interviewed several successful female business owners not only on how location impacts women's success, but on making it in the start-up arena in general.
Andrea Madho is the CEO of popular women's clothing start-up Lab 141, and has shared her expertise on TED Talks. When asked if it was important to her to have a supportive, woman-friendly environment for her business success, she answered resoundingly in the affirmative:
"Having a community of female founders has been a critical part of the establishment and development of my company…I regularly attend female focused business events, Meetups and accelerators including Project W, Project Entrepreneur and Women Entrepreneurs' Boot Camp. Networking in person provides a rich opportunity to meet, commiserate and grow my business, while reducing the isolation of working alone from my home office. Additionally there is a robust online community to support female entrepreneurs on Facebook, while most are public groups some of the private groups use real names to discuss very personal and private issues concerning emotional, legal and financial concerns."
Tammy Petersen, founder and president of the women's spa and wellness company Retreats Unlimited, also agreed that having a female-positive climate is crucial for her business:
"It's very important—especially with this particular business, which is so woman-focused. Retreats Unlimited is all about having a safe space without judgement and being supported by other women. Sometimes women feel they can't be "real" within their own communities, so we provide places for them to connect with their peers."
But is the exact location of a female entrepreneur's business—such as a particular state—as important? Here's where things got fascinating, and gave us food for thought regarding our approach for next year's list.
Petersen's business is mostly online, with the individual spas and retreats held all over the world. So to her, location is not that essential: "Because I work remotely and a large portion of my business is my website, I can "be" anywhere. I can also easily find support online with other women. Everything I need for my business can be accessed and purchased on the Internet so I'm not bound by one location."
In contrast, Madho finds local support to be a key tool for Lab 141: "Being in New York City and New York State was fundamental to starting Lab141…All the elements of our business are centered in New York: Fashion, technology, 3D printing, venture capital, and advanced manufacturing. We have been able to utilize many New York State wide initiatives to help us launch and grow…as a New Yorker I have been able to leverage the local resources New York City's Women.nyc and we.nyc provide. These organizations offer startup classes, business courses and leadership mentors to help entrepreneurs."
We asked Fit Small Business's own Kelly Main for some added insight as to whether location is as critical to female entrepreneurs in the Internet Age. Main, who is a businesswoman in her own right and the founder of high-school financial literacy program ProsperBull, put the issue in context:
"Two of the leading (external) reasons why entrepreneurs throw in the towel on a new venture include a lack of support (particularly for solo entrepreneurs) and a lack of funding. What this indicates is that location—even for online businesses—plays a large part in the likelihood of success for said business. A startup whose roots are planted in a location where the founder has access to a solid network of support and funding (from entrepreneur networks to SBA centers and universities) are better positioned to endure the difficult period between launching a business and building a profitable business."
One thing is certain: Female entrepreneurs are a diverse group and the best advice for one businesswoman might not fit for all. That said, we asked Madho and Petersen for some words of encouragement and wisdom for the next wave of female start-up founders.
To Petersen, it's all about understanding not only what your business is…but why you're doing it!
"It's about perspective and listening to people's needs. I know what women, who are our main client base, want because I am a woman. In addition, you want to be very clear with your intentions, and know that there is a place for your specific business. Finally, know that you can't quit, even with the inevitable roadblocks that will crop up. Keep pressing on!"
Madho had similar sentiments, and noted a few pitfalls along the way to manage:
"Female entrepreneurs need to have an extra thick skin. We often encounter critics that attack and harass us personally when commenting on our endeavors. I know my business, inside and out, and how to handle questions about market segment, growth strategy, global impact of my technology, etc. however the nature of social media allows for very nasty and often anonymous comments. Starting a business is also emotionally challenging. You will encounter the highest of highs and lowest of lows on your journey, so make sure you take care of your mental and physical health. Love what you are doing and your passion will be your compass to sustain along the way."
BIGGEST GAINS AND LOSSES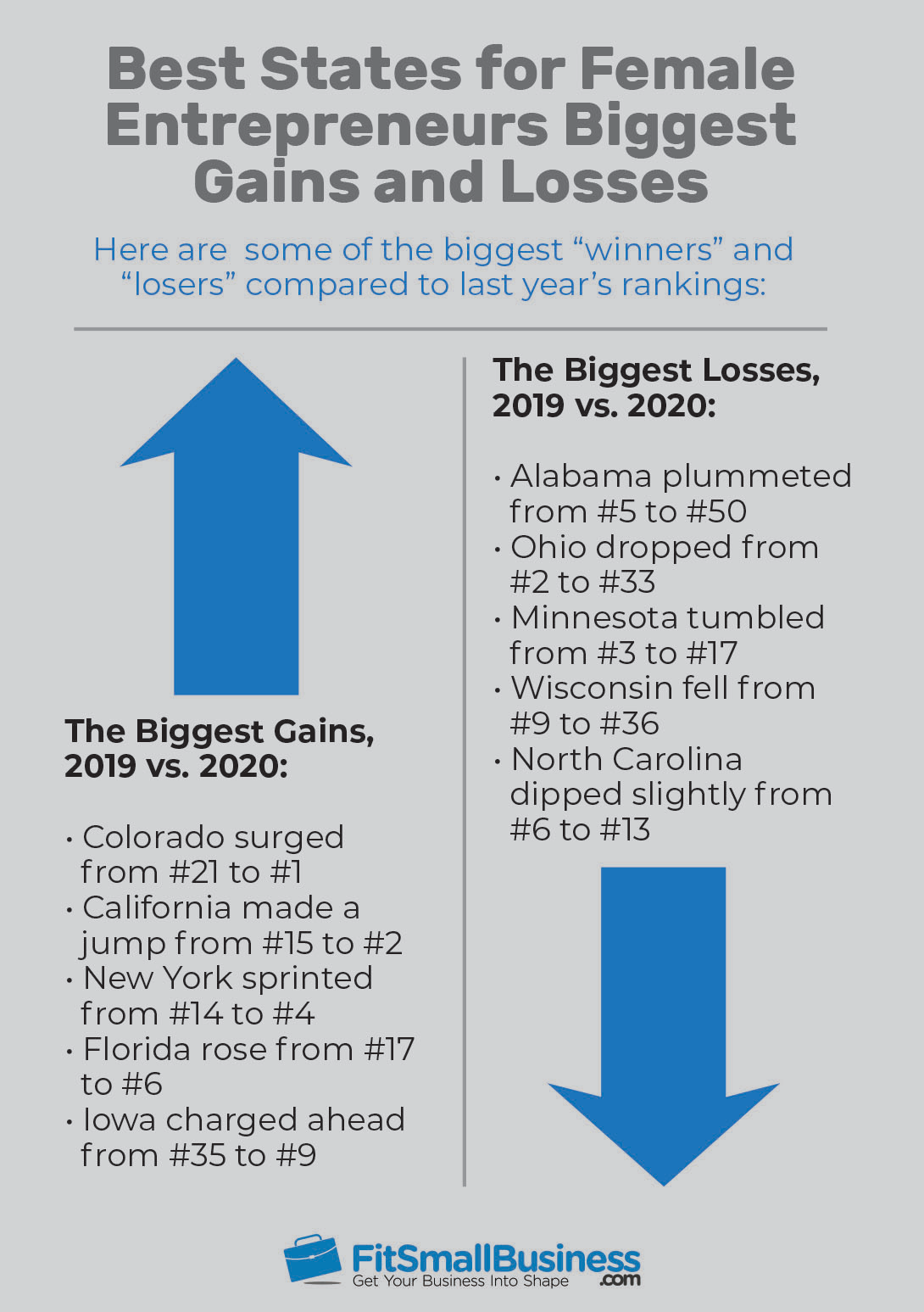 If you compare this year's Fit Small Business "Best States For Female Entrepreneurs" list to 2019's, you'll see some familiar faces but also some big changes.
Gains
Texas was #1 last year, and still has a decent showing in 2020's list at #5. But Colorado jumped ahead this year from #21 to the top slot, due largely to the fact that when we weighed female-specific metrics higher, it shot up the list. The Centennial State also benefited from Kauffman's metrics on start-ups, in which it also ranked highly.
California (#2) and New York (#4)—absent from 2019's top ten—also made strong gains. Despite their reps as expensive states to live—which probably kept them off last year's top ten rankings—start-up data via Kauffman indicated that entrepreneurs still thrived within these legendary business hubs. Their scores on women's issues were also rather high.
Losses
On the flipside, Alabama was #5 on 2019's list and #50 this year. Why such a big drop for the Yellowhammer State? While Alabama has great numbers for low cost-of-living and corporate tax rate, we found that when we weighted women-centric metrics higher, it drove the state's rankings way down.
While states like North Carolina (from #6 to #13), North Dakota, (from #8 to #11) and Minnesota (from #3 to # 17) made relatively short drops out of 2020's top ten, other states like Ohio (#2 to #33) and Wisconsin (#9 to #36) fell harder. Again, changes in this year's methodology to reflect metrics that were more focused on women specifically with additional sources and weighting contributed to the difference.
RANKING METHODOLOGY
We ranked the states on this list using four main metric categories that encompass both general business concerns such as start-up growth and cost-of-living and gender-specific factors such as VC funding for female entrepreneurs. The data was collected from what we considered to be the most thorough and trusted sources on the subjects, and then analyzed and weighted by importance of each category.
Here is an overview of our ranking methodology along with the top 5 states that ranked in each category:
Start-Up Climate And Opportunity (35%)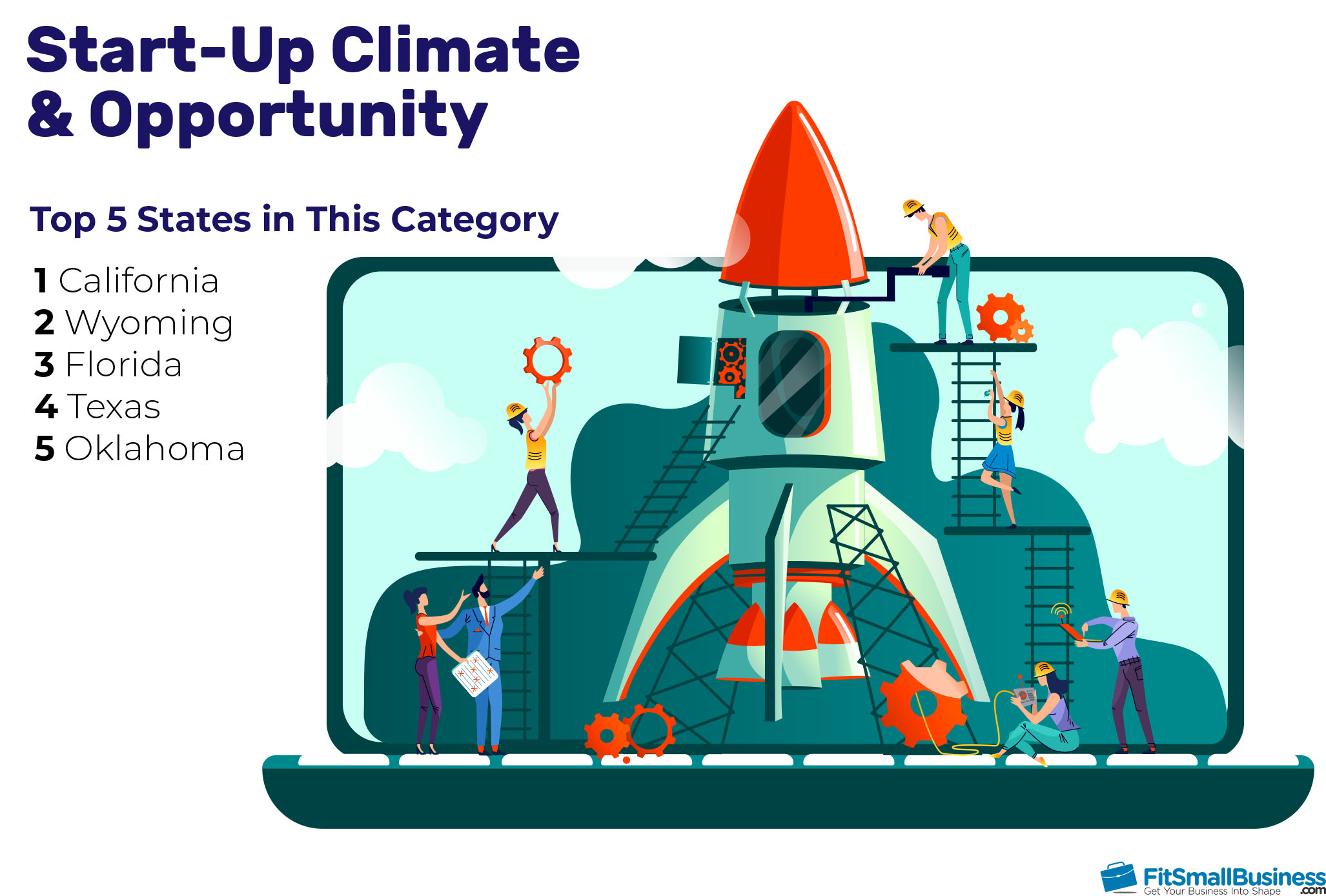 The purpose of this criteria was to analyze general factors indicating start-up health including growth rate, survival rate, new job creation and "opportunity share" of new entrepreneurs (whether the business was created by choice or necessity). For this category we utilized the data from the thorough Kauffman Indicators Of Entrepreneurship, including their Early-Stage Entrepreneurship (KESE) Index #s.
Economic & Financial Health (15%)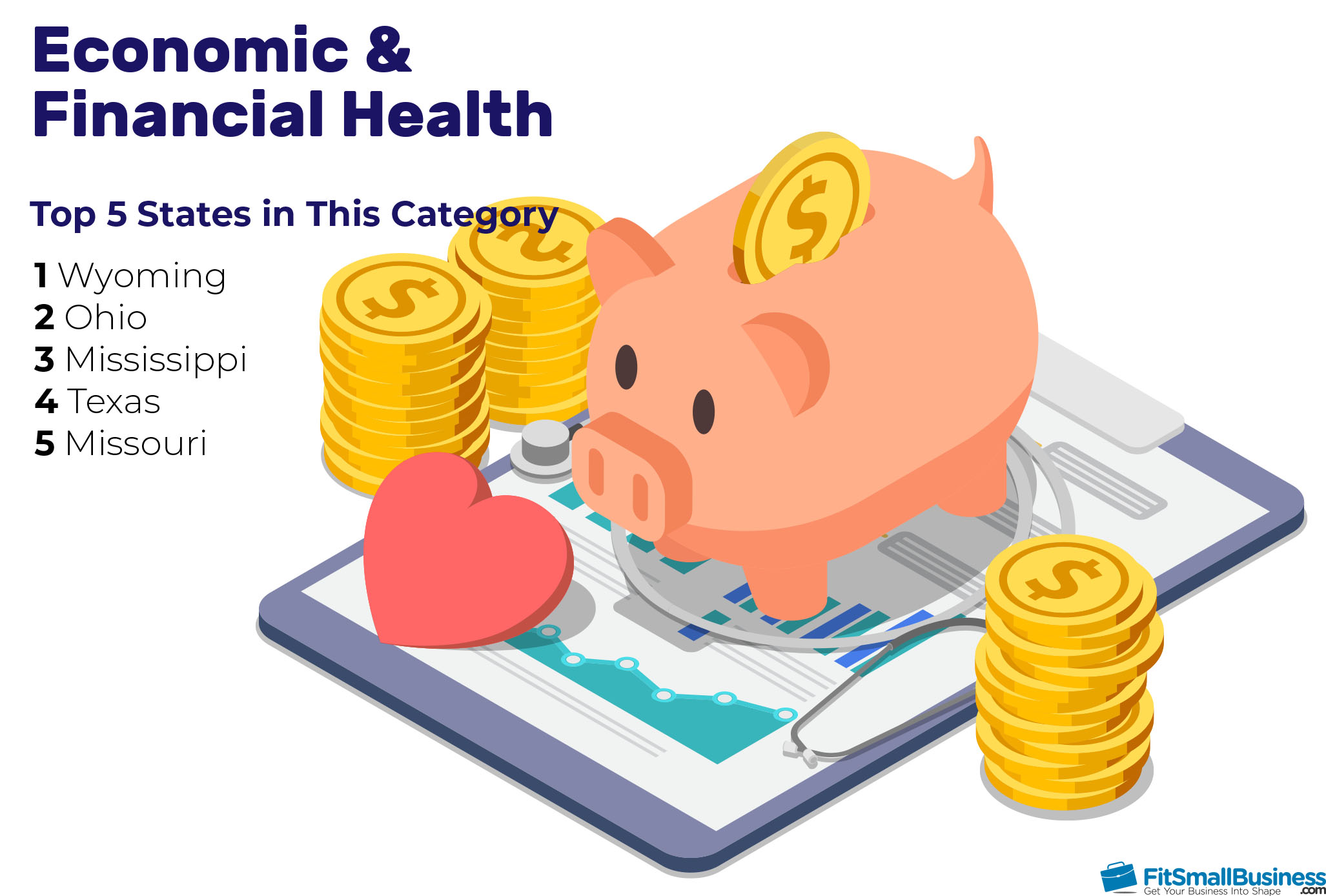 Economic factors such as a state's cost-of-living and corporate tax rate can have an impact on the overall success of a start-up. We weighed those factors (via data derived from World Population Review and Tax Foundation, respectively) slightly lower because we felt that the numbers on overall start-up climate and opportunity via Kauffman was more definitive.
Women's Health & Safety (15%)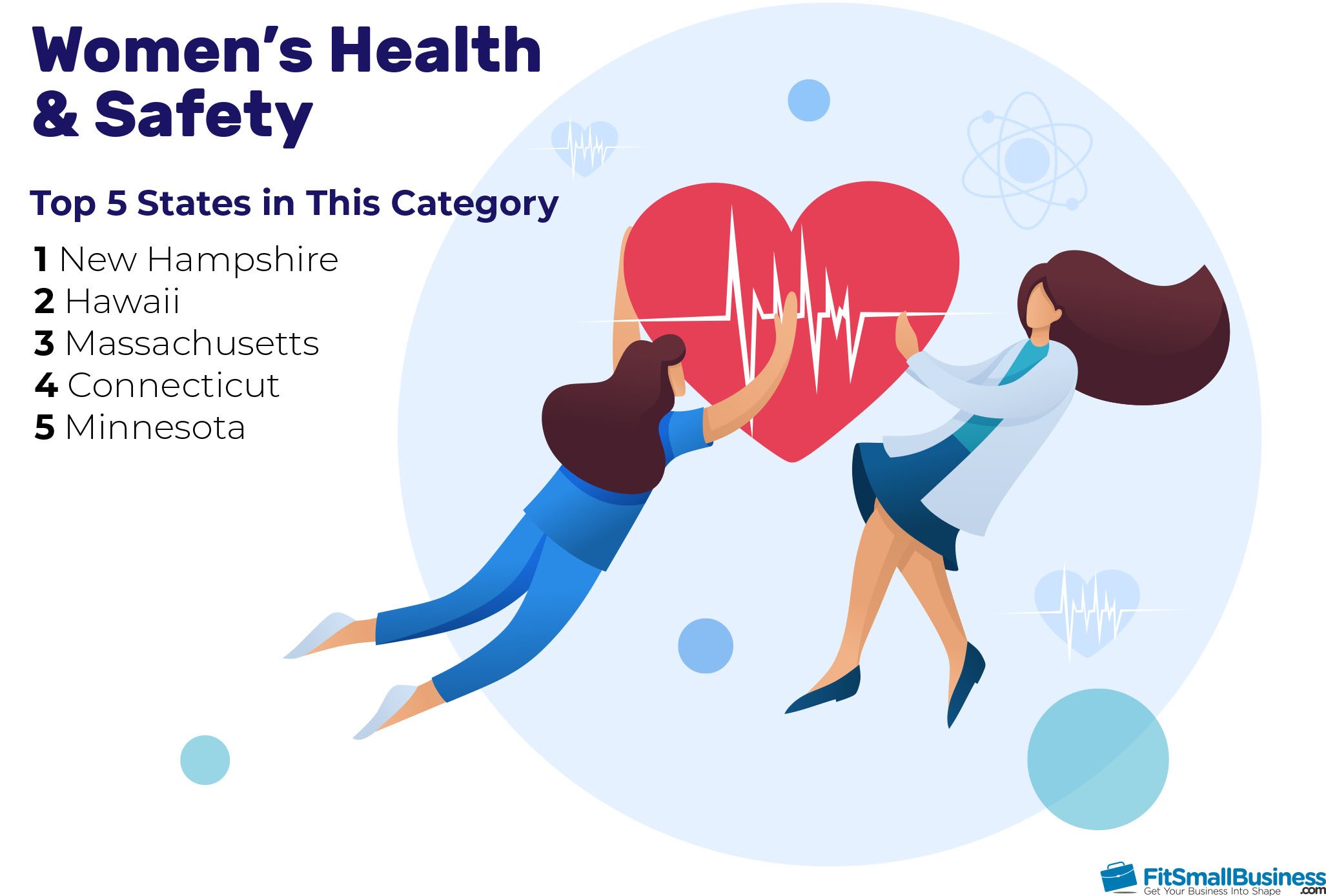 Even with terrific start-up climate and economic health indicators, basic factors of support and safety for women are important to female entrepreneurs. Included in this category are metrics such as female uninsured rate, political representation, reproductive rights and homicide rate. For this data we turned to Wallethub's comprehensive Best & Worst States for Women Study, as well as Security.org's Best & Worst States For Women's Rights.
Women's Business Opportunity (35%)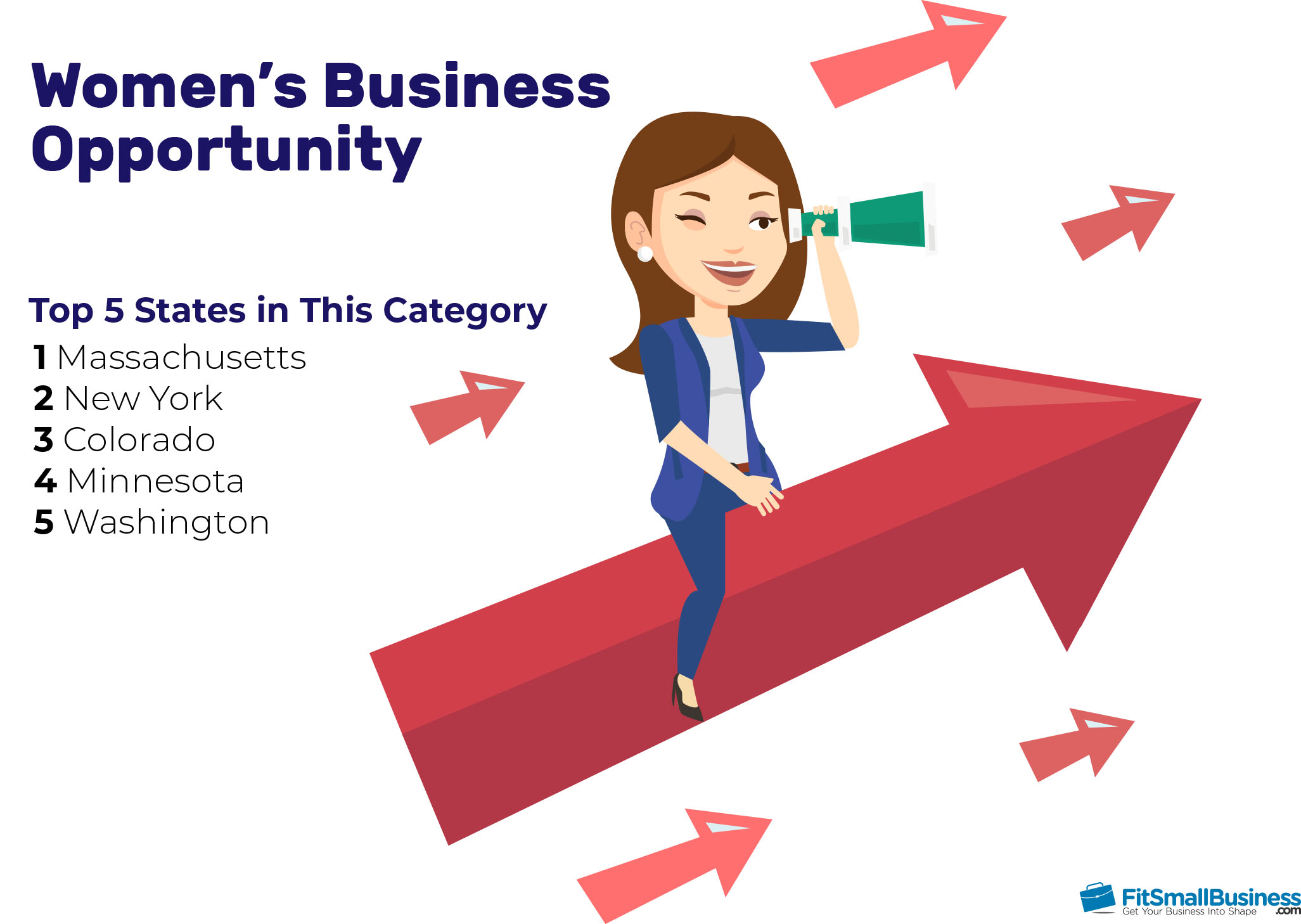 We considered female-centric business and financial opportunities with the same weight as general non-gendered ones. These include share of women-owned businesses, "economic clout" and rates of unemployment. Also added was the amount of VC dollars going to female entrepreneurs. Once again, we consulted Wallethub's Best & Worst States for Women metrics, as well as considered VC funding amounts from Pitchbook's VC Female Founders Dashboard.
THE BOTTOM LINE
Operating during a time of explosive start-up growth, the business landscape for the female entrepreneur in 2020 is exciting and bright. Per our research, however, there are still some challenges to navigate. Acquiring venture capital funding for female-led businesses still seems to be a struggle—though there are a number of initiatives, such as All Raise, created to even the scales. Restrictive laws in some states may also make the female business-owner feel disempowered and unsupported, creating a lower sense of safety & quality of life. That said, the resourcefulness and pioneering spirit of the female entrepreneur seems poised to soar in the decade ahead!